Vantec SATA/IDE to USB Adapter
Date: October 3, 2006
Author(s): Matthew Harris

Working on PC's is fun, all except data recovery. It's a pain tearing your PC apart to simply stick another drive inside. Today we look at a smooth little gadget that takes away that pain.
---
USB is a glorious thing. It allows you to hook up a wide variety of products ranging from temperature monitoring equipment to keyboards and mice to headphones to drives and far beyond. Today I'm taking a look at a product that is a real triple threat, the Vantec USB 2.0 to SATA and IDE adaptor.
I'll let Vantec describe it for me:
The SATA/IDE-USB Adapter gives you the flexibility of connecting almost any type of drive to your computer via USB. SATA, 3.5" IDE, 5.25" IDE, and 2.5" IDE drives are all supported and can be easily hot-swapped to your system. The included external power adapter will allow you to power your drives outside your system giving you the ability to quickly add or swap between drives without opening your case. The SATA/IDE-USB adapter incorporate 3 interfaces to one USB adapters.
Features
Transfer Rates Up to 12Mbps With USB 1.1
Transfer Rates Up to 480Mbps With USB 2.0
Easily add storage to any system with USB
Currently supports up to 750GB
Supports ATA/ATAPI-7
Supports LBA-48 Addressing
Hot-swappable: Plug and play without rebooting!
Specifications
Interface: SATA to USB 2.0, 3.5′ & 5.25′ IDE to USB 2.0, 2.5′ IDE to USB 2.0
Dimensions: 70 x 43 x 10 mm
Cable Length: 92cm (36in)
Package Includes: Driver CD, User Manual, SATA/IDE-USB Adapter, 2.5′ Drive Power Adapter, Power Adapter, Power Cable
The beauty of this device should be readily apparent. Not having to tear your PC apart or even shut it down to do drive surgery is fantastic. I ran across another product like this a few months ago being sold by Brando and it was pretty close in design but failed in execution since the IDE interface was hosed. Happily the Vantec suffered no such problems, I'll get to that in a bit though.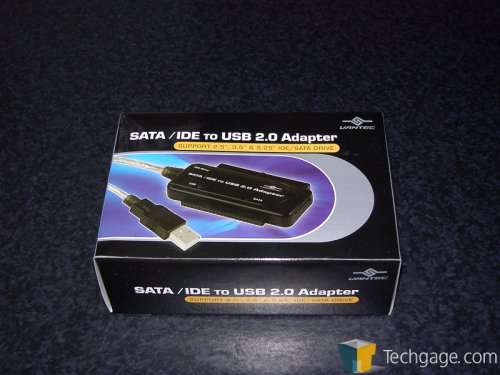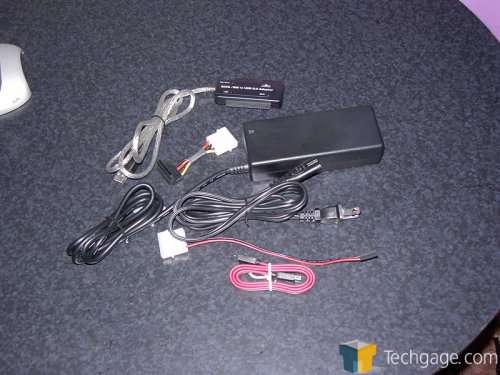 Here you see most of what's included in the package, what's not pictured is the manual and the driver CD. Unfortunately I'm the worlds worst about misplacing these things, I get all excited and start reading the manual and the next thing I know it's in Botswana or something. As to the driver disk, well, it's one of those itty bitty CD's that just sort of disappears. No matter really, drivers aren't needed for a modern OS, only Win 98, ME and NT need drivers. The manual was printed on 2 sheets of paper and as such easily waylaid, it gave the basic rundown on the care and feeding of your new cable along with instructions on how to format and partition a drive. Funnily enough, I think that people that don't know these rudimentary skills won't be in a market for this device but better safe than sorry I suppose.
Also in the package is the power brick, adaptors for SATA and 2.5" drives and a SATA cable. The 2.5" drive could be run off the USB interface but in the case of extended use could prove to overpower the interface. Vantec wisely chose to tap off of the power brick and plumb the 5V for the drive into the side of the adaptor body.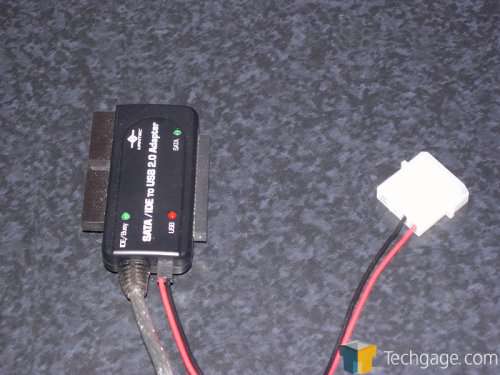 As you can see it plugs in on the same side of the body as the 2.5" interface. I had a chance to use it with a couple of older 4200RPM laptop drives and it worked flawlessly. The transfer rates were abysmal but that was due to the drives themselves. One got an average of 5Mb/s and the other got 9Mb/s. Pretty slow but if you're getting data off an old laptop drive it's far easier than tracking down an adaptor if one's not at hand. Not only that but if you've got access to older laptop drives for next to nothing it's a great way to store that excess garbage cluttering up your HDD.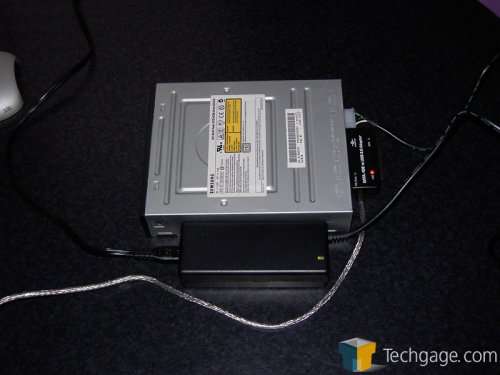 As I said earlier the Vantec unit triumphed over the Brando in that the IDE interface worked. I hooked it up to my trusty Samsung SD-816 DVD-ROM and it worked just like it was on the IDE interface. In fact the drive used the same drive letter that it had been assigned when hooked up to the IDE interface. I know this sounds like nothing shocking but I've got a couple of virtual drives for mounting the odd archived image file and after I'd removed the rom drive one had taken over it's drive letter. I know this is an OS quirk but I'm pleased to see that the OS treats the drive like a non-removable drive instead of like it's some giant misshapen floppy drive.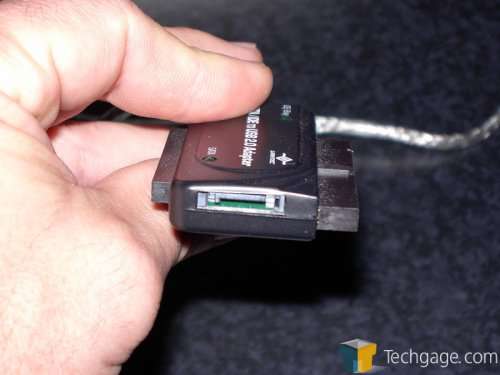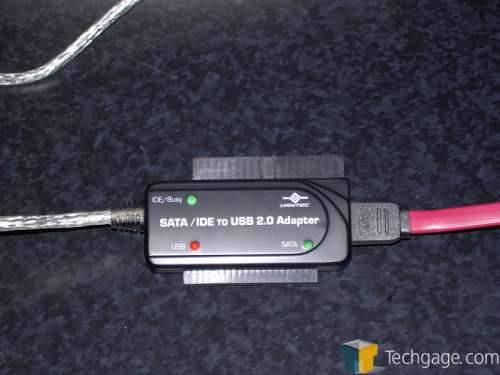 The SATA port is in the end of the body opposite of the cable. You might wonder if this means that you can plug the unit into more than one drive at a time, that's a big no. It only supports one drive at a time.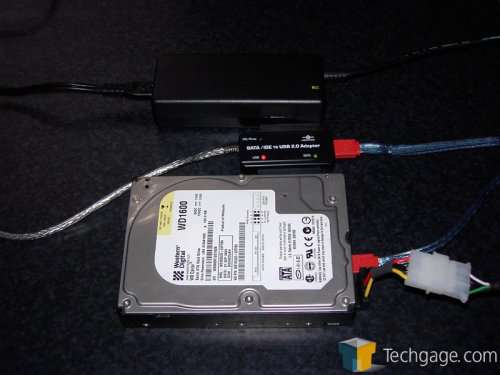 Vantec was kind enough to include a molex to SATA power adaptor that's got a handy right angle on it. This allows the drive to sit flat on your desktop and isn't torquing on the SATA power plug. This is great if you've got a drive that's native SATA and doesn't feature a molex for power. Also you can see the status LED's very well in the above shot. The IDE/Busy LED never lit up during my trial with the ROM drive but lit up during any use with the SATA drive. Odd but I guess it only lights up with IDE hard drives.
To give you an idea of the performance of this drive with a typical SATA HDD I ran HD Tach RW version 3.0.1.0 and HD Tune 2.52. Let's see what they turned up shall we?
HD Tach: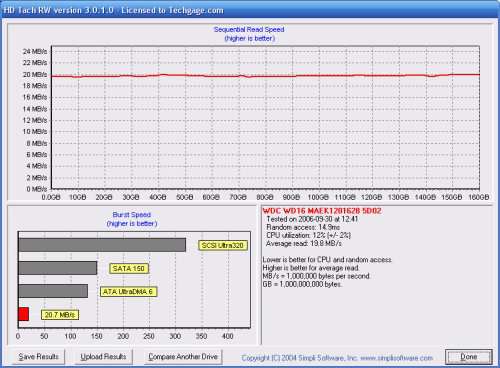 HD Tach hovers at just under 20Mb/s with a burst rate just over that. As usual there's a bit of disparity between it and HD Tune.
HD Tune: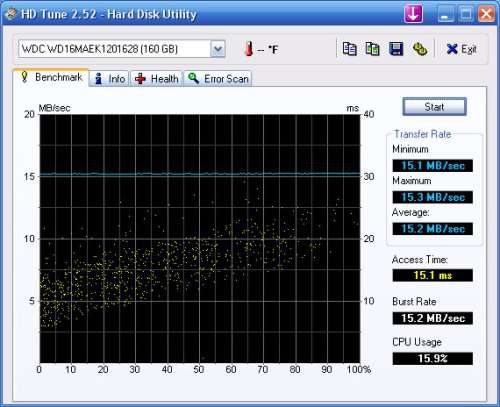 As we see here HD Tune is showing a markedly lower transfer rate, to the order of nearly 25% lower. The access times are pretty close as are the CPU utilization numbers. I can't help but wonder why the large gap in the transfer rate numbers but since my forte' is hardware and not coding I'll just have to accept the fact that they choose to conflict.
Conclusion
The Vantec USB 2.0 to SATA/IDE Adaptor should be considered essential equipment for anyone doing heavy duty PC work and on the short list of essential hardware for hobbyists. It works flawlessly and features everything you need to test any typical drive you're likely to encounter. Like the Brando setup there's no power switch on the brick which I view as a failing but not a mortal sin. It's easy enough to simply unplug the brick but I'd still like to see a switch as repeated plugging and unplugging will eventually wear the plug sockets out. With all that said I'm giving the Vantec USB 2.0 to SATA/IDE Adaptor a 9/10 and labeling it as must have hardware.
Discuss in our forums!
If you have a comment you wish to make on this review, feel free to head on into our forums! There is no need to register in order to reply to such threads.

Copyright © 2005-2020 Techgage Networks Inc. - All Rights Reserved.