Wacom Intuos3 6*8 Tablet

Date: June 6, 2005
Author(s): Jen McPherson

Wacom is a renowned name in PC pen tablets for the digital artist, and are the leaders in PC tablet technology. Their tablets have been used by professionals world wide and are marked for their excellence in all their hardware. So, without further delay lets get into the review and the specifics.
---
Introduction
Intuos3 gives you the power to quickly and professionally edit photos and create digital artwork by turning on the full power of Adobe Photoshop, Corel Painter, and over 100 other leading software applications. Intuos3 tablets now put ExpressKeys and Touch Strips right at your fingertips for convenient keyboard shortcuts, scrolling, zooming, brush size control, and more. Wacom's Penabled technology gives you the natural feel and superior performance of Wacom's patented cordless and battery-free tablet technology. You'll find that using an Intuos pen, mouse, and tablet gives you more control, comfort, and productivity.
I was extremely excited to get the opportunity to test this tablet for I know Wacom is a popular and trusted name in PC tablet technology. So, without further delay lets get into the review and the specifics.
Specifications
Tablet
Ergonomic design with sloping, contoured palm rest for comfort
Multiple cord positions for greater workspace flexibility
8 ft. cable allows you to kick back while you work
Enhanced electronics for twice the resolution (5,080 lpi)
Available in three sizes: 4×5, 6×8, and 9×12 for a perfect fit
Full two-year warranty means it's built to last
ExpressKeys and Touch Strips
Strategically placed programmable ExpressKeys and Touch strips for convenience
ExpressKeys are chordable and can be used for mouse clicks, modifier keys and keyboard shortcuts
Finger-sensitive Touch Strips for quick scrolling, zooming, brush size control, and more
Five-Button Mouse
Ball-free and optics-free for smooth, accurate tracking
Ambidextrous low-profile design with just the right feeling
Patented cordless, battery-free technology for superior performance and reliability
Five programmable buttons with fingerwheel for flexibility and control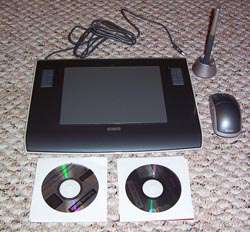 Features
Grip Pen
1,024 levels of tip and eraser pressure sensitivity for control
Cushioned, contoured grip with programmable DuoSwitch for comfort and productivity
Patented cordless, battery-free technology for a natural feel and superior performance
Multi-position pen stand to keep your pen handy
Three nib styles included for a variety of "feels"
Tilt sensitivity for even more control
Intuos3 driver software
Intuitive interface for detailed control so you can work exactly the way you want
Customizable pressure curves to personalize the way your pen feels
Tablet and device settings can be application specific for maximum productivity
Pop-up menu for easy access to your favorite keystroke combinations
Flexible mapping options to optimize your work environment including multiple monitors
Valuable included software
Adobe Photoshop Elements 3 for digital photo editing and compositing
Corel Painter Essentials 2 for creating natural media art and organic effects
nik Color Efex Pro 2 IE from nik multimedia for selectively applying photographic enhancements and effects. (IE includes the following filters: Brilliance/Warmth, Contrast Only, Graduated Blue, Midnight Blue, Monday Morning Violet, Pastel, Remove Color Cast, Solarization)
Wacom Brushes 2 for even more brush choices in recent versions of Photoshop and Photoshop Elements
Features
When I received the Intuos3 I was impressed from the start. The box was smooth and professional, not to mention very informative. Opening it was not a hassle and the tablet, pen, mouse and accessories were packaged securely. Each piece was accounted for, and so I began my testing of the tablet.
First line of business I install the tablet drivers with the Pen Tablet Driver CD. This process is quick and easy, and the only thing to do next is to plug in the tablet.
I next installed the additional software, where that installation was pretty straight forward. It gave PS some extra brushes that I found very useful in my drawings, as well as some other features that I had yet to experiment with. This software bundle is worth a great deal on its own, so it is a wonderful bonus to a great item.
Further Features
The tablet has a nice long cord for ease of use, making it easy to set up out of the way when not in use or sit back from the PC if you wish while using it. I loved this for then I could relax in my chair, kick back and draw without having to sit on top of my screen. I personally found it best to rest the tablet in my lap while I used it, and with a long positionable cord it made it all the more easier. It plugs into any PC's USB port with ease.
Although it included a mouse I found that I did not use it as often as I did the pen. Not that I didn't like it, it worked brilliantly when I switched from drawing and editing to web surfing. It moved smoothly over the tablet's surface and was small yet comfortable in my hand. What I find so unique with this mouse is that it is both fitted for left and right hand use. Each of the five buttons on the mouse is customizable, adding to its versatility. I did not like to use the mouse during my drawing/editing actions for it seemed too jerky, or to pull to the right for some reason. Perhaps a little tweaking of its specifications would have fixed that problem, but I stuck with the pen for my digital drawing.
Next I began testing out the pen. A small weighted pen rest comes with the tablet, so you can have a spot to set your pen when it is not in use. This was very useful for me because I am notorious for losing pens and pencils around my desk, and with a designated place to put it the pen didn't end up with that 'missing' group of writing utensils. The rubber contoured grip around the pen makes it easy to hold and less likely to slip while working. The button is positioned for easy clicking, which is also referred to as the DuoSwitch.
Tablet Pen
You can push the button on either the bottom or top, and customize those actions for either a right or left click, as well as adjust the sensitivity and other specs in the Wacom Tablet Properties under your Start/Programs Menu.. The pen also comes with extra pen nibs, so that you can adjust the feel of the pen. Both ends of the pen are sensitive to pressure, 1,024 levels of tip and eraser pressure sensitivity to be exact, for complete control over whatever you are working on. This feature is truly amazing and I found that I enjoyed drawing with this just as much as I did with a traditional pen and paper. As all artists know we make mistakes on pieces and this makes it so fast and easy to correct by just flipping the pen over and erase as if it were a pencil. One of my favorite features.
The precision of the pen is incomparable to that of a mouse. Everything is so much more accurate, lines are smoother, details finer and the actual process of creation quicker. You save more time while using this, as I discovered, making a piece that would normally take me months to complete with a mouse as compared to a week and a half with the tablet. Of course, I could never expect to get the level of detail that I achieved in the piece that I worked on with my mouse as I would with the tablet and pen.
The tablet itself is smooth around the edges, a clear top that allows the user to move their arm across the surface without a lot of traction. This may seem unimportant but let me assure you it is not. With this smooth surface it makes it so much easier to draw and use, for there is less friction on the arm and as a result fewer arm jerks. The actual drawing area, which is 6×8, is a matte finish, but still just as smooth and fantastic to work on. The pen and mouse flow over the surface with ease.
Tablet Buttons
On both sides of the tablet there TouchKeys and Touch Strips. The Touch Keys are programmable buttons so that one can make shift clicks and assign short cuts for ease of use. So instead of having to swap between the keyboard and tablet your keys are already there for quick actions, making editing images that much easier. The Touch Strips make it easy for the user to scroll web pages and images, zoom and change brushes while drawing/editing.
The Touch Strips are extremely simple to use, just run a finger over them to use like a scroll wheel or tap the top or bottom so that the function works more like a button, the strips are touch sensitive, a real unique feature. It is extremely handy and shocking to see how often you'll come to use these two features, and after a while it seems like second nature. With just these two functions you save time editing for they are always there at your fingertips.
Being my first time using a PC tablet I was skeptical, and wanted to put the tablet to a real test. So, I broke out my artistic skills and gave it a real workout over the time I was able to use it. I took many screen captures of my work so that my progression could be seen, and as you'll discover I came to love this piece of equipment.
Testing
Testing 1- Writing
Now, the pen tablet is renowned for control and smoothness when it comes to drawing and writing. So this was the first thing I decided to test and also show how precise the pen is compared to a regular mouse. I've included examples of pen writing and mouse writing, for both the Wacom mouse and also my Logitech Ball mouse.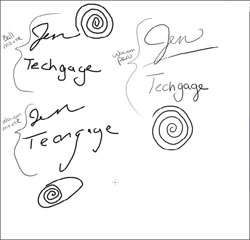 As you can see there is no comparison, the pen simply blows both mice away in control and flow. The strokes are not jerky as that of the mice and are more smooth, flowing. You can also notice that the lines for the pen strokes contain different thicknesses. This is because the pen is sensitive to pressure, much like a real pen, and can make a line super thin and light or extra thick and dark. It is just like drawing on paper, and for any artist who wants to go digital they would find this tool truly amazing.
Test 2- Drawing
Next I wanted to try out the actual image drawing capabilities of the tablet. So naturally I began a brand new piece, starting with line art. As Rob knows I am a fantasy artist and typically draw fairies and mermaids, thus my choice of subject. I start with the drawing just as I would as if I were sitting on my couch with a pencil and my eraser. The tablet sits comfortably on my lap while I lounge in my chair. The line art didn't take too long to clean up and complete, a couple hours give or take, and so I also doodle a little next to her, another comparison of pen vs mouse.
I was completely impressed with how the pen worked. Over the next few days I continued to edit my drawing more, coloring and shading then finally adding a background. Normally a drawing of this detail would take me months to complete with just a mouse and no where near this quality, but I finished it in about a week and a half, working off and on. My impression of a tablet changed from curiosity to a definite place on my wish list of PC hardware.
Conclusion
My experience with the Intuos3 was nothing short of fantastic. I loved just about everything about it, especially the grip pen. The tablet is very versatile with its multitude of customizable functions and light travelable design. Although I did not use the mouse that comes with it that much it worked great for web surfing and every day mouse use, though for editing I'd definitely stick with the pen. The tablet is a great tool for any digital artist, beginner and professional, and I give it my two thumbs up.
Thanks to Wacom and Doug Little for allowing us to test this. I am very grateful for the opportunity and your support during the process.
Pros
Wonderful for any aspiring artist.
Cordless/No Battery pen and mouse technology.
Pen precision and control.
Programmable QuickKeys and buttons.
Multitude of functions.
Simple and easy to install and use.
Cons
Mouse is not as precise as pen.
Feel free to discuss the review in our forums! You do not have to register to leave a comment! However, registration is quick and easy!
Addendum: To see more of Jens art, you can check out her deviantART gallery here, and her personal website here.

Copyright © 2005-2021 Techgage Networks Inc. - All Rights Reserved.