WD RE 4TB Hard Drive Review

Date: January 21, 2013
Author(s): Rob Williams

There's a relative lack of 4TB hard drive options on the market at the moment, but those looking for enthusiast or enterprise models are well taken care of. We've already taken a look at WD's enthusiast part, the Black 4TB, so now it's time to shift our attention to the feature-packed and enterprise-focused RE.
---
Introduction
In 2012, Western Digital made changes to both its product-line naming schemes and also how it presents itself as a company. Changes so small, so subtle, that even I didn't clue in until long after the fact.
For starters, when talking about the company's products, "WD" is now preferred over "Western Digital" – the latter is instead designated for corporate stuffs. Remember the names "Caviar" and "Scorpio"? They're a thing of the past. While at the start of 2012, we would have presented a review to the effect of "Western Digital Caviar Green 2TB", appropriate naming today would be "WD Green 2TB".
Even the company's enterprise offerings have been affected. The drive we're looking at today for example, is the "WD RE". Had it been released a year ago, it would have no doubt carried the name of "RE 5". Whatever WD's goals are with these changes, they emphasize the need to keep specific model names (eg: WD4000FYYZ) in mind when on the lookout for a new drive. You wouldn't rush out and buy a Toyota Corolla without knowing the year, would you?
With all of the changes WD made during 2012, it's a little surprising that the company didn't adopt a new slogan. If it had, an appropriate one would have been "All Your 4TB Are Belong To Us", because it'd be totally fitting. As it stands, there exists three 4TB models on the market, and each one of them falls under WD's umbrella. We already took at look at WD's own Black 4TB a couple of weeks ago, and alongside that is an HGST model (Hitachi, WD-owned). Suffice to say, we need some competition, and soon.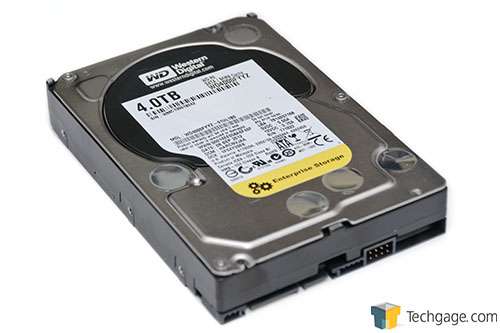 Despite the lack of competition, it's nice to have a couple of 4TB options on the market – especially if you're looking to maximize the amount of storage space in your desktop, server or NAS. Unlike the Black 4TB that we took a look at a couple of weeks ago, WD's RE is focused squarely at the enterprise. However, it'd also be suitable for those who demand the highest level of data security possible. While both Black and RE carry 5-year warranties, RE drives have been designed by WD to be the most stable, reliable and long-lasting in its entire line-up. This of course carries a premium, but to many, it's worth it.
We'll talk about some specifics in a moment, but first let's take a quick glance to see where RE falls into place among WD's current line-up:
| | | | | | | |
| --- | --- | --- | --- | --- | --- | --- |
|   | Density | Speed | Cache | SATA | Warranty | Usage |
| VelociRaptor | 250GB – 1TB | 10,000 RPM | 64MB | 6Gbit/s | 5-year | Enthusiast |
| RE | 250GB – 4TB | 7,200 RPM | 64MB | 6Gbit/s | 5-year | Enterprise |
| Black | 500GB – 4TB | 7,200 RPM | 32 – 64MB | 6Gbit/s | 5-year | Performance |
| Blue | 80GB – 1TB | 7,200 RPM | 8 – 64MB | 6Gbit/s | 2-year | Consumer |
| Green | 500GB – 3TB | ~5,300 RPM | 64MB | 6Gbit/s | 2-year | Storage |
| Red | 1 – 3TB | ~5,300 RPM | 64MB | 6Gbit/s | 3-year | NAS |
With a top-level view like this, WD's RE doesn't look too dissimilar to the Black. As such, it'd be easy to write off the RE as being the same drive but with a higher price-tag, but much like how NVIDIA's Quadro cards retail for much higher than their GeForce counterparts, WD's REs pack extra features under the hood that make it better-suited for use where uptime is imperative.
Multi-Axis Shock Sensor – This is an additional sensor found within the drive dedicated to detecting shocks, and when one is detected, the drive's mechanics help compensate for the sudden movement.
Dynamic Fly-Height Technology – For increased stability, the height (or fly height) of the head is adjusted in real-time during each read / write cycle.
Time-Limited Error Recovery – This is a feature you may recall us talking about in our look at WD's Red NAS hard drive. In effect, it prevents error correction from getting in the way of a successful write. This makes RE drives best-suited for use behind a RAID controller ("RE" in the product name stands for "RAID Edition").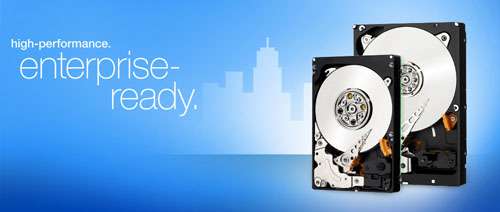 Vibration Reduction – Using an "enhanced" version of the company's "Rotary Acceleration Feed Forward" technology, the drive is able to monitor both the linear and rotational vibration of the platters in real-time, and compensate where necessary. It's never ideal to run any mechanical hard drive in an environment where it can vibrate on a regular basis, but the company's RE drives, along with its VelociRaptor drives, can deal with it better than the other drives in its line-up.
Extended Thermal Burn-in Testing – WD punishes its enterprise drives like no other, both for their thermal capabilities and endurance. If we saw what went on behind the scenes there, we'd probably want to cuddle our drives afterwards.
1.2 Million MTBF – At some point, most hard drive manufacturers dropped the "MTBF" (mean-time before failure) rating on their drives. To a point, I can understand why, as it's a number most people aren't going to keep in mind. However, WD does include such metrics on its enterprise offerings, such as the RE, and notes that it was achieved through field-testing.
As you can see, there's quite a bit extra that WD packs into its RE drives, with each feature sharing the same ultimate goal of stability and data security. So, while Black and RE share similar specs, RE is the route to take when data is of utmost importance to you.
Speaking of Black, when we took a look at WD's 4TB model a couple of weeks ago, we were impressed overall by the fact that a 4TB Black even existed, but were left a little underwhelmed in the performance department. Now, it's time to see where the RE 4TB stands.
Before we get into testing, though, it's important to note that since our last review, we changed a couple of things in our test suite, requiring us to re-benchmark all of our drives. Unfortunately, the Black 4TB was not part of this re-testing, as I accidentally left the drive elsewhere. I'll soon be getting it back, and once re-benchmarked, I'll update the graphs in this review.
Because we're amidst an age where most people are using an SSD as their primary drive (and if not, it's probably planned), we're beginning to treat mechanical hard drives as storage drives entirely, not OS drives. As such, we're now partitioning the drives using 64KB cluster sizes, as this is efficient for a drive that's storing a lot of large files.
That all taken care of, our slightly updated testing methodology can be seen on the following page, with our first results following that.
Test System & Methodology
At Techgage, we strive to make sure our results are as accurate and real-world applicable as possible. We list most of the steps and processes involved in setting up and conducting our benchmarking process below, but in the interests of brevity we can't mention every last detail. If there is any pertinent information that we've inadvertently omitted or you have any thoughts, suggestions, or critiques, then please feel free to email us or post directly in our forums. This site exists for readers like you and we value your input.
The table below lists the hardware used in our current hard drive-testing machine, which remains unchanged throughout all of our testing. Each drive used for the sake of comparison is also listed here.
 
Techgage Hard Drive Drive Test System
Processor
Intel Core i7-3960X Extreme Edition – Six-Core @ 4.20GHz – 1.375v
Motherboard
GIGABYTE G1. Assassin 2 – F4E BIOS (12/12/2011)
Memory
Corsair Dominator GT 16GB DDR3-2133 9-11-12-27, 1.60v
Graphics
GeForce GTX 680 2GB (Reference) – GeForce 301.42
Audio
Onboard Creative X-Fi
Storage
OS Drive:
Kingston HyperX 240GB SATA 6Gbit/s SSD
Tested Drives:
WD RE 4TB (WD4000FYYZ, 64MB Cache, 7.2K RPM)
WD VelociRaptor 1TB (WD1000DHTZ, 64MB Cache, 10K RPM)
WD Black 2TB (WD2002FAEX, 64MB Cache, 7.2K RPM)
WD Green 2TB (WD20EARS, 64MB Cache, ~5.3K RPM)
WD Red 2TB (WD20EFRX, 64MB Cache, ~5.3K RPM)
Power Supply
Corsair AX1200 1200W
Cooling
Corsair H70 Self-Contained Liquid Cooler
Et cetera
Windows 7 Ultimate SP1 64-bit

Our Windows 7 Desktop for HDD Testing (Photo Credit)
When preparing our HDD testbed for benchmarking, we follow these guidelines:
General Guidelines
Our CPU is frequency-locked to avoid potential performance variances.
No power-saving options are enabled in the motherboard's EFI.
AHCI is enabled in the motherboard's EFI for best performance.
Only the Intel 6Gbit/s port controller is used for test drives.
Only cold boots are utilized; for the purposes of our testing a boot is defined as the moment the power button is depressed to the moment the last systray icon and program has fully loaded after reaching the Windows 7 desktop. Auto-login is enabled.
Windows 7 Optimizations
User Account Control (UAC) is disabled.
The OS is kept clean; no scrap files are left in between runs.
The Windows Search daemon is disabled.
Windows Update and OS power-saving settings are disabled.
Other Considerations
Outside of the Windows 7 boot time test, reviewed hard drives are installed as the target; the OS and all of the applications are stored on the SSD. This is done to remove the overhead off of the tested drive, and also to reflect the fact that most people nowadays are not installing their OSes on mechanical storage.
While HD Tune and AIDA64 are able to be used on a drive without a partition, the remainder of our tests require one. As mentioned above, we feel that the focus of hard drives is moving towards pure storage rather than housing an OS, so we've adopted the use of 64KB cluster sizes. It's the maximum NTFS can support, and it's much more efficient than 4KB for those needs.
Test Suite
For the sake of thoroughly testing the drives we review, our test suite consists of a blend of both real-world and synthetic benchmarks. Although we value real-world tests higher than synthetic, we appreciate the latter because A) they can give us the "best possible" performance numbers from a drive and B) can be run by our readers, more often than not.
Our synthetic tests include Futuremark's PCMark 7, HD Tune Pro 5.0 and AIDA64 2.70. Our real-world testing includes file and folder transfers, game level-loading and Windows 7 boot times.
In the past, we used Iometer for the sake of truly stressing a drive in high-load scenarios, but have dropped it in favor of using HD Tune's built-in Random Access benchmark. Our goal with Iometer was to deliver an IOPS result, but because the program doesn't support unpartitioned GPT drives, it's useless for our needs. Fortunately, HD Tune can give us those IOPS results we're after.
Synthetic: PCMark 7
Futuremark's PCMark benchmarking suite should need no introduction – it's been a staple of PC benchmarking for the better half of a decade. PCMark offers a range of tests to gauge every aspect of a computer's performance and presents it in a simple final result. Thankfully, it also breaks down the overall score with individual subsystem scores (such as Memory, Storage, et cetera) in addition to providing individual test results.
As we're not too concerned with the performance of the PC as a whole, for our testing here we deselect all default tests and run only the "Secondary Storage" suite, with the hard drive in question as the chosen drive. Tests in this suite range from the loading of applications, running a Windows Defender scan, editing video, gaming and more.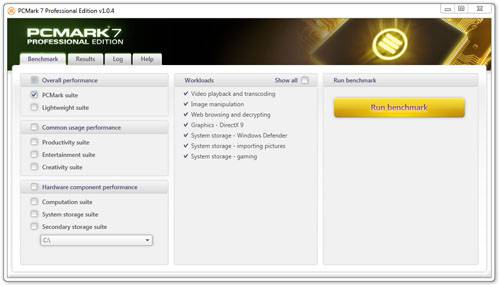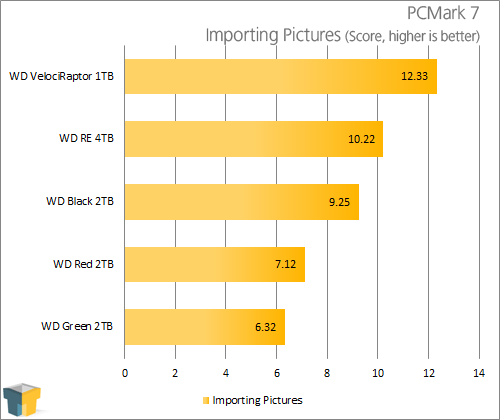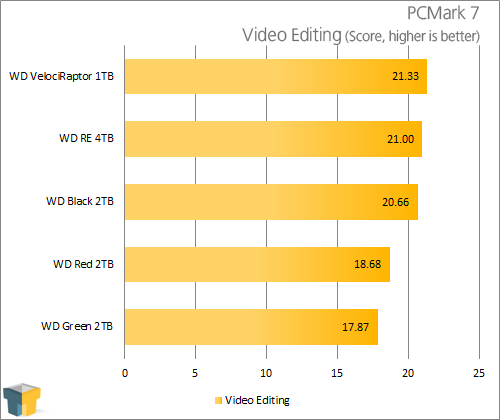 In our look at WD's Black 4TB a couple of weeks ago, we saw its performance in PCMark 7 fall behind the Black 2TB – a little odd since we expected it to be about the same. The same thing can't be said about the RE 4TB, however, as it matches the Black 2TB in the overall test, and flip-flops strengths with it in the rest of the tests. By all accounts, the Black 2TB is a very fast mechanical drive, so for the RE 4TB to match it is very nice to see.
Synthetic: HD Tune Pro 5.0
One of the best-known storage benchmarking tools is HD Tune, as it's easy to run, covers a wide-range of testing scenarios, and can do other things such as test for errors, provides SMART information and so forth. For our testing with the program, we run the default benchmark which gives us a minimum, average and maximum speeds along with an access time result, and also the Random Access test, which gives us IOPS information.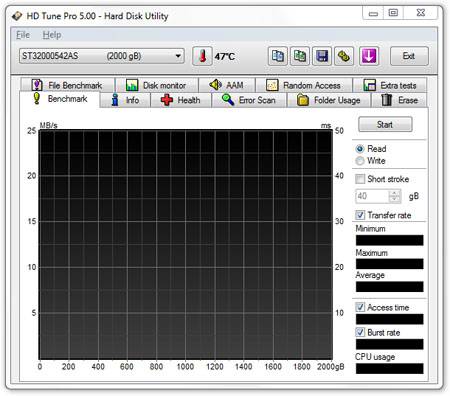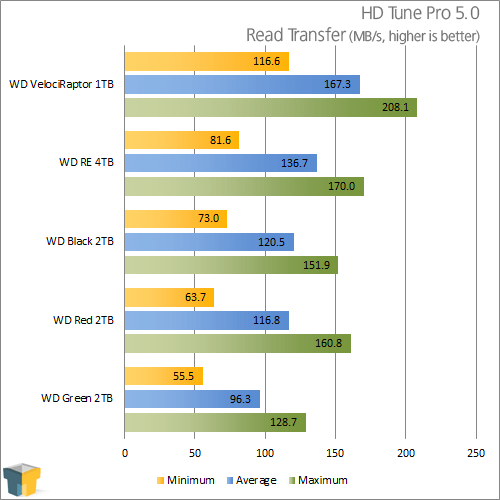 While the RE 4TB and Black 2TB banged heads in our PCMark 7 testing, the RE gives itself a fairly strong lead here. While not listed due to it not being re-tested yet, the Black 4TB scored an average 126 MB/s read in HD Tune, which puts this RE 4TB 10 MB/s ahead. Clearly, there are more differences between those two drives than immediately meets the eye.
One thing we're unsure about is why the write latencies on both the RE and Black drives are much better than expected. The first thing that comes to mind is "cache", but all drives feature the same amount of on-board cache, are tested the exact same way (and with benchmarks in the exact same order) and are tested twice over. We'll be pinging WD about this one, in case some light can be shed on this oddity.
Things are about equal between the RE 4TB and Black 2TB in the read IOPS test, but things get a little interesting in the write. There, the RE drive dominates across all four cluster sizes along with the random mix. Nothing can touch the 4KB and 64KB speeds of the VelociRaptor, but this is a great showing overall for the RE drive.
Synthetic: AIDA64 2.70
Similar to HD Tune, AIDA64's built-in disk benchmarker is one of the easiest to run. The developer also keeps up on top of architectural trends so that you feel confident that the algorithms don't get much better than this. This spreads beyond the storage benchmark, as AIDA64's system stress-testers is one of the best, if not the best, out there – thanks to it being able to take full advantage of any given CPU architecture.
For our testing, we run the Linear Read and Random Write tests. Because AIDA64 by default automatically chooses a cluster size (which changes at random), we force it to use 64KB for our testing.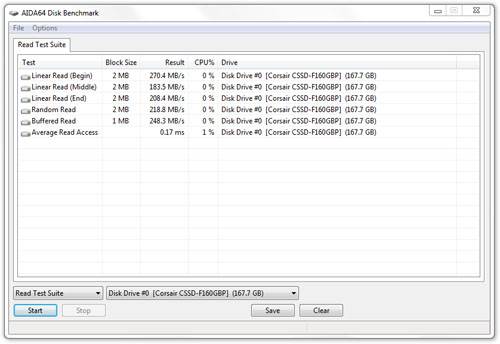 Our HD Tune test results showed that the RE 4TB's write performance was about 13% faster than the Black 2TB, and AIDA64 helps make it definitive.
Overall, nothing can touch the VelociRaptor latency-wise, but as for the RE and Black drives go, we might as well call it even.
Real-World: Transfers, Game Level Loading & Windows Boot
One of the most common tasks that someone will tackle with a storage device is transferring data, so to see what our collection of drives are capable of, we take a collection of solid files and folders and transfer them from our super-fast SATA 6Gbit/s SSD to each hard drive. Then for good measure, we copy a file and folder on the same drive. Both our files and folders come in 4GB and 16GB sizes, with the folders holding between ~5,000 (4GB) and ~20,000 (16GB) files.
Our stopwatch starts as soon as we click the "Copy here" button in the context menu, and stops as soon as the transfer dialog disappears.
Whereas the Black 4TB fell behind the 2TB model in these tests a few weeks ago, the RE drive proves that it's no slouch. Black isn't looking so sexy now, is it?
Game Level Loading
One of the biggest benefits of faster storage is quicker load times for games, both with regards to their startup and level-loading. For testing here, we use two of the heaviest games we have on hand; Sid Meier's Civilization V and Total War: SHOGUN 2. Our test here is simple: we see how long it takes each game to load. Our stopwatch starts as soon as we click the option to load either game..
Given the scaling we've seen up to this point, I guess it's a little refreshing to experience a scenario where huge deltas just don't seem to exist – at least on mechanical storage. The VelociRaptor drive still reigns supreme, while the Black 2TB edges out the RE 4TB thanks to a gain in SHOGUN 2.
Windows 7 Boot Time
Like game level loading, faster storage can mean faster OS boot times. To put this to the test, we rely on an Acronis image that has a clean install of Windows 7 Ultimate x64 and required drivers, with Ethernet disabled. For a more accurate result, we do our testing with a cold boot, after the system has been left to sit idle for a couple of minutes. We record both the time it takes to boot to the desktop from a completely cold boot, and also the time it takes from the very second we see the Windows loading screen appear.
This is one area where I expected to see the Black 2TB conquer the RE 4TB, but not so. The RE drive actually came very close to matching the performance of the VelociRaptor drive here.
Final Thoughts
At the current time, the 4TB market is small. As mentioned in the intro, three of the readily-available drives all have the WD warlord watching over them – so regardless of which one you buy, you'll ultimately be supporting the same company. One drive that has popped in and out since November is Seagate's Constellation 4TB, although little is known about it. It does however feature a 128MB cache, which the mere thought of alone could get any geek excited about. We'll see about getting one of these in to test soon.
On the WD side, the company's RE 4TB that we took a look at here retails for ~$429.99. By contrast, the Black 4TB bears a price-tag of ~$329.99, whereas HGST's is ~$309.99. We established in our full review of the Black 4TB that it and the HGST drive shouldn't be too different overall, either design or performance-wise, but things change a bit with the RE.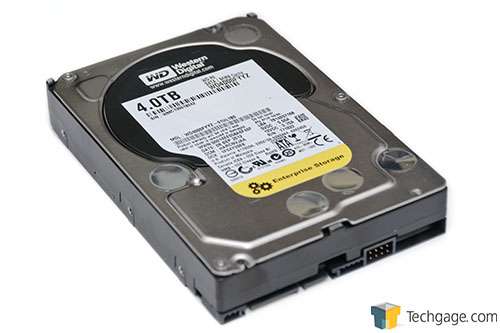 We covered six things on the front page of this review that RE drives pack in that the others don't. All of these revolve around keeping the drives stable and secure while delivering long-lasting endurance in addition to a long lifespan. For its $100 premium over the Black model, are those things all worth it?
For most, no… not at all. As I've harped on a couple of times in this review, RE drives are targeted squarely at the enterprise market. There, failing hard drives is not an option. While it's impossible to deploy a hard drive that's simply not going to fail, your chances are lessened when you choose a model that's designed with your usage scenarios and needs in mind. WD takes its enterprise offerings very seriously, so given the choice between a Black and RE drive, I'd always opt for the latter. Would I personally pay the $100 premium? Of course not. For a home user, a drive like this is a luxury. For the enterprise, it's just common sense.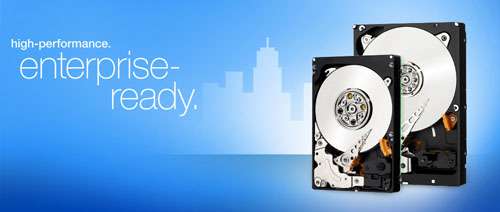 If you're a home user with deep pockets that cares a lot about enterprise-level equipment, the RE would make for a great addition to your server or NAS. For everyone else, the Black 4TB is still more than sufficient where 4TB drives are concerned, though its latencies still leave a bad taste in our mouths. Fortunately, the RE 4TB suffered no such performance hold-ups, often proving faster than the Black 2TB. Its pricing will keep it out of the hands of most people, but there's no denying just how sweet of a drive this is.
Pros
4TB – need we say more?
Fantastic performance. Handily beats out the Black 4TB.
Boasts numerous enterprise-level features focusing on security and stability.
Cons
Pricing – but it's to be expected on enterprise equipment.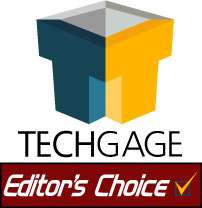 WD RE 4TB Hard Drive
Copyright © 2005-2020 Techgage Networks Inc. - All Rights Reserved.