Western Digital 500GB RE2

Date: August 14, 2006
Author(s): Rob Williams

Are you looking for huge storage that won't hurt the pocketbook? Easily done, since the 500GB RE2 drive we are looking at today retails for around $250. Does it have the performance you are looking for?
---
Introduction
When the time comes to build or upgrade a machine, hard drives tend to usually follow in the game plan. It seems every year, we -need- to upgrade our storage in order to simply house all of our goods, especially in this digital age. Needless to say, competition is fierce at the top of the market. Though Seagate offers a 750GB solution, 500GB drives are more apt to be considered due to their more reasonable price. After taking a quick look at a popular US e-tailer, the drive we are looking at today can be found for $220. To me, that is an incredible price for such a large solution. For $440, you could have your very own 1TB setup!
At the time of writing, at the same e-tailer, Seagates 750GB drive retails for $400 on the mark. Their similar 500GB solution is going for $290. On an equivalent Canadian e-tailer site, WDs 500GB drive is $50 cheaper than Seagates model. There's no doubt much debate on which drive would be better if they were the same price, but it's hard to ignore the fact that WD's solution is so much cheaper. That will add up moreso if you are planning on installing more than a simple 500GB in your machine. Performance wise, how do both manufacturers drives compare? We are going to find that out today.
The drive we are reviewing today is not WDs only solution though. The drive we have here is the RE2 version, which is enterprise class. The other, Caviar SE16 is scaled down in various respects to land itself in the desktop class, or consumer class. Here is a quick comparison of the two drives:
| | |
| --- | --- |
| Western Digital 500GB RE2 | Western Digital 500GB Caviar SE16 |
| 3GB/s | 300MB/s |
| 16MB Cache | 16MB Cache |
| 7200 RPM | 7200 RPM |
| 4.2ms Latency | 4.2ms Latency |
| 8.7ms Seek Time | 8.9ms Seek Time |
| 33dBA Seek 0 | 33dBA Seek 0 |
| 41°F – 140°F Operating Temp | 41°F – 131°F Operating Temp |
Of course, that's hardly all of the specs. You can read more about the SE16 here and the RE2 here. Simply put though, if you want the fastest WD 500GB solution, or drives for RAID use, you will want the RE2.
Benchmarking Methodology, HD Tach/Tune
Throughout all of our benchmarks regardless of what we are reviewing, testing is done in a clean and stand-alone version of Windows XP Professional with SP2. Prior to testing, these conditions are met:
Desktop and scrap files are cleaned up, including emptying of recycle bin.
No virus scanner or firewall is installed in the stand-alone installation.
The stand-alone installation drive is completely defragged using Diskeeper 10 Pro Premier.
All unnecessary programs are closed, so that Windows should have no more than 15 active processes running.
Computer has proper airflow.
If you are interested in using the same benchmarks as us, feel free to visit the developers website:
The testing rig used for today's benchmarking is as follows:
CPU: AMD Windsor 4600+ EE @ 2.4GHz
Motherboard: ASUS M2N32-SLI Deluxe (603 BIOS)
Memory: OCZ 2GB PC2-7200 EPP
Video: BFG 6800GT OC 256MB PCI-E
Sound: Onboard HD Audio
Storage: Western Digital 500GB RE2
Etcetera: Windows XP Professional w/ SP2, NVIDIA 81.98 Drivers
Cooling: Corsair Nautilus 500
Note: You can read the review of the Seagate 500GB here, for all the info regarding it, including specs. Like the WD RE2, it also is 7200RPM, 16MB Cache.
HD Tach RW3
HD Tach is one of my personal favorite tools for testing out storage solutions. It can perform tests on an 8MB, 32MB and Extended level, and spit out reliable info such as Average speeds and latencies.
It doesn't look like any other hard drive is going to be able to touch Seagates Burst speed anytime soon. Thankfully, that's not the truly important result here. Rather, the Average MB/s is, and we can see that our WD drive cleaned up here. It proved almost 10MB/s faster than the Seagate on average, which I found quite surprising.
Burst/Avg Results in MB/s, Latency in ms
HD Tune 2.52
HD Tune is quite similar to HD Tach, but it is always good to have a second opinion.
The results are pretty congruent with HD Tune… WD is a clear winner. 10MB/s is not a small difference!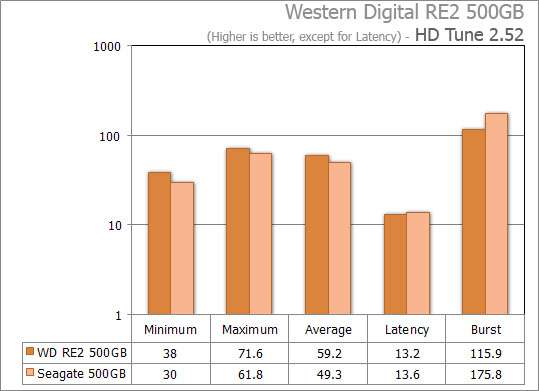 Results in MB/s except Latency (ms)
Sandra, Real World, Final Thoughts
I have combined these two to their own graphs, only because each one only spits out a few results. While PC Mark shows near identical HDD scores, Sandra tells us the same thing that HD Tune/Tach have.
Average in MB/s, Latency in ms
Real World
What good is a storage review without real world tests? No good at all, I say. To perform these tests, both the WD and Seagate drives were installed as secondaries, one at a time. Our benchmarking methodology applies here also… the computer is kept well cleaned up for testing to resist any lag or hitch.
The tests are rather simple, but that's all they have to be. I have four sets of files that are located on the hard drive, and I test the time to duplicate them on the drive (copy to another location on the drive). Here are the file sets I have used:
4GB Solid (One File, 3,882,051,829 Bytes)
4GB Small (1,064 Files & 77 Folders, 3,981,538,497 Bytes)
4GB Large (2,130 Files & 0 Folders, 3,863,853,735 Bytes)
8GB Solid (One File, 7,929,461,187 Bytes)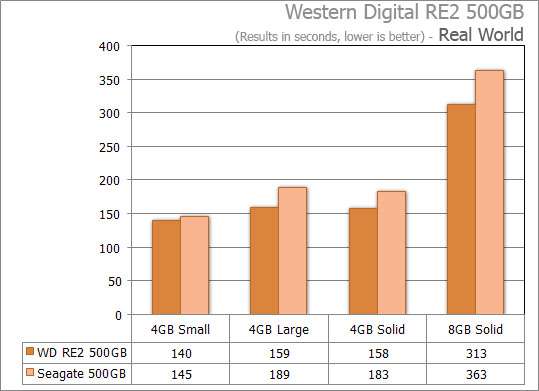 I think the results speak for themselves. The RE2 is faster on average than the Seagate model, in every respect. We seen it in our synthetic benchmarks and also our real world tests.
Final Thoughts
After giving the RE2 500GB a test, I have to say I am impressed. I didn't expect it to beat out the Seagate like it did, in every single test. Since this is an enterprise class drive, I guess it's to be expected. What's not to be expected though, is that the RE2 is cheaper than Seagates 500GB, in all the websites I've checked. Even though I may sound like I am discrediting the Seagate, I am not. It has the benefit of Native Command Queueing, which may prove to be the main selling point for some. For me, I enjoy the faster average Read and Write speeds.
Faster for less money, it sounds like a no-brainer. Both the Seagate and WD we have looked at today come with a 5-Year warranty, so any way I look at things, the RE2 would be the one to pick up. Now, if we could only see a 750GB version of the RE2! I am awarding the RE2 500GB a 9 out of 10 and our Editors Choice. If you are looking to upgrade your storage, you will not go wrong with the RE2 500GB.
Pros
Proven faster than the Seagate 500GB
Priced very well on select websites
Includes sturdy S-ATA cable.
Perfect for RAID
Cons
Need to use Molex connector if you use included SATA cable.
Discuss in our forums!
If you have a comment you wish to make on this review, feel free to head on into our forums! There is no need to register in order to reply to such threads.

Copyright © 2005-2020 Techgage Networks Inc. - All Rights Reserved.