X2 Aurel Noise Cancelling Headphones Review

Date: January 17, 2014
Author(s): J.D. Kane

You might not have heard of X2 before, and its Aurel headphones might make you want to grab a dictionary, but as we've discovered, those who appreciate clean audio would do well to check them out. Under their unassuming guise, Aurel headphones focus on delivering neutral audio, are flexible, and carry an affordable price-tag.
---
Introduction
Spire, from the Netherlands, may be a name PC enthusiasts have heard of before, but it is far from a household name (at least on these shores). If we accept this as a fundamental truth, then Spire's sub-brand X2 is virtually obscure. I certainly had never heard of it.
Thus, when Techgage supremo Rob offered me the chance to review X2's Aurel 2.0 headphones, my immediate response was "X-who?". Nevertheless, despite my complete ignorance of the brand – Rob did set me straight immediately, informing me of the brand's connection with Spire – I did accept the job of reviewing the kit on offer.
So let's get on with things, then.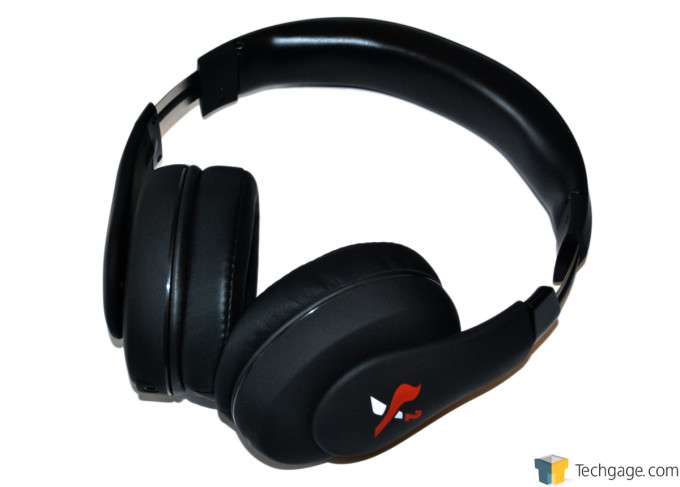 Pretty unassuming in terms of looks, I'd say. Except for the splashy red and light grey "X2" logos on the outsides of the ear cups, and the L and R labels on the inside lining, I'd say the Aurel headset's looks are fairly unremarkable. The color scheme is dominated by black, black, and more black, with shades of some very dark grey. Not that I'm suggesting this is a bad thing, mind you. I certainly prefer fairly muted aesthetics over muted audio performance when it comes to headsets.
But we're getting a little bit ahead of ourselves, now, aren't we?
You get a good amount of stuff inside the packaging. Of course, you've got the headphone unit itself; you've also got the cable (1.2m long), an airplane adapter that splits the combo cable's mic-in and audio-out into two 3.5mm jacks, a 3.5mm-to-6.35mm (1/4″) adapter jack, and a very snazzy black carrying bag. The bag, incidentally, feels like it's fairly indestructible, made of a plush velvet-like material.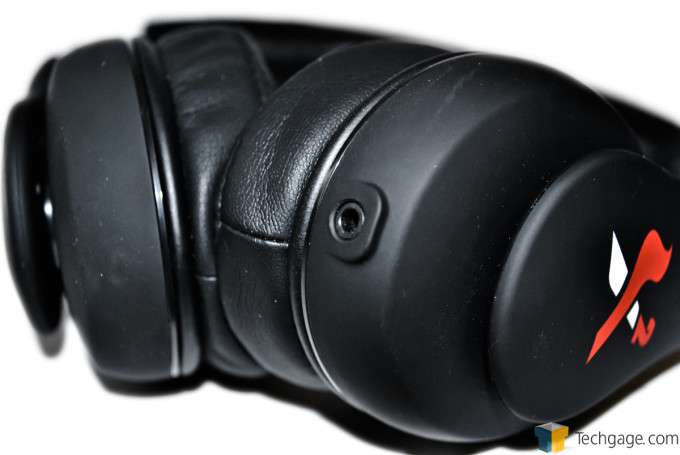 In case you haven't caught on yet, the X2 Aurel has a detachable cable. Per standard practice, the cable attaches onto the left ear cup.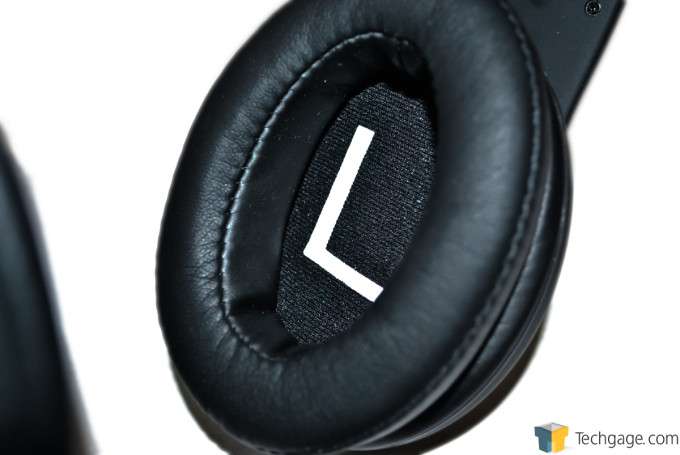 Just so you never make the mistake of wearing your Aurel the incorrect way, X2 has silkscreened L and R on the corresponding ear cups' interior lining. This is an interesting solution; most headphones have their left and right markers somewhere on the outside of the ear cups. While it might look a bit daft to some having such huge letters printed on the ear cup lining, once you're wearing the Aurel no one will ever see them.
Speaking of the ear cups, they are lined with a substantial foam covered with either leather or a very convincing substitute thereof. The same materials line the inside of the headband, although there is less padding here.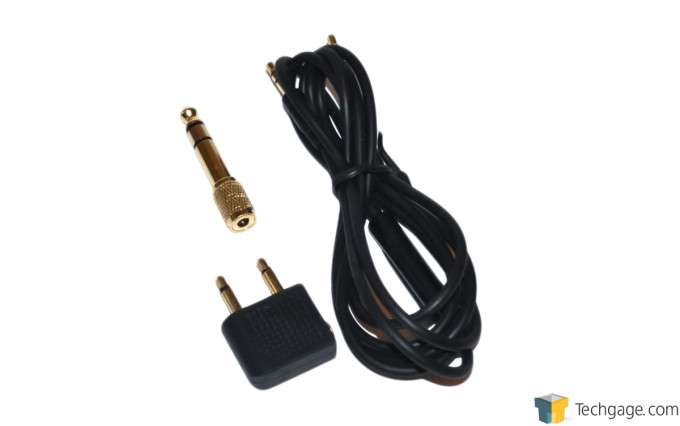 And here's a close-up of the cable and adapters. Nothing particularly interesting here, except to note that the microphone is in-line. The cable also features a push-button control that works on a cellphone in a couple of interesting ways: It picks up and ends calls at a push, as well as starts and stops your phone's media player. There is no volume control slider, so you still need to use your device's controls for this function.
Now that we've had a good look at the hardware, let's go on to testing and some concluding thoughts.
Testing & Final Thoughts
I've evaluated the X2 Aurel headphones on three major criteria: Ergonomics, Functionality, and Sound Quality. When it comes to audio equipment, I feel that these qualities trump all others.
The testing period was roughly two full weeks, taking into account a personal observation that a headphone's drivers continue to evolve as you use them. I haven't quantified a specific number of hours before the drivers stabilize and achieve their "ultimate" sound signature, but two weeks of consistent use has been a fairly good threshold. At the very least, the rate at which the sonic output changes has slowed to a noticeable degree by this point.
Presently, let's talk about the Aurel's ergonomics. At first blush, they seemed a bit small for my melon. I mention this because, as noted before, the padding on the ear cups is fairly thick. I anticipated a tight-fitting pair of headphones. Thankfully, the Aurel is easily adjustable with its expandable headband and swiveling ear cups, and finding a comfortable fit was the work of a moment.
The ear cups themselves, though, seemed a little on the small side compared to my ears. The padding on the ear cups pushed on my ears; compared to something like my Shure SRH840 or my Beyerdynamic DT880 cans, where my ears sit inside of the padding, this was a little unusual. Having said that, the fit was comfortable. I could keep the headphones of my head for hours on end without any annoyances, like sweaty ears or a sensation of pain from my head or ears getting squeezed too much. And this only got better the more I used the Aurel; just like the drivers, it takes time for the aluminum headband to adjust itself to your head.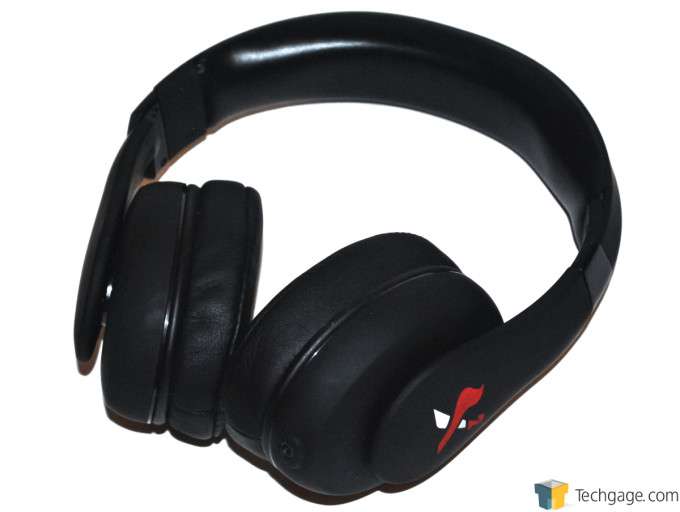 Perhaps the only thing approaching a gripe about the Aurel is its weight. It's a small set of headphones, yes, but they don't feel that small once they're on your head. They're not heavy (280g); for some weird reason, though, they feel weightier than my DT880s (295g).
In terms of functionality, it's hard to beat the Aurel. It works on your PC via the airplane adapter; it works on a tablet; it works on a cellphone. If you only want to use it for listening to music, it works on your media player device (I used an iPod classic) too. I even plugged this thing into my Orange Crush Pix CR12L solid state electric guitar amplifier, which has a 1/4″ headphone-out connector! Spire/X2 is from the Netherlands, but the Aurel's natural, out-of-the-box adaptability mimics the Swiss Army Knife!
Maybe it can be the Blade of the Royal Netherlands Army?
I was actually shocked (quite pleasantly so) when I clicked the one button on the Aurel while it was plugged into my Samsung Galaxy S1 after one particular phone call with my girlfriend. I thought that the phone would dial her number; instead, it automatically selected the phone's media player software and played the first available track. That was a huge surprise because, well, I never really use my phone to listen to tunes. But it amused me no end that the in-line button could actually do that.
As far as sound goes, the Aurel is neutral. It's not quite as bias-free as either my own SRH840 or DT880 Pro cans, but then again my own personal gear is also around twice as much more expensive at least. But I'm quite pleased with the fact that it's quite unlike most other headphones/headsets I've tested for Techgage. I have a strong preference for neutral-sounding headphones (as proven by the fact I bought both the Shure SRH840 and the Beyerdynamic DT880 Pro; both are renowned for this specific characteristic).
The biggest difference between a product like the Aurel and products like the SRH840 and the DT880 Pro lies in the finer details. Both the Shure and the Beyerdynamic reveal more detail in their sound output; there's just far more nuance and finesse in how the more expensive gear's sound output. For example, on the Queen of the Stone Age's hit No One Knows, there is a very subtle whisper echoing vocalist Josh Homme's singing in certain sections of the song. A detail like this is quite obvious in both the Shure and the Beyerdynamic; it's there in the Aurel's output too, but it's a lot harder to discern. Again, this is something completely unsurprising. But what was somewhat surprising was how pleasant the Aurel is to use, particularly when listening to music.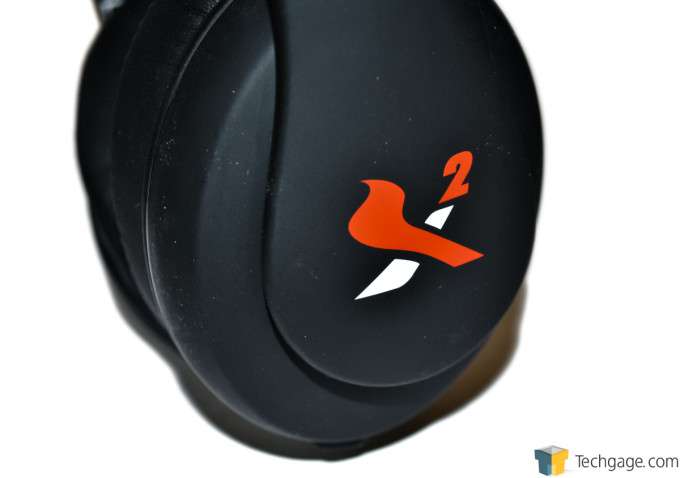 Few things drive me more batty than when I listen with biased-output headphones. It's fairly common to find gear that is bass-biased; I suppose that's what the market demands. But the Aurel walks the frequency tightrope closer down the middle than most products I've tested for Techgage, especially in its price range.
Stereo separation is done quite well. On a track like the Foo Fighter's Rope, where you have two guitar parts alternating from the left channel to the right, you can really enjoy the effect. Old-school stereo mixes like those in the Beatles' catalogue are particularly enjoyable with the Aurel.
Final Thoughts
X2 has done a great job with the Aurel. As a pair of headphones, it hits its targets far more than it misses. Despite its smallish ear cups, it is comfortable to wear and use. It's versatile and functional like few other products in its class, and the quality of its audio output pleases the ears. It's not perfect, of course. While its neutral bias is ideal for me, users who insist that bass should be boomy and dominant over everything else in the mix might not enjoy the Aurel so much. It's not that the bass output is paltry; it's just that the Aurel seems to be designed to put out a good balance of frequencies, and not just the low and ultra-low ones.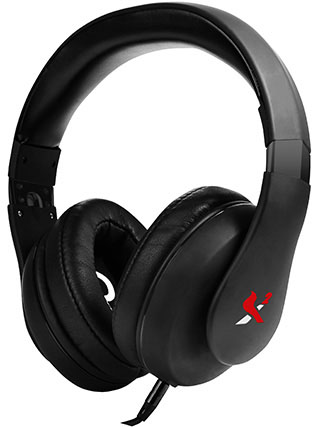 I fully acknowledge that this next bit might be a little ridiculous, but I'm really tempted to say that if cans like the Shure SRH840 and the Beyerdynamic DT880 Pro are affordable audiophile headphone options, then the X2 Aurel is the closest thing that comes to an entry-level audiophile-esque set of cans that I've tried. Plus you get superb versatility too. I mean, neither my Shure or Beyerdynamic cans can be used for Skype or a mobile phone like the Aurel can. For an MSRP of $69.99, that's a hell of a package.
The X2 Aurel deserves Techgage's Editor's Choice award.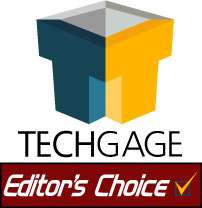 X2 Aurel Noise Cancelling Headphones
Copyright © 2005-2020 Techgage Networks Inc. - All Rights Reserved.