Xbox: Nascar 2007
Date: September 21, 2006
Author(s): Jeremy Lair

Nascar is back! It did not make the next-gen consoles this time around, so we are taking a drive with the Xbox version. There are many additions included this year, including the Drive With Confidence feature. If you are a Nascar fan… read on!
---
Gentlemen, start your engines and get ready for another installment of EA Sports NASCAR for 2007. It"s time again for another round of pulse pounding action and the roar of 43 engines screaming to life on the Xbox. The competition is fierce and the tracks are even more challenging as you go toe to toe with the best drivers in the world. No funny titles this time around, no "Chase For The Cup", no "Total Team Control" just NASCAR in its purest form.
The game starts just as all EA Sports titles with an option to go straight to the action with Race Now in four different NASCAR racing series. From the Whelen Modified to Craftsman truck, the Busch series and finally the elite Nextel Cup series. There is the choice of all the drivers the NASCAR arsenal has to offer from much hailed Dale Earnhardt Jr. to fierce Tony Stewart.
The game opens up with a cool alternative rock tune, and the ability to use the Xbox play list to create your own in game music. Although, you only have the ability to choose 20 songs from your Xbox play list, so at times they get repetitive. Me personally, I like the alternative rock songs to get the blood pumping for this bumper to bumper action. The songs that are offered by the game seem a little BLAH!!! except for a few here and there. Otherwise I would recommend sticking to your own playlists.
Game modes include: Fight To The Top, Season, Xbox Live, Dodge Challenges and Chase for the Cup. In Fight To The Top at the beginning you get a nice little talk from Kenny Wallace. He invites you try some driving qualifiers for a chance to get a contract in a NASCAR series. Your career starts in the Whelen Modifies where you are offered a contract to race in the low level series. Do well enough in the modifiers and you will be offered a contract by a Craftsman Truck series team. This continues until you are finally offered a contract from a Nextel Cup team with a chance to win the coveted prize: The Championship.
The option is also available to buy your own team, which is by no means a cheap transaction. The Fight To The Top mode will keep you busy for hours and hours of practicing, car setups, qualifying, and racing. If you"re one who likes the full experience and doesn"t care to have a life of any kind you can choose to drive the full length races. By the time you get to Nextel Cup series, races will last between two and a half to three hours a piece. This game mode can literally take on a life of its own.
Looking for something that"s not so extensive or time consuming as Fight To The Top yet not going to be over in a flash? Try Season mode given the option to compete in all four series with a schedule length to your liking anywhere from 8 races to a completely customize racing schedule.
Xbox Live mode means exactly what we"ve come to know. You choose your car and go racing online. This mode is nothing to brag about, some of the time you find yourself in the mix with drivers not up the task. There are those handful of races where you will be biting your nails to the end.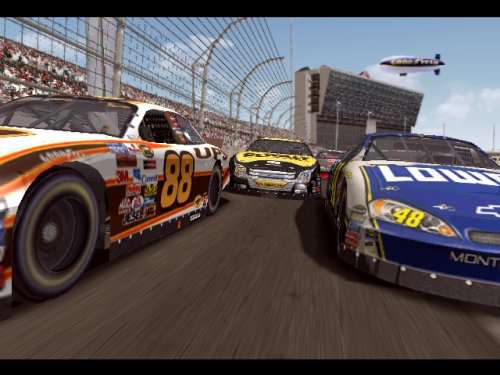 The Dodge Challenges are an interesting addition allowing you the opportunity to change history. You are placed in different past real life races who"s outcome is written in the record books, yet are not final if you can change it. Case in point, you are put in a scenario where you are Greg Biffle in his #16 National Guard Ford Fusion who in the books lost a race at the Auto Parts 500 in Phoenix by 0.609 seconds to Kyle Busch . Now you are given the chance in 3 laps to change history and have Biffle declared the winner at Phoenix instead of Busch.
To skip to the best of the best NASCAR has to offer you can do the Chase For The Cup. Behind the wheel of an 800HP metal monster Nextel Cup car where you try in 26 furious races to qualify for the Chase. A 10 race "playoff series" between the top 10 drivers in the series up to that point to decide the 2007 champion.
This game has a lot to offer in terms of pure playtime… you can easily pass the 100 hour mark. There is no lack of things to do. For a person who is truly into the whole experience, this game hit"s the spot. On the other hand, those who are the "pick it up and play" types you may find yourself burnt out in a few hours.
I must say the first in race encounter I had was in a modified car at Martinsville Speedway and at night. The graphics did not appear very well rendered and had a rough look. Yet when I got into the day time races I was rather impressed everything on the track looked as real as it could on this 1st generation Xbox system. The objects on the outside such as the crowd and the buildings could use a bit more texture.
Controls in this game are very responsive for the veteran and maybe a little bit too much for the rookie. So, there is a option to change the sensitivity of the controller to make it more suitable for the newbies. I had a hard time getting it down on a couple of the tracks but there are driver assistants that help better to keep the car going forward and off the wall. For a person that is accustomed to other racing games and like their controller configured in a specific way, there is no option to completely customize a familiar button layout. Though there are four different set controller configurations to choose from.
Another thing available for the novice racer is the informative line which even I as a somewhat of a racing fanatic found to be a valuable tool. Basically it is a line around the track that gives you an idea of where the car should be relative to your position on the course. The line changes color from green (go), yellow (let off the accelerator), and red (apply the brake) to help you to better run on the line. It may take away from the realism of the game but may be necessary at the beginning to learn each track a little better to hone your skills. Even for the beginner after a few laps on any track should have it down for the most part.
Being a NASCAR fan that I am and having a knowledge of racing may make me scrutinize this game more than someone who knows less but it is hard in this case. The very first EA Sports NASCAR game I played was NASCAR 97 for the Playstation One and at the time it was an OK game with no real physics or much realism at all… just a fun racing game. This time around EA has hit the spot making this a game where you can come play and have fun racing around with little knowledge of racing or skill. Better yet if you are a NASCAR or racing fan at heart you can pick up this title and find yourself totally immersed in a true and exciting racing experience. I am going to award Nascar 07 for the Xbox an 87%!
Pros
+ Graphics are very fluid and clear for daytime racing.. impressive for the 1st generation Xbox.
+ Motion blur makes for a intense sensation of speed over previous EA NASCAR titles.
+ In game sound effects, such as engine noise, are very realistic.
+ Full schedule and all tracks are represented for Nextel Cup series.
+ Ability to change in-game music to your XBOX playlist.
+ Fight To The Top is a great mode for the die hard NASCAR.
+ Rookies can jump in and play with ease because of driving assistant.
Cons
+ Graphics for night time racing are not as crisp and clear as day time.
+ Opponents can become rivals against you during a race with just a small tap on the bumper.
+ Gameplay may seem bland and boring for first timers despite ease of play.
+ Limited number of song selections from music playlist can be repetitive at times.
+ Controller button functions can not be customized outside of the four preset configurations.
+ Elliot Sadler on the cover. REALLY?
Discuss in our forums!
If you have a comment you wish to make on this review, feel free to head on into our forums! There is no need to register in order to reply to such threads.
Copyright © 2005-2020 Techgage Networks Inc. - All Rights Reserved.