XG Magnum 600W External PSU

Date: June 7, 2006
Author(s): Matthew Harris

Power supplies are getting bigger and more powerful each year, pumping more and more heat into PC cases. Today we take a look at an external solution that promises to lower in case temps and help your PC keep it's cool.
---
Introduction
It's been an ongoing trend that as PC's get more powerful that the power requirements get higher and as the power requirements get higher the size of PSU's increase to house that power. Another byproduct of that increased power is increased heat. More wattage means more heat shed inside your case. Yes, power supplies do have fans to exhaust that heat out of the case but they still radiate a portion of heat in the case through the shell. XG wants to help change that and to further that end they've released the Magnum EX.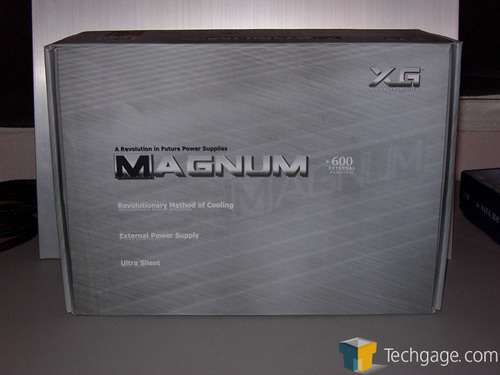 Touted as a 600W external power supply XG lists the features as follows:
100% Aluminum chassis; 2.0mm 6065 super thick anodized rounded aluminum chassis.
Advanced airflow; Low gravity gravity construction, especially created for heat wave airflow design. Most advanced airflow design, 350W fan less, 500W with low db fan.
Silence; Super silent 80mm fan successfully reduces acoustic noise giving more airflow in less RPM and smooth mechanical design.
Rear LCD display; LCD display shows 1) Power working temperature with alarm 2) Wattage output 3) 12V output monitor display.
No interference; Magnetically shielded cable with UV plastic cable.
S-ATA connectors; Connect your system to the faster S-ATA interface for better performance.
ATX 12V version 2.0 compatible; Support latest P4 Prescott and Athlon processors based systems.
Active PFC function; Industrial "Double Forward" interior design utilizes active PFC and maintains 99% steady performance.
Fiber optic technology; PCB is using full fiber optic, which is specially designed for high heat tolerance.
Worldwide compatible; Includes all voltage in power supply from 110V to 230V. Worldwide hassle free usage.
Reliability; OCP, UVP, OVP, OLP,OTP and SCP circuits ensure system well guarded from any danger. Maximize safety for your hardware and valuable data. All certified EMC/FCC, UL, TUV and CE.
External power supply; The Magnum 600 EX is a revolutionary design. Because the power supply is external, 70% of the heat generation in your computer is now removed and away from heat sensitive components!
Rail amperages are as follows:
+3.3V – 28A
+5.0V – 30A
+12V1 – 18A
+12V2 – 20A
+5VSB – 2.5A
-12V – 0.8A
Note
The maximum continuous total DC output power shall not exceed 500 Watts
The maximum continuous combined load on the +5V and +3.3V outputs shall not exceed 150 watts
The maximum continuous combined load on +5V, +3.3V and +12V1, +12V2 outputs shall not exceed 485 Watts
As you can see this kind of refutes the claimed 600W that we find in the features list. This is very disappointing since the supplier to MGE of this PSU (SevenTeam) does indeed make a 600W version. This particular PSU is based on the ST500EAZ as can be borne out by finding the 500EAZ in the label on the bottom of the unit. SevenTeam also sells the ST600EAZ which features stronger 12V rails. In the future I'd like to see MGE truthfully list the wattages of their products in the nomenclature. Calling a 500W unit (even one that's of undeniable quality) a 600W unit is misleading.
Internals & Externals
The cables supplied with the unit are a two part setup. There are cables that go in the case, they're attached to a plate that mounts to the rear of the case in place of your standard PSU, from there there are three shielded UV reactive cables that connect the PSU to the actual PC. The cables inside the case are generous and have no trouble reaching anywhere inside my Tt Armor which is by no means a small case. The list of connectors inside the case are 6-4pin Molex connectors, 2-5 connector SATA connectors, 2-4pin Floppy connectors, 2-6pin PCI-e connectors, 1-2x2pin ATX 12V connector and 1-2x4pin E-ATX connector. The main ATX connector is of the 20+4pin variety which allows for use with older systems.
The three cables running from the PSU to the back plate are about 15″ long and are terminated with ATX style plugs that are specific to the EAZ and Magnum EX, you can't use this PSU with the cables off your modular PSU so don't bother trying. I've seen other people commenting on the stiffness of these cables and I have to agree, they're very stiff. In fact, they're so stiff that they have no problem dragging the ten pound PSU around on the case if I manage to get all four rubberized feet off the top of the case.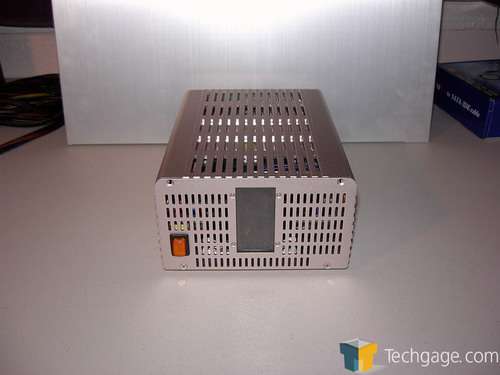 Taking a look at the PSU we notice that it has a quasi-industrial look, in a refined polished sort of way. The casing is made of ventilated anodized aluminum that is finished with a pleasing champagne color. The front (Or rear as XG calls it) features the LCD display along with the power on/off button for the PSU. Having the button at the front of the power supply is a blessing and a curse. It's a blessing as it does away with fumbling around at the rear of the PC to turn the power supply off if you're working on the system (Repeat after me: "I will turn off the power supply before adding or removing any cards, including ram, from the motherboard") but it's a curse if you have inquisitive little ones that are able to come in contact with the pretty red button on the box on top of daddy's (Or mommy's) PC. I don't know what it is about bright red buttons and kids but they are *not* a match made in heaven.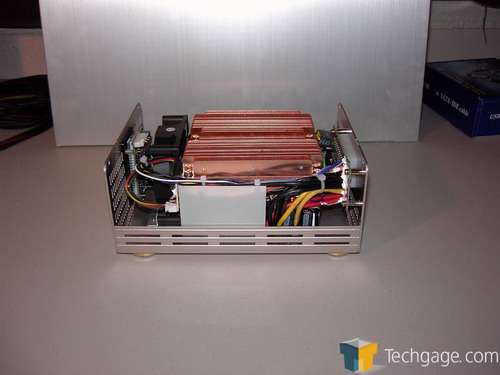 I'm sure the sharp eyed readers noticed that the top case screws were missing in front and back on the PSU. Yes, indeed, I am tearing this one apart as well. Due to the design of the massive heat sinks on the EX it's nearly impossible to see the internal layout of the power supply but from what we can see we'll notice that it is absolutely crammed with components. As we can see the EX isn't fan less as is stated on XG's site, instead it has an internally mounted 80mm fan that draws air from the front of the PSU and blows it over the huge copper heat sinks. Sadly, the one drawback to this design is that allows heated air to re-circulate within the PSU case.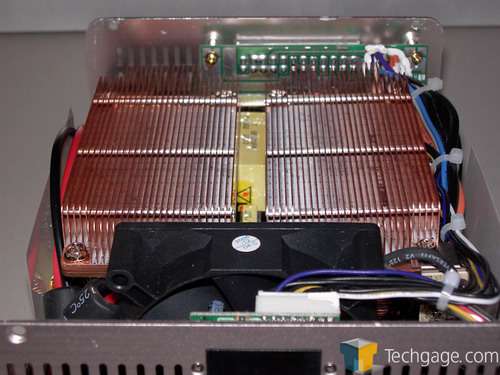 Looking on the other side of the XG we see that the PSU is divided in half, the left side (Looking at the front of PSU) is the Active PFC circuitry and the right side is the power output section. The APFC section features a single 470mFD RubyCON power conditioning cap and a huge toroid transformer. Looking to the right of my thumb (Next to the ferrite choke on the red and black power wires) is the thickest small diameter toroid I've ever seen. I made certain it's not two transformers stacked side by side because I was so surprised. I guess that when you only have a fixed vertical limit you've got to expand horizontally.
Installed in the case it looks strangely empty, there's a big gaping void where the PSU would normally go. So strange to not see a big block of metal up there next to the HDD cage.
Testing & Conclusion
Lets get down to the numbers, shall we?
Tested System
Motherboard: Chaintech 9CJS Zenith
Processor: Pentium 4 2.4C @ 3185Mhz
Ram: 2*1Gigs Patriot PDC2G3200LLK
Video: eVGA 6800nu unlocked, 16p/6v, 380core/820mem
Hard Drives: 2* Western Digital WD1600JD 160Gig SATA
Optical Drives: Samsung 16X DVD-ROM, Samsung 16X D/L DVDRW
Cooling: Swiftech Apex Ultra WC kit, 3*120mm fans, 1-92mm fan
Floppy: Sony 1.44Mb
Etcetera: Windows XP SP1a
To stress the system as hard as possible I fired up Diskeeper 10, 3D Mark '03 and SuperPI 1.04 and ran all three concurrently, This gave the CPU 100% load, the GPU 100% load and did a good job of keeping the drive heads thrashing non-stop during the test run.
Oddly enough, during testing I very seldom saw the included wattage meter exceed 180W. The 12V meter never budged off of 12.33V either even when my multi-tester is showing 12.35V. One of these days I'm going to have to either fabricate or purchase a test bench that will allow me to set the amp draw on each rail so I can tell how accurate these wattage displays are. By rough estimation though I should be presenting a >200W load on the PSU.
Time to sort through the nitty and get to the gritty…
Power Block
Top notch build quality
Quasi industrial look
More room in the case
LCD display
Front mounted power switch
Quiet (Always a good thing)
Cinder Block
Stiff cables connecting the PSU to the case
Over-rated wattage claims
2 SATA connectors (2??!!)
Front mounted power switch (If you have kids that is)
When it's all said and done would I recommend this PSU to my family and friends? The short answer is no, the long answer is it depends largely on what they're trying to achieve. If they were building an HTPC and weren't building it with a power hungry X2 and high-end SLI cards I'd say hell yes. The pumped up wattage claims prevent me from giving it the overall stamp of approval though. For a high-end system 500W is just not enough guts to keep everything running smoothly, 600W would be marginal but with the 28A 12V2 rail on the 600W unit it would be better suited for a pair of 7900GTX's.
Now, we spoke about temp reductions earlier. I bet you thought I'd forgotten. Don't worry, I may be old but I'm not doddering (Yet) and I will cover that now. Up to this point I've been running the Ultra X2 in my system and my average case temps have hovered around the 32C mark. With the Magnum EX the average case temps have dropped to 30C. I took the trusty RayTek Mini IR gun to the EX and shot the outside of it while I was running the load test and the outside was a steady 35C at the middle of the PSU. This is in a room with a 21C average temperature. So while not a 70% drop in temps inside the case it does help.
At the end of the day how does the Magnum EX rate you ask? I'm glad you asked. An ~$200 500W PSU passing itself off as a 600W PSU gets dinged a bit in my book, Since we don't use .5 in our scale I'm giving the EX an 8 but in my heart it's a 7.5. It's a killer PSU, stout and stable as all get out but the over rating and the lack of at least 4 hardwired SATA connectors ultimately hurts it.
Discuss!
If you are interested in commenting on the review, you can head on into our thread. You do not need to register in order to reply to any of our content threads.

Copyright © 2005-2019 Techgage Networks Inc. - All Rights Reserved.