XTrac Hybrid

Date: June 30, 2006
Author(s): Matthew Harris

Mousing surfaces usually fall into one of two categories: Hard surface or cloth. Today we're taking a look at one that defies categories and combines the best of both worlds. The smooth feel of a hard pad with the suppleness of a cloth pad.
---
I'm sure that most of you are familiar with the name of XTrac. They've been making high performance mousing surfaces for years now and they've been leading the way in a few fronts. Today I'm looking at one of their industry leading products, the Hybrid.
First I'll let them tell you what makes the Hybrid so special in their own words:
XTracPads HYBRID represents more than a years worth of development and research. What we came up with is a flexible mouse pad that is both cloth AND plastic at the same time… on the same surface! That's why it's called the XTracPads HYBRID.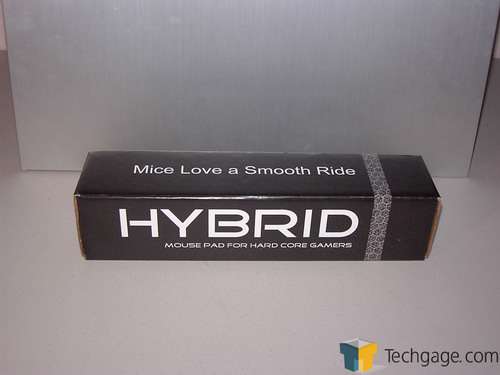 Features
Quiet operation
Maximized comfort
Flexible and easy to transport
Durable
Temperature friendly
Contents
LAN carry box
XTracPads glow-in-the-dark decal
12 individual Mad Dotz
Usage and installation instructions
Specifications
10″ x 16″ x 3/16″ (254mm x 406mm x 4.77mm)
Sure Grip rubber backing
Hybrid mousing surface
The XTracPads HYBRID has been successfully tested with the following mice:
Logitech: MX300, MX310, MX500, MX510, MX518, MX700 & G5
*UPDATE – It has come to our attention that some Logitech G7 mice may have tracking issues when used on the HYBRID surface. In the event that you have a Logitech G7 with a HYBRID gaming pad and you are having tracking problems, one possible solution is to simply open the Logitech setpoint software and then close it. By performing this task you will essentially be using the drivers provided by your operating system. This quick fix is courtesy of a Mr. J. Hsu.
We have tested the Logitech G5 gaming grade laser mouse with the HYBRID gaming mat and found it to be 100% compatible. If you are using a Logitech G5 laser mouse and you are having problems with your mouse cursor tracking on the HYBRID surface then you need to update your mouse firmware, please visit the Logitech web site for this firmware update. As a courtesy here is a link to the firmware update on Logitech's website.
Microsoft:
Intellimouse Explorer 3.0/4.0 & Laser Mouse 6000
Yes, you read right, the Hybrid is a melding of both cloth and plastic. The surface is extremely smooth but you can still see the pattern of the cloth if you look closely enough.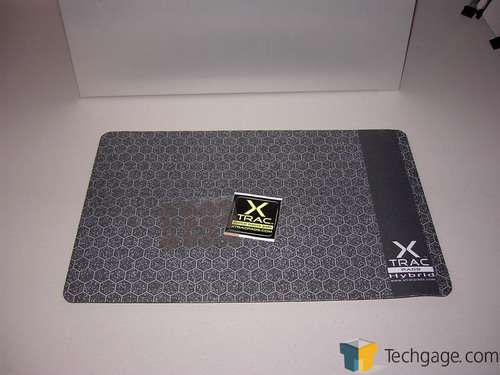 I really like the fact that XTrac includes a 12 pack of Mad Dotz to make the feet of your mice even slicker. The case sticker is a little bigger than I'd personally use but that's a personal thing there. I'm sure there are guys and gals out there that won't have the slightest problem slapping it on their case. Especially since it glows in the dark.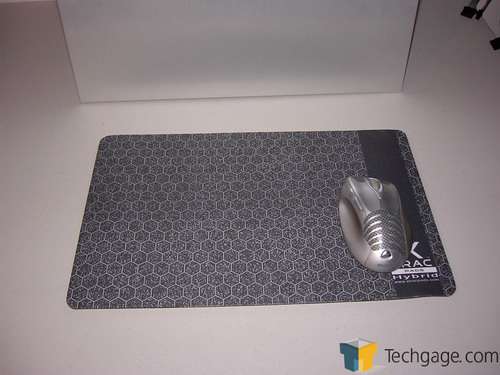 As you can see the Hybrid is just a bit bigger than most moderate sized mouse surfaces. It's nowhere near the size of the Steelpad QCK+ that I reviewed a while back which is nice if you're limited to space for a mouse pad. Personally, for day-to-day usage I find that the size of the Hybrid is pretty much perfect. It's got enough size for lowering the resolution on your mouse during game play for accuracy and not having the mouse go flying off the edge of the pad yet it's not so big that you've got to re-arrange everything on your desk to fit the pad. Score!
Now to the feel. The pad is ultra smooth. I thought the QCK+ was pretty slick but the Hybrid has it beat. I've used it against my aging XTrac Optical pad and there's no comparison, the old XTrac feels like it's smeared with glue compared to the Hybrid. Mind you this is with the stock feet on the mouse. Adding the Mad Dotz just kicks it up a notch.
I popped the Mad Dotz onto my MX-610 to see how well the pad did with the added glide afforded by them and it's like mousing on ice. you can literally bump the mouse with your hand and have it slide from one edge of the pad completely to the other. I've found myself just batting the mouse around on the pad for the sheer entertainment value it affords me. Yes, I'm easily entertained.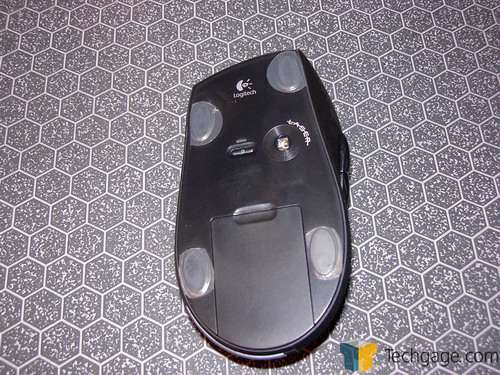 Now, to sort through the prose and find the rose:
Nope, no clever "pros and cons" list today, there's just no need. There are no cons that I can come up with for this pad. It's a simple 2 layer pad with a rubber foam backing and the plastic impregnated cloth top. Yes, there's no fancy graphics but does your mouse care? I doubt it. What it boils down to is an extremely portable mousing surface that has great action, is pretty much the perfect size and is super smooth.
No hoopla, no bells or whistles, no flashing lights or anything to make your lan buddies go "Wow, nice pad!". It's a pad to impress the user and help you get the game you want and it does it flawlessly. This pad has become my pad of choice and from now on will be the pad against which all others are judged. I'm awarding the XTrac Hybrid a 10/10 and our coveted "Editor's Choice" Award for being what I feel to be the perfect pad.
Discuss in our forums!
If you have a comment you wish to make on this review, feel free to head on into our forums! There is no need to register in order to reply to such threads.

Copyright © 2005-2021 Techgage Networks Inc. - All Rights Reserved.