XTrac Ripper XXL Mouse Surface
Date: July 18, 2006
Author(s): Matthew Harris

There are mousing surfaces and then there are gaming surfaces. Up until recently a gaming surface was your desktop or tabletop at your local LAN emporium. Today we're taking a look at a product that seeks to change all that in a BIG way.
---
The RipperXXL is 18″x36″ of cloth mousing surface that's designed to not only be home to your mouse buy also fit under your keyboard as well.
Let's see what XTRAC has to say about the XXL shall we?
The Ripper XXL may very well be the biggest mouse mat in the world. Weighing in at 36″ wide x 18″ high (that's 914mm x 457mm) this is not your ordinary mouse pad. Indeed, this is so much more than a mouse pad, it's a Desktop Experience.
XTracPads Ripper XXL™ features:
Whisper quiet cloth surface
Frey resistant edges
Soft and comfortable
Sure Grip rubber backing
Super Wide Mad Tape
Extra heavy duty
Imagine putting shock absorbers underneath your keyboard/mouse and you will have an idea of the level of comfort you can get from the Ripper XXL.
*Included is our extra-wide Mad Tape designed to fit a wide variety of mouse feet including the Logitech "G" series. Easy to install, simply wipe your existing mouse feet with the included alcohol wipe, wait about 3 minutes for your mouse feet to dry then size, cut and place the Mad Tape directly over your existing mouse feet.
Features:
Silky smooth solid black surface
Quiet operation
Very flexible
HUGE mousing surface
(2) 5″ strips of XTracPads Mad Tape
Specifications:
(36″w x 18″h x 1/8″ (914mm w X 457mm h)
(Sure Grip rubber backing
(Cloth mousing surface
As you can see the idea is to make your gaming experience a more comfortable one. Not only does the RipperXXL give you some cushion to rest your arms on it gives the keyboard a fairly non-skid surface. Yes, I know that mouse pads (or in this case gaming surfaces) are designed to be smooth and allow glide but in the case of a keyboard, well, your keyboard features rubber non-skid feet under it, those feet get great grip on the cloth surface of the RipperXXL allowing the keyboard to stay rooted to the spot. Let me be the first to tell you that it works great. To move your keyboard you have to literally lift it and move it. If you've ever had trouble with your keyboard moving during intense fire-fights this could well be the cure.
Make no mistake about it, the RipperXXL is large. In fact it's large enough that you could literally carve it down into 2-3 smaller mousepads should the fancy strike you. You can also cut it to suit your desktop should it be just a bit too large. I have to say though, cleaning is a breeze. You can wipe it with a damp cloth with a light detergent or if the mess is too extensive simply pop it in the washing machine. Yes, you read that right. It's machine washable on the gentle cycle in cold water. After it's washed simply hang it from your clothes line or from the closet-rod or even drape it over a chair back until it's dry. That's pretty darn convenient.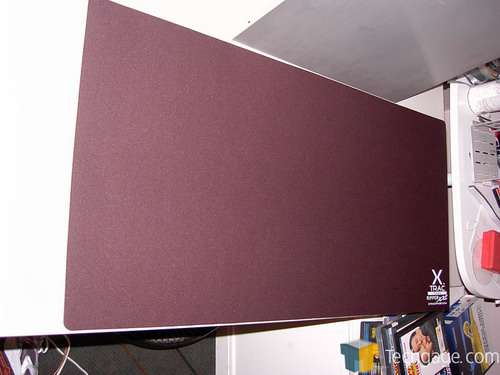 As you can see it's huge. The last pic you see was taken by me standing on a chair above the pad with the trusty digicam set to full wide angle. I simply could not get the whole thing in one pic from straight on without the added 2 feet the chair gave me unless I'd set it on the floor. The case side I use to help reflect the flash is a full 18.25″ wide, that should help give you some perspective on how mind bogglingly big this pad truly is. Even as I sit here typing this I can't help but just goggle at it.
The RipperXXL is smooth, the action is top notch for a cloth pad. It's fully on par with the Steelpad QCK+ but it's nowhere near as smooth as the Hybrid. With the addition of the included Mad Tape on your stock mouse feet it adds a new level of slipperiness to the action so that's a plus but the Hybrid still owns it. That's to be expected though and if you like a bit more feedback on your mouse it's a good thing to boot. Me, personally, I like my mouse to feel like I'm playing in zero g with as little drag on the mouse as is possible. That's why I was so drawn to the Hybrid at first use. The RipperXXL wouldn't be my first choice for a surface but that's because I'm hooked on it's higher-tech little brother.
I guess what it all boils down to is what you're after. If you like cloth pads you can't go wrong, as far as cloth pads go this is about as slick as it's going to get unless they come out with a woven Kevlar pad. The size will be a turn off to some but for those of you who get the idea behind the size and the reasoning behind it it's most of the reason to buy this pad, the other reason is that it's as good if not better than the competition at giving you the feel you want. If you don't have a huge desk or LAN a lot don't buy this pad, you'll end up using it as a blanket.
Buy a smaller Ripper or a Hybrid depending on the feel you're after. If you're a regular fixture at the local LAN hotspot and the owner knows you by name, rents advertising space on your PC and gives you a monthly rate this is a pad to consider. The non-skid quality it adds to your keyboard is just too difficult to express in words, it's great. I'm awarding the RipperXXL a 7/10 for being an awesome product but aimed squarely at a niche market. If you're within that niche adjust the score up a couple of points. I'd like to thank Christopher from XTRAC for sending the RipperXXL our way and I hope you'll cruise over his way and look at all the killer pads he's got to offer.
Discuss in our forums!
If you have a comment you wish to make on this review, feel free to head on into our forums! There is no need to register in order to reply to such threads.

Copyright © 2005-2022 Techgage Networks Inc. - All Rights Reserved.