Zalman 9500AT Intel 775 CPU Cooler
Date: May 22, 2006
Author(s): Rob Williams

Looking for the ultimate air cooling solution for your Intel 775? The Zalman 9500AT may be up your alley, but may prove a little pricey for your liking. Installation proved a little problematic, but the cooling ability is evident.
---
Introduction
Zalman.. a name that so many have come to trust. Without doubt, Zalman is one of the leaders in cooling accessories for your PC, whether it be for your CPU or GPU. They manufacture other product types also, but it's their coolers that have helped them make their mark.
Last year, they released the 9500 LED CPU cooler, which was compatible with current Intel and AMD systems. Greg took a look at that cooler this past December, noting that it had made a substantial difference over other coolers on hand, including a Spire and another Zalman. The 9500AT is the first Zalman cooler I have used, so it will be interesting to see how well it does in my system.
Closer Look
If you have seen the 9500 LED, then you know exactly what to expect here. The cooler is near identical, except this one does not feature and LED fan. The cooler came in a large box, which is only large due to the massive cooler it contains. The packing job was incredible. I am unsure if they will -all- be packed like this, but the packing peanuts were plenty and were even pushed inside the 9500AT box to make it even more secure.
After opening the box, I pulled out a small white box that includes the two brackets you will need, thermal paste, screws and instructions. Besides the cooler itself, that is all that is included.
The time came to take out the cooler.. and wow this thing is a beast! I have been a fan of the design of this cooler ever since it's release, so I was happy to finally have it in front of me. Directly in the front, is the presumably 92mm fan, which is designed to be -very- quiet. The copper fins are spread out like a flower, and they total 90. Thanks to Greg for counting all the pins on his 9500LED for me to know this =)
The entire unit is comprised of copper, for ultimate heat dissipation. What makes this cooler so different from others on the market, is the unique structure of the heatpipe. There are a total of 3 pipes, but each one wraps around to effectively produce 6 pipes. These pipes are in a figure 8 design, and flow through the 90 fins. This is without a doubt, one of the coolest designs I have seen in a recent CPU cooler.
Closer Look Cont.
The only metal part of the cooler that is not copper is the aluminum bracket that holds the fan firmly into place. This bracket doesn't affect the cooling performance on the cooler whatsoever though.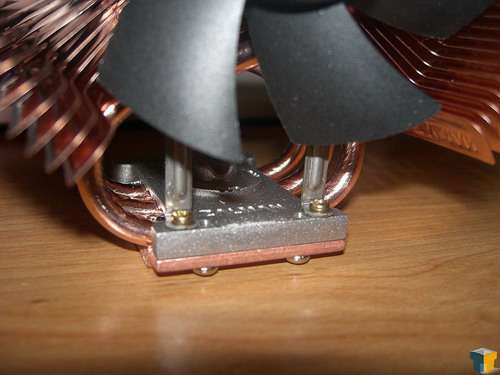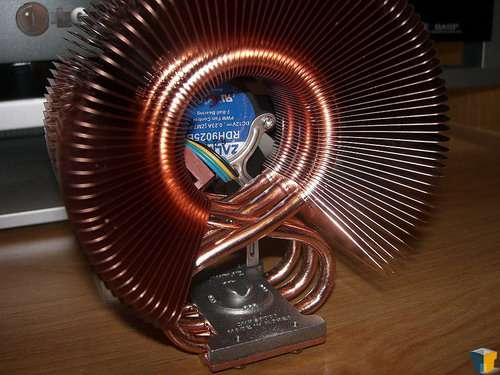 Before I install the cooler, I took a shot of the cooler compared to my cell phone, and a 120mm fan. There's no denying the size of this beast! You best be ready to clear out your case to fit it in ;)
Here are the official specs for the entire unit. As mentioned in the introduction, this cooler is for Intel socket 775 -only-, which CPU's include Celeron D, Pentium D, Pentium EE and Pentium 4 EE.
Base Material – Pure Copper
Weight(g) – 530
Thermal Resistance(C/W) – 0.12 ~ 0.16
Dimensions(mm) – 85(L) X 112(W) X 125(H)
Dissipation Area (cm2) – 3,698
Bearing Type – Dual Ball Bearing
Rotation Speed – 1,300RPM 30% ~ 2,650RPM 10 %
Noise Level – 18.0dB 10% ~ 27.5dB 10%
Input Voltage – 12V
Main Function – PWM Control Function and Auto Restart Function
Features
Compatible with Intel's Dual Core Pentium, Pentium4, and Celeron D for Socket 775.
Low-noise 92mm PWM Control fan for automatic control of the fan's RPM according to CPU temperature.
Optimized heatsink layout composed of pure copper for maximum heatsink efficiency.
Innovative, patented, and curved heatpipe design for a heat transfer capacity of up to six heatpipes with just three.
0.2mm ultra-slim fins for minimized weight and reduced airflow resistance.
Maintains minimum RPM even when Duty signal supplied by M/B is below 30%.
Operates in silence by preventing extreme RPM during initial booting.
Now that they are out of the way, let's jump into the installation.
Installation
The previous cooler I had installed on my board was Corsair's N500 water cooling, so I first uninstalled it. In order to fully remove the clips from that cooling, I had to pull out the motherboard to get in behind. Though this was a pain, I was required to haul out the motherboard in order to install a bracket for the 9500AT anyway, so it wasn't a big deal.
Once the N500 was completely uninstalled, I cleaned the CPU so it was completely clear of any thermal paste. With the motherboard in hand, I had to install the bracket to the backside of the board.
Turning the board back over, I took the front part of the bracket and screwed everything into place. Though I didn't run into a problem here, I could have. You -must- install your CPU prior to installing the bracket. The 775 metal cpu bracket is unable to fit past the Zalman bracket once installed. This means, in order to take out your CPU for a cleaning after installation, you will -have- to remove the bracket first. This is a large pain, due to the fact that you will need to remove your motherboard in order to do so.
Time came to throw some of the included thermal grease on the CPU, which was included with the 9500AT. However, this plan was quickly spoiled as nothing wanted to come out of the aluminum tube. Despite a clear hole being poked into the end, nothing wanted to come out. So, I just stuck with my Arctic Silver 5.
The next step was to place the 9500AT onto the CPU, and then put a small two-way bracket through the bottom of the cooler. There is a stub on the aluminum part of the cooler, which allows this bracket to stay in place. The very last step was screwing in one end, and then the other. Finito!
Overall, the installation went quite well, but there are a few things I wish were different. First off, having to take out your motherboard in order to remove your CPU is kind of ridiculous. This means, that anytime you want to try a new thermal paste/grease, you will need to haul out the entire board and unscrew the bracket in order to remove the CPU. The bracket should have been made a tad wider in a specific area so that CPU removal would have been easier.
The second complaint would have to be that better thermal paste should have been included. Actually, I didn't get to -try- the grease because it would not come out of the tube. I would have preferred thermal paste in the same style tube that AS5 uses, or even a packet. I am unsure why none of this grease would come out for me, but luckily I had AS5 on hand. Some people may not.
The last thing that struck me as odd was the fact that there was no plastic protective film over the copper base of the cooler. As soon as you take it out of the package, it's exposed so you must try to not smudge it all up. I did smudge it all up, because I was unaware that there was no film to tear off. Not such a large complaint, but some time of protective covering is usually expected nowadays.
Testing
I no longer have the stock cooler that came with my 820 D, due to it being an absolute pain to re-install, so I will be comparing the 9500AT to the Corsair N500 Water Cooling. Granted, this is not -that- fair of a comparison, but it will be interesting to see how well Zalman's air solution compares to the the water cooling.
I tested the cooler using my CPU at 2.8GHz, 3.36GHz and 3.92GHz. At each setting, a loop of 2 3D Mark '01 runs were executed. Following that test, 3D Mark '06 was also looped twice. Lastly, Super Pi 1.5 Mod was run, using the 8 Million setting. All figures were grabbed with Everest 2.8, which does a great job of logging temps to an easy to read HTML file.
Test System
CPU: Pentium D 820 @ 2.8GHz
Motherboard: ASUS P5WD2-E Premium w/ 401 BIOS
Memory: Corsair 2GB 6400PRO
Video: BFG 6800GT OC 256MB PCI-E
Sound: Realtek HD Audio
Storage: WD 200GB 7200 8MB
Odds and Ends: D-Link WiFi PCI Card
Etcetera: Windows XP Professional SP2, Windows x64 Professional SP1, NVIDIA 81.98 Drivers
The directed way to use the Zalman, as told by Zalman, is to have the 9500AT facing in such a way that will blow hot air to the -back- of your PC. Presumably, you should have a 120mm case fan installed in the back that's used to export hot air. This way, the Zalman will blow air towards it, and the fan will get rid of it quickly. I tested the cooler both ways, and the 'opposite' tag denotes the 'incorrect' placement. I did it both ways primarily to see how large the differences would be.
Note: During testing of the Corsair Nautilus, the room temperature was 80°F. During the testing of the 9500AT, the room stayed at a constant 82°F.
Sadly, I had forgotten to test the Nautilus at higher CPU clocks prior to un-installing it, which is why only the 2.8GHz figure is displayed. Comparing 2.8GHz between the two though, the 9500AT came -very- close to the same average. Not bad for comparing an air cooler to a water cooling rig though. But, to be fair, when the Nautilus was installed, the airflow was not great. I made sure the airflow was superb inside the case prior to installing the 9500AT. Because of the cooler being so huge, I did not want a bunch of cords to get intertwined with it's fins.
At higher overclock's though, the temps were getting very high. Especially for 3.92GHz… 73°C is not exactly in the comfort zone. The max temp I have seen with the Nautilus has been 60°, but it would be even lower if the ambient room temp wasn't so high.
For those interested, here are the motherboard temps during testing:
Conclusion
The 9500AT came.. but did it conquer? I have to say, I am quite impressed with how it handled this brutally warm 820 D chip. While I would not use the cooler when overclocking your chip a large amount, it proved great up to around 3.5GHz. Obviously, the N500 water cooling beat the 9500AT, but it also costs three times as much. Of course though, the N500 can be expanded to cool more than just the CPU.
The 9500AT is one of the best looking CPU coolers on the market. It's one that you can show anyone who is not even into computers, and they will say, "Wow". The primary downside of the cooler is making sure you have enough room to fit it in your tower, or on top of your motherboard. If you are unsure of whether or not the cooler will fit on your board, you can check out Zalman's compatibility list here.
Now the bigger question is whether or not this cooler is worth the average $60US asking price. Yes and no. For the same price, you can get the LED version, which is essentially the same, but with a cool blue LED. If you are not into anything flashy though, then the 9500AT should be right up your alley.
What hurts this cooler the absolute most is the installation problems, and the fact that you must remove the bracket in order to remove your CPU. These are a couple problems that could have easily been avoided. I would have loved to see better thermal paste included also. Preferably some that I could actually use.
Overall, the 9500AT has awesome cooling ability, but has problems that hold it back from getting a better score. Originally, I was going to award the 9500AT a 7 out of 10, but getting past the install problems, which may prove minor to some, I am awarding it an 8. Just make sure you have your own thermal paste when picking one up.
Pros
Great cooling ability
Looks fantastic!
Very quiet
Cons
Must remove motherboard to remove CPU
Thermal paste was unusable
Price?
Discuss in our forums
If you are interested in commenting on this review, feel free to head into our related thread. You do not need to register in order to reply to our content threads.

Copyright © 2005-2020 Techgage Networks Inc. - All Rights Reserved.