Zalman CNPS8000 CPU Cooler

Date: January 2, 2007
Author(s): Rob Williams

Zalman recently launched a new low-profile cooler by the name of CNPS8000. Physically it looks to have a lot of potential; It's a great looking product overall. Included is a fan speed controller for when you feel the need for an extra punch. Sadly, in our testing we have found even with that extra cooling ability, this cooler falls short.
---
Introduction
Zalman has released many coolers over the years and we've reviewed a fair amount of them. There hasn't been a Zalman product we've despised yet, so they have a good track record over here. After the large success of their 9500 coolers, they released their low profile CNPS8000. This is a cooler designed for those with HTPC's or SFF PC's or those who simply want a quieter cooling solution.
The packaging is small… just large enough to safely hold the CNPS8000 and also the random extras.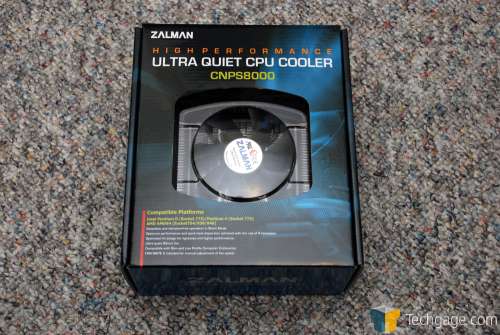 Those extras include the bracket for both the 939/940 and 775, thermal paste, fan controller and manual. There is also a Zalman tower sticker in case you want to show off what's inside your rig… without actually opening it.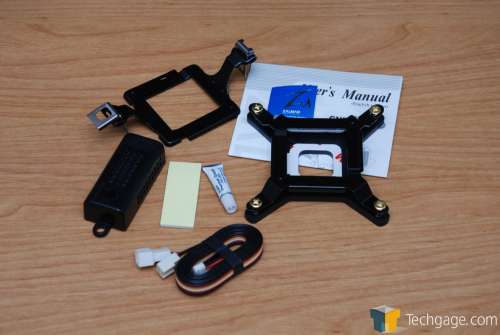 When Zalman conjured up the idea for the 8000, they obviously wanted to make a lower profile cooler with maximum heat dissipation. Two sides of the cooler have a plastic guard with the Zalman name and the opposite sides are part of the main base of fins. there are a total of four heatpipes, two of which go right beneath the fan and the other two which go through each side of the cooler.
The fan blows air downward onto the cooler. For this to be really effective you'd want to have real good airflow or else you are just going to get warm air blowing at the cooler which will defeat the purpose.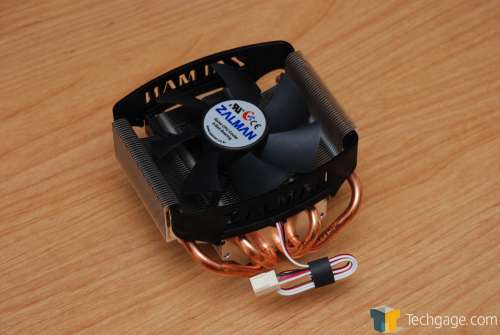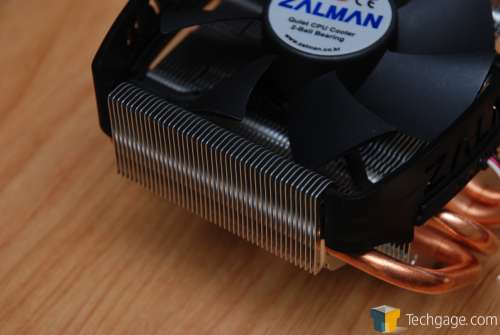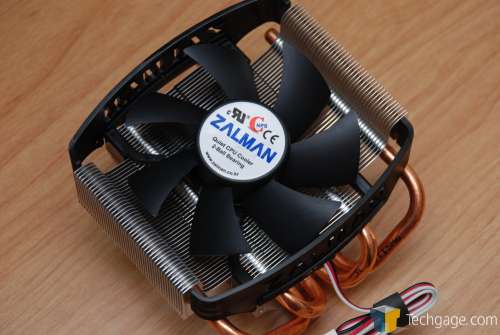 Onward to taking a look at the backside of the cooler as well as the installation.
Installation
Here you can see a better view of how the heat travels along the pipes and also the general design of the cooler itself. It's pretty unique looking.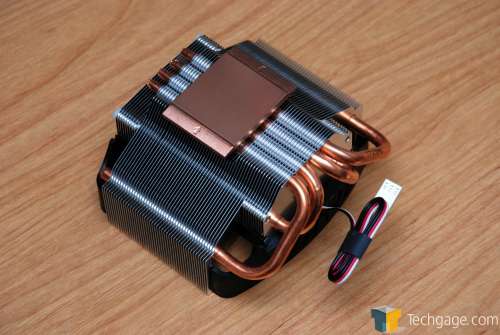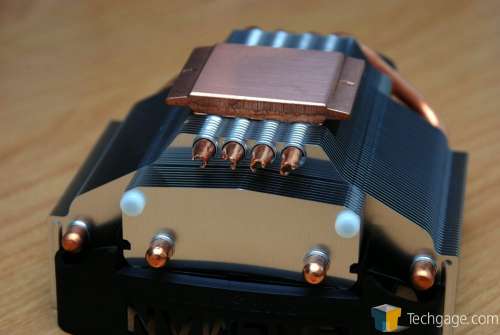 One thing I always worry about is how difficult CPU coolers will be to install. This is because I must un-hook my previous water cooling in order to install it and normally this means I have to remove the entire motherboard. This proved true this time around.
Regardless of whether your board has a back bracket pre-installed, you should be ready to haul out the motherboard to install the one Zalman provided. It has holes specifically long enough to go through the front of the board so the opposite side can attach itself. This is speaking on behalf of the 775 installation; the 939/940 may be a little different.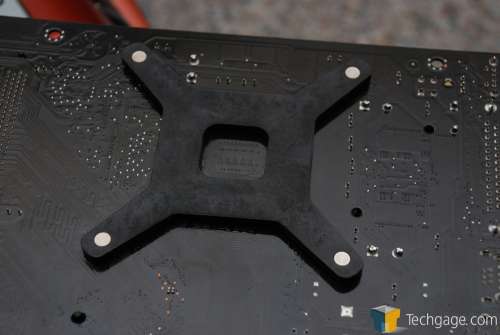 For the 775 installation, you will need to install the bracket like so. It consists of two parts that slide together and it attaches right underneath the copper base. The gold screws are not meant to come out of this bracket.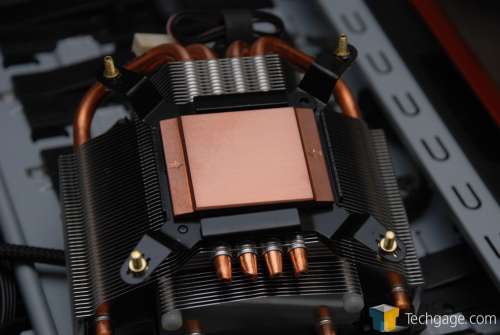 This is the proper mounting, with the protruding heatpipes facing the right side of the case. The cooler couldn't be mounted any other way, thanks to random objects blocking the way on the motherboard. You can also see my lazy way of using the fan controller, which I kept inside the case for the sake of being simple. This controller is designed to be attached to the back of the case with the cable running through. This allows quick access to increasing the fan speed simply be reaching in towards the back of the case.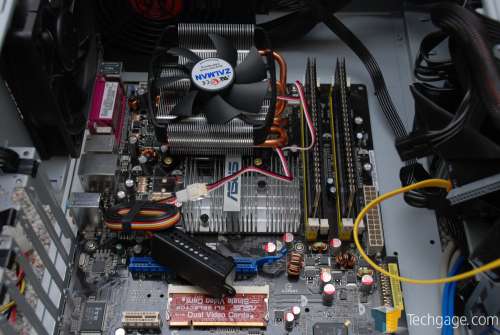 While the installation was a relative breeze, there was one thing that I disliked about the un-installation. When you apply the bracket to the back, there is a strip you are to remove so that it properly affixes to the back of the board. Well, trying to remove this proves to be a pain in the ass and will result in left over residue that's impossible to remove. As far as I can tell, this strip would not necessarily need to be removed at all but seriously, this should not be the result of removing the bracket. Nobody wants this on the back of their motherboard.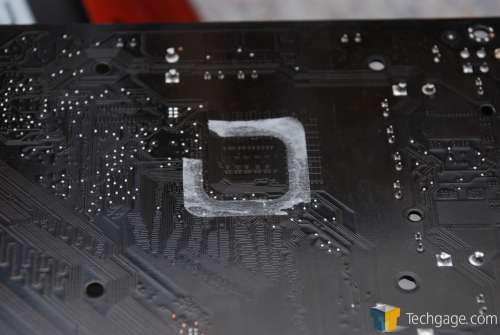 Now that we have this out of the way, let's take a look at the specifications and finally the performance testing.
Performance Testing
Before we get into our testing methodology, you may be interested in the actual specs and dimensions of the cooler. Here they are, as provided by Zalman.
I am unsure why they call them "Silent" and "Low-Noise" modes, because wouldn't that be the same thing? Regardless, Low-Noise is not low-noise… it's a 100mm fan at 2,600RPM. It's not going to be -that- silent.
Testing Methodology
Whenever we stress test components for temperatures, our main concern is making sure that there is proper airflow inside the case and sufficient space outside. All PSU cords are neatly tucked out of the way to the best of the cases ability and there is 1ft of breathing room behind the PC. The tower door is kept on the PC while testing occurs.
The case used is NZXTs Apollo, which has a rear mounted 120mm fan in addition to a door mounted 120 fan used to bring in cool air. The testing rig used for today's benchmarking is as follows:
CPU: Intel E6300 @ 1.86GHz – 3.06GHz
Motherboard: ASUS P5N-E SLI (11/22 BIOS)
Memory: Corsair DOMINATOR 2GB PC2-9136
Video: ASUS EN8800GTX 768MB
Sound: Onboard HD Audio
Storage: Seagate 7200.9 320GB
Etcetera: Windows XP Professional w/ SP2, NZXT Apollo
Cooling: Corsair Nautilus 500
All testing was completed under 80°F – 81°F room temperatures. This is the first CPU Cooler review on this Intel rig, so I will be using Corsairs Nautilus 500 for a comparison. Because the CNPS8000 has a fan controller, I took temperatures at 3.06GHz using the lowest and highest settings.
Not that it's much of a surprise, but the 8000 was really no match for the water cooling. Even that aside, I am un-impressed with the cooling potential as a whole. Even at stock speeds, we see 67°C temperatures as our max and 66°C as our average. With the fan at the highest setting however, we shaved a full 9°C off the maximum temp at 3.06GHz.
The motherboard temperatures are nothing to worry about though. They were lower with the water cooling, but not by much. This is helped by the decent airflow and fan setup that the Apollo offers.
Final Thoughts
For those with small form factor PC's, this is a good cooler since it's low profile, but even then there are likely other low profile coolers out there that should prove to do a better job. One thing I loved to see included was the fan controller. It's easy to install and very effective. As you can see, using it decreased the temperatures quite a bit, but that is a tradeoff of the fan being louder.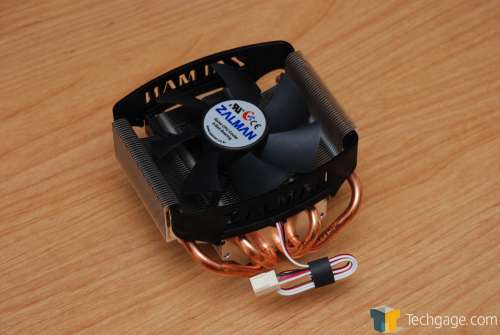 I wish I still had the original cooler that came with my E6300, because it would have been a good comparison against this cooler. Even with that stock cooler, I don't ever recall seeing such high temperatures even at stock speed. 1.86GHz with 1.25v at 67°C is pretty high if you ask me. The 80°C was even less impressive at 3.06GHz. So, this is not a cooler you will want to pick up if you plan to do any overclocking.
In the end though, this is not a half bad cooler for the $35 price mark, but I think you'd be better off spending extra to get hooked up with a better one, such as Zalmans own 9500LED or 9700LED. I didn't really see any improvement at all with this cooler, so it's hard to recommend it. If you are looking for the low profile side of things, it may be worth your time. I am giving the CNPS8000 a 6 out of 10. Be sure to stay tuned for our review of the 9700LED next week, which at this point, seems to blow the CNPS8000 out of the water.
Pros
Relatively decent price
Included fan speed controller
Easy installation (minus the removal of your motherboard)
-Very- quiet at low speed
Cons
Very subpar cooling ability
Motherboard bracket leaves residue when removed
Included thermal paste is difficult to use
Discuss in our forums!
If you have a comment you wish to make on this review, feel free to head on into our forums! There is no need to register in order to reply to such threads.

Copyright © 2005-2019 Techgage Networks Inc. - All Rights Reserved.