Zalman GS1000 Full-Tower

Date: September 24, 2008
Author(s): William Kelley

The first name that comes to mind when pondering a new chassis isn't likely to be Zalman, but with the few enthusiast models they've released so far, it's easy to see they mean business. We're taking their brand-new GS1000 for a spin to see if its features and size make up for the $199 price tag.
---
Introduction
I'd what you would call a constant shopper. I'm always scanning all the online stores for new releases… and it doesn't matter that I know I don't need any new parts, but I just can't help myself. I have been known to completely upgrade a current PC over finding a good deal on a single component. In fact, I can think of at least 3 different chassis' that upon release were instantly in my heart and under my desk.
While they are better known for CPU cooling than anything else, Zalman has been slowly but surely releasing some really good stuff for the enthusiast. They have one of the first silent chassis' available and they even released a "Fatal1ty" model for the die hard name recognition enthusiast. The only problem has been the price. Once you start looking to spend $300+ on a single part, you expect near perfection from it.
This time around, they have given us the GS1000. Available for $199 pretty much anywhere I looked online, this is the first mid-level chassis from Zalman. Using lots of lightweight materials, a mostly tool-free design and many other nice features, the GS1000 looks to be a real contender. Let's take this baby for a drive and see how she does when used in anger.
Close Look at Zalman's GS1000
First things first, let's take a look at the manufacturer's specs.
Enclosure: Type Full Tower
Dimensions: 220(W) x 560(H) x 580(D) mm Weight 12kg (26.4lb)
Material: Aluminum / Plastic (ABS) / Steel (GI)
Motherboard Compatibility: E-ATX / Standard ATX / microATX
Power Supply Compatibility: Standard ATX / ATX12V
PCI/AGP Card Compatibility: Full Size
Drive Bays: 5.25″ External Bay x 4 * 2 Adaptors & Bezels included for use of two 5.25″ bays as 3.5″

Internal (HDD) / External (FDD) Bays:
3.5″ Internal Bay x 6
Hot Swap Bay x 3 (standard)
Regular / Hot Swap Bay x 3 (optional)

Cooling Components (Fans):
Top Vent: 120mm x 2 (1 Fan included)
Rear Vent: 120mm x 1 (1 Fan included),
Bottom Vent: 120mm x 2 (Fans optional)

Expansion Card Slots: 7 Slots (Tool Free Bolts provided)
Front I/O Ports: USB Port x 2, IEEE1394 (FireWire) Port x 1, Headphones x 1, Mic x 1
Available Colors: Black, Titanium
Once out of the box and unwrapped from the protective shipping bag, we get our first look. It is easy to see here that the glossy black top played havoc with my camera as I had a tough time taking a picture without glare. Also, take note of the brushed aluminum side panels.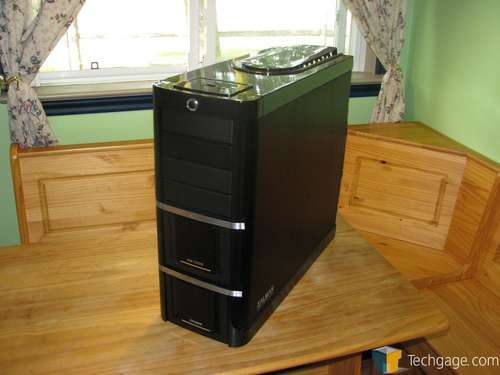 Inside the box of goodies are the included accessories. While most of it is standard fare hardware that pretty much all manufacturers include, it is important to note the included 12″ 8-pin CPU power extension cable, which is hugely appreciated, since many PSUs ship with 8″ or shorter motherboard cables that don't quite stretch far enough.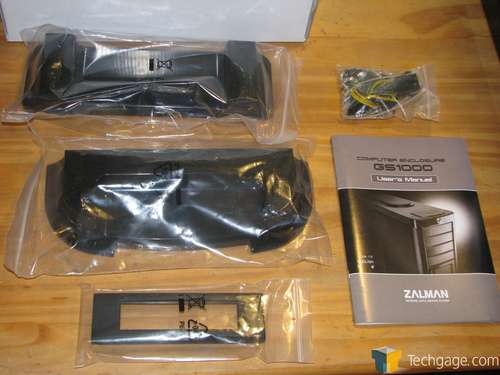 The top panel also houses the front I/O panel connections. A quick flip of the door is all that is required to access them. They are angled to allow use in tight desk spaces where there might not be a lot of room above the case. One notable exception is that there's no eSATA port here. While there are few devices available to plug into eSATA, they really should have included it since there is plenty of space for it.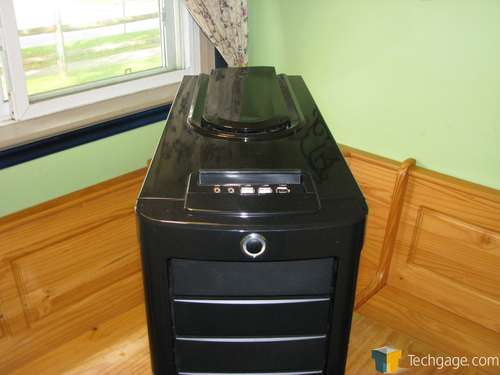 The back of the case is also standard issue as well. Plain and functional, there is little else that can be noted back here.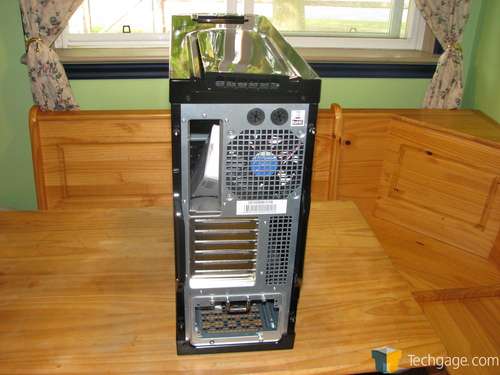 Next we get a quick shot of the interior. You can see the bottom openings for a few more 120MM intake fans.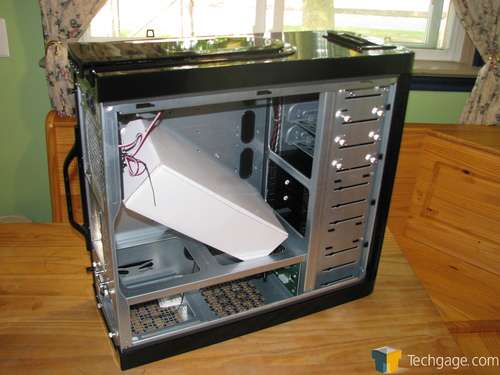 Here is a shot of the PCB for the hot swap SATA drive bays. I really do find this a nice feature that I enjoy having. Not all people really need hot swap bays, but they also make for easy cable routing as well as keeping hard drive installation simple.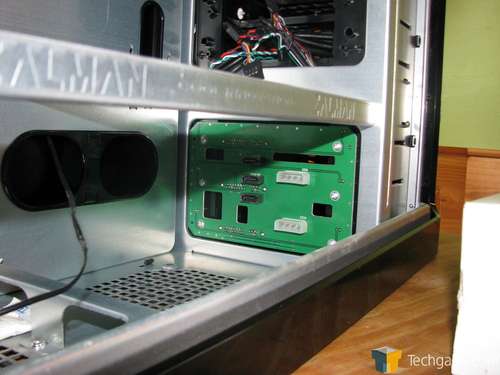 Next up are the 3 HD bays directly above. The same HD trays are used here and there is the option to get another hot swap PCB and install it here. If you ask me, Zalman really should have included it anyways.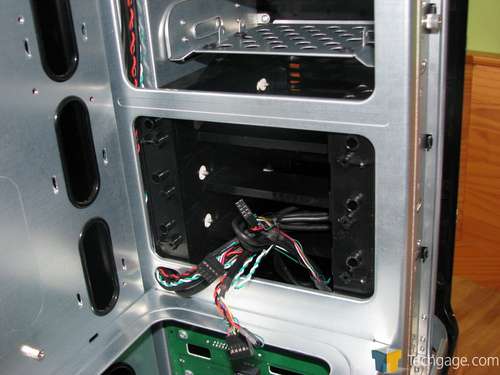 There are four 5 ¼" media bays available and two come with convenient 3 ½ adapters to allow us to install 2 hard drives up here. I find this a very nice addition since most of us will never mount more than 2 DVD drives while many of us will install as many hard drives as we can.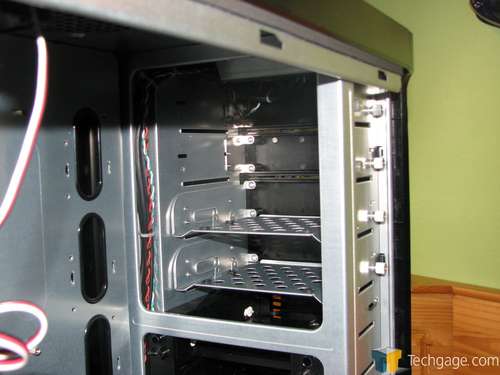 There are two flip-down doors on the front panel that are activated with a simple push giving us access to the hard drive removable cages. A push on the clip and out slides your drives.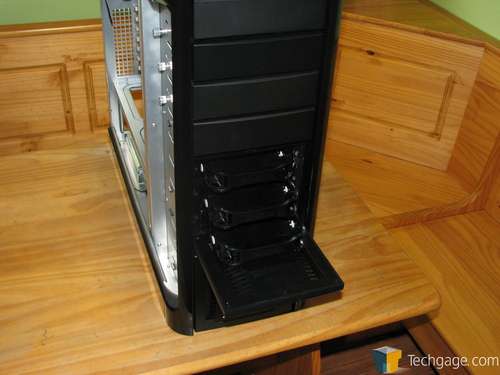 Mounting your drives into the cages is also a simple task of pushing two buttons on the bottom and sliding the drive in. First we take out a cage and ready it for the install.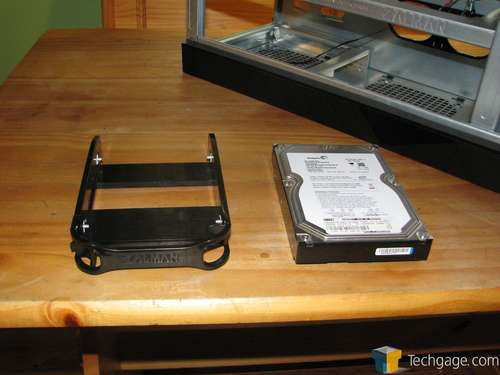 Next, we separate the side which allows the installation. The pins that attach to the drive are suspended in rubber to help isolate noise and vibration too.
Slide in the side rail and you are done. I really like how easy this system makes the hard drives to handle. I have dealt with many tool-less systems over the years and I do think this one is one of the better ones.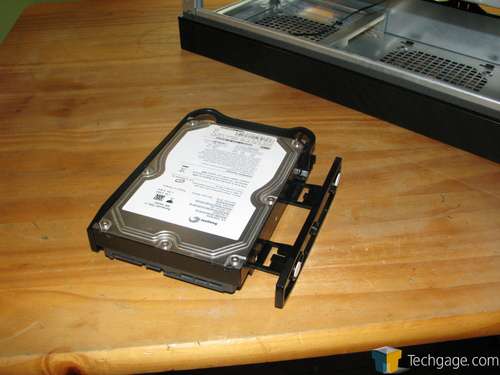 Now the drive is ready to be installed in any of the six slots in the front panel. The drive positively locks in and there is no danger of it slipping out until you are ready to take it out.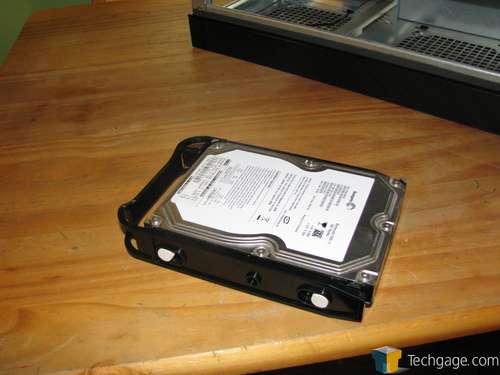 Once we install the feet on the case, we take a close look at the wire management system. There are plenty of slots with protective edging to slot the systems wiring. I was less than impressed with the plastic edging as it was relatively easy to dislodge and felt cheap as well. Rubber would have been a much better and safer material to use.
The DVD drives are secured with spring-loaded thumb screws. They were easy to use and made it simple to install any drives. This is a very nice touch and I would like to see more of this in other cases.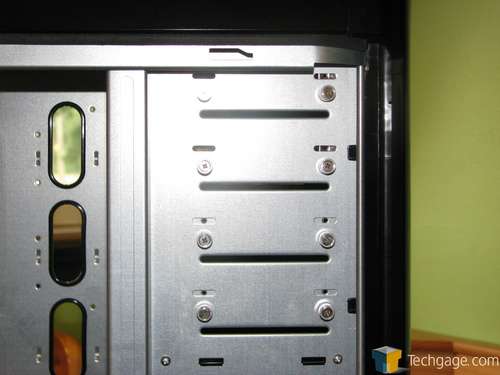 The power supply gets a removable face place for installation. It allows for us to mount in either direction and it also makes it simple to install the PSU as well.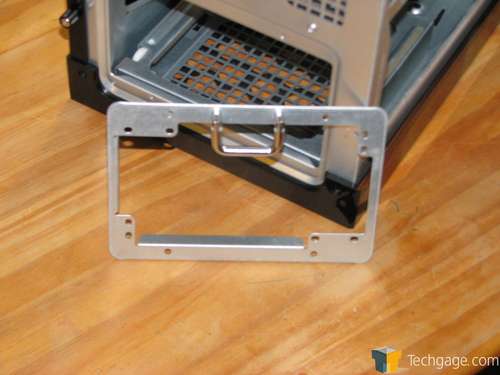 Here is the only spot on the whole case that I actually needed a screw driver. I really would have like to see 4 thumbscrews included here as well. One small detail like this should not be overlooked – not on a $200 chassis.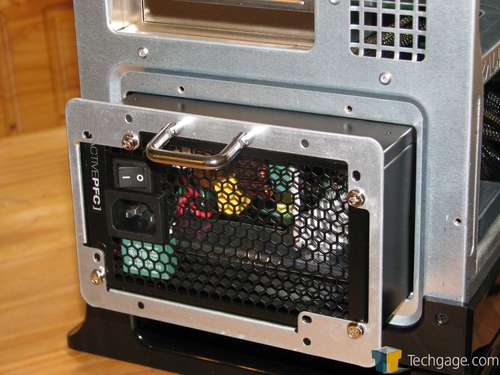 There are grommets for water-cooling lines on the top rear of the case as well. You should also not the venting in the top panel for the dual 120mm fan holes. I really like this feature since it allows you to exhaust the case in the hottest spot with ease. Unfortunately I was once again disappointed in the fact that there was only one fan pre-mounted in the roof of the case.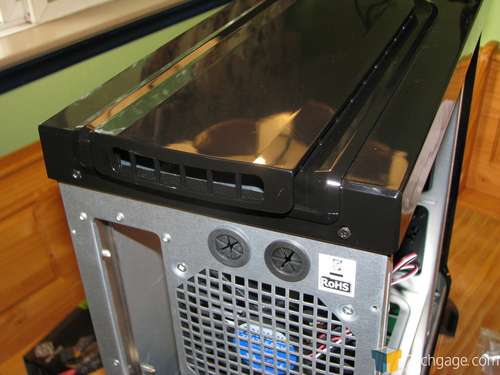 With the top panel removed, we see the fan arrangement. I did not have a dual 120mm water-cooling radiator available to test mount, but you would have little-to-no problems internally mounting it.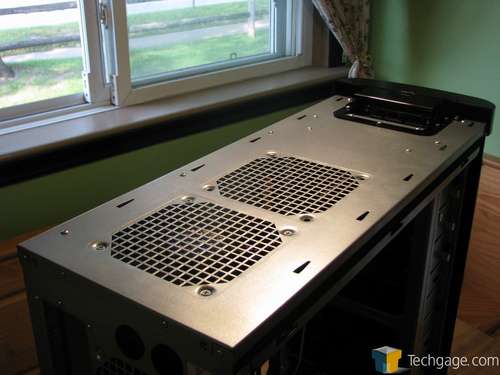 With that look all taken care of, let's get some hardware installed!
Installation and Final Thoughts
Before we jump into testing, allow me to list all of the hardware being installed:
ASUS P5E3 Deluxe Wi-Fi @N
Intel Core 2 Quad Extreme QX6850
OCZ Platinum DDR3 1333MHz 4 X 1GB
Visiontek HD 4870 512MB PCI-E
ASUS Xonar DX2 sound card
BFG 680W LS Power supply
Seagate 7200.11 500GB System drive
Seagate 7200.11 2 X 1TB RAID 1
LG 22X DVD Burner
Windows Vista Ultimate 64-bit
Installing the test parts was a simple task given the ample space available. You can mount up to an EATX motherboard in here and my HD 4870 looks tiny in there as well. Even the mighty and massive Sunbeam Tuniq Tower 120 fit inside with room to spare. There is no need to worry about which cooler you will be using, it goes without saying.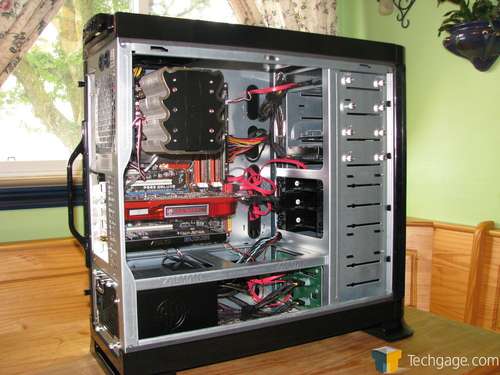 Wire management was a breeze and it took mere minutes to make it look like I spent hours on the install. Even a novice will have no problems making his first build look good. The slots were very well placed for effective routing.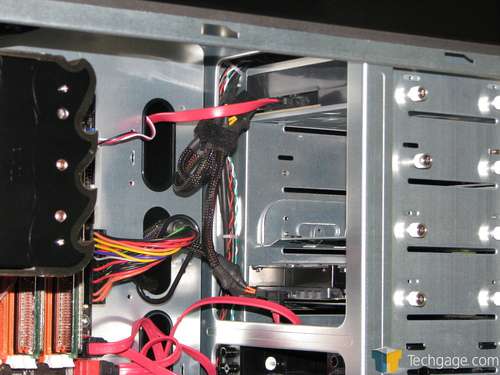 Wiring up the hot swap SATA back-plate was also simple as pie. I really like this feature since it not only makes for a clean install, it also keeps the wiring neat and out of the way.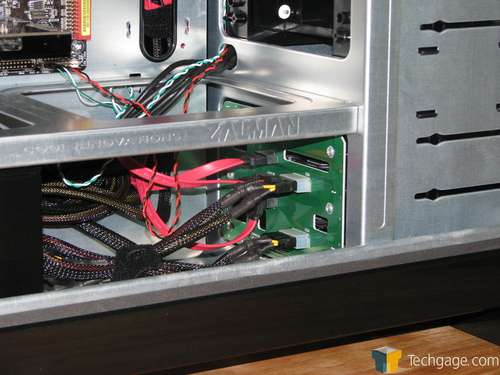 While there was nothing to attach the wiring to on the backside of the motherboard tray, there was plenty of room to store the extra wiring of my non-modular power supply and routing was a breeze.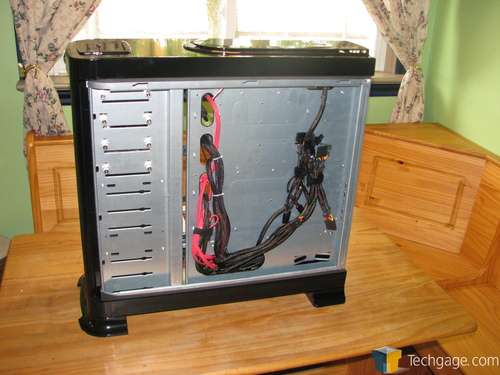 Wrapping everything up took a few minutes and there were no clearance issues at all with the side panel.
Final Thoughts
While this was a nice case to work with and the build quality was equally good, I have a hard time recommending it due to the price point. There are so many good competitors whose prices are lower that are offering a lot more bang for the buck. The first complaint I have is the lack of included fans. A $200 case should come with a full complement of fans and they should be of better quality and much quieter than that's here. I found myself distracted by the fan noise and strongly suggest changing them out if your case is close to your ears.
My next main beef was the poor quality edging on the wire slots. Even the slightest pressure caused the plastic grommets to pop off. I would really like to have seen rubber used here. The edges were not razor sharp so there was some consideration that the metal might be contacted, but the overall design gave me the impression of cheapness.
On a positive note, the fit and finish was excellent. All edges lined up nicely and there were no extra gaps anywhere. The side panels positively locked into place and lined up without extra effort. The front panel met the side an top panels with even gaps and the overall look was very good.
I really liked the glossy finish on the top panel and found it to be easy to clean even if it was something of a fingerprint magnet. The brushed aluminum sides were also of good quality and were surprisingly smudge-resistant. The handles really made it easy to remove and install them and the spring-loaded screws were a dream if you are like me and cannot find that screwdriver when you need it most.
As for an overall rating, I give this case a 7 out of 10. The price is too high for what you get in today's market and there's just no overlooking that. It is a good case – it just needs to be either cheaper or include more features. Since this is Zalman's first release under $200, I don't want to sound too negative, but when you consider the likes of the Antec 1200 and the NZXT Tempest, it's hard to see someone choosing this.
Pros
Styling
Fit and finish
Excellent cable management
Hot swap SATA bays
Tons of room
Cons
Price
Lack of fans
Too much plastic
Discuss in our forums!
If you have a comment you wish to make on this review, feel free to head on into our forums! There is no need to register in order to reply to such threads.

Copyright © 2005-2021 Techgage Networks Inc. - All Rights Reserved.