AC Ryan Playon!HD Media Player

Date: November 15, 2010
Author(s): Brett Thomas

With a great number of media players available on the market, picking out the right one can be tough. AC Ryan hopes to stand out with its Playon!HD, an option that does a lot more than just play media. It can also act as a NAS, and even handle your torrenting duties. Does it do all of these well enough to be worthy of a purchase?
---
Introduction
In the world of digital media, some things are guaranteed winners. When it comes to media players, however, the particular prescription for success is still very much an enigma, leading to a glut of players on the market that – let's face it – all largely do the same thing, and mostly the same way. I guess that's why we're paid the big-bucks (Right, Rob? Errr, Rob? Where are you going?!) – to help you figure out exactly where on the spectrum each one of these fairly identical products lies.
Today's look is at AC Ryan's Playon!HD media player, which has been out since a little after the start of the year. The Playon!HD is a full 1080p media player designed to take square aim and center stage against such products as the WD TV. Of course, it's a little harder to source than some of its competition, due to the company's supply lines – those of us in the US need to do a bit of searching since it's not available on the likes of Newegg or in Best Buy. When you do find it, it retails between $139.99 and $159.99.
| | |
| --- | --- |
| Feature | Supported Formats |
| | MKV, AVI, M2TS, TS, MPG, MP4, MOV, M4V, VOB, ISO, WMV, RM, RMVB, and even BD-ISO |
| | MPEG-1, MPEG-2, MPEG-4 with AVC, H.264 and x264, DivX, XviD, VC-1 and RealVideo 8-10 |
| | Up to 1080p 60Hz |
| | IDX/SUB, SMI, SRT, SSA, SUB |
| | MP3, MP2, WMA, AAC, FLAC, WAV, OGG, PCM, LPCM, MS-ADPCM, LC-AAC, HE-AAC, COOK and RA-Lossless |
| | Dolby Digital (AC3), Dolby Digital Plus, DTS, DTS-HD Master and High Res, and FLAC 7.1 |
| | BMP, GIF, JPEG, HD JPEG, PNG, TIF |
The device also very happily provides all of these to you through A/V outs of your choosing, including HDMI, Composite, and Y/Pb/Pr Component. For audio, it supports the additional SPDIF coax or Optical TOSLink, which is a nice bonus.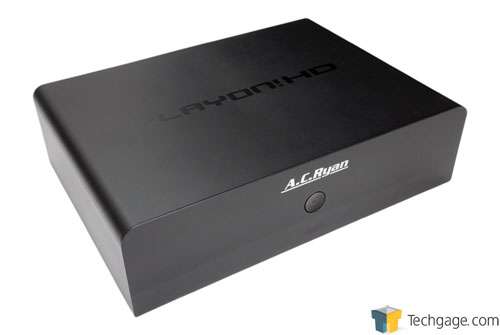 The Playon!HD comes with a 1.5TB drive for all of your media storage. If that's not enough, however, it can be upgraded with any 3.5″ HDD up to 2TB. Even better than such a large drive being included is the fact that it's also ready-to-use as a NAS box, meaning other network devices can still have access to your media. Of course, if that's not enough, it also supports one USB-B device, two more USB-A hard disks or thumb drives and a whole host of memory cards built in, including SD/MMC and Sony's Memory Stick.
The only real downside to the Playon!HD's connection options come in its network ability – the built-in wired NIC is only 10/100Mbps, and the Wireless N (which actually is theoretically faster throughput) is actually an optional extra. This is not a wonderful selling point for a device that is proposing to be the media hub of your entire home, and might be worth noting depending on the number of concurrent connections and file sizes.
Finally, it's worth noting that though the Playon!HD is a very quiet media player, it is not silent or passive – it comes with a 40mm "Low noise" fan. For anyone who's played with computers for a while, the first thought is probably that 40mm is the opposite of "Low noise." Though it's not dead silent, I will say that it didn't get much louder than the hard drive itself even while playing 1080p video.
First impressions and Installation
One of the places that the Playon!HD really sets itself apart is in its typical AC Ryan polish. The box is kitted with a very snazzy, braided 6′ HDMI cable, a Component Video, Composite Video/Audio, USB-B to USB-A and USB-A male/male pigtail as well. This is literally a cord for every type of port you're likely to use except for the NIC, and is a very welcome extra. Rounding out the bundle are the remote, a pair of batteries for it and a few extra screws (should you lose any if you mess with the hard disk drive).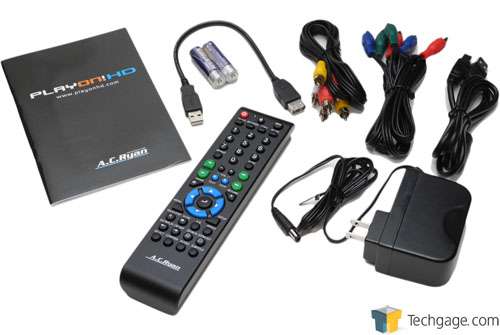 The unit itself is matte black steel across the top and sides, with a gloss black plexi front. Though this front could attract fingerprints and dust, the matte black across the top and sides do a great job of giving you places to hold on to so that this doesn't happen. All A/V outputs are across the back, and the USB ports and card reader reside on the right side of the device (if it's facing you). It is, in a word, sturdy. It feels hefty (unlike the WD TV) and like it will remain where you put it. Its looks may not be to everyone's taste, but it certainly is a lot prettier and more understated than many of its competitors.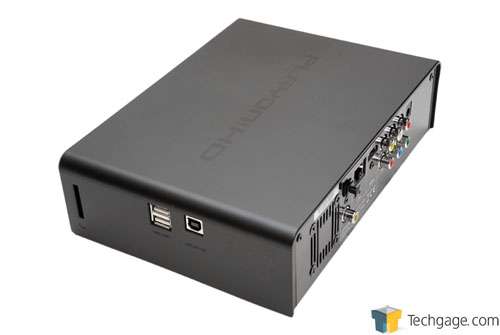 The front fascia is clean but for one power button, which glows blue. Normally, this would be a gripe to me, as I find front-facing LEDs are quite obnoxious in a media appliance. However, AC Ryan has toned it down behind a bit of shaded plexiglas so that it's not terribly noticeable. This is a very welcome detail, as I'm about tired of media room electronics having garishly bright, eye-bleed level LEDs. Blue ones in particular are famous for this, and are very harsh in an otherwise dimly-lit environment.
Connections are as simple as you'd expect – simply plug it in, press the button on the front and the device will begin its setup procedure. This begins with a quick HDD format, followed by your basic setup questions (Time zone, Network, etc.). It's worth noting that the devices rarely ship with the newest firmware, and upgrading mine actually provided a totally new "Home" screen layout. Your miles may vary, but it's definitely worth checking out before you even get much of it set up, to save you some frustration at having to repeat that whole five minutes of your life.
Interface and Performance
The Home Screen (as of the latest firmware) is a very simple to navigate (though a little busy) series of icons including the Browser (to view from network), the internal Media Library, the Movie Jukebox, Internet Radio, Internet Feeds (for weather, Picasa and RSS-fed news), File Copier, a fully Web-controllable BitTorrent client (nice!) and your device settings.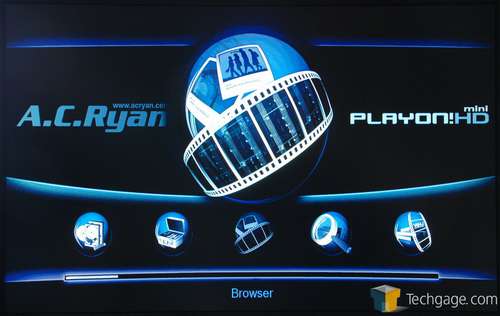 Wandering through each of the media types in "Browser" is wonderfully easy, assuming you know quite which types of media you have. For instance, most non-geeks aren't really aware of the differences between "Network" (meaning Samba and Windows shares), "UPnP" (a streaming server) and "NFS". This can become quite tricky to explain to a significant other or anyone who is using the device that is not highly tech-oriented. Once located, you may browse through folders as you normally would, with full filenames being displayed in the navigation pane on the left, and a preview on the right. Categories are a little slim, going from "All" to "Music" to "Movies" – note that there's no TV option.
The whole interface actually moves a bit slowly for someone who does not understand your layout, in fact – and there's not a convenient way to say "Add this stuff to all movies, and this stuff to the music library" if you're streaming over the network. Should you be looking for something specific, you're bound to find it with all of the options (I was quite happy to see NFS, for example), but the only way to get it in a firmly searchable location is by copying it to the device using the File Copy menu. That will put it into the Library, which is browsable, searchable, and generally a bit more easy to wander through. However, all video files in the library will become a "Movie"!
All of the interfaces on the Playon!HD unfortunately suffer the same problem – lots of large text and all of your interaction on a left-hand pane, almost nothing on the right. This makes for an inordinately difficult issue when you start scrolling through huge title names that can only take up a third of the length of your screen. Though the preview pane is a nice touch, it doesn't always need to be there and frankly could be a quarter the size and up in a corner somewhere that doesn't get in the way even when it IS useful.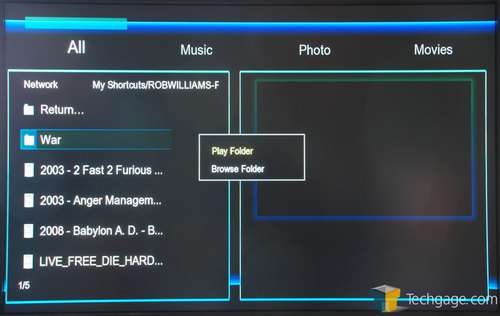 When you DO find what you're looking for, chances are that it will work like a charm – though I did not have so lucky of an experience. Many of my TV shows, which are in MKV container formats, did not play for one reason or another. I'm still not entirely sure why, as these same shows play on XBMC on my home theater PC with absolutely no problems. This could be just my particular luck, but be warned – there are some format combinations that this device simply will not play, and I haven't really been able to understand why just yet. Oddly, things that I thought would most definitely choke it gave it no problems.
Another important cautionary tale revolves around your audio setup. Should you actually hook the Playon!HD directly into your surround amp using one of the digital connections, you're liable to have no troubles. However, should you run it as "Passthrough" to your TV over HDMI and let your TV handle passing the audio along, you will have myriad problems.
Without directly hooking the device into my Dolby Digital amplifier via SPDIF, I was unable to hear DD sound – the best I could do was use LPCM Multi-Channel, which only produced stereo sound because it detected my TV's speakers and not my theater system's 5.1 channels. If I plugged into SPDIF, DD worked just fine (via passthrough) – though if I tried to play a DTS track, it was incapable of downmuxing and I'd again be left with no sound.
One should note that this audio tomfoolery is actually fairly common in the digital media world – blessed are they with DTS-M/DTS-HD/DDPro super-amps. Almost any out-of-box media player will suffer these types of struggles. That being said, it can be worked around in a HTPC setup, so to find it not only being very far from "plug&play", but actually incapable of being solved was quite vexing.
Frustration continues when you go into Internet Feeds, finding that there is no option for anything even resembling streaming video from the Internet. No Hulu, no Netflix, not even bloody f*!$ing YouTube. It is a wasteland of video-barren RSS news, a basic weather app, Flickr and Picasa (why both of these?!). If you thought you were looking at a video player, you might be a bit mistaken. You can't even access video feeds from the news sites they offer, including CNN and the BBC.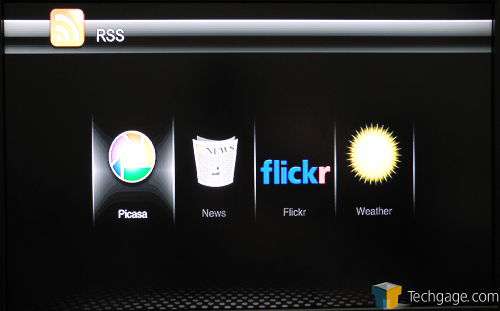 At this point, we come to the highlights – the BitTorrent client and the file copier. I can't say why I found the file copier so slick, but it was absolutely wonderful to have a very clear, simple way to move media onto and off of the device. AC Ryan should get a very good score almost based on this alone, and if you've ever tried to add media to other stand-alone players, you'd understand why. It's simple – you choose where you copy from and to, and that's frankly IT. It works, it's menu is just what is needed, and it makes the process simple. Now if only it could copy from NFS, or have a faster connection available to it than USB 2.0.
The BitTorrent client is where the Playon!HD really begins to shine unto its own. This, plus the built-in NAS functionality on the device begin to really turn it into its own little media server, and not just a media player. It's completely Web-controlled, and progress is viewable directly on your TV screen. This functionality takes what would otherwise be a fairly mundane player and turns it into a fetch/store/play/serve powerhouse. Of course, if you already have a NAS box, this type of feature is redundant. However, I'd actually then have to point out that in that case, purchasing a player with a built in HDD largely is, as well.
Final Thoughts and Conclusion
With all that can be said that is wrong with AC Ryan's Playon!HD, there's a lot more that can be said that shows the company is listening and adapts to its market. That's important both in future releases and also in the ongoing firmware updates to this model in particular.
First, you need to pay attention to the target audience. The Playon!HD isn't necessarily designed for someone with a NAS storage solution and a variety of complex network options – it's designed for someone who WANTS some of that without the added hassle and expense of yet one more thing. The added hard drive means you can take your device wherever you go and be assured you'll have your movies, TV and music at your fingertips, and its huge number of hookup options make it easy to connect wherever you are – and share your collection. Don't have something? Throw it on your BitTorrent client and get it from wherever you are.
To date, this is the ONLY player that offers this set of options as a whole package – the ASUS O!Play requires external eSATA drives, and the WD TV Live is simply a streaming box with no real ability for any mass storage at all. By the way, NONE of the other options offer the ability to be a NAS, or to download from a service like BitTorrent.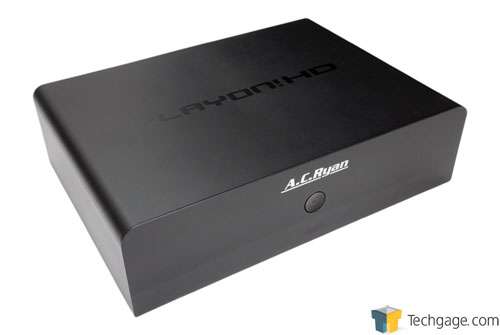 In fact, the perfect target for the Playon!HD is really a college student or person who spends a lot of time either traveling or at other people's places, because the options fit this person perfectly. All your stuff, all the time, in one small but well-built package that can hook up pretty much anywhere. Don't have it? You can go grab it. If that's you, I'd say this is your dream machine.
For the rest of us, the AC Ryan Playon!HD sits somewhere in the middle of limbo. It can stream media, but not as well as some players. It can fetch and store media, but not as well as a NAS box. It can serve media, but not as well as something with a gigabit card or more than one HDD. It does all of it, just not any one thing very well – it doesn't even upscale your SD content, though since it doesn't really have much of a place for TV shows in its menus, that shouldn't be a surprise. With no streaming legal content support from Hulu or Netflix, it just starts to choke compared to some other offerings.
Overall, AC Ryan proves that ingenuity and a bit of smart product thinking can put together a hell of a product for somebody, which is really the company's modus operandi. The Playon!HD has incredible potential and some features that are simply unmatched by anything in its price range, but this diamond needs quite a bit of polish before it will shine for the rest of us.
Discuss this article in our forums!
Have a comment you wish to make on this article? Recommendations? Criticism? Feel free to head over to our related thread and put your words to our virtual paper! There is no requirement to register in order to respond to these threads, but it sure doesn't hurt!
Copyright © 2005-2019 Techgage Networks Inc. - All Rights Reserved.