Acronis True Image Home 2011

Date: October 29, 2010
Author(s): Rob Williams

Of all the things we can do with our PCs, an often ignored task is keeping our personal data safe. Past that, there's also a general lack of planning of what to do in the event of an OS crash. Acronis' True Image Home 2011 tackles both of these scenarios plus many more, and as we've found out, it shouldn't be overlooked.
---
Introduction, Backing Up Your PC
One cannot underestimate the importance of thorough, frequent backups. Yet, all too often, I hear horror stories from people who have had subpar backup schemes, or worse still, no backup plan at all. I used to be one of those people, and although I hate to admit it, it took more than one hard drive failure before I got fed up enough to make sure that I never experienced data loss again.
I've used a number of backup applications over the years, but something I found was that none stood out from the crowd. If someone asked me for a recommendation, I'd never have one. In the end, the tool I found myself relying on most often was Symantec's Norton Ghost, both because it was reliable, and allowed full PC backups.
Until last spring, I had figured that Ghost was about as good as it could get, but that was until I took a look at Kingston's SSDNow M series bundle, a kit that included an SSD and also a piece of software called Acronis True Image. After popping that disc into the drive, I became an instant fan. From that point forward, I moved all of my personal backup needs to Acronis, and kissed Ghost goodbye.
The immediate reasons for me boiled down to ease-of-use and also functionality. Because I use Linux full-time, I was impressed by the fact that True Image detected those respective partitions fine, and going even further, it offered me the ability to backup my entire PC, Linux installation included. That's something Norton couldn't do. This was just the beginning, though, as the more I used True Image, the more I liked it.
Closer Look
Acronis touts True Image Home as being the "Backup Solution for Everyone", so it can be assumed that for the vast majority of home users, any sort of backup functionality you'll need is going to be here. While the main feature that many are going to use is the one that allows you to keep backups of your entire PC, True Image can do a lot more than that.
A couple of the program's bullet-points include the ability to clone a hard drive, backup individual files and folders, create a Virtual Hard Disk (VHD) version of your OS install for use in a virtual machine (and vice versa), install potentially unsafe software while retaining the ability to backtrack, boot straight to an image, clean and shred files and more.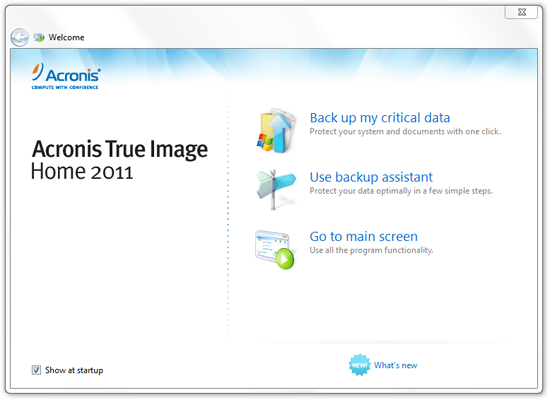 Because True Image Home has many features, we aren't able to take a look at all of them here. Instead, we're going to tackle the more common aspects of the program, while also talking a bit about some of the minor features that are still well worth mentioning.
To see all of the features that the program offers, including the ones we don't cover here, I recommend heading here. If you happen to be a True Image Home user already, but are using an outdated version, you can see what's new with the recent versions here.
Backing Up Your PC
When the program is launched for the first time, you'll be greeted with the simplified screen shown above, but after clicking "Go to main screen", you will see something similar to the shot below. Here, there is quick access to a couple of the program's most common backup tools, and also an up-to-date list of backups stored on your PC.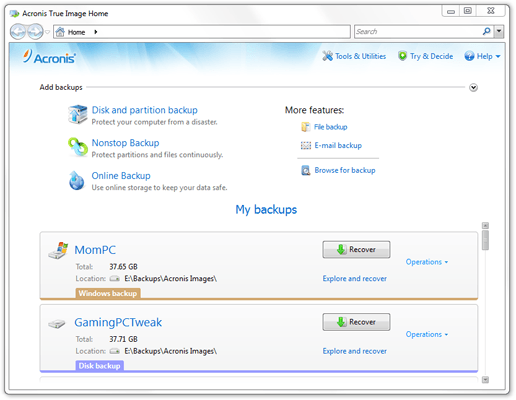 A list of backups will of course be non-existent if you've never created one with Acronis before, but since I've been using the program for some time, I have a decent collection built up. True Image is what I rely on to help us restore OS images to our benchmarking PCs quickly and easily. The "GamingPCTweak" you see in the screenshot above refers to our GPU benchmarking machine image, with all of our Windows tweaks applied.
The "Disk and partition backup" is the option to choose in order to create a backup of your entire PC, and after launching, you'll see a screen like this: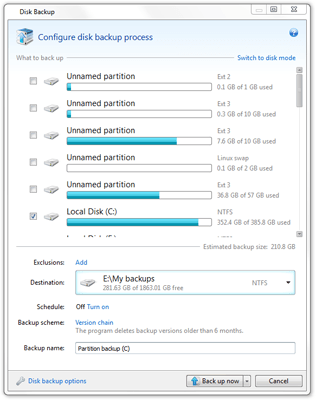 All of the hard drives and partitions available to your PC will be found in this list, and by default, the C: drive will be automatically selected. If you want to keep regular backups of other partitions, you can select them from the list. As you can see, because I also have Linux installed as another OS, the partitions for that are also found here. In order to back up Linux partitions, though, you need to back up the drive as a whole, not with individual partitions.
It'd be easy enough to click "Back up now" and be happy, but there is a lot of tweaking that can be – and should be – done. The first thing to pay attention to is where the backup is going to be stored. In my case, Acronis chose the hard drive with the most free space (yes, it looks like I'm due for another HDD addition soon).
Local hard drives aren't the only option here. If you choose to browse for a location, you will have the ability to save to another device on the network, such as a home server or a NAS box, and also to an FTP server. Personally, I keep two copies of each backup, one on a NAS, and one on a local drive for the sake of added redundancy.
Backing Up Your PC Continued, Nonstop Backup
After choosing a backup location, you'll want to click on "Disk backup options", as there is a plethora of tweaks available. If you insist on keeping 1:1 backups, you can choose to backup a partition on a sector-by-sector basis, but it's not generally recommended since it even backs up empty sectors. If you don't want others to access your backups without permission, you have the option to password-protect and encrypt them.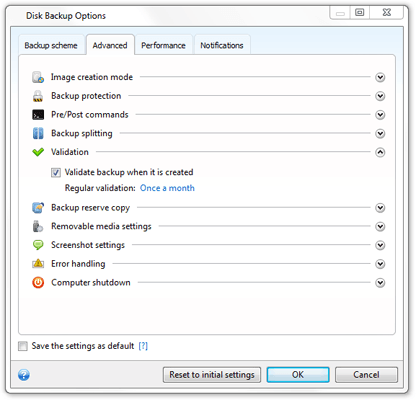 Other options to take note of include backup splitting, which will allow you to create individual files rather than one monolithic one (perfect if you need to backup to DVDs, for example). For added protection, you can have the program create a reserved copy of each backup, so that if for some reason your original backup becomes unusable (due to a hard drive crash), you'll still have the option to use the backup.
The most important option to take advantage of here is validation. I couldn't encourage using this enough, because what it does is verify your backup after it's created to make sure that it's perfect. If you create a backup and for some reason something goes wrong in the process, you might be left with a broken backup down the road. That said, even if the backup isn't restorable in the traditional way, you can almost always still gain access to the actual data. Either way, validation helps avoid the chances of this ever happening.
Before exiting this screen, there are more options up top worth looking at. The first, "Backup scheme", allows you to configure how the backup will be created and if it will be incrementally updated. By default, the program will keep multiple copies of the entire backup, and also differential backups, which contain only the differing bytes as the name suggests. If you don't like this idea, you can have the program keep only one full backup at a time, or you can customize the procedure to your liking. If you are not that limited on disk space, the default option is best.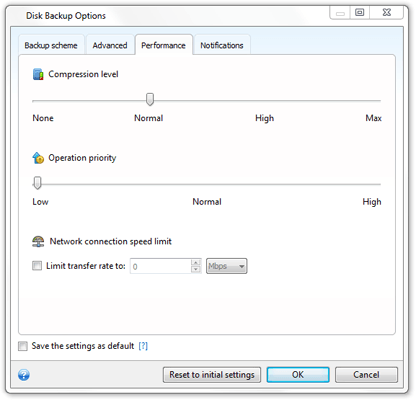 Finally, you may wish to increase the level of compression for your backup if you have a fast computer. The option is found under the "Performance" tab and its options include none, normal, high and max. The higher the compression, the longer the process takes.
Back at the main screen, you can schedule how often you want the backup process to run, and also exclude entire folders that might not be that important to you. In a personal example, I have about 200GB worth of games installed through Steam, and because all of them are installed into the same overall folder, I can exclude it from being backed-up since I could easily re-download them again later. If you can exclude any heavy folder like that, it can save a lot of disk space.
After choosing to create the backup with your personal settings, the program will get right to work. Back at the main screen, you'll see the progress of the backup, which depending on the amount of data you are backing up, could take tens of minutes or hours. Once done, the backup folder that you chose will have all of the backup's related files.
Nonstop Backup
Similar to Apple's Time Machine feature in Mac OS X, True Image's "Nonstop Backup" allows you to keep up-to-the-minute backups of important files on your PC, either of entire drives, or individual folders. Once set up, Acronis will create incremental backups every 5 minutes for changed files, so that even 10 hours after you delete one, you'll be able to go back and get it.
So that your hard drive doesn't fill itself up with file backups, True Image will only backup a file if it has changed. After the 24 hour mark, daily backups of each file are kept as well, and after 30 days, any file that no longer exists on your PC will be deleted from the backup.
After choosing the nonstop backup option, you'll see this: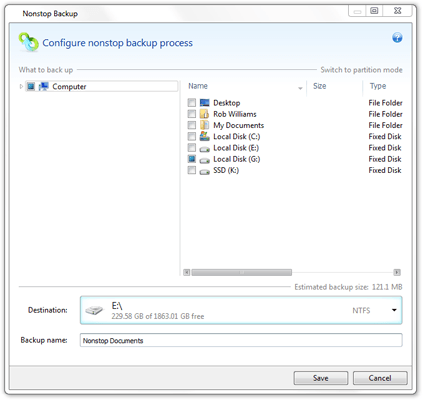 By default, the "My Documents" folder will be selected, but because I keep all of my documents on a separate drive, I changed the selection as reflected in the screenshot. After selecting the save location for the backup and also naming it, you can hit "Save" and let True Image work its magic.
Backups created with this mode are designed to be accessed only through the application itself. On the drive you selected to store the backups, a folder called "Time Explorer Storage" will be created, although it's hidden. This is fine, since the files are stored in a proprietary way and are categorized with the help of XML files.
How do you get old files back, you ask? Back at the main screen for the application, you can click "Explore and recover" under your nonstop backup, and from there, you can browse your entire backup as normal. It's no different than simply browsing your PC through Explorer.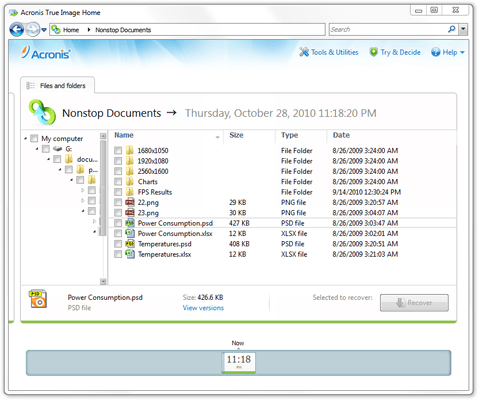 In the screenshot, you'll notice a "View versions" option, which will automatically load up a list of all the available versions in the history, and once you find the one you need, you can click it and restore it to your PC. For those who work with documents a lot, this feature is beyond useful.
Try & Decide, Other Features
Ever download an application from some shady-looking website and weren't confident that it'd be 100% malware free? Today, the threat of malware is so strong, that it's hard to feel confident even after putting a file through a barrage of anti-malware tools, because the chance of brand-new malware that's not yet defined is all too real.
For friends who happen to download things left right and center, I have on occasion set them up a virtual machine to use as a sandbox, where they would test any and every downloaded file in there first, before moving it over to their real Windows install. To me, this is a near bullet-proof solution, but unlike True Image's "Try & Decide", it's not all that convenient to set up.
Try & Decide essentially emulates what I just described, by turning Windows into a safe house, where nothing you do is going to break your system. You could theoretically install some of the worst malware out there, but because True Image can easily undo everything, it's of no real threat. Overall, using the feature is simple, but powerful.
One important thing to mention, though, is that by default Try & Decide will only protect the C: drive. If you have other partitions, I'd recommend enabling protection for those as well, via the "Protected partitions" option. Try & Decide will take longer to activate, but it's an important step, because if you do install malware that happens to scan your computer for files to corrupt, non-protected partitions could be affected, even after an undo.
After you click "Click to start", True Image will spend a couple of minutes setting things up. Once the mode is enabled, anything you do can be undone. If you delete a file off of the desktop, it will return later if you undo your actions. If you install mind-boggling malware, undo will make it look like never happened.
Because of this total OS engulfment, this isn't a mode you use and then do actual work with. It's designed to allow you quick access to a safe environment, and then give you the ability to undo everything if need be. If you happen to install some software and it doesn't install a bunch of malware, then you can apply all of the changes, rather than undo them.
In my test of Try & Decide, it worked just as described. I had deleted a couple of things out of my documents folder, created some new files, and installed an application, and after the undo, all of that was reverted. Because I installed an application, I had to reboot to undo, and I became a bit worried because Windows Update was getting in the way. Fortunately, that didn't affect Try & Decide at all, and after my reboot, things were undone, and my Windows up to date.
Other Features
All of the features talked about up to this point are the biggest ones that True Image Home 2011 offers, but there are other neat utilities that are included that I couldn't just not talk about. To help round this review out, I'll talk about a couple of the more notable ones.
Before I continue, though, I should mention that one notable feature I didn't touch on was Online Backup, which as you'd expect, allows you to back up your files online. This requires a subscription service, and allows you to store up to 250GB worth of data, for either $5 a month, or $50 for the year, which is quite a good deal (by comparison, Google offers 200GB of storage space for $50 a year).
As I understand it, this online feature not only allows you to keep files backed up, but also full PC backups. And in addition, you can keep backups online for up to five different PCs, which adds to the value even further. At the price it's being offered for, even I'm considering it as an off-site backup solution.
Startup Recovery Manager
Online backup aside, let's take a quick look at some other cool features. The most notable to me for those who want to keep their PC as secure as possible is the Acronis Startup Recovery Manager. What it does is offers a splashscreen at your PC's boot that will appear before Windows' boot screen, and from here, you can push F11 to initiate the process to help you restore your PC back to working condition. This kind of feature isn't new, but it's unbelievably useful.
Rescue Media Builder
The feature that sucked me into True Image was this one, and in all regards, it's a major feature, but one that not a lot of people are going to have to use. What it allows is almost full functionality of True Image's features outside of Windows. You can burn an ISO to a CD or even create a bootable thumb drive, and after booting up to it, you'll see an interface like this: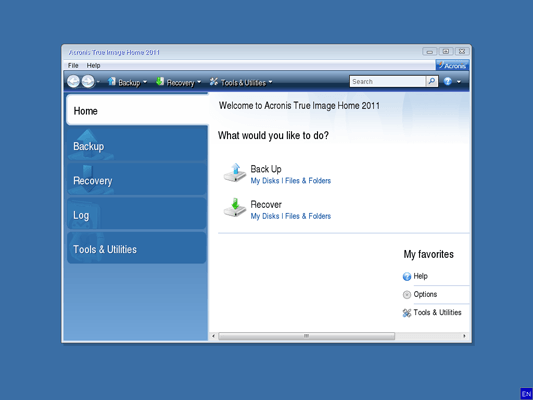 To my knowledge, this boot environment is comprised of a Linux kernel, and likewise, you can backup and restore Linux partitions just as easy as you can Windows partitions. The main feature here is to backup and restore, but you can also do things like create a secure zone, enable the recovery manager, clone a hard drive, or cleanse one.
Overall, this is what I consider to be a brilliant tool, and one I've spent a lot of time with since I first began using the program. I have restored at least 50 backups with it, and just once had a problem – a problem I am lead to believe was due to my own negligence (corrupt due to bad network transfer).
The absolute first thing you will want to do after purchasing True Image is to create this bootable media, because if you are left with a borked OS, it might just save you.
Other Features Continued, Final Thoughts
Backup Conversion
One of the niche features of True Image is also one of the more interesting… the ability to convert an Acronis backup to a Windows VHD backup, and vice versa. For those unaware, VHD is "Virtual Hard Disk", and it's the format used by Windows Virtual PC, Microsoft's free virtualization software. Thanks to this tool, you could take your already-created Acronis backup, convert it to VHD, and then boot it up in a virtual machine and use it.
Why would you ever do this? Well, Acronis gave me one really good example, which I'll relay verbatim:
"Let's say now that you have a laptop and a desktop (or a server). You've made an image of your laptop, but your laptop dies. You don't have time right now to go buy a new one, so you fire up Virtual PC in Windows 7. You then restore the image to the Virtual Machine (Virtual PC uses files in a VHD format.) Now you have your laptop running on your desktop. It's all there and will react exactly as it would on your laptop. When you get your new laptop, you just restore that VM to the physical machine and you're ready to go."
In addition to this, our rep with the company mentioned that True Image can restore in four different ways: physical to physical, virtual to virtual, physical to virtual and virtual to physical. That's what I call lenience! Now if only there was an option to convert an Acronis image to a VMware or VirtualBox file…
Mount Image
Have a bunch of backups that have different things in them? Accessing that data is simple, and only requires you to right-click the image file and choose to mount it. When you do, it will appear in your computer drive overview as a normal drive, but with a special icon (M: is our Acronis image).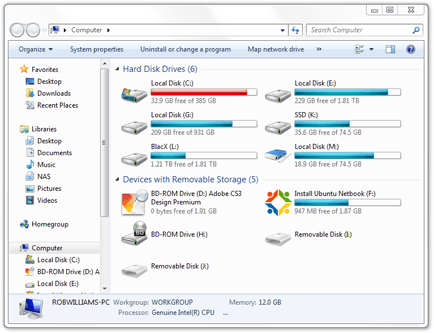 There's a minor caveat, though, and that's the inability to write anything into the backup. So while it appears to act as a normal drive, you're not going to be able to add anything to it, and at the end of the day, that's a good thing. Given that these backups include things like your master boot record, you don't want to risk destroying anything by accident.
Other Features & Plus Pack
There are a couple of other features that are quite useful that I'll rattle off here quickly. The first is "Secure Zone", which will allow you to create a hidden partition on any one of your drives that will be used exclusively for your backups. There's also Boot Sequence Manager which allows you boot into a VHD file by adding it as a choice to Windows boot manager. Your success here will vary, since not all Windows installs are going to boot up without issue on an entirely different PC.
There's also the option to perform a couple of disk actions, such as clone one to another, and shred the data to your liking. There are a variety of file deleting algorithms ready to be executed – yes, even Gutmann – so if you are worried about "something" on your PC, this can help get rid of it for good.
An add on for True Image Home, called "Plus Pack", retails for $30 and give advanced users some additional control. Most notably, it allows the restoration of an image to a PC with dissimilar hardware. What does that mean, you ask? On the OEM side of things, if you purchase a machine with Windows pre-loaded, that license is not meant to be used on another machine. This feature changes that.
If you have a Dell PC, for example, and it dies, with the Plus Pack you can take your Acronis backup and restore it any other PC, and you won't run into an issue where Windows refuses to run. Instead, it will remain activated and perform as normal. How Acronis gets around this OEM limitation is a bit complicated, but it's certainly useful.
Final Thoughts
It's obvious that keeping your data backed up is important, but as far as I'm concerned, that's just the start. Losing data is one of biggest mood-killers around, but so is booting up to a broken OS. True Image tackles more than one problem, and from all of my experience, it tackles them like nothing else. I've had nothing but great experiences with True Image since I began using it. Yes, this is Editor's Choice material.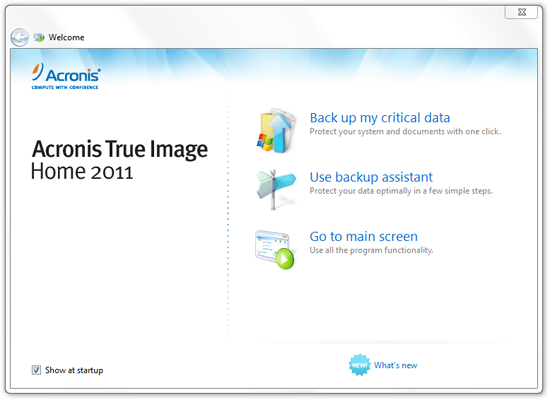 No application out there is perfect, but as I've never run into a major problem with True Image in all the time I've used it, I can't help but recommend it to anyone who is looking for a reliable, full-featured PC backup system. And though I can't speak for Acronis' online service, for 250GB worth of space at $50 a year, it's priced well compared to the competition (namely, Google), and allows backups for multiple PCs, not just one.
At $50 USD, True Image Home is well-priced, and if you're still not sure whether it's for you, there's a free trial available, which I believe lasts for thirty days.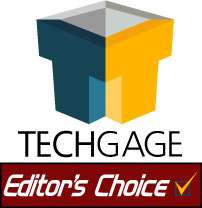 Acronis True Image Home 2011
Discuss this article in our forums!
Have a comment you wish to make on this article? Recommendations? Criticism? Feel free to head over to our related thread and put your words to our virtual paper! There is no requirement to register in order to respond to these threads, but it sure doesn't hurt!
Copyright © 2005-2020 Techgage Networks Inc. - All Rights Reserved.