AMD Radeon 300 & Fury Series Preview

Date: June 18, 2015
Author(s): Rob Williams

It's exciting times in the graphics card world. Following NVIDIA's launch of its high-end GeForce GTX 980 Ti late last month, AMD has just released its Radeon 300 series, and will soon be following-up with the much-anticipated Fury X. Read on as we take a look at what we should be expecting with these new cards.
---
AMD Radeon 300 & Fury Series Preview
After months of waiting, the day many of us have been waiting for is here – or will be here next week, depending on what we're talking about. You see, retailers can begin selling AMD's new Radeon 300 series today (let's ignore the leaks), while the company's first Fiji-based card will drop next week – June 24, to be exact.
Today marks the day that performance data can be revealed, though at the current time, I have none to share. That'll change over the next week, as our samples have vowed to tour the globe in a canoe before reaching us.
I'm not complaining, though, as I've been told that good things come to those who wait. In the meantime, I present this quick preview, taking a look at the 300 series cards, as well as the Fiji-based Fury X. I'm still almost in disbelief, but AMD's latest cards are finally upon us.
Most of AMD's new lineup consists of models derived from the 200 generation, with the top-end Fury X leading the pack with the brand-new Fiji architecture under its hood. Here's AMD's new lineup, excluding the R7 360:
| | | | | | |
| --- | --- | --- | --- | --- | --- |
| | Fury X | R9 390X | R9 390 | R9 380 | R7 370 |
| Cores | 4096 | 2816 | 2560 | 1792 | 1024 |
| Clock | 1050 MHz | 1050 MHz | 1000 MHz | 970 MHz | 975 MHz |
| Memory | 4GB HBM | 8GB GDDR5 | 8GB GDDR5 | 4GB GDDR5 | 2GB GDDR5 |
| Memory Clock | 1 Gbps | 6 Gbps | 6 Gbps | 5.7 Gbps | 5.6 Gbps |
| Memory Interface | 4096-bit | 512-bit | 512-bit | 256-bit | 256-bit |
| Memory Bandwidth | 512GB/s | 384GB/s | 384GB/s | 182.4GB/s | 179.2GB/s |
| ROPs | 64 | 64 | 64 | 32 | 32 |
| Texture Units | 256 | 176 | 160 | 112 | 64 |
| Performance | 8.6 TFLOPs | 5.9 TFLOPs | 5.1 TFLOPs | 3.48 TFLOPs | 2.0 TFLOPs |
| TDP | 275W | 275W | 275W | 190W | 110W |
| Price | $649 | $429 | $329 | $219 | $149 |
Based on single-precision compute performance alone, the Fury X is a lot faster than the R9 390X. I admit that I expected to see more than a 33% increase in memory bandwidth, but as with our Internet connections, latencies can sometimes matter more than throughput, and it goes without saying that 3D chips are bound to be a lot more efficient in that regard than GDDR. While the 4096-bit bus is cool to look at, it means little in the grand scheme – it's the efficiency of the memory architecture that matters.
Fury X's real-world performance is being kept secret until next week, so there are only a handful of sleeps before we see how it compares to NVIDIA's GeForce GTX 980 Ti – both of which are priced at $649.
AMD: The 300 Series Is Not A Rebrand
When AMD's Radeon 300 series first broke cover, no time was wasted before it was hit with a deluge of "rebrand" accusations. As time went on, more leaks came out, and the rebrand argument kept getting refueled. Some leaks showed that the basic specs of certain 300 series cards matched 200 series ones, and in some cases, GPU-Z screenshots even showed identical "Device ID" values.
AMD, however, is adamant about the fact that its 300 series isn't a simple rebrand. The company admits that the ASIC is the same, but stresses that there's a lot more to a graphics card than its overarching chip. We were told that the company's engineers spent a year adding some new power management features, improving efficiency, and adding ~50MHz to the core and 250MHz to the memory (6GHz vs. 5GHz).
I believe that AMD did improve some things under-the-hood – the fact that it managed to boost the clocks while retaining the same TDP (or decreasing it, in the 390X's case) means that some good was done. But, the 300 series is far from being an upgrade; it's an "iteration", which, in this case, is awfully close to being a rebrand.
But, I don't think that's as horrible as it's being made out to be. I can't imagine AMD would have wanted to spend too many engineering hours on an outgoing architecture that's "good enough" to tide us over until the next major launch. It did kind of have a major undertaking called Fiji on its hands.
Here's the basic overview of how the 390 cards compare to their 290 predecessors:
| | | | | |
| --- | --- | --- | --- | --- |
| | R9 390X 8GB | R9 290X 4GB | R9 390 8GB | R9 290 4GB |
| Price | $429 | ~$330 | $329 | ~$260 |
| Cores | 2816 | 2816 | 2560 | 2560 |
| Clock | 1050 MHz | 1000 MHz | 1000 MHz | 947 MHz |
| Memory Clock | 6 Gbps | 5 Gbps | 6 Gbps | 5 Gbps |
| Memory Interface | 512-bit | 512-bit | 512-bit | 512-bit |
| TDP | 275W | 295W | 275W | 275W |
| Performance | 5.9 TFLOPs | 5.6 TFLOPs | 5.1 TFLOPs | 4.5 TFLOPs |
For being a series that scrapes the edge of "rebrand", 300 series cards sure pack in a price premium. While I show that the 290X costs about $330, that's not its minimum. Instead, it's just what I feel comfortable quoting, based on the bulk of the lowest-priced cards I found on Newegg. At the time of writing, XFX's 290X can be had for $269.99 after mail-in rebate ($299.99 before).
Assuming that $330 is the typical price for a 290X, that means that the 390X costs $100 more. For some, that might be a bit too much to ask for a card that could perform just 5% faster, but the premium is lessened a bit with the fact that the 390X sports an 8GB framebuffer. The 390's premium (vs. 290) is ~$70.
Edit: Since this article went live, 200 series pricing was shaken up, with most of the prices hiked up. The $300 XFX 290X I quoted above has become $355, as one example. That largely makes this cost analysis moot. With their price hike, the 200 series in effect makes the 300 series look a little more attractive.
A Look At The Cards
AMD revealed the design of its latest graphics cards earlier this week, although nothing came as much of a surprise thanks to the sheer number of leaks that came out over the past couple of months. Still, it's nice to officially see the finished product now.
The entire fleet of new cards share a similar aesthetic, with the R7 360 and R7 370 low-end cards using an open-air cooler in lieu of a closed one. At the top-end, the Fury X follows the 295X2's lead by shipping with a liquid cooler as default – something AIBs won't be altering. When the Fury gets here, it will stick to a normal air cooler.
The standout feature of AMD's Fury series is that the cards utilize HBM 3D memory, and thanks in big part to that, it's allowed the company to dramatically reduce the length of the cards. This top-end Fury X, which is rumored to butt heads with the GTX 980 Ti, is a mere 7.5-inches long – 30% shorter than the 290X. That's a lot of horsepower for such a small form-factor, making this attractive for both the normal desktop and SFF builds.
There are two other things that contribute to the shorter form-factor. First is the fact that thanks to the use of HBM, the VRM circuitry could be simplified, and thus save space. AMD also bit the bullet and removed DVI, which, believe it or not, hogs a lot of room.
For cooling duties, AMD teamed up with Cooler Master to deliver a cooler that's cooler than the rest. As seen in the shot below, the radiator is different from most; AMD used "empty space" at the top to expand the radiator, and as such, increases the surface area that the liquid covers. The entire setup looks great, with sleeved tubing and a sleek black rubber (it's safe to read on) GPU face. Other aesthetic features include two large Radeon logos (the top of which glows) ,and a multi-piece die-cast aluminum frame.
With this cooler, AMD says that Fury X's typical workload will hover around 50°C. When prodded for further information, I was told that for high-end gaming, a peak of about 65°C could be expected, whereas for benchmarking (or unrealistic scenarios), the card could reach 75°C.
Other notable Fury X features include an array of 8 LEDs near the power connectors that highlight GPU usage (these can be green/red or blue/red), a dual BIOS switch at the top, and a six-phase power design with support for up to 375W of total power draw.
Fury X will require dual 8-pin power connectors, and offers triple DisplayPort and single HDMI (1.4a, not 2.0) for connectivity. Like last-gen's high-end Radeons, no CrossFire bridge is required for multi-GPU use (though I think multi-GPU Fury X will be difficult given each card is required to have a liquid cooler.)
Being that the 300 series is derived from the 200 series, card designs don't differ too much. At the top-end, we still have an 8-pin + 6-pin requirement, along with the retention of the DVI ports. In addition to two of those, the 390s include both a DisplayPort and HDMI port.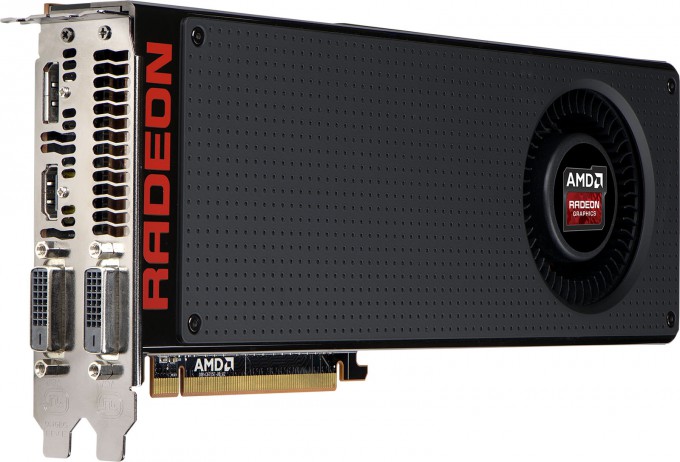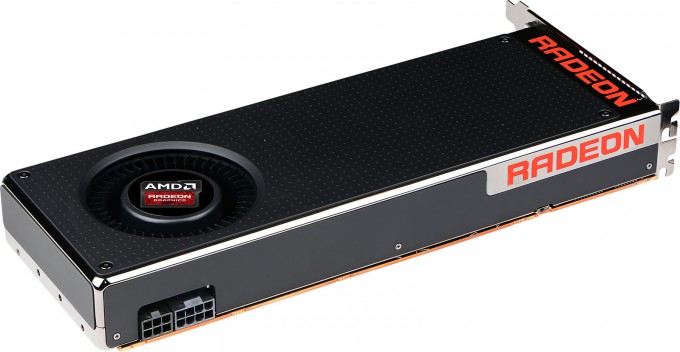 Moving down, we hit the 380, a card which requires dual 6-pin power connectors. The best AMD card to compare this one to for last-gen would be the R9 285.
Last, but not least, are the R7 370 and R7 360. Like the others, these offer dual DVI ports, an HDMI port, and DisplayPort. They require just a single 6-pin power connector.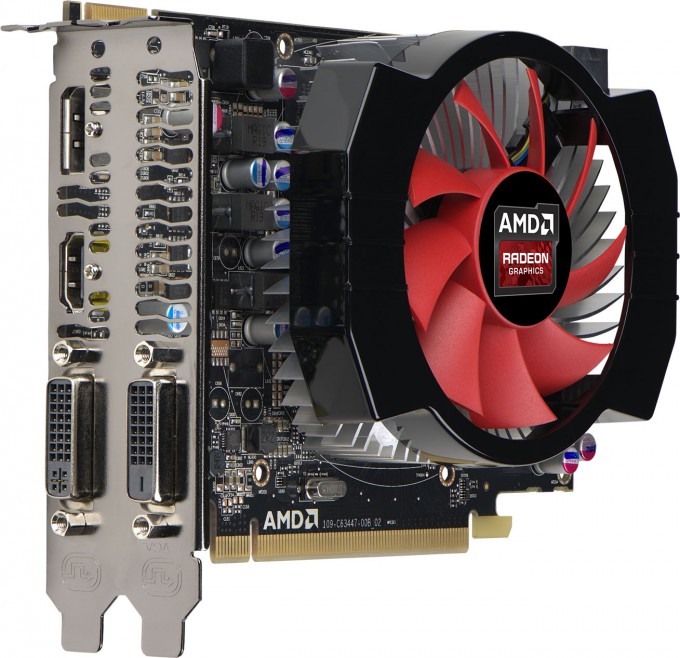 Final Thoughts
Given we have no cards in hand (thanks, canoe!), there's not much to conclude on at this point in time. It's not too hard to draw conclusions on the 300 series, but that's not what most people care about. That'd be Fury, featuring a brand-new architecture and luxury feature known as HBM. AMD's put a lot of time and effort into producing this series, and I think it's safe to say that it's the most ambitious card it's released in quite some time.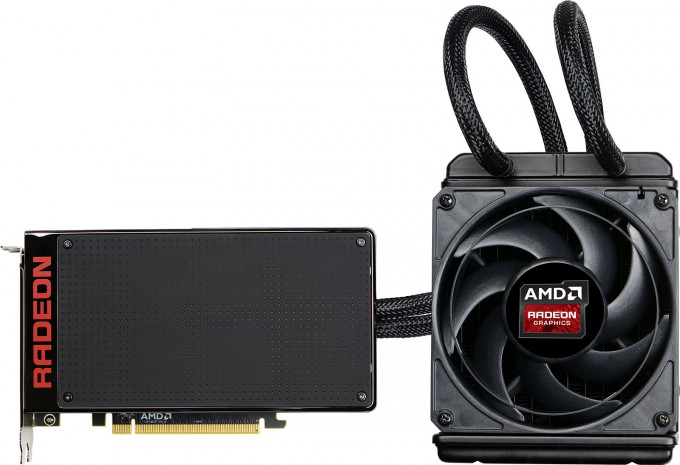 When I sat down to pen this preview, I had anticipated talking about a lot more than what I did. As I was working, though, I kept discovering new things to talk about… potential conversation pieces. Perhaps even an occasional jab. Alas, so much time was lost to this scurrying about that I'll be talking about other things I've been mulling in another post at some point soon.
While we didn't receive any 300 series cards in time for launch, there are bound to be in-depth looks all over the place. If you can't wait for our evaluation, hit up your second-favorite tech site and get to reading.
Copyright © 2005-2020 Techgage Networks Inc. - All Rights Reserved.