AMD's Sub-$100 Line-up: Radeon HD 6450, 6570 & 6670 Review

Date: April 19, 2011
Author(s): Rob Williams

Rounding out its Radeon HD 6000 series, AMD this month launched three sub-$100 graphics cards; the $55 HD 6450; the $79 HD 6570 and the $99 HD 6670. Despite being low-end options, all three support Eyefinity and are of course, extremely power efficient. Let's see if they also have the gaming performance to boot.
---
Introduction
Since the beginning of the year, AMD has been working to fill out the rest of its Radeon HD 6000 line-up, and thanks to today's launch of both the HD 6570 and HD 6670 cards, the company has effectively plugged all of the remaining gaps.
Well… we all know how that goes; but with eight models ranging in price from $55~$350, the next thing we'll likely see are price drops, rather than new models. In this article, we'll also be taking a look at the HD 6450 released a couple of weeks ago, as we haven't had a chance to tackle it until now.
Before diving head-first into things, I do want to mention that this article isn't going to be quite as in-depth as I'd like it, as I've been juggling many different things lately in order to whittle down the queue I have built up; the foremost project being our motherboard test suite overhaul.
As a result, I'm not going to rehash what AMD has told us numerous times before, but rather take a look at the cards from their gaming perspective only. We already know that AMD's offerings can handle things like media viewing with ease, Eyefinity and other features, so we'd simply be redundant to talk about that all again. With that said, let's get right into things!
Radeon HD 6990

830

1250

4096MB

256-bit

3072

Radeon HD 6970

880

1350

2048MB

256-bit

1536

Radeon HD 6950

800

1250

2048MB
1024MB

256-bit

1408

Radeon HD 6870

900

1050

1024MB

256-bit

1120

Radeon HD 6850

775

1000

1024MB

256-bit

960

Radeon HD 6790

840

1050

1024MB

256-bit

800

Radeon HD 6670

800

1000

1024MB

128-bit

480

Radeon HD 6570

650

1000 (GDDR5)
900 (DDR3)

512MB

128-bit

480

Radeon HD 6450

625-750

800-900 (GDDR5)
533-800 (DDR3)

1024MB

64-bit

160
The Radeon HD 6570 and HD 6670 are for the most part, identical, with small changes. The HD 6670 has a faster core and memory frequency, and also has more memory – at least, according to the configurations we were given. It can be assumed that the most common HD 6570 config will be 512MB, and 1GB for the HD 6670. For the HD 6570, vendors can opt to use DDR3 in order to offer a lower-power and lower-priced option.
The HD 6450 can also be made available in both DDR3 and GDDR5 flavors, and can feature wildly varying clock speeds; 625~750MHz. The latter of which is what we'll be benchmarking today.
Speaking of, here are some shots of the reference boards; the HD 6450 and HD 6670 (top) being our photo, and the HD 6570 (bottom) being AMD's (we received our sample with a cooler AMD didn't want shown off):
Sapphire also sent us along its vision of the HD 6570 and HD 6670, which look to us as being a leap above the reference design:
AMD's quoted to us a $79 USD price tag for the HD 6570, and a $99 one for the HD 6670, which Sapphire backed up to us prior to publishing with regards to its own cards. Given that Sapphire's cards offer a far-improved GPU cooler, it's nice to know that the pricing will remain on par with AMD's MSRP.
We benchmarked all three of these cards across a 1680×1050 resolution, using the same settings that we normally use. While this is going to showcase some extremely poor performance on behalf of the cards, it does show the proper scaling of the cards, and also give you an idea of how much more performance could be had with a $100+ offering.
Also, due to our StarCraft II patcher not agreeing with us, we were forced to drop that from our testing. So with that said, let's get a move on!
Test System & Methodology
At Techgage, we strive to make sure our results are as accurate as possible. Our testing is rigorous and time-consuming, but we feel the effort is worth it. In an attempt to leave no question unanswered, this page contains not only our testbed specifications, but also a detailed look at how we conduct our testing.
Test Machine
The below table lists our testing machine's hardware, which remains unchanged throughout all GPU testing, minus the graphics card. Each card used for comparison is also listed here, along with the driver version used. Each one of the URLs in this table can be clicked to view the respective category on our site for that product.
When preparing our testbeds for any type of performance testing, we follow these guidelines:
General Guidelines
No power-saving options are enabled in the motherboard's BIOS.
Internet is disabled.
No virus scanner or firewall is installed.
The OS is kept clean; no scrap files are left in between runs.
Hard drives affected are defragged with Diskeeper 2010 prior to a fresh benchmarking run.
Machine has proper airflow and the room temperature is 80°F (27°C) or less.
To aide with the goal of keeping accurate and repeatable results, we alter certain services in Windows 7 from starting up at boot. This is due to the fact that these services have the tendency to start up in the background without notice, potentially causing inaccurate test results. For example, disabling "Windows Search" turns off the OS' indexing which can at times utilize the hard drive and memory more than we'd like.
The most important services we disable are:
Diskeeper 2010
Windows Defender
Windows Error Reporting Service
Windows Event Log
Windows Firewall
Windows Search
Windows Update
The full list of Windows services we assure are disabled is large, but for those interested in perusing it, please look here. Most of the services we disable are mild, but we go to such an extent to have the PC as highly optimized as possible.
Game Titles
At this time, we benchmark with three resolutions that represent three popular monitor sizes available today, 20″ (1680×1050), 24″ (1920×1080) and 30″ (2560×1600). Each of these resolutions offers enough of a variance in raw pixel output to warrant testing with it, and each properly represent a different market segment: mainstream, mid-range and high-end.
Because we value results generated by real-world testing, we don't utilize timedemos. The possible exceptions might be Futuremark's 3DMark Vantage and Unigine's Heaven 2.1. Though neither of these are games, both act as robust timedemos. We choose to use them as they're a standard where GPU reviews are concerned.
All of our results are captured with the help of Beepa's FRAPS 3.2.3, while stress-testing and temperature-monitoring is handled by OCCT 3.1.0 and GPU-Z, respectively.
For those interested in the exact settings we use for each game, direct screenshots can be seen below:
Colin McRae: Dirt 2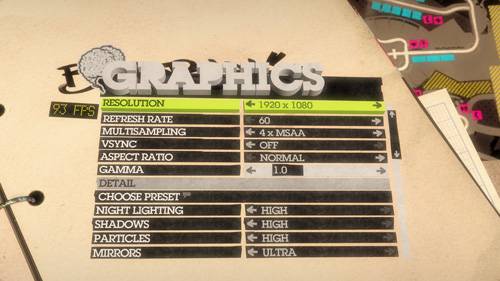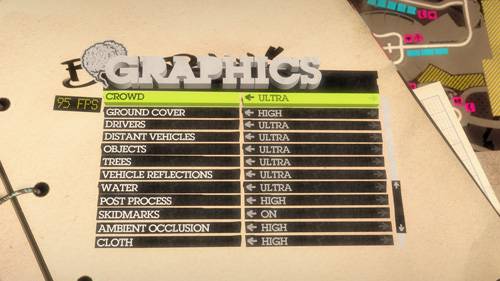 Just Cause 2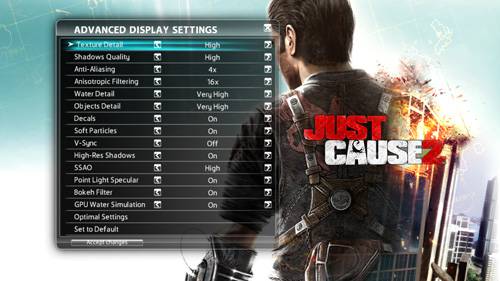 Mafia II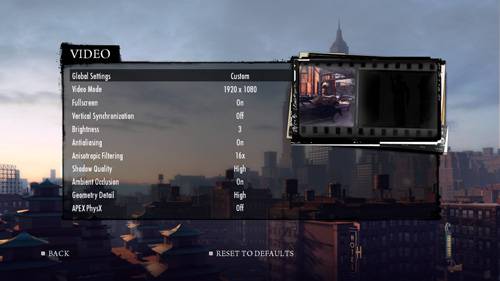 Metro 2033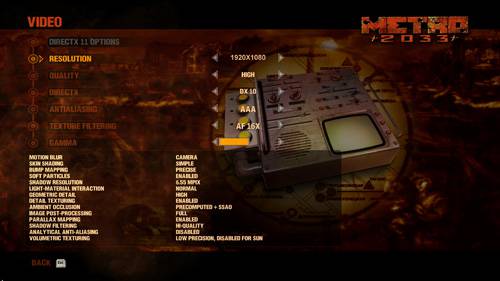 Colin McRae: Dirt 2
It's not that often that faithful PC gamers get a proper racing game for their platform of choice, but Dirt 2 is one of those. While it is a "console port", there's virtually nothing in the game that will make that point stand out. The game as a whole takes good advantage of our PC's hardware, and it's as challenging as it is good-looking.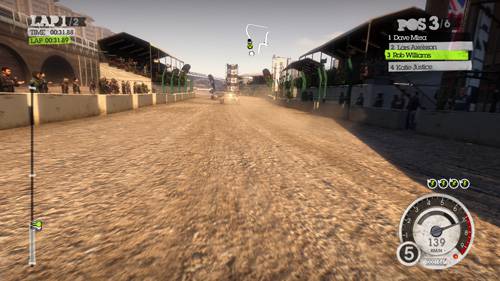 Manual Run-through: The race we chose to use in Dirt 2 is the first one available in the game, as it's easily accessible and features a lot of GPU-pounding effects that the game has become known for, such as realistic dust and water effects, a large on-looking crowd of people and fine details on and off the track. Each run-through lasts the entire two laps, which comes out to about 2.5 minutes.
Given that all three of the cards we're taking a look at today are also the least-expensive on the market, the result above is to be expected. While the HD 6450 had no chance with our given settings at 1680×1050, the other cards remained fully playable. I generally consider 40 FPS to be the borderline for "playable" framerates, but surprisingly the game felt just fine.
| | | | |
| --- | --- | --- | --- |
| | | | |
| AMD Radeon HD 6670 1GB | 1680×1050 – Ultra, 4xAA | 36 | 42.12 |
| AMD Radeon HD 6570 1GB | 1680×1050 – Ultra, 4xAA | 31 | 36.777 |
| AMD Radeon HD 6450 512MB | 1680×1050 – Medium, 0xAA | 26 | 34.178 |
Both the HD 6570 and HD 6670 had the brawn to deliver good framerates at our above settings, but the HD 6450 had to have its detail settings dropped down to "Medium", and also have 0xAA disabled. Considering that the card is $55, being able to play this game at all at 1680×1050 is rather impressive.
Just Cause 2
Just Cause 2 might not belong to a well-established series of games, but with its launch, it looks like that might not be the case for long. The game offers not only superb graphics, but an enormous world to explore, and for people like me, a countless number of hidden items to find around it. During the game, you'll be scaling skyscrapers, racing through jungles and fighting atop snow-drenched mountains. What's not to like?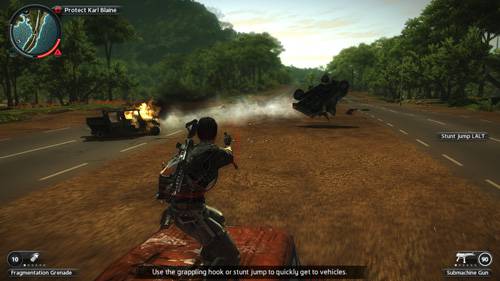 Manual Run-through: The level chosen here is part of the second mission in the game, "Casino Bust". Our runthrough begins at the second-half of the level, which requires us to situate ourselves on top of a car and have our driver, Karl Blaine, speed us through part of the island to safety. This is a great mission for benchmarking as we get to see a lot of the landmass, even if some of it is at a distance.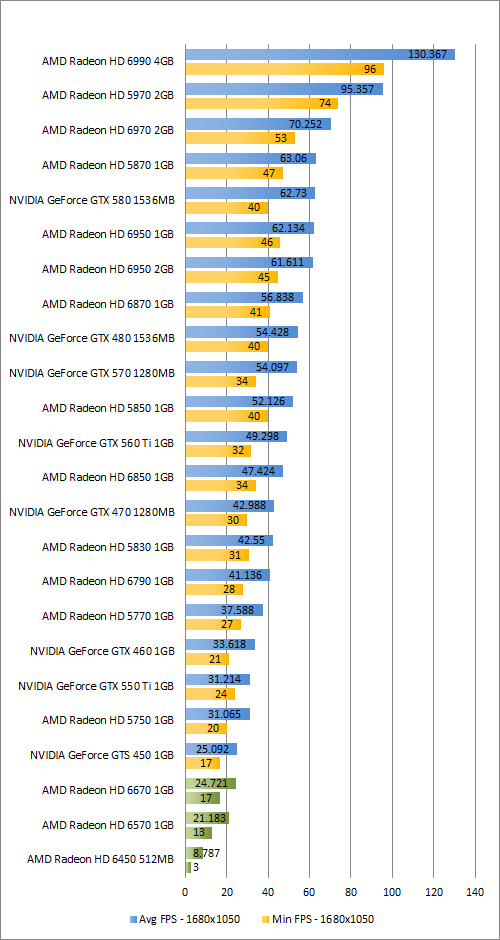 The top two cards could handle the settings we use for Dirt 2 at 1680×1050, but being a much more intensive game, Just Cause 2 made a total mockery of them.
| | | | |
| --- | --- | --- | --- |
| | | | |
| AMD Radeon HD 6670 1GB | 1680×1050 – High: Texture & Shadows; Medium: Water & Objects; Off: Anti-Aliasing, High-Res Shadows & SSAO | 31 | 49.394 |
| AMD Radeon HD 6570 1GB | 1680×1050 – High: Texture & Shadows; Medium: Water & Objects; Off: Anti-Aliasing, High-Res Shadows & SSAO | 25 | 40.86 |
| AMD Radeon HD 6450 512MB | 1024×768 – Low: Texture, Shados, Water, Objects & SSAO; 2x AF; Off: Anti-Aliasing, Decals, Soft Particles, High-Res Shadows & Point Light Specular | 28 | 34.108 |
After decreasing the graphic detail quite a bit, each card was able to handle the game quite well overall. We topped out our settings with both the HD 6570 and HD 6670, so choosing the latter card will simply give you better performance, not improved detail. For the lowly HD 6450, the resolution had to be decreased all the way to 1024×768, with most of the detail turned all the way down.
Mafia II
For fans of the original Mafia game, having to wait an incredible eight years for a sequel must've been tough. But as we found out in our review, the wait might be forgotten as the game is quite good. It doesn't feature near as much depth as say, Grand Theft Auto IV, but it does a masterful job of bringing you back to the 1940's and letting you experience the Mafia lifestyle.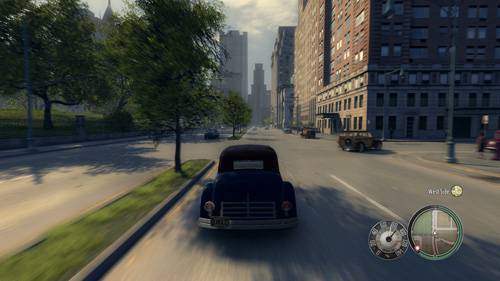 Manual Run-through: Because this game doesn't allow us to save a game in the middle of a level, we chose to use chapter 7, "In Loving Memory…", to do our runthrough. That chapter begins us on a street corner with many people around, and from there, we run to our garage, get in our car, and speed out to the street. Our path ultimately leads us to the park, and takes close to two minutes to accomplish.
Similar to Just Cause 2, Mafia II wasn't too playable on any of the cards, but oddly enough, the HD 6670 did come close. Despite what appears to be a brutal framerate, 26 FPS was actually rather playable, verified by my gamer brother.
| | | | |
| --- | --- | --- | --- |
| | | | |
| AMD Radeon HD 6670 1GB | 1680×1050 – High: Shadow & Geometry; Off: Anti-Aliasing, Ambient Occlusion & PhysX | 39 | 47.244 |
| AMD Radeon HD 6570 1GB | 1680×1050 – Medium: Shadow & Geometry; Off: Anti-Aliasing, Ambient Occlusion & PhysX | 35 | 44.183 |
| AMD Radeon HD 6450 512MB | 1680×1050 – Low: Shadow & Geometry; Off: Anti-Aliasing, Ambient Occlusion & PhysX | 17 | 22.061 |
Remarkably, the HD 6450 could handle the game just fine at 1680×1050 if all of the graphical detail was dropped as much as possible. The HD 6570 retained playability with medium detail, while the HD 6670 could handle high detail, with the alternate settings, such as AO and AA, turned off.
Metro 2033
One of the more popular Internet memes for the past couple of years has been, "Can it run Crysis?", but as soon as Metro 2033 launched, that's a meme that should have died. Metro 2033 is without question one of the beefiest games on the market, and though it supports DirectX 11, it's almost a feature worth ignoring, because the extent you'll need to go to in order to see playable framerates isn't likely going to be worth it.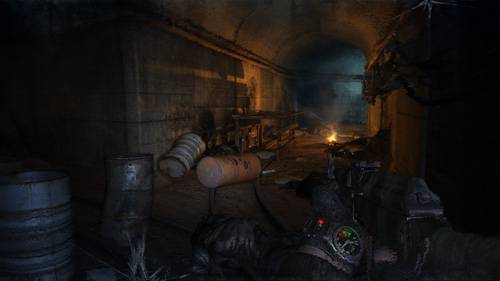 Manual Run-through: The level we use for testing is part of chapter 4, called "Child", where we must follow a linear path through multiple corridors until we reach our end point, which takes a total of about 90 seconds. Please note that due to the reason mentioned above, we test this game in DX10 mode, as DX11 simply isn't that realistic from a performance standpoint.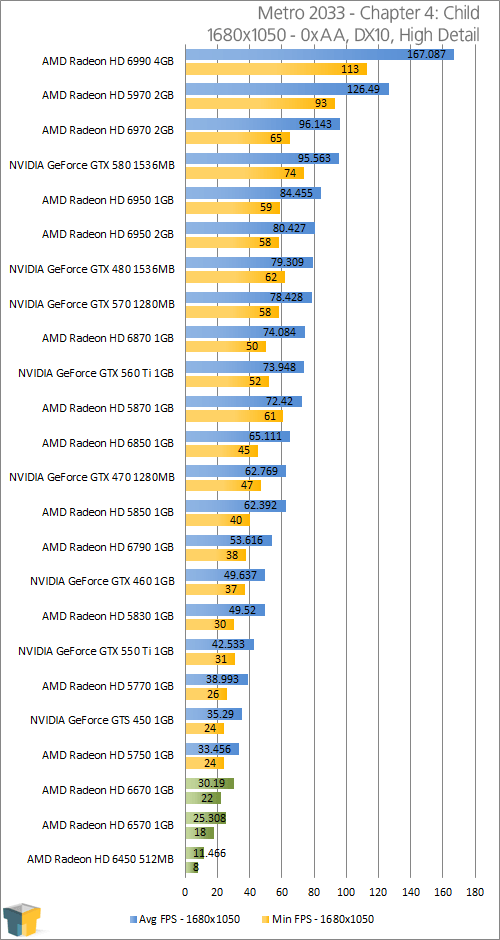 While it's a little hard to believe that AMD's trio of cards here performed better in a hardcore game like Metro 2033 than it did in Just Cause 2, it's true. In fact, the HD 6670 proved just about playable, although things can be improved:
| | | | |
| --- | --- | --- | --- |
| | | | |
| AMD Radeon HD 6670 1GB | 1680×1050 – Normal Detail; DX10; 0xAA | 31 | 45.431 |
| AMD Radeon HD 6570 1GB | 1680×1050 – Normal Detail; DX10; 0xAA | 28 | 37.901 |
| AMD Radeon HD 6450 512MB | 1280×1024 – Low Detail; DX10; 0xAA | 18 | 26.275 |
Decreasing the resolution to 1280×1024 and detail level to low made the game playable on the HD 6450, with the other cards being able to retain the original resolution, but with the detail level degraded to normal. Overall, still rather impressive performance for each respective price-point.
Futuremark 3DMark 11
Although we generally shun automated gaming benchmarks, we do like to run at least one to see how our GPUs scale when used in a 'timedemo'-type scenario. Futuremark's 3DMark 11 is without question the best such test on the market, and it's a joy to use, and watch. The folks at Futuremark are experts in what they do, and they really know how to push that hardware of yours to its limit.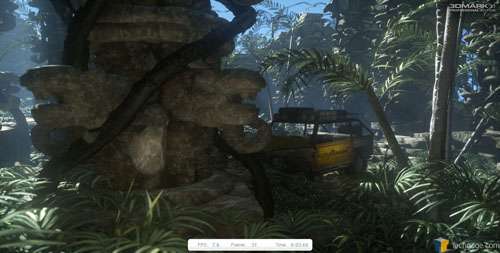 Similar to a real game, 3DMark 11 offers many configuration options, although many (including us) prefer to stick to the profiles which include Performance, and Extreme. Depending on which one you choose, the graphic options are tweaked accordingly, as well as the resolution. As you'd expect, the better the profile, the more intensive the test. The benchmark doesn't natively support 2560×1600, so to benchmark with that, we choose the Extreme profile and simply change the resolution.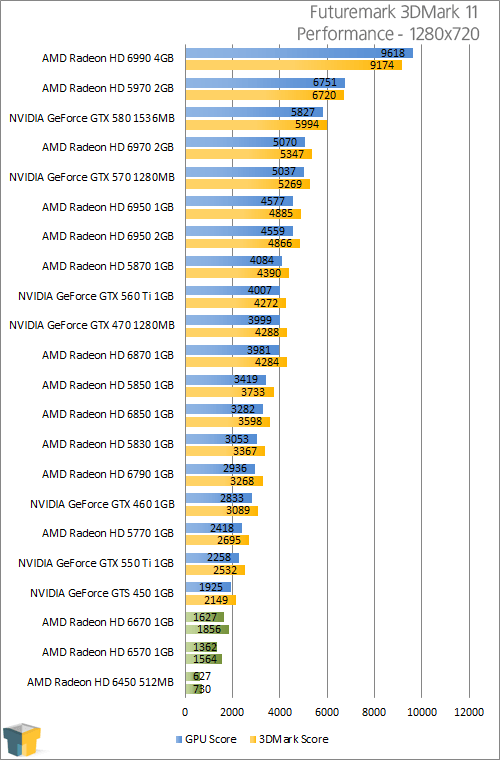 3DMark 11 backs up the performance we've seen through the rest of our review. All three cards scale just as we'd expect, with NVIDIA's GeForce GTS 450 pushing just a bit past the HD 6670.
Unigine Heaven 2.1
While Futuremark is a well-established name where PC benchmarking is concerned, Unigine is just beginning to become exposed to people. The company's main focus isn't benchmarks, but rather its cross-platform game engine which it licenses out to other developers, and also its own games, such as a gorgeous post-apocalytic oil strategy game. The company's benchmarks are simply a by-product of its game engine.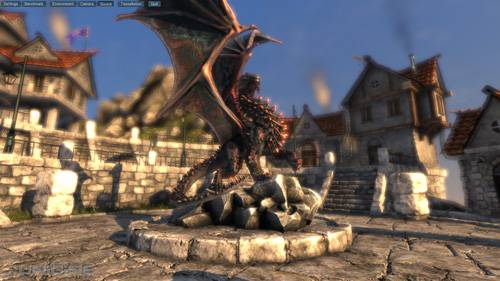 The biggest reason that the company's "Heaven" benchmark grew in popularity rather quickly is that both AMD and NVIDIA promoted it for its heavy use of tessellation, a key DirectX 11 feature. Like 3DMark Vantage, the benchmark here is overkill by design, so results here aren't going to directly correlate with real gameplay. Rather, they showcase which card models can better handle both DX11 and its GPU-bogging features.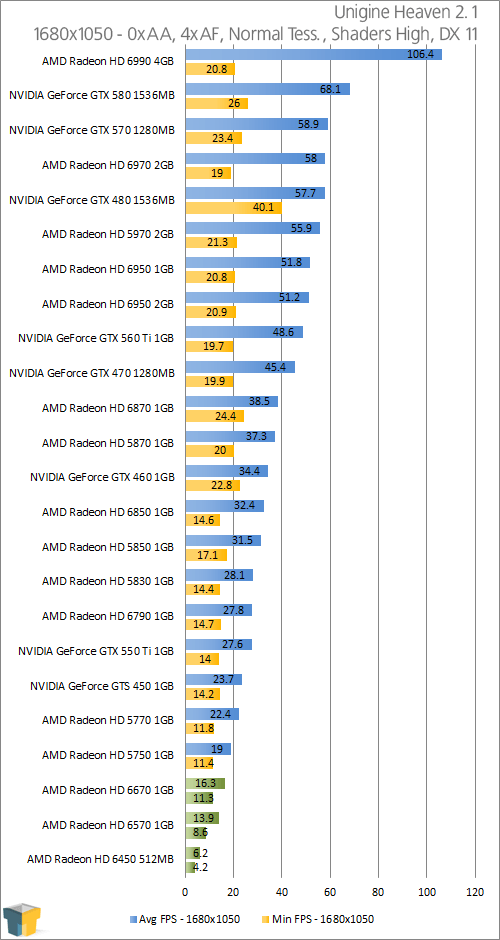 The results here scale just in line with our 3DMark 11 test.
Power & Temperatures
To test our graphics cards for both temperatures and power consumption, we utilize OCCT for the stress-testing, GPU-Z for the temperature monitoring, and a Kill-a-Watt for power monitoring. The Kill-a-Watt is plugged into its own socket, with only the PC connect to it.
As per our guidelines when benchmarking with Windows, when the room temperature is stable (and reasonable), the test machine is boot up and left to sit at the desktop until things are completely idle. Because we are running such a highly optimized PC, this normally takes one or two minutes. Once things are good to go, the idle wattage is noted, GPU-Z is started up to begin monitoring card temperatures, and OCCT is set up to begin stress-testing.
To push the cards we test to their absolute limit, we use OCCT in full-screen 2560×1600 mode, and allow it to run for 15 minutes, which includes a one minute lull at the start, and a four minute lull at the end. After about 5 minutes, we begin to monitor our Kill-a-Watt to record the max wattage.
In the case of dual-GPU configurations, we measure the temperature of the top graphics card, as in our tests, it's usually the one to get the hottest. This could depend on GPU cooler design, however.
Note: Due to changes AMD and NVIDIA made to the power schemes of their respective current-gen cards, we were unable to run OCCT on them. Rather, we had to use a less-strenuous run of 3DMark Vantage. We will be retesting all of our cards using this updated method the next time we overhaul our suite.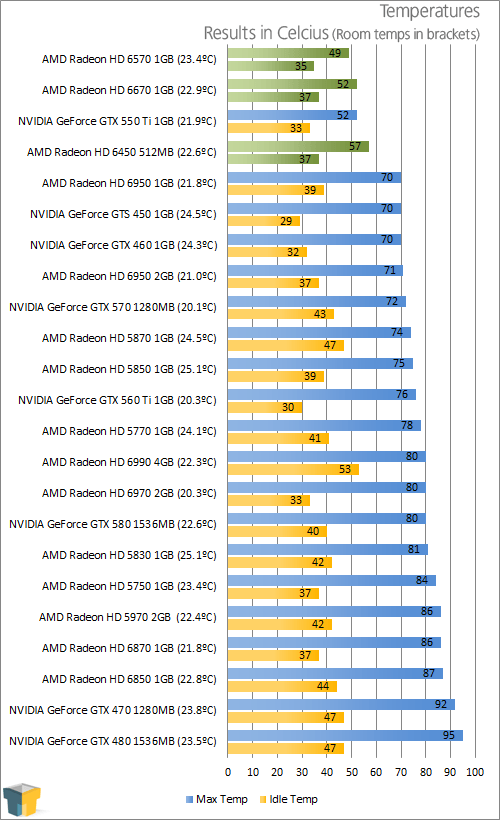 Once again, we can see rather expected results here.
Final Thoughts
With Intel's Sandy Bridge launch, and the realization that AMD's Llano was right around the corner, I don't think many people expected to see three sub-$100 cards at this point, and to be honest, neither did I. Fortunately though, for those who do need such options, they're there.
But what exactly does a card like the HD 6450, for example, offer over Intel's Sandy Bridge? This is a tough one to answer, but mostly it boils down to the fact that most games can be run with a certain degree of reliability better than Intel's IGPs, and also the fact that AMD's GPUs tend to render video a bit better than other solutions (I haven't verified this myself).
Aside from that, a purchase would also make sense if you didn't already have an IGP solution at hand, but needed a simple graphics card for whatever reason. For those running HTPC's or really low-end gaming rigs, the other cards, HD 6570 and HD 6670, can make for a good choice depending on what you're looking for.
Both the HD 6570 and HD 6670 are hard for me to sum up, because quite honestly, I don't feel like either of them need to exist. I don't have AMD's sales statistics, and haven't done surveys, but I'd like to think that if someone cared about gaming at all, they'd at least have a card that could handle 1680×1050 just fine with good detail levels across most games. On cards like these benchmarked here, you really have to do some heavy tweaking, and that sucks the fun right out of things.
While the HD 6670 sells for $99, for $50 more you can get the HD 6790 which is quite literally twice as fast – or in the case of the $80 HD 6570, is twice as fast. I have a hard time recommending sub-$100 cards for that reason, because while some may prefer to spend as little as possible, you'll really be doing yourself a disservice by doing so.
If you refuse to spend more than $100, or want a cheap card for Eyefinity, any of these cards are going to deliver a decent enough gaming experience. Just be prepared to plummet your detail settings in today's games, or the resolution.
NVIDIA doesn't have any current-gen cards prepared to compete with AMD's newly-launched offerings, although it did ping us to let us know that its GeForce GTX 450, which is about 15% faster than the HD 6670, can be found for $85 after mail-in rebates at Newegg, or $115 without. If you're patient for a mail-in rebate, NVIDIA's side offers a faster product, but MIRs are still nothing more than a pain for its customers.
Discuss this article in our forums!
Have a comment you wish to make on this article? Recommendations? Criticism? Feel free to head over to our related thread and put your words to our virtual paper! There is no requirement to register in order to respond to these threads, but it sure doesn't hurt!
Copyright © 2005-2020 Techgage Networks Inc. - All Rights Reserved.