Antec P190 + 1200 Mid-Tower

Date: August 8, 2008
Author(s): William Kelley

Planning a new build and don't know which chassis to choose? Does the idea of having a feature-packed mid-tower intrigue you? Well, the P190 is just that, with its intuitive design and two pre-installed power supplies, offering you a total of 1,200W of overkill pleasure. Is the case a true winner? Not exactly, but it's still worth a look.
---
Introduction
In the world of PC chassis', Antec has become a well-known name. They have designed some of the best in the business and always seem to have a new one ready for the market. From gaming to servers to the HTPC, their wide range of choice is a force to be reckoned with.
Taking obvious cues from the P182 series, Antec decided to take this case the next step forward. Inside, it is large enough for any current spec motherboard. Cooling is also taken to the same level as the revered 900.
Once you pull the side panels off, the build quality becomes quite evident. The double-rolled side panels and all that steel make for one solid unit. Weighing in at 60lbs out of the box, there is no doubt you are dealing with a serious piece.
Specifications
1. Dual chambers structure. The power supply resides in a separate chamber to isolate the heat from the system and lower system noise
2. Dual-layer sound-deadening panels for Quiet Computing
3. Flexible snake light (installed), lights your way while working inside the case
4. Cable organizer behind motherboard tray minimizes cable clutter
5. Fits up to Extended ATX (12″ x 13″) motherboards to fit your dual processor board, or any other board you could possibly have
6. Ports with rubber grommets on the rear for liquid-cooling tubes allow you to easily mount external liquid-cooling hardware
7. Neo-Link 1200 Watt dual power supply system: One 650 Watt Neo Power is responsible for powering the motherboard and add-in cards, while another 550 Watt, handles your drives and other peripherals
8. Advanced cooling system Even larger fans than previous designs, move more air and turn slower for even quieter operation
9. 2 top 140mm Tricolor fan (standard)
10. 1 rear 120mm Tricolor fan (standard)
11. 1 lower chamber 120mm Tricolor fan (standard)
12. 1 side 200mm Big Boy fan with air filter (standard)
13. External fan control on the rear panel (for the 2 top fans and 1 rear fan in the upper chamber)
14. Front-mounted ports provide convenient connections
15. 2 x USB 2.0
16. 1 x IEEE 1394 (FireWire, I-Link)
17. Audio In/Out (AC'97 & HDA)
Let's start out by taking a thorough look at the outside. Sporting a top-to-bottom door on the front of the case, the overall style is somewhat bland, yet very functional.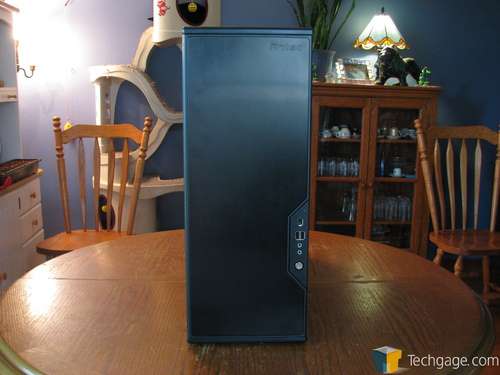 Once open, you get 4 CD/DVD drive bays, and a single 3.5″ bay.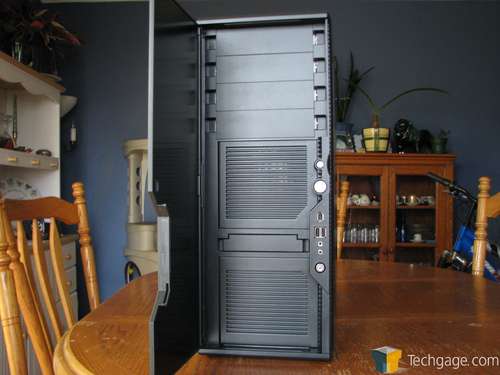 Behind the grills for the dual 120mm (optional) front fan openings sits an easily removable filter. Access is gained with a simple push on the right-hand side.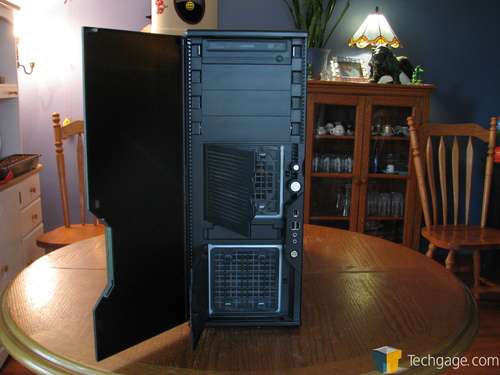 The side panels are also of the same unremarkable styling as the front. The oversized 200mm fan is poised to suck in just about anything within reach.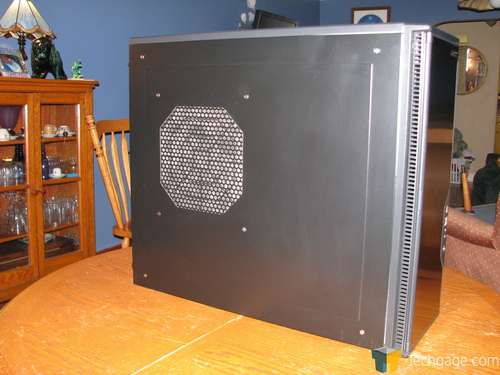 There is a welcome filter on the 200mm fan to stop all that dust from being blown all over your parts.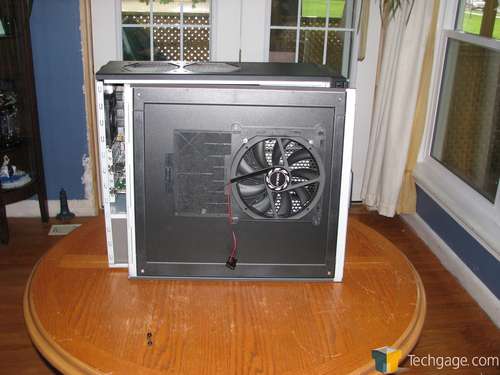 Another really nice feature is the dual 140mm top exhaust fans. I personally believe that these are the most important of all since heat rises. Even on low speed, these fans are sure to let out most of the heat inside the case.
The rear is pretty standard fare except of course for the dual power supplies.
The top and rear exhaust fan speed controls are located at the top of the case as well.
Now, let's dive into the interior. Here's exactly what you see when you unpack it from the shipping box:
Antec has supplied you with a lot of extras for installing everything inside. Lots of wire ties, plenty of extra screws and motherboard standoffs and everything needed to install CD/DVD and hard drives as well.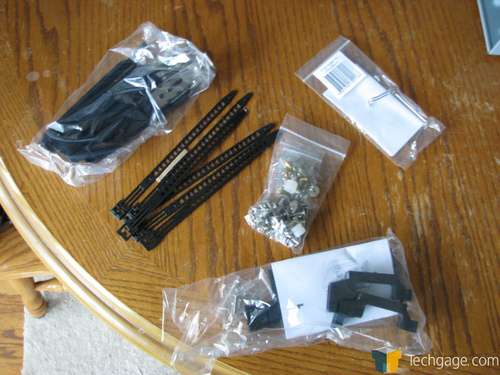 Up front there is room for 6 hard drives to be mounted internally in 2 different cages. You can put 2 in the upper removable cage and 4 in the lower cage. Both cages sit in front of an optional 120mm fan location.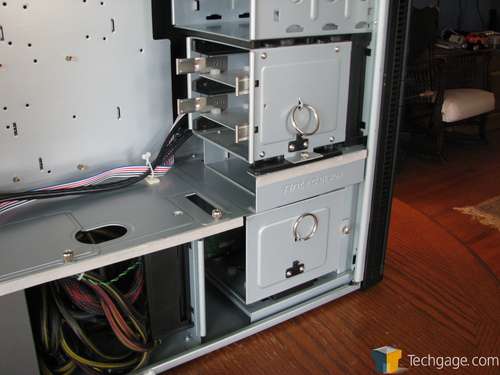 It is worth noting that they have taken some good measures to help isolate noise and vibration from the drives. The rubber grommets do a very good job of keeping the drives floating and are also very easy to work with too. The cages are easily removed with a single thumbscrew each.
A very curious but neat feature is a USB/Molex power work light. All you need to do is either plug it into a free Molex connector or a USB motherboard header and it will light up. While this appears to be useful, I have never wanted to work around inside my PC when it was powered on so I have a hard time seeing this as nothing more than a novelty.
On the backside we see a very high priority paid to attention of detail. There is a large amount of tie downs pressed into the motherboard tray and there is even a small plastic bin on the backside of the top hard drive cage which can hold some small spare parts. The extra wire ties included can be slotted into the many locations on the motherboard tray to hold all your wires down neatly.
On the next page, we'll take a stab at the installation and testing.
Installation & Testing, Final Thoughts
This was one incredible case to work with. Not only is there a tremendous amount of space to work with, there was an obvious amount of thought put into the layout and design. The rear of the motherboard is designed to allow the builder to tie down wires and properly run cables. I thoroughly enjoyed working with this case and the ease of making it clean inside. To me, there is nothing more aggravating that trying to build my PC and then having to go to great lengths to keep it neat. Antec gets high marks from me for the engineering and design of the P190.
With minimal effort I was able to make the backside look this clean: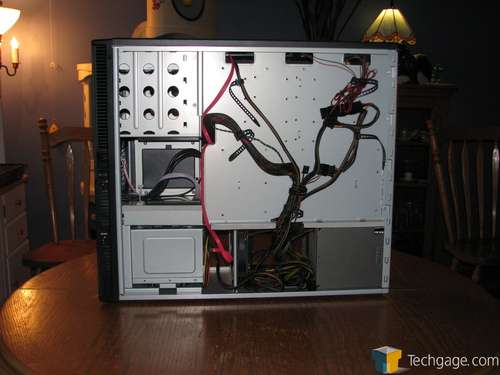 The same thing held true for the business side of the build. There were plenty of channels and slots to place wires in their appropriate places without leaving anything hanging and disrupting the airflow. I literally took only 10 minutes to build the test rig and it still came out wonderfully clean.
Using the supplied hardware, hard drives are also a simple affair to mount. The same goes with the CD/DVD drives. All you need to do is mount the supplied rails onto your CD/DVD drive and slot it in. You do not have to take off the front bezel like most cases. The fact that all these details were not only thought about but taken care of really shows in the ease of installation of all your hardware.
Now it's testing time. Here are the specs of the components used for the build:
I should also mention that you receive a 650W and 550W PSU with the chassis. The 650W supplies all the major hardware including the motherboard, CPU and video cards. It has every possible combination of connectors required. SLI/Crossfire is no problem here as there are even dual 8-pin PCI-E connectors along with two more 6-pin.
The 550W unit is modular and is capable of powering anything else that needs Molex and SATA power. I feel that there is some wasted power here since 550W is overkill for this. It would have been nice if they have allowed us to tap into it for other uses. It's a great idea, I just feel that it falls short of what we truly need in terms of available power and how it is distributed throughout the system.
Now let's all settle down for a little testing. While I didn't go into any major in-depth testing, it just wouldn't be right to not at least show if all these fans can help make a difference. For a baseline, I am going to use the results I got from this same exact configuration a few months back when I tested CPU coolers outside a case. I used the Arctic Freezer 7 CPU cooler and the stock passive cooler on the HD3450.
Here is one very important note here that needs mentioning. Don't plan on using any tall CPU or VGA coolers inside this case unless you want to remove the 200mm side panel fan. I could not fit anything larger than the Freezer Pro 7 without hitting the fan. That excludes pretty much every single 120mm based CPU cooler made. Same goes for the video coolers. I attempted to install my 8800GT into the case which sports a Thermalright HR-03 GT cooler. It too interfered with the side panel fan. This is one glaring flaw in the otherwise well thought out design.
I used CoreTemp to measure CPU temperatures and ATI's Catalyst Control Center to measure the GPU temps. I loaded up the CPU with Prime95 and I used the built in overclocking utility in CCC to stress the GPU.
As you can see, all that airflow really does make quite a difference when running a hot Quad-Core, and I was really impressed considering the GPU is passively cooled.
Final Thoughts
Antec has built quite an interesting piece in the P190. There is no disputing that it is geared towards the high-end with the $350+ price tag. With E-ATX compatibility and enough airflow to lift off a small jet, there is no reason you shouldn't at least consider it for your next build. It is feature-packed and comes with all the extra goodies you need. Add that to the well above average wire control and routing built-in and you have one sweet case. There are, however, three glaring flaws that prevent me from going over the top.
One, the lack of space for the larger CPU/GPU coolers is going to prevent a lot of people from wanting it. If you are spending this much money, you are most likely also upgrading the cooling on your components as well. All that extra space inside is eaten up by the filter placement on the 200mm fan. The filter is a great idea, but not at the expense of the space it takes up.
Two, the dual power supplies are just not being utilized properly. The main 650W unit is going to be pushed very hard by a Quad-Core dual GPU system while the 550W unit is going to be sitting nearly idle and unable to help. You could get some Molex to PCI-E converters to make better use of the 550W, but that goes against the grain. Either a single 1000W+ PSU should have been installed or they should have given us more flexibility with the available cables and made both power supplies modular.
Three, the sheer weight of this case is a bit much. Granted, the double rolled side panels and solid construction are great attributes, but at 60lbs empty (this does include the dual power supplies), you are going to have one heavy PC when you finish your build. It isn't hard to push the 70lb mark with a normal build and if you really start adding in accessories like a full water-cooling system, you will definitely pass that mark. While I am not sure I would want to give up build quality for weight savings it sure would be nice to shave 10-15lbs off as well.
I had a tough time coming up with a rating here. It is hard to punish such a nice case, but the flaws it does have are big ones. The price point demands near perfection and unfortunately this case is far from that. It would make an incredible and quiet server case and would also work very well for those who do not change their coolers from stock. There is no doubt the quality is there, it just misses the mark.
Pros
Outstanding build quality
Plenty of fans included
Many installation accessories
Can fit any motherboard out there
Easy to work with
Cons
Heavy
Included power supplies don't make sense
Lack of room for aftermarket cooling
Pricey
Discuss in our forums!
If you have a comment you wish to make on this review, feel free to head on into our forums! There is no need to register in order to reply to such threads.
Copyright © 2005-2020 Techgage Networks Inc. - All Rights Reserved.