ASUS S56C 15.6-inch Ultrabook Review

Date: March 1, 2013
Author(s): Rob Williams

The "Ultrabook" term is often associated with super-small notebooks, but ASUS is here with a model to remind us that 15.6-inch models can be included, too. We're taking a look at the S56C, a Core i5-3317U-powered offering that includes 6GB of memory, a 24GB SSD for caching, and is built like a tank.
---
Introduction
A couple of weeks ago, we posted a look at ASUS' VivoBook X202E, a modest notebook that came just shy of earning itself "Ultrabook" status. Despite its lacking performance, we ended up loving everything else about the notebook, so we had great interest in seeing what ASUS could pull off with something a bit larger.
That's where the S56C comes in. It is an Ultrabook, and a rather large one, too. It comes in at 15.6-inches, and packs in an SSD for caching, a 750GB hard drive, a beefier processor (with Turbo), is equipped with an ODD, and offers Gigabit Ethernet – something the X202E oddly didn't.
The exact model we're taking a look at here is the S56CA-DH51, which officially retails for $699 but can be found for as low as $630. Another option exists for those who like the S56C, but are willing to forgo a couple of niceties. The S56CA-WH31 drops the CPU down to a non-Turbo model, and likewise changes the 750GB HDD into a 500GB one and hauls out 2GB of RAM to make it 4GB. Everything else remains the same – even the SanDisk SSD used for caching. This model retails for $599, but comparison shopping can find it for closer to $499.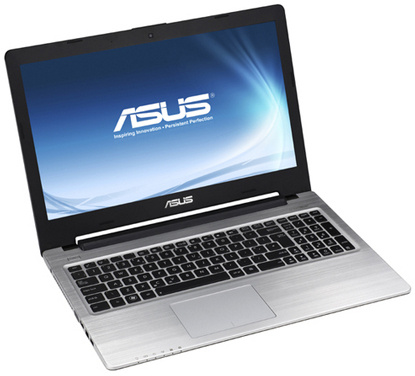 Before we get into our tour of the notebook, let's take a deeper look at the specs.
 
ASUS S56C Ultrabook 15.6″ Notebook
Processor
Intel Core i5-3317U Dual-Core (1.7GHz (Turbo: 2.6GHz), 3MB Cache)
Memory
6GB DDR3-1600 (Dual-Channel, 4+2GB)
Display
Chi Mei N156B6-L0D 15.6″ TFT LED
Graphics
Intel HD Graphics 4000
Storage
SanDisk SSD i100 24GB (Caching)
Seagate ST750LM022 750GB Hard Drive (5,400 RPM)
Connectivity
Realtek 1000Mbit/s Ethernet
Qualcomm Atheros AR9485 802.11b/g/n Wireless
Bluetooth 4.0
Headphone / Microphone Combo Jack
2 x USB 2.0
1 x USB 3.0
Card Reader: SD
VGA
HDMI
Et cetera
4-cell 2,950 mAh Battery
2.30kg (5.07lbs)
Windows 8 64-bit
I have to admit something right-off-the-bat: the biggest downside to the S56C in comparison to the X202E is the lack of a touch-screen. I'm still impressed that I feel this way, but after having spent a month with the X202E, I found myself liking the touchscreen quite a bit. There are occasions where being able to tap the screen is easier than using the mouse – especially if you usually keep a notebook to your side while you use your desktop PC. I'd be interested in hearing from those who own touchscreen-enabled notebooks to see if you've come to rely on the feature.
In lieu of a touchscreen, we do get a nice LED panel on the S56C that offers slightly better color-accuracy than the display on the X202E. It's unfortunate that ASUS couldn't pack an IPS panel in here, but what is offered is rather nice.
As mentioned above, this notebook takes advantage of SSD caching, which is pre-configured. The integrated SanDisk SSD cannot be accessed as normal through Windows, so all that will be seen upon opening "Computer" will be the primary 750GB hard drive. For those feeling adventurous, I am sure the SSD could be re-purposed, but I wouldn't recommend going that route unless you want to risk ruining the possibility of restoring the notebook to its factory state.
Let's kick-off the hardware tour, shall we?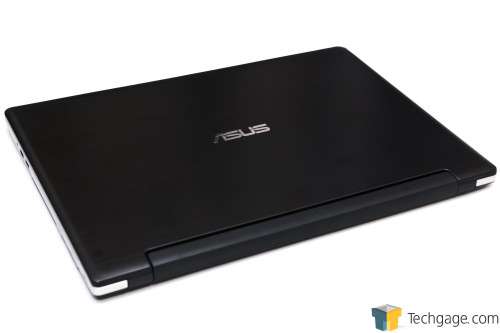 The S56C is available in a couple of common colors: black, black and of course, black. The hood features a brushed texture effect, though it's absolutely smooth to the touch. The ASUS logo isn't a mere silk-screen but rather a metal logo built-into the hood. Overall, it's attractive.
A quick look at the underbelly shows off the numerous vents and feet locations. While I'm sure the back could be taken off with some effort, I didn't want to risk knocking anything out of place, so I left it alone. Ultrabooks are compact, and are generally not meant to be opened by the end-user.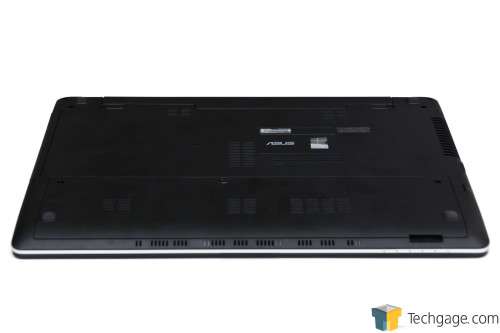 It's difficult to tell from the photo below, but the inside of the S56C is also brushed, but again is totally smooth. Like the X202E, this notebook has a smooth touchpad and chiclet-styled keys.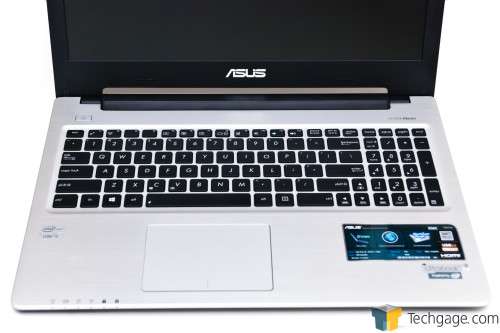 And speaking of keys; a better look:
Many of the keys found on this notebook have alternate functions that go beyond simple media keys. Hitting Fn and then the numpad Enter, for example, launches a calculator. Fn + Spacebar opens up the Power4Gear Hybrid software. Then of course, there are other combinations for WiFi enable/disable, brightness, audio increase/decrease and so forth.
One of my favorite parts of the X202E was its nice touchpad – it could be used for hours and it wouldn't irritate your fingers. Fortunately, the same touchpad is implemented here, so I have the same nice things to say about it. There is a problem where I feel I launch the Charms bar or Start screen too easily (by swiping the sides), but that functionality can be disabled.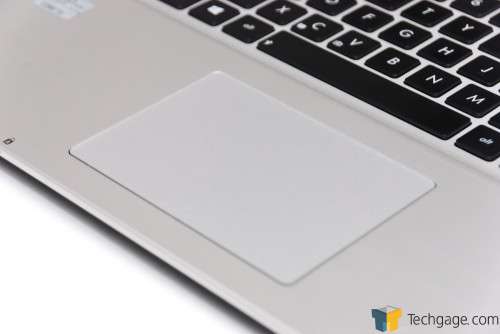 On the bottom-left side of the notebook, there are status LEDs for Powered On, Charging, HDD Activity, WiFi, Numlock and Caps Lock.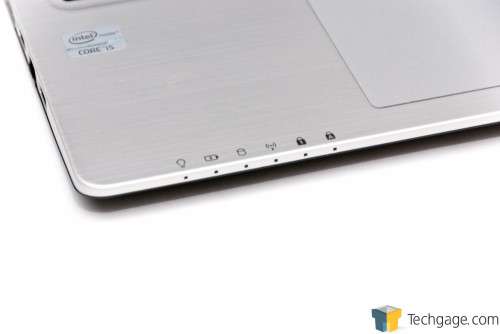 At the left-side of the notebook, from left to right, we see the AC power adapter, ventilation area, VGA, HDMI, Ethernet and USB 3.0. I can understand putting a USB port near the front of a notebook, but I don't feel the same about the others. If you plug your notebook into a wired connection often, it's going to be a little awkward to have the cable sitting right beside your left hand.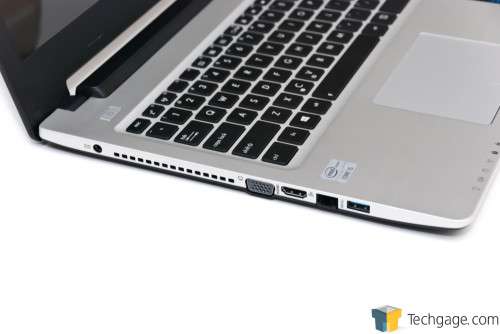 On the opposite side, again from left to right, there's an audio input/output combo port, two USB 2.0 ports, the optical drive and also a Kensington security lock.
At the top of the display is an "HD Webcam" supporting a resolution of 1280×720. In quick tests, it's "just a webcam", nothing special, but it certainly gets the job done. It's far better than the 640×480 offerings that so many notebooks ship with.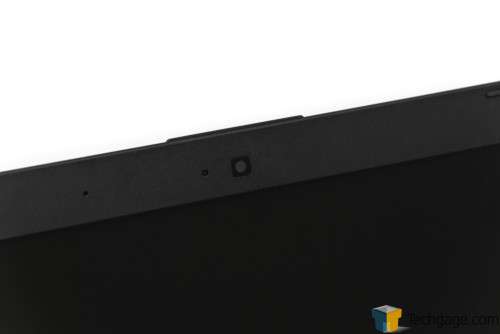 When taking a look at the S56C from the side, we can really see just how thin its hood is. Really, the entire notebook as a whole is thin, despite its larger size. So while it might not be the most portable notebook around, it should have no problem fitting into a backpack or briefcase that can support it length-wise.
Once again, ASUS has delivered a notebook that's both durable and attractive. It does tend to attract fingerprints (like the X202E did), but for a durable notebook, I'll take it.
Next up, a look at the S56C's software package.
A Look at the S56C's Software
All of the software that ships on the S56C also ships on the X202E, so for the sake of not writing the same thing twice, there will be a rehashing of what was said in our X202E review. If you want to blame something, blame the fact that I copy and paste like a wizard.
Alongside the release of Windows 8 came the need for companies like ASUS to re-think the way they manage software on their products. Take bundled software, for example. It's hardly been atypical to see vendors load the desktop up with shortcut icons for applications it believes you should notice right away, but with Windows 8, the desktop is no longer the focus, and the clean aesthetics of the "Modern UI" simply don't favor such clutter. We'll talk about what can result from this in just a short bit.
Also changed is the way companies are able to handle restoring the PC to a factory-fresh state. Previously, companies would employ their own, sometimes not-so-elegant solutions. However, because Windows 8 includes similar functionality, some companies, including ASUS, have merged the two recovery solutions together. The result is a recovery solution that runs through Microsoft's Windows 8 solution, but is tweaked for ASUS' purposes – aka: to install the bundled software and drivers.
For the purpose, this particular notebook has three partitions sitting next to the other two that are for personal use. These consist of a 300 MB "EFI" partition and dual "Recovery" partitions – one weighing in at 600 MB, the other at 20 GB. The price we pay for being able to recover our PCs the easiest way possible.
Behold: the S56C's start screen: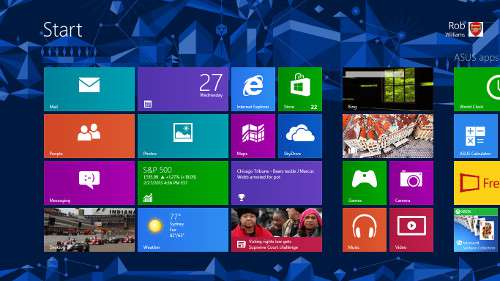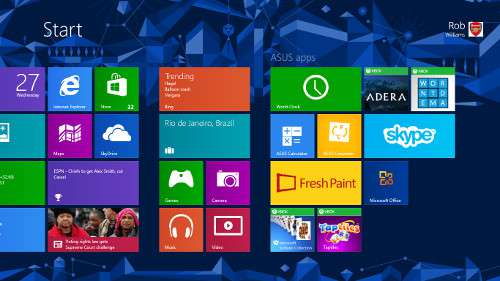 Note that the Start screen and desktop background are customized here because I logged into my Microsoft account. A fresh install without logging into a Microsoft account would look a little bit different (no doubt with a picture of an ASUS notebook on the desktop, not F1 cars).
Let's peak at the "All Apps" screen:
There are less apps pre-installed on the S56C versus what we saw on the X202E; the main omissions being Smart Gesture and Instant Connect. Most everything else is here, however, including ASUS Tutor, the app I raved about in our X202E review. Allow me to recap.
To me, ASUS Tutor represents what Microsoft itself should have included with Windows 8.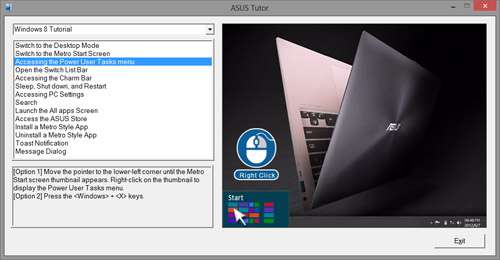 It looks simple, but looks can be deceiving. I've been using Windows 8 since October, and despite being experienced, I originally decided to humor myself and go through the tutorial here to see if I could learn anything new. I did. The tip shown above shows you how to access a menu by putting your mouse to the bottom left-hand corner of the screen and then right-clicking. This menu has many different shortcuts to various parts of the system, including Programs and Features, System, Device Manager and so on. To access these things before, I've had to go to the Start screen, type in a few letters, click on "Settings" and then the program. Yet – here's a method that's about 5x quicker that Microsoft itself couldn't even be bothered to tell people.
Microsoft, take note.
Let's take a look at the other software, shall we? One sticking point for me across all of the software was with the "Live Update" tool. This tool automatically starts after a fresh install and downloads updates from the Internet – it's completely typical for any pre-built PC. This one, however, manages to hang definitively – something I've experienced on both the S56C and X202E.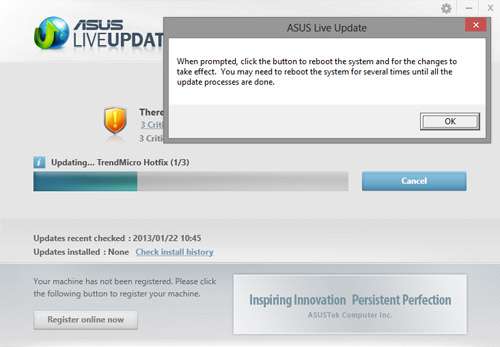 You'll note the pop-up box in the shot above – it tells you to click "OK" to reboot the system whenever the updates are finished. The problem is, these updates never managed to finish for me. The shot you see above was actually captured after an hour of it sitting on that exact spot. The kicker: the updates actually are applied, as a reboot will continue on with the next one. For some reason, the software doesn't cleanly wrap one update up to go onto the next. I'm willing to bet that this is an issue that will be remedied in time.
ASUS has long prided itself on its power-efficient products, and a popular stature for its notebooks has been "Power4Gear". This is in effect a simplified power manager tool, though the profiles created have been fine-tuned by ASUS itself. You're able to fine-tune them further with the Power Options tool in Windows, or adjust simple things with ASUS' tool.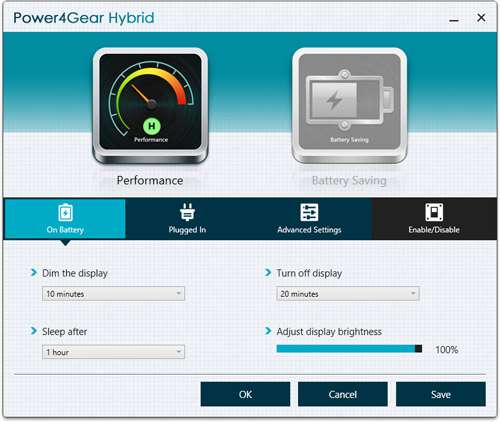 It's important to note that Power4Gear overrides the default power options in Windows, so if you need anything specific changed, you'll need to edit the special Power4Gear profiles and not those defaults (Performance, Balanced, et cetera). If you choose one of the standard Windows power modes, Power4Gear will simply default back to its own after a reboot. Thus, if you use Power4Gear, you must stick with it.
"ASUS Installation Wizard" speaks for itself. It lists all of the official software that ships with the notebook and allows you to both uninstall or install any and all of it. From what I can tell, this is not an updater – those duties would be left to the Live Update tool mentioned above.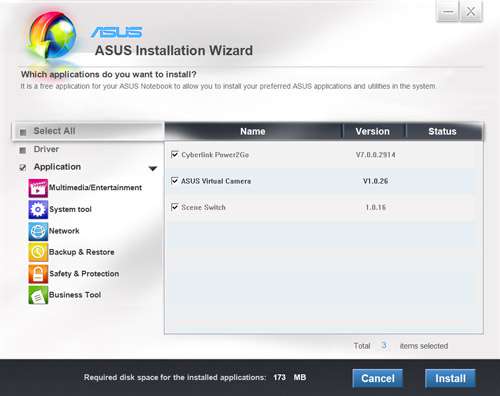 In addition to the software mentioned above, ASUS ships two pieces of "bloatware"; Microsoft Office 2010 and McAfee Internet Security. Office remains quiet until you open a compatible document up, but McAfee will never shut the heck up until you A) activate and purchase it or B) uninstall it. If you like sporadic pop-ups, you'll love McAfee.
Final Thoughts
Like our look at ASUS' X202E, I didn't plan on doing too much benchmarking here. The simple fact is, while the S56C does have a nice (for the price-range) CPU, this not going to be a notebook used by those who need performance. Expect to use it for "normal" tasks, like Web-surfing, editing documents and images, watching movies and so forth.
Gaming-wise, much like the X202E, don't expect to do too much. Current block-busters are out of the question unless one happens to be real modest. Browser-based games and most aged games run with little issue, but just don't be surprised if you need to decrease the graphical detail. For any sort of gaming on the go, I'd never choose to do it on an integrated GPU.
In normal use, I found the S56C to be a bit snappier than the X202E. Part of the reason could be the Turbo-enabled CPU, but it could also have to do with the slightly-faster DDR3 memory (DDR3-1600 versus DDR3-1300). There is also the fact that this notebook includes a 24GB SSD for caching, although it's hard to say with certainty if that was the lone benefit, because the notebook felt quite responsive right from the beginning.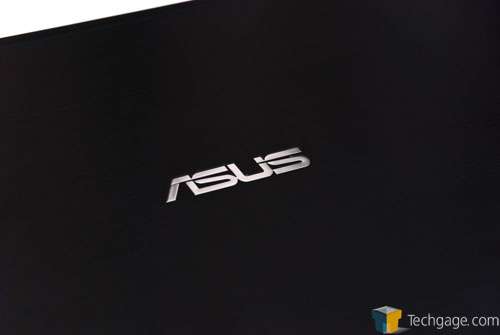 Like the X202E, I could playback good bit-rate (20Mbit/s) 1080p content without issue, so while not a power-house, the S56C still delivers what most people should be looking for. This is a ~$630 Core i5 15.6″ notebook, after all.
Features-wise, while I found it painful to have no touchscreen (what on earth has happened to me?), it delivers on most fronts. It sports an optical drive, USB 3.0 (though more than one port would have been preferred), a 720p webcam, an easy-to-type-on keyboard, a touchpad that's easy to use for many hours on end and SSD caching – a perk we don't see too often.
One area where I found the S56C fell a little flat was with the audio. I knew from the get-go that the notebook included "SonicMaster" audio (ASUS' own technology) like the X202E did, but I couldn't figure out why it didn't have quite as much punch and clarity. As it turns out, the solution here is actually called "SonicMaster Lite". The audio is not bad by any stretch, but after hearing what the X202E was capable of, I guess I've become spoiled.
| | | |
| --- | --- | --- |
| Powermark | ASUS S56C | ASUS X202E |
| Balanced | 2h 36m | 3h 31m |
| Productivity | 4h 19m | 4h 40m |
| Entertainment | 1h 54m | 2h 45m |
On the battery-life front, the S56C dipped below an unimpressive 2 hours for entertainment use, but it delivered an acceptable 4h 20m in our productivity test. Not the most impressive battery-life around, but it's hard to expect much more for this price-point.
Speaking of pricing, at $630~$660, the S56C is spec'd quite well. While it's impossible to compare all notebooks out there, I hit up the most popular locations to see what else was out there. The most comparable offering I could find was Lenovo's U510, at $699. It boosts the CPU to a Core i7-3517U and the RAM to 8GB, and aside from that, the specs align extremely well.
The most equivalent model from Dell, Inspiron 15z, costs $699. It has a weaker processor, no SSD for caching, and a smaller hard drive (500GB versus 750GB). It's not exactly an attractive model specs-wise compared to either this ASUS or the Lenovo.
Priced at $630, ASUS' notebook looks to have the better value-to-dollar ratio over the Lenovo, but at $660, that gap shortens to the point where both notebooks are even. At that point, it depends on whether or not you feel $40 or $70 is worth it for the processor upgrade and extra 2GB of RAM (ignoring the fact that the design of the notebook is different).
On this sort of notebook, I'm inclined to believe that it wouldn't be worth the extra cost for most people. As mentioned earlier, while these dual-cores are capable, they are not meant to be workhorses – and thus, who will use them as such (aka: who will actually use the entire 6GB, much less 8GB, or notice a 200MHz boost on the CPU)? If the delta was more like $20, the decision would be easier to make.
That said, ASUS delivers a great offering here for the price. If you're in the market for a larger notebook that won't break the bank, it should definitely rank up high on your considerations list.
Pros
Good dual-core processor, abundance of RAM.
Handles 1080p high-bitrate (<20Mbit/s) content like a breeze.
Great touchpad and keyboard.
Built like a tank.
Decent battery-life.
Priced right ($630~$660).
Cons
Realistic gaming is out.
An Ethernet jack towards the front of the notebook?
Audio system is not quite as good as what we saw on the X202E.
Sometimes it is really easy to swipe the touchpad so that it brings up the Start screen or Charms bar.
McAfee bundleware needs to die.
Copyright © 2005-2019 Techgage Networks Inc. - All Rights Reserved.