ASUS EeeTop PC ET1602 Touchscreen PC

Date: April 13, 2009
Author(s): Rob Williams

All-in-one PCs aren't new, but an affordable one equipped with a touchscreen is. That's exactly what ASUS delivers with their EeeTop PC, a 15.6-inch offering designed to give you a new way to use your computer, while living up to the standards that the Eee brand has become for. While it lacks beefy hardware, the under $600 price tag creates a very attractive product.
---
Introduction
At the Consumer Electronics Show held earlier this year, ASUS made it clear that touch was in their future, and to help prove it, they unveiled a few products at the show. Of these, two belonged to the Eee family of products, including the Eee PC Keyboard, and also the EeeTop PC. The former impressed us enough to earn itself one of our "Best of CES 2009" awards. Months later, that's still a product I'm interested in trying out, and as we discovered not long ago, the wait may not be much longer.
The other touch product that caught the attention of many was the company's EeeTop PC, an all-in-one solution that spices things up with the addition of a touchscreen. When I first stumbled on one of these at the show, I admired it for what it was, but chalked it up to being designed for a specific niche. However, after having spent the past few weeks with the unit in our lab, I can honestly say my expectations have been far exceeded.
Unlike the netbooks that took the world by storm in the fall of 2007, the EeeTop PC is ASUS' first complete desktop Eee PC (the EeeBox lacked a display), but it keeps the same goals in mind that the Eee brand has become well-known for: "Easy to learn, Easy to work, Easy to play". This PC certainly lives up to all three of those, as we'll showcase throughout the article.
The most common question I've seen regarding the EeeTop PC is of course, "Who is it designed for?", and to be honest, that question is a little difficult to answer. The first thought I had was "kitchen PC", because I could easily picture this on a countertop displaying a recipe while supper is being made. But, it can also be used as a portable in-house PC that can be brought anywhere, and it's also an attractive offering for kids. If you have access to power outside the home, you could even bring it outside with you to refer to information while doing yard work or car maintenance. The possibilities are endless.
Closer Look at ASUS' EeeTop PC
Touchscreen functionality is nothing new, but this is the first time that a solution has become available that actually proves to be a viable solution for consumers, thanks in part to its relatively low price-point. While the EeeTop PC carries an SRP of $599, for example, HP's TouchSmart all-in-ones start off at $1,149. While they improve upon this unit in most every way, their pricing starts at double on the HP, so ASUS is likely to receive most of the attention for the next while, where touchscreen AIO PCs are concerned.
What we should clear up is what the EeeTop PC is not, because there seems to be a lot of confusion floating about. First and foremost, like a netbook, the EeeTop PC is designed to supplement your other PCs, not replace them. You shouldn't expect to pick this up and want to complete your work there. While it's possible, it's not ideal, partly in thanks to the overall power offered and also the display's resolution.
What it is meant for is lighter workloads… simple purposes, such as sitting at the table and eating breakfast while reading CNN, or to be used to play music and display a recipe while you're cooking a meal. The PC is not designed to be a real multi-tasker, and it's important to make that distinction. As we'll find out later, it actually does multi-task rather well, but an actual desktop PC is always going to be better for real work or computing at its absolute best.
Complete specifications can be found on the following page, but to give a quick run-down, the ET1602 is a 15.6″ model that features Intel's Atom N270 (1.6GHz, same CPU as most netbooks), 1GB of RAM, a 160GB hard drive and other common features, such as 802.11n wireless and 6 USB 2.0 ports. As you can see in the stock photo above, the unit is quite stylish, and as the below photo shows, it keeps a clean design… something even Apple would be proud to call their own.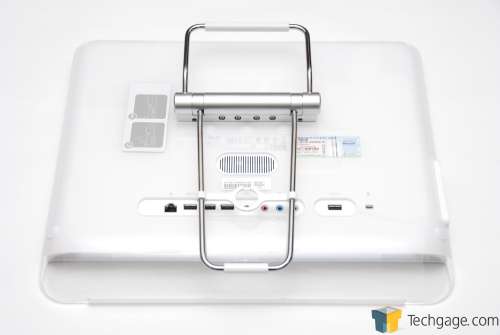 In the above photo, the top bar is a carrying handle (and this thing is very light, so it works well), while the bottom is to stabilize it while sitting on a desk. Rather than the display sit straight up, it sits on a comfortable 28.5° angle, but can be adjusted to 82.5° should you feel the need for an even stronger incline. In addition to the USB, LAN and audio ports on the back, a Kensington security lock is also available.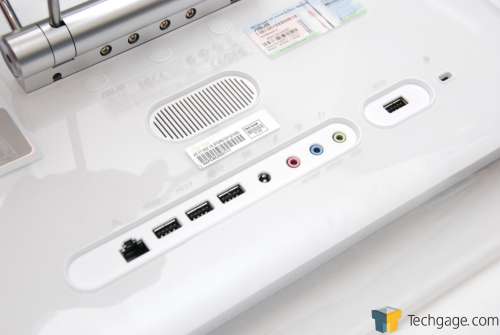 On the left-side of the device, you'll find two of the six USB ports and also a memory card reader. The front buttons on this side are used to increase and decrease the volume and display's brightness.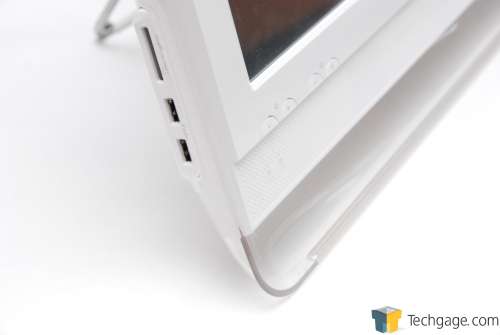 On the opposite side, two more buttons can be found, one for the machine power and the other for the display on/off toggle. If at anytime during use you want to shut the display off to save power, this button takes care of it instantly, with absolutely no delay. It's recommended to take this route if you plan to get up and leave the PC for a while, since the entire unit draws 11W less power overall while the display is turned off.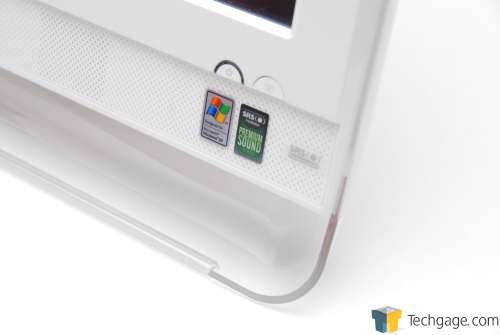 Interestingly enough though, even if the display is toggled off, the touch functions still work. So, if you feel the need to clean the display, you'll want to shut the entire machine down, rather than only the display.
As with most notebooks, netbooks and monitors, a 1.3 megapixel web cam and microphone are included. This allows you to set up the PC and use it as a communication hub, and with Skype pre-installed, the task couldn't be easier (Skype actually happens to be the first option listed once in Windows, so ASUS had an obvious confidence about its usage).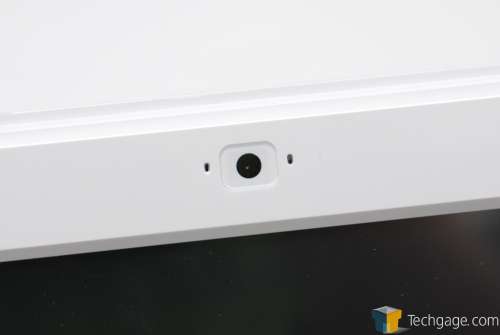 Aside from the PC itself, various DVDs are included alongside the manuals and also a cloth for wiping the dust off of the display. Note that the EeeTop PC does not include an optical disc drive, so these DVDs will have to be used with the help of an external ODD (typical price for these are $50 for a full-sized model and $75 for a slim-line).
Although the primary draw of the PC is its touchscreen, ASUS isn't naive enough to believe that a keyboard still won't be needed. Therefore, a very slim keyboard is included alongside a mouse. It should be noted that you can use the PC just fine without either, but there may come a time when you'll appreciate the keyboard especially, such as typing e-mails or something similar. I only found myself using the mouse when I needed to right-click something, but that's for the sake of convenience, since the reason for right-clicking can most often be handled with the help of a top menu in a given application window.
While your fingers will work fine on the display, the accuracy cannot match what a stylus can offer, so ASUS includes a solid-plastic pen for that use. So you don't lose it, it can be stashed inside the keyboard when not in use.
While taking photographs of the unit, I quickly realized just how difficult a task that was. Being a stark-white product, the photos either showed the unit too bright and the background just right, or the background too bright and the unit too dark. It was a lose/lose situation. So rather than deliver a white background for this one, I situated the unit on a desk usually equipped with one of our benchmarking PCs. Though it's not the best picture (I admit that), it does give some sense of scale, especially when you compare the unit to the Blu-rays up top. Please note that the monitor in this photo is on a ~40° angle.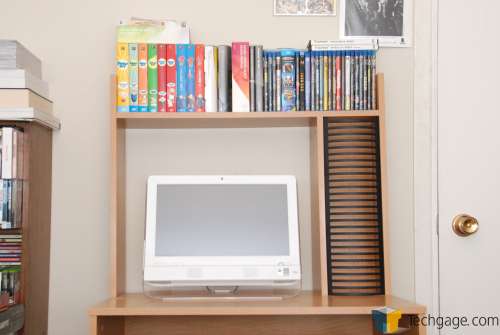 With our tour wrapped up, let's continue along to a look at both the setup process and also a look at what software comes equipped with the PC.
Setup and Easy Mode
As you'd expect with an all-in-one PC, setting up the EeeTop PC is an absolute breeze. If you want to use it right away, all you have to do is place the unit on your desk or another flat surface, connect the power cord to the device and then to the wall, and boot up. It's that simple. I do however recommend keeping the keyboard nearby, since a few questions during the Windows' setup are easier to answer with one.
On the first boot, you'll be welcomed by Windows XP's post-installation screens, which is where you can enter a user name, set the time zone… all that good stuff. You can also set up networking here, but if you plan to use wireless (and I assume most people with an this machine would), you'll have to wait until you hit the desktop.
Before we check out the OS and software, though, let's take a quick look at what the EeeTop PC packs in terms of hardware. For the most part, you could call the PC a netbook for the desktop and you'd be pretty much right on the money. This machine shares the same CPU and memory configuration as the Eee PC netbooks, so you can expect similar performance.
Model
Processor

Intel Atom N270 – 1.60GHz, 512KB L2 Cache, 533MHz FSB

Chipset

Intel Calistoga-GSE i945GSE

Graphics
Display

15.6" Single Touch Touchscreen (Unknown Vendor)
1366×768 (16:9) @ 60Hz

Memory

Nanya 1GB DDR2-667 (5-5-5-15)

Hard Drive

Seagate Momentus 5400.3 (ST9160821AS)
160GB, 5400 RPM, 8MB Cache, S-ATA 1.5GB/s

ODD
Audio

Realtek ALC888/1200 High-Definition Audio Controller
2 x 4W Built-in Speakers + SRS Premium Sound


Network

802.11n Wireless LAN (Unknown Vendor, probably Intel)
Realtek RT8168C(P)/8111C(P) Wired LAN

Et cetera

6 x USB 2.0 Ports
5.1 Channel Audio Ports

Memory Card Reader (SD/MMC/Memory Stick)
1.3 megapixel Web Cam
Microphone
Kensington Security Lock
Dimensions: 16.14" x 1.89" x 13.19"
Weight: 4.3KG

OS

Windows XP Home (Service Pack 3)
The choice of an Atom processor for desktop use may seem a little odd to some, but as soon as a larger CPU is added, such as a Core 2 Duo, the price goes up, and so does the internal design of the PC. The Atom is a simple chip, offering a single core (with HyperThreading), and because of its modest size and heat output, a simple cooling solution can be used. At full load, I've found the Atom N270 in the EeeTop PC to just hit 60°C, and during normal use, it hovers around 57°C (room temp ~80°F).
Plus, as mentioned on the first page, this isn't supposed to replace your main machine, but rather be used as a supplement, so with all things considered, the Atom N270 is completely sufficient. I'll touch up a bit more on the performance factor later, but don't let the weaker system specs get you down… you'd be surprised just how capable this little machine is.
OS & Software
As seen in the chart above, the EeeTop PC comes pre-installed with Windows XP Home, which is more than capable of taking advantage of all that this PC offers. Vista of course won't run too well here, so it's not even worth trying. That inability primarily has the integrated graphics to thank, but with Microsoft promising Windows 7 to be much friendlier to netbooks/nettops, we may very well see that as an upgrade option in the future.
Although Windows XP can be used as normal, ASUS bundles in a feature called the "Easy Mode" which is designed to turn the PC into more of a kiosk, where you can access certain features quickly, rather than surfing through the Start Menu or desktop. The Easy Mode is comprised of four sections, the first of which contains four common communication applications: Skype, E-mail (default e-mail client), Eee Memo and also Internet (contains many different shortcuts). I'll touch up on Eee Memo on the following page in more detail.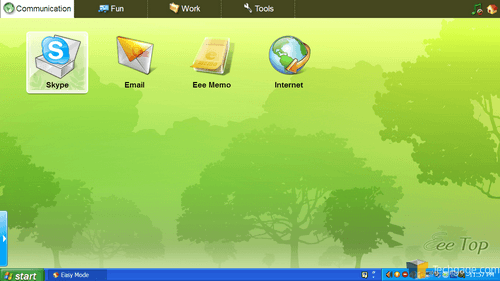 The "Fun" section is where anything entertainment can be found, starting with the Eee Cinema (media center). Then we have the Eee Cam (web cam software), sound recorder, Solitaire and so forth. ASUS also includes two simple games called Adventure Under the Sea and Eee Band, both of which will talk more about on the next page.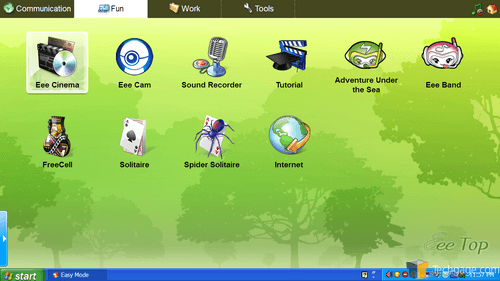 "Work" is where you go to get some work done, whether it be a simple calculation you need to sort out or whether you want to work on a spreadsheet or document. All of the office shortcuts are tied to Sun's StarOffice.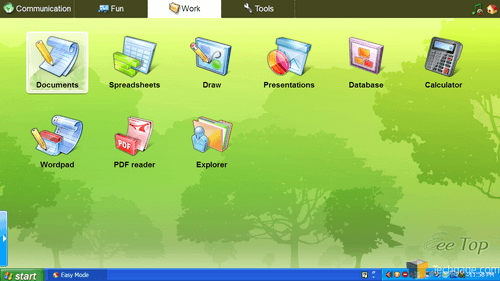 "Tools" is the most robust section of them all, because it's where you need to go to customize the PC in any way, and it's also the spot to load up Opera or Internet Explorer fairly quickly. To update the system software, you can use the "Easy Update", and for the BIOS, you use "ASUSUpdate". Other options allow you to access the volume dial, Control Panel, the SRS audio and also the SoftStylus, which is used to input characters without the use of a real keyboard.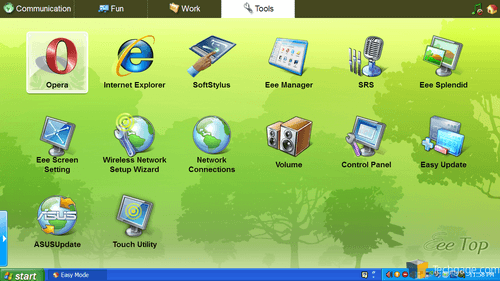 The Easy Mode is a great-looking solution for the EeeTop, but there is one slight issue I have. Notice all of the icons… they all look great, and have been obviously designed by people with talent. With such nice icons, you'd expect to click on one and see a nice looking application as well, but that's not the case. Take the calculator icon for example… all it does is load up the Windows calculator (calc.exe), which is hardly attractive.
Now, to be fair, I understand that ASUS has reservations for wanting to devote so much time to programming their own such applications, but a calculator for one wouldn't be that difficult, and it could really add a lot to the PC. If the EeeTop PC takes off, hopefully we'll see such customized applications in the future. Luckily, if that does happen, all that's required is a software update, which as I found out, is very easy to take care of.
Finally, the below screenshot shows what the desktop looks like when the Easy Mode is minimized. The wallpaper is clean and suits the PC well. The "Welcome" folder contains quick links to the two touch games ASUS has included, as well as a tutorial on how to use the PC and also an e-manual.
Also, take notice of the two icons in the above screenshot's system tray, the yellow exclamation mark and also the stop sign. The exclamation mark icon is labeled as "SOS!", and when clicked, it will load up the Task Manager. The stop sign also allows you to load up the Task Manager, but also allows you to shut down the Easy Mode, or shutdown/restart the PC or put it into standby mode.
I have no complaints at all about the OS chosen or the overall setup. It all comes together well and more importantly, works well. ASUS could have bundled a version of Linux on here, but because they chose Windows XP, it opens up a lot of possibilities for software, and you are free to install your software on disc if you have an external ROM drive.
Bundled Software
One of the few exclusive applications for the EeeTop PC is found on the first section of the Easy Mode, titled Eee Memo. Once inside, you'll be greeted with a large analog clock that almost fills the screen. If you prefer digital, you can take your finger, or the stylus, and flip the clock around to see it automatically turn into something that might be more to your fancy.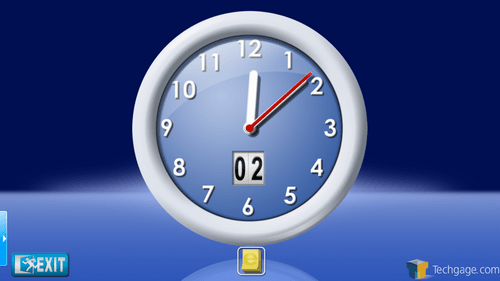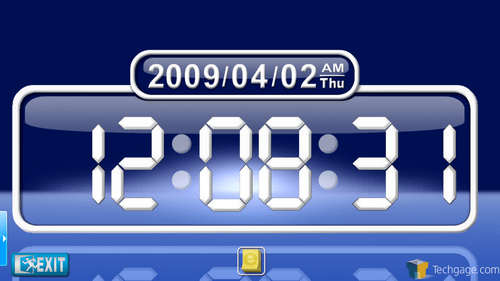 Notice the stack of Post-It notes at the bottom of the screen? You can again tap and drag it to open up a new section used for taking quick notes, or just to doodle. Here, you'll have four different paper colors to choose from, and also four different colored inks. To start a note, simply click on the paper up top that you want, and it will load up and allow you to draw. Obviously, you can see I didn't take things too seriously!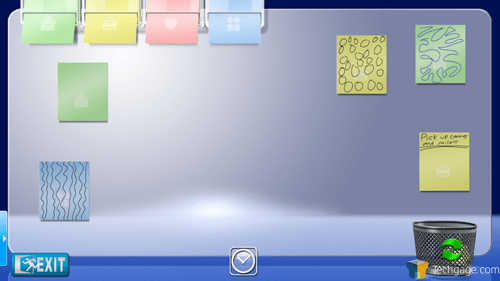 Considering the graphics processor in the EeeTop is rather lackluster, Eee Memo contains some fairly simple, but sweet animations. One such animation is when you drag and drop a Post-It note to the trash can. As you lower it in, it turns into a crumpled piece of paper. If you regret that move later on, you can click on the trash can and then on the blue icon to bring up a graphical list of what you threw in there, complete with wrinkled paper.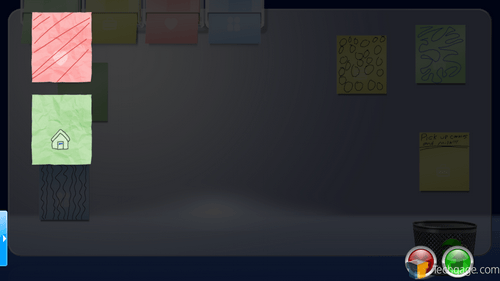 Restoring a note is simple, but deciding to destroy it is much cooler. When you choose to do that, they disintegrate to nothing with a very cool animation, reminiscent of a magic spell in an RPG game.
Also included here is "Eee Cinema", media center software capable of handling photos, video, DVD movies and of course, music. The DVDs can only be used with an external device of course, but all of the others should be located on the machine itself. Music should be stored in My Music, while the videos and photos can be placed pretty-well anywhere, since the software allows you to go search for it.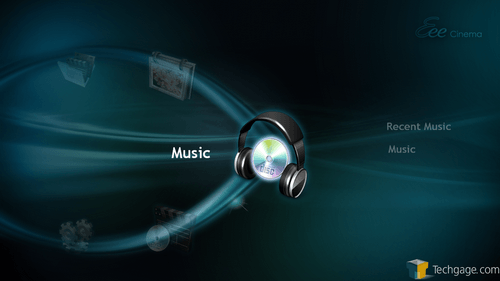 The software works great, but there's one feature I do wish was included… network support. As far as I can tell, you are unable to load media from a network device, such as a NAS box, which is too bad since you wouldn't have to load the music, or anything else for the matter, to the machine itself. You can of course view photos or listen to music through the network via other means, just not with Eee Cinema.
Two games included are Eee Band and Adventure Under the Sea. Both are incredibly simple, but they allow you to make good use of the touch functionality of the PC. The first game shows the Eee squad jamming it up. As they play, various circles show up around the screen, and it's simply your job to hit as many of them as you can while missing as few as possible. When the song is over, you are left with a score.
Adventure Under the Sea is a little more interesting in my opinion. You're a scuba diver who's out to… capture as many good fish as possible, while of course avoiding anything harmful, from seahorses to electric eels. Your goal is to survive for as long as possible, while collecting as many fish as you can.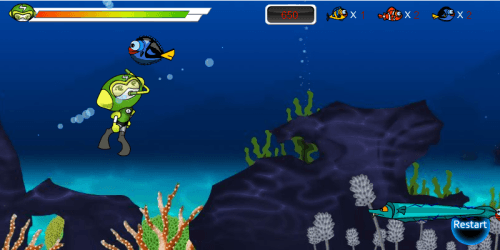 After setting up the PC for the first time, there are two options under the Tools section of the Easy Mode you'll want to check out. The first is the Eee Screen Setting, which simply put, allows you to adjust both the resolution and font size. I really can't see anyone wanting to decrease the resolution, given it's small to begin with, but should the need arise, this can get it done quickly. Also, because the default large fonts may not be for everyone, you can adjust those here also.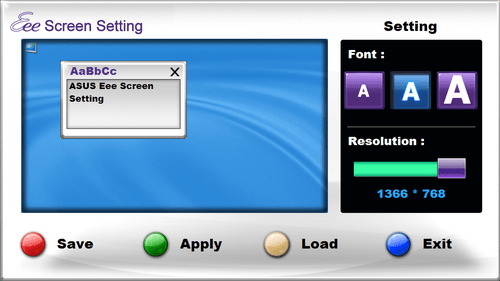 One of the much-touted features is the SRS Premium Sound system, and the options panel here gives a fair amount of control over how things sound. You can first change what content you are listening to, whether it be music, video or a game, and depending on which you select, the drop-down menu in the center will change. For the music setting, for example, you'll see options for Jazz, R&B, Club and many others.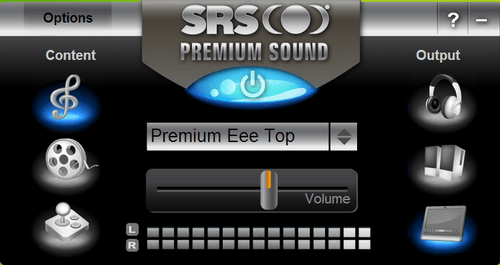 In the same options panel, you can of course adjust the volume with the huge dial, or change the output to headphones, speakers or back to the built-in speakers.
We've now pretty-much exhausted most of the exclusive software, so we can now press forward and get into using the PC for more than just incredibly simple tasks.
Using the EeeTop PC
When I first spotted the EeeTop PC at CES, I didn't know what to think. I appreciated the idea, and saw some real use for it, but it didn't quite appeal to me directly. Part of the reason for this is that I generally don't care much for touchscreens, and while I can understand why some people love them, I've felt that they just weren't for me. I'm not much one for gimmicks, and I considered a touchscreen to be nothing more than that.
After using the machine for a few weeks though, my opinions have pretty much spun a 360, but I still have some reservations. First is the fact that using a touchscreen can get tiring over a long period of time. You don't really want to sit in front of any LCD touchscreen for more than an hour or two because your arms are going to get fatigued, and then using it any further is going to be more like a workout than an enjoyable experience.
But that leads me back to the fact that the EeeTop PC is not designed to be a replacement for your home PC, but rather an inexpensive PC that you can use anywhere in the house, for modest purposes. When you take the goals of the PC into consideration, and then experience its implementation, you can quickly learn to appreciate just how nice such a machine is to use.
Speaking of use, though, how does it all work? The entire surface area of the 15.6″ screen is touch-sensitive, although you shouldn't expect extreme precision. After all, this is a very affordable solution, and it's not designed as such (Wacom can relax, this is most certainly not a replacement for their Cintiq). But despite that, it's still quite accurate, and it really, really impressed me. After an hour of use, you really find that you are more in-tune with the PC, and clicking on something as small as a systray icon isn't at all difficult.
Earlier I mentioned that the PC could be used without a keyboard, and that's pretty-much what someone would expect. So how on earth do you input text? You have two options, and both belong to an application called SoftStylus. This application is actually rather useful, so you'll probably want to add it to your Windows' startup, as it's not by default.
Inside this application, you have the option to either write with the stylus what you need, on a letter-by-letter basis, or opt into the on-screen keyboard, which is far less tedious. The first solution you can see below: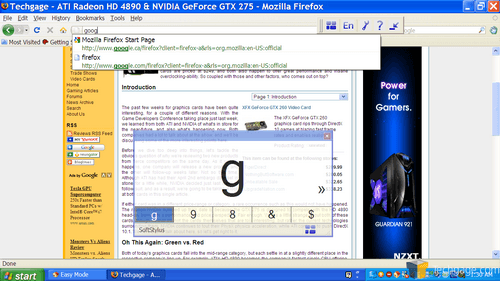 This solution didn't impress me at all, but it's not really the fault of the Eee Top or the application. It's simply the fact that so many letters and numbers look like each other, unless you are incredibly precise, which generally takes too much effort. For example, when I tried writing "Google", it most often interpreted my minuscule 'g' as a 9, and the same goes for the letter 'o', which it 80% of the time interpreted as a number 0.
Should you run into the same issue, the application gives alternative answers for what you might have meant, so that basically takes care of that problem. However, the ease of use of the on-screen keyboard can't be underestimated… it is much easier to deal with than the writing input method, and I really have no idea why anyone would want to put themselves through the torture of using anything else.
Again, the on-screen keyboard is actually something that impressed me quite a bit. In all I've typed with it, I only made a mistake once, and that's in all regards impressive, given you don't really have that much space to work with, and I did tap in each letter fairly quickly. If you do happen to find it too small, though, it can easily be stretched to be as large as the screen itself.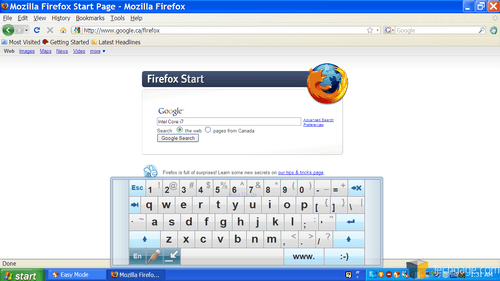 In a brief test, it took me exactly 9.8 seconds to tap in "Techgage rocks!", properly written. For me, that's approximately 1/100th of the amount of time required to tap in the same phrase on a cell phone, so if you can handle writing a cell phone SMS, chances are using the on-screen keyboard will prove to be an absolute breeze.
I've mentioned already what the EeeTop PC can be used for, but let's talk a little deeper about the possibilities. This is a PC that's designed for simple use, and it handles such scenarios without issue. I spent a lot of time with the PC, and I can honestly say I ran into very few issues, and the ones I did run into were caused when I was purposely trying to overload the machine to see what it was capable of.
For ultra-quick access to the more important features of the PC, you can access the "Eee Bar" via the left side of the screen. You'll be able to see this at all times during use by the blue bar with an arrow that sticks out about 20 pixels. Like any of the custom software, this feature can of course be turned off completely. If you do opt-into it though, you'll have access to the Easy Mode, Opera and Internet Explorer, the Eee Cinema, the Eee Cam, Eee Memo and Skype, along with other EeeTop-specific features.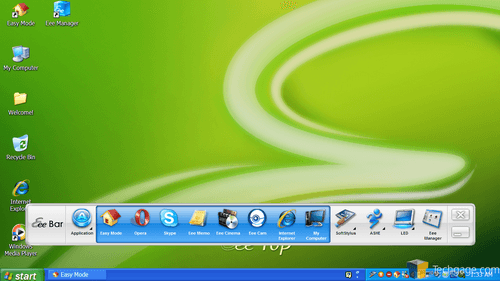 The Eee Bar and Easy Mode both leave a bit to be desired, however. While they look great and offer a fair amount of functionality, neither can be customized in any way. This means you cannot swap Opera with Firefox, or remove a shortcut entirely. This goes for both the Bar and Easy Mode. ASUS likely held back that functionality since they use custom icons for everything, and if you added your own, you probably wouldn't have a high-res icon to go with it, but even still… that option would be extremely nice.
This all seems like a simple issue, but picture the fact that in order to access another web browser, you'll have to go to the desktop or the Start Menu to access it. And even if you have, say, Firefox, as your default browser, if you click the Internet shortcuts inside of the Easy Mode "Internet" section, it will still open them with Opera.
Now, I can understand why the company is so gung-ho on Opera. It's because Opera is a company that really excels at mobile browsers, and touchscreen functionality is built-in. This means that you don't have to use the scroll to the right side of a web browser to scroll up and down. Rather, you can click on any free area in the web page itself and scroll that way. Internet Explorer and Firefox lack this functionality.
Firefox users are not left out in the dark, though. After some searching, I found an extension called Grab and Drag, which not only adds similar functionality to Firefox as what Opera offers, but even manages to improve on it. One simple addition is the "flick" feature, which allows you to flick the stylus upward or downward while in a web page to have the page scroll in either direction in a free fall, until you tap the screen to stop it. After much use, I came to enjoy that extension's implementation far more than Opera's built-in solution.
Using the EeeTop PC (Continued)
Given that touchscreen functionality isn't likely at the top any developer's list of priorities, not all applications will work as you'd hope them to. With that being the case, you cannot always expect a perfect experience, but in my time with the PC, I'm left with very minor complaints, and I never ran into a situation where I had no choice but to go grab a mouse. The keyboard on the other hand is very useful, for fairly obvious reasons.
Potential issues can arise with full-screen applications, such as some games, even simple ones. In one game I tested out (that didn't run well at all thanks to the incapable GPU), the touchscreen simply didn't work out well at all. Clicking anywhere on the screen would push the cursor to one side, rather than give me any sort of accuracy. I only found one title to do this, but there's a definite possibility that it's a common issue.
If there's one common task that's a little more difficult with a stylus, it's double-clicking an item, and sometimes, even single-clicking. In Opera for example, I at times felt it too difficult to click a link to download something, although I'm not going to point the blame at the unit, since I find Opera to be clunky for the most part anyway. The same links in Firefox could be tapped just fine.
Double-clicking is best done by not using the stylus on an angle, but rather straight on. If even like that you find it too difficult to open an application, you can adjust the double-click speed in the Mouse Properties under Windows' Control Panel. Increasing the amount of time allowed for a double-click should remedy the issue for most people.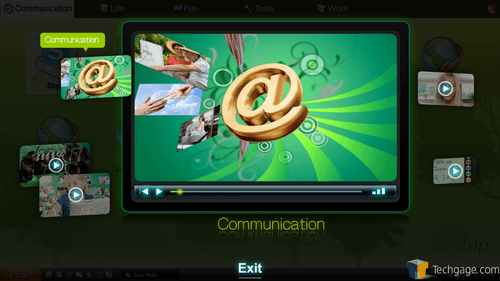 As the above shot shows, the EeeTop includes video tutorials that help you get started right away. Truthfully, the unit really is "pick up and go", but if you remain skeptical or are unsure of anything, this section should help you get whatever you are confused about taken care of.
One aspect of computing that's made more fun with a stylus is anything that can be zoomed or scrolled, such as a map or large photo. Google Maps is the first such application I tried, and with the stylus, everything was a breeze, from moving it all around to zooming in. Sure, it's basically the same with a mouse, but something about it is a bit more enjoyable when a stylus is used.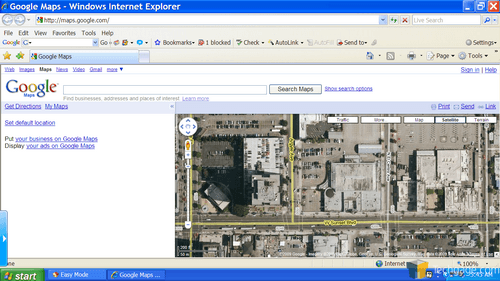 Let's be realistic though, because Google Maps on a small resolution, as the above picture shows, sucks. So much of the screen is taken up with the web browser, that it leaves little room for the map itself. Luckily, even though the integrated GPU leaves a lot to be desired, applications like Google Earth work just fine.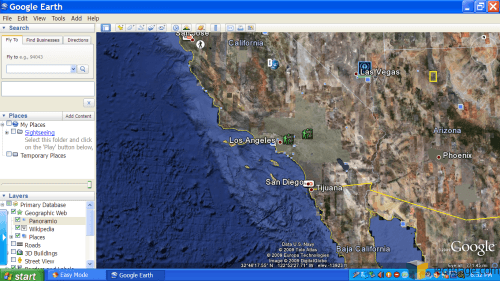 Obviously, Google Earth didn't run quite as well as it would on a much faster desktop, but it certainly offers enough performance to actually be used. If I had to guess, I'd say that the scrolling and zooming in/out was at about 75% performance-wise when compared to a desktop, which isn't too bad at all, and is in no way close to a point where some people may decide to just stick with Google Maps.
Not to sound like a broken record, the EeeTop PC isn't designed to be a huge multi-tasker, that much is obvious. But, how much can it handle? To test, I did a bit of light multitasking as you can see in the photo below. There, I had a spreadsheet open, along with Firefox which had multiple tabs (including an active YouTube video), a game of Solitaire and also the foobar2000 audio player, which was streaming FLAC music from the NAS box. During this usage, which I consider to be completely typical of the max load that someone would push on the machine, everything remained very responsive, and absolutely no slow-down occurred.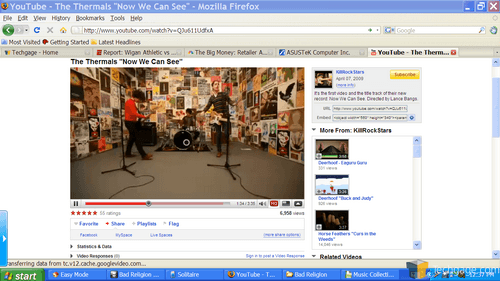 To push things even further, after I took the above screenshot, I decided to increase the stress on the hard drive by plugging in an external USB hard drive and copied a huge folder with many files off of it, to the main OS drive. Even during this process, things remained responsive and speedy.
In looking around the web for other opinions on the PC, many seem to be looking down on the machine because of it's weaker hardware, but I believe they are looking at things from the wrong angle. ASUS didn't design this to be a full-time PC, but rather a supplement, and in our multi-tasking tests, it remained speedy and responsive. With those findings, why exactly is more RAM or a faster CPU needed?
Well, there is one potential reason… HD video. In one test, I loaded up an HD video on YouTube and it lagged every few seconds… not an enjoyable experience. To see if that was just Flash's fault or not, I downloaded the video (from the cache, more here) and ran it through SMPlayer instead. There, it ran much better, but rather than hit a lag spike every other second, it would last between 5 – 7 seconds without it, and the lag that did occur didn't last as long as when viewing it through the web.
Depending on your stance, this issue can be blamed on either the codec used, or the CPU. The reason I point some of the blame to the codec is because in another test, I played an even higher-resolution video and it played without a single hitch. Unlike the H.264 likeness of the HD video on YouTube, this other video was a custom-made 1680×1050 1.56GB DivX AVI that runs for 35m 41s.
Let's do the math. The YouTube video was 2m 31s, and at 40.7MB, that comes out to about 0.265MB/s throughput. The DivX video on the other hand, was 35m 41s and 1.56GB, which comes to 0.729MB/s. So theoretically, the higher-resolution video required triple the bandwidth, but played just fine, despite the fact that it even had to downscale while it was running (given the source was far larger than the screen).
Whoever's to blame, this is a real issue if you want to watch HD video on sites like YouTube. It's clear that the codec used on YouTube requires far more horsepower than DivX, which is too bad, since DivX still looks amazing and manages to run fine. If I was able to push a huge video like the 1680×1050 one on this PC, then obviously YouTube needs some sort of optimization, since as we found out, the issue has nothing to do with the file size.
For the record, when I took the same YouTube video mentioned above and recoded it using DivX's 720p profile with max detail settings (can be done with MediaCoder, TMPGEnc Xpress and others) and then copied it back to the EeeTop, it played without issue.
Final Thoughts
When the EeeTop PC first hit my doorstep, I half-assumed how the review would turn out, and what points I'd focus on given what I saw of the device at CES. Having spent the past few weeks with the PC though, I've come to have a newfound appreciation for it, and when all said and done, if I personally had a need for such a PC (I'm an apartment dweller, so I'm always near a PC), I'd have no reservations in picking one up.
It goes without saying that most PCs have their faults, and the EeeTop PC is no exception, but the highlights of the product far outweigh the downsides for me. Let's take the rest of this page to review the ups and downs, and you can hopefully come to your own conclusions on whether it's for you or not.
The most important factor is the price, and when first unveiled, some scoffed at the $599 tag. While not inexpensive, it seems warranted for what you get. You can easily purchase a PC for the same or less, but it's not going to be an all-in-one, and it's not going to have a touchscreen. These two features are an obvious premium, and both aspects here are well implemented, so the price here seems fairly justified.
Since the launch though, prices have gone down, and units now sit at around the $530 mark at select e-tailers. This makes a good thing even better. This is a full-featured PC with touch capabilities, that's small, works well, runs cool and is power efficient… for $530. It really is an impressive little machine for the money.
One aspect we've yet to tackle is the power draw of the unit, and since it is one of the most-touted features of the PC, let's explore what kind of efficiency you can expect to see. You should note that anything special about the PC can be turned off, such as the blue LED light that shines from underneath the display, and also the monitor itself. Turning off anything will save power, but some aspects make a larger difference than others, as the below chart exhibits.
Power results captured with a Kill-A-Watt.
If the Wireless is in use, then turning it off will save about 1.5W – 2.0W, whereas turning off the entire display will cut 11W off the given total power draw (which is why it would be wise to tap the display's turn off button whenever you leave the PC). If you want to save even more power, you could turn off the blue LED underneath which would save another 2W. Taking things even further, you could go into Power Saving (decreased brightness) mode, and with wireless enabled, typical power draw there would hover around 26W.
It goes without saying, 26W, or even 35W for a desktop PC is beyond impressive. Thanks to the low power draw, temperatures are quite reasonable as well. After hours of use, the warmest part of the machine turned out to be the top-left corner of the display, at 38°C. That might seem a bit warm for a screen you're supposed to touch, but it's fine… it sounds hotter than it really is.
One room for improvement on the EeeTop PC would be to see a discrete GPU added. Believe it or not, such a model exists (ET1603), but it's not available on these shores… yet. That model ups the GPU to the ATI Radeon HD 3450, which is in all cases modest, but would be far more capable than the Intel GPU we're given here. With NVIDIA's ION platform beginning to take off, that's another option ASUS might want to investigate (but adding ION to anything is going to increase the price around ~$100).
While the EeeTop PC isn't for everyone, it definitely has a purpose for existing. It's lightweight, can be used anywhere in the house, draws about half the power of a standard light bulb, works well and delivers enough performance for common needs, such as e-mail, web browsing, music and even some video. I walk away from this device very impressed, and hopefully by now you'll know whether or not it's for you.
For its price, what it can do and ASUS' masterful implementation of everything, I'm awarding the EeeTop PC ET1602 a well-deserved Editor's Choice award.
Pros
All-in-One Touchscreen PC that's affordable ($530 – $600 USD)
Touchscreen is quite accurate and easy to use.
Top-rate aesthetics.
Modest performance, but sufficient for light multi-tasking.
Included software is useful (especially Eee Memo).
Great power efficiency (26W – 40W depending on workload).
Reasonable temperatures (38°C at its hottest point).
Light and extremely portable.
Reliable WiFi network performance.
Entire PC is incredibly easy to set up.
Cons
No optical disc drive.
Issues with certain HD videos.
Smaller resolution (1366×768).
Viewing angle on LCD could be a bit better.
Inability to upgrade components.
Games that require any level of 3D acceleration will not run well.
No Splashtop? This seems like the perfect platform!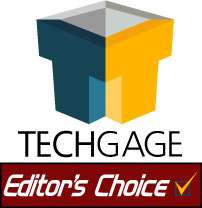 ASUS EeeTop PC ET1602
Discuss this article in our forums!
Have a comment you wish to make on this article? Recommendations? Criticism? Feel free to head over to our related thread and put your words to our virtual paper! There is no requirement to register in order to respond to these threads, but it sure doesn't hurt!
Copyright © 2005-2020 Techgage Networks Inc. - All Rights Reserved.