ASUS EN8800GTS TOP 512MB

Date: April 2, 2008
Author(s): Rob Williams

NVIDIA's 9-series might be brand-new, but the 8-series should not be overlooked. Most 8800 GTS 512 cards cost less than the 9800 GTX, and can be easily overclocked to overpower it. In the case of this pre-overclocked ASUS card, the 9800 GTX doesn't have a fighting chance.
---
Introduction
For quite a while, NVIDIA's 8800 GTX was the "ultimate" video card, and for good reason. It was plenty fast, offered an outstanding 768MB of GDDR3 and for quite a while, was the fastest card the company had. Put two together in SLI, and the drool began to flow uncontrollably.
Not counting the rip-off 8800 Ultra card, the 8800 GTX first gained real competition when NVIDIA themselves released an 8800 GTS follow-up, in the form of the 8800 GTS 512. While the older 8800 GTS cards included either 320 or 640MB of memory and a 320-bit memory bus, the GTS 512 version of the card upped the stream processors by 33% and cut back to a 256-bit memory width.
The corners cut sure didn't effect the cards performance, however. In all regards, the GTS 512 proves faster than the older models, and also beats out the previous king, the 8800 GTX. In some of the benchmarks, each card swaps places for the top spot, but the GTS 512 proved to be an immediate great choice at launch – especially considering that GTX and Ultra cards were still priced much higher.
You might be asking, "Why review the 8800GTS 512 at this point in time?" Good question, since the 9-series are beginning to creep up, such as the 9600 GT from ASUS we took a look at earlier this week. As is clear by now, though, the 9-series doesn't bring much new to the table in way of features, but rather, the models have better clocks and the specs are well-rounded.
By purchasing an 8-series card now, you are not holding yourself back in any way, with regard to a feature-set. Although we haven't seen much with the 9800 GTS yet, it's unlikely to blow us away. The 9800 GTX was released yesterday, and reviews all over prove that it's not much faster than an 8800 GTS 512… so where a 9800 GTS would fit in is beyond me. Perhaps it won't launch, after all.
Closer Look
As seen in our below table, the 8800 GTS 512 falls directly below the brand-new 9800 GTX. The GTX improves on the every single clock, but not by much. In fact, there's little doubt that any 8800 GTS 512 you purchase could overclock to the same specs with little issue.
This particular card from ASUS is interesting, because of it's TOP status, or "Top Overclocking Performance", which means this card is clocked higher than regular 8800 GTS 512 cards. Because of their clock increases, this TOP card is faster than a 9800 GTX, as the core clock is set to 740MHz – 65MHz over the 9800 GTX – and 1800MHz on the shaders, or 112MHz over the GTX.
| | | | | | | |
| --- | --- | --- | --- | --- | --- | --- |
| Model | Core MHz | Shader MHz | Mem MHz | Memory | Memory Bus | Stream Proc. |
| 8600 GT | | | | | | |
| 8600 GTS | | | | | | |
| 8800 GS | | | | | | |
| 9600 GT | | | | | | |
| 8800 GT | | | | | | |
| 8800 GTS 320/640 | | | | | | |
| 8800 GTS 512 | | | | | | |
| 9800 GTX | | | | | | |
| 8800 GTX | | | | | | |
| 8800 Ultra | | | | | | |
We didn't receive our 9800 GTX sample with enough time to post a review by now, but in our initial tests we can tell that this TOP card is the better performer. However, a stock 8800 GTS vs. 9800 GTX would reveal a different story, although even there, the differences are not large enough to be excited over.
ASUS' 8800 GTS 512 is one of the best looking cards out there, in my opinion. It's clean, effective and looks great when paired in SLI.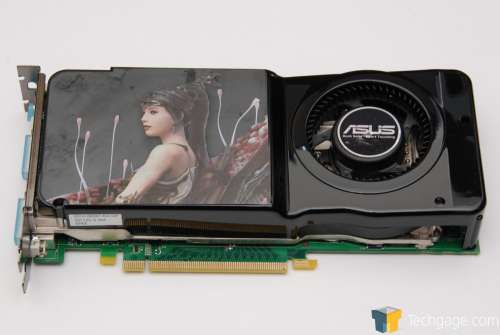 Since the entire card is covered, a leaf-blower fan is used to push warm air off of the GPU and out towards the back. The 6-pin PCI-E connector can be found on the end also.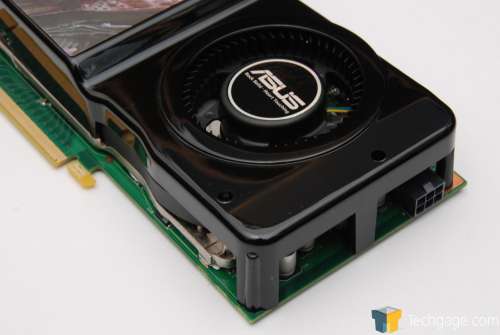 Like most recent higher-end GPUs, the EN8800GTS 512 includes dual DVI ports and also a TV-out. For those with a display that requires VGA, an adapter is included.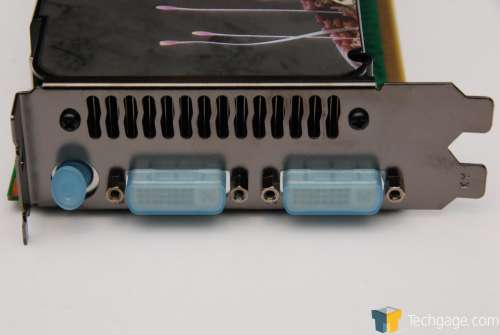 The card is also SLI-capable of course, but we were unable to include such results in our review today due to having problems with our SLI motherboard. Once we receive a new SLI motherboard, we'll begin including results in future GPU reviews.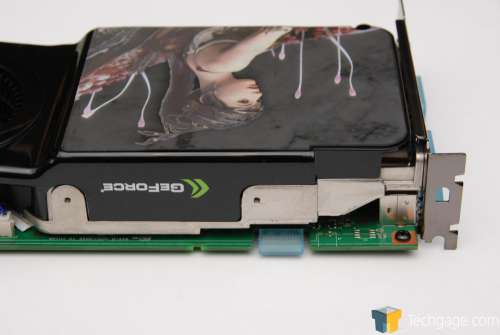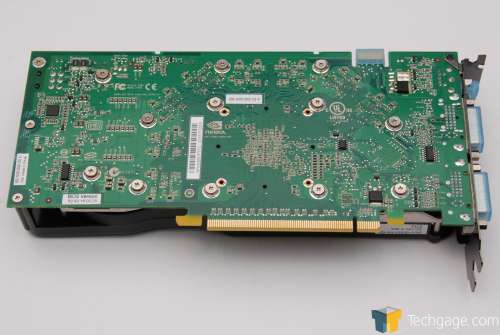 On the next page, we will take a look at our current testing methodology, which we recommend you take a look at if you have not already. Our methodologies tend to be far different than most sites. On page 3, we will jump straight into our test results.
Testing Methodology and Test System
Regardless of the OS we are running or product being reviewed, there are a few conditions that are met to assure accurate, repeatable results.
Desktop and scrap files are cleaned up, including emptying of recycle bin/trash.
No virus scanner or firewall is installed.
Internet is disabled.
Computer has proper airflow and room temperature is 80°F or less.
Hard-drives affected by testing are defragged using Diskeeper 2008 before each fresh run.
Below is our testing machine, which remains untouched throughout all testing except for the graphics card.
Testing Machine
In previous GPU reviews, we've used Windows XP Professional due to it's stability (when compared to Vista), but as Vista becomes increasingly popular and the choice for many, it makes sense for us to make the switch as well. We choose to use the 64-Bit version of the OS due to it being the logical choice for gamers who want to use more than 2GB of RAM in their machine.
Game Benchmarks
Depending on the graphic card being reviewed, we split up models into two different categories: Low-End to Mid-Range and Mid-Range to High-End. The former will see the GPUs tested using 1280×1024 and 1680×1050 resolutions, since those are the most common resolutions for gamers looking to purchase a GPU in that price-range.
For our Mid-Range to High-End category, we test GPUs at 1680×1050, 1920×1200 and also 2560×1600 to better reflect the resolutions for those looking for a solid GPU offering.
We do not use time demos in our reviews except where necessary, and in the case of our current GPU reviews, the only game to be subject to a time demo is Enemy Territory: Quake Wars. This is due to that game disallowing greater than 60FPS without the use of a time demo. But since the game is a popular choice for multiplayer gamers, it should be included in some form or another.
Manual Benchmarks
In an attempt to deliver "real-world" results, all games except the above mentioned title are played through manually, with the average FPS recorded with the help of FRAPS 2.9.4. In our personal tests, we have found that manual benchmarks are the best way to deliver accurate results, since time demos rely heavily on the CPU.
In order to deliver the best results, each title we choose is explored to find the best possible level for our benchmarking. Once a level is chosen, we play through in order to find the best route, and then in future runs, we stick to that route as close as possible. We are not robots, so we cannot make sure that each run is identical, but they will never be far off from each other. As we see in our results, scaling is good, so we are confident that our methodology is a good one.
Crysis
| | | |
| --- | --- | --- |
| 1680×1050 | | |
| | | |
Call of Duty 4
| | | |
| --- | --- | --- |
| 1680×1050 | | |
| | | |
Half Life 2: Episode Two
| | | |
| --- | --- | --- |
| 1680×1050 | | |
| | | |
Call of Juarez
| | | |
| --- | --- | --- |
| 1680×1050 | | |
| | | |
S.T.A.L.K.E.R.
| | | |
| --- | --- | --- |
| 1680×1050 | | |
| | | |
Unreal Tournament III
| | | |
| --- | --- | --- |
| 1680×1050 | | |
| | | |
Need for Speed: Pro Street
Enemy Territory: Quake Wars
| | | |
| --- | --- | --- |
| 1680×1050 | | |
| | | |
Note that the reason we do not test Need for Speed at 2560×1600 is because it's a resolution not supported by the game. EA tends to be a little slow when it comes to supporting high-end hardware.
Crysis, Call of Duty 4
Each graph for our benchmarking results are labeled with the resolution that the game was played at, while omitting secondary settings such as Anti-Aliasing, Anisotropic Filtering, texture quality, et cetera. To view all specific settings that we used, please refer to our testing methodology page, where we have screenshots for each game.
Crysis
It's not often that a game comes along that truly pushes our hardware to the utmost limit. Crysis is one of those few games, and that will be the case for at least the next year. Don't believe me? Boot up your top-end machine, max out your resolution and set the graphics to "Very High". I guarantee tears will be shed within a few seconds of loading a level.
The level we chose here is Onslaught, also known as level five. We begin out in a tunnel, but what's important is that we are in control of a tank. What could be more fun? Our run through consists of leaving the tunnel and hitting the other side of the battlefield, killing six or seven enemy tanks along the way.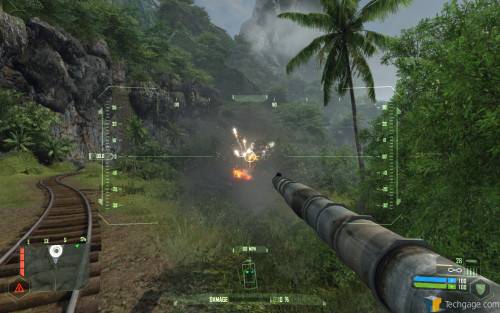 It goes without saying that any level in Crysis would make for a great benchmark, but this one in particular is gorgeous. Using the "Medium" settings, the game looks spectacular and is playable on all of our graphic cards, so we stick with it. Throughout the level, there is much foliage and trees and also large view-distances. Explosions from the tanks is also a visual treat, making this one level I don't mind playing over and over, and over.
Settings: Due to the intensiveness of the game, no AA is used at any resolution, and the secondary settings are all left to Medium.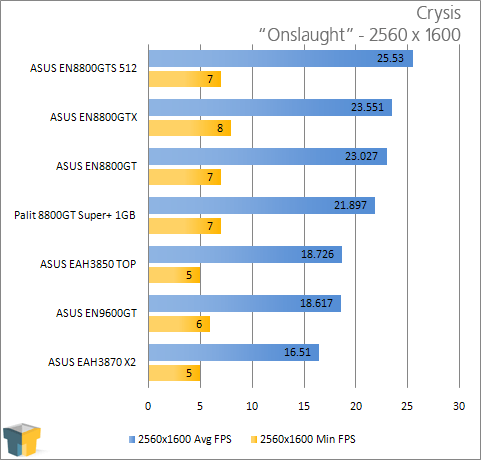 Thanks to the EN8800GTS 512's great clocks, the 8800 GTX no longer looks that impressive. That's sad, considering it was incredible for so long.
Call of Duty 4
While Crysis has the ability to bring any system to its knees with reasonable graphic settings, Call of Duty 4 is a title that looks great no matter what setting you choose, even if you have it running well! It's also one of the few games on the market that will benefit from having more than one core in your machine, as well.
The level chosen here is The Bog, for the simple fact that it's incredibly intensive on the system. Though it takes place at night, there is more gunfire, explosions and specular lighting than you can shake an assault rifle at.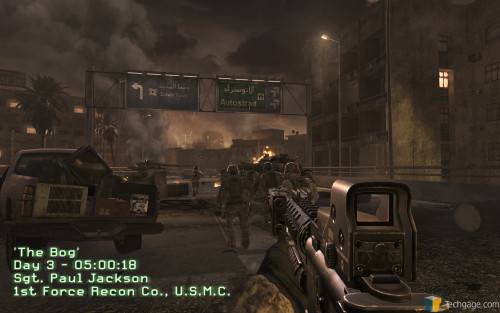 Our run consists of proceeding through the level to a point where we are about to leave a building we entered a minute before, after killing off a slew of enemies. The entire run-through takes about four minutes on average.
Settings: High details are used overall throughout all tests, although 4x AA is used for our 1920×1200 setting. That AA is removed in our 2560×1600. As we can see in the graphs below, both of those settings are quite similar in performance.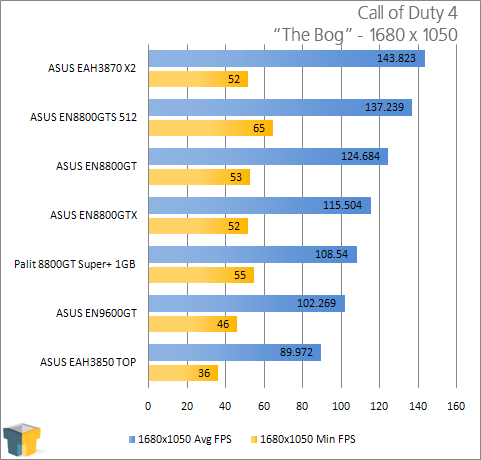 Higher resolutions are where dual-GPU solutions excel, and that's clear with our HD 3870 X2. However, given the fact that our EN8800GTS 512 is one GPU and costs $100+ less… we can forgive the lack of 7 or so frames at max resolution. Great results all around… it's hard to be upset with 72.7FPS at such a beast of a resolution.
Half-Life 2: Episode Two, Call of Juarez
Each graph for our benchmarking results are labeled with the resolution that the game was played at, while omitting secondary settings such as Anti-Aliasing, Anisotropic Filtering, texture quality, et cetera. To view all specific settings that we used, please refer to our testing methodology page, where we have screenshots for each game.
Half-Life 2: Episode Two
If there is one game in our line-up that most everyone has played at some point, it would be Half-Life 2. The most recent release is Episode Two, a game that took far too long to see the light of day. But despite that, it proved to be worth the wait as it delivered more of what fans loved.
We are using the Silo level for our testing, which is a level most people who haven't even played the game know about, thanks to Valves inclusion of it in their Episode Two trailers during the year before its release. During our gameplay, we shoot down a total of three Striders (their locations are identical with each run, since we are running a saved game file) and a barn is blown to smithereens.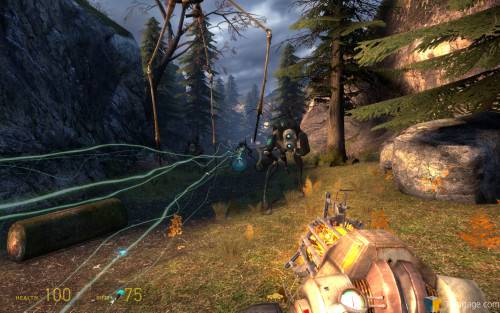 Overall it's a great level, but the Strider's minions can prove a pain in the rear at times – most notably when they headbutt you. Nothing a little flying log won't solve, however! This levels graphics consist mostly of open fields and trees, although there is a few explosions in the process as well, such as when you blow the Striders apart with the help of the Magnusson Device.
Settings: High graphic settings are used throughout all three resolutions, with 4x AA and 8xAF.
The GTS continues to stay towards the top, only to be beat by our dual-GPU solution.
Call of Juarez
Western FPS games are not common, so when one hits, people notice. Luckily for FPS fans, Call of Juarez delivered great graphics, solid gameplay and a very high difficulty. It's a great game to benchmark due to its ability to run in DX10 mode, under Windows Vista. This mode is far more demanding than the DX9 mode, but the results are better.
We take the role of Billy Candle in the level we chose, which is rather simple in concept. We begin out at the end of a linear path that we must follow in order to reach a ravine that we must cross.
The goal of the level is to sneak through a farm and ride off with a horse in order to make the jump, but since that process takes far too long, our run through consists of following the exact same path each time, which ends up on the opposite side of the farm near an edge with water below.
Settings: Very high graphic settings are used here, although AA is never used. The fact that the game uses DX10 is enough to drag performance down.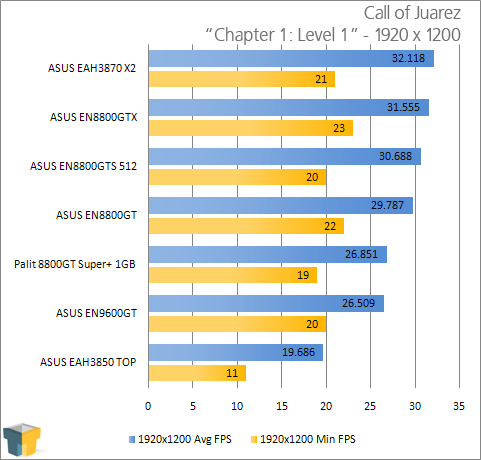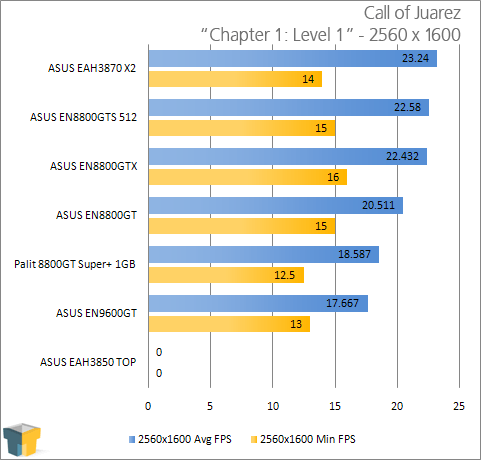 Not surprisingly, the GTS 512's streak continues, offering superb results. However, it's important to mention that neither card here made CoJ truly seamless at 2560×1600, due to our high texture settings, and the fact we were using DX10 rendering.
S.T.A.L.K.E.R., Unreal Tournament III
Each graph for our benchmarking results are labeled with the resolution that the game was played at, while omitting secondary settings such as Anti-Aliasing, Anisotropic Filtering, texture quality, et cetera. To view all specific settings that we used, please refer to our testing methodology page, where we have screenshots for each game.
S.T.A.L.K.E.R.
Post-apocalyptic FPS games have been done over and over, but S.T.A.L.K.E.R. Shadow of Chernobyl was unique in many ways. First was the fact that the story was loosely based off of a real-life tragedy, the Chernobyl nuclear plant explosion, with the player starting out post-disaster working to survive in the now very brutal world.
One of the areas where the game excelled was with the depth. It was an open world with non-linear gameplay. AI was not top-rate, but reacted in a mostly realistic way, so it's pretty much impossible to just stroll through the game and not expect to die. Coupled with the ability to keep an inventory and sell artifacts you find along your journey makes this game an immersive experience.
The level we use for our testing is a "Thumb Drive" mission that occurs earlier in the game. The premise is simple… walk into a small camp that's being inhabited by enemy Stalkers, wipe them out and go deliver a thumb drive to a lone Stalker huddled around a campfire. The entire quest takes between four and five minutes from our starting point.
Settings: Static lighting and medium quality is used for our lowest resolution here, while 1920 and 2560 use full dynamic lighting along with high quality settings.
The GTX's weaker clocks are evident here, and to think, that card still costs far more than our GTS 512 in the retail channel.
Unreal Tournament III
The Unreal series has always been one that's pushed graphics to the next level. Surprisingly, though, as the graphics improve, the game still remains playable on a reasonable machine, with good FPS. How often is that the case?
"Gateway" is our level of choice for a few different reasons. The first and most notable is the fact that it's a great level, and chock-full of eye-candy. The entire level consists of three different areas that can be accessed through portals, or "gateways". The area we begin out in is a snow-filled wonderland, similar to Lost Planet's winter levels, with a futuristic city and waterfall area also being accessible.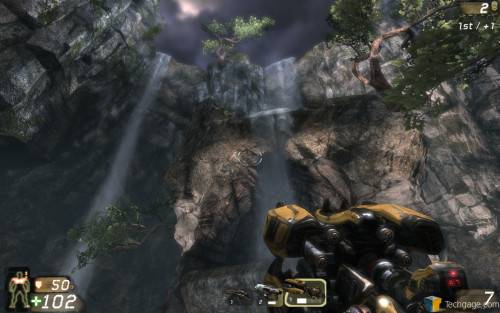 Settings: All in-game settings are maxed out, with physics and smooth frame rate disabled.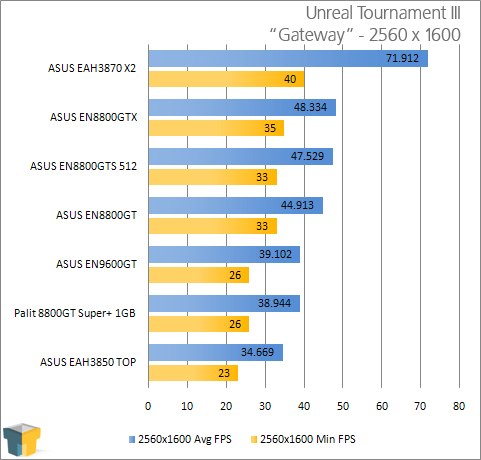 For once, the 8800 GTX managed to surpass out GTS 512, but only at 2560×1600… and not by much. The extra GDDR on the GTX may have played a factor here.
Need for Speed: Pro Street, Enemy Territory: Quake Wars
Each graph for our benchmarking results are labeled with the resolution that the game was played at, while omitting secondary settings such as Anti-Aliasing, Anisotropic Filtering, texture quality, et cetera. To view all specific settings that we used, please refer to our testing methodology page, where we have screenshots for each game.
Need for Speed: Pro Street
Electronic Arts is one of the largest game publishers in the world, and because of that, they have plenty of fans and plenty of enemies. Even if you don't like them, it's hard to dispute the fact that many of their games are solid, one being anything from the Need for Speed series.
"Pro Street" received rather poor reviews upon launch, and for mostly good reason. It removes the freedom of being able to explore a city at your leisure, which to many, is a huge step backwards. But despite that fact, it's still a great game if you enjoy the series and want an offering that's a little more realistic than previous versions (in terms of money and damage).
Our run through consists of racing through two laps at the Chicago Airfield, something that takes about three and a half minutes to accomplish from the moment we begin recording frames. The beginning of each race shows an automated camera fly-by over the cars in the race – we begin recording our FPS as soon as this clip begins.
Settings: Our lowest resolution uses fully default settings, while the 1920 resolution ups the AA to 4x and enables Anisotropic texture filtering.
Interestingly, our 8800 GTX performed horribly here, compared to the other cards, but our GTS 512 won the race, so to speak.
Enemy Territory: Quake Wars
The last game we will be using in our benchmarks is ET: Quake Wars. This is also the only game in our testing that's executed as a time demo, as opposed to the manual play through like the rest of our games. The reason for this is twofold.
The first reason is that we like to include at least one time demo, despite it's CPU-boundedness, in order to see how our cards scale when run in such a situation. The second is the fact that this game caps its FPS at 60, except during time demos.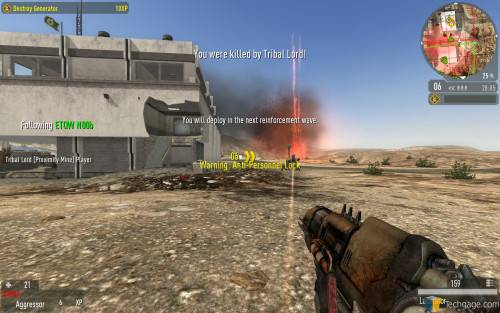 Our time demo takes place in the Area 22 level, with the main goal to destroy the jamming generator. The actual play through took around five minutes, but the time demo goes far quicker, as is the case with most time demos.
Settings: Maxed settings are used here for the most part. Our 1680 resolution uses 2x AA while 1920 and 2560 use 4x.
I think it's settled. The GTS 512 is a fantastic card… especially when it includes such a massive overclock, thanks to ASUS.
Futuremark 3DMark 06
Welcome to the most loved and hated benchmark on the planet, Futuremark's 3DMark 06. This benchmark was launched back in January of 2006, so it's tests are not exactly up to par with today's graphic cards, but it's still a decent way to gauge how today's cards scale with each other. The next version of 3DMark, Vantage, will be a complete revamp of the benchmark we know today and will no doubt make our computers feel useless once it's released.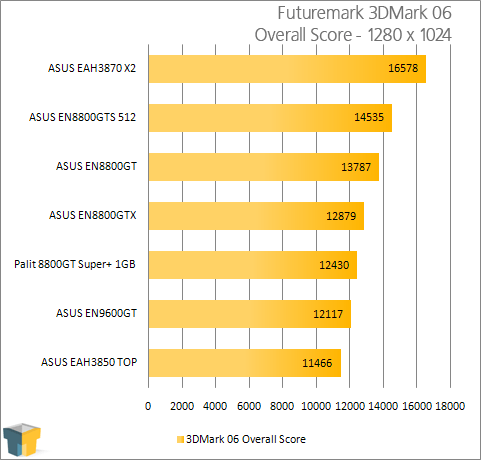 On the next page, I'll take a brief look at power consumption and I'll wrap up with my final thoughts.
Power Consumption, Final Thoughts
In testing power consumption for our graphic cards, the system components are kept consistent to help keep accurate results. To capture wattage, a Kill-a-Watt is used. It is plugged straight into the wall and the PSU is plugged in directly to it. After the computer is booted into Windows and is left idle for five minutes, the idle wattage is captured.
To capture the average, a run of 3DMark 2006 is run while keeping an eye on the voltage for the first two minutes. I record the value that the Kill-a-Watt reported the majority of the time. Sometimes the wattage might go higher, but scale right back down, and vice versa.
I won't pick on the 8800 GTX too much since it is aging, but it's great to see that our GTS 512 which beat that card out in almost every single test… uses less power. Gotta love that.
Final Thoughts
NVIDIA might have their 9-series here and new models en route, but as we found out throughout this review, the 8-series is still relevant. The prime reason for this is that the 9-series as a whole is more of a clock bump than anything else. Picking up an 8-series and overclocking it should yield similar, if not identical, results as the equivalent 9-series model.
As mentioned earlier, we did not receive our 9800 GTX in time to post a review along with the rest of the web, but in our first few tests with that card, the ASUS 8800 GTS 512 TOP comes out on top, thanks to its insane clock speeds. While our 3DMark 06 result with the 9800 GTX was just over 14,000, the card here finished off with 14,535… quite the hike.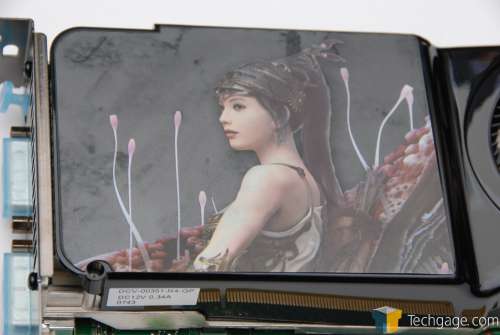 Things do change if you use two stock parts, however. If comparing a stock-clocked 8800 GTS 512 to a stock 9800 GTX, the latter will win… but it will only be a modest one. The clocks between the two are not that far different (25MHz core), so overclocking an 8800 GTS 512 even a little bit would deliver comparable results.
Should you pick up an 8800 GTS 512 now, with the 9800 GTX available? That can be answered a few different ways. Should you if you can get a great price on a GTS 512? Yes, most definitely. As mentioned, overclocking even a little bit will hit or exceed 9800 GTX performance, so all you will be doing is saving money.
However, dollar for dollar, the 9800 GTX makes more sense because it is faster. However, most 8800 GTS 512 cards right now retail for $300 or less – some even hover around the $250 mark – while the 9800 GTX almost universally retails for $330. In the end, the purchase would be up to you. But for the sake of saving money, the 8800 GTS is a great choice, and offers excellent performance.
I do not have a "stock" 8800 GTS 512 to compare to our TOP card, so I am unsure that most stock-clocked models would be able to handle such an extreme overclock, but I see no reason why it would not be possible. ASUS would not choose this overclock if there was a good chance it would not be stable on most cards… even though they've almost topped it out. I couldn't push the card beyond 760MHz Core (740MHz stock), but even at stock, this card is a true beast.
We reviewed a higher-clocked version of an 8800 GTS 512 card, but the fact remains that any 8800 GTS 512 is going to perform exceptionally well… and even more so if it has an ounce of overclocking ability. It's a fantastic offering, and unless 9-series offerings begin to come down in price, the 8800 GTS 512 remains a solid choice.
Pros
"Stock" clocks for TOP version out-perform 9800 GTX
Offers best single-GPU performance of them all
ASUS version of the card best-looking on the market
Well-priced at >~$300
Cons
Like most TOP versions of ASUS cards… this one is hard to find
Discuss in our forums!
If you have a comment you wish to make on this review, feel free to head on into our forums! There is no need to register in order to reply to such threads.
Copyright © 2005-2020 Techgage Networks Inc. - All Rights Reserved.