ASUS O!Play Air Media Player
Date: August 11, 2010
Author(s): Rob Williams

Have media on your PC, but want to watch it on anything but the PC? With ASUS' O!Play, getting that job done is simple. Take 30 seconds to hook it up to a TV, and you can stream media through a network, or via external storage, such as eSATA or USB. It's simple, and at $100, it's not too hard on your pocketbook, either.
---
Introduction
In an article we published last week that took a look at an easy solution to ripping your Blu-ray movies, we mentioned that the HTPC lifestyle is constantly growing, and for good reason. Today, it's not that expensive to build a modest HTPC capable of becoming a top-rate media streamer, and likewise, storage prices are almost laughable… 2TB for ~$100? Sheesh!
Most often, an HTPC will be situated under or near a television, because until wireless display standards take off, most people are going to be connecting their television straight to it. For others, the idea of building a home server that's purpose is to stream media also seems tempting, and today, some TV's do have the ability to connect to a network, even wirelessly.
But if you're happy with your setup now and don't find the need to spend more money, there are cheap solutions available that will allow you to stream your media to any television in your house. As long as you have a network, you can get this done rather easily. ASUS' O!Play is one such device, and will be the first of many like it that we'll be taking a look at.
"Media Players" such as the O!Play seem to have become a fad, but it's not surprising. For the most part, they can't be that expensive to produce, and for the end-user, they're not that expensive to purchase. But, for that small entry fee, you can essentially bring your media to any room in the house. In the case of the O!Play Air in particular, you can even do this wirelessly.
Closer Look
ASUS currently offers up two different O!Play versions, the HDP-R1, a non-wireless model, and then the HDP-R3 "Air", which as mentioned, does support wireless (up to 802.11 n). Both of the devices share the exact same functionality, so if you don't need the wireless, the HDP-R1 will suit you fine. It should also be noted that for those looking to stream the highest-quality 1080p streams might also want to stick with the HDP-R1, but we'll talk more about this later.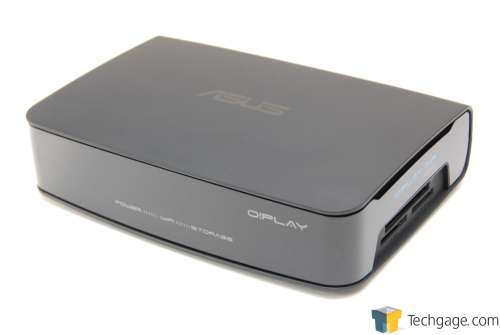 The O!Play doesn't have built-in storage, or even allow the installation of a hard drive, but it does allow you to plug in various forms of external storage, including eSATA, USB and memory card (CF, SD, MMC, MS and MS Duo). For those who are looking to simply bring their media with them, rather than stream from a central location, this external storage support will be important. If you don't want to use the O!Play on a network, for example, you could simply copy all of your media to say, a 2TB eSATA drive, then bring it to any TV to plug in and enjoy.
The first time I talked about the O!Play with ASUS was at this year's CES in January, and at that time, the company told us that the O!Play was -the- most feature-rich media player on the market. Just how true that stands today, I'm unsure, but I do know this… it supports a lot of different media types. Here's a quick round-up:
Video Formats: .asf, .avi, .dat, .divx, .flv, .ifo, .iso, .m2ts, .mkv, .mov, .mp4, .mpg, .mts, .rm, .rmvb, .trp, .ts, .vob, .wmv, .xvid
Audio Formats: AAC, AIFF, Dolby Digital AC3, Dolby Digital Plus, Dolby True HD( Downmix), DTS Digital Surround, FLAC, MP3, OGG, Tag ID3, WAV
Image Formats: BMP, GIF, JPG, PNG, TIFF
Subtitle Formats: SMI, SSA, SRT, SUB, TXT
If you have a media type not listed here, I'd have to believe that it's quite a rare format. The O!Play supports common file types such as .AVI, .MP3, .MP4, .MPG and .WMV, and it also supports newer formats such as .MKV, commonly used for high-definition content. Further, it even offers support for .m2ts and .vob, so you'll be able to play direct rips of your DVDs and Blu-rays without issue.
Here's something even more interesting. If you have a Blu-ray movie ripped to an ISO, sans copy protection, the O!Play will even handle that, menus and all included. That will be an appreciated feature for those who refuse to lose any quality of their movie, but love the fact that they can stash the cases away and not touch the discs again.
Before we get into the setup and testing, let's take a tour of the O!Play and see what it's made of. As you could see in the image at the top of the page, the O!Play is rather clean in design with curved edges and a matte-like finish. The unit is a bit darker in color (it's a very dark gray) than these pictures portray.
On the right side of the unit are the memory card slots. If you have a digital camera, you could simply haul out the card and pop it in here, and then view your photos on the display connected to the O!Play.
On the opposite side is the eSATA and USB ports, and also a reset button in case anything happens to go screwy down the road.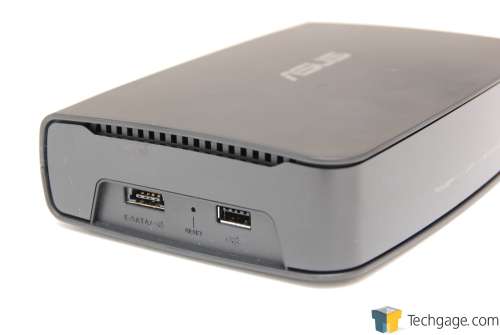 All of the important connectivity options are found at the back, including the LAN (you don't -have- to be wireless, despite the "Air" name), HDMI, audio S/PDIF and composite. Because the O!Play is designed to play high-definition content, ASUS opted to go with HDMI in lieu of anything else, including DVI. That might be a turn-off to some, but the HDMI choice is understandable.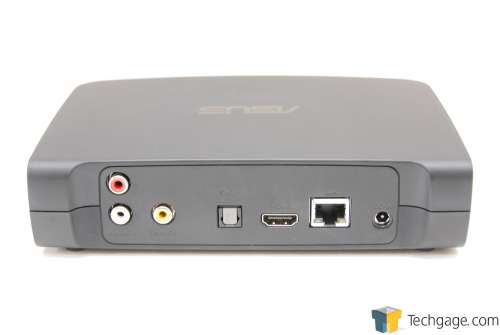 Unfortunately, no HDMI cable is included with the O!Play, but that's again not much of a surprise since most displays/televisions do include them. For older televisions or to watch standard-definition content, ASUS includes a composite cable. An included CD featuring a manual and O!Play Windows software is not pictured here.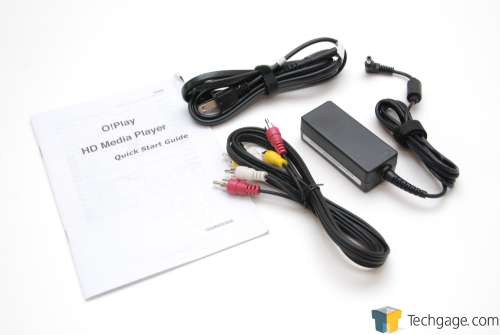 In order to take advantage of the O!Play, a remote control is required, so one is included. Most of the buttons are straight-forward, and overall, it's simple to use. The large clear button with a musical note inside it is used to begin music playback with random selections from your collections. For perspective of the remote size, here's another image that compares it to a Blu-ray case.
The O!Play kit as a whole is rather simple, but that's a good thing. After all, the sole purpose is to stream media, so anything more robust could be considered overkill. The only thing the O!Play could include to improve it is the option to add a 2.5″ hard drive for internal storage. ASUS has other media devices that can do this, but none are quite as robust as the O!Play. Perhaps the O!Play 2 will include this option.
Setup and Usage
Because the O!Play is the first media streamer like this I've taken a look at, I had figured that the setup and configuration would be a major pain in the ASUS (hah!), but it didn't take me too long to figure out that I had worried for nothing. Hooking up the O!Play is just as simple as plugging in a set of tin can speakers. You first need to figure out where you want the unit to sit, then connect the HDMI cable to the display, and then connect the power cord. That's it.
Once the O!Play is powered up, its on-screen menu will be displayed on the screen immediately. For some reason, the first time I plugged in the unit, I didn't have to turn it on… it simply turned on by itself. I'm not sure if this is by design or not. However, you do have the ability to turn it off and on as you like with a button on the remote control.
Because HDMI has the ability to automatically configure the appropriate resolution, what you should see from the get-go is your display's native resolution. In my case, that was 1080p, and it was configured as it should be. If you plan to use the O!Play on non-1080p displays, it also supports 480p, 576p, 720p, 1080i and similar modes, along with handling both NTSC and PAL.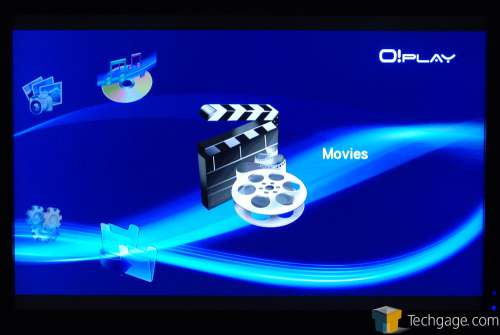 Due to the fact that O!Play's setup screen is almost entirely black, the photographs I took didn't come out at all. So I'll instead take a brief moment to explain a couple of the available options. Under the audio section, there's an option to switch to night mode for a lower volume and less bass, and also the choice to choose between HDMI LPCM, HDMI LPCM Multi Channel, HDMI RAW, SPDIF LPCM and SPDIF RAW.
I already mentioned briefly a few of the video modes you can choose, but further, you can also configure the aspect ratio, brightness, contrast, hue, saturation, noise reduction and also whether or not to allow the resume play feature and the movie preview (when you hover over a movie, it will autoplay in a small box to the right).
The rest of the settings include network configuration, slideshow effects, language, firmware update, date and time, screen saver and so forth. Of some importance might be the power saving option, where the unit will simply turn off after a certain amount of time (between 5 and 120 minutes).
As the above "screenshot" showcases, the O!Play has a familiar menu, as almost all HTPC-type software has a similar interface. It's simple, just as it should be. You have the option here to look for movies to play, pictures to look at and music to listen to. There's also an option for "All Media", which throws the categorization out the window and lets you play whatever you feel like. From this same menu, you can also copy files to external storage and enter the configuration section.
Then, there's "Online Media", which was the first thing I checked out. In that sub-menu, there's options to search for Internet radio, Internet TV, browse Picasa and Flickr, check out the weather, view stocks and also view RSS feeds.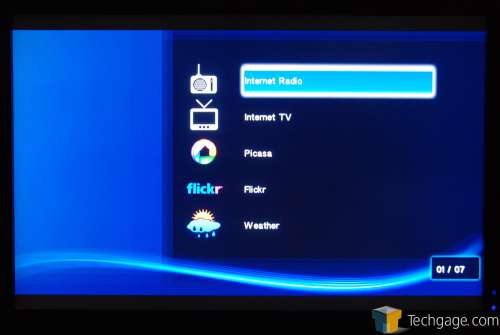 The addition of Internet radio and TV is rather new for the O!Play, and its implementation is just as I expected. The feature takes advantage of the service by Muzee and for the most part, feels "free". What I mean by that is, none of the content here doesn't feel special, but it can be convenient.
Under the radio section, you have a wide-range of different categories to choose from, and also stations. I chose the top genre category and quickly found myself with a large selection of dance/trance stations to choose from. For an entire afternoon, I listened to music streamed this way, and didn't have as much as a single hiccup.
The TV section of the O!Play leaves a bit to be desired, though. At first, my only selections were all Chinese, and while that's not a major problem within itself, this is a US model. There are other languages and areas/countries to choose from, but most of the "channels" are local, or news-related…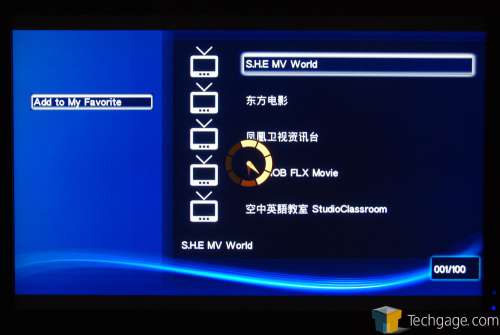 … and as you can see, the quality leaves a bit to be desired. I do admit, this example is the worst I've seen, and some of it is better, but don't expect anything on par with even standard-definition television. At best, what's available is on par with YouTube video quality.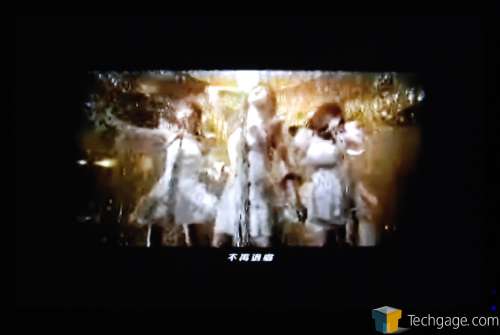 In case you want to simply sit back and enjoy some pictures, you can take advantage of the Picasa and Flickr sections, where you can search by account or keyword and view many different related images. In this example, I simply searched for "tree".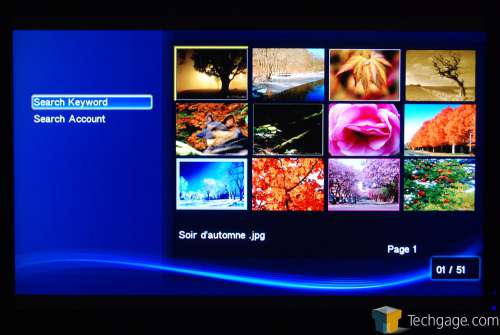 Like most of the "Online Media" up to this point, nothing screams out as being too special, and the weather sure isn't an exception. It's not that the information isn't quick to load and informative, it's that unless you live in one of the pre-defined cities, you're going to be out of luck. I live in a small-ish city in the eastern corner of Canada, and my city wasn't listed… but in the grand scheme, not many are.
What would be nice is if this software tapped into an online weather service that seemingly has any city listed, like so many browser extensions allow.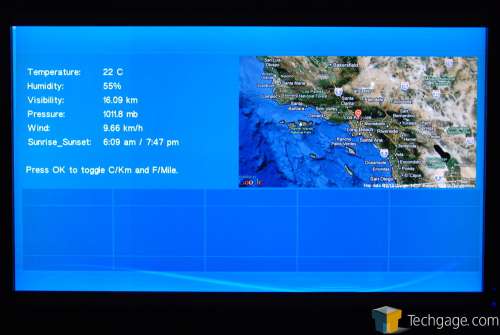 Here's a look at the stocks section… one where I couldn't quite figure out how to edit anything.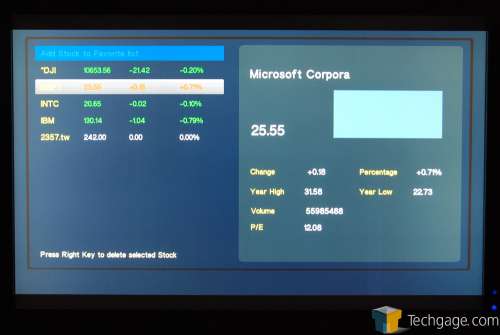 The O!Play allows you to add any RSS feed you like, and then read the updated feeds. You will only get a preview of the full article, though, so don't expect this to be a replacement for a real Web browser.
Back offline, navigating through the O!Play for your media is quite simple. You simply choose the media type, and then decide where to look for it… a memory card, external storage, UPnP device or network storage. For almost all of my testing, I used network storage… my NAS box to be exact.
If you have a UPnP media server setup on your PC or home server, it should be picked up by the O!Play no problem. My desktop PC was picked up just fine, and I was able to log in with my username and password. Since my NAS box doesn't require a username or password, it went right into it without issue. I had problems connecting to my notebook, but I blame the notebook since the configuration there was exactly the same as my desktop, yet the O!Play picked up on that just fine.
If you decide to listen to music while surfing the O!Play, you can navigate to other menus and it won't halt the playback. You can even pause if you need to. Once you begin a movie, or stop the music, you'll have to go fish it out again. This is a good design, since it allows you to put on some music while viewing photos or to browse for other media.
On this page, I've just barely touched on my experiences with the O!Play, so I'll leave the rest of it for the next page, along with my final thoughts.
Usage Continued; Final Thoughts
Being that the O!Play is the first media player like this I've ever used for more than a couple of minutes, I cannot definitively state that it's the best, or one of the best out there. But from the experiences I have had, I do like the device quite a bit, find it reliable, and also feature-robust. Do I see myself using it going forward? Yes.
There is a "problem" I need to get out of the way, though. While the O!Play supports 1080p, you can't simply sit down and expect that all 1080p content is going to work without issue. Simply put, 1080p content is not going to work reliably over a wireless connection, if at all, and on wired, there are still going to be limitations.
In my testing, I had 1080p video ripped to MKV that played decently with a wireless connection, but there were random skips that made watching it a non-possibility. You don't want to be watching a movie and have it skip… it's just that simple. Via wired, 1080p MKVs played just fine… I had no issue at all.
What about the direct Blu-ray ISO rips that I mentioned in the intro? Well again, impossible on wireless, and sketchy on wired. This isn't the fault of the O!Play by any stretch, because 1080p video can be extremely bandwidth-heavy, and if there's a less-than-perfect network connection, issues could arise.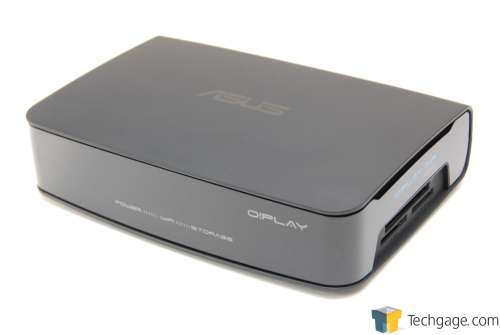 Since I've been having network issues ever since a recent router upgrade, the performance I saw with direct rips wasn't too surprising, but ASUS states that as long as there isn't any weird encoding going on, ISOs should play fine through a network. Unfortunately, I didn't have an eSATA device lying around to test, but if I had to guess, it would have handled the direct rips a lot better than my NAS or USB device could stream them.
Also regarding these ISOs, due to various reasons, the menus and special features don't work. Instead, loading the ISO will simply load the movie, which for most people might be fine. But, it does mean that you won't want to be archiving your Blu-ray discs via the O!Play. If you want all of the functionality of a Blu-ray disc through this device, it's best to just surf through a Blu-ray folder and play the .m2ts files that you need.
Blu-ray rips aside, all of the other video I played ran just fine on a wired connection, with no stuttering. Wirelessly, I found myself limited to 720p video, which is what I was expecting from the beginning. While some 1080p video might stream okay via a wireless connection, you're truly going to need optimum conditions to see it happen.
Music is almost a non-issue, as it requires much less bandwidth than video. MP3, FLAC or WAV, you're going to be able to listen to your music without stuttering, even with wireless. Of course, given that a wireless connection is prone to dropped or sketchy signals, you might still not get perfect playback if you're connection isn't solid. If you don't have a ton of interference, and have a reliable router, this will be a non-issue.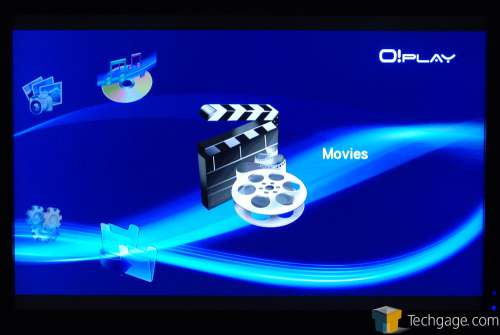 Likewise, pictures require little bandwidth, so viewing those are a relative breeze. I do have two minor complaints though. The primary one is that browsing pictures is a bit clunky, and at times, it would take up to three seconds to forward to the next photo. Most often, it took just 1~1.5s, but any delay is quite noticeable when you're intently looking at a screen. At the same time, large files I tried to look at wouldn't load at all (10 megapixel).
Because the resolution of the O!Play for most people will be 1080p, if you have images with a greater height, such as 1920×1200, the top and bottom excess will be cut off. You can zoom in a bit and scan the entire picture to see it all (which in itself is slow and a bit painful), but in a slideshow, if the picture doesn't fit perfectly, you can expect part of it to get cut off. Ideally, the O!Play should constrain both the width and height, or at least give an option.
I might seem like I'm harping on all the downsides quite badly here, but that's because there's not too much to say about the upsides, because as I mentioned, the O!Play for the most part handles what it's supposed to do quite well. Even with its minor issues, I plan on using the device going forward, until I find something more feature-rich or more reliable. For what I need, the O!Play suits me just fine, and does what I need it to.
If you want a media streamer that's easy to setup and use, the O!Play isn't going to be a regrettable purchase. I was expecting something complicated to deal with, but was very pleasantly surprised. And at $100, it's a rather affordable product as well. With ASUS promising to keep it alive for a while yet with firmware updates, it's even a little bit future-proof.
Where Non-Air vs. Air comes into play, I'd only recommend the Air if you don't require 1080p playback, because quite simply, you're not going to have that without issue. Instead, the non-Air version would be best, or the intent to use external storage. Even then, for the heaviest high-definition files, eSATA is really going to be the only way to go. Even most USB drives could stall with the highest bandwidth HD rips out there.
In the near-future, I plan to get more media players like the O!Play in and see what else is available, so if you're interested in such comparisons, stay tuned to the site. As for the O!Play itself, its future version promises to be even more feature-rich, so I look forward to learning about that as months pass. To my knowledge, that's not slated to be released until this winter, so we do have a little bit of waiting until then.
Discuss this article in our forums!
Have a comment you wish to make on this article? Recommendations? Criticism? Feel free to head over to our related thread and put your words to our virtual paper! There is no requirement to register in order to respond to these threads, but it sure doesn't hurt!
Copyright © 2005-2021 Techgage Networks Inc. - All Rights Reserved.