ASUS P6T Deluxe OC Palm Edition Preview

Date: October 22, 2008
Author(s): Rob Williams

Intel's first Core i7 CPUs are set to launch next month, and already, related product is hitting our labs. The most notable is ASUS' first mainstream X58 board, the P6T Deluxe. Key features include a 16+2 power phase design, SLI and CrossFireX support (up to three GPUs), support for SAS hard drives, and an external device to aide in overclocking.
---
Introduction
We've been talking about Intel's Nehalem processors and X58 chipset for a while now, but it won't be much longer before we'll be able to report on our own experiences with the platform, and likewise, it won't be much longer before you will be able to pick up new parts for yourself. Intel hasn't announced an exact date for launch, but at the recent IDF Taipei event, the company made known that the new processors will launch in November. The exact date that keeps floating around rumorsville is the week of Nov. 17, and taking all things into consideration, it seems like it could be accurate.
If there is one thing you can rely on seeing with any new processor or chipset launch, it's new products from a variety of vendors, especially motherboards. Shortly after the Core i7 embargo is lifted, you're sure to find lots of reviews tackling these new motherboards, from manufacturers such as Intel, ASUS, Gigabyte, MSI, Foxconn and others.
The board we're giving a quick preview of today is going to be a common sight once Intel makes Core i7 official simply because ASUS is ahead of the game. Other board vendors we've been in talks with don't yet have their own X58 boards fully prepared to send out, while ASUS has had their P6T Deluxe in the hands of reviewers for close to three weeks. Does this mean ASUS' offering will come off as being rushed? Not likely. The board as it stands is feature-complete, and the company is releasing regular upgrades, and even as it stands now, it's in great working order, so you won't have anything to worry about.
Because Core i7 and X58 are still under embargo, we're unable to present performance information, or even BIOS screenshots in this preview, but we are able to take a look at the board itself, and see what ASUS is bringing to the table with their flagship offering. Also at this time, ASUS has not divulged pricing information, but judging by the current-gen offerings, I'd personally expect to see a $350 price tag, if not a bit higher.
ASUS hasn't given a list of all their launch boards, but so far it's looking like at least three will be seen at the official launch, including the P6T Deluxe, P6T Deluxe OC Palm Edition and the high-end Rampage II Extreme, although there could be more that I'm unaware of. The only difference between the first two boards is that the former doesn't include the OC Palm LCD device.
Below, we've compiled a quick list of notable features on the edition of the board we'll be taking a look at in our final review. These exclude the obvious specs that will be featured on all X58 boards.
ASUS P6T Deluxe Features
16 + 2 Power Phase (16 for CPU, 2 for QPI/Memory)
SLI & Crossfire Support (SLI bridge connector included)
ASUS TurboV (Software-based OC'ing utility)
OC Palm (External device w/ LCD for overclocking and Yahoo! Widgets)
Express Gate instant OS
Green ASUS & EPU-6 Engine
Taking your first look at the board, it becomes clear that it's a mainstream model, simply because of the colors used. The higher-end boards from ASUS have recently featured more copper and aluminum and a much darker (and cooler-looking) color scheme. This one is modest in some regards, but still includes bulky Northbridge and PWM heatsinks to dissipate efficiently.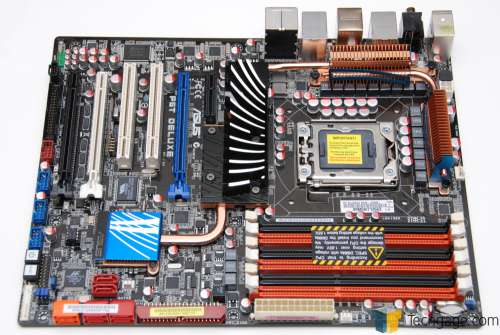 Nehalem is so different in certain regards when compared to Core 2 and older, that even looking at the motherboard and seeing what components are used is like learning something completely new. In the case of most mainstream and higher motherboards, six DIMM slots will be included, thanks to Core i7's built-in memory triple-channel memory controller. Populate each with a 2GB DIMM and you'll top out the board's allowance of 12GB of RAM.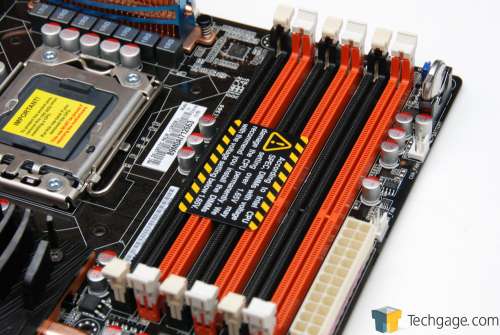 But… don't plan on going nuts with the overclocking. No launch memory kit will exceed the maximum authorized voltage of 1.65v, because somehow, it could kill your CPU. How? It's complex, and I'm not even sure Intel has a definitive answer. They're really sticking to this voltage rating though, so I'm going to assume that it's for good reason.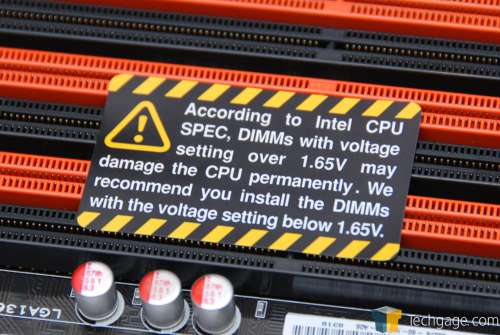 Moving down the board we stumble on the available PCI slots, which include two legacy slots and one PCI-E 4x. Three 16x slots are provided, which allow up to three GPUs to work in SLI or CrossFireX. The slots will operate at full-speed only if one or two GPUs are used. Add a third and the lane allotment changes.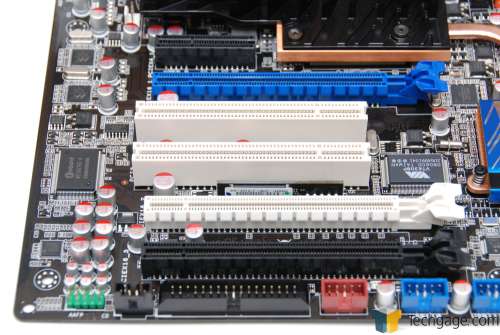 One thing that struck me were the orange ports as seen below. You'd assume that they were ordinary S-ATA ports, or "special" ports that ASUS designated for RAID, but that's not the case at all. They are SAS ports (Serial-Attached SCSI), which are most commonly found on server or workstation motherboards, but never on enthusiast boards (as far as I'm aware).
I can't put together why the board features these ports, as the drives aren't exactly in demand by this audience. Similar to Western Digital's VelociRaptor drive, SAS drives have great performance but lack in overall capacity. Because they're 15,000RPM, I could see why some would become intrigued, but I'd still expect this feature to be seen on one of ASUS' enthusiast boards, not their mainstream offering. Regardless, for those who have no intention of using SAS, your S-ATA drives will work just fine in these ports, as SAS is downward-compatible.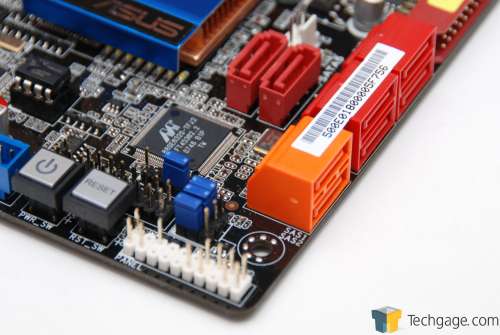 In the above photo, you'll notice more than the usual amount of switches next to the ATX chassis connectors. Normally, there is one used for clearing the CMOS, but on this board (and perhaps other X58 boards from companies other than ASUS), there are two more, in addition to another up top, as seen in the below photo.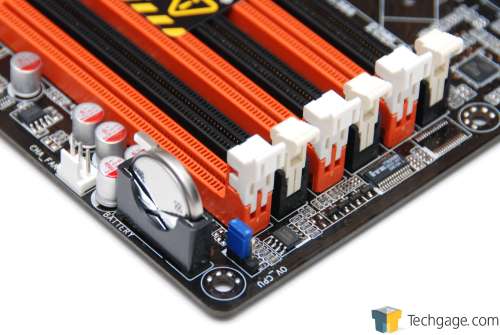 The two switches at the bottom, when moved to their alternate position, will enable higher voltages for the QPI and memory, while moving the one at the top of the board will do the same for the CPU. I won't reveal the exact voltage allowances, but you can be rest-assured that it's going to be a lot more than you will ever need.
Behold, the brand-new Socket B, featuring 1366 contacts. Surrounding the socket are the 16 phases, with the other two devoted for QPI/Memory found towards the top-center, beneath the heatpipe. Taking care of the heat spewed out of the PWM area, ASUS included a copper heatsink with thin fins that should do nicely. The board includes a small fan that can be clipped on to the larger of the two.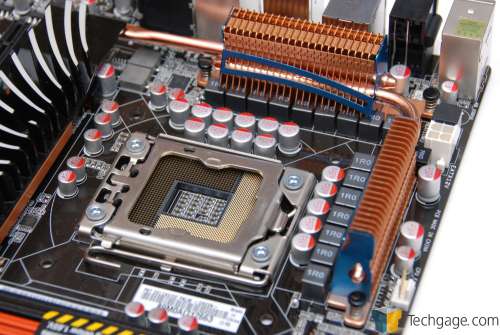 To help with cooling the Northbridge, a thicker heatsink is used here, which seems to be more for style than purpose. Since some of the functions found in previous Northbridges have now been shifted to the CPU, using a heatsink like this leads us to believe that it runs cooler, although it's hard to say. The screw holes here also allow a small after-market fan to be hooked up.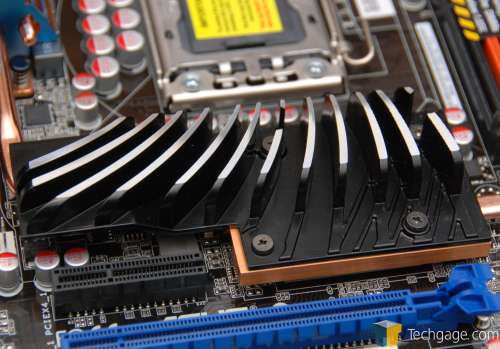 In way of peripheral connectivity, the P6T Deluxe doesn't hold much back. Found at the back I/O area is a PS/2 keyboard/mouse port, eight USB ports (two are red), Firewire, e-SATA, two LAN and 7.1 channel audio, which includes optical and coaxial S/PDIF output.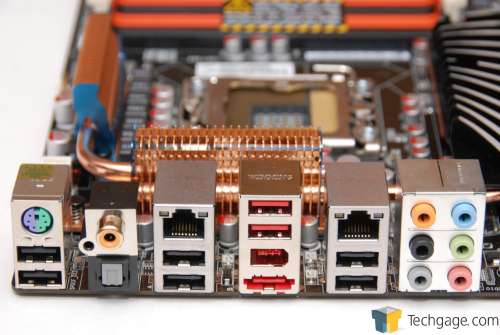 In way of accessories, ASUS doesn't go usually skimp, and this board isn't an exception. In the below photo, you can see the SAS cables, I/O panel, SLI bridge connector, fan for use on the PWM heatsink and the OC Palm device.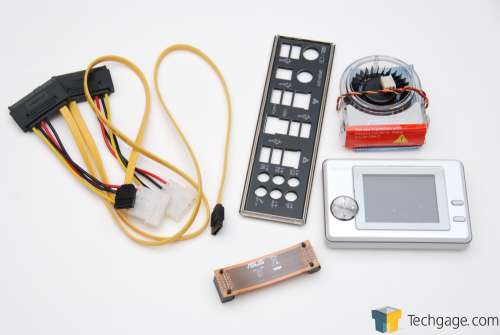 Lastly, three S-ATA cables are also included, as well as an extension to enable two more USB and one mini-Firewire, USB cable for use with the OC Palm, IDE cable along with the Q-Connector and two screw pillars for use with installing a small fan above the Northbridge.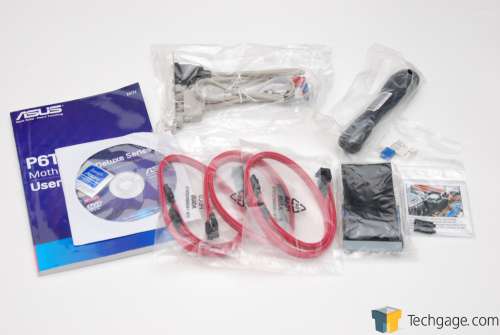 ASUS has the habit of including neat gadgets with some of their boards, but the new OC Palm takes the cake. It's small (as you can see in an above photo) and is designed to sit atop your PC or on your desk. When turned on, you'll be greeted with this: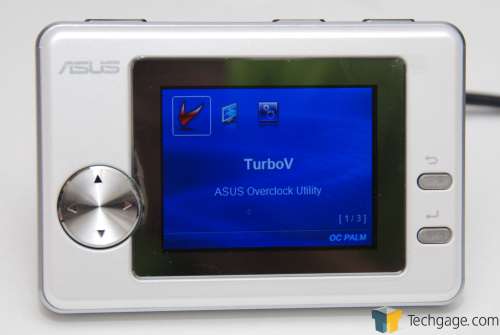 From here, you'll be able to do one of two things… overclock and play around with Yahoo! Widgets. I didn't touch either due to time, but will be sure to include some opinions in our review.
As we found out before the summer, ASUS took a huge leap of faith in DeviceVM's Splashtop technology, and since then, it's been featured on all of their motherboards. If you'd like a primer on what it is, refer to the article linked to above since I go into some depth there.
Since that article was written, not much has changed, but there was the addition of an "Online Games" section that automatically connects you to a predefined Splashtop website that allows you to play a variety of Flash-based games.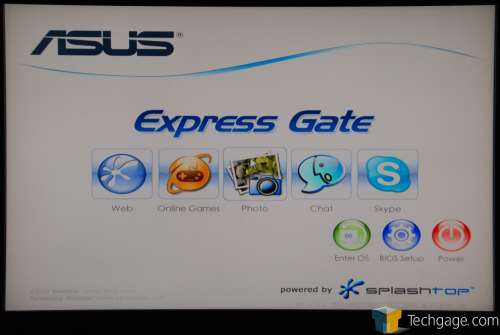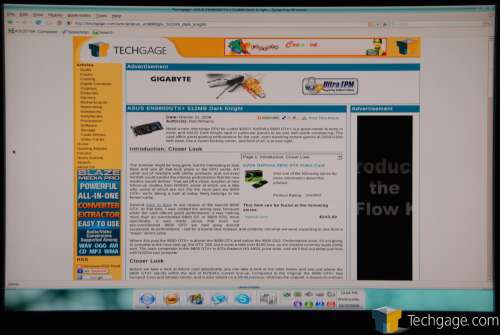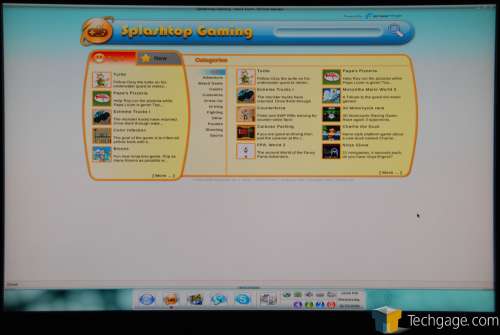 There you have it. ASUS' P6T Deluxe is definitely looking to be one of the top boards at the launch of Core i7, and for good reason. It's feature-packed, and we can be sure it's going to offer equally-impressive tweaking-ability. Some of the features seem a little odd, like the SAS connectors, but the OC Palm is one addition that might be appreciated by some. It's a little unneeded, but it could be fun to play with, especially since it does more than just overclock your hardware.
Although we have other boards en route, ASUS was the first company to really be on the ball and have their boards ready, which I'm assuming is thanks to engineers that never sleep. We'll be sure to give more small previews before the launch, both in content and in our news section, so as always, stay tuned!
Discuss this article in our forums!
Have a comment you wish to make on this article? Recommendations? Criticism? Feel free to head over to our related thread and put your words to our virtual paper! There is no requirement to register in order to respond to these threads, but it sure doesn't hurt!
Copyright © 2005-2021 Techgage Networks Inc. - All Rights Reserved.