ASUS Rampage II Extreme – The Definitive Overclocking Board?

Date: December 1, 2008
Author(s): Rob Williams

ASUS has long supported overclockers with their motherboards, but the Rampage II Extreme takes things to the next level. In addition to an even more robust BIOS than what we're used to, we're given the ability to put our multi-meters to good use with the help of easy-access board contacts. When all said and done though, is the RIIE really worth the $400 asking price?
---
Introduction
Although it's a little difficult to believe, it has already been a month since we first took a look at Intel's Core i7 platform. Since then, much has happened. On the site side of things, we followed-up with a look at memory efficiency on the platform, where we tried to answer your questions of "how fast?" and "how much?".
Since Intel's official launch just two weeks ago, the availability has improved quite a bit also. Directly at launch, the components selection (aside from the CPUs themselves) was weak, but that's not so much the case right now. Taking a look at any popular e-tailer will prove that, with the latest entrants in the motherboard scheme of things being both eVGA and Foxconn.
Currently, there seems to be ten boards for your choosing, with ASUS and Gigabyte offering us three each (it's more like two with ASUS though, as two models are almost identical). MSI also has two, while Intel has their DX58SO. Since eVGA and Foxconn have finally brought their own boards to market, we have ten to choose from, with price ranging from $240 all the way up to $400.
We've taken a look at three boards so far, including ASUS' own mainstream P6T Deluxe, but today, we'll be putting their higher-end Rampage II Extreme to a good test. This is a board that stands out of the crowd, for more than one reason. The most noticeable is the price (at $400), as it's the most expensive offering currently available. Let's take a deeper look and see if ASUS did enough to actually warrant such a high cost of entry.
Closer Look at ASUS' Rampage II Extreme
ASUS has been a long-time supporter of the overclocking scene, and it's been proven in the past on this site many times. We've taken a look at each one of their most-popular "enthusiast" boards, and overall, I can honestly state that they are some of the best offerings available. It's not so much that they overclock to incredible heights (which most of them do), but it's the ease-of-use that ASUS focuses on that actually makes their boards a joy to overclock with.
As of today, though, it's hard to look at their previous offerings the same way again. I have a question mark in the title of this article, but in all reality, it could easily be an exclamation mark, because after you see what steps ASUS has taken to build their RIIE as the ultimate overclocking board, you might very-well agree that it deserves one.
We're going to tackle the majority of the overclocking-related information on the respective page, but for now, let's take a trip around the board itself and see what it offers even before we boot up.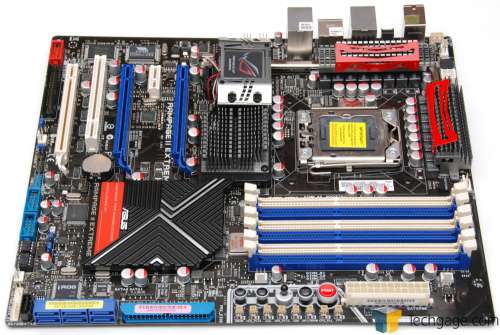 For the most part, the Rampage II Extreme borrows from many of the design aesthetics of the original, which we evaluated way back in September. Besides the obvious differences in architecture, the RIIE is about two inches wider than the original, but that won't stop it from fitting inside a standard mid-tower chassis. For the ultimate of cooling though, a full-tower is definitely recommended (more so if you are actually "extreme" overclocking).
The same gunmetal gray heatsinks have returned, with the "Ferrari" red shields. The Southbridge cooling is handled by a completely flat heatsink with an attractive fin design. That same heatsink has a spot for you to sign your name, if you wish to do so (high overclocks do instill a sense of pride, after all). From a general design standpoint, nothing strikes me as being out of the ordinary, except the placement of the on-board overclocking control buttons, but I'll tackle this more on our overclocking page.
At the bottom right-hand corner of the board, we're greeted with the usual assortment of storage ports, USB connectors and also the ATX chassis connectors. Included here are 6 S-ATA ports plus another one (black) that's designed to be used for an e-SATA drive. If one isn't to be used, a regular S-ATA drive should work fine. For such a high-end board, it would have been nice to see an even larger selection of ports, especially after seeing the ten that Gigabyte's EX58-UD5 offers. Granted, the overall demand for 10 or even 8 ports would be low, but we are dealing with "Extreme" here.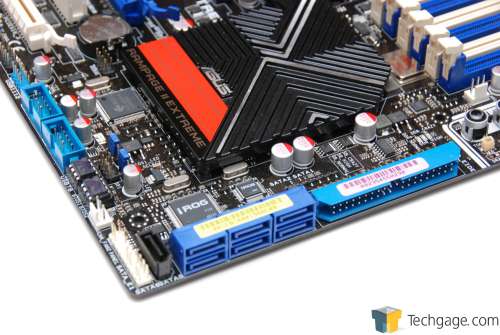 As we'd expect, six DIMM slots are found here, which will offer triple-channel operation with three or six memory modules. This is one area where I'm led to confusion, though. While most other enthusiast X58 boards boast 24GB memory support, this one (and the P6T Deluxe) are labeled to support 12GB. I'm unsure why this is the case, as one specific X58 feature is 24GB support. It's actually rather doubtful that the board wouldn't support 24GB if all the rest can, but sadly, we don't have 4GB DDR3 sticks lying around here to test that theory out.
The RIIE includes support for 3-way GPU configurations, so it's only sensible that it includes three PCI-E 16x slots, which it does. In addition to those, we have two PCI-E 1x and also a single legacy slot. This is probably the least-impressive part of the board, given the choice of only six slots.
The problem is twofold. If you're building a high-end machine using this board, and are looking for a 3-way GPU configuration, it technically wipes out a total of five slots. Combating this issue might be achieved if you are using water-cooling and the blocks don't take up more than a slots-worth of space, or if you use three GPUs with single-slot coolers, but that would defeat the goal of ultra-high performance.
In the worst-case scenario, a 3-way GPU solution would wipe out five slots, leaving only the top PCI-E 1x. But that's still a problem, because due to the Northbridge setup, there's only room there for a short card. Plus, if you plan on using the onboard audio (and to hear audio in general, you pretty much have to), you are left with all slots filled. So, anything else that needs to be added should be USB based, such as a WiFi adapter.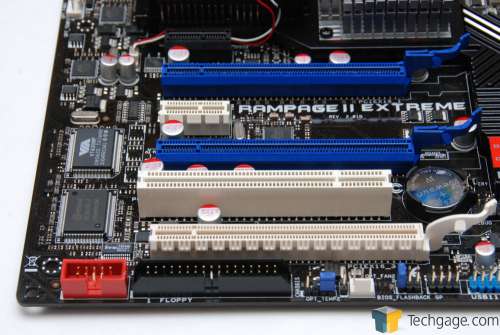 I admit, the number of people that plan on building a 3-way GPU setup is low, but really, this is a touted feature of the board. The fact is, if you use three dual-slot GPUs, you are left with absolutely no expansion via these slots. Problems still arise if a 2-way GPU solution is used, as the PCI legacy slot would still be covered. But, given the high-end nature of this board and platform, it is somewhat reasonable to agree with the decision to leave a PCI-E 16x slot available if that configuration is used (PCI-E 1x, 4x and 8x cards will work fine in 16x slots).
That tangent aside, let's get back to what makes this board mean. The Northbridge heatsink looks great overall, but if you aren't a fan, or you wish to water-cool, the entire contraption is easily removed once a handful of screws are out of the way. The Republic of Gamers logo lights up while the PC is in use, and pulses when the machine is shut down. That feature causes the PC to draw a slight amount of power while the PC is off (around 4W).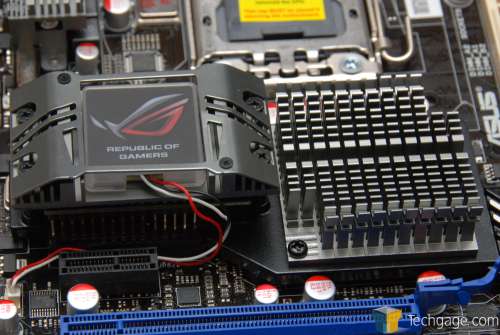 If there's one thing to be said about the CPU socket, it's that it's pretty safe behind the metal walls that surround it. Also surrounding it is the 16 power phase solution, which while "extreme", should help out with equally "extreme" overclocks.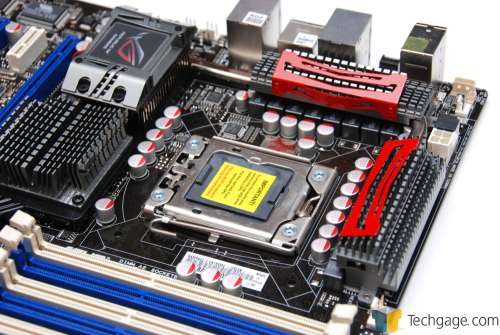 On the back we find six USB, one e-SATA, one FireWire, two LAN, one PS/2 (keyboard) and a BIOS reset button. There's a lack of audio connectors as the included audio card takes care of them. Note the three fan connectors in this shot alone. You really, really don't have to worry about airflow with this board.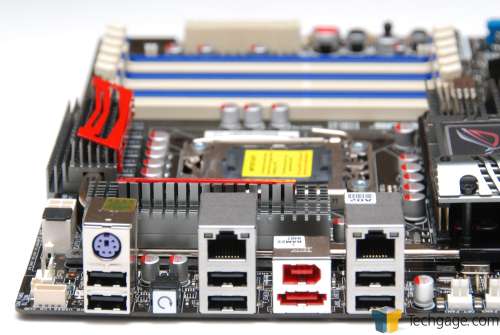 ASUS includes more extras with their boards then most others do. Included here are two different SLI bridges, depending on whether you want a 2x or 3x configuration (ATI CrossFireX bridges are included with the GPUs in the box), an LCD Poster, which gives you instant system information, a heatsink fan and also the back I/O port. This has an extra cable on it that will allow connection straight to the motherboard, which will allow you to plug the LCD Poster directly into it.
The included X-Fi audio card, like previous offerings, is not a true X-Fi card. Rather, it's a SoundMax-based audio solution that uses software to activate key X-Fi features, such as EAX. What this card lacks is a real X-Fi audio chip and support for EAX 5.0, which is used in some current games. The exclusion of these features is due to cost, as inclusion would raise the motherboard price significantly, and at $400 already, it really can't be any higher.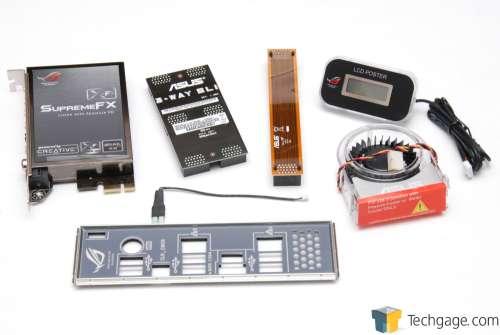 Unless you have more than four hard drives or ODDs, you'll have no problem installing everything you need to with the included cables. The main addition here is the FireWire/USB bracket that can be installed to a free slot in your chassis. Ideally, since the back I/O port only has one FireWire and six USB to begin with, and lots of free room, there is absolutely no excuse for not being able to locate them there and omit the need for this add-on entirely.
Take note of the very thin cables (or wires) in the bottom center, as they're easily one of the most unique features of this board. We'll talk about them briefly on our overclocking page.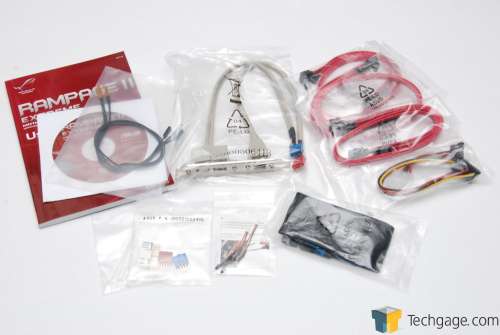 With the look at the board out of the way, we can move into a look at the BIOS. You might soon be saying, "What didn't they include?", so let's take a look.
Checking Out the BIOS
As I mentioned on the front page of this article, ASUS has long been known as a company to create motherboards that cater to the overclocker, and their BIOS' have proved it. Not only do they allow extremely high voltages to be accessed, but they offer far more tweaking-related options than most people care to see. That's a good thing, though, as it essentially caters to everyone.
The BIOS on the Rampage II Extreme is no different. The first time I booted up, there were a few instances where I laughed out loud, because some of the options are so overclocker-specific, that it's actually humorous
For example, there's one option that actually allows you to quickly disable all of the boards peripherals, such as a network port, USB ports, FireWire, etcetera, in order to maximize your overclock. But get this. It actually leaves one LAN port enabled for the sole purpose of allowing you to upload a score if need be. It's as though overclockers actually had a part to play in the development of this board.
Upon first entering the BIOS, you'll be greeted with the overclocking section right away, which is something we've come to expect with their enthusiast boards. The very first option is interesting, though, as it allows quick access to either a 3.60GHz or 4.00GHz overclock. It will simply adjust the Base Clock and QPI voltage accordingly, but in my tests, neither was stable enough without making further adjustments.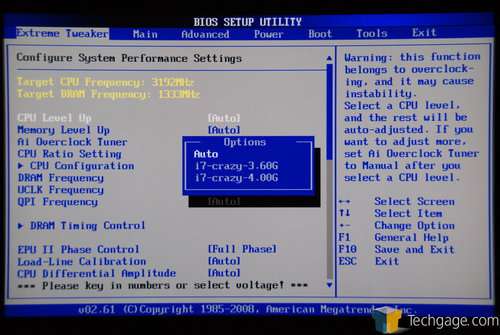 There's a few interesting additions that become immediately noticeable. At the top of this page, you'll see the projected CPU and memory speed, once you reboot. If you increase the Base Clock or any other figure that will adjust either the CPU or memory frequencies, this number will increase. This takes out the hassle of digging out a calculator for the more complicated equations.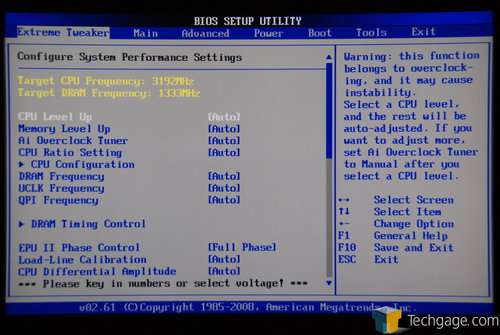 That's not all, though. Moving down the page we can see instant reports on both the voltages and temperatures, to let you know where things stand with the settings used at the last reboot. This gives you an extremely easy way to make sure that the voltage you are pushing through is accurate, and also let's you know whether or not the CPU has a high idle temperature or not.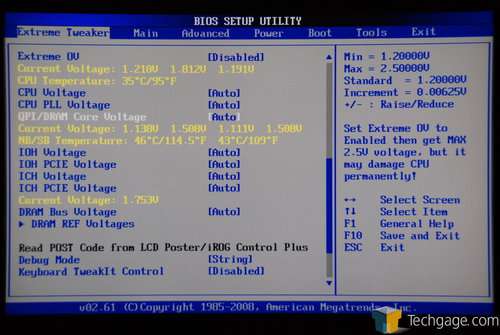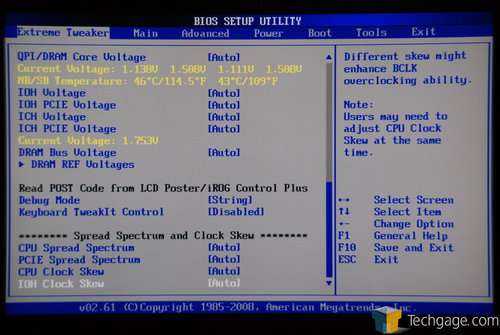 Overall, those features alone make overclocking a lot more fun, because it saves the need to have to check out the PC health page, which is tedious if you have to refer there often. So, how about some voltage-ranges?
CPU: 0.85V – 2.50V (0.00625V Increments)
CPU PLL: 1.81592V – 3.08792V (0.01325V Increments)
QPI/DRAM: 1.20V – 2.50V (0.00625V Increments)
IOH: 1.11341V – 2.19991V (0.01325V Increments)
IOH PCIE: 1.51106V – 2.78306V (0.01325V Increments)
ICH: 1.11341V – 2.00116V (0.01325V Increments)
ICH PCIE: 1.51106V – 2.05431V (0.01325V Increments)
DRAM Bus: 1.51106V – 3.00831V (0.01325V Increments)
As usual, I'll let the remaining shots speak for themselves.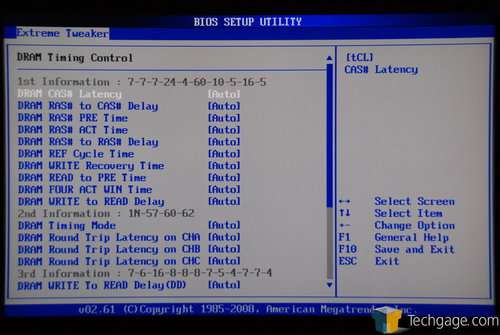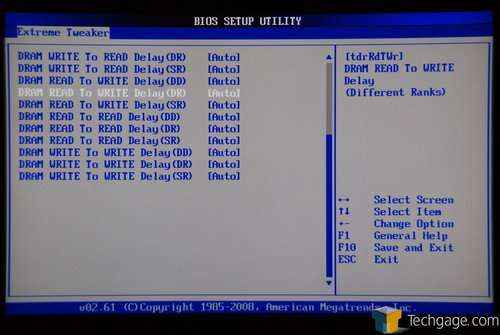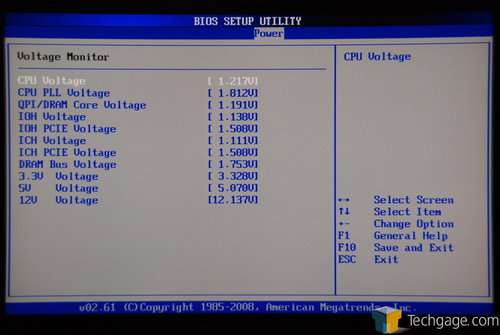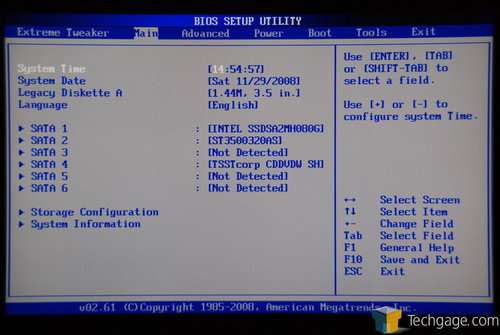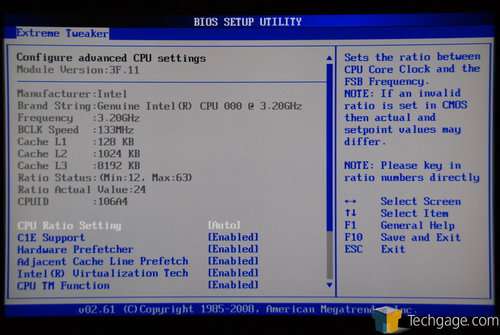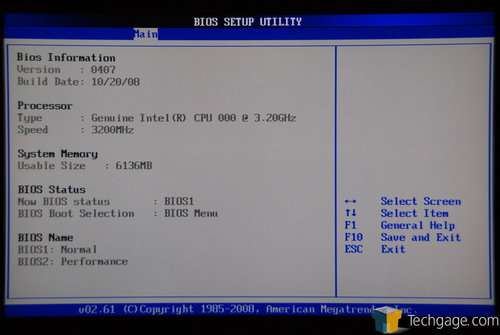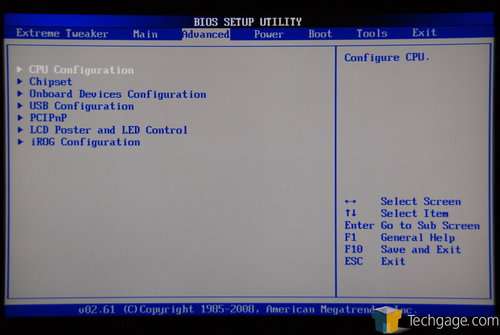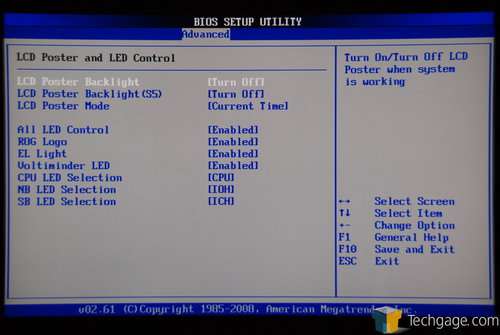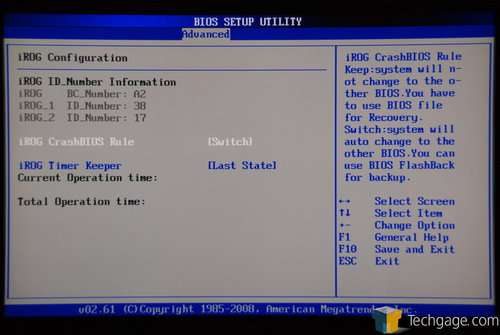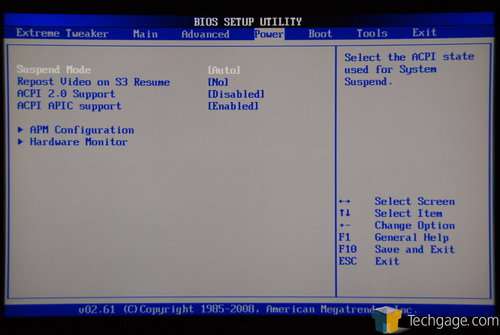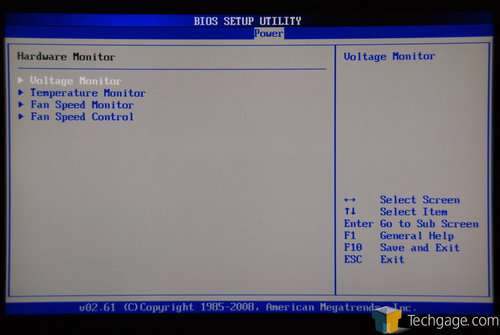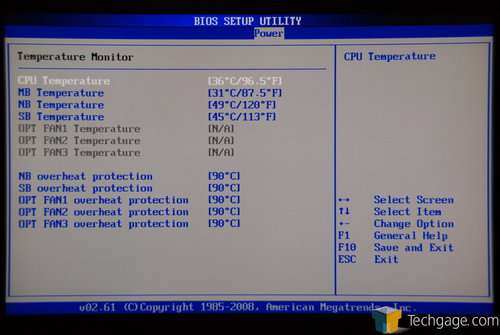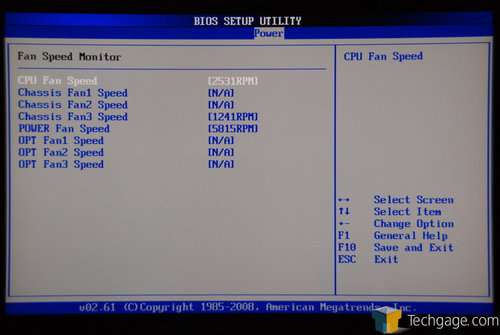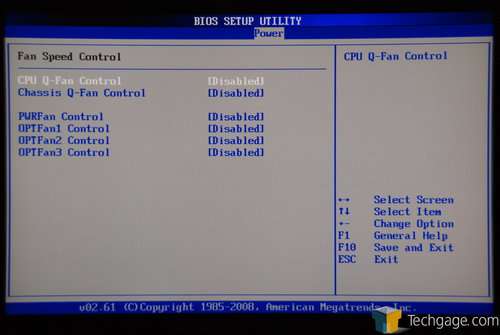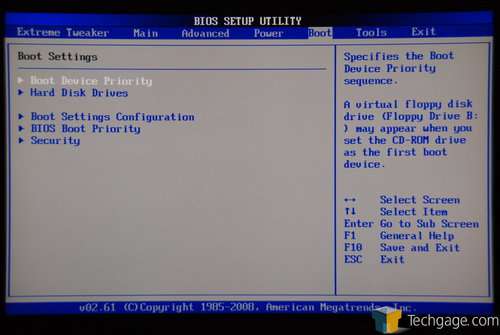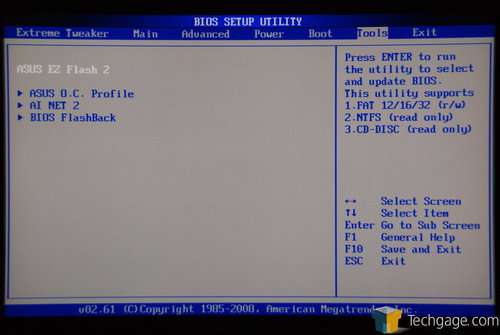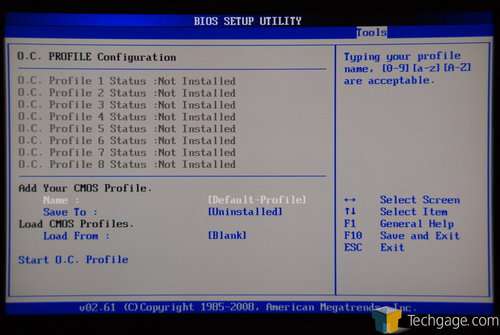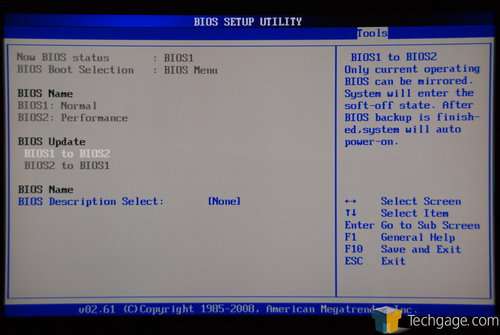 Exhausted? Don't worry, the review speeds up from here on out! Next up is our testing methodology, and then we'll jump straight into testing.
Test System & Methodology
At Techgage, we strive to make sure our results are as accurate as possible. Our testing is rigorous and time-consuming, but we feel the effort is worth it. In an attempt to leave no question unanswered, this page contains not only our testbed specifications, but also a fully-detailed look at how we conduct our testing.
If there is a bit of information that we've omitted, or you wish to offer thoughts or suggest changes, please feel free to shoot us an e-mail or post in our forums.
Test System
The table below lists our machine's hardware, which remains unchanged throughout all testing, with the exception of the motherboard. Each board used for the sake of comparison is also listed here, along with the BIOS version used. In addition, each one of the URLs in this table can be clicked to view the respective review of that product, or if a review doesn't exist, you will be led to the product on the manufacturer's website.
When preparing our testbeds for any type of performance testing, we follow these guidelines:
General Guidelines
No power-saving options are enabled in the motherboard's BIOS.
Internet is disabled.
No Virus Scanner or Firewall is installed.
The OS is kept clean; no scrap files are left in between runs.
Hard drives affected are defragged with Diskeeper 2008 prior to a fresh benchmarking run.
Machine has proper airflow and the room temperature is 80°F (27°C) or less.
Windows Vista Optimizations
User Account Control (UAC) and screen saver are disabled.
Windows Defender, Firewall, Security Center, Search, Sidebar and Updates are disabled.
To aide with the goal of keeping accurate and repeatable results, we alter certain services in Windows Vista from starting up at boot. This is due to the fact that these services have the tendency to start up in the background without notice, potentially causing slightly inaccurate results. Disabling "Windows Search" turns off the OS' indexing which can at times utilize the hard drive and memory more than we'd like.
Application Benchmarks
When benchmarking a graphics card or processor, performance is expected to scale in a certain manner, but that's not the case with motherboards. Since motherboards tend to only be as fast as the hardware installed on them, we don't run an exhaustive collection of benchmarks for the sake of avoiding redundancy. For the most part, one motherboard with an equal chipset to another should offer close to equal performance.
Our primary goal with motherboard-related benchmarking is to see if one motherboard is lacking in a certain area when compared to the rest. These discrepancies, if they exist, are usually caused by lackluster components on the board itself, which is why higher-end motherboards tend to see slightly better results than the more budget-oriented offerings.
To properly test the performance of a motherboard, we run a small collection of system-specific tools, such as SYSmark 2007, Sandra and HD Tune Pro. We then run real-world benchmarks using popular multi-media applications, such as Adobe Lightroom. To see how a board stacks up in the gaming arena, we benchmark using both Call of Duty: World at War and Half-Life 2: Episode Two.
We strongly feel that there is such thing as too many benchmarks when it comes to a motherboard review, so we keep things light, while still being able to offer definitive performance data.
Game Benchmarks
In an attempt to offer "real-world" results, we do not utilize timedemos in any of our reviews. Each game in our test suite is benchmarked manually, with the minimum and average frames-per-second (FPS) captured with the help of FRAPS 2.9.6.
To deliver the best overall results, each title we use is exhaustively explored in order to find the best possible level in terms of intensiveness and replayability. Once a level is chosen, we play through repeatedly to find the best possible route and then in our official benchmarking, we stick to that route as close as possible. Since we are not robots and the game can throw in minor twists with each run, no run can be identical to the pixel.
Each game and setting combination is tested twice, and if there is a discrepancy between the initial results, the testing is repeated until we see results we are confident with.
The two games we currently use for our motherboard reviews are listed below, with direct screenshots of the game's setting screens and explanations of why we chose what we did.
Call of Duty: World at War
The Call of Duty series of war-shooters are without question some of the most gorgeous on the PC (and consoles), but what's great is the fact that the games are also highly optimized, so no one has to max out their machine's specs in order to play it. Since that's the case, the in-game options are maxed out in all regards.
Half-Life 2: Episode Two
It might have been four-years-ago that we were able to play the first installment of the Half-Life 2 series, but it's held up well with its new releases and engine upgrades. This is one title that thrives on both a fast CPU and GPU, and though it's demanding at times, most any recent computer should be able to play the game with close to maxed-out detail settings, aside from the Anti-Aliasing.
In the case of very-recent mid-range cards, the game will run fine all the way up to 2560×1600 with maxed-out detail, minus Anti-Aliasing. All of our tested resolutions use identical settings, with 4xAA and 8xAF.
SYSmark 2007 Preview
Synthetic benchmarks have typically been favored for performance testing, but the results they provide can be fairly abstract, and the methods they use to assign their scores can be dubious at times. By contrast, real-world application benchmarks provide performance metrics that apply directly to real-world usage, and we endeavor to apply both in our performance comparisons.
SYSmark 2007 Preview from BAPCo is a special case, because its synthetic scores are derived from tests in real-world applications. However, we still believe that synthetic benchmarking scores are best used to directly compare the performance of one piece of hardware to another, and not for developing an impression of real-world performance expectations. SYSmark is more useful than most synthetic benchmarking programs in our opinion, because its tests emulate tasks that people actually perform, in actual software programs that they are likely to use.
The benchmark is hands-free, using scripts to execute all of the real-world scenarios identically, such as video editing in Sony Vegas and image manipulation in Adobe Photoshop. At the conclusion of the suite of tests, five scores are delivered: an E-learning score, a Video Creation score, a Productivity score, and a 3D Performance score, as well as an aggregated 'Overall' score. These scores can still be fairly abstract, and are most useful for direct comparisons between test systems.
A quick note on methodology: SYSmark 2007 requires a clean install of Windows Vista 32-bit to run optimally. Before any testing is conducted, the hard drive is first wiped clean, and then a fresh Windows installation is conducted, then lastly, the necessary hardware drivers are installed. The 'Three Iterations' test suite is run, with the 'Conditioning Run' setting enabled. Then the results from the three runs are averaged and rounded up or down to the next whole number.
The results here so far are great, although I think the benchmark was a little generous to the Rampage II Extreme for some reason. This is one benchmark that fluctuates more than we'd like (given the workloads, it's understandable), so overall, the main interest we have is to see if one board underperforms compared to the rest. That's definitely not the case here.
Multi-Media: TMPGEnc Xpress, Adobe Lightroom, 3ds Max
When it comes to video transcoding, one of the best offerings on the market is TMPGEnc Xpress. Although a bit pricey, the software offers an incredible amount of flexibility and customization, not to mention superb format support. From the get go, you can output to DivX, DVD, Video-CD, Super Video-CD, HDV, QuickTime, MPEG, and more. It even goes as far as to include support for Blu-ray video!
There are a few reasons why we choose to use TMPGEnc for our tests. The first relates to the reasons laid out above. The sheer ease of use and flexibility is appreciated. Beyond that, the application does us a huge favor by tracking the encoding time, so that we can actually look away while an encode is taking place and not be afraid that we'll miss the final encoding time. Believe it or not, not all transcoding applications work like this.
For our test, we take a 0.99GB high-quality DivX H.264 AVI video of Half-Life 2: Episode Two gameplay with stereo audio and transcode it to the same resolution of 720p (1280×720), but lower the bitrate in order to attain a modest filesize. Since the QX9770 we are using for testing supports the SSE4 instruction set, we enable it in the DivX control panel, which improves both the encoding time and quality.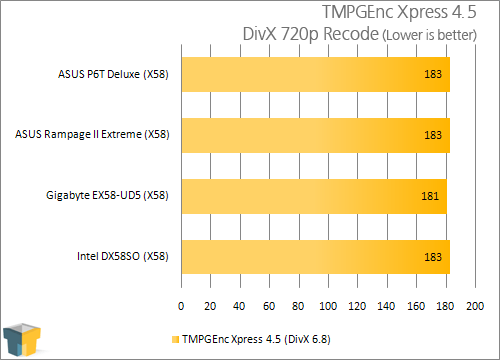 Adobe Lightroom 2
Photo manipulation benchmarks are more relevant than ever, given the proliferation of high-end digital photography hardware. For this benchmark, we test the system's handling of RAW photo data using Adobe Lightroom, an excellent RAW photo editor and organizer that's easy to use and looks fantastic.
For our testing, we take 100 RAW files (in Nikon's .NEF file format) which have a 10-megapixel resolution, and export them as JPEG files in 1000×669 resolution, similar to most of the photos we use here on the website. Such a result could also be easily distributed online or saved as a low-resolution backup. This test involves not only scaling of the image itself, but encoding in a different image format. The test is timed indirectly using a stopwatch, and times are accurate to within +/- 0.25 seconds.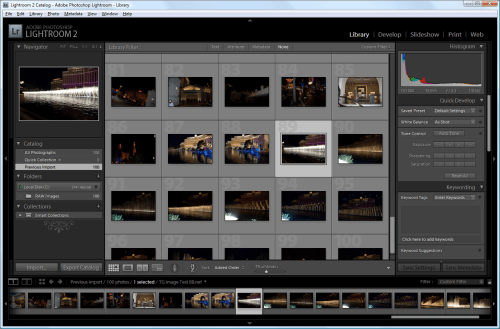 Autodesk 3ds Max 2009
Autodesk's 3ds Max is without question an industry standard when it comes to 3D modeling and animation, with DreamWorks, BioWare and Blizzard Entertainment being a few of its notable users. It's a multi-threaded application that's designed to be right at home on multi-core and multi-processor workstations or render farms, so it easily tasks even the biggest system we can currently throw at it.
For our testing, we use two project files that are designed to last long enough to find any weakness in our setup and also allows us to find a result that's easily comparable between both motherboards and processors. The first project is a dog model included on recent 3ds Max DVD's, which we infused with some Techgage flavor.
Our second project is a Bathroom scene that makes heavy use of ray tracing. Like the dog model, this one is also included with the application's sample files DVD. The dog is rendered at a 1400×1050 resolution, while the Bathroom is rendered as 1080p (1920×1080).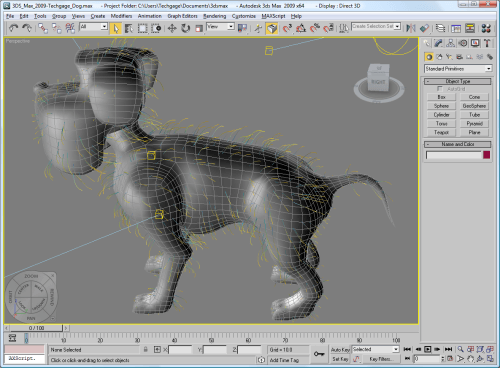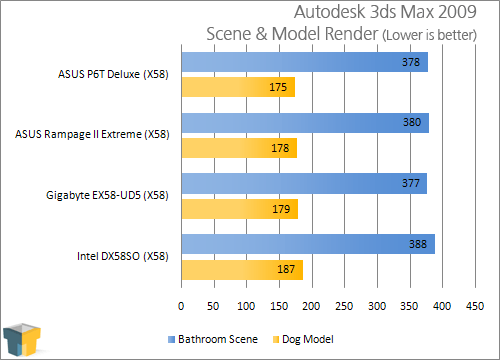 The differences as usual are exceptionally minor… a good thing. Ironically, the P6T Deluxe performed better overall than the RIIE, but like most benchmarks, running them a hundred times over still wouldn't result in an absolutely definitive result.
System: HD Tune Pro, SiSoftware Sandra 2009
While application performance shouldn't vary much between motherboards, one area where we can see greater differences is with synthetic benchmarks – at least with those that test both the storage and memory bandwidth/latency. Even still, if differences are seen, you are very unlikely to notice the difference in real-world usage, unless the performance hit is significant, which we've not found on any board we've tested in the past.
To test the storage I/O, we use a tool that we've been using for a number of years, HD Tune. The developer released a "Pro" version not long ago, so that's what we are using for all of our storage-related benchmarking. The drive being tested is a secondary, installed into the first available Slave port, and is not the drive with the OS installed. To avoid potential latency, the drive is tested once Vista is idle for at least five minutes, and CPU usage remains stable at >1%.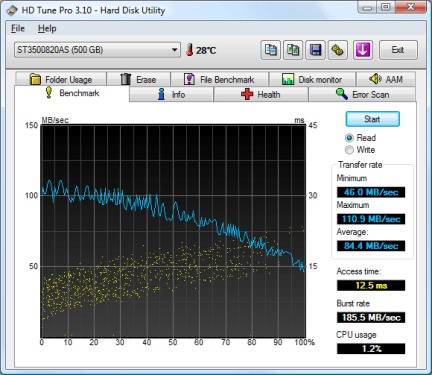 It's safe to say that for the most part, differences seen in I/O tests is minimal, as this graph shows. All winners and no losers, which is what we'd hope to see.
SiSoftware Sandra 2009
Yet another classic tool from our toolbox, SiSoftware's Sandra is one of the ultimate benchmarking sidekicks around, allowing us to test almost every-single component in our PC, from CPU to GPU to memory to storage. In the case of our motherboard reviews, we stick with the memory bandwidth and latency tests, since its an area where some differences could very-well be seen.
As mentioned above, the results here don't represent real-world performance, and if one motherboard sees the memory 4ns slower, the chances of you noticing the hit in real usage is highly unlikely, if not impossible. If any scenario would be effected, it would be processes that last the course of a few hours, not a few minutes.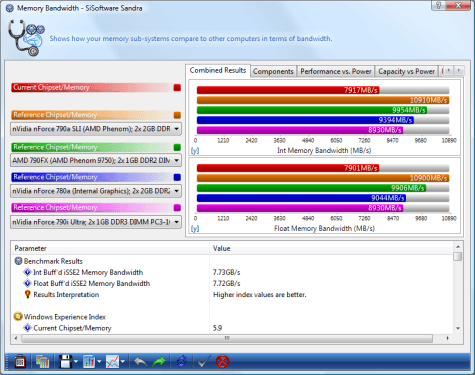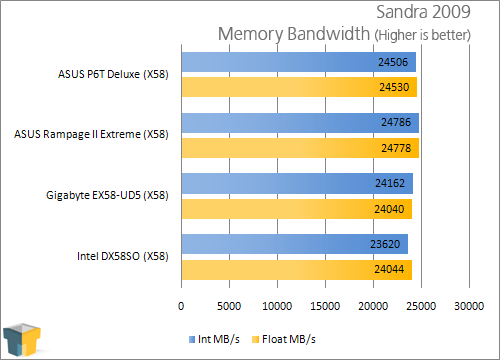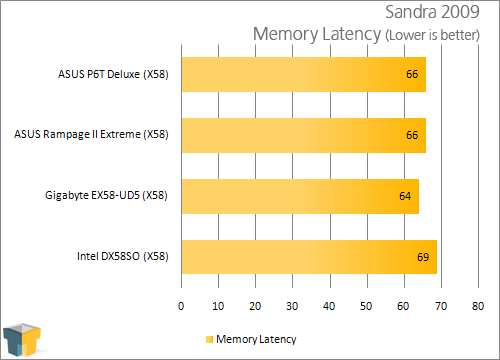 Once again, minor differences here, although the RIIE does manage to excel in the bandwidth test. It falls a bit short compared to the EX58-UD5 from Gigabyte where latency is concerned though.
Gaming: Call of Duty: World at War, Half-Life 2: Episode Two
While some popular game franchises are struggling to keep themselves healthy, Call of Duty doesn't have much to worry about. This is Treyarch's third go at a game in the series, and a first for one that's featured on the PC. All worries leading up to this title were all for naught, though, as Treyarch delivered on all promises.
To help keep things fresh, CoD: World at War focuses on battles not exhaustively explored in previous WWII-inspired games. These include battles which take place in the Pacific region, Russia and Berlin, and variety is definitely something this game pulls off well, so it's unlikely you'll be off your toes until the end of the game.
For our testing, we use a level called "Relentless", as it's easily one of the most intensive levels in the game. It features tanks, a large forest environment and even a few explosions. This level depicts the Battle of Peleliu, where American soldiers advance to capture an airstrip from the Japanese. It's a level that's both exciting to play and one that can bring even high-end systems to their knees.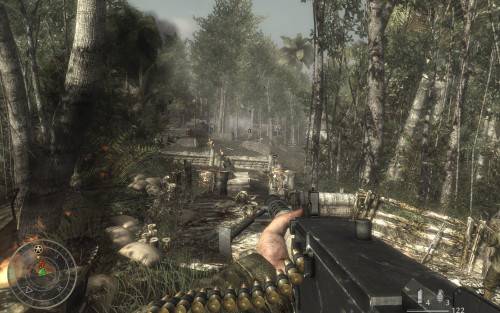 Half-Life 2: Episode Two
The original Half-Life 2 might have first seen the light of day close to four years ago, but it's still arguably one of the greatest-looking games ever seen on the PC. Follow-up versions, including Episode One and Episode Two, do well to put the Source Engine upgrades to full use. While playing, it's hard to believe that the game is based on a four+ year old engine, but it still looks great and runs well on almost any GPU purchased over the past few years.
Like Call of Duty, Half-Life 2: Episode Two runs well on modest hardware, but a recent mid-range graphics card is recommended if you wish to play at higher than 1680×1050 or would like to top out the available options, including anti-aliasing and very high texture settings.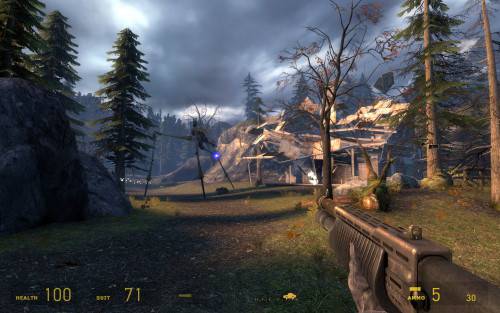 As we'd expect, no motherboard is really going to improve gaming a great deal, but for what it's worth, the ASUS' board came out on top here overall. But like most of our benchmarks here, the differences are minimal and are unlikely to be noticeable in real-world gameplay.
Overclocking the ASUS Rampage II Extreme
Before tackling our overclocking results, let's first clear up what we consider to be a real overclock and how we go about achieving it. If you regularly read our processor reviews, you may already be aware that I personally don't care for an unstable overclock. It might look good on paper, but if it's not stable, then it won't be used. Very few people purchase a new piece of equipment for the sole purpose of finding the maximum overclock, which is why we focus on finding what's stable and usable.
To help find the maximum stable overclock on any given motherboard, we focus on sticking to the simpler voltages, such as the ones for the Northbridge and CPU, and also the DIMM if it's required. We try to work within safe limits, because anything too high is going to only kill your hardware faster. Luckily, all computer components nowadays are designed to handle some abuse, so you never need a lot of voltage to get anywhere.
With Core i7, more factors can come into play with overclocking, but we focus on increasing the Base Clock first and foremost, just like we focus on the Front-Side Bus on Core 2 motherboards. Our goal is to keep voltages are low as possible while reaching the highest stable overclock. Areas where we will increase voltage if needed is the CPU, Northbridge and QPI.
Overclocking ASUS' Rampage II Extreme
When reviewing a new motherboard, there's usually few surprises lurking under the covers, but the Rampage II Extreme gave the opposite experience. There is so much of interest on this board overclocking-wise, that I had to spend more time with it than I do with most boards. I'll also pre-face this by saying that I'm in no way a professional overclocker, so any results I have here are going to be similar to what the layman could pull off. In that regard, I'm really under-selling what this board can do or handle.
On the first page, we talked briefly about the overclocking-related buttons and switches found at the right side of the board, and we'll touch on them here in more detail. These buttons are self-explanatory for the most part, but the middle knob will allow you to take advantage of the TweakIt feature and switch between overclocking profiles while in Windows. It's a feature that will likely see limited use, but it's interesting nonetheless.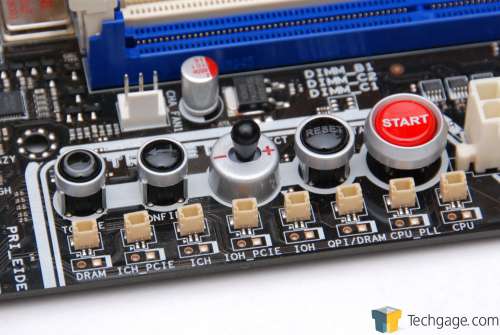 It's the small beige connectors below the buttons that are arguably of most interest, though. At first, I thought these might have been some elaborate LED, but that's not the case. Rather, ASUS includes two small cables (for the lack of a better word) that can be plugged into any one of these. On the other end of the small wires are points that can be attached to the end of your multi-meter. What this allows is real-time (and more accurate) readouts of the current voltage information.
Below each one of these is the label for the corresponding component. If you want to get a reading for the CPU voltage, for example, you'd connect the cable to the top-most port, and for DRAM, you'd use the bottom. It goes without saying that this feature will be for enthusiast overclockers only, but it's an appreciated one. It rids the need to find the proper connect points on the board, and allows you to leave your soldering gun in your toolbox.
I tested the feature out, and overall I'm really impressed. Each figure I captured proved to be slightly higher in the real-world. The BIOS figures would undersell the voltage by a very small margin, but that's nothing surprising. In the photo below, I was connected to the DRAM port, and while the BIOS reported 1.747V, the multi-meter reported a slightly higher 1.765V.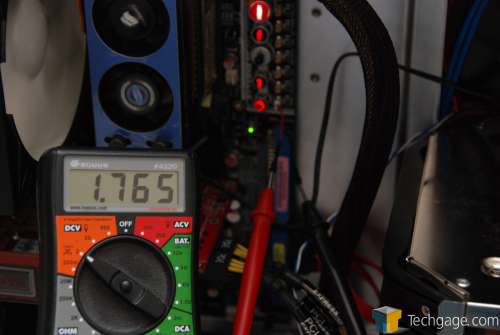 Again, this is a very limited-use feature, but it's one I'm definitely pleased to see included. When performing extreme overclocks, it's not unlike the BIOS to report slightly skewed voltage readouts, so this addition is going to be appreciated by anyone who takes overclocking very seriously.
That feature isn't the only thing of interest here, however, as this became the first board (out of the four total) that has been able to hit a stable 200MHz Base Clock. The Rampage II Extreme didn't stop there though, as we managed to push it to 210MHz and still retain full stability.
This overclock required an increase of voltage on the QPI/DRAM Core Voltage to 1.55V (stock is 1.2V), which is considered to be a "moderate" setting. Things get sketchy at 1.6625V, where the BIOS highlights the figure to red, to let us know that we're entering a dangerous area. Overall though, 210MHz is a very impressive overclock, and beats the previous champion, the Gigabyte EX58-UD5, by an additional 20MHz.
I should note that for the most part, having such a high Base Clock means little, as it's simply not needed. Like FSB, increasing the Base Clock (and Uncore and QPI clocks) will make very little, if any, difference in overall performance. What a higher BCLK does mean, though, is that locked processors will have a chance at a higher overclock. But even then, 200+ is going to have extremely limited use.
The math can tell all. Even with a Base Clock of 180MHz, which three of our boards was able to hit with ease, a 3.6GHz overclock on the i7 920 would be possible. That of course assumes that your i7 920 would even be capable of that overclock (ours happens to be 100% stable at that frequency). But beyond that, the chances of a stable overclock get dim, very quickly. Having a 190MHz BCLK would allow a 3.8GHz overclock, and it's at that point that I feel you'll experience diminishing returns.
That all aside, this board will have no problem hitting extreme clocks, so it's completely up to your processor to handle the stress of whatever clock speed you're hoping for. We haven't been able to achieve 4.0GHz stable on any of our chips here due to temperatures (100°C is hit rather easily on air, with the help of our higher-than-normal ambient temperatures), but I have little doubt that it can be achieved on at least the i7 Extreme 965.
Power Consumption, Final Thoughts
It goes without saying that power efficiency is at the forefront of many consumers' minds today, and for good reason. Whether you are trying to save money or the environment – or both – it's good to know just how much effort certain vendors are putting into their products to help them excel in this area. ASUS and Gigabyte are two that immediately come to mind that have put a lot of R&D into this, and I'm sure with their leadership, power consumption will consistently get better.
To help see what kind of wattage a given motherboard eats on average, we use a Kill-A-Watt that's plugged into a power bar that's in turn plugged into one of the wall sockets, with the test system plugged directly into that. The monitor and other components are plugged into the other socket and is not connected to the Kill-A-Watt. For our system specifications, please refer to our methodology page.
To test, the computer is first boot up and left to sit at idle for five minutes, at which point the current wattage is recorded if stable. To test for full CPU load, eight instances of SP2004 are run using the Small FFT test, one for each thread. For our last test, four of those instances are closed while an "Extreme" run of 3DMark Vantage is performed, which would mimic usage of a game that makes heavy use of the CPU.
I assumed that with the extra on-board LEDs, the overall power draw would be increased, but that wasn't really the case, except at idle. At full load, the board was quite comparable to the P6T Deluxe.
Final Thoughts
With a board as robust as this, it's difficult to find an opener for the conclusion. The Rampage II Extreme is easily one of the most incredible boards we've come across. Its feature-set is huge, and its overclocking-ability even greater. That's not to say the boards without faults though, and we'll touch on all of those here.
First, the good. This board was designed for overclockers. It's not a mainstream board with overclocking features tacked on. Rather, it feels like a board that was built from the ground-up with overclocking in mind, which is something that will be appreciated by anyone who takes overclocking seriously.
In the BIOS alone, we have the addition of the quick-report voltages and temperatures, which in itself is a feature I would love to see on every motherboard, as it's beyond helpful. Then we have the sheer amount of overclocking-related options at your disposal… including the one that disables most of the on-board peripherals in order to help you achieve a huge overclock.
ASUS then took things further with their TweakIt and overclocking profiles feature. Then we of course have the ports available underneath the overclocking buttons on the board that allow easy-access to voltage readings. Overall, the way that this board caters to overclockers is impressive, and I really do have to ask, "what have they left out?".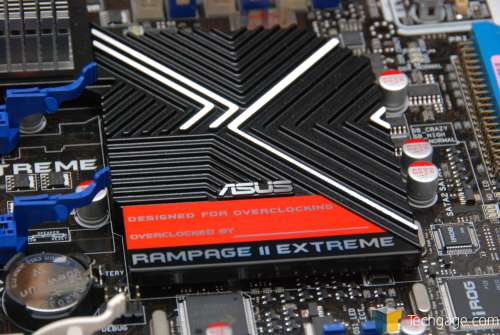 From a design standpoint, the board is great, with more than enough fan connectors and easy accessibility to the 8-pin and 24-pin motherboard connectors. Past that though, I do feel that the slot arrangement should have had some greater consideration. As I mentioned on the first page, if you choose to use a 3-way GPU configuration, you'll essentially wipe out all of your available ports. Dual-GPU is a bit better, but you still are left with only a single PCI-E 16x port, which can be used for anything PCI-E, regardless of the slot it's designed for.
The 3-way configuration isn't a huge problem, but dual-GPU configurations will not be that uncommon on this motherboard, which is why the issue is a little troubling. The top PCI-E 1x port is, for the most part, dedicated to the included audio card, given it's lack of allowance for a longer card, which means the only port available to you will be the bottom PCI-E 16x. That could be used for a better audio card, WiFi or a RAID card… it's really up to you. It would have been nice to see at least seven ports, though, since some other X58 boards are able to support that many.
Then we come to an overall lack of connectivity options. I'll first say that most people will not use an abundance of USB or S-ATA ports, but it's nice to see such a large collection available on a $400 motherboard, which we don't see here. Gigabyte's EX58-UD5, which we took a look at last week, for example, has eight USB on the back I/O and ten S-ATA. Compare that to the Rampage II Extreme which includes six USB on the back and six S-ATA. If Gigabyte can fit all those on a $300 board, what's the excuse to not see that many on a $400 board?
One problem I see is that even though the back I/O port on this board seems to support room for more ports like this, ASUS included a bracket that can be installed to an available slot to open up two more USB and one additional FireWire. These clearly should have been available on the back I/O port area anyway. You shouldn't have to resort to an add-in like this, especially since when a dual-GPU configuration is used, your port space is limited as is.
It might sound like I'm complaining over very minor things, and for the most part, I am. These are still things that should be mentioned, though, because for a $400 motherboard, you wouldn't expect such "issues". Luckily for ASUS, the motherboard still proves to be one of the most incredible available right now, and that in itself is noteworthy. The board offers overclockers an amazing experience, the performance is top-rate and the feature-set overall is just as you'd expect. If you have this board, it's very unlikely you will be disappointed, as long as you take note of our complaints here.
The bottom line? This board is fantastic, but it's up to you to decide whether or not it's worth your $400.
Pros
Fantastic performance.
Overclocking features are amazing.
BIOS is as robust and easy-to-use. Addition of quick temperature and voltage readings is appreciated.
Board layout is good overall, many fan connectors to take advantage of.
Cons
3-way GPU will clear out all other slots, 2-way will leave one PCI-E 16x free.
Would expect to see more USB and S-ATA on an expensive motherboard.
$400 price (Unless you take advantage of overclocking, this is not worth it).
Discuss this article in our forums!
Have a comment you wish to make on this article? Recommendations? Criticism? Feel free to head over to our related thread and put your words to our virtual paper! There is no requirement to register in order to respond to these threads, but it sure doesn't hurt!
Copyright © 2005-2020 Techgage Networks Inc. - All Rights Reserved.