Brace Yourselves: An Onslaught of ASUS Z87 Motherboards is Coming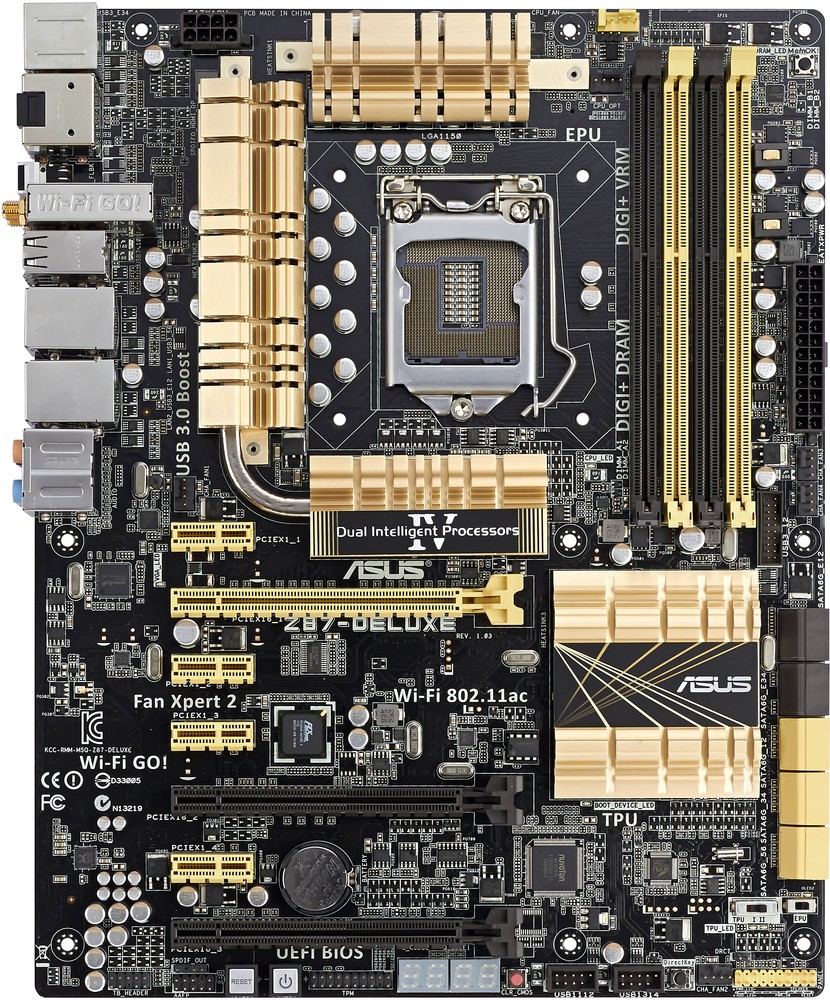 Date: May 16, 2013
Author(s): Rob Williams

Ahh, the smell of fresh chipset wafts through the air. Isn't it great? And that means just one thing: more motherboards than we're able to count. As always, ASUS aims to be at the forefront of choice and innovation with its Z87 line-up, so to help you judge its success for yourself, let's take a brief look at 11 models from its upcoming lineup.
---
Introduction
Whenever a new CPU architecture hits the block, one thing's certain: it's going to result in a massive collection of motherboards from a variety of vendors. Where ASUS is concerned, it'll have at least 12 boards available at launch, and we're sure that number will grow during Haswell's lifespan.
This time around, we see a significant color scheme change to ASUS' mainstream motherboards, a brand-new model called GRYPHON, and the expected evolution of its SABERTOOTH and Republic of Gamers series.
We're going to be taking a brief look at all of ASUS' boards that will launch alongside Haswell, but first, let's tackle the simplest change of them all: the color scheme of the mainstream (as in, not gamer or enthusiast-oriented) line-up.
For quite a while, ASUS' mainstream line-up (DELUXE, PRO, WS, et cetera) featured a blue accented color scheme, and overall, it looked quite nice. But with this launch, ASUS wanted the color scheme to mean something. With the company believing that its motherboards are the "gold standard", was there any other appropriate color to use but gold? Behold, the DELUXE model:
Straight from the horse's mouth: "ASUS-branded motherboards keep evolving and always offer the gold standard in quality, performance, and durability. The new gold color scheme symbolizes this and our insistence on delivering the highest level of innovation and reliability. ASUS motherboards are fully-featured and provide an attractive visual style for a great system building experience."
I've long thought that red-accented motherboards (like ASUS' RoG series) looked best inside of a black chassis, but this gold scheme is beginning to grow on me. While a color is just a color, this color choice does help the board's quality to shine through.
I'm not sure if it's sad or not, but I admit the first thing that jumped out at me about the DELUXE board wasn't its color scheme, but those little words in between the PCIe x16 slots: "Wi-Fi 802.11ac". With ac wireless not even a standard yet, it's nice to see that ASUS wasted no time in implementing it on this model (and likely others). You can get a glimpse at the included wireless adapter here.
The next board might be one of the most interesting from ASUS' latest line-up as it's a brand-new entrant to the company's TUF series (The Ultimate Force) to sit alongside SABERTOOTH. Unlike the SABERTOOTH, it comes in a micro-ATX form-factor, enabling those who want to build smaller PCs the ability to choose a board that promises to last.
GRYPHON shares a couple of things with the SABERTOOTH, such as the use of high-quality components, which includes Japan-made 10K Black Metallic capacitors (most of ASUS' motherboards use 5K). Also featured here is the Armor kit (sold as an accessory), improving the thermal properties across the board and also helping to reduce dust intake.
I've always been a fan of ASUS' SABERTOOTH series, so I'm rather pleased to see it extend into the mATX form-factor. Overall, the board looks excellent, both in form and function.
Speaking of the SABERTOOTH, here's the Z87 iteration. ASUS' press bundle only included a shot with the armor on, so apologies to those who would have preferred to see the underbelly. From this vantage-point, little looks to have changed over the last generation, but given the way ASUS operates, we're sure there are new features hidden underneath worth exploring later.
Next up, a trio of Republic of Gamers Maximus VI boards; HERO, the standard gamers' choice; EXTREME, the hardcore gamers' or overclocker's choice; and GENE, the always-attractive mATX offering. Go ahead, lust:
Wait – "HERO"? That's right, a brand-new entry into the RoG line-up. ASUS targets this board at gamers who want to experience what RoG offers, but at a more approachable price-point. HERO and GENE both include SupremeFX audio that ASUS claims rivals discrete cards both in power and clarity, and Sonic Radar on-screen overlay – a solution that shows you the location of in-game sound sources to help boost your success in online matches. Now that's a feature I'm eager to give a go.
Exclusive to the GENE board, an mPCIe Combo II solution is offered that allows the expansion of wireless on one side and an mSATA port on the other for SSD caching. The location of this card is at the absolute top of the board, which allows you to keep your PCIe slots as free as possible so that CrossFire or SLI will never be a problem.
The EXTREME board aims to continue RoG's tradition of helping overclockers break world records. It includes OC Panel, a real-time console used for monitoring (can be used external or internal), which is useful during boot time or while a benchmark is running.
The last of ASUS' launch boards fall into its "mainstream" branding, just like the DELUXE. These boards all start with "Z87" in their product name, and what follows explains the market it targets. "WS" is for workstation, "PRO" (WiFi) and "PLUS" (includes legacy PCI slots) are for those looking for better-than-average solutions, and "C" and "A" for those looking for the most affordable solution possible while retaining the quality that will ensure a long, stable experience.
Unfortunately, the one board we don't have a picture of is of the Z87I-DELUXE, the mini-ITX model that continues ASUS' tradition of offering such an option for each generation.
Take a deep breath, and look on:
With ASUS' Z87 boards comes the fourth-generation Dual Intelligent Processors technology, consisting of the TPU and EPU (which we discussed at some length in our recent look at ASUS' P9X79 PRO). With this fourth-generation comes "4-way optimization technology", which includes four separate technologies that work in harmony: TPU, EPU, DIGI+ power control and Fan Xpert 2. Each one of these can be activated with the click of a mouse and it helps take the hassle out of fine-tuning your machine to your liking. Here's the kicker: there's an "Away mode" that kicks-in when users are away from the PC, allowing them to continue to download, stream content or backup data with minimal power draw. This is a feature we'll undoubtedly test during our evaluation of one of these boards.
For a look at 11 motherboards, this was rather quick, but make no mistake, there will be much more wordage to gobble-up after we're able to publish a review (and prior to that, actually test out a board and its features ;-)).
So, which one do you want?
Copyright © 2005-2021 Techgage Networks Inc. - All Rights Reserved.