Building an Affordable "Skulltrail" System

Date: February 20, 2008
Author(s): Rob Williams

Intel's new dual-socket enthusiast platform is in every sense impressive, but due to the price of the recommended CPUs, owning one is a dream for many. We're taking a look at a few ways to build your very own full-featured 8-core "Skulltrail" machine for a price that's a lot easier to manage.
---
Introduction
Earlier this month, we posted an in-depth look at the platform formally known as Skulltrail. It's now called "Intel Dual Socket Extreme Desktop Platform", which quite frankly, is a name that rolls right off the tongue. In case you missed it, "Skulltrail" is a platform, consisting of the Intel D5400XS workstation motherboard and two Intel Core 2 Extreme QX9775 processors, clocked at 3.2GHz. Paired together, an 8-Core beast is created. The term "High-End", at that point, might be an understatement.
Throughout that article, we came to multiple conclusions. The most obvious is that when you take the path Intel lays out and throw two QX9775 processors into the Skulltrail board, you essentially have the fastest desktop system money can buy. Of course, that's without taking overclocking into consideration, but from a "stock" standpoint, it doesn't get any better.
If you are not familiar with the "Skulltrail" platform as a whole or want to learn more, we encourage you to take a look at our preview in order to familiarize yourself with what the platform entails.
Until now, pricing for the individual components has been kept under wraps, although leaks from months past have given us all a general idea of what to expect. Now, Intel has made the platform official, while releasing pricing information at the same time.
Warning! Before reading further, we recommend having someone strap you to the chair you are in, remove any hot beverage from your hand and turn off any angry music that may be playing.
Each QX9775 Extreme Quad-Core processor, clocked at 3.2GHz, will be sold to retailers for $1,499 each. That means that the price to you will be slightly higher – possibly around the $1,650 mark. The D5400XS motherboard, which was rumored to be sold at $500 upon release, is actually a bit higher, at $649.
You are reading that right. To build the fastest desktop machine known to man, the motherboard and CPUs alone will set you back $4,000. Add in a chassis, two video cards, some hard drives, audio and some optical disc drives, and you have a system valued at close to $6,000.
Burn your lap? See, we told you to put the drink down.
Is There Such Thing As Budget "Skulltrail"?
The answer to that question will vary depending on your interpretation of the word "budget". Our considerations will still be more expensive than most custom-built PCs, but that comes with the territory of an 8-Core rig, and is not helped at all by the high price of the motherboard. Compare the BMW 328i to the BMW M3. The former is better overall in quality when compared to a regular car, but is still affordable for most people. The M3 on the other hand, delivers power that only few will fully tap into, and also happens to come with a premium price.
When I decided to look into building a budget Skulltrail rig, I had a goal set in mind to make sure the tower did not cost more than $2,500… and even that was a tight goal considering the D5400XS motherboard is responsible for $649 alone. One option would be to just use a regular server motherboard, but since they are not designed for enthusiast use, performance and the overall feature-set will be lacking, especially if you plan to get into overclocking.
I was up to the challenge. Could I build a $2,500 Skulltrail tower? The answer is on the next page, but we all know you are a poster child for having incredible patience, so you will finish this page first.
You might be asking, "I can use other processors in place of the QX9775?", and that would be correct. Because Skulltrail utilizes standard LGA771 sockets, all processors in that class are compatible… even the QX9775 equivalent, the Xeon X5482.
Because we are able to choose a standard Xeon instead of the QX9775, our options are far more reasonable, price-wise and selection-wise. For our test build, we chose to use two Xeon E5410s for example, clocked at 2.33GHz. While that's a rather sizable drop from the QX9775's 3.2GHz clock speed, these cost 80% less, making the purchase a lot easier to stomach. So instead of $3,300 for dual QX9775s, dual E5410s can be had instead for $600.
You might think I am bagging on the QX9775 for being so expensive, but in truth, I'm not. Premium products have always existed, and we've taken a look at a fair amount of Intel's premium products ourselves. Like anything, they have their place, and for those who want the best of what's out there, the QX9775 is a fantastic offering. But in reality, it's just not feasible for most people.
Let's make things easier to understand by comparing the QX9775 to our budget Xeon and other offerings:
Specification

Intel QX9775

Intel X5482

Intel E5450

Intel E5420

Intel E5410

Model

Clock Speed

FSB

L2 Cache

Multiplier

400 x 12
Unlocked


400 x 12
Unlocked


333 x 9
Locked


333 x 7.5
Locked


333 x 7
Locked


TDP

sSpec Number

Reseller Price
There are a few interesting things to note here. First is the fact that the Xeon equivalent to the QX9775 costs $1,279 – a full $220 less. Because of this, that processor may look attractive, but sadly, it's not that easy. The fact of the matter is, it's very difficult to find high-end Xeon's in stock anywhere, so a special order usually must be placed. The QX9775 on the other hand, is supposed to be readily available from numerous stores.
That's one thing you will find out about Xeon's in general. They are not stocked as well as desktop chips more often than not, partly due to the fact that there are so many models available. Current count shows 12 Quad-Core 45nm Xeon's alone, so it's near impossible for an e-tailer to keep good stock.
Oddly enough, if you have no intentions of going the high-end route, your choices are made so much easier since affordable Xeons are available from most popular e-tailers, including the E5410 we are taking a quick look at today.
With all of that said, it's time to take a look at building Skulltrail from a few different angles, including examining other required components… all while trying to keep the price well within reason. This will be fun.
Choosing the Right Components
For most people who visit Techgage, building a computer is one of the easiest things in the world. Though it's looked upon as being complicated by the novice, we all know that once you build your first machine, it becomes clear just how easy the process actually was.
Two of the most important decisions when building any new PC is picking out the chassis and PSU. For the most part, gamers care about having a chassis that looks good and represents their gamer style, while the PSU is chosen due to it's high wattage and ability to handle all of the components that are chucked in there.
That's where Skulltrail is a little different however. Such decisions need to be taken a little more carefully, and that's what we will tackle here today. On this page and the next, we will be taking a quick look at choosing the right components and leave nothing out. Hopefully by the end, you will better understand exactly what it is you need to build a great Skulltrail machine.
Processor
As mentioned on the last page, for our test-build we chose to use the Xeon E5410, and in truth, it was an easy decision. This 45nm processor offers all of what we love about the refined architecture, including 12MB of L2 cache, the SSE4 instruction set, a 1333FSB and a nice clock speed. But most importantly, the fact that this CPU retails for just under $300 was the deal-breaker. At that point, there is no real point in going lower (especially if overclocking is a goal) and going higher would bring us over our potential $2,500 goal.
For those who want a little boost without overclocking, however, the Xeon E5420, with 2.5GHz clock speeds, would also be a good choice. It retails for around $375 from many popular retailers.
One thing to take into consideration with any processor purchase is the overclocking-ability, which on our E5410 will prove somewhat difficult due to the 7x multiplier. The E5420 ups that multiplier to 7.5x, which should easily result in a 3.0GHz overclock. On the E5410, that goal didn't happen for us, however. For huge overclocks to be seen, there is little choice but to use the QX9775, which have been known to hit 4.0GHz with relative ease.
Chassis
Intel's Skulltrail board, the D5400XS, is of the eATX form-factor, meaning that most chassis' will not be up to the task of wrapping its aluminum frame around it. So when choosing a case, you need to make sure it fully supports eATX. These cases can also be called "Full Towers", and we've taken a look at numerous models in the past that are more than up to the task.
For our Skulltrail preview, I used the Thermaltake Armor chassis and it worked well. But I've since moved all the components into a SilverStone TJ10 and can already state that I'd recommend that case first. It's spacious, convenient and has a sleek look. It's fantastic. The problem, of course, is the price.
SilverStone's TJ10, for example, retails for $300 on average, while the Thermaltake Armor retails for a much more affordable $150. So even though the TJ10 is the preferred chassis in my books, it's hard to look away from the Armor. Since we are trying to build a budget system here, we need to go with what's practical.
Power Supply
Where Skulltrail is concerned, choosing the right chassis is simple. There are dozens of quality full towers that would perfectly suit the platform, so that decision overall is no problem. Power supplies are a different story however. But again, the decision here will ride on what you want from the system.
The D5400XS "requires" dual 8-Pin +12V motherboard connections for overclocking. I used quotes because I didn't test overclocking with a single connector and don't plan on it. So it's with that, that dual 8-Pin connectors are highly recommended if overclocking is in the cards. That makes our decision simple, right? Hardly! After a long search, I managed to find three such PSUs, and not one is "affordable."
The PSU I chose to use is SilverStone's DA1200, a 1200W offering that retails for $380. I'm no PSU guru and will never claim to be, but I was recommended this PSU by those who know, and am pleased to have it in our Skulltrail rig. The other PSU's available are both from PCP&C, the 1000W Turbo-Cool 1KW-SR and the 1200W T12W. The former is priced at $450, while the other is priced at $550. So in the end, where overclocking is concerned, SilverStone's offering is the logical choice.
If absolutely no overclocking is planned, then choosing a standard, but high-end, offering should suffice. It's very important to make sure your choice is a good one, however. Read up reviews where proper load-testers are used and make sure there is sufficient amperage. An example of one great supply is Antec's Quattro 1000W, which I have used for Skulltrail and had no problem. It does, however, have problem with certain NVIDIA 8800 cards, so I can't outright recommend it. It's too bad though, as it's a very stable supply.
Graphic Cards
This is where the fun begins. Because Intel includes an NVIDIA chipset on the D5400XS motherboard, it's SLI-ready right out of the box. This is something completely new for a non-NVIDIA board, so I applaud Intel for making it happen. For ATI fans, Crossfire support is of course supported as well.
So with the possibility of a single or dual-GPU rig (tri/quad GPU support not possible, and might not be in the future on this board), the options are fantastic. Given that our build will hover around the $2,500 mark, going with a low-end graphics card would be pointless. If you are contemplating a Skulltrail machine, chances are good that gaming is one of your plans.
There are so many choices here that would be great. SLI'ing two 8800GTs would offer fantastic performance, all for $480~, or bumping up to the even faster GTS 512 SLI would require another $100. Or how about the brand-new ATI HD 3870 X2? It retails for around $450 and offers two GPUs on a single card, allowing high resolutions on all your games, and AA to boot. Either choice would be a good one.
For the budget gamer who wants 8-Cores more than a smoking gaming machine, a single GPU would fare well… the great choice being the 8800GT. For $240, you can get the best mid-range card on the market, and still play most of your games at high resolutions – even 2560×1600 if you have a capable monitor. Personally, for the sake of building a truly awesome machine, my goal would be to include dual 8800GTs.
On the next page, I'll take care of other smaller installation considerations and then finally get into the sample machine configurations.
Choosing the Right Components Cont.
We just took care of our chassis, PSU, processor and graphic cards – what else is there? Luckily, not much, and what is left are products that can be chosen based off of personal preference… it will be hard to go wrong. Only you know what components can be included to build your perfect PC, so in the end, we are merely just offering suggestions.
Storage
As just mentioned, it's hard to make a wrong decision here. Pick up a DVD-RW drive and a nice hard drive and you are set. Right now, 500GB hard drives are the best choice overall due to their density, speed and price. One can be had for just over $100, so you could even afford two to use for RAID or just for extra storage space. It's a fantastic time to be buying storage, that's for sure.
Optical disc drives are also quite simple… pick one that you like. It's hard to go wrong here, as all brands I've dealt with have died equally fast. For those who want to use their PC for movie-watching, LG's Blu-ray/HD DVD dual-reader might be a good purchase as well, since it averages at just under $300.
Cooling
Cooling is another area that can be left up to you, because only you know what suits your style and will look good in your machine. However, whatever model you choose should be large and include a fan with variable speeds. In our Skulltrail rig, we chose to use two Zalman 9700 coolers, retailing for around $60 a piece. Though kind of expensive for a cooler, their performance on Skulltrail was fantastic, and even with our overclocked E5410's, we barely hit the 70°C mark (very reasonable for Quad-Core).
Other good choices would be the Thermalright Ultra-120 and ZEROtherm's Nirvana NV120. I am partial to Zalman's tried and true design, however. It also helps that it looks sweet as well.
Memory
In our Skulltrail preview article, we had 4GB worth of FB-DIMM, clocked at DDR2-800 speeds. Here's the first problem. Right now, it's difficult to find equivalent FB-DIMM modules on the market, but since that Skulltrail is now announced, memory manufacturers are likely to speed up their release.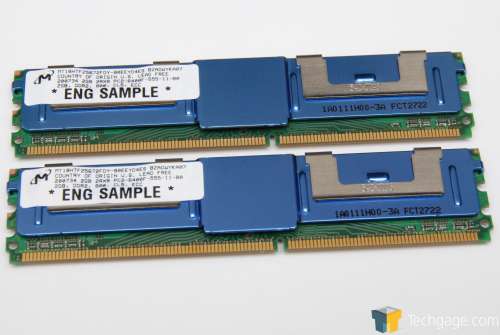 On the other hand, if you are not determined to use the fastest memory available, then scaling back to DDR2-667 speeds is possible, and not a bad move since it's readily available. We do recommend grabbing DDR2-800 speeds if you can, however, since Skulltrail is clearly designed to be the fastest machine possible, we don't want to suffer with slower memory if we can help it. Expect a 2x2GB kit of DDR2-800 to retail for around $250.
Audio
The on-board audio should suffice for most people, but for the audiophile who wants cleaner and more robust sound, adding in a sound card is a good idea. However, we are left with a predicament. If two GPUs are used that utilize dual-slot coolers, the PCI slots are wiped right out. On top of that, I am not sure I'd trust an audio card crammed in between two GPUs even if they only had a single-slot cooler. So what to do?
If you have one GPU installed… the answer is simple. Just pick up the card that suits your fancy, since the bottom PCI slot will be readily available and is far enough away from the GPU that heat won't be an issue. But for those with dual cards, the problem is a little more difficult.
Personally, I highly recommend the ASUS Xonar D2X, which uses the CMI8788 chipset. It's PCI-E based, so it can be plugged into the bottom PCI-E 16x slots. Even though the card doesn't have as many pins as a 16x card would, the card will function fine as is.
We've covered everything now, and what's left would be accessories left up to you. That could include extra case fans, lights to spice things up… anything else that would help make your new build feel like a PC that you built. On the next page we will take a look at some sample systems.
Sample Systems
It's time for the fun part… attempting to build a full-featured Skulltrail rig for $2,500 or less! As mentioned earlier, this is not an easy goal thanks to the fact that the D5400XS motherboard costs a staggering $650. It made things difficult, but it was still very possible to look past that and build some fantastic-looking PCs.
The first system built here does not hit our $2,500 goal, but is the exact system we that we have configured here in the lab and will also benchmark briefly on the next page. For this build, we chose components that would reflect a stellar machine for all purposes, whether it be gaming or workstation use. You might notice we stuck with the expensive power supply, and this was because it's the minimum you should have if you are looking to overclock.
Specification

Part Chosen

Price (USD)

Processor

Motherboard

Memory

Graphics

Audio

Storage

ODD

PSU

Chassis

Cooling
If I were to personally build a Skulltrail rig, I believe these are the same parts I would choose. Overall it's a well-rounded system that includes everything you'd need… tons of storage, superb audio and a fantastic graphics card that's up to the task of handling today's high-end games.
But, we are still $620 over our goal, so let's start scaling things back a little bit:
Specification

Part Chosen

Price (USD)

Processor

Motherboard

Memory

Graphics

Audio

Storage

ODD

PSU

Chassis

Cooling
I found out quick that hitting the $2,500 mark was not going to be a simple task, and we still haven't come that close. Scaling back the chassis, hard drive and using an eVGA GPU resulted in a system that's $350 cheaper. That's some nice headway, but we have still exceeded our goal of a $2,500 system.
Of course, it's easy to tell that a system can hit the $2,500 mark in some way or another, but some sacrifices need to be made, whether it be the cooling, memory, video card or even the sound card. But, since I'm just a huge fan of the Xonar, it was my goal to leave it in. After all, a stellar game should have equally stellar sound.
Specification

Part Chosen

Price (USD)

Processor

Motherboard

Memory

Graphics

Audio

Storage

ODD

PSU

Chassis

Cooling
Scaling back on the GPU to a still very respectable 8800GT saved us $50, while using ZEROtherm's NV120 coolers instead saved us another $20. We further saved $45 by using a 320GB hard drive as well, bringing our total to $2,520 – still $35 above the limit we set out to hit.
There is only one way to downgrade the system further and remain at or under $2,500, and that's to remove the Xonar sound card. As much as I hate to do that, it must be done!
Specification

Part Chosen

Price (USD)

Processor

Motherboard

Memory

Graphics

Audio

Storage

ODD

PSU

Chassis

Cooling
We are now under the $2,500 limit, so all is good. But the fact of the matter is, one of the lesser reasons that we found it so difficult to bring the machine under that mark was due to the expensive (but worthy) power supply.
As mentioned earlier, the PSU is required due to the motherboard needing them for overclocking. If no overclocking is planned, then purchasing a more reasonably-priced PSU would be fine, but it should still provide ample power for the entire rig. We recommend nothing less than an 800W PSU – just make sure there is plenty of amperage on the +12v rail (or even better, have a single +12V rail).
If the PSU is downgraded to something around the $200 mark, it means you can either upgrade the RAM back to DDR2-800 speeds, while also upgrading the hard drive back to 500GB. In the end, there are a hundred ways this machine could be built and be still kept under $2,500, but it will take time and effort, and vary depending on your personal needs and wants.
Is cutting back worth it?
As I compare our $2,460 machine to the one we have configured in the lab, valued at $3,110, I can't help but feel that we scaled back so much, we are left with a less desirable setup – only to save $600. Taking our original system and cutting back where necessary, we are left with a $2,700 rig.
Specification

Part Chosen

Price (USD)

Processor

Motherboard

Memory

Graphics

Audio

Storage

ODD

PSU

Chassis

Cooling
To me, this is how Skulltrail should be configured. Sure, it's $200 more than our original goal of a $2,500 machine, but we have plenty of hard drive space, killer audio, a full-featured chassis, great looking CPU coolers and a graphics card fully capable of delivering fantastic gameplay experiences.
If $2,700 still sounds expensive, recall the fact that the QX9775 processors and D5400XS retail for $4,000… a full $1,300 than what we have here, and that's just the motherboard and processors. For a full $1,300 less, we can build an incredible machine that's fully overclocking-ready. Compare also to what you would get for the same amount of money from any PC boutique… you are not going to get anything close to this machine.
That all said, you might be curious about the performance of the $300 Xeon's we chose to use in our own Skulltrail machine. We'll deliver some quick benchmarks on the next page, comparing them to our QX9775s.
Budget Performance
To see just how our Xeon's stack up, we are going to pit them against our QX9775s through a few different real-world and synthetic tests. Note that all QX9775-related results here were taken from our preview earlier this month. I benchmarked the E5410s using identical hardware, minus the PSU and chassis.
Thanks to having a PSU that features two +12V 8-Pin motherboard connectors, I was able to spend some time overclocking these processors. I admit, overclocking on the D5400XS was not my idea of fun last weekend – it was a tedious task, but had to get done! In the end, I found 2.8GHz to be the absolute top-end stable overclock.
From what I can tell, however, the 2.8GHz frequency hit was not the hard-limit. Instead, the reason I couldn't go higher was because of the motherboard not allowing a stable FSB above 400. At 420FSB, I found it impossible to stabilize the CPU, so I believe 400FSB to be the max stable setting on this board. While 2.80GHz was stable at near-stock voltages, not a single voltage increase would help us reach 2.94GHz, much less any further.
That said, 2.8GHz is not a shabby overclock by any means. I should stress that this was stable, not partially stable. On top of that, it was done with stock CPU voltages and ever-so-slightly raised secondary voltages (1.30v CPU, 1.3v FSB, 1.350v MCH). Thanks to that stable overclock, we are reasonably close to the stock speed of the QX9775s – just 400MHz shy.
For our quick benchmarking, I ran the tests on both the stock speeds for the E5410s and also on the overclocked setting to better show the differences when overclocking is brought into the picture, and to also compare overclocked settings to stock settings on the QX9775s. First up is our PCMark Vantage results:
Interestingly, the QX9775 didn't flex its muscles too hard in this test. This is no surprise, as PCMark was not designed for systems with 8 cores, but it does show us that for multi-tasking, you'd be hard-pressed to see a difference between the overclocked E5410s and stock QX9775s.
For the methodology of the remaining tests, please refer to our Skulltrail preview article as we explain the processes for each benchmark in full. I am omitting explanations here in order to keep the article a reasonable size.
Benchmark

E5410 x 2 2.33GHz

E5410 x 2 2.80GHz

QX9775 x 2 3.2GHz

Cinebench Single-Thread
Cinebench Multi-Thread


2554
14674

3080
17570

3504
20066

Adobe Lightroom

3DS Max 9 Single Render
3DS Max 9 60-Frames


0:29
2:17

0:25
1:55

0:22
1:41

Nero Recode DVD
Nero Recode Mobile

3:44
13:24

3:39
11:27

3:42
10:28

7-Zip Archiving
There's little denying that the QX9775 is the superior here, but our E5410 at its overclocked setting didn't go down without much of a fight. Some of the results are very close, and very nice to see from CPUs that retail for such an affordable price.
You might wonder why we didn't pit our Xeon's against any games, and the reason is simple. As we found out in our preview article, having more than two cores didn't make a difference anywhere. As long as you have a dual-core, chances are every game on the market will play just fine. Most of today's games are hardcore GPU-bound, so having an eight-core system is not going to improve things.
Where things are improved is with multi-tasking. With eight cores and lots of memory, you could play your game and have another process run in the background without much worry. That's one of the many benefits of an eight-core rig.
With our benchmarking completed, let's wrap up with the final thoughts.
Final Thoughts
It goes without saying that Intel's dual-socket Extreme desktop platform is in every way, a beast. But as we've proved, the QX9775 processors are not your lone choice. Our budget processors filled the gap just fine – a huge relief to enthusiasts on a relative budget. Obviously, we do not see the extreme performance with our E5410s as we did with our dual QX9775s, but that was to be expected.
Consider that the D5400XS board retails for $649 alone (if that's the final price at retail) and the dual QX9775s sell for a bit more than $3,000. That's an expensive base. For less than that, we built a full-featured machine that's ready to tear through your tasks and allow you to enjoy high-end gaming, listen to music in great clarity and keep your room warm in the winter. Not a bad way to spend $3,000… at all.
Although I labeled this article with "budget" in the title, the truth is, there's not too much "budget" about the configurations we chose. Most people can build a gaming machine for $1,500, so what did we get for our extra $1,000? Four additional cores, for the most part. But was it worth it? Of course it can be, but that, like most things, has to be decided by you.
The fact that we had to choose an expensive power supply and use the D5400XS motherboard didn't help things, since those components together took care of $1,049 of the total price. So our "budget" moniker wasn't entirely representative of what we could accomplish in the end. But even so, given what we built, I consider all the prices quoted to be reasonable.
Cutting corners could give us an even lower price, but in my opinion, it's just not worth it. If spending $2,500 on a PC you plan to enjoy for a few years, there's no sense of cutting back anywhere if it means you are going to build a machine you are not entirely happy with. In the end, adding another $500 is not going to be that big of a deal for most people, while it will make a nice difference in the overall system.
I should also mention that a third party motherboard is en route, courtesy of ASUS. Called the Z7S WS, the board is designed for the enthusiast, like the D5400XS – the downside being the lack of NVIDIA SLI support. That might be fine for most people, however. Estimated price for that board upon release will be around $519, or $130 below the Intel offering. The estimated street date is somewhere towards the end of Q1. I imagine we will see it before mid-March, however.
In the end, it's hard to deny the sheer power of what the platform offers. If you run any application on a regular basis that can handle more than four cores, you are sure to notice the lightning fast speeds during use. People who would notice it most include 3D modelers and animators, video producers, photographers, audiophiles… and even the soccer mom who likes to create slide-shows. The power is there. It's just up to you to tap into it.
While the system we built may not be the fastest on the block, it's hard to discredit what our $600 8-Cores delivered. On top of that, our nice overclock was possible while using air and stock voltages… so there is no risk in pumping up the frequency.
It's a great time to build a new machine, and if you want eight-cores, it's nice to know the option is there. And considering what $3,000 can get you, it might be hard to look away.
I'll wrap things up with a pros and cons list of our budget build.
Pros
It's easier than ever to build a powerhouse machine for all purposes
NVIDIA SLI support here for gamers who want it, as well as ATI Crossfire
The Xeon E5410's are priced right and are a recommended choice overall
With the large selection of possible Xeon's to purchase, choosing one is made easy
Quickest route to having well-earned bragging rights
Cons
Motherboard price is a tad high despite the class it's in
Recommended PSUs are expensive, while the selection is lacking
Still waiting for games to take advantage of all these cores!
Discuss in our forums!
If you have a comment you wish to make on the article, feel free to head on into our forums! There is no need to register in order to reply to such threads.
Copyright © 2005-2020 Techgage Networks Inc. - All Rights Reserved.