CES 2016 Day One – Unveiled Event Roundup
Date: January 5, 2016
Author(s): Techgage Staff

It's CES time, and 2016 looks to be the year of VR and home automation. However, all the products under show can't fit under the same roof. Spread around Vegas hotels are a number of smaller conventions, one of which is Unveiled. Join us, as we show you around some of the cool new toys that couldn't fit in the main hall.
---
CES 2016 Unveiled Event

In advance of most large events at CES is CEA's own CES Unveiled event, one that houses a slew of companies hoping to get their products on our radars. While there are a few familiar names present at this event each year, most are virtually unknown – but that's not a bad thing when we're on the hunt for up-and-coming tech.

In this quick roundup, we feature a handful of products that caught our eye on the show floor at the Mandalay Bay hotel.
We talked about Synology's upcoming router a couple of months ago, and with its launch right around the corner, the company has been pushing it hard. The RT1900ac is designed to be great for both regular and business users alike, sporting an easy-to-use interface (and setup), and quick access to advanced options, such as VPN and port control.
Also shown off at CES is the upcoming DS716+ NAS, a small business solution with quad-core processor, link aggregation, and support for up to 16TB of storage across its two bays (or 56TB when teamed up with an expansion unit). The DS716+ will be priced at around $500 when it hits the shelves soon. -Rob
Pinball doesn't get enough love nowadays, so it was great to see Stern Pinball, and its CEO Gary Stern, showing off a re-imagining of its Spiderman pinball table at CES Unveiled. This table comes from the "vault" and is an update to the original Spiderman table from Stern which came out in 2007. This one is based on Ultimate Spider and features brand-new art, animation, and sound, two new music tracks, a new mode, and a slew of general improvements.
If you already own this table, don't fret: the gameplay is essentially the same. This table is for those who missed out on the original or want the unique styling of Ultimate Spiderman. We can say one thing for sure: it's fun, and great to look at. -Rob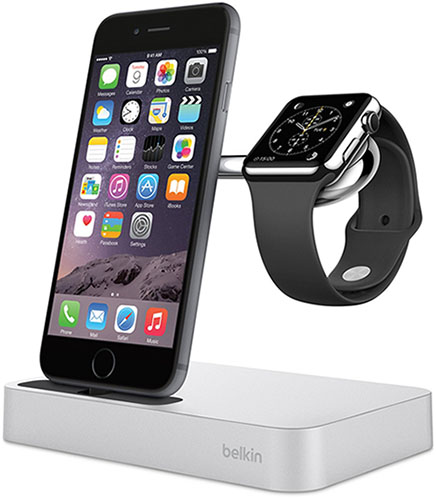 For anyone who owns an Apple Watch, they know that charging the device is a bit of a cumbersome task. The charger connects magnetically, and is easily knocked off by accident. Belkin saw the need for innovation here, and released a dock that doubles as a watch charging station and iPhone charging station. -Tom
You can find more information about the Belkin Charge Dock, here.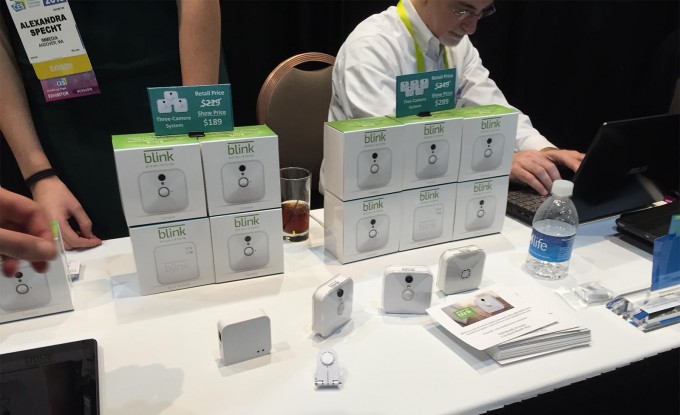 With CES Unveiled giving us our first look at what to expect at this year's CES, it's clear that BK Yoon's vision of a completely connected world is getting closer to reality. Home automation and security took center stage at tonight's CES Unveiled, and the first company we spoke with was Blink.
Positioning itself as an affordable and scalable solution, Blink offers wireless cameras that can run up to a year on a pair of AA lithium batteries. The cameras offer night vision, free cloud storage, temperature alerts, and a built-in microphone, rounding out a rich feature set that allows Blink to deliver whole-home peace of mind to renters and homeowners alike.
Blink starts at $109 for a one-camera system, and a multi-room, three-camera Blink system can be purchased for $229. -Greg

Lowe's is offering its own line of home automation products. What makes this company worth mentioning vs others, is Lowes is backing it. It is a completely modular system, you can add or take away components easily, and they are going to be offering monitoring as well, and that is modular as well. -Tom
The ONE Music Group had a couple of intriguing products on display in its booth. It had the ONE Smart Piano and the ONE Light. Both are fully-functional musical instruments, albeit with a modern twist: They employ digital technology so that they can be used to teach people how to play piano.
The basic concept is elegant. Essentially the hardware integrates with an app (it is compatible with Android and iOS) which shows sheet music for a song the user might want to learn. Above the 88 keys is an array of lights corresponding to each key. The lights light up above the correct key for the note in the sheet music.
The Smart Piano and Light also have a "Guitar Hero"-like game mode as another method of instruction. Basically the software will show keys in sequence, and the player has to hit the corresponding keys on the keyboard with the correct timing. This incentive-based method of learning adds variety to the teaching styles available with the Smart Piano and Light.
The One Light is available for $299, while the Smart Piano costs $1499. -JD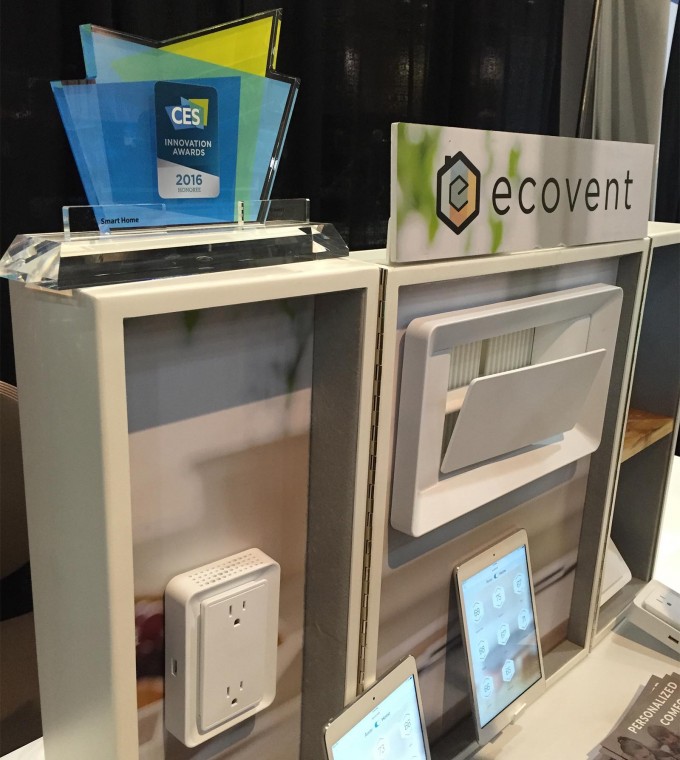 Smart thermostats have been around for a few years now and with home automation picking up steam, they are becoming more and more common. With the thermostat controlling the central air of a home, the next logical step is to control individual rooms.
With Ecovent, you can now do that. Ecovent's smart vents communicate with monitoring stations, as well as with each other, to control the amount of airflow coming into each room. No longer will the home HVAC be bound to the temperature in one room. With Ecovent, each room that has smart vents will adjust accordingly to provide a desired temperature. Ecovent has us excited. -Greg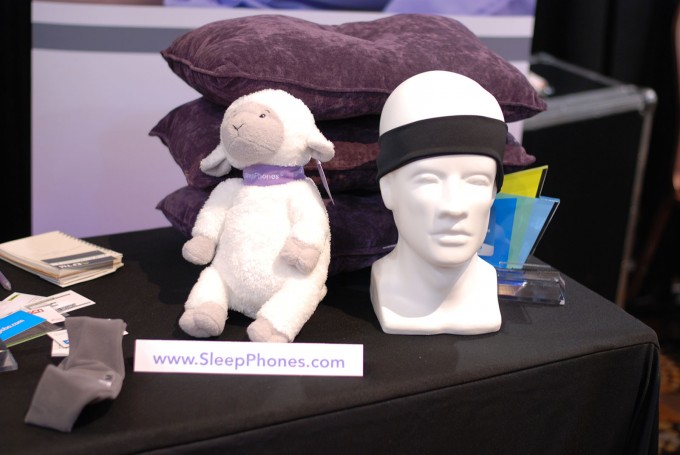 Desperate for something to help put me to sleep, I've on occasion used earbuds to chill to some tunes in hope I'd hit Zzz sooner. If you've ever tried this as well, you undoubtedly know that this is not an ideal solution – it's clunky, and uncomfortable.
Well, at CES Unveiled, there happened to be a solution that looks quite good. It's called SleepPhones, and it's essentially flat earbuds inside of a headband, allowing you to sleep comfortably and block out noise at the same time. With the mobile app, the music can be disabled as sleep is detected, although you'll still have to prepare to charge it up rather often. The company also has other bands available or in the works, including one designed for athletes, and another for those wanting to comfortably watch TV without disturbing their spouse. -Rob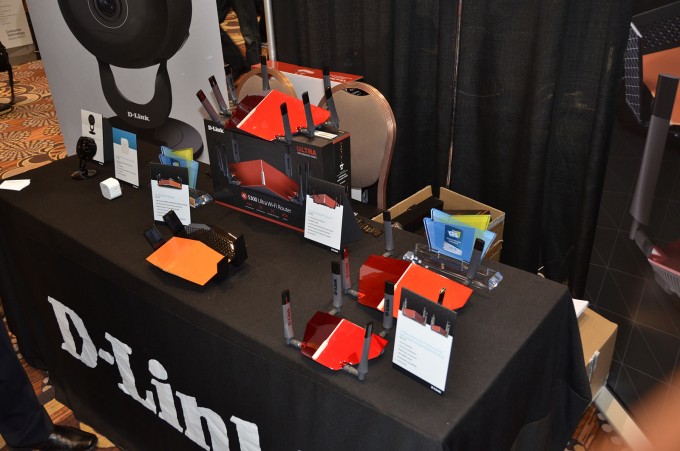 D-Link was showing off a few of its newest routers at CES Unveiled. The EXO line of routers showcase a unique design and impressive colors, along with performance specs that we've come to expect from the home and business connectivity manufacturer.
The EXO series of routers is comprised of the DIR-879 (AC1900) and DIR-869 (AC1750). Utilizing high-power amplifiers to maximize range, both routers are designed to provide whole house covers for your Smart Home's many connected devices. The DIR-879 also includes SmartConnect technology that will automatically assign clients to the wireless band providing the best bandwidth. Both will be available in Q1 and the DIR-879 and DIR-869 will sell for $149.99 and $129.00 respectively.
Another exciting kit that we saw at the D-Link booth is its new "Unified Home Wi-Fi Network Kit with Adaptive Roaming Technology". The kit (DKT-891) is made up of a AC4300 Tri-Band router and an AC1300 wireless extender. The extender will connect to the router for added coverage in those homes that might need a boost in signal, in areas not originally covered by the router alone.
One thing that makes this kit exciting is D-Link's promise of intelligent adaptive roaming technology. This is meant to allow devices to automatically hop between either the router or the extender to provide the best performance regardless of location in the home. Available in Q2 2016, the DKT-891 will sell for $369.99. As of now, the kit can be expanded with another extender, and with future firmware updates, up to four. Pricing for the extenders alone was not provided. -Greg
Copyright © 2005-2020 Techgage Networks Inc. - All Rights Reserved.