Chaos Group V-Ray 5 CUDA, OptiX & Heterogeneous Rendering Performance
Date: June 24, 2020
Author(s): Rob Williams

With Chaos Group having launched the latest major update to its popular V-Ray rendering plugin, we've decided to boot the test rig up and see what performance gains are to be had between the brand-new V-Ray 5, and the most recent version of V-Ray 4. With a collection of NVIDIA graphics cards in-hand, let's explore CUDA, OptiX and heterogeneous performance in V-Ray 5.
---
Introduction
With the release of Chaos Group's new V-Ray 5 for 3ds Max, we thought we'd hit the test bench and see what's improved from a performance standpoint with CUDA, OptiX, and heterogeneous rendering.
In our testing, we found that CPU rendering performance hasn't changed between V-Ray 4.30 and the new 5.00, so we've skipped over that testing here. We'll still be upgrading to V-Ray 5 in our CPU suite soon, as we need to do some fresh testing with the latest Windows 10 build. OptiX performance is also unchanged between versions, but this article marks the first time we've included that performance for V-Ray at all.
One thing that will be immediately noticeable to anyone who upgrades to V-Ray 5 is that the installer has been given an overhaul. It looks nicer than before, is effectively one click if you avoid the advanced options, and it integrates the Chaos Group License Server a little bit better. You no longer need to deal with an additional CGLS installer after installing the V-Ray plugin; now, you're simply brought to the local server in your browser and are given the opportunity to log in / activate from there.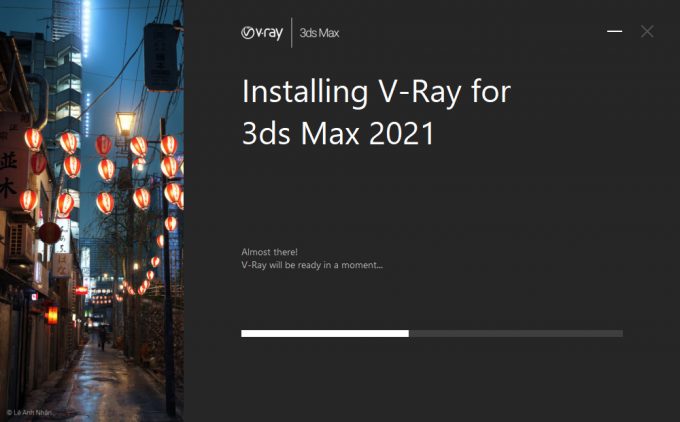 You can read all of what's new with V-Ray 5 on the release notes page, but one feature we'll draw quick attention to is the new out-of-core option for V-Ray GPU. Out-of-core means that the system memory will be used if the GPU's own memory isn't sufficient enough, something that could end up proving useful to those with limited framebuffers (or majorly complex scenes).
With our lone project, testing the option turned our pink flower black (as seen above), and whether this is related to how the project is set up, we're not sure – but OOC is stated as a work-in-progress, so Chaos Group does not consider it ready for prime time. You may have better luck, however.
As just mentioned, we unfortunately only have a single project to test with here, as our previous secondary option hasn't migrated to the latest versions of V-Ray too well. That's a little unfortunate, as it would have been as close as we could have gotten to have some caustics in the scene. If you're a V-Ray user and have a (3ds Max) project worth benchmarking that you're willing to let us add to our suite, please reach out.
Here's the test rig used for all of our benchmarking in this article:
Techgage Workstation Test System
Processor
Intel Core i9-10980XE (18-core; 3.0GHz)
Motherboard
ASUS ROG STRIX X299-E GAMING
Memory
G.SKILL FlareX (F4-3200C14-8GFX)
4x16GB; DDR4-3200 14-14-14
Graphics
NVIDIA TITAN RTX (24GB, GeForce 446.14)
NVIDIA GeForce RTX 2080 Ti (11GB, GeForce 446.14)
NVIDIA GeForce RTX 2080 SUPER (8GB, GeForce 446.14)
NVIDIA GeForce RTX 2070 SUPER (8GB, GeForce 446.14)
NVIDIA GeForce RTX 2060 SUPER (8GB, GeForce 446.14)
NVIDIA GeForce RTX 2060 (6GB, GeForce 446.14)
NVIDIA GeForce GTX 1660 (6GB, GeForce 446.14)
NVIDIA GeForce GTX 1660 SUPER (6GB, GeForce 446.14)
NVIDIA GeForce GTX 1660 Ti (6GB, GeForce 446.14)
NVIDIA Quadro RTX 6000 (24GB, GeForce 446.14)
NVIDIA Quadro RTX 4000 (8GB, GeForce 446.14)
NVIDIA Quadro P2200 (5GB, GeForce 446.14)
Audio
Onboard
Storage
Kingston KC1000 960GB M.2 SSD
Power Supply
Corsair 80 Plus Gold AX1200
Chassis
Corsair Carbide 600C Inverted Full-Tower
Cooling
NZXT Kraken X62 AIO Liquid Cooler
Et cetera
Windows 10 Pro build 19041.329 (2004)
When our benchmarking was conducted for this article, the latest Quadro driver was two-months-old, so we stuck to using the latest GeForce driver across-the-board. It's important to note that all of NVIDIA's drivers are effectively the same; installing GeForce 446.14 would be identical to installing Quadro 446.14, if that latter driver version were to exist. As an example, installing a GeForce driver on a Quadro graphics card will still install specific optimizations and additions, like Quadro View (formally nView).
As we were in the middle of writing up this article, NVIDIA released a brand-new driver (451.48) which calls out specific updates to performance in V-Ray 5, along with some other mainstay design suites. We sanity checked performance using this new driver along with the TITAN RTX, and our performance remained unchanged from our 446.14 testing. Chances are better that there would be a performance boost from the April Quadro driver.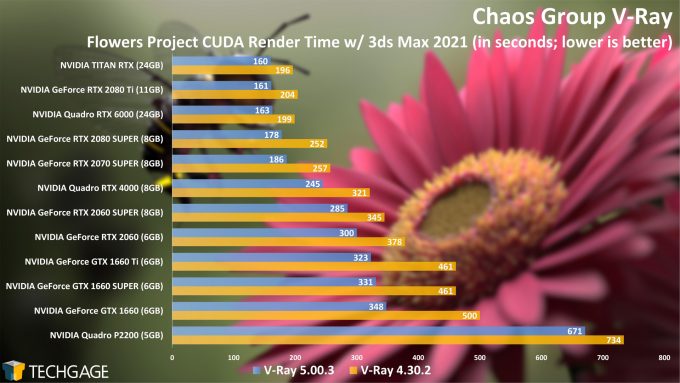 It's clear from the get-go that straight-up CUDA rendering has seen a major improvement from one version to the next. We should stress that to our eyes, the end render result is as identical as it can be, with only noise levels in areas varying slightly from run to run. The same applies to OptiX as we'll see later: the end resulting image will be the same between V-Ray versions or the CUDA/OptiX APIs.
Fortunately, V-Ray does a great job of using the hardware it's given, so the faster the GPU, the better the experience. It's honestly great to see free performance boosts like this, because in some cases here, the performance improvement will feel like you upgraded to a slightly faster GPU. Naturally, you don't want to go too low-end, as some of the bottom models here will tell us.
Let's add a CPU (Intel Core i9-10980XE) to the rendering process, shall we?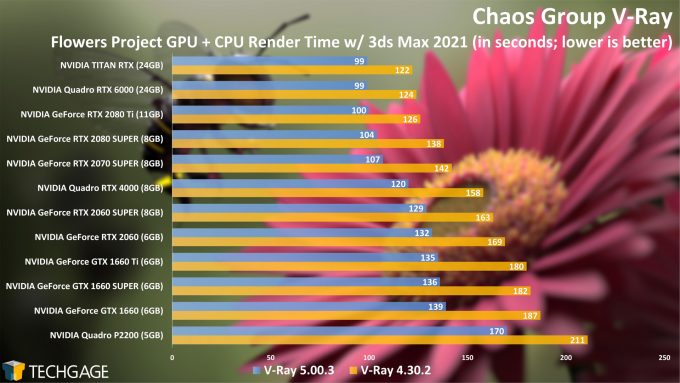 As mentioned earlier, we didn't see any improvement to CPU rendering performance between V-Ray 4 and 5, but because the CUDA engine has itself seen a major improvement, that has carried over into our CPU + GPU rendering. What's interesting about this performance is that Chaos Group managed to negate the allure of OptiX / RTX accelerated rendering if the available CPU happens to be brawny enough to warrant heterogeneous rendering.
For an idea of what we're talking about, here's our OptiX result: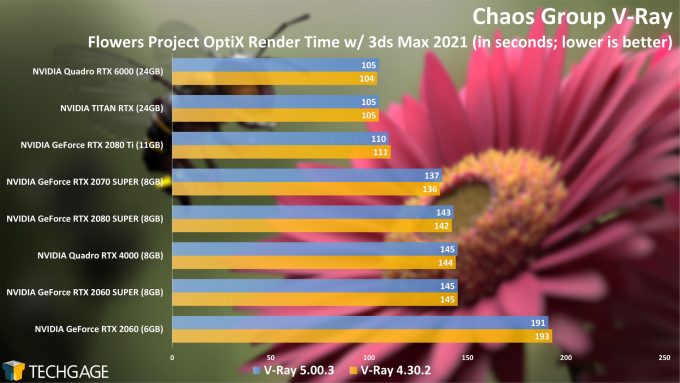 With OptiX rendering, the fastest result we've seen here is 104 seconds, using the RTX 6000. By comparison, the Core i9-10980XE and RTX 2080 SUPER joining powers delivers the same end result. When it comes to rendering, we'd always suggest going for the biggest graphics card you can, but because V-Ray does CPU + GPU rendering so well, it's worth considering a healthy CPU, as well.
There are a couple of things to note here, however. If you can stick only to OptiX, that's probably the best way to render, since it's simple, and won't need to heat up your CPU. But ultimately, it really depends on your system configuration, and it's why you should do your own quick testing with your hardware to see what serves you better. If you have an 8-core CPU, it may not prove as beneficial if you have a high-end GPU, or vice-versa.
You can check our recent review of AMD's Ryzen 3 3100 and 3300X processors to see more CPU + GPU rendering across a bunch of CPUs with one GPU. As we move forward, we're going to test V-Ray with both a 2060 SUPER and the same 2080 Ti as usual, so that we can get a better idea of what combination of hardware might jive the best to give us the best bang-for-the-buck.
Overall, Chaos Group has done really well to improve performance as it has with V-Ray 5. It legitimately excites us when a software release manages to give a massive boost to performance, especially since V-Ray 4 did the same thing over V-Ray 3. And, as always, we'll continue to test with V-Ray 5 as we move forward, and will integrate an updated version of V-Ray's standalone benchmark, should Chaos Group release one.
Copyright © 2005-2020 Techgage Networks Inc. - All Rights Reserved.