Cooler Master HAF 932 Full-Tower

Date: November 17, 2008
Author(s): William Kelley

Finding an affordable chassis that's both large and feature-packed can be a little difficult, but Cooler Master's latest HAF 932 delivers on all accounts, and the goods don't stop there. This steel full-tower features huge interior space, great ease-of-installation, many bundled fans, hardcore design… all on top of having a price tag that's easy to stomach.
---
Introduction
It seems that when looking at a chassis for that new build, the common mantra has become, "bigger is better". Even with the slow-to-be-adopted EATX form factor, most manufacturers are building around it. Add to that the latest craze of 4+ hard drives and super-long high-end graphic cards, and you just can't get enough free space.
For users craving such copious amounts of space, the name Cooler Master usually comes to mind instantly, partly in thanks to the old, but hugely successful, Stacker 830. The sequel to the Stacker is the Cosmos, which has also been very popular. Now entering the battle is the HAF 932.
HAF is an acronym for High Air Flow, and considering it is sporting 3x 230mm fans and an additional 140mm fan, it's a safe bet there is plenty of air flow for even the hottest of parts.
The styling is best considered to be "love it or hate it", but no one can deny the high-level of functionality and flexibility designed within. Made of steel, we're not talking about a lightweight, although coming in at 30lbs empty for such a large chassis isn't that bad. Add into that the amazing flexibility and reasonable price (~$160), and you have a recipe for one tasty new machine. Let's tear into this beast and discern its worthiness.
Closer Look
First things first. Below are the HAF 932's specifications straight from Cooler Master's web site. Pay close attention to the cooling system mentioned, as it really gives you an idea of what CM is trying to accomplish here.
Cooler Master HAF 932
Model RC-932-KKN1-GP
Available Color: Black
Dimension (W / H / D): (W)9.0″ X (H)21.5″ X (D)22.7″
Weight: 29.1 lbs
Motherboards: Micro-ATX / ATX / E-ATX
5.25″ Drive Bay: 6 (5 if an exposed 3.5″ bay is desired)
3.5″ Drive Bay: 5 hidden, 1 exposed (if converted from one 5.25″ drive bay)

Cooling System
Front: 230x30mm red LED fan x1, 700RPM, 110CFM, 19dBA
Side: 230x30mm fan x1, 700RPM, 110CFM, 19dBA (support 120 x 25 fan x 4)
Top: 230x30mm fan x1, 700RPM, 110CFM, 19dBA (support 120mm fan x3 or 120mm x1 + 230x30mm x1)
Rear: 140x25mm fan x1, 1200RPM, 17dBA (support 120mm fan x1)

Power Supply: Standard ATX PS2 / EPS 12V (optional)
I/O Panel: USB 2.0 x 4, IEEE1394a x 1, eSATA x 1, Mic x 1, Audio x 1
Normally, I'd start off my collection of pictures with a dead-on front-view shot, but I feel I'd be remiss in my duties if I didn't feature the artwork on the left-side that shows just how unique this chassis is.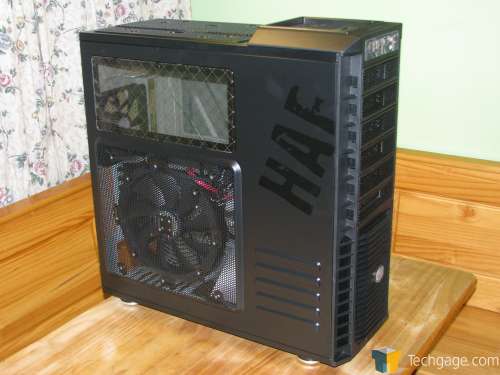 Jumping over to the right side, the hardcore styling is nicely carried through. No graphics, just good ole matte black paint and some serious stamping for your pleasure.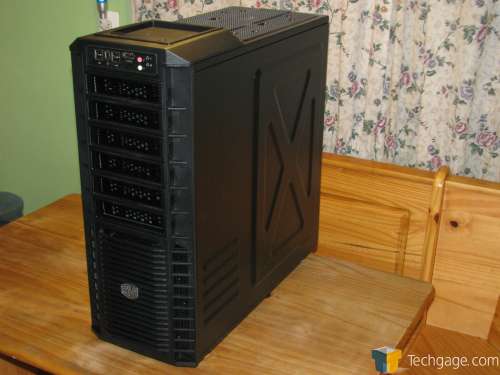 On top, we can see the front facing I/O panel with 4 USB ports, a nice tray with a removable rubber liner and the top (and ultra-large) 230mm exhaust fan.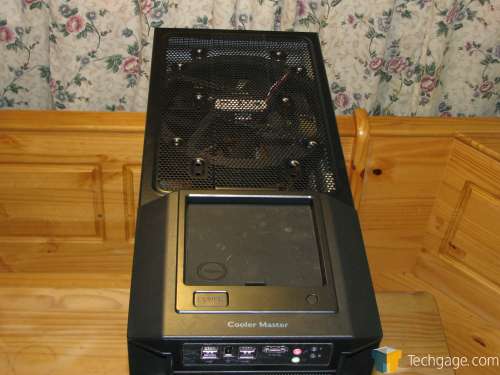 By removing the rubber tray liner we see one of the many features that are unique to the HAF… a hole pre-drilled for a water cooling fill-port. This is an excellent idea and it really should be standard on any case that claims to have water-cooling capabilities.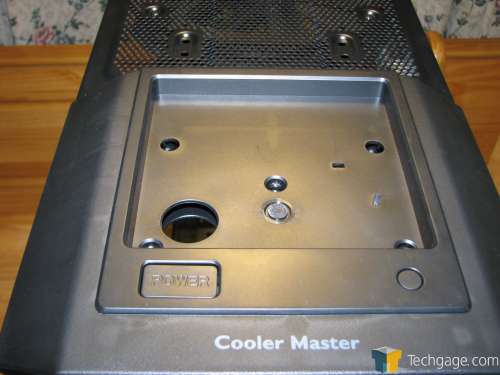 A closer shot of the top fan grating also shows that it is ready for your 240mm radiator to be internally mounted as well. There is even the capability of internally mounting a 360mm radiator inside if you so desire. You could even swap out the 230mm fan for dual 120mm units if you'd rather them.
Looking at the back of the case, we see another feature that I have yet to see on any other. You can mount the power supply in either the top or the bottom. The included grommets for passing water lines through the backside are also a good size accommodating up to 5/8″ OD tubing.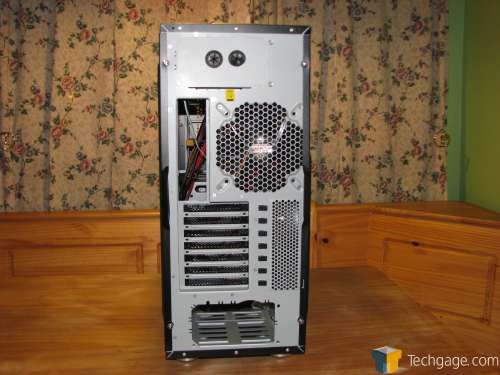 The bottom of the case continues to show us the amazing flexibility built in. You can mount a 240mm water-cooling radiator down low internally quite easily. For the dedicated air cooling fanatic, you can add a 120mm intake fan down here as well for even more airflow.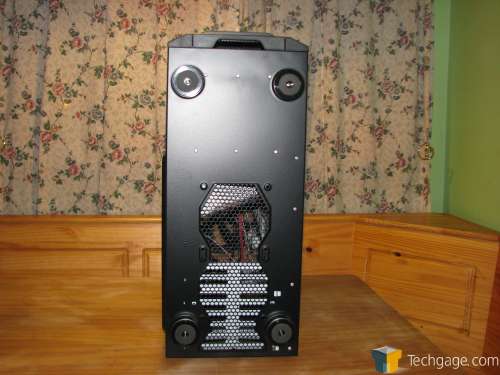 The side panel's 230mm intake fan is very well placed to pull in more air over those superheated video cards and chipsets. If you look closely, you see that here you are able to remove the single large fan and mount up to 4 120mm fans or two 240mm radiators. Did I forget to mention this case is flexible?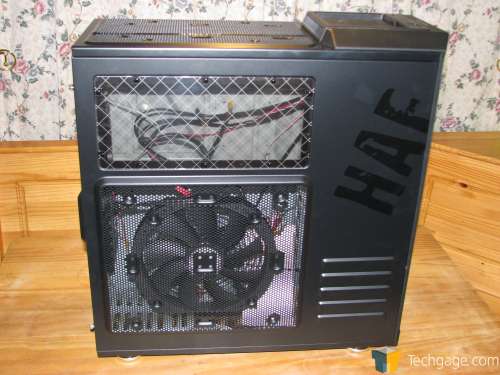 For our initial look inside, you can see the tool-less design for the 5¼ ODD bays as well as the 3½ hard drive bays. Also worth mentioning is the front-mounted 230mm intake fan that has red LED's for that devilish glow when powered up.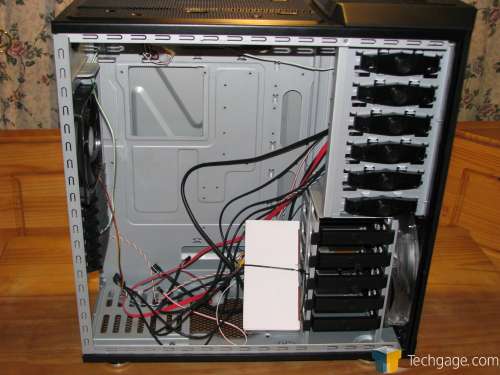 We'll continue with our look on the next page, and then get into my personal thoughts with regards to the installation and design as a whole.
Features Cont., Final Thoughts
Down at the bottom, the folks at Cooler Master were using their heads when they made the power supply support easily removable with 6 screws to allow for the radiator mounting. If you choose to mount your power supply here, there is ample ventilation to orient the fan down for drawing cool outside air in.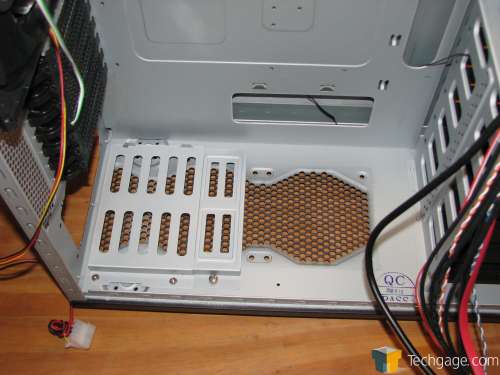 The PCI slot expansion covers are made out of mesh to allow yet more air to move freely outside. While it seems like a small thing, this is an area where your video card can store heat, especially if you run multiple cards in SLI/CrossFire.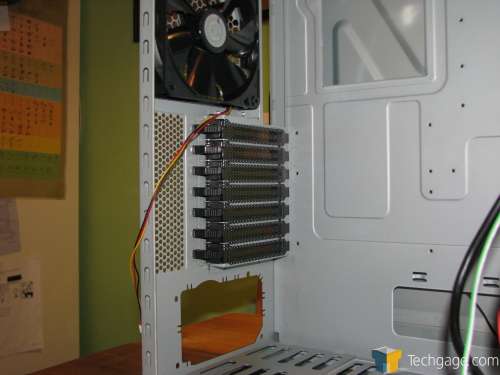 Looking at the inside of the top of the case you can see just how much room is available for cooling. The area behind the CPU is also removed to allow air to flow behind the motherboard.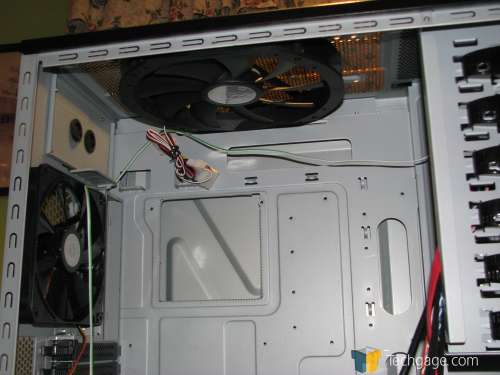 A quick push of the tab and the front of the hard drive holder swings out unlocking it from the cage and allowing you to slide it out. There are no tools or screws need to secure the drive into the holder or back into the cage.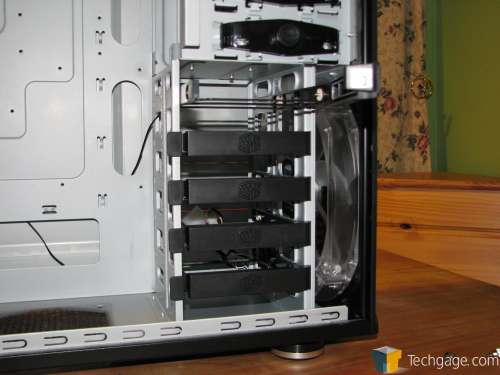 The extras included are as follows:
Large assortment of mounting hardware.
A 5¼-to-3½ drive bay converting cover.
An eight-inch CPU power extension.
4 swiveling casters to be mounted to the bottom of the case.
Final Thoughts
Overall, this case was an absolute dream to work with. There's a large amount of room to take advantage of, and even the biggest and baddest of CPU air coolers will fit without a problem. There are few sharp edges to be on the lookout for, but you really need to be putting your fingers where they don't belong to find them.
Wire maintenance has also been well laid out and is easy to set up. There are many loops on the backside of the motherboard tray for wire ties and any other sort of attaching gear you desire. There is plenty of room between the back panel and the side panel for routing wires where they need to be. Even a newcomer will have no trouble making their first install look like a pro job.
After I completed the build, I was looking through the window on the side and had to laugh. It almost looks as if you put your hardware in some sort of prison, with the wire mesh-style decal on the upper-side of the window and the mesh below.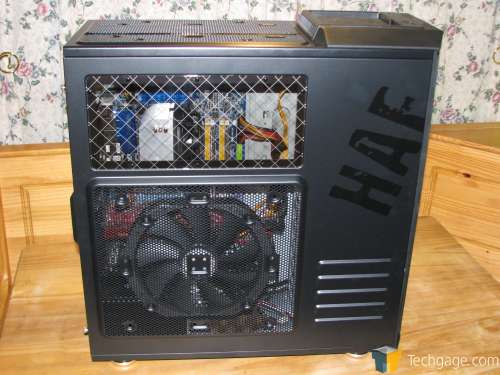 All in all, I feel I must give this case a 9 out of 10. Once again I'm sitting here and just thrilled to have had fun building a PC. During my time as a reviewer, I have had the pleasure of working with all sorts of makes and models. Today, I can confidently state this is the most flexible chassis I've ever touched. Case modders may not like the fact that most if not all the work has been done for them, but the average Joe is sure going to appreciate it.
Any way you look at it, I feel that Cooler Master has knocked one out of the park with the HAF 932. With its immense interior and out of this world flexibility, you just cannot find anything else that will suit so many tastes. While the styling might be cold and industrial on the outside, it is well planned and lay out on the inside. If you want that hardcore mod feel to your next build and don't want to do the work then you have no need to look further.
Pros
Superb airflow with numerous fans included.
Cavernous interior.
Top-rate flexibility.
Water-cooler's dream.
Good value for your hard earned cash.
Included hardware (with casters!) is thorough.
Cons
Made of steel, so it's very durable.
Exterior styling is a hit or miss depending on your personal taste.
Hard drive holders somewhat flimsy.
Discuss this article in our forums!
Have a comment you wish to make on this article? Recommendations? Criticism? Feel free to head over to our related thread and put your words to our virtual paper! There is no requirement to register in order to respond to these threads, but it sure doesn't hurt!

Copyright © 2005-2019 Techgage Networks Inc. - All Rights Reserved.