CoolIT Domino A.L.C. CPU Cooler

Date: January 20, 2009
Author(s): William Kelley

If you want to get rid of that air CPU cooler, but find water-cooling too complicated and expensive, CoolIT might have just what you're looking for. Their Domino A.L.C. is designed to offer greater cooling-abilities over air, while retaining reasonable noise-levels. Best of all, it's inexpensive, at $80, and won't hold back your impressive overclocks.
---
Introduction
Overclocking has become so much the norm over the past few years that it has helped kick start the release of a whole new range of products. The task of keeping these super-hot processors cool has evolved dramatically from the days of monstrous heat sinks. While most choices available today are large air cooling heat sinks, there has been steady development of affordable water-cooling solutions as well. Not long ago, only truly brave souls would dare build complex arrangements of pumps, tubes, radiators and cooling blocks for their PC's. Now, companies like CoolIT have made it simple for anyone to use this type of cooling.
With the release of the Domino A.L.C., CoolIT has once again given us a product that's inexpensive to buy, and also easy to install. While the more expensive Freezone units use TEC (Thermo Electric Cooling) devices to boost performance, the Domino does not. The design of this new piece is also all new and even includes electronic controls for fan and pump control to further push the envelope of performance.
After testing the PURE a while back and being somewhat less-than-impressed, I was anxious to see what has been brought to the table in terms of performance here. The price is right, coming in around $79.99US directly from CoolIT, meaning it is competing mostly against high-end air cooling solutions. The cheapest competitor from any other company I could find is the Asetek LCLC, which comes in at $95US. All that being said, it's time to take a deeper look into the performance and design of the Domino A.L.C..
Closer Look
Nestled safely inside a plastic clamshell, we get out first look. Everything is securely wrapped and there's hardware included for all AM2, LGA775 and even LGA1366 processors. I was somewhat surprised to not see the usual Styrofoam encasement, but if you ask me, the clear plastic will easily do as good of a job protecting the parts in shipment, if not better.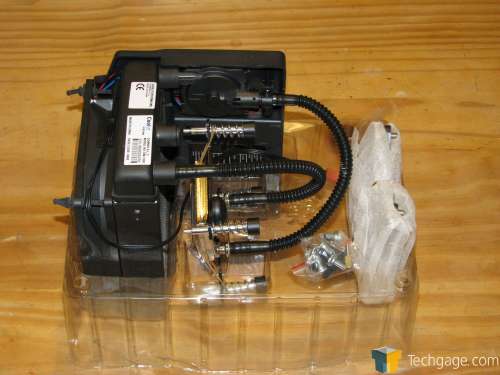 Spread out for your pleasure, you can see the various hardware used for mounting. Also notice the 3-pin motherboard-style power connector, which as being the only power connector, makes installation that much easier. After installing, you should be sure to check your motherboard's BIOS settings to ensure the connector chosen is giving full power to the plug at all times.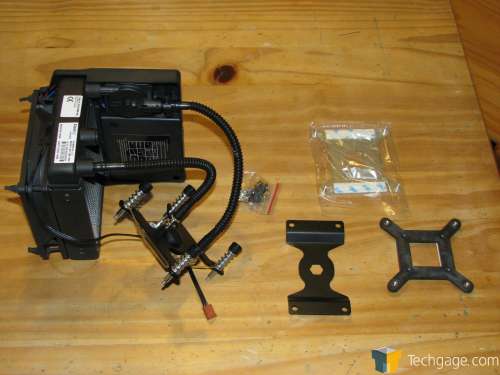 Here is a better look at the backside of the unit. The compact pump is mounted snugly behind the control panel and radiator. The hoses are not quite as flexible as I like to see but I feel that with tubing this size, you should have thicker walls to help prevent kinking anyways.
A shot of the backside shows us the footprint required for installation. The 120mm fan is not much smaller than the radiator itself, meaning you won't need a case the size of the Grand Canyon. The fan is also a standard offering, 25mm in depth.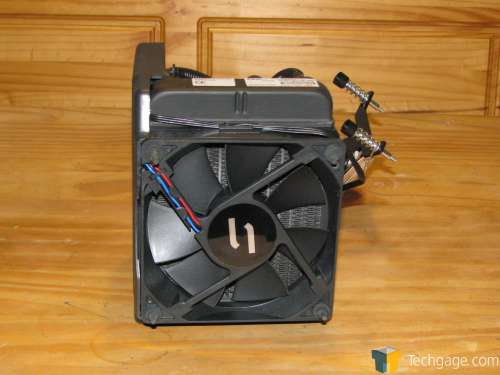 The heart of this system is here in the control panel. The shipping protection label is still overlaid on the LCD screen in this photo as well. Again the smallish overall size is welcome since there is usually not a whole lot of room for installing such items internally. If your case has a large fan on the side panel it may need to be removed for clearance.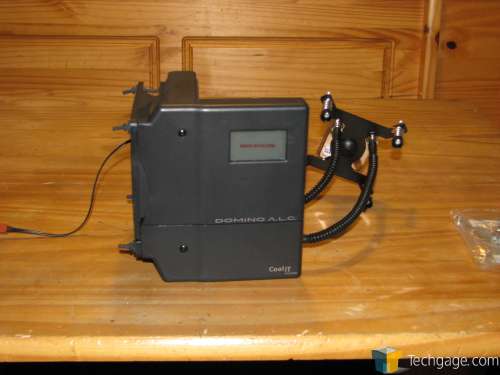 The CPU water block comes ready to install with a layer of thermal compound already applied. You can also notice the second set of mounting holes on the bracket that allow for different CPU sockets. The build quality of the block is very good, and its surface is smooth and scratch-free as well.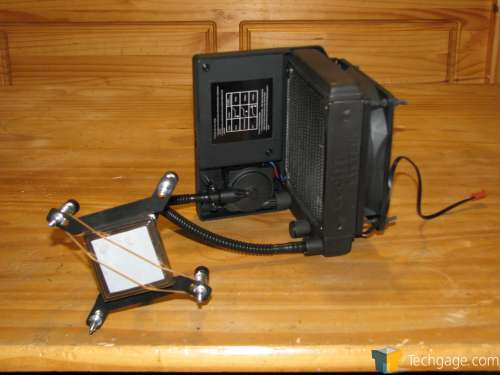 For physically mounting to your chassis, CoolIT has chosen to use rubber pull-through grommets. All that is required for a secure mount is to line up the fan mounting holes with the nipples in order to pull them through with your fingers. A quick pull and everything is quite firmly attached. I also like the fact you get some vibration isolation with this install method as well.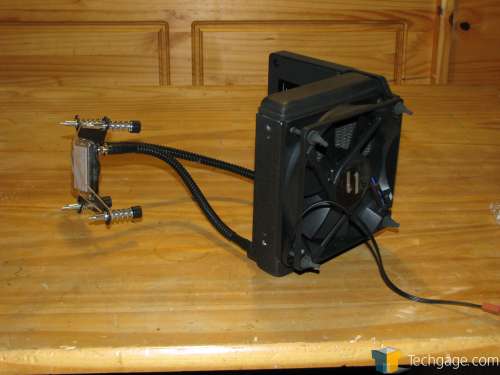 For the most part, the Domino is a great-looking cooler, and the fact that it promises liquid cooling and silence, along with a reasonable price makes it look that much sharper. Time to put it to the test though, so onward to the next page!
Installation and Testing, Final Thoughts
Before I get into installation and testing specifics, here's a breakdown of our testing machine.
Installing the water block was somewhat of a delicate process of balancing the mass of the pump/rad/control unit while turning the screws. I was disappointed to still need a screwdriver when it had appeared that thumbscrews were used for CPU mounting. Changing the mounting screw locations was also somewhat of a pain since some rather small C-clips were used to retain everything. Mind you this is mostly a minor inconvenience, but I felt that it was inconvenient enough to be worth noting.
I was very happy with the overall installation results. As noted earlier, the rubber grommet style mounting was very easy to use and very effective for insulating unwanted vibrations.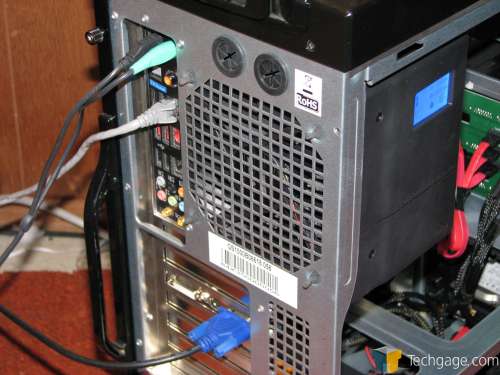 A view with the side panel off shows just how small the overall footprint is inside the chassis. Airflow is not going to be an issue and there is ample room to work inside as well for tasks such as changing memory or any other peripherals.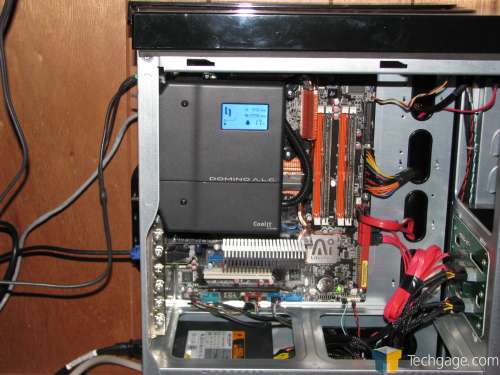 The LCD is easy to read and backlit in blue. My only beef here is that if you have no side window in your case (as my GS1000 does not) you will be forced to remove the side panel to see any of the information. This is understandable, however, since the LCD would be no more convenient located anywhere else on the cooler. Also, the push button for changing fan settings is located internally and also requires removal of the panel for access.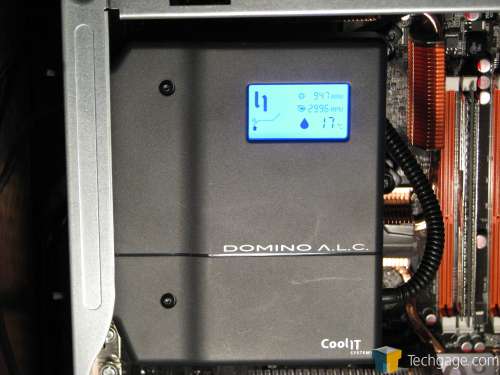 For testing, I use IntelBurnTest to load the processor, and RealTemp to measure CPU temperatures. I verified processor speeds before each test with the latest version of CPU-Z and ran each test 3 times to help eliminate any probability of errors. The ambient temperature was kept at 20°C (68°F) for all testing and the side panel was kept installed. Here are the results:
At stock speeds, I was very happy with all my results. The pump speed was kept constant and inaudible during testing. With the fan on low it was nearly silent. Medium was moderately loud at roughly 40dB, and on high it was rather loud (over 50dB), and definitely not where I would want it running 24/7.
That said, here are the results for the overclocked CPU, at 3.67GHz:
To get proper stability at this overclock, I had to raise the VCore to 1.3v. Once again though, I was impressed with the results. Even with a 45nm process, the Intel Quad-Core is quite hot and is capable of overwhelming most coolers with ease. I have to admit I had my doubts at the beginning of all my testing, but the Domino showed it has what it takes to get the job done.
Final Thoughts
Once the whipping boy of the cooling world, all-in-one water-cooling solutions are starting to become a very viable and affordable solution. CoolIT has really done their homework with this latest release and it shows in the performance. Having it come in at a good price is also going to do wonders for sales. On these two fronts I have nary a bad word and to find any problems I'd have to start really digging.
Likely, the biggest issue is the lack of automatic fan functionality. I wouldn't consider opening the side of my chassis a big task, but it can be a pain. Bundling in some form of software control would greatly add to the ease of use. I understand it would also increase cost as well, so we can guess that this is most likely the reason we don't have that included.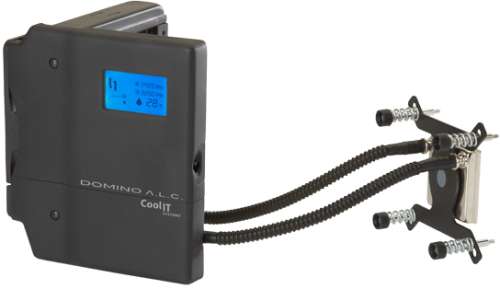 Any way I look at it, this cooler is a winner. Having the ability to keep an overclocked Quad-Core processor under 55°C at full load is no easy feat. In fact, even the best air coolers have trouble doing this. You still would need to run a loud fan with a heat sink to get even close to these results.
I have no problem giving a strong 9 out of 10 rating. My expectations were surpassed and I can't see a single reason not to use it for your next build if you are looking for something more advanced than that lump of aluminum/copper that comes with a retail processor.
Pros
Easy to install.
Competitive pricing.
Compatible with latest CPU releases.
Build quality.
Ease of use.
Cons
Have to remove side panel for adjustments.
Smallish tubing is rigid.
Fan gets very loud on high speeds.
Discuss this article in our forums!
Have a comment you wish to make on this article? Recommendations? Criticism? Feel free to head over to our related thread and put your words to our virtual paper! There is no requirement to register in order to respond to these threads, but it sure doesn't hurt!

Copyright © 2005-2020 Techgage Networks Inc. - All Rights Reserved.