Coolmax CXI 600W PSU

Date: December 2, 2005
Author(s): Rob Williams

As time goes by, we quickly realize how much power our computer really needs. You don't want a PSU that provides 'just enough'; you want one that will help provide clean power and be able to not worry about it dieing. Today we are taking a look at the Coolmax CXI 600W, which will easily power most systems today.
---
Introduction
The first Coolmax PSU we took a look at was back in September, which came in a 400W flavor. Since then, I have been using it in my system, and only now have swapped it for the supply we are looking at today. Since I've been using the 400W for a few months, rather than a week, I can say that I am very impressed with the continued performance. It's still very stable and extremely quiet. Of course, what happens when you need more power? If you have a beastly system, then it's not only a luxury, but a necessity.
I personally don't have a system that could touch a full 600W, but I will testing it to the utmost point that I can. If you have decent gaming system, you may not likely need 600W; 400W would work for you just fine. When you bump up to an SLi setup though, or love overclocking all of your components, than a large, stable PSU can help quite a bit. I love to overclock, and I am hoping that a larger PSU will help me out a bit… primarily the GPU.
Coolmax is not usually a name that pops up when people recommend PSU's, and I'm starting to wonder why. After using the CXI 400W for a few months, I've become quite happy with it and trust Coolmax more than some other popular manufacturers. This model is quite similar to the one we have already reviewed, but let's start fresh. In the CXI series, the 500W and 600W are the only ones meant for SLi, and include two PCI-E connectors; one for each GPU.
The PSU is designed for the modern computer, and includes most of what you would expect on a quality model. As already mentioned, there are two PCI-E connectors, in addition to two S-ATA connectors. There are a total of 6 standard 4-Pin Molex connectors for your HDD's and DVD-Rom's and 2 floppy 4-Pin also. This PSU follows the latest standard, so it includes a 24-Pin motherboard connector. If you have a motherboard that can't use a 24 pin, you can snap off the last 4 and it will work fine. Lastly, there is also a 4-Pin P4 power connector. Here are summarized specifications and connector listing. In addition, a graph is provided to show the difference between this power supply and other CXI models.
Features
Support the latest Intel ATX 12V V2.0 spec.
Support PCI Express
Serial ATA ready
3 Speed Fan Control Switch
120mm fan design, long life, and fastest cooling time
High quality gold-coated fan guard
Cable-tube on main power cables for better cable routing and neatness
Over voltage protection, short circuit protection on all output levels
All DC output wires have 450mm length
MTBF > 100,000 hours @ 25°C
SLI Ready
Packaging & Features
The CXI comes in a white colored box, which just barely fits all the contents in. All required information is listed on the box, including the available connectors and power ratings. After opening the tightly packed box, we reveal the PSU and the extras.
Included in the extras are a power cable, 4-Pin to 8-Pin adapter and a manual.
Features Cont. and Stressing
There is nothing amazing looking about this PSU, but it still looks good. At the back of the unit, we can see that they have incorporated a honeycomb shaped pattern, to allow for better airflow. They have even included a switch that allows you to control the fan speed, low, medium and high.
Of course, the fan it is controlling is the massive 120mm that will be situated below the PSU once it's installed. The fan will suck air in from your computer, and blow it out through the back. The huge fan is protected (or your fingers protected) by the gold colored guard. Overall, the PSU looks great. It's simple, but it works.
Stress Testing
I have to state again, that this PSU is designed to support SLi, but I currently do not have that type of machine. I will do my best to make sure that it's stressed the best that it can. Here is the system that is being used for testing:
Motherboard: – DFI LanParty Ultra-D w/ 704-2BTA BIOS
Processor: – AMD Venice 3200+ 2.0GHz @ 2.80GHz
Memory: – Corsair PC4000 Platinum @ 3-4-4-8/2.8v
Graphics: – eVGA 7800GT 256MB PCI-E @ 500/1,200
Sound: – Chaintech AV-710
Storage: – Western Digital 8MB 160GB, Western Digital 8MB 200GB * 2
Removable Storage: LG DVD+RW DL 16x
Odds and Ends: – D-Link NIC, Titan Robela Water Cooling, 4x 120mm Fans
Etcetera: – Windows x64 Professional w/ SP1, Video Drivers are 81.94BETA
To test the PSU, I opened up a copy of Prime95 and used it's blend test. To make sure that all of the HDD's were getting touched, I opened up three instances of HD Tach RW and let it scan all three drives. In addition, SANDRAs Burn-In test was run on all components. Obviously, we are not looking for scores here, and with all this running, the computer is not useable. I let these benchmarks run for 3 hours, then closed two copies of HD Tach and let the remaining one continue on the third HDD. I then ran Futuremarks 3D Mark 05 in a loop for another 3 hours. After six hours of this bizarre testing, these were the results: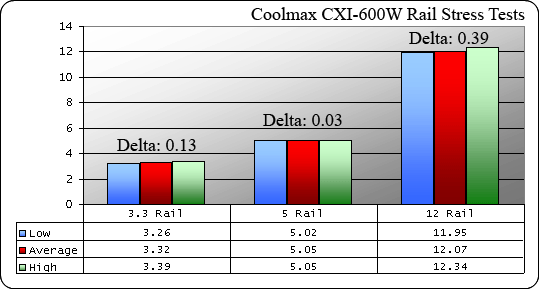 I am impressed once again. It performed quite well, just as the CXI-400W did. The largest delta was 0.39 on the 12 rail, and it's hardly a thing to be concerned about. The max the 12 rail hit was 12.34, which is not too bad at all, considering all the benchmarks and stressing we did to the system.
Conclusions
I somewhat am a fan of Coolmax, because the two products I have used so far I have been quite impressed with. When I receive a product from a huge company that is already known for making top notch products, it's no surprise when the product works well. When a company comes along like Coolmax, whose name is not really all over the place, and they deliver such a quality product, it's a great thing.
Because of the awesome build quality and high stability of this PSU, I am awarding it a 9 out of 10, and give it our Editors Choice award. A power supply is never usually something that people think may deserve an Editors Choice award, but this is a top notch product. One factor that helps the score is that it only retails for $98.99US at NewEgg. It's actually one of the lowest priced 600W PSU's I seen there, whereas similar OCZ and SilverStone PSU's cost up to $50 more.
The only thing that may sway you from purchasing this particular product is that it does not integrate a modular cable system, which many people look for in power supplies now. The other thing is that the 24-Pin motherboard cable is the only one that is sleeved. Those are small issues though, if they can even be called issues. The sound that the single 120mm fan generates should also be mentioned. The PSU supports three speeds for the fan, but is on Medium by default. At that level, I could barely hear the fan at all, with no other sounds in the room. I had to put my ear close to it in order to hear anything. On High though, the fan is clearly audible, although you will likely not need it on that level. Other than that, this is a great looking power supply, that's not too over done, and performs very well.
Thanks to Coolmax for putting out such a quality product. They have quite a nice line of PSU's, but I am looking forward to seeing what they have up their sleeve. They recently released a PSU with a modular cable system, so they no doubt are willing to implement extra great features in order to gain customers.
If you are interested in discussing this review, please feel free to leave your thoughts in our forums! You do not need to register to post in our content threads.

Copyright © 2005-2019 Techgage Networks Inc. - All Rights Reserved.