A Transparent Tower: A Look At Corsair's Crystal 570X Mid-Tower Chassis
Date: June 8, 2017
Author(s): Rob Williams

Corsair's Crystal series is named as such because of its use of tempered glass, and as the top dog in the current lineup, the 570X sports that tempered glass on all four sides. Despite its delicate frame, the chassis proved great to build with, and as we found out, its beautiful aesthetics don't hurt its cooling efficiency.
---
Introduction, A Tour Of The Hardware
If you're looking for a new chassis, Corsair's Crystal 570X is a clear choice. No, really. All but the backside (I/O area) and bottom of this beautiful chassis is covered with a glass panel, giving it the aesthetic of a modded PC rather than an off-the-shelf one.
I posted some thoughts on the chassis back in April, and have been using it a lot since then as it's the base for our just-updated graphics card test suite. This isn't the kind of chassis most people would want to wrap around a test system, but I can't help it. I like the look of it that much.
Some might call it blingy, but I call it elegant. The Crystal 570X comes preequipped with not one, not two – but three fans at the front, all of which are equipped with RGB LEDs. Out-of-the-box, these fans can be changed to a handful of different colors, and like all good RGB solutions, there are multiple modes to take advantage of, too.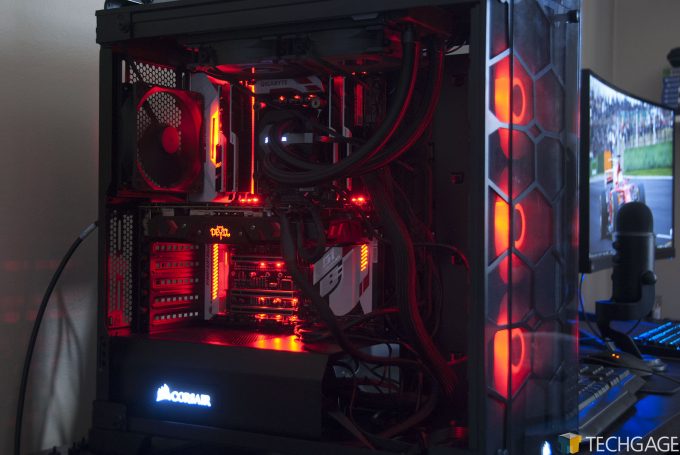 As some images in this article can attest, once all built, even modest hardware can look badass in this thing.
Corsair Crystal 570X Chassis Specs
Warranty
Two years
Drive Bays
(x2) 3.5in
(x2) 2.5in
Weight
10.9kg
Material
Steel
Form Factor
Mid-Tower
Power Supply
ATX (not included)
Dimensions
480mm (18.90″) x 234mm (9.21″) x 512mm (20.16″)
External Connections
(x2) USB 3.0
(x1) Headphone Port
(x1) Microphone Port
Motherboard Support
Mini-ITX, MicroATX, ATX (Up to 272mm)
Fan Mount Locations
Front: (x3) 120mm or (x2) 140mm
Top: (x2) 120/140mm
Rear: (x1) 120mm
GPU Length
370mm Maximum
Fans Included
Front: (x3) 120mm RGB LED
CPU Cooler Height
170mm
Radiator Mount Locations
Front: 120/240/280/360mm
Top: 240mm
Rear: 120mm
Maximum PSU Length
225mm
Compatible Corsair Liquid Coolers
H55, H60, H75, H80i, H90, H100i, H105, H110
Expansion Slots
7
As the title of this review alludes, the Crystal 570X is a mid-tower chassis, supporting ATX, ITX, and mATX motherboards. It also supports graphics cards up to 370mm in length (AMD, NVIDIA: please don't), a CPU cooler up to 170mm in height, and a power supply length of 225mm. Beyond this, the chassis supports up to 7 expansion slots, 2x 2.5″ and 2x 3.5″ drives, 2x 120/140mm fans up top (not included), 1x 120mm fan at back (ditto), 2x 140mm or 3x 120mm fans at the front (included!), and radiators up to 360mm (front), 240mm (top), or 120mm (back) in length.
One thing that the slew of photos in this review will show is that an all-glass chassis is great at attracting dust. I can assure you that the dust as it appears in these photos is not as standoutish in person, and in fact I couldn't even see the dust when I snapped the photos. But more on this later; first, let's take a tour of the hardware:
This chassis' power buttons (and co.) are found at the top-right, near the front. Despite the fact that the manual states its existence, this chassis does not have a reset button. If that seems like an odd omission, it is, although the decision had to have been made based on the fact that so few people use that button nowadays. Coincidentally, I had a lot of troubleshooting to conduct after I built with this chassis (no fault of the chassis itself), so I found myself quickly wanting a reset button. Its omission didn't impede that troubleshooting too much; it just made it a little more tedious. Worth the tradeoff? I wouldn't say so, but your opinion may differ.
Also on the top are three buttons for controlling the chassis' RGB fans, dual USB 3.0 ports, as well as audio in / out jacks. Additional buttons for RGB control are found at the back, right behind the motherboard area (seen in the last pic in the slider above). I admit I am not entirely sure why this needs to be here, as there are buttons right on top of the chassis, but it doesn't hurt anything by being there.
Building a PC with this chassis would be best done once the four glass panels have been removed and stored in a safe place. Being tempered glass, these panels are more durable than other glass we've seen in the past, but there's no point in testing their limits.
Ahem – there was one point during this building process where I bumped into something that ended up bumping into a panel, knocking it flat over, making a huge bang in the process (at 1:00AM, no less). After my heart went through my throat, I was relieved to see that no damage was done. However, by sheer coincidence, I ended up breaking something else made of glass an hour later, so karma works in mysterious ways.
All of the storage drives install to the backside of this chassis, all vertically positioned. Two 3.5″ hard drives can be installed towards the front, while dual 2.5″ SSDs (or notebook hard drives) can be installed behind the motherboard. Beside those 2.5″ bays is the controller hub that the three RGB fans at the front plug into, with expansion available for three more (note: these are not for power).
Looking at the other side, where all of the hardware will install into, you can see a Corsair-branded shroud that dominates the area at the bottom. I personally like the look of this shroud, but I do wish it was longer to cover even more of this dead space. The reason boils down to the simple fact that cable management is a little difficult with this chassis (not a ton of room is available in the back, and even then, not all cables will have the length to route all the way back there); as you'll see later, it's difficult to hide most cables.
Both the front and top of the 570X come equipped with an air filter, both held in place by the same screws that keep the tempered glass in place. This means that to remove the filters, you must first remove the glass, but it's hardly a chore. A third (much smaller) air filter, found under the PSU, isn't secured with screws, but instead slides into place.
All of the screws and required bits included with the chassis sit inside a little box housed inside one of the 3.5″ drive bays, which after a bit of finagling, is easily removed.
The first image in the slider below shows just how much airflow is allowed to pass through the chassis – a good thing to keep things cool, a bad thing from the standpoint that more dust will also pass through. As I'll touch on more later, the only real problem area of this chassis for dust is the front, although if you have fans installed behind any filter pulling air into the chassis, you might have to clean those areas a little more often.
All of the photos above show off the important bits with our particular build. A dual rad populates the top, which is covered with an air filter once everything is put back together. SSD installation in this chassis is dead simple, although you'll probably want to use SATA cables that have two flat ends, as an angled end could either block another SATA port or result in a really bent cable if that end plugs straight into the drive.
I mentioned not long ago that it's hard to keep cables looking nice in this chassis, and that's proven in one of the photos above. Someone spending a lot more time and energy on keeping the cables tidy will undoubtedly have a cleaner build than this, but there are limits. For the cleanest possible look, you'll want to use cables that don't chain more than one connector (take for example the PCIe cable for the graphics card).
The cables hanging from the top fans are another good example of what you might have to deal with. Depending on your setup, you may be able to orient the fans differently so the cables run directly through the back. In this case (ahem, chassis), this was the best arrangement.
Temperatures & Final Thoughts
Does Corsair's Crystal 570X cool as well as it looks? To find that out, I stress-tested the PC using AIDA64's built-in system stresser, which pushes both the CPU and GPU to 100% usage the entire time it's run. After booting the system up, and waiting for 10 minutes while it sits idle, AIDA64 and its stress-tester are started.
The build as tested can be seen below. It's an X99-based platform, using Intel's Core i7-6900K processor (overclocked to 4.2GHz), NVIDIA's GeForce GTX 1080 Ti graphics card, and Corsair's own Hydro H110i CPU cooler. What's not seen in the build photo below is that the tested machine had an additional Corsair fan installed at the back, in exhaust mode.
| | | |
| --- | --- | --- |
| CPU Overclock | Minimum | Maximum |
| CPU | 28 °C | 65 °C |
| CPU Package | 39 °C | 82 °C |
| Motherboard | 32 °C | 43 °C |
| GPU Diode | 33 °C | 84 °C |
| | | |
| --- | --- | --- |
| CPU Stock | Minimum | Maximum |
| CPU | 24 °C | 46 °C |
| CPU Package | 34 °C | 61 °C |
| Motherboard | 36 °C | 43 °C |
| GPU Diode | 35 °C | 84 °C |
At both the stock and overclocked speeds, this chassis helped keep the components as cool as I've ever seen them. It's impressive that the overclock on the i7-6900K resulted in significantly higher temperatures, though the extra 0.1v pushed to it helped. Even at full tilt, the noise coming from this chassis was modest to the point of it being unnoticeable unless I was thinking about it (it wouldn't be a nuisance when watching a movie).
Final Thoughts
It's probably clear at this point that the Crystal 570X is a chassis with caveats. It's up to you to decide whether or not those caveats are worth it. The biggest issue with this chassis is something outside of its control: dust. If you live in a dusty environment, expect to run a cloth along this chassis once a week. The front air filter will need to be tended to once in a while, as well, as three intake fans make it an absolute dust magnet.
That leads to another caveat: the fact that the glass panels need to be unscrewed to be removed. That's a total of 16 screws for four panels. Fortunately, all of the panels are easy to remove, requiring just 15 seconds or so (while being careful). Again, this isn't the fault of the chassis, but rather the design. Panels that are 100% glass can't be designed like traditional ones are.
The last and only real downside of this chassis' design is that cable management is a lot tougher than on most other Corsair models. Normally, the backside of a chassis can hide a huge bulk of the cables, and everyone's fine with it because that side is a solid, opaque panel. Turn that panel to glass to reveal everything, and cable management is a bit tougher. Ultimately, it's the bottom inside that's the worst offender, but I don't think it diminishes the aesthetics that much.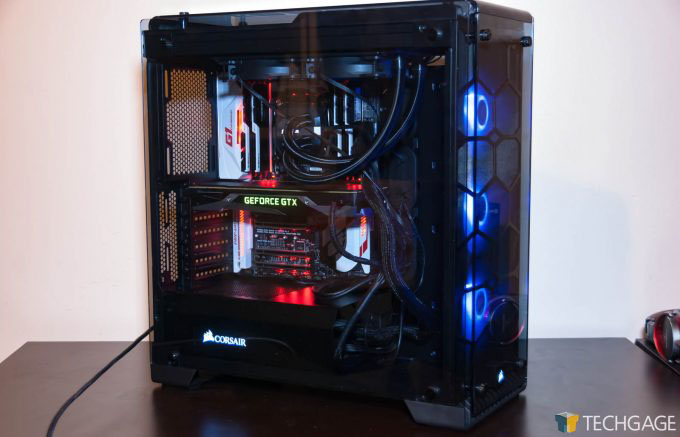 With those complaints out-of-the-way, let's get into the good stuff – which is really easy to find. From an aesthetics standpoint, I consider the 570X a chassis that's hard to beat. Who thought mere glass could look so good? If it wasn't tempered, and tinted, it wouldn't look nearly as sharp. The darker glass really help emphasize the LEDs that lace the PC, even the standard ones on the motherboard.
While it was a little difficult to keep cables looking neat, this chassis proved was a dream to work with. There isn't a single issue that stood out to me when all was said and done. And, I hate to admit that I have good experience with the installation. You'll notice that in some pictures here, an ASUS motherboard is installed, whereas in the final build (above), a GIGABYTE one is. This is because the original board had been transplanted from another test rig that had a dead PSU. Ultimately, it wasn't the PSU that was dead, but instead the motherboard. That means I had fun installing most of the hardware twice over, but even then, I had no complaints working inside this chassis.
The fact that the 570X includes the three fans seen in front is notable, and appreciated. Most companies try to give you as few fans as possible, whereas the entire front is taken care of for you here. You'll just need to slap one in the back (not seen above, but later added, as seen below), and the top (if not using an AIO that would include its own fans).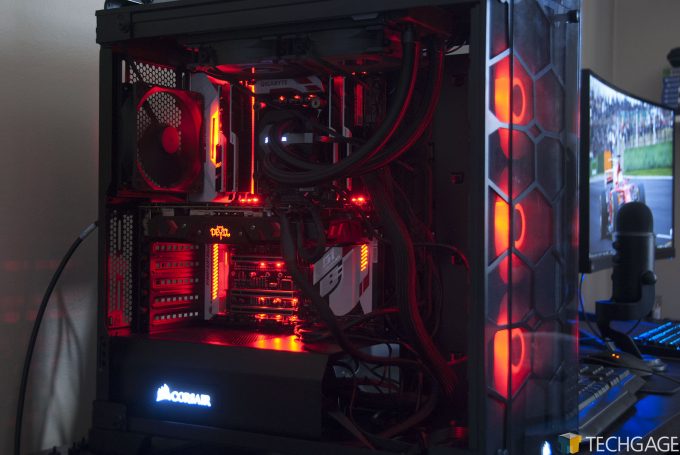 It's not just that the chassis includes those fans, though; it also includes two fan controllers to change the colors, color modes, and of course, the speed.
Another perk is that a fan hub is included to install three more RGB fans, which is downright helpful if you have the plans to do that (it keeps the entire solution looking more elegant, too). The overall design is also good, with a complete lack of horizontally installed drive bays resulting in a ton of open space for the three front fans to do their work better.
Overall, the Crystal 570X is a chassis that looks fantastic, and will require a little more than the usual upkeep in order to retain a clean aesthetic. For me, that (minor) extra effort is rendered unimportant thanks to the fact that the final build looks so damn good.
The 570X retails for ~$179.99, and for all it offers, that doesn't seem to be asking too much. Another version, called the 460X, retails for ~$129.99, and still includes the three front fans and both fan controllers. That chassis, which is slightly smaller than the 570X, lacks glass on top and at the back, keeping it just on the front and side. This culling means that the 460X weighs about 2KG less than the 570X (which can be a pane to lug, at 10.9KG).
Pros
Beautiful aesthetics.
Easy to build in.
The tempered glass is heavy, and strong. Still, don't throw it across the room.
Easy-to-remove air filters on all intakes.
Three SP120 RGB fans preinstalled in the front.
Includes a preinstalled fan hub for RGB fan cables (not power).
Fan controllers in two locations for color, mode, and speed.
Cons
It's a dust magnet (mostly the front).
Cable management is good, but hiding some cables is tough.
No reset button (yes, it was on purpose).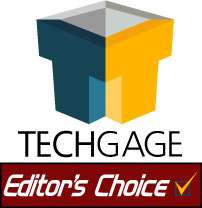 Corsair Crystal 570X Mid-Tower Chassis
Copyright © 2005-2021 Techgage Networks Inc. - All Rights Reserved.