Corsair H100i Self-Contained Liquid CPU Cooler Review
Date: October 30, 2013
Author(s): Ryan Perry

Whether you're a serious overclocker with a blazing hot chip, or simply want a little added performance over and above what the stock cooler can provide, Corsair seems to have all price points covered with its Hyrdo series all-in-one coolers. After an extended hiatus, we're back at it with a look at one of the company's top high-end offerings, the H100i.
---
Introduction & Software
After a looooong hiatus, we're finally back testing CPU coolers, and we're kicking things off with a look at one of the heavy hitters from Corsair's Hydro series, the redesigned H100i. We're pretty late in getting this review online, but we're using this cooler to break in our new test system, so we feel it's worth the wait.
For those who don't know, the original H100 was an enthusiast-level, pre-filled liquid cooler that featured a 240mm radiator and two 120mm fans. It also featured a 3-stage, push button fan controller on top of the block and pump housing, allowing users to choose between silence, performance, or a balance of both.
There have been a number of design improvements since then, and if our review of the original H100 way back in August 2011 is any indication, this updated version could prove to be a champ.
For starters, the H100i features a redesigned copper block and integrated pump unit, pre-applied thermal interface material, and a new magnetic top cover to keep the retention bracket in place during installation. The 3-pin and SATA connections are used to power the pump and LED lighting, while the two ports above are used to power up to four fans using splitter cables. On the left are the data port for the integrated Link monitoring and control system, and beside that is a port that can accept a connection from Corsair's AXi power supplies or Airflow Pro active memory cooler.
The flexible, wide diameter, rubber hoses make a return on the H100i instead of the more rigid, ribbed hoses found on earlier models. These hoses run from the block to the 240mm aluminum radiator where two of Corsair's Airflow SP120 120mm fans each push 77 cubic feet of air per minute (CFM) at 2,700 revolutions per minute (RPM), all at 37.68 a-weighted decibels (dBA).
Included with the H100i are the retention brackets, back plates and mounting hardware for Intel and AMD platforms, two Y-splitter cables to power up to four fans if users choose to add another pair, and the USB data cable for the Link control system.
Moving on to the downloadable Link monitoring and control software, and starting with the System tab, we see the monitor objects for fan speed and pump speed, coolant temperature, LED colour, and others on the left hand side. These can be moved around into any order, as well as grouped however users would like by accessing the Groups tab.
Clicking on each object results in a fold out menu on the right, allowing users to customize that monitor. For example, clicking on one of the fans will open the menu where the speed can be changed to a preset level, a percentage defined by the user, or by a fixed speed. Users can also choose how the H100i, and even the system as a whole will react should one of the monitors reach a predefined threshold. The monitors can be configured to send an email notification, set all fans to maximum speed, run a file, give an LED notification, or shut down the system, which is a great way to minimize potential damage due to failure.
The Graphs tab allows users to add any of the monitors to a graph for a more visual representation of how the system is doing over a period of time.
On the Options tab is where various settings can be tweaked, such as running the Link software on startup, updating the cooler's firmware, finding general system information, configuring a log to capture performance data, creating profiles, and configuring the email server if users wish to receive those notifications.
Finally, in what would could be considered a bit of smart marketing to whet the appetites of non-Corsair customers (or to appease diehard fan boys), users can choose a background image of the interior of various Corsair cases. Those who aren't running a Corsair case, or simply don't want to stare at a blank interior are in luck because the option to upload a custom image is available as well. We here at Techgage feel that there's nothing wrong with a little shameless self-promotion.
So far it looks like the H100i has everything necessary to keep our updated test rig under control. The installation and test results are up next, so read on.
Installation & Testing
Installation of the H100i was easy thanks to the magnetic top cover mentioned earlier. Before installing the block and pump, the fans were secured to the radiator, and all power and data connections were made on the unit itself. In our AMD-based test rig, the thumbscrews were threaded over the loops that hook onto the stock mounting tabs around the CPU socket and the block was secured in place. Finally, it was just a matter of securing the radiator to the top of the case, and voila! Sexy, no?
As we've mentioned before in past reviews, Corsair recommends that the Hydro series of coolers be used to pull air into the system in order to have the coolest air reach radiator first. For our testing purposes, however, we've decided to stick with the standard front to back setup for all cooler reviews.
All of our testing is performed under controlled conditions to ensure accurate and repeatable results. The test system is kept in a near steady 20°C ambient environment with readings taken before and after testing with a standard room thermometer. AIDA64 Extreme Engineer is used for monitoring and recording temperatures throughout the test process.
Windows is allowed to sit idle for 10 minutes after startup to ensure all services are loaded before recording idle CPU temperatures. CPU load temperatures are generated by performing a 20 minute run of OCCT LINPACK using 90% of the available memory to generate as much heat as possible. All coolers are set to the maximum performance level allowable to ensure a level playing field and all case fans are run at 100%.
Stock CPU settings were obtained by using the "Load Optimized Defaults" option in the motherboard BIOS. The maximum overclocked frequency of 4.5GHz was reached by setting the clock ratio to x22.5 and increasing the voltage by 0.15v to bring it up to 1.4125v. Cool 'n Quiet, C1, C6 and AMP have been disabled as well to ensure frequencies remain consistent.
 
Intel X79 Test System
Processors
AMD FX-8150 – 8-Core @ 3.6GHz (4.5GHz OC)
Motherboard
GIGABYTE 990A-FX (AM3)
Memory
Kingston HyperX 2x2GB DDR3-2100 9-11-9-27-2T
Graphics
AMD Radeon HD 5450
Audio
Onboard
Storage
Kingston SSDNow M 80GB SATA 2 SSD
Power Supply
Corsair HX650 650W
Chassis
Fractal Design Arc Midi Full-Tower
Cooling
Cooling Corsair H100i Liquid Cooler
Corsair H80i Liquid Cooler
Et cetera
Windows 7 Professional 64-bit
We were also able to test the very capable, H80i in our new system, but due to time constraints weren't able to get a review up. At the very least I'm happy that we have some comparison data that will show just what the H100i can do when compared to the biggest and best 120mm Hydro-series cooler.
Those running stock systems will have nothing but smooth sailing ahead, as full load temperatures stayed at a very frosty 35 degrees. While overclocked, load temperatures only rose 11 degrees to 46, handily beating the H80i.
In our testing methodology, it states that all fans are run at 100%, but this translates into a lot of extra noise. To see just how efficient the H100i is, we set both fans to Quiet Mode through Link. This dropped the fan speed down to a nearly silent ~1000 RPM and gave us an overclocked load temperature of 51 degrees. That's a degree better than the H80i could muster with both fans at 100%.
Being the crazy people that we are, we decided to take things a step further and go all out by slapping on another pair of SP120 fans for some push/pull air flow action. With the fans running in Quiet Mode, we netted a maximum overclocked load temperature of 47 degrees! This means the system was nearly silent and was only a single degree warmer than with two fans spinning at maximum speed, which is fantastic!
Thinking we were in for a real treat with all four fans running at 100%, we were disappointed to see overclocked load temperatures remain at 47 degrees. We're not sure if we hit some sort of performance a wall, but one thing's certain, four fans at 100% is nearly ear shattering, which offsets any potential performance gains in our opinion.
Final Thoughts
It's nice to see that the change in our cooling test rig is able to push strong coolers such as the H80i and H100i, because it gives us a better chance to see the performance differences between the two.
The H100i is likely overkill for those running stock systems, or even rigs with a mild overclock, but folks running a more aggressive OC like we are should be throwing their mothers out of the way to get in line for one of these.
If you can spare the extra expense (and if your case has the room), we recommend springing for an extra pair of fans so that you can run just about any overclock and leave the fans spinning at the absolute minimum. Even if you can't afford more blades, this is still a very quiet cooler until fan speeds start to surpass ~1,700 RPM.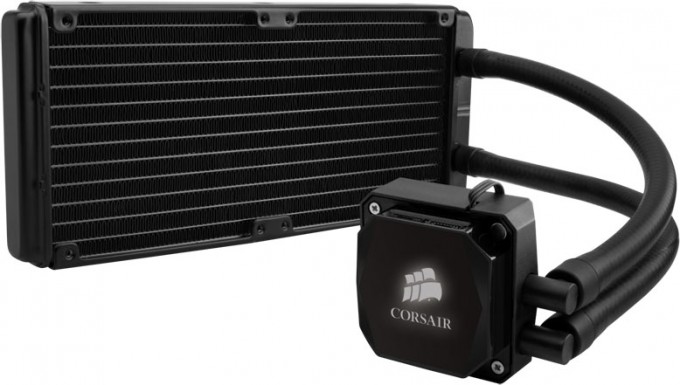 We should mention that if users are adding extra fans, they'll need to source the long, threaded bolts that go from the outside of the case, through the fans and into the radiator since there was only 8 in the hardware baggy, and 16 will be needed. We find it odd that two splitter cables were included to power four fans, but not enough bolts to secure that configuration. Luckily, most hardware stores should carry this type of bolt.
Installation was a snap as always and was made even easier than on past models thanks to the magnetic top cover, which novice builders should especially find very handy. In fact, the hardest part was trying to secure everything to the top of the case, but that's not the fault of the cooler.
As always, we have to touch on the price because that's a huge factor for most people. The H100i is currently retailing for ~$109 US, which is pretty steep. However, you get what you pay for along with a five year warranty. Ultimately, users will need to see if their budget allows for a high end cooler such as this, especially if they plan to throw down an extra $30 or more for another pair of fans.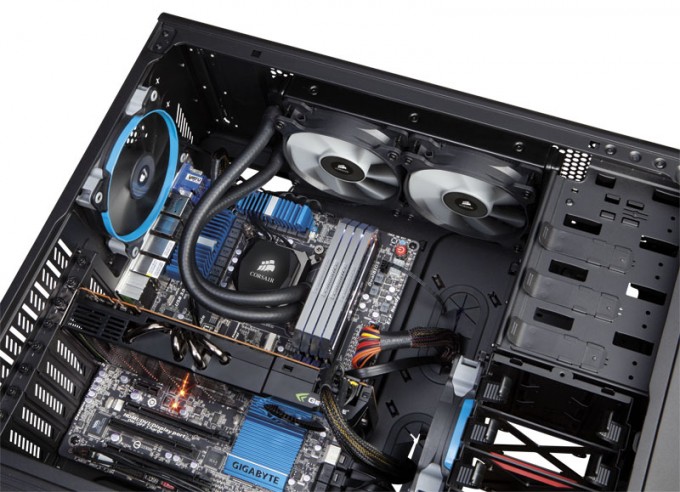 It may go without saying, but users should check to ensure the case they have can support a large cooler like the H100i without running into any clearance problem. These could range from the location of any case fans, to extra tall VRM heatsinks or the location of the 12v power connection, so always do your homework before you pull the trigger.
Wrapping this up, the H100i continues the trend set by other Hydro-series all-in-one liquid coolers and walks away with our Editor's Choice award for being powerful, quiet, and as always, very user friendly.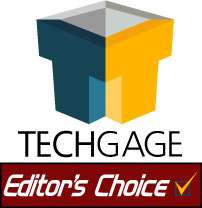 Corsair H100i Self-Contained Liquid CPU Cooler
Copyright © 2005-2020 Techgage Networks Inc. - All Rights Reserved.