Corsair Carbide 300R Mid-Tower Gaming Chassis Review

Date: June 25, 2012
Author(s): Rob Williams

In a market with over a billion (give or take a couple) different chassis for under $100, finding the "right one" is easier said than done. Fortunately, there are some vendors where you pretty-well know by default that their product won't let you down. Corsair is one of those, and we're here to see if its Carbide 300R lives up to those high expectations.
---
Introduction & Exterior
Since the release of its first chassis in 2009, Corsair has earned itself the reputation of being one of the better vendors in this segment. We've taken a look at four of the company's chassis so far, and each one has earned an Editor's Choice award – that's quite a track record.
Unlike most companies that enter a new segment by starting off with simpler models to gauge interest, Corsair did the opposite. Its first chassis, the Obsidian 800D, retailed for a wallet-punishing $400, and its second release, the 700D, didn't change too much. As time has gone on, we've seen the introduction of lesser-expensive models, and last fall, we finally saw the first ~$100 models from the company with the "Carbide" series.
With price-points of $80~$130, it would be a stretch to call models that fall into the Carbide line "budget", but they're still much more affordable than all of the other chassis in Corsair's line-up. Thus, Carbide is for those who don't want to overspend for their chassis, but demand the best possible bang-for-the-buck.
Ryan took a look at the $100 Carbide 400R last fall, and concluded that it offered a lot to warrant its entry-fee, such as a solid design, agressive aesthetics, lots of functionality and good cooling capabilities. The 300R that I'm taking a look at here is similar in size and design, but has been further tweaked to make an $80~$90 price-point possible. So let's dive in, and see if the 300R can impress like the 400R did.
Closer Look
First things first. The 300R is a steel mid-tower, with dimensions of 19.1″ height, 8.3″ width and 17.7″ length. It supports both ATX and mATX motherboards, has 7 expansion slots, 3x ODD and 4x internal bays, has room for 6x 120mm/140mm fans and 1x 120mm, and has two USB 3.0 ports at the front. With its price-point, the 300R comes included with just 2 fans; a 120mm in the rear and 140mm in front.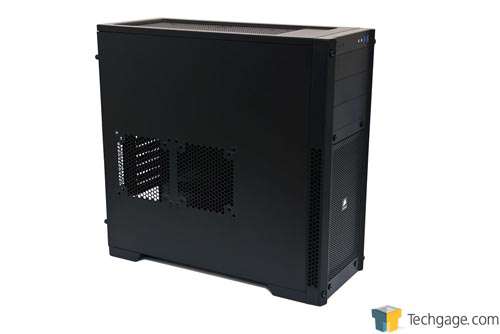 At first glance, it's easy to tell that the 300R borrows many aesthetic and design cues from the 400R, but both chassis are varied enough so the 300R simply doesn't look like the 400R with a couple of features removed. I actually prefer the side-by-side fan placement on the door of the 300R, rather than the stacked design on the 400R, because it'll allow you to maximize airflow to any graphics card (or cards) installed. As a whole, the sides do look a bit more bland on the 300R, as there's simply no design to speak of.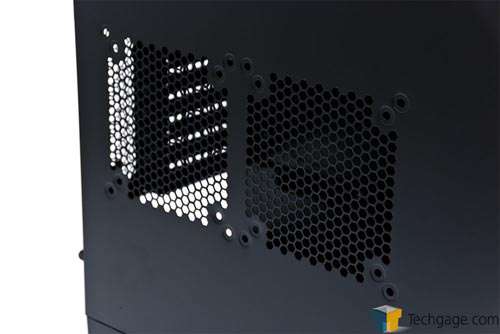 While the 400R features an all-mesh front, the 300R scales back a bit and saves the mesh for the bottom-half, which sits right in front of the 4x internal drive bays. One 140mm fan is preinstalled, and there's room for another. If the second is installed, it'll blow air right at your installed hard drives.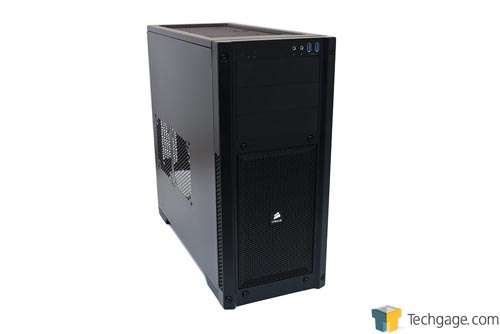 In this close-up shot, we can see that air also comes in through the sides. The two bolts that can be seen above the mesh (and also at the top and bottom of the chassis) are what's responsible for holding the entire front part to the chassis. No screwdriver is needed, however, just a simple tug from the bottom. Putting it back on is as simple as lining up the holes and gently pushing each side back in.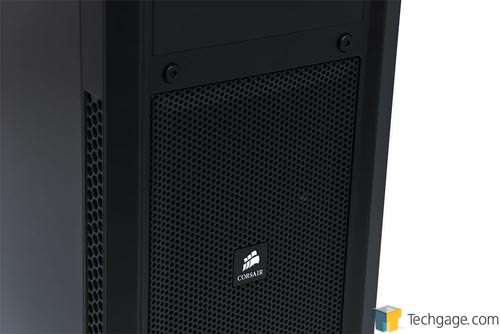 At the top, to the left we see the power and reset buttons with an HDD activity light nestled in the middle, and on the right, headphone and microphone jacks and 2x USB 3.0. These USB ports require a proper 3.0 internal header to be useable, so if your motherboard doesn't have one, these ports will be useless unless you make use of a 3.0 to 2.0 conversion cable, which isn't included. This is of course would turn the 3.0 ports into 2.0, but it'd be better than not having them operate at all.
I haven't had a great deal of luck finding such a conversion cable at Newegg, but Corsair includes one in its "Carbide accessory box", which retails for $4.99.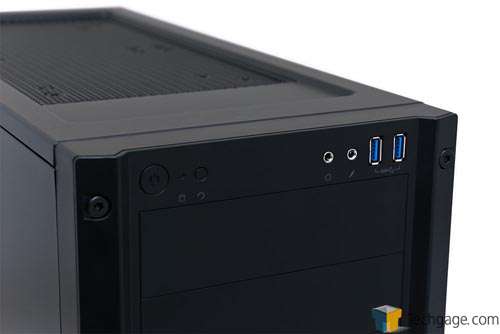 All but one of the fan locations on the 300R can take either a 120mm or 140mm, including the two locations inside the meshed top.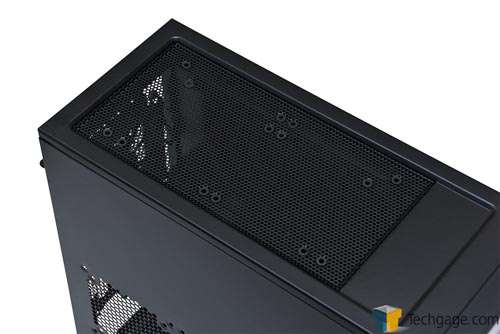 As mentioned before, there are 7 available expansion slots on the 300R, and instead of closing up the area to the right of the expansion slots, Corsair has this opened to allow more warm air to escape.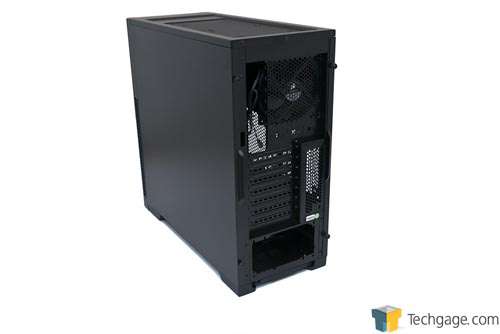 For those interested in going the DIY watercooling route, there are three holes for tubing here that can be punched by hand – or more accurately, the circle pieces can be twisted until metal fatigue kicks in so you can remove them.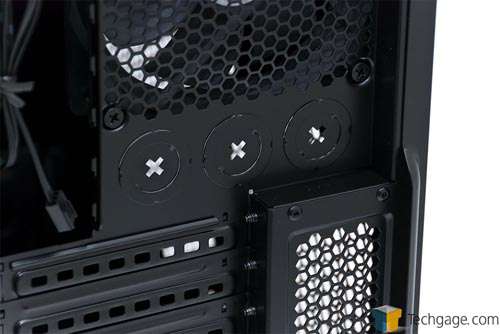 Up next, a look at the interior.
Interior
The 300R might be an affordable chassis, but certain key features haven't been skimped on. Let's start with the motherboard tray, which has a huge open area for installing a CPU cooler after the board has already been installed. This, oddly enough, is a highlight to me. I've used many high-end chassis that have had open spaces in the motherboard tray for this purpose, but almost always the space doesn't align properly to the back of newer motherboards, so the open space is rendered useless. With the 300R, that just won't be a problem.
There are only a couple of cables the chassis includes (seen hanging down); USB 3.0 internal header, HD Audio and ATX chassis connectors. This is less than what we see on higher-end chassis, but given the size of this one and its overall goals, this is suitable. It would have been made perfect if USB 2.0 ports could also be found on the front-panel, but we can't have it all for $80.
Putting that side's door back on, we make way to the other side to see all of what Corsair's done with the interior. In this first shot, we get a glimpse at the 4x internal drive bays, all of which have proper holders – and all of which support SSDs. The box seen here includes various accessories, namely screws and cable ties.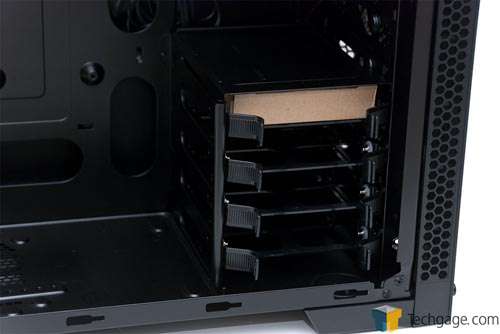 Up top are the 3x bays for ODDs (or whatever peripherals you might have to fill them). Corsair has a latching system in place that allows you to install any drive without the use of screws (a fad I'm very glad caught on).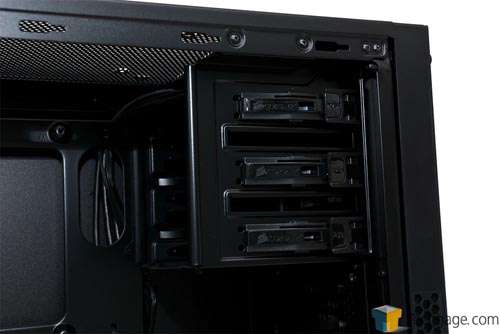 Between the bay areas is the included 140mm fan. Its job is to pull cool air in while remaining as quiet as possible. While the 400R has an LED fan in this area, the 300R keeps things in total blackness.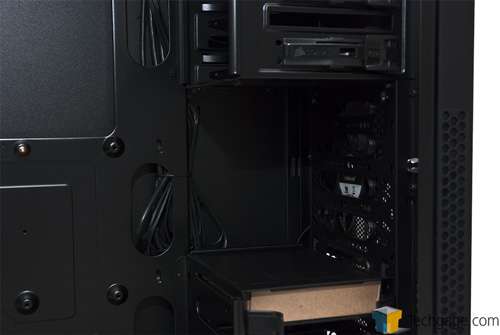 One of the selling-points of the 300R is that it can fit extra-long PSUs, such as Corsair's own AX1200. I'd personally find it odd for someone to purchase a power supply that costs three times the chassis, but who am I to judge? The same selling-point can be used for the GPU area, as unless you are using something freakish, it'll fit (to be more exact, GPUs are supported up to 450mm in length).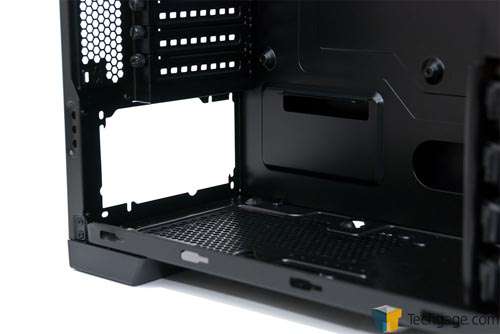 Behold, the lone 120mm-only location in the 300R. With this shot I'd also like to draw your attention to the center motherboard standoff, which happens to be preinstalled. This isn't a typical standoff, as it doesn't support actual screws. Instead, its job is to sit there, look pretty, and act as a guide to make sure your motherboard doesn't shift around when you are juggling both the board and a screwdriver.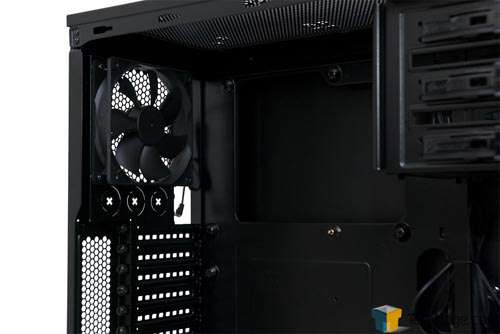 Sexy, isn't it?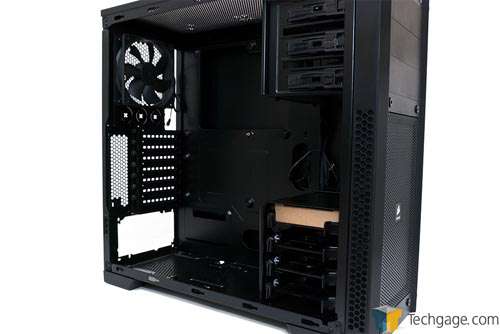 Here's a little exploded view to show you what things look like with the front of the chassis taken off. Even after installing your ODDs, taking off this front every so often isn't a bad idea for the sake of cleaning out built-up dust. And again, if you want even more airflow, you're free to install a second 140mm in the obvious location here.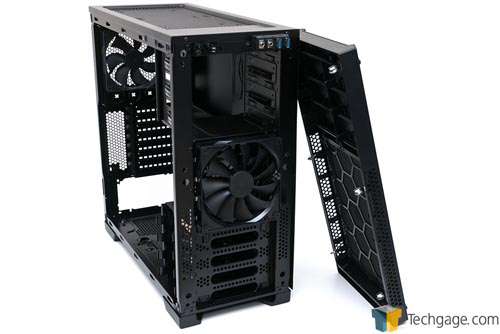 With that exhaustive look out of the way, let's get right into some hardware installation and then my final thoughts.
Installation & Final Thoughts
Unlike Ryan's chassis reviews, where many comparisons are made and temperature testing is conducted, I'm unable to do any of that for the 300R. The reason is twofold; I have no comparison data, and this chassis arrived at a perfect time given my brother's PC was in bad need of a chassis replacement. Thus, all of the parts installed in the shot below are his own, rather than our usual testing equipment.
With the chassis and all of the components laid out, I'd guesstimate that the entire install took me about an hour – 20 minutes of which were dedicated to slight confusion and minor trouble-shooting. Let me explain.
On the previous page, I talked a bit about the gold standoff in the center of the chassis, but what I didn't mention is that the rest of the standoffs are built right in, thanks to indented spots. However, there was no standoff, indented or not, in the location I needed for the bottom of the mATX motherboard I installed. Ordinarily, this isn't an issue as you can simply install another standoff, but it's only simple if the chassis actually includes that standoff. As you can guess, the 300R doesn't.
It's not a major issue to leave one single hole empty, but it's not ideal either. It would cost Corsair literally nothing to toss in just one extra standoff for those with mATX motherboards, and though a small issue, I'd love to see this addressed in the future.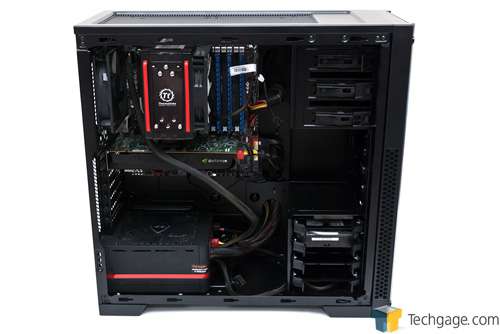 As you can see in the shot above, the wiring is kept very clean, and this is certainly not on account of my attention to detail. Thanks to the cable routing holes, which Corsair seemed to really make popular on its 800D, you're able to store most of the cabling in the back of the motherboard tray, out of sight. With all of the cabling seen in the image here, I didn't have any problem putting the chassis door back on, and it doesn't buldge (a problem that drives me batty).
Overall though, the installation was smooth, and would have been perfect if I had installed an ATX motherboard (but at the same time I wouldn't have noticed the issue with the standoff). Though the chassis is being left-is for now, with no additional fans installed, it offers rather good airflow thanks to the totally unblocked 140mm fan in the front. Airflow will only be improved if you want to install some fans at the top and side, which I heavily recommend if your components wind up being a little cramped, and / or you have dual graphics cards installed. As a whole, the components in our build are somewhat modest, else additional fans would seem more necessary.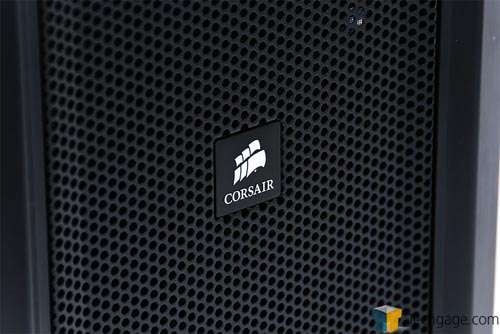 Compared to the behomoth Obsidian 800D chassis I use for my personal rig, the 300R isn't quite as sturdy, but it's the best-built sub-$100 chassis I've ever laid my hands on. While it launched at $90, it now regularly retails for $80, which definitely opens the doors for those who want a great chassis but don't want to spend too much. Though numerous fans aren't expected on a chassis of this price-point, I do recommend adding some to the top if you have a beefier rig. This applies to any chassis, not just this one.
If I were in the market for a sub-$100 chassis, the 300R would easily be among my considerations. Corsair has long offered chassis that have struck my aesthetic fancy, and the attention to detail and internal design definitely help make this the complete package. It is truly unfortunate that there's no USB 3.0 to 2.0 internal cable included, so hopefully that means you won't need one for your own build, as adding $5 for the accessory box isn't great.
When all said in done, yet another Corsair chassis has earned our Editor's Choice award. The 300R offers a great blend of design, aesthetics, functionality and other niceties (such as dual dust filters and many cable routing holes), making it well worth consideration for your next PC.
Pros
Excellent build quality for its price-point.
Option to add five additional 120/140mm fans.
Extremely easy to work with; front detaches easily for ODD installation.
Proper drive holders for internal HDDs / SSDs.
Removable dust filters at the bottom and front.
Huge opening in the motherboard tray for installing CPU coolers after the board is installed.
Cable routing system helps you look like a pro builder.
Cons
Those without an internal USB 3.0 header will need a conversion cable for front panel USB ports.
mATX users will need their own motherboard standoff.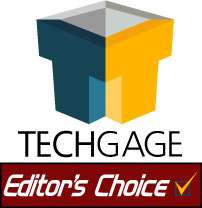 Corsair Carbide 300R Mid-Tower Chassis
Discuss this article in our forums!
Have a comment you wish to make on this article? Recommendations? Criticism? Feel free to head over to our related thread and put your words to our virtual paper! There is no requirement to register in order to respond to these threads, but it sure doesn't hurt!
Copyright © 2005-2020 Techgage Networks Inc. - All Rights Reserved.