Corsair H70 CPU Cooler Follow-up Tests

Date: September 22, 2010
Author(s): William Kelley

After we published our review of Corsair's H70 CPU cooler a couple of weeks ago, we couldn't shake the nagging feeling that some additional testing needed to be done with different airflow configurations. We succumbed, and have the results here. Will using a config opposite to Corsair's recommendation affect the temps? Read on.
---
Introduction
Over the years, I have had the chance to test nearly every form of available cooling available on the retail market. The products have come in all shapes and sizes and I have even had the chance to test some of more elaborate coolers like CoolIT's Freezone and the Cooler Master's V10. It has been quite an adventure to say the least, and the road did take many unexpected turns.
Heat pipe technology has also made major strides during the last five years as well. Companies such as Noctua and Thermalright put all their eggs in that basket and brought us some of the best air cooling devices conjured up by their R&D gurus.
Nowadays it is almost unheard of for any air cooling device to not contain some form of the venerable heat pipe and no one can deny that is a very good thing for us all. I have managed some stellar over clocks with these beasts of burden over the years and I can fondly look back at the fun I had pushing my hardware to the limits (and then some) in pursuit of that ever elusive record benchmarking score.
No trip down my memory lane would be complete without also looking back at the many custom water cooling systems I built. From the first generic ¼" ID (inside diameter) assortment of blocks, tubing and pumps to the baddest ½" ID high-end setups, I had a lot of fun designing and putting together some highly effective cooling loops. From Danger Den to Swiftech to Eheim and more, I've had some hardcore fun. I can fondly remember pushing my little AMD Opteron 165 to 3.25GHz back when it was nearly impossible to surpass the magical 3GHz barrier. Those were good times to be an enthusiast for sure.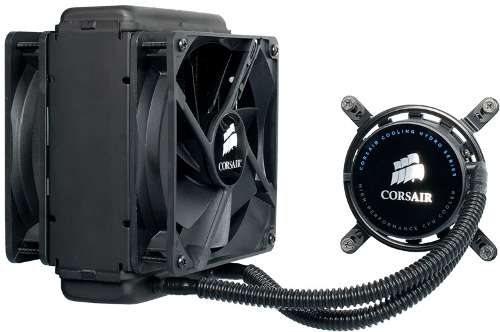 Initial all-in-one prebuilt water cooling systems were nothing more than toys back then. No matter how much you spent on your Zalman or Thermaltake stuff, my custom setup would tromp your results. Even worse were the die-hards who would take pleasure in calling out such users confidently stating that there was no such thing as prebuilt in the world of water cooling. You had to build it yourself or go home, it was that simple. Sad to say, they were right.
That was then, and this is now. Over the last 2 years, two companies have emerged to design and build real and very effective pre-built water cooling systems. First was CoolIT Systems with its Freezone TEC coolers which long ago proved to become one of the first to tame the almighty Intel Core 2 Quad processor. The company's follow-up models of the PURE, Domino and ECO also proved that there truly was an alternative to air cooling.
A short time later, Corsair threw its hat into the ring and showed us time and time again that all-in-one water cooling kits are more than capable of hanging with the big dogs. The original H50 came onto the scene with a loud and thundering roar. It was highly effective and was well priced to boot. There was the larger dual 120mm model that I was not able to test and it too showed us some real horsepower. With thermal wattage climbing ever higher, no one can afford to sit back on yesterday's models. Being the best cooler last week is not always a good thing when there are more and more models released all the time.
The H70 was the natural evolution to the original H50. Sporting dual fans and a thick-bodied radiator, it graced our test bench a short two weeks ago proving once again that not only are these cooling solutions viable, they are pretty much the only possible way to do the job silently. My initial review speaks for itself and Corsair has rightly carried the torch forward for the all-in-one cooling world and it has done it in style, too.
The only thing left wanting from my original review was some further testing to see if there was any way to further enhance the cooling power. Today's revisit is just that… a follow up on the original review.
Test Results & Final Thoughts
Because this is a follow-up article and not a full review, we'll forego the full explanation of how we conduct our testing. If you are unfamiliar with our methodologies, however, we highly recommend you read through those explanations from a recent CPU cooling review. What we will say here is that we stress test each configuration with the CPU at stock (2.66GHz) and also overclocked (4.01GHz), and adhere to stringent testing practices.
As with all testing, there are variables. No two reviewers use the exact same hardware to run these tests and none of us follow the same regimen. There are many different aspects that make up individual reviews and while some guys are willing to do things "their way" in order to appease their readers, I am a firm believer of running all tests exactly the same way every time and according to the manufacturer's suggested installation procedure. I do not second guess and I do not improvise as it introduces new variables into my variable free world.
With the H70, I felt I had no choice but to revisit it when seeing the sheer amount of people out there looking to bend the rules to install this product the way they want to install it. So, for fun, I took our H70 and installed it in the more conventional manner of exhausting the air out through the radiator and ran my tests to see just how it compares. I also took the time to properly test the included low speed diodes to see just how well it works when users are looking for the least amount of noise possible.
Before diving into the results, here is our system configuration:
| | |
| --- | --- |
| | |
| Processor | |
| Motherboard | |
| Memory | OCZ Reaper PC3-1333Mhz 2x2GB |
| Graphics | |
| Audio | |
| Storage | |
| CPU Cooler | |
| Chassis | |
| Power Supply | |
| Et cetera | |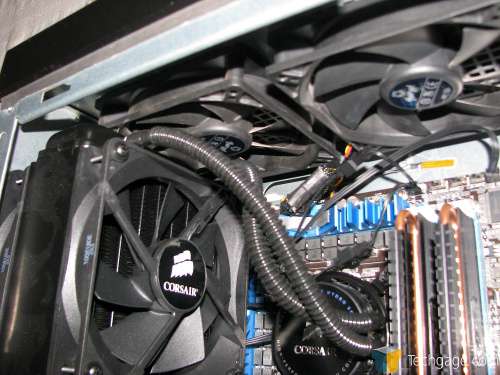 For this article, we are not comparing the H70 to other coolers, but instead are comparing it to itself in different configurations. We are naming those configurations "Config #" so that you can easily reference it in the graph. Those configurations are:
Config #1: Recommended install with fans pulling air into the chassis, with the addition of the included resistors to slow the fans down.
Config #2: Fans set to push air through the radiator and exhaust out the back of the chassis.
Config #3: Fans set to push air through the radiator and exhaust out the back of the chassis, with the addition of the included resistors to slow the fans down.
Here are our results: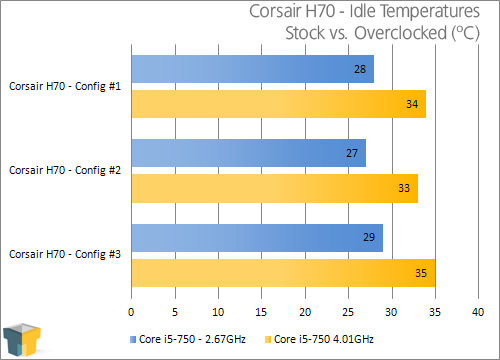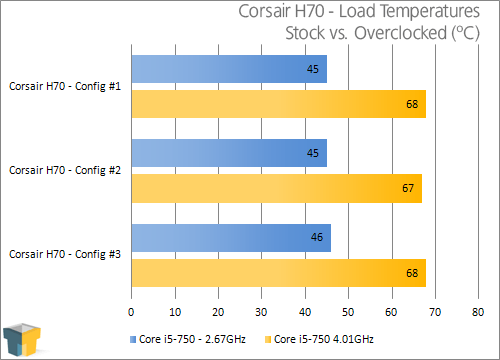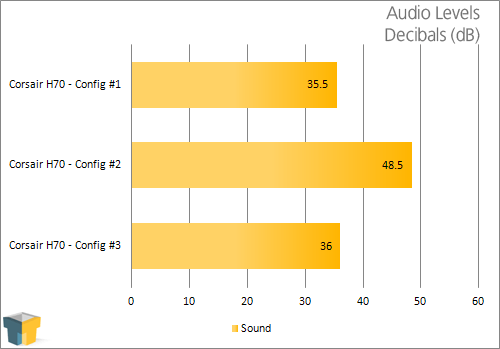 As you can see from the results here, the H70 performs nearly the same no matter the orientation of the airflow. In fact, I did not even change the airflow pattern inside my case at all, yet managed to prove definitively that the orientation of the airflow has little to do with overall effectiveness and even less to do with system performance while overclocking.
Our test system was realistically no hotter and was able to perform just as well. The results speak for themselves and there is no reason to doubt Corsair's engineers during the installation process. It is very important to also remember that the Zalman GS1000 case I use for testing is most definitely not a high airflow chassis, so my results should be easily repeatable and even more easily beaten when using a high flow case.
Final Thoughts
Years ago, I would have been first in line to emphatically state to the world that these pre-built water cooling loops were nothing more than toys and incapable of cooling a wet noodle. Today, that is just not true. While there is something to be said about designing and building your own, you just cannot take it away from these systems any more. They do the job and they do it well.
Unlike many sites, I see no need or benefit of adding in different fans or different configurations than Corsair has given us. The vast majority of people that are going to buy the H70 have no plan on doing such a thing and as the results show, installing and running it as designed is very effective. Other than choosing between high or low noise, there really are no other choices to be made. Follow the manufacturer's directions and you are certain to be pleased with your results. It really is that simple.
For those of you looking for something more than air cooling yet don't desire the setup time or cost of a custom built water cooling loop, the H70 is an excellent choice. It proved itself quite worthy in our original review, and it has proven in our follow-up that it is able to do its job no matter how you install it. There are lots of people out there saying 68°C is far too high of a temperature to run a CPU, but you must put it into perspective to really see the results in the proper light.
My low airflow chassis plus the severe stress the LINPACK testing punishes the CPU with are things that are almost certainly not going to be seen in the world of the consumer who is going to buy this product. Lower temperatures are not only possible, but they are very likely to be as it does not take a scientist to do the math when it comes to the benefits of using higher airflow chassis.
Now that the results are in and the testing complete, I will emphatically refute any one single person who will state that they know better as they try to re-engineer the H70 with different fans and different airflow configurations. Use it as it is designed and you will be very happy. Lucky for all of us, use it setup opposite of the intended flow and you are still going to be rewarded with excellent results. Another win-win situation for the consumer.
Discuss this article in our forums!
Have a comment you wish to make on this article? Recommendations? Criticism? Feel free to head over to our related thread and put your words to our virtual paper! There is no requirement to register in order to respond to these threads, but it sure doesn't hurt!
Copyright © 2005-2019 Techgage Networks Inc. - All Rights Reserved.