Corsair H70 Self-Contained Liquid CPU Cooler

Date: September 8, 2010
Author(s): William Kelley

When Corsair released its H50 CPU cooler last year, it impressed all of the critics – including us. So much so, that we even have multiple units in our lab for our test beds. It was with great interest when the H70 was released, then, as it improves on the previous design in numerous ways. But is it enough to compete with current competition?
---
Introduction
As the heat of the summer season begins to die down, we are drawn to the topic of cooling like moths to a bug light. While the lucky few (like me) have a finished basement to house all my PC gear so that it lives in a luxurious 68°F paradise year round, most people are forced to sweat right along with their PC.
One thing is for certain, that the diehard enthusiast does not want to scale back their overclock one single MHz no matter the cost to their comfort level. So, it is more important than ever to find the best possible cooler available.
Air cooling has long held the crown of the best bang for the buck and it's been for a very good reason. Early all-in-one water cooling kits were hardly able to handle a single core stock speed processor, never mind an overclocked one. Custom built water cooling has long been more efficient but at a far greater cost and at an even higher danger level. Let's face it, there is just no way anyone in their right mind is going to spend $100+ on a pre-built water cooling device that cannot compete with an air cooling heat sink for ½ the price .
Luckily for all of us, there are companies such as Thermaltake, CoolIT and Corsair (just to name a few) which have stepped up to the plate and have finally delivered some knock-out products at competitive levels. With each release we have seen them all come closer and closer to being able to compete head-to-head with the best of the air cooling world. There was a time I was certain this was not going to happen, but I am glad to say I was wrong as we now have quite the range to choose from.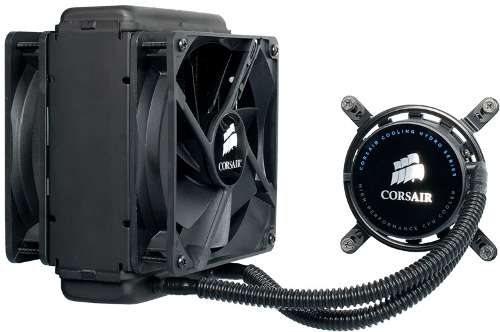 Before I get into the meat of the article, I do have one bone of contention to deal with and that is with the opinion that these all-in-one kits are not real water cooling. Let me state this clear and loud just for the record: HOGWASH! They use liquid for cooling so that point is covered. They use some form of metal block mounted to the CPU for heat transfer and they also have a pump to circulate the coolant.
Those of you that insist you must build your own custom loop for it to be "real", please do us all a favor and get down off the soapbox and actually look into how effective this form of cooling is and how it is an excellent alternative to pure air. I don't mean to sound judgmental on this subject, but this is definitely something I wanted to clear up.
Corsair has only been in the cooling game for a few short years but the strides it has made have been big. The learning curve has been short and sweet and so far the consumer has been the benefactor. The company's H50 was a huge success and for a very good reason… it worked very well and for a very good price. Just over a year ago, we gave our impression of the H50, and today, we use three of them in our own test benches. Now, it is time to take a look at the latest incarnation, the H70. Sporting an all new design, nothing carries over from the original. From the larger radiator to the thinner pump to the dual fans, we get a whole new creature to feed on the heat.
Closer Look
Once you get everything unpacked from the box and laid out on the bench you can see that there is a new style mounting system for the H70. I also would like to point out that Corsair uses-paper based packaging materials which are more recycle-friendly than Styrofoam. That aside, you get everything you need for all the major sockets.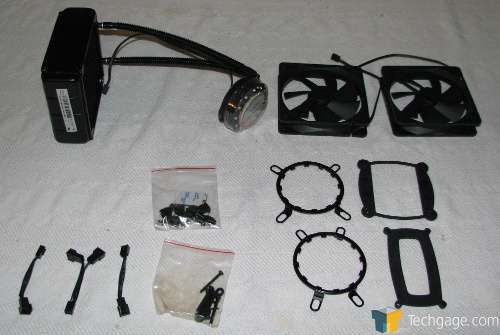 The actual hardware is interchangeable between the different sockets so there is little extra leftover which is kind of nice. It almost seems wasteful that you get specific hardware for each socket with most coolers, so this type of ingenuity is welcome. You also get various fan power wiring options with a splitter and a couple of speed reducing diode adapters.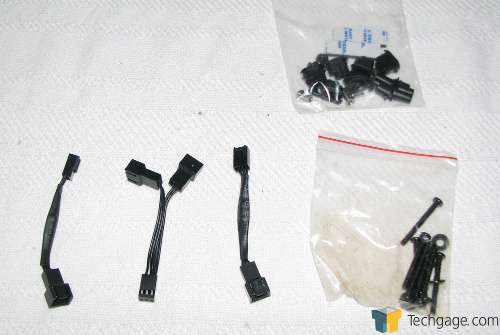 There are only two pump/water block retention brackets for mounting the block. The Intel bracket is able to handle all 3 sockets while the AMD bracket needs only one configuration to do the job. The back plates are made of plastic while the actual retention bracket is made of metal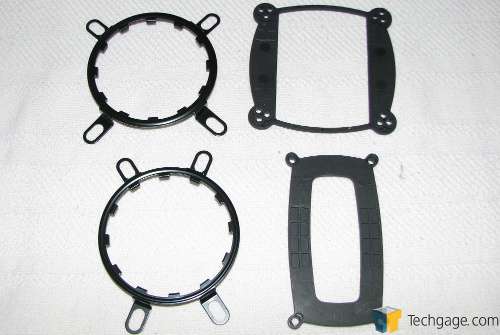 The two included 120mm fans run at 2000 RPM with 62 CFM of air moving power. While they are a touch on the noisy side, the included step down adapters will drop their speed to a more ear friendly 1600 RPM while only dropping the airflow to just over 50 CFM.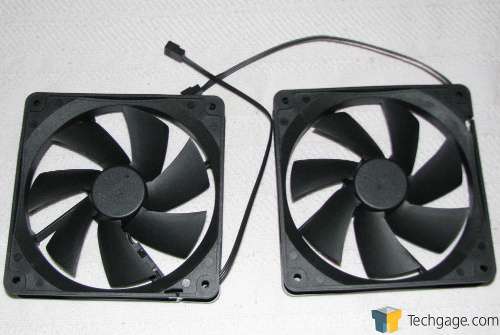 A side view of the rad/block/pump assembly shows just how large the radiator has grown while the CPU block/pump has shrunk dramatically. The tubing is still a touch more rigid than I like, but it can be bent at strong angles without issue as long as due care is taken.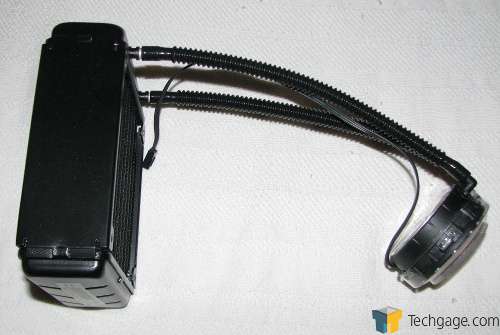 The mating surface of the block comes with pre-applied thermal paste and has a nice finish. While I prefer a small tube of thermal paste to be included, it is also very convenient as the factory applied paste is not too thick and will make everything mate nicely.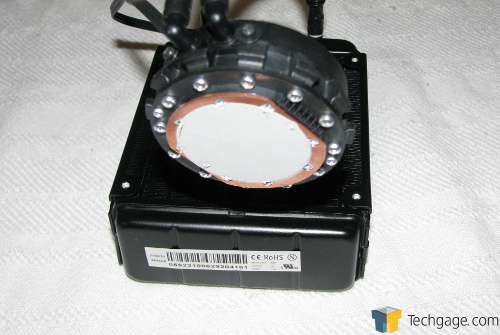 Taking a closer look at the side of the CPU block/pump you see just how much thinner the new design is. I am very impressed that Corsair was able to maintain the efficiency while cutting the size by well over a ½.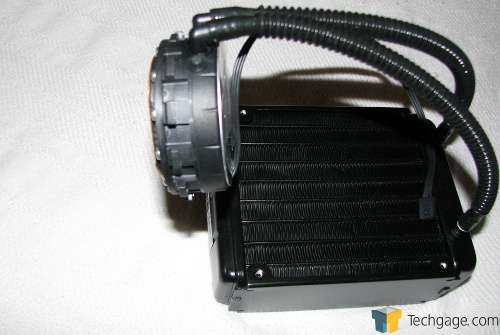 Looking at the radiator itself, we see that Corsair has chosen a tight fin design which does require the fans to have a higher static pressure (which equals more noise). There is a lot of cooling power packed into this radiator.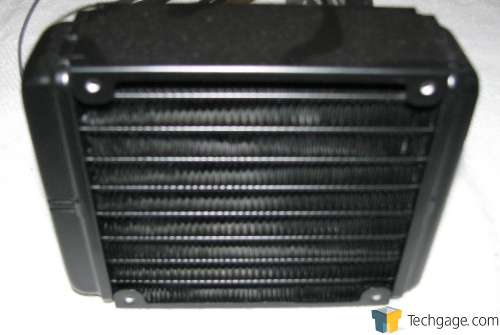 Once you get the CPU bracketry assembled you can enjoy the simplicity of the design and just how easy they are to assemble. As long as you follow the directions (which I did the second time I put it together) everything goes smooth as butter.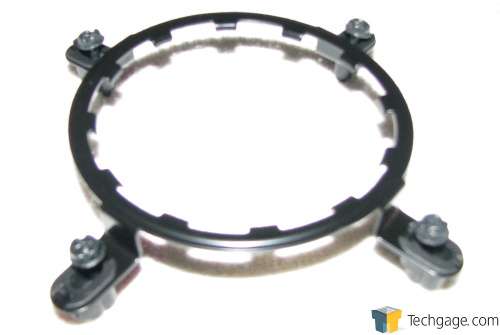 The back plate is also just as simple to assemble and within seconds you are ready to position it on the backside of your motherboard. The orientation was slightly off center for my S1156 board so once I convinced my brain this was OK, then I was off to the races.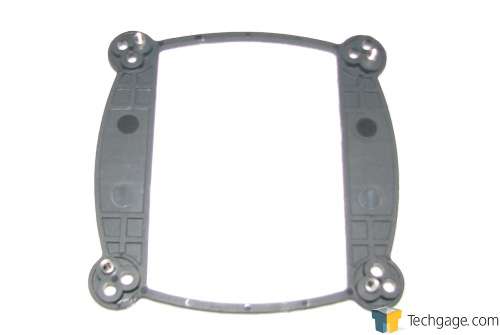 Up to now, I did find the bracketry somewhat of a challenge to assemble, but as stated earlier, as long as you follow the included directions (which have very large clear pictures) you should have no issues with the process. And again, I cannot state how much I like the way multiple sockets are covered with less waste.
Installation and Testing
To assure that our results are as accurate as possible, all of our CPU cooler testing is performed under highly-controlled conditions. Our test chassis is kept in a near-steady 20°C ambient environment, with readings taken before and after testing with a standard room thermometer. After we boot up our machine, we allow Windows to settle itself down for 10 minutes to stabilize processes that might be running in the background. Once the PC is completely idle, we record the current CPU temperature as that in our results.
BIOS settings are verified prior to each run, and to help with quick switching of our various profiles, we make use of the motherboard's ability to store multiple configurations. We primarily use two for our testing here – stock speed, of 2.67GHz, and also a maximum overclock, of 4.01GHz. Stock settings were achieved by using "Load Optimum Default", and storing those as our stock profile. The maximum overclock was obtained after extensive testing and tweaking to insure it was stable. The BCLK was raised to 191MHz. The CPU's vCore was raised to 1.400v, and the IMC voltage was raised to 1.30v. The RAM is run at 1.6V and does overclock with the CPU during overclocking testing.
For our monitoring and temperature reporting, we use Everest Ultimate Edition 5, from Lavalys. It allows us to grab the results from each one of the cores, and the CPU has a whole, so we believe it to be indispensable to our toolkit. To help push our Intel Core i5 750 to its breaking-point, we use OCCT Linpack testing. The reason is simple: it utilizes LINPACK. After much testing with various "stress testers" in the past, we've found that running a multi-threaded tool that supports LINPACK, such as OCCT (and also LinX), pushes both AMD and Intel CPUs like no other. This results in higher temperatures than others (like Prime95) can muster, and also greater power consumption.
Because our test machine is equipped with 4GB of RAM, we set OCCT to use 90% of the available memory, and then set the test to run 1 hour total. With the help of Everest, the CPU's various temperatures are recorded throughout all of the testing, and also for a minute after the test ends. The maximum recorded temperature found in the results file is labeled as "Max" in our results.
Processor
Motherboard
Memory

OCZ Reaper PC3-1333Mhz 2x2GB

Graphics
Audio
Storage
Optical
CPU Cooler

Cooler Master V6 GT
CoolIT ECO A.L.C.
Corsair H70
Noctua NH-D14
Thermaltake FRIO

Chassis
Power Supply
Et cetera
Once again I find myself having more trouble than usual mounting the CPU brackets to the motherboard. While I would not say this was a big deal, it did take a fair bit of fiddling to get everything lined up properly and lucky for me, I remembered that the bracket must remain loose for the pump/block to have room for insertion.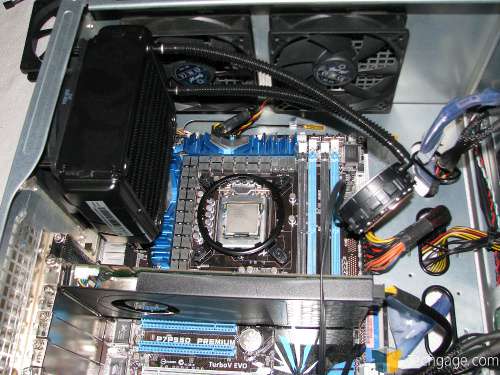 Mounting the block/pump is a simple of matter of lining up the slots, inserting them in and rotating the assembly slightly to line up the tabs. Once this is done, you need to simply tighten down the screws all the way for the back plate and you are done. Don't forget to plug in the pump and fans. I chose to plug the pump into a regular 3-pin motherboard header as they are easier to set to full power.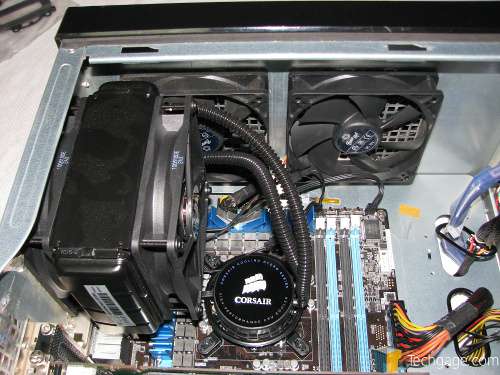 Once fully installed, you see just how much room this entire cooler takes up inside the case. A fair bit of space is required, but it is on the opposite side of the socket and for this reason you will have no issues what-so-ever with tall ram. So much ram that is produced today is oversized, so this is a big deal for many of us.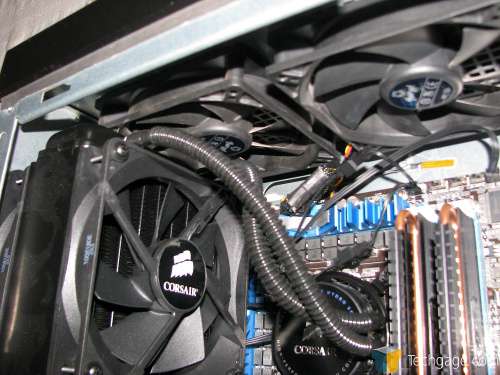 With the installation complete, it is time for the testing. The H70 obviously had big shoes to fill, and not only did it manage to fill them, but it wore them with pride. It went a bit further than just out-pacing its older brother, because it also beat out the high-performance Cooler Master V6 GT and Thermaltake FRIO that we recently tested.
As you can see by the results, the H70 performed extremely well. We tested it for this review in the recommended position of the fans pulling through the backside of the case. I'm not sure if was the main factor for the convincing performance but you cannot deny the strength. We will be posting a follow up article on the H70 which will include varying the fan directions and speeds.
Final Thoughts
Recently, most of the cooling products I have taken a look at have all preformed quite well, and that just leaves me with only one way to describe the H70: phenomenal! Corsair has done its homework and delivered a great product with a good value of around $100 US. While this is somewhat higher than the direct competition, it is hard to fathom that those looking for that last degree of temperature drop would be disappointed.
Cooling performance speaks for itself so loudly, it could be considered shouting. With the heat output of the Intel Core i5-750 pushing it to the limits, the H70 had no problem beating out the competition in both air and water categories. My configuration is not setup to aid the coolers in their job, so they are forced to all the work themselves. In this environment, the H70 had no problems getting the job done.
As for the size, I am very pleased with the power to space ratio. So many air coolers are unreasonably large, so they interfere with most of the other components and peripherals that surround the CPU socket. There is nothing worse than trying to install something that just does not physically fit the space it must occupy. To me, coolers like the H70 use the most logical space and don't intrude elsewhere.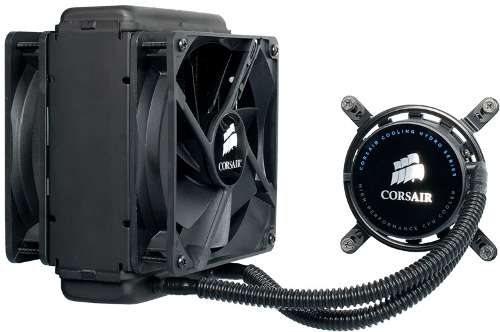 A long standing complaint of the H50 and similar coolers is that we usually only get a single fan to do the job. Corsair has listened to those cries and has supplied dual fans for even further flexibility. If you have the space then running two fans is always better than one, but it is also nice to have the option to easily remove one should it be necessary due to space constraints. Let's face it… the last thing anyone wants to do is be forced to purchase an additional fan and hope that it will work well with the other.
The main weakness of the H70 is noise. Most all-in-one water solutions tend to run very quietly, although temperatures usually suffer because of this. I found the fans here to be noisy at full load, albeit remain tolerable, but I did find that the liquid inside the radiator "gurgled" more than I would have liked. I would not call this a show-stopping issue, but if you want absolute silence you need to keep it in mind. While I would expect prolonged use to quiet this down as air is bled out, there is no way to guarantee this without much longer-term testing.
Corsair has done a great job redesigning and building a solid new cooling device for the enthusiast. The results do not lie and they show the H70 works very well. I have no issue awarding it the Editor's Choice award for absolute cooling power and outstanding performance across the board. It may be a bit more expensive, but the adage of "you get what you pay for" applies here and without a doubt, you won't be disappointed.
Pros
Excellent performance.
Good value.
Eco-friendly packaging and hardware.
Installation flexibility.
High-quality build and design.
Cons
Somewhat pricey.
Noisier than I would have liked.
Can be clumsy to install.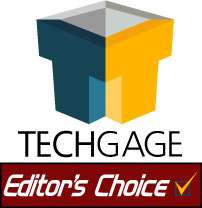 Corsair H70 Liquid CPU Cooler
Discuss this article in our forums!
Have a comment you wish to make on this article? Recommendations? Criticism? Feel free to head over to our related thread and put your words to our virtual paper! There is no requirement to register in order to respond to these threads, but it sure doesn't hurt!
Copyright © 2005-2020 Techgage Networks Inc. - All Rights Reserved.