Crucial BX300 240GB SSD Review

Date: February 1, 2018
Author(s): Robert Tanner

You might find it hard to be impressed with a SATA based SSD in a world where PCIe SSDs exist, but despite their speed-capped interface, companies like Crucial continue to optimize, and use new tricks, to eke as much performance as possible out of those flash chips. The BX300 is a great example of where we stand today.
---
Introduction; A Look At Crucial's BX300 240GB SSD
Solid-states drives are nothing new; Crucial (the consumer-focused brand of Micron Technology) has been making them for a full decade. While exotic interfaces and elaborate PCIe card solutions have come and gone over the years, the one constant has always been the SATA 6Gbps interface. Since Crucial introduced its first SATA 6Gb C300 SSD nine years ago, the SATA interface hasn't really changed all that much.
Faster interfaces like M.2 exist today, but even so, SATA 6Gb SSD's continue to offer a measurable, significant performance upgrade over spinning mechanical drives that must be felt to be believed. With NAND prices staying steady consumers can readily save a few bucks (or quid) by sticking to SATA based SSDs, yet still enjoy most of the benefits flash based drives have to offer. That brings us to the BX300 SSD.
The BX300 is Crucial's latest budget-focused solid-state drive using the updated Silicon Motion SM2258 controller. It is worth noting that while the previous BX200 drives utilized 128Gbit TLC NAND, the BX300 series reverts back to MLC with Micron's latest 256Gbit 3D MLC NAND. This automatically gives the BX300 a leg up over its predecessor in both performance and endurance and makes it much better suited than the BX200 for sustained workloads.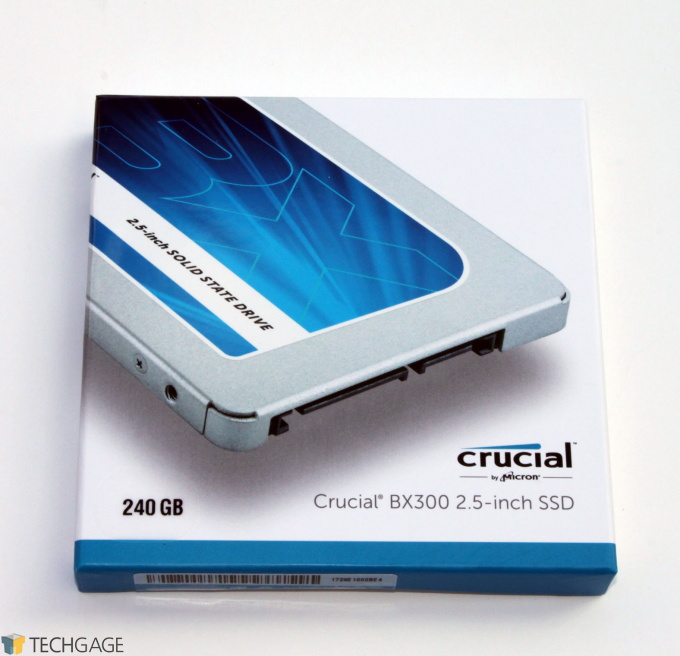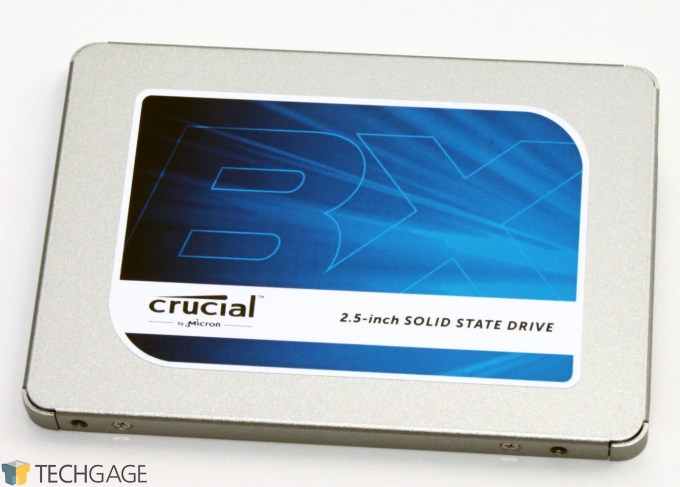 When shopping for budget SSDs, the quickest way to differentiate between drives is to check if a DRAM cache is included for reliable performance. Naturally the BX300 features a 256MB or 512MB cache depending on model capacity. The second trick budget SSDs have been doing for a few years is "set" or dedicate a small portion of the NAND flash to operate as a faster SLC write cache. SLC stores a single bit per cell, offering significantly faster writes and longer endurance over MLC or TLC flash. This allows SATA drives to offer higher performance levels perfectly suitable for most consumer needs, but does have the secondary effect of boosting short, small drive benchmarks that are small enough to fit neatly within the SLC cache.
120GB
240GB
480GB
Form Factor
2.5″ 7mm
Interface
SATA 6Gb's
Controller
Silicon Motion SM2258
DRAM (Micron DDR3)
256MB
512MB
Flash NAND
Micron 3D MLC 256Gbit
SLC Write Cache Size
4GB
8GB
16GB
Write Endurance
55TB
80TB
160TB
Sequential Read / Write
555 / 510 MB/s
4K Random Read / Write
45K / 90K IOPS
84K / 90K IOPS
95K / 90K IOPS
Warranty
Three Years
Street Price
$60
$88
$145
Interestingly, Crucial has made its SLC cache size information readily available. The dedicated SLC cache size doubles at each capacity level, meaning 240GB and 480GB drives will benefit the most from the larger cache and therefore offer more consistent performance. It is worth reiterating SSD controllers rely on reading & writing to multiple flash chips concurrently to increase performance, so it should come as no surprise the 120GB drive is only rated to offer half of the random read IOPS of its larger siblings. So despite the 120GB's lower price, consumers will see multiple performance benefits to spending a little more for the 240GB model. Larger capacities also have the side benefit of allowing additional spare area for wear-leveling, which improves overall drive endurance by keeping the wear amplification lower.
For this review we will be including the Micron C400, aka the Crucial m4 we reviewed a little over six years ago just to have an interesting comparison point against "modern" SSDs on the market today. The SATA 6Gb's interface hasn't changed an iota but even a budget SSD like the BX200 should have no trouble against a flagship model predecessor.






Crucial offers a rather expansive software suite for its SSDs known as "Storage Executive". This toolkit can display serial numbers, health, and other information even for competitors SSDs as well as the usual firmware updates, health check, and SMART data for Crucial drives. Some extra features supported by the BX300 is the "Sanitize" option which effectively performs a Secure Erase. For SSDs that support hardware drive encryption "PSID Revert" is the method one would use to nuke the encryption key to recover access to the drive, naturally at the expense of all encrypted data being lost. However the BX300 Series lacks hardware encryption, making this moot.

Momentum Cache simply creates a buffer in the system RAM for better performance consistency, but is not recommended as a power failure, BSOD, or unexpected restart will result in the cached data being lost. Last up Over-Provisioning is an interesting option not offered by most SSD manufacturers, and allows the user to increase the default over-provisioning area of the SSD. Increasing it can improve performance consistency, decrease the write amplification, and even increase the overall endurance lifespan of the SSD. The drawback is that any additional space dedicated toward over-provisioning can no longer be seen nor used by the system itself, exactly the same as with the over-provisioned area all SSDs ship with by default. Consumers interested in learning more about these features can peruse through the Storage Executive user guide.
SSD Test System
Processor
Intel Core i7-4771 @ 3.7GHz
Motherboard
ASUS Z97-A – BIOS 2801
Memory
Crucial Ballistix 8GBx4 DDR3-1600
Graphics
EVGA GeForce GTX 750 Ti SC
Audio
Onboard
Storage
ADATA SP550 480GB (SATA)
ADATA Ultimate SU800 512GB (SATA)Crucial BX200Crucial c4 (C400)Curcial MX300
Intel 520 240GB (SATA)
Intel 730 240GB (SATA)Kingston Predator 240GB (PCIe)
Samsung 950 Pro 512GB (NVMe PCIe)
Transcend SSD360S (SATA)
Power Supply
BitFenix Fury 650W
Chassis
Cooler Master HAF 932
Cooling
Noctua NH-D14
Et cetera
Windows 10 Pro x64
To ensure all drives have fair representation regardless of capacity in our testing, we use IOMeter to conduct continuous file writes beyond twice the rated capacity of each SSD. This will make sure every block has been written to at least once, including the unaddressable spare area present on all solid-state drives, ensuring all drives begin testing in a normalized "dirty" state.
SATA drives are tested on an Intel 6Gbps SATA port, while PCIe cards will use the PCIe Gen 3 x8 slot to the processor. M.2 drives will make use of a NVMe compatible PCIe adapter card in this same slot to bypass the M.2 x2 interface bottleneck (some motherboards only offer an x2 lane M.2 port), allowing drives to utilize the maximum bandwidth (PCIe Gen 3 x4) that the M.2 interface supports. Where applicable, we will ensure M.2 drives are using the NVM Express protocol.
The test system's processor has had Intel's Speedstep and Turbo Boost functionality disabled and all cores are locked to the same 3.7GHz frequency in order to ensure maximum consistency between test runs.
Test Suite, PC Mark, Iometer & AS SSD
Benchmark Programs
Futuremark PCMark 08: Normal settings are used including the default setting of three runs. This gives us an extended test that takes roughly 45 minutes to complete, resulting in a sustained load that will thermally challenge drives. The free (demo) version is available on Steam for general use.
AS SSD: This handy little utility was custom-written for solid-state drives. We selected this program as by default it utilizes incompressible data and bypasses the Windows cache. This is another free program anyone can use to quickly test or verify normal performance of an SSD, available here.
ATTO: The bar graphs generated by this utility provide a huge amount of data in a condensed format. It is extremely handy for detecting problematic file sizes, performance bottlenecks, or simply inconsistent performance that can be hidden when viewing final performance averages. Though this is significantly less of a problem today as solid-state drives have matured, it remains an essential performance verification tool of any benchmark kit.
RoboCopy: This is Windows' command-line utility included in most versions of Windows and provides for features beyond the default file copy handling of Windows Explorer. More information is available here. Windows Defender is also disabled to prevent bottlenecking the folder copy. We utilize a 9.81GB Movie file, and separately a 1.6GB Folder with 11,511 files across 449 subfolders and measure the performance to copying the data to and from a RAMdrive.
RAMdrive: Primo Software's Ramdisk utility is a handy, convenient way to create a 12GB direct-IO ramdisk, meaning no indexing or caching is utilized and removes any bottlenecks associated with another storage device. File performance varies by I/O size but exceeds 6GB/s above 16KB IOPS.
dBpoweramp R15.3: We convert 500 FLAC encoded music files (14.4GB) into Apple Lossless encoded files for playback on Apple devices. As no lossy compression is taking place, this minimizes the CPU workload while maximizing the amount of data written to the destination drive. Unfortunately this test would show more variance in results for systems with greater than four cores as dBpoweramp will fully load almost any size processor.
IOmeter – The most powerful piece of storage testing software freely available, IOmeter allows the creation of practically any kind of test workload. We first utilize it to dirty every new SSD before we test the four basics of every solid-state drive. We measure random 4K read and writes at 1QD and 32QD, as well as 2MB sequential read and writes with a queue depth of one. Each one of the six tests is run with a ten minute duration.
Additionally we have added Database, File Server, and Workstation scenarios back into our regular testing.  We have updated and modified the original three workload scenarios to bring them more in line with changes in workloads and disk IO sizes, so these results are not comparable to the test scripts originally created and included with IOmeter nearly two decades ago.
Footnote – Disk I/O Tracing
If you are still reading our benchmark profile, thank you! It is not easy to devise tests that can tax a modern solid-state drive so if you have any suggestions or perhaps know of any applicable software that you would like to see added to our test regimen, please let us know. We are especially eager to add disk I/O trace recording and playback to replace the batch file testing we utilized in past storage reviews. We are still looking into how to make this possible, so if you know of a piece of software that is free or doesn't cost a few grand please do drop us a note!
Futuremark PCMark 8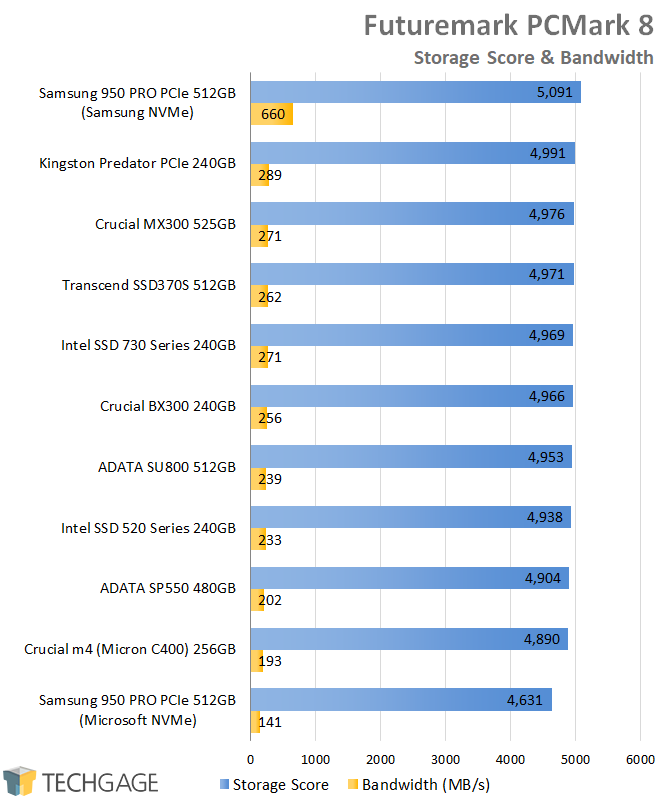 The BX300 kicks off with solid performance as the highest performing budget drive we have tested to date. If it wasn't for the capacity difference between the 240GB BX300 and 525GB MX300 the two drives would be even closer in the chart. While we don't have a BX200 on hand it is safe to say it would place much closer to the older m4 drive than the BX300 in our review.
Speaking of which, the m4 slots in last place in our graph if we ignore the outlier 950 Pro using the Microsoft NVMe driver. The SATA 6Gb's interface has remained unchanged over the last six years, but SSD performance (most notably in the areas of consistency and sustained load) have come a long way since then.
Iometer 2010 1.1.0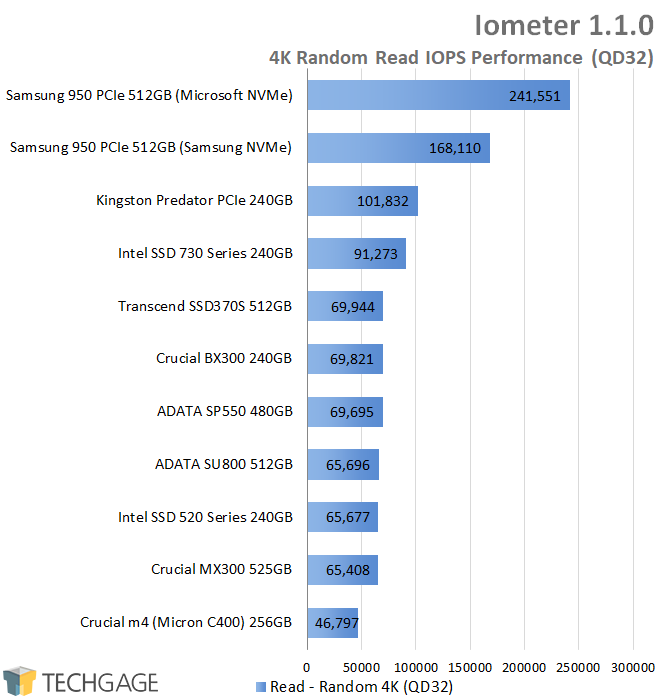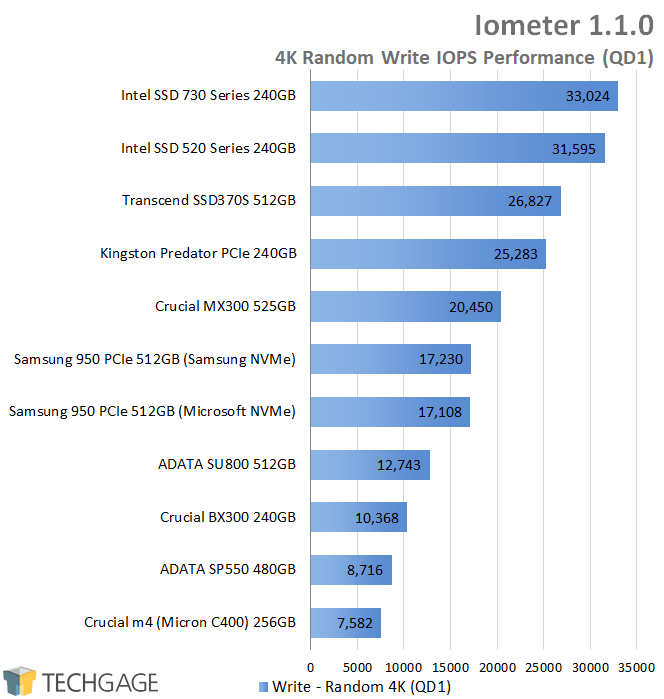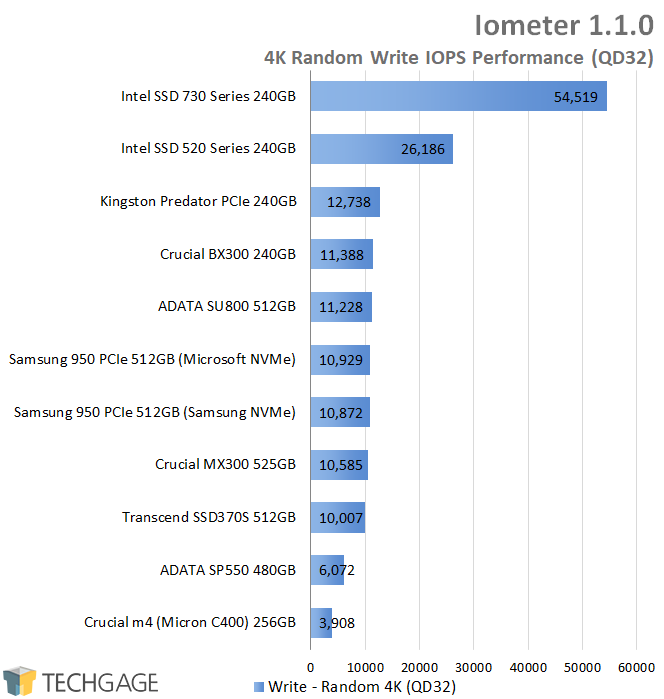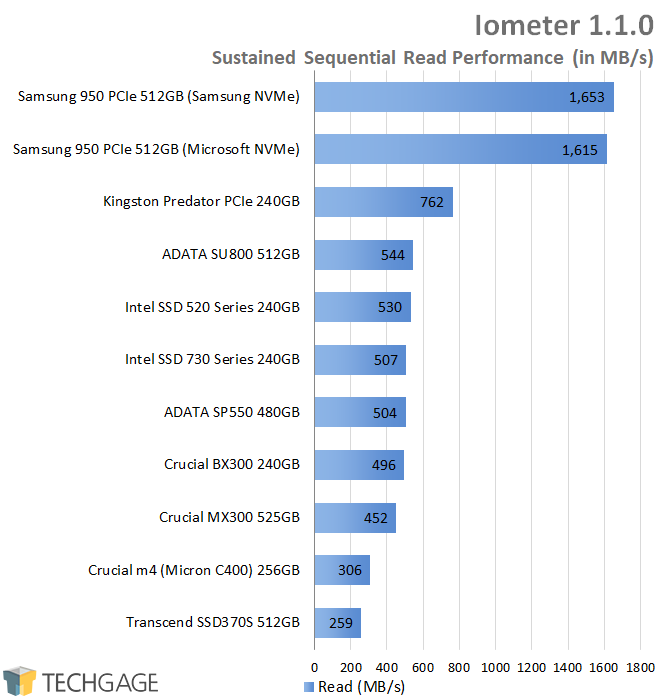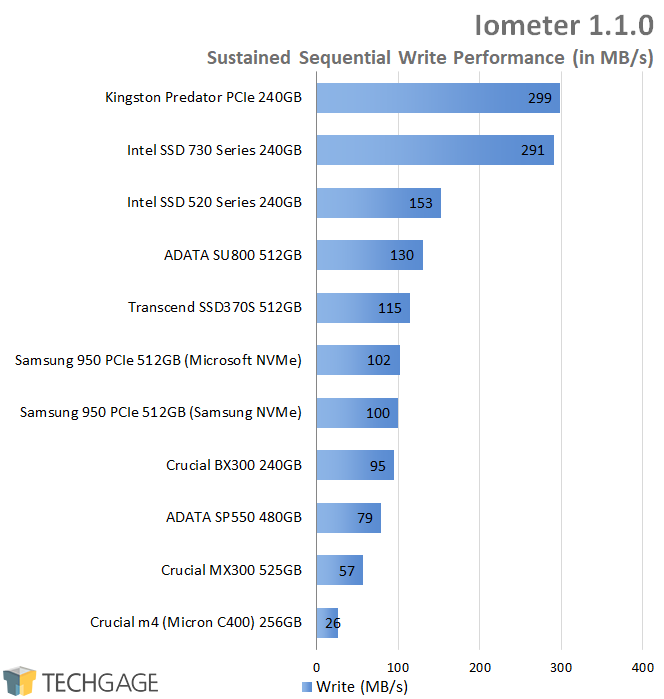 One thing to keep in mind is Iometer creates a test file that spans the entire size of the SSD. So it should come as no surprise that this mostly negates the SLC caching performance of the BX300 and other SLC-caching drives. While this allows us to see the raw performance of the NAND, ten minute saturation workloads are not even close to representative of the sort of work consumer drives would see in normal consumer use.
With that caveat out-of-the-way the BX300 delivers surprisingly good performance. In fact the BX300 does so well that it almost appears the MX300 and BX300 are in the wrong places in our 4KB read graphs. What has occurred is that the MX300 still uses TLC NAND, and as you recall the BX300 has reverted to using faster MLC grade NAND. Even with its larger capacity and over-provisioning the TLC NAND in the MX300 simply can't match the MLC NAND in the BX200 once the SLC fast-cache is removed from the equation.
The story repeats itself with the sustained sequential read and write tests, with the SLC caching completely filled the MX300 eventually falls behind the BX300 in sustained reads and writes. More than anything else this shows that Crucial has seriously upgraded the performance of its newest budget BX300 drives.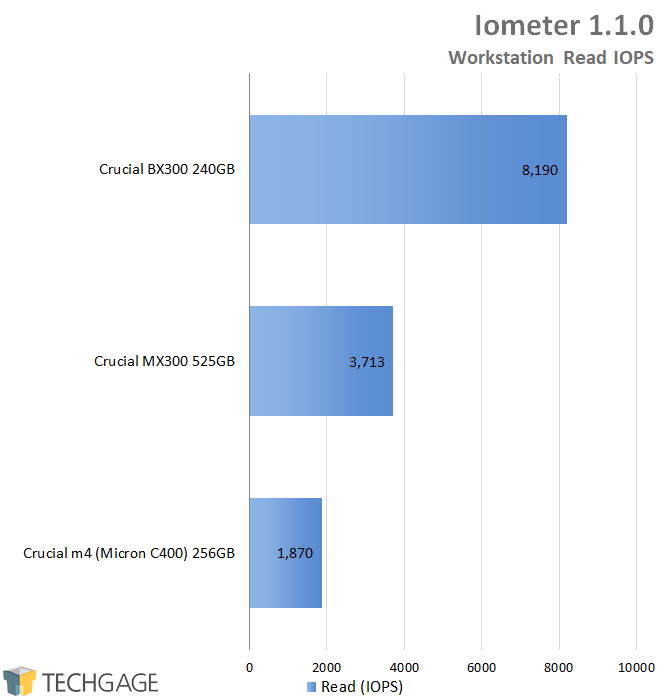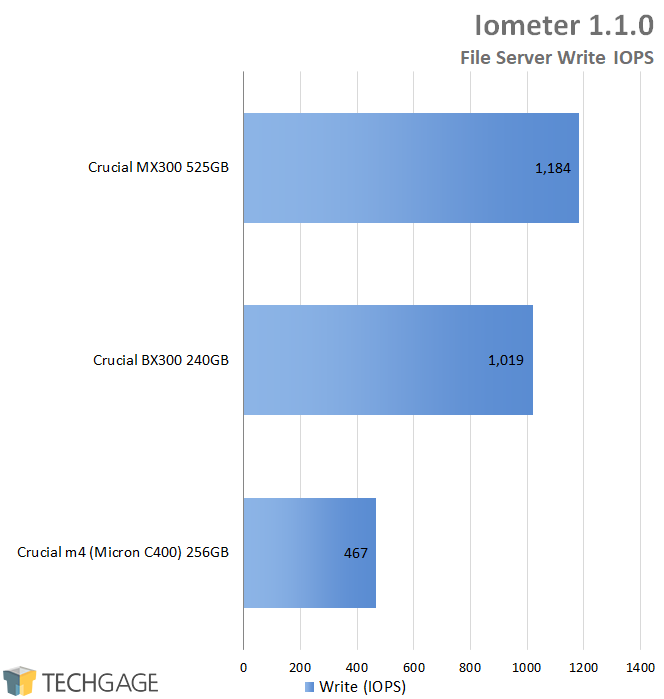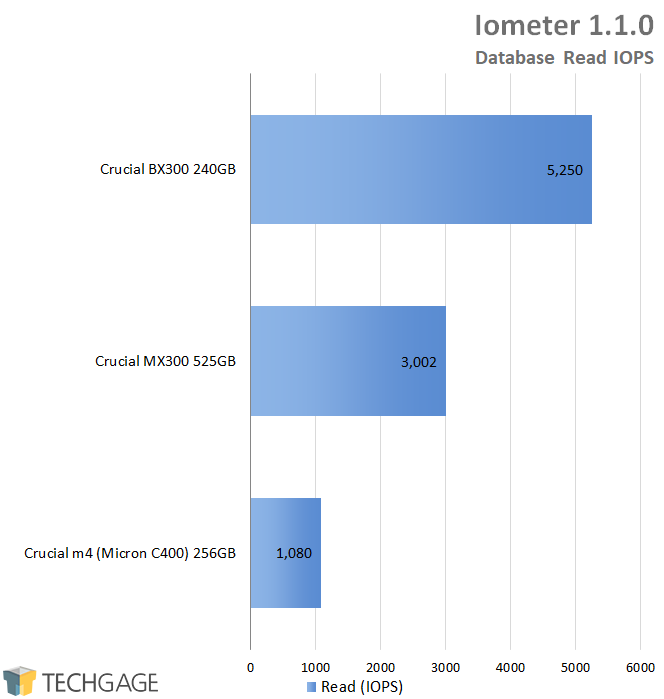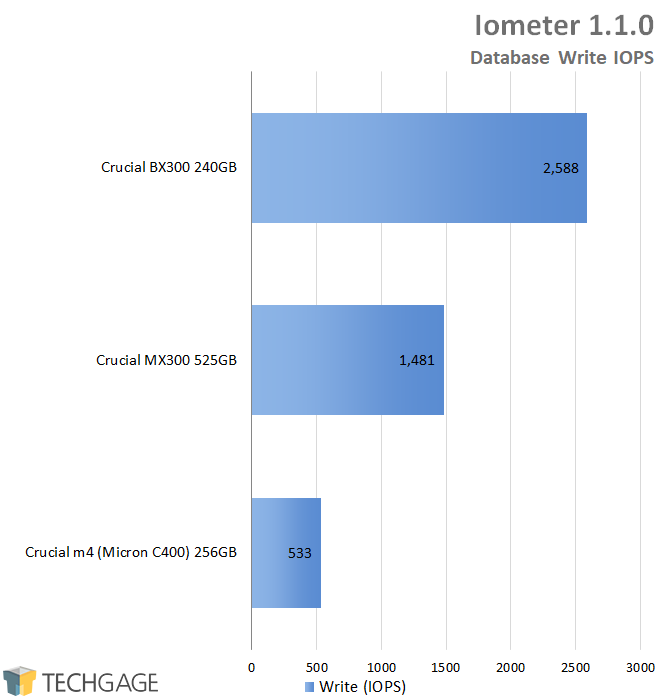 Our new Iometer scenarios are more appropriate for enterprise and data-center SSDs, but due to the dearth of consumer workloads that will stress modern SSDs we have recreated the original Iometer usage scenarios with some modern settings. Each of the three scenarios runs for twenty minutes with minimal time given for the SSD to perform maintenance tasks like garbage cleanup or clearing any SLC fast-caches (if applicable). These tests are a worst-case scenario intended to highlight the hidden differences between solid-state drives.
The BX300 seems to excel at smaller 4KB focused tasks and bests the MX300 in our Database and Workstation scenarios. Our file server scenario utilizes request sizes up to 64KB, here the MX300 regains its lead though the BX300 is not far behind. Given the MX300's size advantage (and performance advantages it entails) this is a very impressive showing for the BX300.
The six-year-old Crucial m4 SSD does not have an SLC fast-cache and was limited in write performance back in its day. Evidently the m4 has not aged gracefully in the last six years. Clearly as far as intensive workloads are concerned users on much older SSDs may see tangible benefits to upgrading to a modern solid-state drive.
AS SSD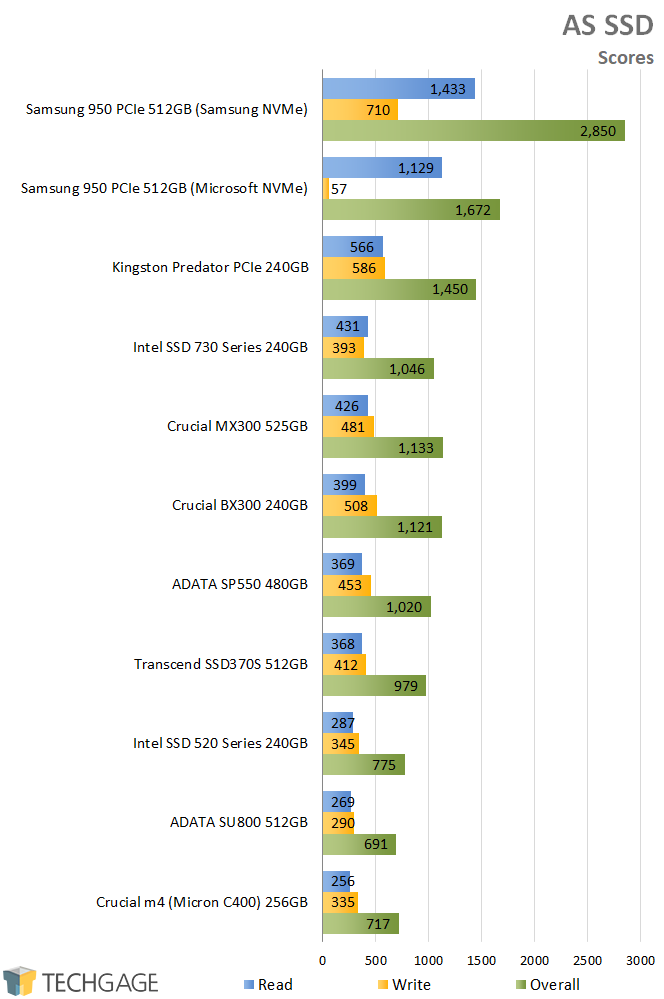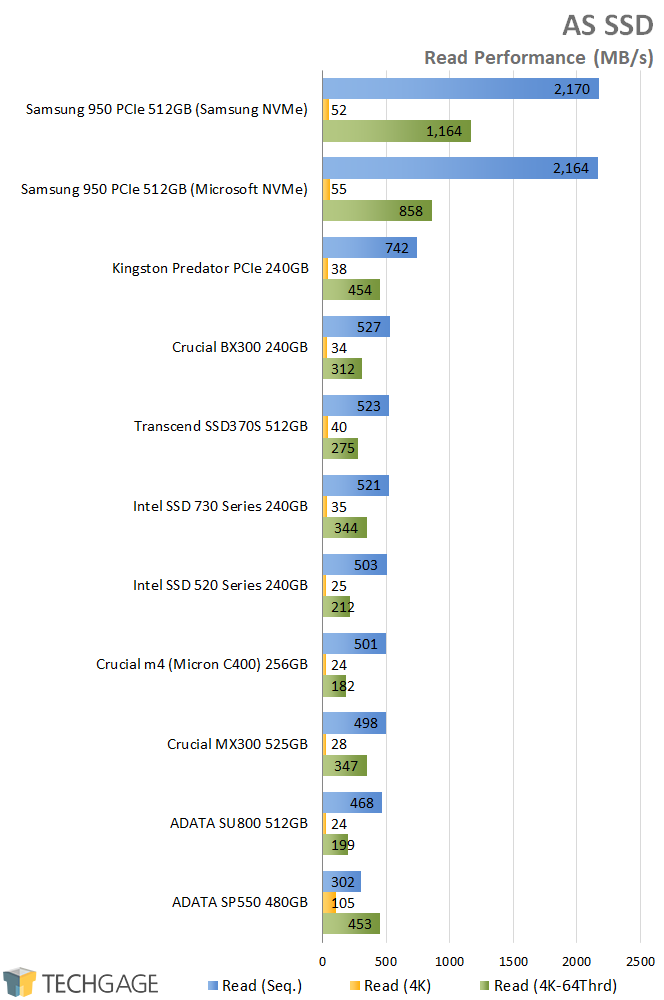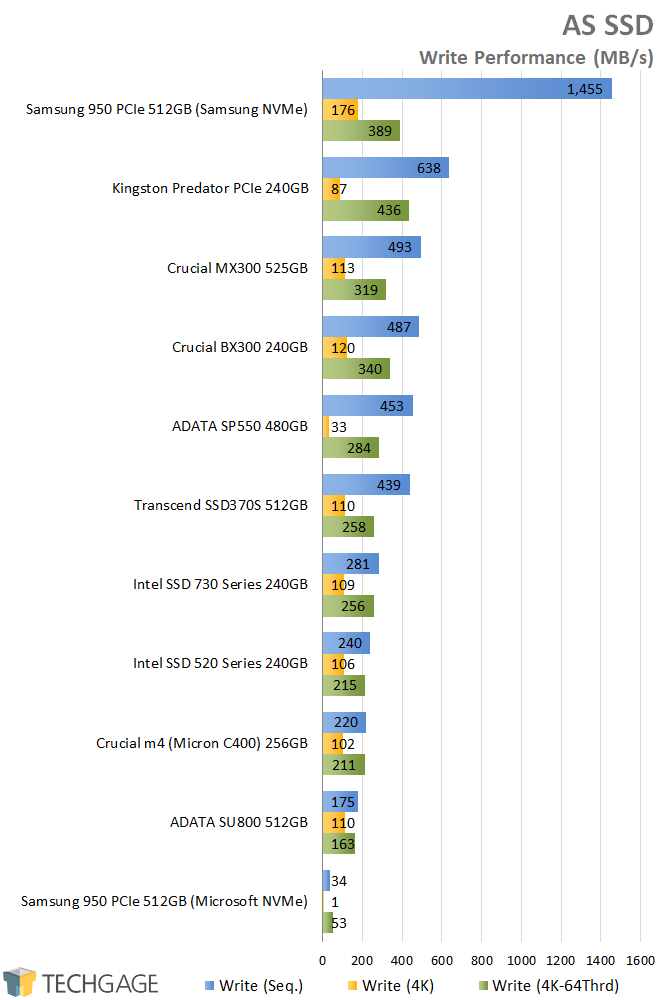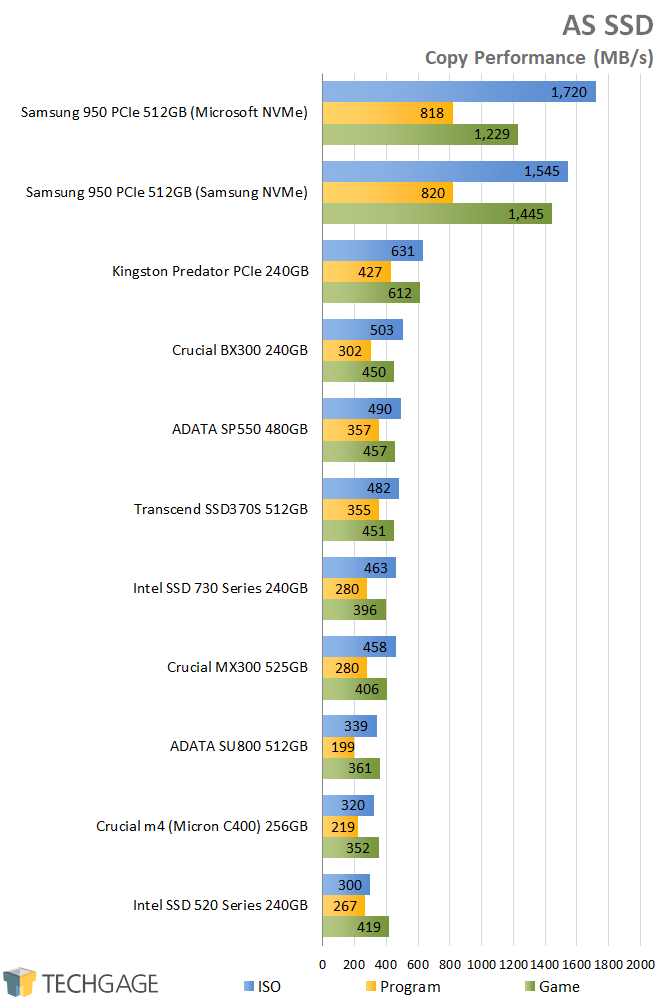 | | | |
| --- | --- | --- |
| AS SSD – Latencies | Read | Write |
| ADATA SP550 (480GB) | 0.035ms | 0.034ms |
| ADATA SU800 (512GB) | 0.032ms | 0.035ms |
| Crucial BX300 (240GB) | 0.031ms | 0.029ms |
| Crucial MX300 (525GB) | 0.043ms | 0.527ms |
| Crucial m4 (Micron C400) (256GB) | 0.037ms | 0.049ms |
| Intel 520 (240GB) | 0.110ms | 0.173ms |
| Intel 730 (240GB) | 0.032ms | 0.032ms |
| Kingston Predator (240GB) | 0.041ms | 0.047ms |
| Samsung 950 PRO (Microsoft NVMe) | 0.027ms | 2.670ms |
| Samsung 950 PRO (Samsung NVMe) | 0.023ms | 0.021ms |
| Transcend SSD370S (512GB) | 0.032ms | 0.035ms |
The Crucial BX300 ranks just below the MX300 in AS SSD's overall Scores, yet both drives are frequently trading places across all the charts showing that the drives are fairly evenly matched in performance. This is surprising given the MX300 has a larger SLC cache, larger capacity, and more overprovisioning to work with. The strong performance of both drives, despite being powered by 4-channel controllers, also highlights the advantage to fast SLC-caching solutions.
Even better the BX300 doesn't display the odd hiccup measured by the MX300 in the access latency test. To the user there isn't any palpable difference between a millisecond and a microsecond, but in CPU time frames this still equates to a tremendous difference.  0.029 milliseconds works out to be 29 microseconds, a very good latency for a budget drive. Anything in the 100s of microsecond range is a bad thing and can mean the drive lacks a DRAM cache, is overwhelmed processing non-related overhead, or a driver problem.
ATTO, Robocopy, dBpoweramp & Final Thoughts
ATTO
Once again there is very little difference between the MX and BX model drives, both deliver 500MB/s or better at 32KB access sizes and above.  This program emphasizes better than most the hidden performance limitations that used to be common in earlier generation solid-state drives, as the m4 results differ drastically with the drive capped around 280MB/s writes regardless of access size. Drives like the m4 are still much preferable to spinning rust, but the performance differential between it and new drives such as the BX300 would easily be enough to justify an upgrade.


Crucial BX300 240GB

Crucial MX300 525GB

Crucial m4 (Micron C400) 256GB


ADATA SU800 512GB


Transcend SSD370S 512GB


ADATA SP550 480GB

Intel 520 240GB

Intel 730 240GB

Kingston Predator 240GB


Samsung 950 PRO 512GB (Samsung NVMe Driver)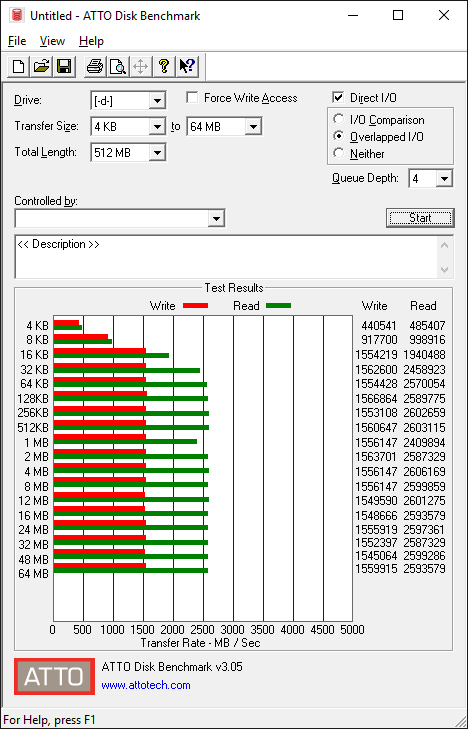 Samsung 950 PRO 512GB (Microsoft NVMe Driver)

RAMDrive Robocopy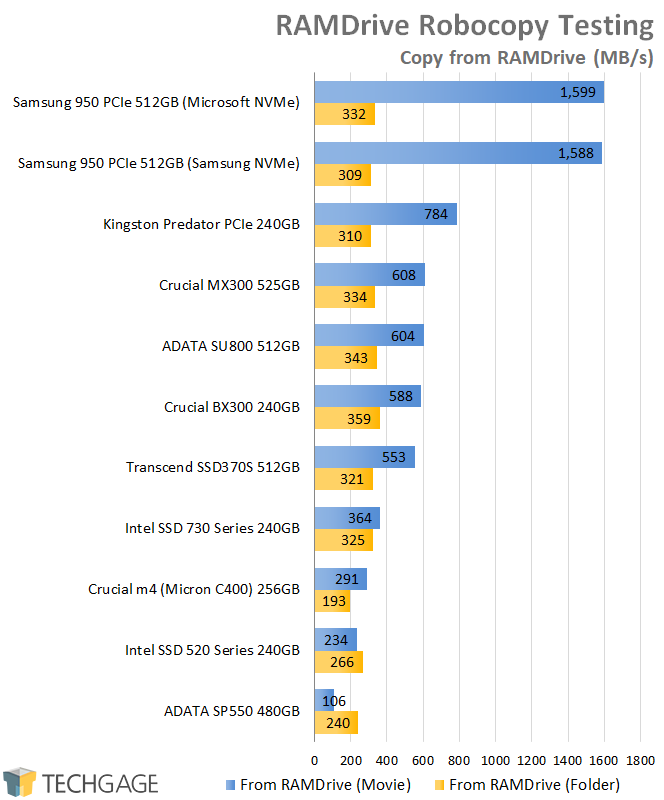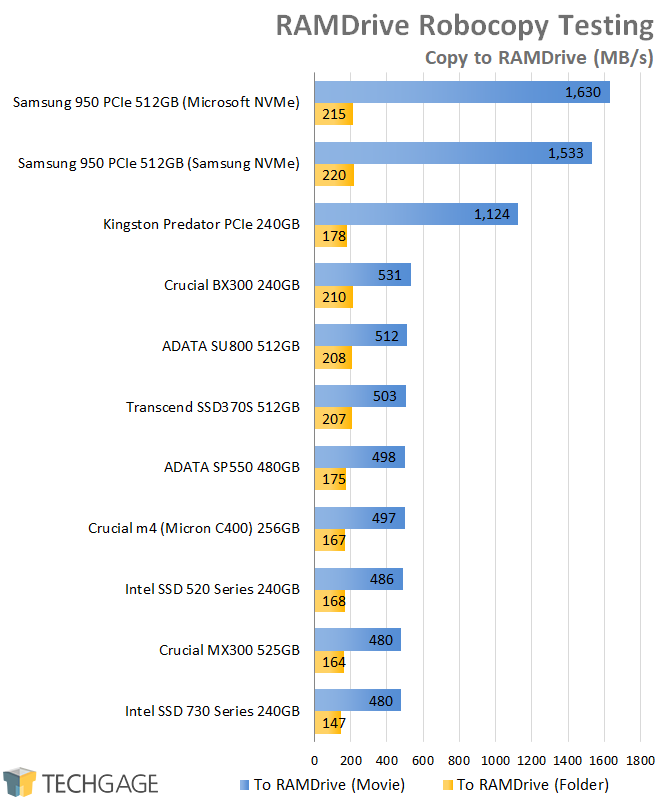 Robocopy gives us some valuable real-world usage over synthetic tests. The movie file is nearly 10GB which exceeds the 8GB fast write-cache of the 240GB BX300. Yet once again we see some curious results where the BX300 goes on to outperform the MX300 with the folder directory full of thousands of files and subfolders.
Copying data from the drive to the RAMDrive tests the read performance of the SSDs, and here the BX300 240GB is able to best the former-flagship MX300 despite its size-advantage. In fact the BX200 just became the quickest SATA 6Gb's drive in this test. We did mention this is a budget drive, right?
dBpoweramp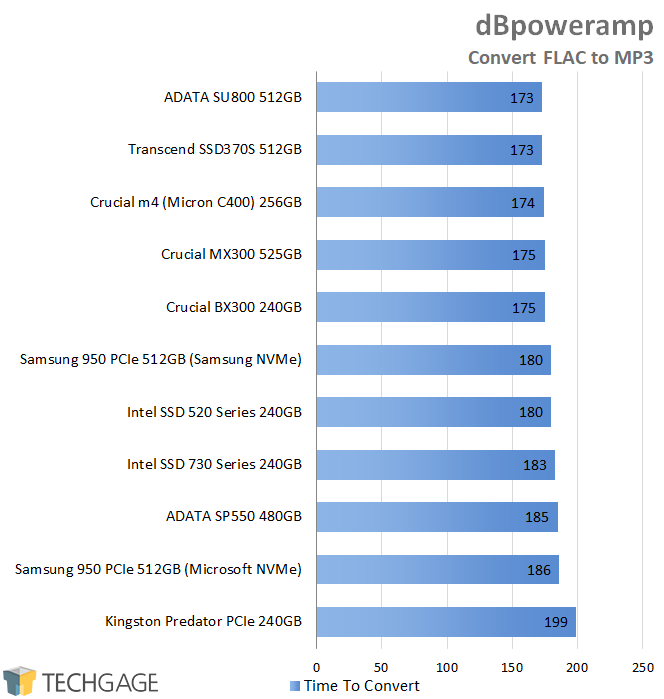 This test remains CPU bound with a Haswell quad-core processor, which goes to show why transcoding/encoding is still relegated to spinning platter drives. Amusingly the m4 is a second quicker in this test even though it shouldn't be, but the results held through multiple runs. Even if we removed the bottleneck by upgrading to a ten (or more) core CPU it seems unlikely people would be pairing such processors with interface bottlenecked SATA drives.
Final Thoughts
The Crucial BX300 is supposed to be a budget drive, but in our tests often delivered results as good as or better than many of the SATA drives in our lineup, including the former-flagship MX300. This strong performance is in part thanks to a combination of a large SLC write cache paired with MLC NAND. As will be the case with any SSD the 120GB model simply does not have enough flash chips on the drive to extract much parallelism from the controller. This is not an issue (yet) for ~240GB and larger models but it is something consumers should be aware of if they are looking to save by going with smaller capacity drives. In addition the SLC fast-write cache for the 120GB model is only 4GB, but it doubles for the 240GB and is 16GB for the 480GB drive. This will further affect performance, so as such we would strongly recommend the 240GB drive as the minimum capacity if purchasing an SSD today.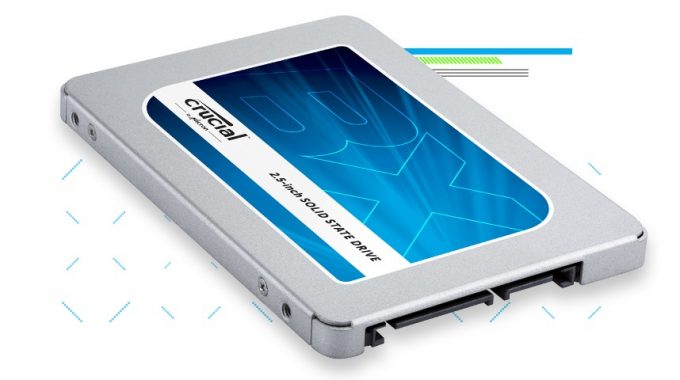 Crucial's BX300 240GB ($88) is an amazingly fast solid-state drive for those on a budget. By far the largest caveat seems to be current market pricing, but not compared to other budget drives. Strangely Crucial's own flagship MX500 (250GB $80) is retailing for almost $10 less as of this review and has been so for a few weeks. Both drives utilize the same Silicon Motion SM2258 controller, however the MX500 sticks with newer 64-layer TLC NAND which potentially could hinder performance if the SLC fast-cache is exceeded. Yet the MX500 has a longer 5-year warranty and adds AES-256 encryption support which the BX300 family lacks. As such, for normal consumer use the MX500 is likely the better option especially given it sells for less with slightly higher specifications.
Thanks to its edge in high queue depth 4KB random writes the BX300 240GB frequently bested the larger 525GB MX300 and even ranked as the quickest SATA 6Gb's drive in a few of our tests. Leaving the oddities on pricing aside, the BX300 is clearly a solid-state drive designed to raise the bar on what to expect from a budget SSD. Whether looking for a new SSD or perhaps considering an upgrade from an older model, the BX300 series from Crucial aims to please with an affordable price and absolutely solid performance.
Copyright © 2005-2019 Techgage Networks Inc. - All Rights Reserved.