Customizing OS X: The Easy Way

Date: July 6, 2007
Author(s): Don Williams

In the past, customization for OS X has been difficult, if not next to impossible! With newer software tools however, it is possible to customize this ever popular modern OS to your liking. We examine the claims of several programs that help to make OS X feel like home.
---
Introduction
Even though Apple's OS X Aqua interface has been praised as elegant and visually appealing, it is, at the same time, somewhat limiting when it comes to customizing it to suit individual tastes.
Apple is run by a pioneering genius, who's strict control over every little itty-bitty element of OS X'S GUI has made it very difficult to modify or customize. In fact, Apple's tight control over it's default 'look-and-feel' was so tight that many critics have speculated that customizing this popular and growing OS would be next to impossible.
Even Arlo Rose, the developer of the most popular Mac Classic customizing program, Kaleidoscope, was so discouraged by OS X restrictions that he dropped out of the OS X customization game early on. But does this really mean that's its impossible to customize or change OS X, or can one indeed go beyond Apple's vision and customize the OS to suit his to his or her own personal taste?
Yes, I'm pleased to say that all of the early criticism's of Apple's customization road-blocks have been overcome and it is now possible to customize pretty much any and or all of OS X's Aqua GUI to suit your hearts content.
So, with this in mind, we will look at several programs and utilities for customizing the 'look-and-feel' of your OS X desktop. These include both shareware and freeware programs, such as UNO, ShapeShifter, ThemePark, Xounds, Clear Dock, iClock, iCan, Weather Dock and Candy Bar.
One problem currently that OS X has, has come directly from Apple's previous versions of OS X: Cheetah, Puma, Jaguar, Panther and, Tiger. This problem stems from Apple mixing several different and conflicting elements from each version into one. This, sadly, has resulted in a very inconsistent theme throughout the latter versions. This is really rather strange when you consider that Apple is famed for its design expertise, one that stresses simplicity and functionality above all. This problem is one that Apple states it will address and overcome in the next release of OS X, Leopard, which will pounce sometime this October.
While we wait, with baited breath for Leopard, we do have alternatives, in the meantime. One of these is 'UNO,' a free utility that will harmonize the different inconsistencies of the previous versions of OS X into one complete and consistent theme. This great program from 'Interacto.net' finally gives OS X a clean and consistent look or theme that is, in fact, more OS X looking than that of Apple's own recent version.
'UNO', which comes from the Latin word for 'One,' really looks great. It is clean and very professional looking and is as easy to install, just as is any other OS X program.
If using another theme, first revert to the default Aqua GUI!
Quit all applications.
Run UNO app.
Chose "Install" (toolbar or menu).
Select the UNO variation you wish to apply to the various GUI elements.
Enter your administrator password when prompted.
Restart your computer to complete installation.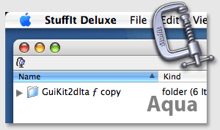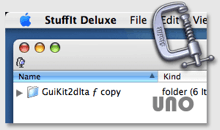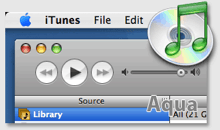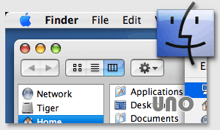 Of course, as nice as UNO is, it still leaves you with only two choices, that of it's own look or that of going back to Apple's inconsistent one. What if you like the idea of having lots and lots of choices? The answer here lies in a great shareware program called, 'ShapeShifter', a shareware program that brings to mind Window Blinds on the PC side.
'ShapeShifter', by Unsanity software, is the best known and most fully featured theme changer for OS X. I personally use it, as there are a host of great many 'canned themes' that one can download. It's also highly recommended because of it's security feature, namely that it does not directly modify or change any critical elements of OS X's core, something that has dogged similar programs in the past. I know, as I have suffered from the horrors of programs that mess around with the graphical core of OS X! Reinstalling your OS is hardly what I would call fun, so ShapeShifter is a breath of fresh air indeed.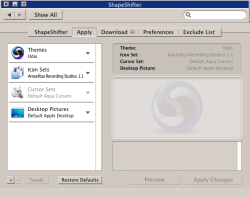 What is really remarkable about ShapeShifter is the fact that it allows to change just about anything to do with OS X's GUI be it windows, apps, menus, buttons, and virtually any thing else that you can think of, including desktop backgrounds and icons.
ShapeShifter lists the following benefits:
Change the overall appearance of your operating system safely, quickly, and reliably
Tweak existing themes to create the one that's perfect for you
Experience things that haven't been possible with Mac themes before
Quickly preview themes without actually applying them
Use Jaguar or Panther themes in Tiger effortlessly
User specific theme and icon set installations
Add and remove themes effortlessly
As a personal user of this program, I can highly recommend it, if for no other reason then the freedom of being unshackled by Apple's nice, but limited and inconsistent Aqua default look and feel. Freedom comes at price, of course, and in this case its $20 US.
'ThemePark', by Geekspiff, is a free program that compliments ShapeShifter by allowing you to customize in the following ways:
Create gui Kits for use with Unsanity's ShapeShifter;
Create new themes or icon sets using your own graphics;
Merge your theme with an existing one to use it as a base or to make small tweaks to someone else's theme;
Quickly preview your theme while you're constructing it;
Easily find the element you're looking for using ThemePark's smart organization, filtering, and inline hints;
Save in-progress themes and easily see which areas you've already modified;
Edit resource files found inside of many applications.
I, being somewhat lazy, have not yet personally tried using this program, but if your not satisfied with all of the many themes for ShapeShifter you can now try your hand at creating own! This includes mix and matching various elements from any number of pre-existing themes!
Also from makers of ShapeShifter comes another program called, 'Xounds'. This is a sound customization program that I have used for years. It works great and can enable you to add sounds to just about anything you do, from moving folders around, for scrolling, moving your mouse with menu's, etc. Why, you just name it and Xounds probably can give it a cool sound to accompany it.
Still another nifty program, from Unsanity is it's free program, 'Clear Dock' and it does exactly what the name implies, it will remove both the boarder and color from OS X's dock. Not only that, but it can also color your dock any color your heart is set on. I wouldn't be with out it.
In fact, this same company has a host of other customization products that bring back many features of Mac Classic, such as: FruitMenu that brings back Classic's Apple menu; Menu Master allowing you to change or remove shortcut keys with ease in any application; WindowShade a program that you can use to redefine the way window minimization works by assigning customizable behaviors to the action, including popular Window Shade, Minimize-In-Place, slick Make Transparency.
Continued Look
Though not as cool as ShapeShifter, Sanity Software's markets a $5 utility called, 'Visage' that I really like. All Visage does is allow you to customize the boot-up or login screen of OS X, but it is still very cool. I have tried doing this the hard way and I am therefore very relieved to see this little app come along.
It would have spared me a lot of hard work, not only in getting me to modify my log-in screen with a new background picture, Logo or wording, etc., but it would have saved me a lot of time and trouble trying to repair the damage I did by fooling around with the insides of my system folder! Children shouldn't play with matches and idiots shouldn't play around with their system folders. I learned that one the hard way!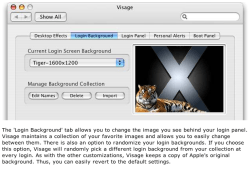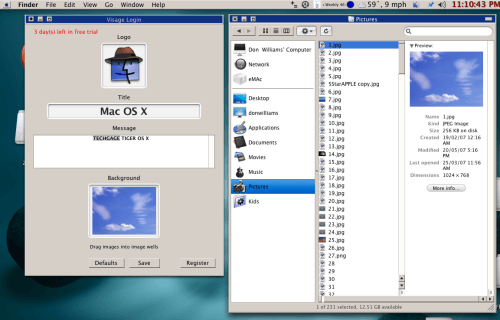 Another nifty free program for changing the icons of folders, applications, documents, etc. is with 'Finder Icon'. Once install this program will have you changing icons on the fly by simply right-clicking on your mouse and cutting and pasting them with out going to the trouble of opening up a bunch of 'get info' dialog boxes. This program is highly recommended and I personally would feel a little lost with out it. Also, its nice to know that it only takes up a measly 7k of space!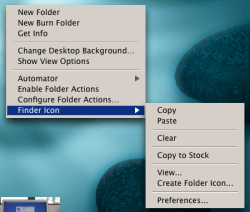 Mark Fleming's 'iClock' is a customizable replacement for Apple's menu clock. With this $20 shareware program you can customize the color and size of your clock, change the clock's font and much, much more. Unlike Apple's menu clock, iClock's gives you the ability to check your stocks, access web info, and, as well, system info, plus a whole lot more to boot.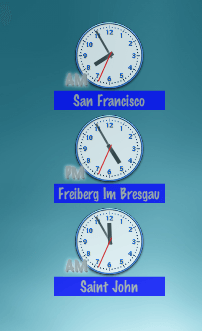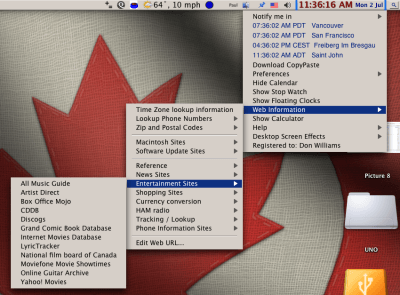 You can also use iClock to enable animated desktops and iClock also gives you a very cool transparent calculator and plus, if that's not enough, it also includes features such as built-in calendars, to-do lists, and world clocks to keep you up to date with others all over the world!
'iClock,' at $20 US, is expensive, but again, personally, I would sadly miss not having it around. In comparison with Apple's menu clock, well, there is no comparison. iClock puts Apple's version to shame. Highly priced, but highly recommended.
When Apple introduced OS X they removed the trashcan and placed it in the dock. Now with iCan you can not only have the trashcan back on your desktop, but you can also do more with it. For example: you can change it's icon; change the size; add secure delete, etc. Kanzu Software charges $10 for the license and it makes a very nice addition when your customizing your OS X'S look and feel.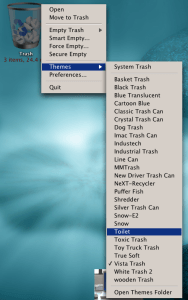 "Weather Dock" is a free program that gives you customizable and 'up-to-the-minute' weather reports directly from the Apple menu bar. You can access long term or short-term reports for your town or any number of 'favorite' places worldwide. I really, really love this program as it works perfectly. In fact, I paid approximately $10 for a similar program that sits in my 'never use again' pile. Weather Dock does more for free and it simply can't be beat for it's simplicity and functionality!
Finally, we close this article with Candy Bar, which allows you to change system and other icons system wide.
'iCandy Bar' is shareware and goes for the reasonable price of $12.95. I used this great little utility with a lot of pleasure and it works wonderfully. All one has to do is download and install 'icon containers' to change either the entire systems icons, applications, etc. With a simple drag and drop, individual icons can also be changed. Again, I highly recommend iCandy for any one who seriously loves to customize the look and feel of their OS X based computer.
So, for all you OS X users, or would be users, who wish to be emancipated from the strict confines of Apple's limited version of Aqua, rejoice, because with the above programs you, can, like Frank Sinatra, be singing a new tune: "I did OS X… My Way!"
All of these programs can be downloaded from either www.versiontracker.com or www.macupdate.com.
Themes for ShapeShifter can be downloaded at any one of these sites:
Icons can also be downloaded from here.
---
Don Williams has been an Apple enthusiast since the earliest days and is a contributing editor for Techgage.com and you can find his blog here.
Discuss in our forums!
If you have a comment you wish to make on this review, feel free to head on into our forums! There is no need to register in order to reply to such threads.
Copyright © 2005-2019 Techgage Networks Inc. - All Rights Reserved.