Edifier Esiena Bluetooth Review – A Universal Audio Dock

Date: January 16, 2013
Author(s): Jamie Fletcher

Edifier's Esiena is a rare beast in a market filled with various docks at many price points, all hoping to appeal to some niche. Esiena's party trick is a diverse set of input sources, including SD cards and USB. With a recent model revision, Edifier introduced Bluetooth into it's repertoire, while dropping the CD player. Read on to find out how it fares.
---
Introduction
More audio equipment reviews for you all –  this time in the form of the Edifier Esiena Bluetooth, a rather versatile iDevice dock with plenty of features to keep even the non-Apple fan happy. Some may think that this bit of kit is rather old, and in a way, you would be right; the original Esiena was released in late 2009, known as the iF360. Fast track a couple years and we have a new model revision, the iF360BT, which drops the CD player in lieu of Bluetooth connectivity.
The feature list is quite diverse for a dock, as it's one of the few that can support input from an SD card, USB, AUX RCA, Bluetooth and the 30-pin dock connector; it even has room for FM radio. Actually, the latter is a bit of a sore point – no wireless for Internet radio or streaming, which if I'm honest, is a little disappointing especially in this price range. Still, connecting to a device which does have Internet access and then using Bluetooth to stream would work. Dropping the CD player may upset some too, but I think in this day and age, we've grown apart from the little metallic foiled discs of wonderment and scratches.
The styling is very reminiscent of the traditional Bose system that often plagued TV commercials and magazines, although in a more infamous glossy piano black. While I'm not usually one to complain about aesthetics, I will make an exception here. Glossy black plastic needs to disappear – it's horrible stuff. Sure, it looks brilliant, rich, shiny, glossy, just fabulous darling… for about five minutes. Unfortunately, the stuff is sexually attracted to dust, greasy fingerprints and scratches; it can't get enough of them. Try as you might to clean it, it all comes back.
In the box is the Esiena unit itself, a small flat remote, RCA phono to jack cable, an antenna for the radio, power cable, and a box full of adapters. What are the adapters for? They're little plastic shaped recesses for the various types of iPods, which fit over the top of the dock to provide extra support. These are hardly necessary, and are likely to become lost or thrown out with the box. Worse still is that they are numbered, but there is no reference in the manual as to which is which, you just use the one that fits. I don't think Edifier thought that one through.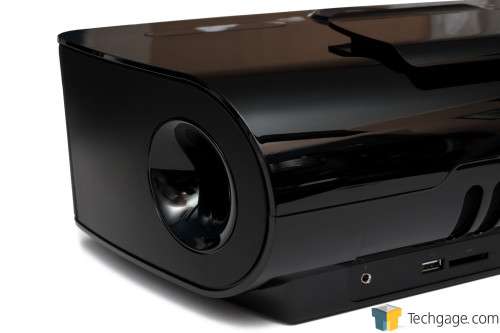 The Esiena is equipped with two 30 Watt RMS, 3-inch speakers via a Class D amplifier, with some very large ports on the side for bass resonance to give it that little extra kick in the bottom end. You're only going to be able to get so much sound from those 3 inch speakers, so don't expect miracles. However, the bass response is quite admirable for the size.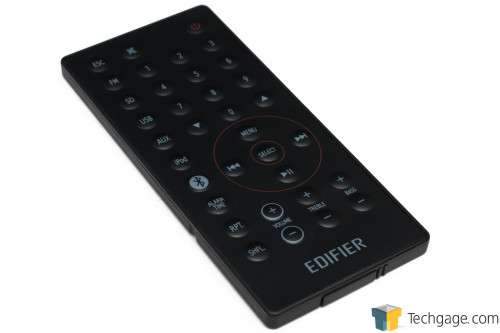 The Remote is very compact, flat, lightweight, and uses those rather stiff membrane buttons. It's powered by a little CR2025 lithium cell battery, hidden inside a small pullout caddy on the base.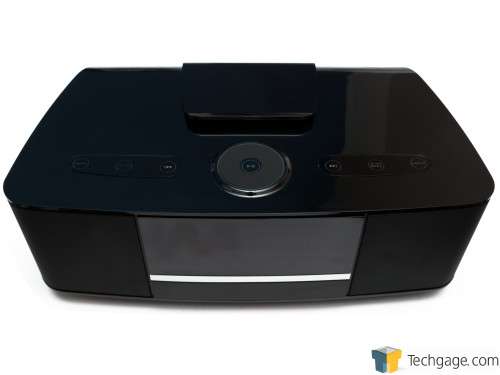 The controls on top of the system are an odd mix of a classic tactile button for play, resistive touch ring for volume control, and capacitive touch sensors for the everything else (I'm guessing capacitive, since touching the buttons with anything other than skin or conductive surface will result in no response). Why such a mix is beyond me; I really do miss buttons. The volume ring is very weird, just holding your finger on it causes the volume to switch rapidly between multiple states, making it very difficult to set a precise level.

From left to right: Antenna, USB, SD, RCA, AC power input, Power switch.
The SD card and USB connections only support FAT and exFAT file systems. NTFS just appears as blank media. I am unable to test HSF+, used by Apple, but it's unlikely to be supported too. As for the individual file formats on the above media, there are only two supported; MP3 and WMA. That's it. Some of the most widely used and common formats such as WAV, FLAC, AAC, OGG, ALAC and M4A are all missing, which is a bit shocking really, especially considering FLAC is an open format. To play anything else, you need to stream from the source device directly (either through AUX, Bluetooth, or straight from an iPod/Phone/Pad).
It seems a bit odd to praise an FM radio these days, or to be even talking about radio in general, but the Esiena has one of the best radios I've come across in a long time. The area in which I live has very poor reception for pretty much all signals, be it radio, TV or cellphone. Plucked straight from the ether comes crystal clear audio from a wide range of stations, stations which a half-dozen other devices could merely wave their proverbial arms at like an estranged kitten.
Those who love to awaken from an insomnia-filled night will be delighted with the selection of 5 independent alarms, each of which can be programmed to use any radio channel or the SD card – you can set the volume too. It's worth mentioning that the system uses a gradual volume control; powering on and off the system, even alarms, are all eased into life, so you are never shocked out of your bed/chair.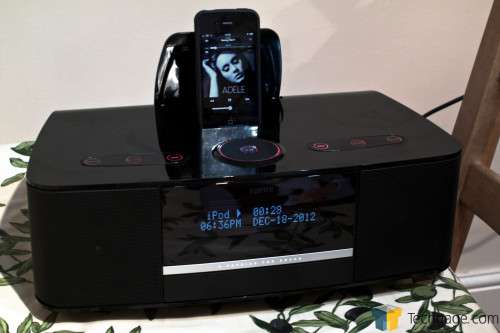 Plugging an iPhone into the dock works as expected. You can start playing music straight from the phone, connect it and the Esiena will take over straight away. You can then control your music via the iDevice directly or via the remote.
Bluetooth was a little twitchy on a number of occasions. When hooking the Esiena up, authentication worked fine, everything appeared fully functional. Media controls worked fine, such as pressing pause/play and skip, but there would be no sound. This happened quite frequently, which often required disabling and re-enabling Bluetooth a few times for things to work. This seems a bit odd considering that the Spinnaker speakers were fine with Bluetooth.
In terms of audio quality, I'd be hard pushed to say it sounds fantastic, but it's decent enough for the size of the system. The resonance chambers lift up the bass levels quite well, but it seems to be at the detriment to the upper-mid and high-end. As a near-field system, it's OK, but as a room-filler, it does lose some of its punch and becomes a little muddy. The treble range is distinctly lacking in clarity, only partially compensated with the Esiena's built-in equalizer set to 6 or more.
The Esiena Bluetooth is a very versatile unit, a universal audio system that can play music from nearly any source. At $300/£250, it's a little steep for a dock market that's extremely competitive. The inclusion of USB and SD cards is what will really set it apart. The radio is also fantastic, and definitely the best I've heard in a long time, although a lack of Internet radio is a little disappointing. As always with audio equipment, try it out before you buy; in this case, grab a USB flash drive and pop into a store if you can.
Copyright © 2005-2020 Techgage Networks Inc. - All Rights Reserved.