Edifier Exclaim e10 2.0 Stereo Speaker Review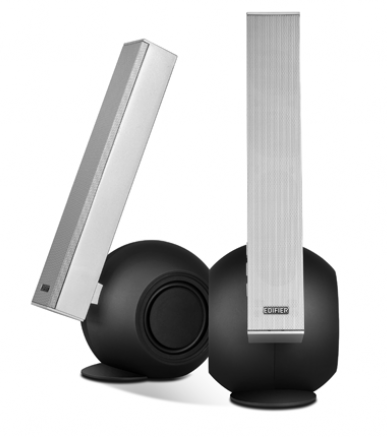 Date: June 17, 2013
Author(s): Jamie Fletcher

Edifier is on a roll at the moment, releasing new and unique speaker systems that cover a wide range of budgets. Under review here is a budget orientated system with both an interesting style and technical appeal. How well does it stack up to the multitude of $100 desktop stereo systems out there?
---
Introduction
Edifier is not one to shy away from unique and intriguing shapes and styles. The Exclaim is a new 2.0 stereo speaker system with a very unique shape. It's a bi-amplified system with various digital signal processing technologies enabled, such as dynamic range compensation. Edifier seems to be all about taking something simple as a pair of speakers and applying unique style and technologies.
This latest pair of speakers does not include Edifier's previous foray into adding Bluetooth to all its new products. Much like the Spinnaker set, these new speakers certainly have a unique shape; to me personally, it's more reminisce of a snail or a pair of rabbits with very long ears, than a pair of high-tech speakers (sorry Edifier). The shape certainly won't be for everyone.
Each speaker contains two tweeters and a radiated 3-inch woofer. This radiated speaker configurations allows for deep bass resonance, utilizing an otherwise small driver. Much like the previous Edifier reviews that we have done, the specifications are much more realistic, declaring frequency response to within 3 dBA. Power is on the conservative side for a mid range speaker system at 36 Watts total RMS.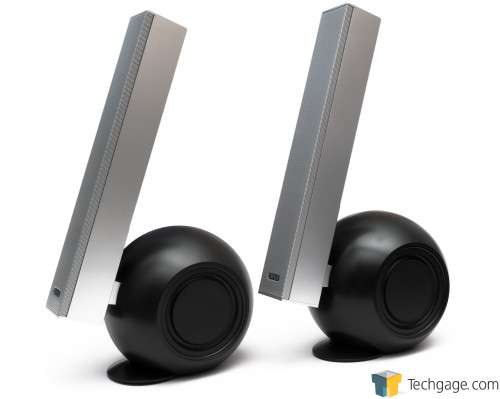 Much of the bass response is as a result of the radiator configuration. The website and manual are not terribly clear as to the exact configuration, but things were cleared up after a quick email to Edifier. The bass chamber has two speakers, one on either side. The speakers that are facing outward on their respective sides, is the radiator/passive speaker, while the speaker facing inwards, is the active/powered speaker. Using passive radiator designs effectively increases the surface area of the speaker (more air can be moved), meaning lower frequency responses can be achieved (more bass!). These configurations can often cause a resonance effect, whereupon a certain frequency range becomes more pronounced and even causes audible distortions. The trick is to set this resonance to an inaudible range.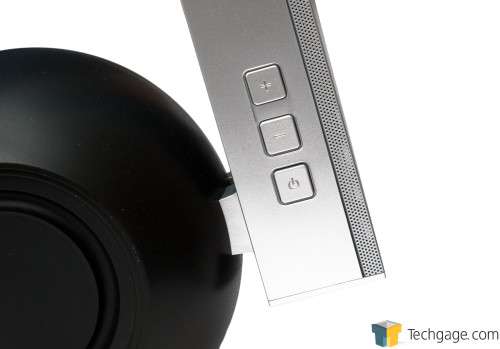 There is one thing that might cause alarm to many, the lack of any kind of speaker grill on the sides. This isn't as bad as it first appears, since the cones are very thick and stiff, with a tough rubber coating. Additionally, since the outward facing speaker on a given side is actually the passive radiator, there is very little risk of damaging the coil. It does mean that there is some burn-in time required to soften up the rubber for proper bass response.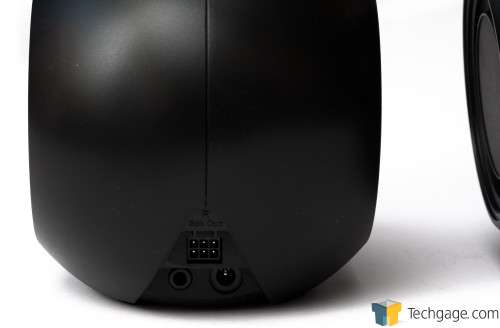 Due to the active speakers per unit being on different channels, Edifier is using the same 6-pin proprietary cable as with the Spinnaker set, to connect the left and right speakers. Apart from that, connectivity is very basic with just power and a single jack for input.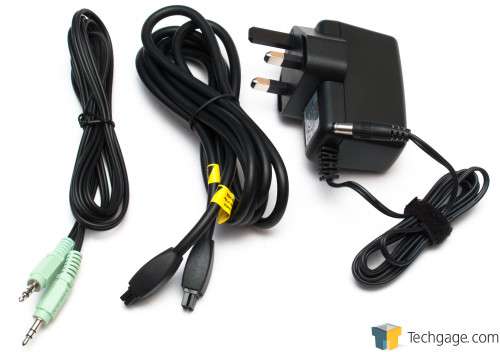 Unfortunately, like some of the other Edifier speaker sets I have tried, there is no volume memory when the unit is powered down (or put to sleep), so each time it is turned on, it'll be back to its default level. The good news is that the default volume is not too loud, and certainly not to the same level as the Spinnaker set. Also worth mentioning: no silly, blindingly bright LED to show you the system is switched on – just a subtle cold white blob on the speaker grill.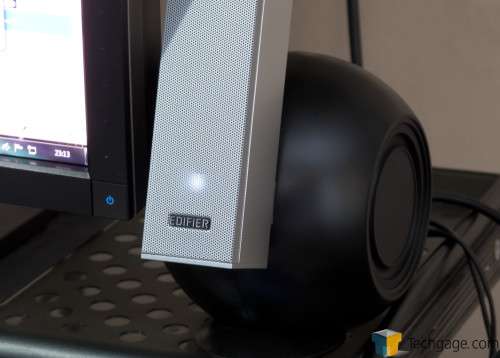 When it comes to audio quality, I was quite surprised. For what amounts to a couple tweeters and a clever extended woofer, these speakers can certainly cover the full range. Low end bass is obviously lacking, but that is to be expected. Bass in general remains sharp and precise. It remains in the warm range for mids, rather than the more traditional cold and clinical effect that seems to be quite common (especially for a tweeter heavy system). For a 'budget' set of speakers, these are very effective and certainly one of the best out there, remaining well balanced across all frequencies.
If you are listening to these as a near-field set, perched next to your desktop or laptop, then they work wonderfully. If you want to use these from any distance, and thus turn up the volume, then the limitations become rather apparent. Noticeable distortion creeps in at the high end, and as you get louder, the distortion starts creeping down the scale into the upper-mid range. The bass also struggles to keep up with the demand, but honestly, these speakers were not designed for room filling and house shaking bass.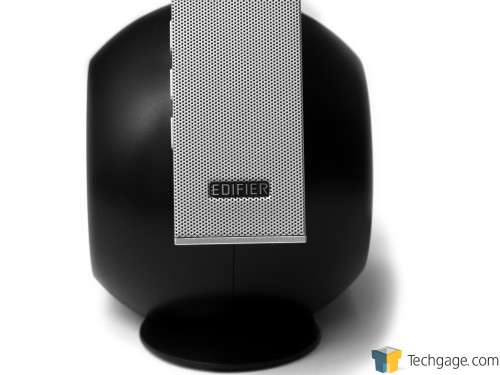 For listening to music, lazing about in your chair, browsing the Web or doing work, these are fantastic. If you want to sit back and watch a movie with them, then you may be left a little wanting. The lack of a remote is a little annoying, but at the same time, these are not meant to be heard from any real distance, so a remote for a system that's within arm's reach would be pointless.
The clever passive bass extension, plus the extra tweeters, really do balance out well, as long as they are used as a near-field set of speakers. The $100 price point may seem high for a 2.0 system; in the grand scheme of desktop audio, it's quite cheap. These speakers are most certainly not for bassheads, but for anyone that appreciates a more balanced soundstage. Again, the shape won't be for everyone, but the performance is certainly impressive for the price.
Pros:
Balanced soundscape
Low price
Unique shape
Clever passive bass system
Cons:
Proprietary cable
No volume memory
Copyright © 2005-2021 Techgage Networks Inc. - All Rights Reserved.