F1 2013 Classic Edition Review – How Far Has Evolution Come?
Date: November 18, 2013
Author(s): J.D. Kane

Codemasters has held the exclusive F1 games license since 2009, and every year since 2010, gamers have seen a steady maturation of the franchise. It's now 2013, and Codemasters has given us F1 2013. Just like the sport it represents, the game is a study of evolution in detail, so let's see if F1 2013 becomes a champion.
---
Introduction
It's almost the end of the current Formula 1 season. F1 racing gamers know, then, that it's time for F1 2013, Codemasters' annual F1-licensed offering, to come out. Available on Xbox 360, PlayStation 3, and PC, F1 2013 depicts the 2013 Formula 1 season, as you'd expect. Accordingly, team driver rosters and cars are current, as well as the list of circuits on which the F1 circus will race.
F1 2013 also adopts new-for-2013 regulation changes, specifically the change in DRS (Drag Reduction System) deployment during the Grand Prix weekend: Prior to this year, DRS was available for use anywhere on a race circuit during all sessions but the race itself; in 2013, however, drivers may only use DRS in the two designated DRS zones.
Long-time Formula 1 fans know that the sport is based on the principle of evolution. Everything in the sport evolves: From the race tracks (to meet more demanding safety standards) to the drivers' training methods to the cars themselves, nothing ever stays the same. Indeed, the cars evolve during each Grand Prix weekend as the teams optimize the cars' set-ups according to the track conditions. As veterans in the sport say, in Formula 1, if you're not going forwards, you're going backwards, and therefore getting left behind.
Interestingly, Codemasters' approach to its exclusive Formula 1 franchise has mirrored the sport's own penchant for evolution. Techgage team principal Rob Williams reviewed the last two games (here and here) and noted the incremental changes from the older game to the newer one. Perhaps this approach is inevitable; as the saying goes, how often can you reinvent the wheel?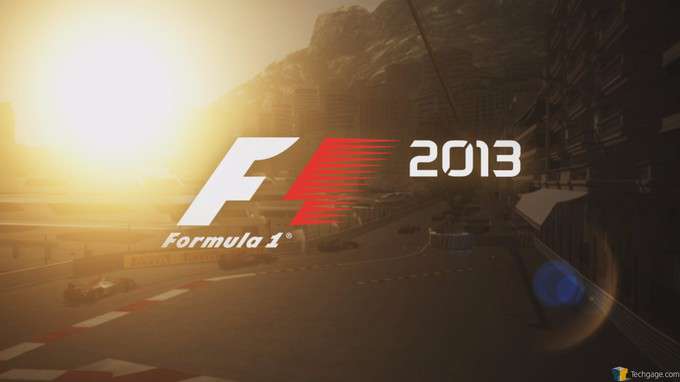 That's not to say Codemasters' approach is in any way wrong. As already mentioned, the universe that is Formula 1 is itself always evolving. Consequently, taking this as fact, I'll have very little criticism for the company's approach as far as developing its games is concerned.
But I guess the real question is, has Codemasters done enough to evolve the series into everything it could be?
We'll soon see.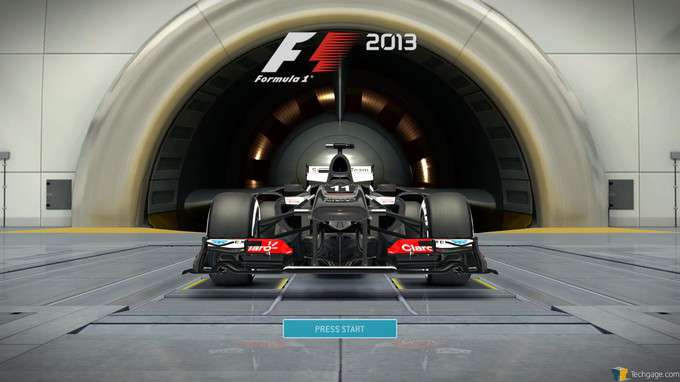 The game's start-up sequence is, like starting a Formula One car, quite an event. The theatrical intro is quite cinematic and does a good job pulling you into the game. If you've got steering wheel + pedal controller set equipped with force feedback (FFB), the wheel will start vibrating and turning on its own as the game starts up.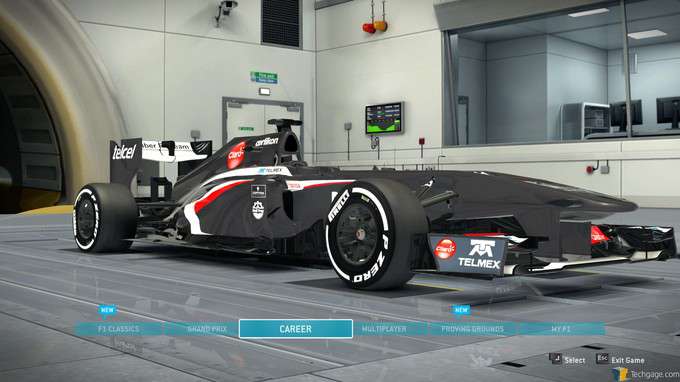 After creating/selecting a save game, you'll next see the main Game Mode selection screen. On offer are the brand new F1 Classics mode (more on this later), Grand Prix and Career modes for players who enjoy racing solely against the AI, Multiplayer, and MyF1.
Grand Prix, Career, and Multiplayer modes are essentially the same as they were in F1 2012. This is not necessarily a bad thing, of course, since these modes are pretty straightforward. The only differences of substance, of course, are the aforementioned updates to the driver rosters – for example, Sergio Pérez of Mexico is now at McLaren, while countryman Esteban Gutiérrez has taken his place at Sauber – and technical regulations (specifically governing DRS deployment). So if you've had seat time with F1 2012, F1 2013 won't faze you too much.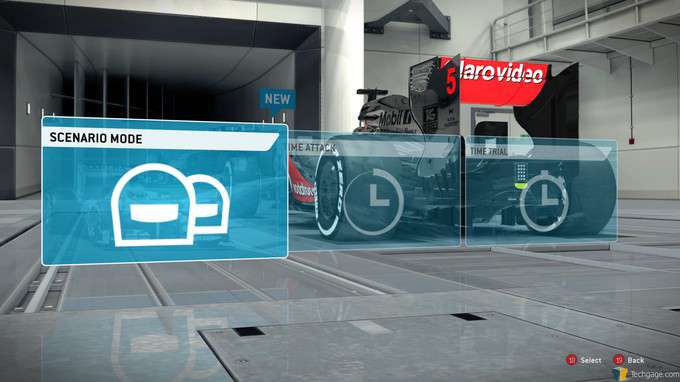 MyF1 is a collection of well-designed training modes, in essence. Scenario Mode puts the player in the driver's seat with a given challenge to beat: Whether it's to overtake a given number of cars in a given number of laps or to create a given time gap between oneself and a rival, Scenario Mode does a good job of simulating the kind of pressure real-life Grand Prix drivers face every GP weekend.
Time Attack, on the other hand, is all about beating a target lap time. "Ghost Cars" represent the next lap time threshold the player must beat; beating ever-faster Ghost Cars earns the player medals (Bronze, Silver, and Gold) each time he beats the next target lap time. Time Trial is simply free practice, which is very useful for learning the circuits (and the various cars) away from the crucible of competition. Players new to this series probably should check out the Time Trial mode first.
The F1 Classics mode is all-new for 2013. What this basically is, is a chance to not only drive a selection of classic F1 cars from the 1980s and the 1990s, but to do so as one of several F1 legends. Not only that, but you'll also have a chance to drive on one of four former Grand Prix circuits.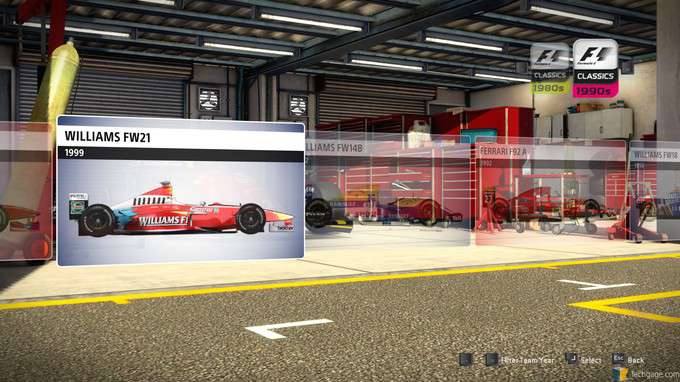 The list of classic F1 cars is fairly impressive: Williams-Ford FW07B (1980); Lotus-Renault 98T (1986); Ferrari F1/87 (1987); Lotus-Honda 100T (1988); Williams-Judd FW12 (1988); Williams-Renault FW14B (1992); Ferrari F92A (1992); Williams-Renault FW18 (1996); Ferrari F310 (1996); Williams-Supertec FW21 (1999); and Ferrari F399 (1999). I find it interesting that only two cars in this collection – the Williams FW14B and the FW18 – took their drivers to the Drivers' World Championship.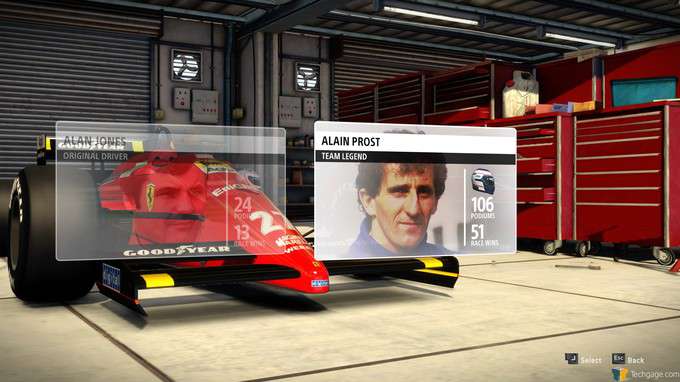 As far as the driver legends go, the selection is also quite interesting, with a mix of World Champions and other notables. The World Champions are: Emerson Fittipaldi (1972, 1974); Mario Andretti (1978); Jody Scheckter (1979); Alan Jones (1980); Alain Prost (1985, 1986, 1989, 1993); Nigel Mansell (1992); Michael Schumacher (1994, 1995, 2000, 2001, 2002, 2003, 2004, 2005); Damon Hill (1996); Jacques Villeneuve (1997) and Mika Häkkinen (1998, 1999). Rounding out the list of available F1 legends are: Gerhard Berger; Satoru Nakajima; Ivan Capelli; Jean Alesi; Eddie Irvine; David Coulthard; and Ralf Schumacher.
Now that we've had a look at the game's most salient features, let's move on to a discussion on gameplay.
F1 2013 Gameplay
Gameplay for a title such as F1 2013 is essentially all about the experience of being in control of a racing car. While this sounds like a fairly simple thing to describe in theory, the reality is that it's really a very difficult thing to articulate because everybody's experience level is different.
Not only that, but a lot of what driving a vehicle – real or simulated – of any type entails is based on the driver's sensitivity to all the various stimuli assaulting his or her senses. It's very possible that some of what I describe in this review might be something that less experienced, or less sensitive, players may not necessarily agree with or even perceive.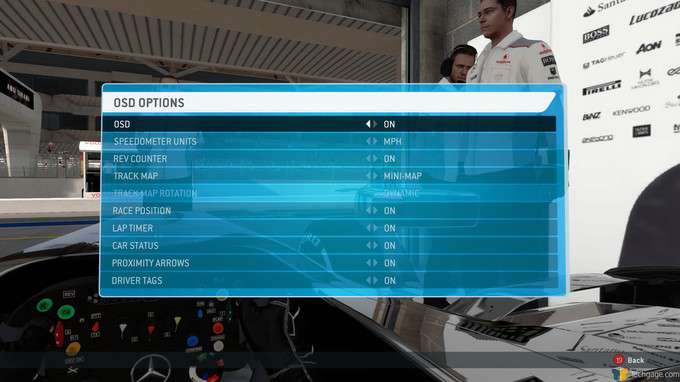 No matter what game mode you play, once you're on-track it's basically the same experience. The default camera view is chase, but players who prefer a more realistic experience can select a cockpit view. Also on by default is an on-screen display (OSD) with various data – speed (selectable between metric and Imperial units), a track map, DRS and KERS status, proximity arrows, etc – designed to make the driving experience easier for novices. I turn options like these off because real-life F1 drivers don't have these to rely on.
Driver aids such as Driving and Braking Assists, anti-lock braking systems (ABS), traction control, dynamic racing line, and others are also enabled by default as well. With driver aids, players can either select each aid's effectiveness (high, medium, or low), or turn it off altogether.
In Grand Prix and Career modes, the player can configure race distances, from a length of three laps to 100% race distance. The player can also choose whether or not he would like to experience the entirety of the Grand Prix weekend (full-length Free Practice sessions and full-length knockout-style Qualifying) or truncated versions thereof. The strictness of the enforcement of the regulations can also be tailored to a player's preferences.
So, clearly F1 2013 can be as easy or as realistic a racing game as a player wants it to be. I like that a lot. But my question is, just how realistic can it be? I mean, I've never driven a Formula 1 car myself; I am, however, quite experienced with go-karts (I've even tried shifter karts) and have test-driven high performance road cars for BMW and Chevrolet and Ford in years past. Can the game satisfy someone familiar with what high-performance driving really is like?
I very much like that each car model is distinct from the rest. The Force India-Mercedes, while fast in a straight line, is not as good in slow corners as the Mercedes-AMG is; both these Mercedes-powered cars feel faster in a straight line than the McLaren-Mercedes. Similarly, although they all run Renault engines, the Williams is a lot slower and handles very poorly compared to the beautiful black and gold Lotus, while the mighty Red Bull is just in another league altogether. In Formula 1, even though the cars may superficially look similar to each other to the untrained eye, there are myriad differences in detail which, in sum, contribute to fairly significant performance variances from car to car.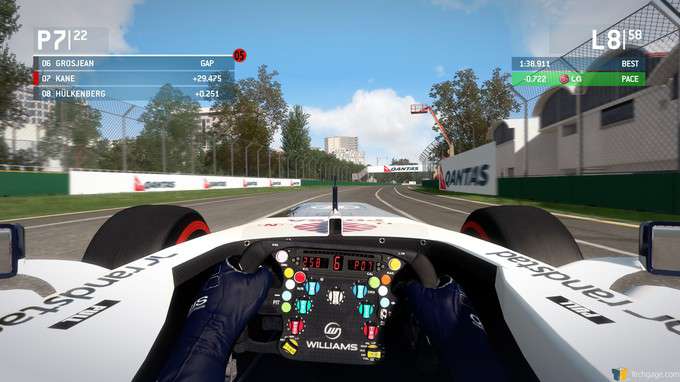 You get much the same story with the classic F1 cars. I drove them all, and I definitely favored certain cars over others because of superior engine and handling characteristics. Strange as it may seem, I really liked the Williams-Judd FW12 because of its superb handling. It felt to me that the Lotus-Renault 98T had the most powerful engine (in real life, it most certainly did: in 1986, Renault's turbo V6 produced up to around 1300bhp in qualifying trim, and more than 900bhp in race configuration!), but it understeered in slow corners so badly that I couldn't drive it as well as the FW12. I also quite enjoyed the Williams FW18 and Ferrari F399; these were probably my favorite cars amongst the classics.
(A quick note about the mid-1980s turbocharged cars: I think that Codemasters actually tamed these monsters down, just so anyone can drive them reasonably well. I think that the Lotus 98T and 100T and the Ferrari F1-87 don't have enough power as depicted; I expected these cars in particular to give the player the sensation of getting a big punch in the back with the onset of turbo boost and maximum power, but they never do. Also missing is the characteristic turbo lag familiar to all drivers of turbocharged cars.)
In real-life Formula 1, a car can be set up to its driver's requirements. While F1 2013 allows players to set up their cars as well, I am somewhat disappointed in Codemasters' execution. In truth, the new game does things the way its predecessors (I own every game in the series) have always done. The problem is, car set-up is too simplified. While changing the car's aerodynamics and spring rates and other settings does result in perceivable changes in the car's behavior, there seems to be an inadequate correlation to lap times. A case in point: In Career mode, while driving the Williams, I set up the car for increased rear grip to enhance its traction out of corners. Accordingly, this resulted in understeer, especially in the slow corners. That's all predictable. What surprised me, though, is that there was virtually no difference in my lap times. During free practice, I never drive at 10/10ths since I'm trying to dial in the car's set-up for the race. It's therefore amazing to me that the increased understeer did not result in slower lap times.
The circuits are also part of the package, of course, so we must have some commentary about them. Overall, the modelling is very well done: Corner radii are accurate, as are the placement of curbs, barriers, and even advertising hoardings. Familiarity with the tracks then is a huge advantage for a player. But while the tracks are all represented very well on the visual plane, I do wish that some of the more subtle, yet key, details of the tracks are simulated better. Bumps in the surface have a huge effect in how a driver attacks a circuit, as well as how the cars are set up (specifically in finding optimum ride heights, spring rates, and bump damper settings). For example, older circuits such as Monaco, Monza, Spa-Francorchamps, and Interlagos are chock-full of such signature bumps. F1 2013 doesn't seem to simulate these bumps much, if at all. Great sims simulate bumps through the steering wheel via force feedback (although, it must be said, Codemasters did simulate the bumps over curbs really well, on a par with the best racing sims I've played). The only track where I felt Codemasters did a fair job at representing bumps is Brands Hatch.
The very best racing games immerse the player into the game world (which is true of all games, actually); in racing games, the player really feels like he's connected to the car as it's hurtling down the track. F1 2013, as with its older kin, does this, but only up to a point. Even with all driver aids turned off (nothing dampens feel for a car more than driver aids), there is still a certain degree of disconnection between the player, the car, and the circuit. This is especially true when force feedback is not enabled or available. I am still amazed that Codemasters apparently thought that disabling force feedback is the correct default setting even when a Logitech G25 is plugged into the host PC. Consequently, my first few sessions driving the car just felt downright weird. Enabling force feedback helped cure things, but unfortunately not to the degree I had hoped for. To me it seems that Codemasters designed the game so that a player relies mostly on visual feedback, and not so much on simulating the more tactile facets of driving a racing car (which is primarily what force feedback endows).
Sound effects also contribute much to the game's immersiveness. F1 2013 does a good job with this, particularly with the modern cars and the ambient sounds at the race circuit. Nostalgic fans will enjoy hearing Murray Walker's short commentaries in the Classics mode, no doubt. Your race engineer's radio traffic is also quite well done. Where I do feel a little bit let down, though, is with some of the classic cars' engine sounds. In particular, the turbocharged cars (the two Lotuses, the Ferrari F1-87) lack the characteristic whoosh-spit of turbo wastegates and pop-off valves discharging as you lift from the throttle. Also, the Ferrari F92A doesn't sound anything like its real-life counterpart. The early-1990s Ferraris (up until 1995) had V12s that sang with a wonderful, sonorous banshee wail as they soared up the rev range. F1 2013's F92A didn't sound too much like a V12, lacking the high-pitched wail so characteristic of Ferrari's V12s of that era.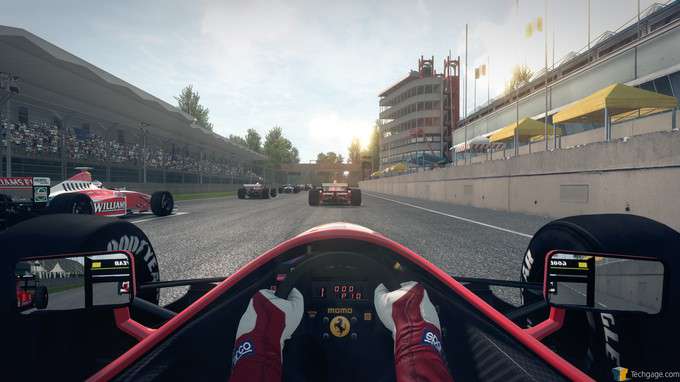 AI (artificial intelligence) is handled very well. The CPU-controlled cars react predictably; this is a very good thing since it makes fighting against them on-track realistic and highly enjoyable. The AI knows how to attack you without intentionally turfing you off the circuit; it also knows how to defend against your attempts to overtake. AI is one of the trickiest things to do in a racing game, and Codemasters is quite good at it.
One really huge annoyance to me is the lack of clutch control. This has been true of every F1 game Codemasters has produced, and this is one evolutionary step I'd hoped F1 2013 would make. Precise control of the clutch is really useful at race starts; not being able to control the clutch at starts always results in either too much wheelspin or Mark Webber-like turtle starts with me. Frustrating and annoying, for sure.
In terms of the graphics, well, Codemasters set the standard with its first F1 game; F1 2013 is just more of the same, but better and more refined. As noted before, the circuits are represented very well. The cars are, as well, particularly the modern ones. Where the game slightly trips up is in its depiction of the classic cars. In particular, dashboards are not historically accurate. Specifically, many of the older cars only had tachometers; they didn't have the modern system of multi-colored LEDs to indicate when to change gear. The cars from 1996 and onwards had these shift LEDs, but not the ones from the 1980s-early 1990s. While it's great the older cars did have a tachometer gauge, having the shift LEDs also present kind of detracted from the historical vibe Codemasters was trying to latch on to.
With gameplay thoroughly covered, let's race on over to the final thoughts.
Final Thoughts
So what do we make of F1 2013?
It's a mixed bag, at best, and a bit of a confused mess at worst.
There is plenty to like about the game. Its accuracy at visual depictions of the cars and circuits is a high point. It's easily the best-looking F1 racing game I know about. Despite my aforementioned complaints regarding some aspects of the classic cars, no other game – Codemasters' or by other developers, including the ones who build the mods for games like rFactor – makes Formula 1 as beautiful as F1 2013 does. The continual evolution of the series may see just incremental improvements in the graphics department, but Codemasters does its exclusive license justice.
I can forgive the detail inaccuracies with the classic cars. In truth, most players (or even game testers) would probably never have noticed them. But I will freely admit, for better or for worse, that I am likely to be the most F1-mad game tester you'll ever find, with a significant portion of my memory devoted to Formula 1. It's a sport I've been passionate about for most of my near-forty years of life.
I also quite like how the game captures the most salient aspects of the F1 season upon which it is based. Tracks and team rosters are accurate. The player will feel as if they're really fighting for the 2013 World Championship.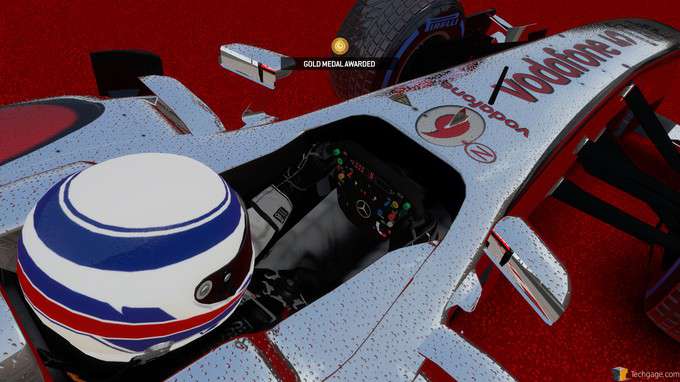 AI is also a very strong part of the package. As mentioned before, Codemasters' execution of this part of the racing game experience is better than most other games of the genre.
But as strong as these parts of the game are, there are other parts where Codemasters can make improvements. For one thing, I feel that gameplay could be vastly improved if there was a "hardcore" mode, something that would enhance the connections between the player, the car, and the track. As is, the game is half-sim, half-arcade racer. I understand that Codemasters is trying to please as many people as possible by designing the game to be a "jack-of-all-trades"; unfortunately, what usually happens is you get a product that lacks a certain focus. Sim racers, unfortunately, will feel a bit left out because of where the game sits in the arcade-sim spectrum.
The overwhelming reliance on visual cues to simulate the experience of driving a racing car – and the subsequent lack of attention to the more tactile aspects of the experience – betrays the idea that F1 2013 is a console game ported over to the PC (as opposed to the other way around). Sure, wheel + pedal controllers are supported on current-gen consoles, but the vast majority of people play console games with a game pad. The result, then, is a dissatisfying impression that the car and driver aren't really interacting with the track; immersiveness suffers.
The decision to not even have force feedback be automatically enabled even on controllers with FFB support is also a sign that this game may not be for the more hardcore sim racing gamer.
And the continuing lack of a user-controllable clutch? That's a huge and annoying disappointment.
The bottom line for Codemasters' F1 2013 is that it's an evolution of last year's game. The core gameplay elements are largely the same, albeit with more polish. The addition of the classics content shows that Codemasters listens to its fan base: Last year, Rob suggested that adding vintage content would be a great addition to the next game. Lo and behold, Codemasters thought that was a good idea as well and came through.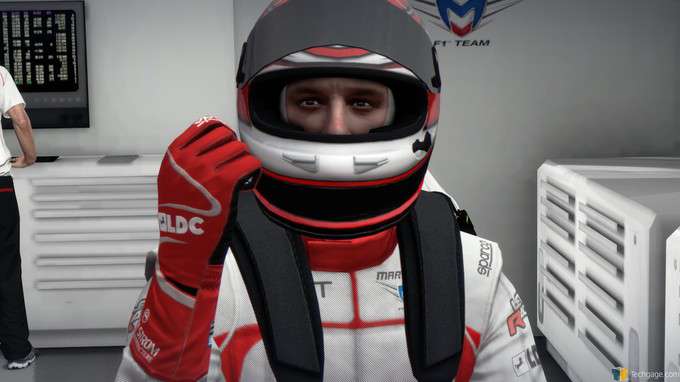 I really feel that adding more hardcore simulation elements would really make this series great. As it is, it's still tremendous fun. The sim racer in me just wishes it was much closer to the simulation side of the spectrum than it currently is.
Pros
Fantastic visuals.
Faithful recreation of cars and circuits.
Audio elements largely very good.
It's fun.
Cons
Not "hardcore" enough.
Detail inaccuracies with classic cars.
Still no user-controllable clutch?
Copyright © 2005-2020 Techgage Networks Inc. - All Rights Reserved.