For Those Who Like Their PCs Naked: Puget Test Bench EATX Version 1 Review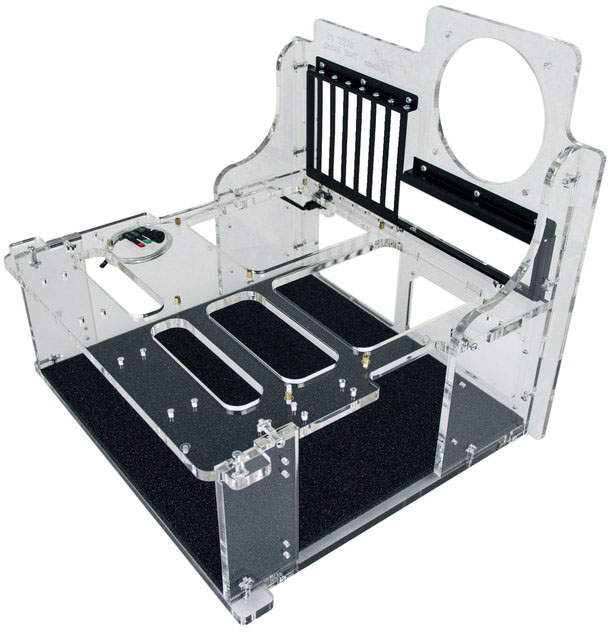 Date: September 8, 2014
Author(s): J.D. Kane

Open test benches are not for everyone, but for those who need to deal with their PC's components often, they could prove to be a boon to efficiency. Puget Systems is a company that benefits greatly from using test benches, but it had a problem: None were perfect. So, the company decided to create its own, and that's what we're looking at here.
---
Introduction
I don't know about you, but I think PCs set up on an open-air test bench are awesome.
There used to be a time when the only people who would opt for a test bench were the most hardcore overclockers around. I'm talking about those folks who pour liquid nitrogen or dry ice into pots and chase after extremely high clock speeds, often in competition with each other. These days, though, there is a small but dedicated subset of enthusiasts who would choose to use an open test bench over a conventional PC chassis.
Some of them opt for a test bench simply because they need ready and easy access to a computer's innards. Say you're a PC hardware reviewer, and you need to swap parts quickly with the minimum of fuss. This is precisely the reason why my Techgage test rig was built onto a Danger Den Torture Rack test bench.
But then there is also that group (to which I also belong, actually) who genuinely think test benches are just great to look at. I know quite a few people who don't review hardware or use their PCs to benchmark parts or settings until Armageddon, but yet still have built their systems onto an open test bench. They'd openly admit that they just want to look at their PCs' naughty bits, or perhaps admire their handiwork (custom water-cooled set-ups are especially pretty). That's perfectly legit to me.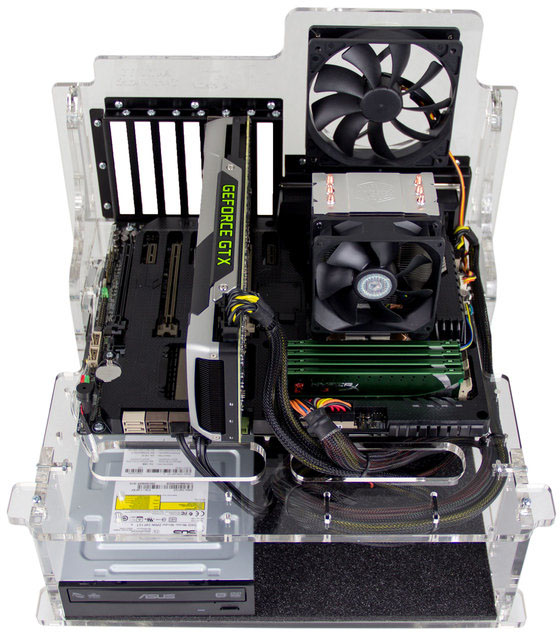 So I was quite chuffed when Techgage High Muckamuck Rob Williams arranged to have Puget Systems send me a sample of its Test Bench Kit EATX Version 1 to review. I believe it's a bit of a first for Techgage, too, since a quick search of our archives reveals we've never actually reviewed a test bench before (unless you count this, which I personally wouldn't).
Now if the name "Puget Systems" rings a bell, it might be because the company is one of the more renowned boutique PC builders around. The company's been doing its thing for fourteen years now, and it is one of those names I was in awe of back in the days when I didn't know how to build my own PCs and could only dream of someday buying an über-spec machine. The company is still thriving these days, continuing to build on its well-earned reputation with some of the finest, most powerful PCs both for play and for some serious work – think CAD/CAM-capable workstations and the like.
As its Test Bench Kit EATX Version 1 proves, the company has even branched out, offering a test bench as a distinct product all its own.
Let's have a look at it, then, shall we? I apologize in advance for less-than-stellar photos – this was the hardest chassis I've ever had to photograph, given it's largely see-through nature.
And here it is, all built up, ready to host a fully functional system.
Unfortunately, that's not how it came from Auburn, WA.
Now normally Techgage doesn't show product unboxings, but I thought this would be one of the few times we should. The Test Bench Kit is just that, a kit that needs to be assembled. This is exactly how the package looked when I cut the tape off and opened the box.
After examining the state of the constituent parts for possible damage during shipment (I found none), it's time to start putting the kit together. So let's get into that first.
Thankfully, Puget Systems has done a superlative job with its instruction manual. If you can handle LEGO, you can build the Test Bench EATX Version 1. Indeed, the only tools you'll need are a fine Philips screwdriver and a pair of pliers.
The instruction manual specifies ten distinct assembly steps (plus one optional step). What I'll do, though, is condense the construction into five major steps, photographing the assembly process after every few steps in the order that makes the most sense visually. You'll get a good idea of how this all comes together through my photos, but I still advise you to follow the superb instruction manual.
The first couple of steps are all about the bench's floor. You basically just have to install the rubber feet and the foam sheet on the top side of the floor panel. If you have any excess foam overlapping the sides, trim it off with a sharp knife. Also, make sure no foam overlaps the cutouts on the sides of the floor panel.
A note about the screws: Puget Systems very wisely suggests not tightening these down fully until the whole bench has been put together. Just screw them down about half-way; this will allow the panels some play, which will ease assembly.
Next we'll build up the sides and install the motherboard tray. Be mindful of the motherboard tray panel's orientation as there is only one correct way to install it (see the manual for the one, true way).
The I/O shield + expansion slot panel needs to be affixed to what Puget Systems calls the Front Panel, so the following photo shows what your work should look like when you're done. This is one step where tightening the screws down completely won't hurt at all.
The next two steps involve installing the front panel to the rest of the assembly. By the end of this phase the assembly phase is almost complete. You can also fully tighten all of the screws down at this point; be mindful to not screw them in too tightly, though, since the acrylic might crack if you do so.
Now we're down to two final steps:
You need to install the power switch on the front panel, and then…
…the standoffs.
At this point you can be done with assembling the Test Bench. However, if you want to do this properly (assuming you'll be swapping motherboards like most people do underwear), you'll want to take the optional step of adding two-to-four plastic pegs on some of the standoffs. I'd recommend putting these pegs on the corner standoffs.
You always have the option of using the usual screws to secure your motherboard onto the system.
Now that we've put the Puget Systems Test Bench EATX Version 1 together, let's move our system's components onto it.
System Installation
One of the greatest things about a test bench is that installing hardware tends to be super-easy. In most cases (pun not intended), the only things that need to be secured to the test bench for anything like a permanent basis are the power supply and maybe the motherboard. Having said that, this is not a universal immutable truth (I know of at least one test bench where there is no way to mount the PSU on a permanent basis, but that's neither here nor there).
At any rate, let's see how easy it is to install a system in the Puget Systems Test Bench.
If you're like me, the I/O shield is the first thing I install into a chassis. After this comes the motherboard. With an open test bench the job is as easy as lining up the motherboard with the standoffs, then gently laying the board down.
All told, it takes a lot more time to disconnect all the cables and removing all the screws from a previous installation than it is to install both the I/O shield and the motherboard onto the Puget Systems Test Bench. It took all of a minute to line up the motherboard with the pegs on the four corner standoffs as well as the openings in the I/O shield, plus another thirty seconds to thread the power switch cable and plug it into the front panel header. Fifteen seconds elapsed before I installed the video card into its PCIe slot, and another minute to install the radiator + fan into its position on the front panel. That means it takes around three and a half minutes or thereabouts to install the motherboard and most of its main accoutrements onto the test bench.
Next on the task list is installing the power supply unit, then connecting all the power cables as needed.
PSU installation is a breeze as well. All it takes is lining up the screw holes, then using the correct screws (which are included, as well as helpfully called out in the instructions) to fasten the unit in place. Then it's just a matter of hooking up the necessary cables to their correct connectors. Time elapsed for this stage of the assembly: 1 minute for PSU installation, plus another minute for five power connectors (8-pin CPU, dual 6-pin for GPU, 24-pin for motherboard, and one Molex 4-pin for the GPU cooler's water pump). Of course, if you wanted to, you could spend a lot more time to fuss with your cable management; however, this is purely an optional step (and something you can defer to until the end stages of your build).
A note about PSU installation: The Test Bench has only one set of screw holes for hard-mounting your PSU (all other PC chassis I've seen allow PSU mounting to be reversible, so they have eight screw holes). If, on the very rare chance your PSU's own screw holes line up in such a way that its fan is facing the floor, it would be a bad idea to hard-mount it to the Test Bench. Always keep your PSU's fan open to the air so it won't overheat and kill itself (and, likely, the rest of your PC).
At this stage, I install any storage devices needed. You may have noticed that the Puget Systems Test Bench doesn't have any drive cages or bays or anything of that ilk. On many test benches, storage devices such as SSDs, HDDs and optical drives are meant to be placed on the floor of the test bench. The foam lining on this one absorbs all vibrations these devices create, so I commend Puget Systems for its attention to detail. However, the company does include appropriate screws and mounting positions on the acrylic panels to install storage devices on a more permanent basis. But because I'm building this system as if it were a "classical" test bench – i.e., one used by a hardware tester who needs to swap components in and out quickly – I didn't bother hard-mounting the SSD.
For my machine it's as simple as plugging in the power and data cables to my Crucial C300 SSD, then laying the drive down on the foam lining. If you're a hardware tester and you need to access components quickly for installation and replacement, this is where a test bench's fundamental simplicity really makes sense.
As an optional but useful last step, you can plug in the provided Power and HDD LEDs into their pins on your motherboard's front I/O pin cluster.
At this point, the test system is fully installed onto the Puget Systems Test Bench. It's time to do some performance testing, after which we'll have some final thoughts.
Performance Testing
Testing the Puget Systems Test Bench's performance is pretty straightforward. I'll be evaluating it on three main criteria: thermal performance, subjective noise output observations, and ease of installation and use.
Just as a refresher, here is the test system:
| | |
| --- | --- |
|   | Techgage Chassis Testing System |
| Processor | Intel Core i5 2500K @ 3.3GHz/1.2V VCore |
| Motherboard | MSI Z77A-GD65 |
| Memory | GSkill Ripjaws DDR3 1600 2 x 4GB |
| Graphics | EVGA NVIDIA GeForce GTX680 (reference design) |
| GPU Cooler | Arctic Accelero Hybrid II-120 |
| Storage | Crucial C300 (128GB) SSD |
| Power Supply | PC Power & Cooling Silencer 750 Quad |
| Chassis | Puget Systems Test Bench Kit EATX Version 1 |
| CPU Cooling | NZXT Havik 140 |
To test cooling performance, I will use the OCCT CPU stability test program to generate maximum CPU load and temperatures as well as MSI Kombustor for the GPU temperature testing. Ambient temperature will be kept constant at 72°F/22.22°C.
A preliminary note about thermal testing: A PC chassis being reviewed ought to be in as close to stock configuration as possible. That means I won't add fans to the system (other than what comes with certain components' cooling systems). Since the Puget Systems Test Bench doesn't come with any fans, this is a moot point. But I think it's important to state and enforce the ground rules before proceeding.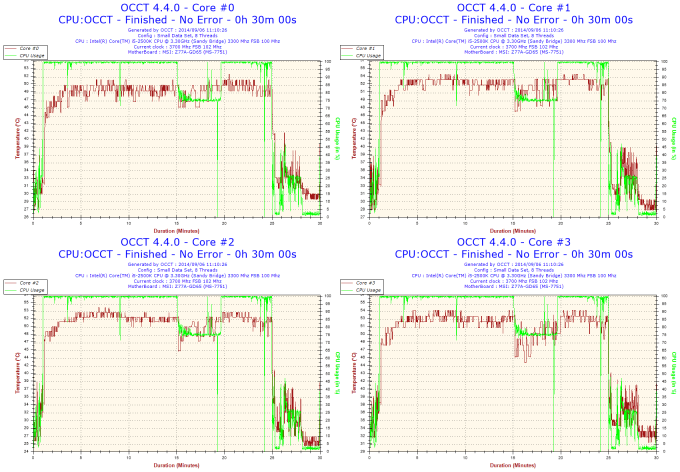 The test system registered highs of 51°/54°/54°/54°C on each core. These temperatures compare directly with the 50°/54°/54°/55°C registered when the test system was installed in the Danger Den Torture Rack (an open-air test bench like the Puget Systems Test Bench); these recorded temperatures are slightly inferior to the 49°/52°/51°/52°C the test system did whilst installed in the Corsair Obsidian 450D.
While the test system's CPU temperatures proved slightly worse when installed in the Puget Systems Test Bench, GPU temperatures yielded a gigantic surprise. In the Torture Rack, GPU temperature peaked at 55°C; in the Corsair Obsidian 450D, the highest temperature was 63°C. I was therefore astonished to find that GPU temperature registered a high of only 50°C. I am honestly at a loss to explain why there is such a huge delta in peak GPU temperatures between not just the two open air test benches, but also between the Puget Systems Test Bench and the Obsidian 450D. Keep in mind that ambient temperatures are the same throughout all tests, as is the composition of the test system.
Whatever the explanation, the data speak for themselves.
Moving on to noise output, the Puget System Test Bench's performance will depend completely on your components' acoustic characteristics. If your system uses noisy fans, you'll hear them. My test system, though, uses quiet fans. All you'll hear is the gentle whoosh of the Arctic 120mm fan on the GPU radiator as well as the two 140mm Cougar Dual-X fans installed on the NZXT Havik 140. The sound signature is pleasant and never overwhelming, even when the RPMs ramp up to meet escalating cooling demands.
As far as installation goes, the Test Bench does have to be assembled. I don't know if you might be put off by this, but I personally love assembling things. It certainly helps that Puget Systems provides such excellent instructions. Even taking my time, it took only about forty- to forty-five minutes to construct the Test Bench. Perhaps the most frustrating thing about assembly is the fact that you must remove the protective paper lining stuck onto the acrylic panels. It's really the only notable impediment to just jumping in and putting the thing together.
Installing your test system into the Test Bench is even easier. It took me less than ten minutes to install the entirety of the test system into the Puget Systems Test Bench. Obviously, in terms of ease of system installation, the Test Bench is off the charts. And should you want to swap out a motherboard or storage devices, pulling off the power and data cables will take longer than actually uninstalling these components.
Now for some final thoughts.
Final Thoughts
Pukka test benches aren't for everyone. They're designed mainly for hardware testers who need quick and easy access to their systems' components as well as super-hardcore overclockers who need an open chassis so that they can pour exotic cooling solutions such as liquid nitrogen (LN2) into pots when they chase after their record overclocks. There is, however, a growing niche of users who use an open test bench for purely aesthetic reasons.
While I won't exactly call Puget Systems' Test Bench EATX Version 1 the prettiest open bench available, it is actually quite good-looking. I think it actually looks better than my own Danger Den Torture Rack. If you're a proponent of the maxim "Form follows function," then you'll like the Test Bench's no-nonsense aesthetics.
But where it is really superior to just about any PC chassis I've ever used – and I include both closed chassis and test benches here – is in its ease of use. Sure, you have to build it up from a pile of acrylic panels and multiple bags of screws and nuts, but once it's all put together all you have to do is take about ten minutes to install your system and you're ready to go.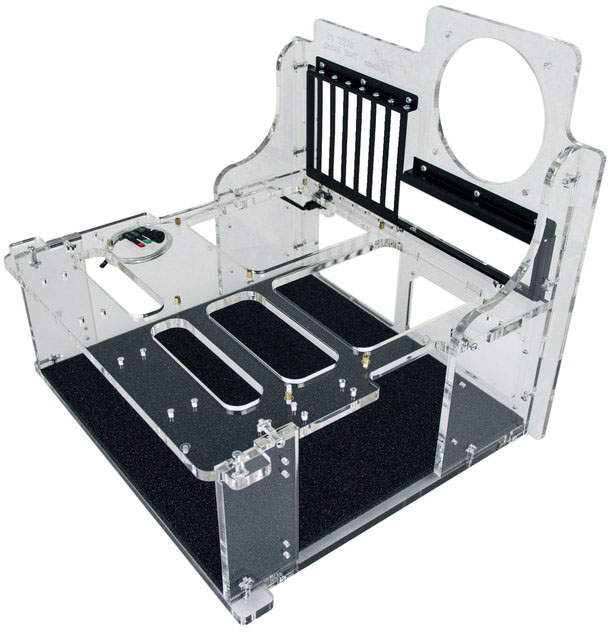 It's a superbly engineered and designed chassis, too. Assembly is almost as easy as LEGO, and once every screw is tightened down it's as solid a structure as any PC chassis I've ever used. It's clear even as you're putting it together that it wasn't the marketing folks at Puget Systems who conceived of this product; you never get the impression that the company just thought, "Hey, let's put out an open test bench and make a few more bucks that way." In fact, this is what Puget Systems itself says about test benches:
Test benches are certainly nothing new and are something we have been using at Puget Systems ever since the company was founded. However, we have never found a test bench that completely suits all of our needs. Because of this we finally decided to spend the time and effort to design and build our own unique bench based on the needs of our repair and production departments.
I'd say the company did a great job.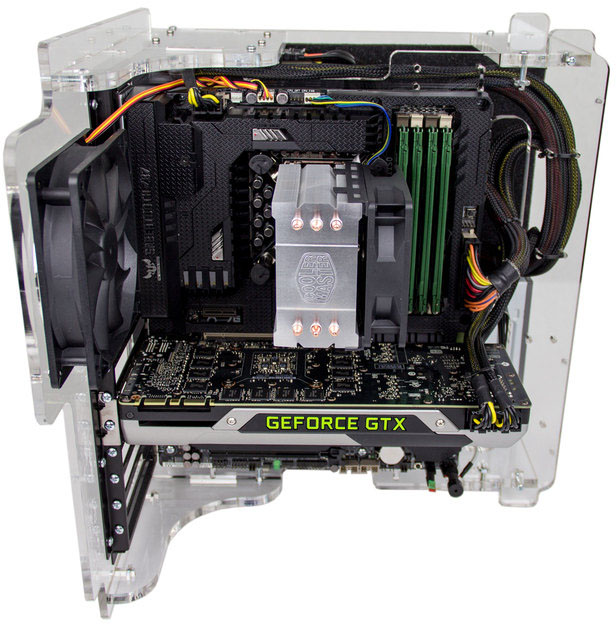 In terms of performance you don't lose much to the cooling potential of a superbly designed closed chassis. Indeed, in some instances, you might even get superior thermal dissipation in the Puget Systems Test Bench. On the other hand, if you want a quiet system, you shouldn't use loud fans in a chassis like this. Because it's open to the elements, there is nothing to dampen fan noise.
So is the Puget Systems Test Bench EATX Version 1 worth its $174.98 asking price? Currently it's only sold in Puget Systems' own website, so it's unlikely you'll be able to see one in the flesh, so to speak. I think the answer to that question depends entirely on whether or not you really need a test bench.
Then again, you could just choose to be one of those people who want to show off their PCs sexy bits.  There's nothing wrong with that at all.
Techgage deems the Puget Systems Test Bench EATX Version 1 worthy of its Editor's Choice award.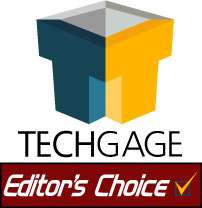 Puget Systems Test Bench Kit EATX Version 1
Copyright © 2005-2020 Techgage Networks Inc. - All Rights Reserved.