GIGABYTE Z97X-Gaming G1 WIFI-BK Motherboard Review

Date: August 27, 2014
Author(s): Rob Williams

Our last two Z97 reviews involved some petite motherboards, so it's time to go all-out – something GIGABYTE's Z97X-Gaming G1 WIFI-BK helps us pull off. Its name implies that gamers are the target here, and as you'd expect from its $350 price tag, it's packed with features. What more reason do you need to read? Come on in.
---
Introduction, Specifications & Board Comparison
I've taken a look at two mini-ITX Z97 motherboards over the past month from ASUS and MSI which helped proved that "small" doesn't have to mean "lackluster", and now, I'm going to take a look at a model that resides on the opposite end of the spectrum. It's big, it's mean, and it caters to gamers like few boards do.
The board I'm talking about is GIGABYTE's Z97X-Gaming G1 WIFI-BK, and with a price tag of about $350, it's clear right from the get-go that this board means business. In some ways, that might also mean that it's a little over-the-top, but there's nothing particularly wrong with that, right?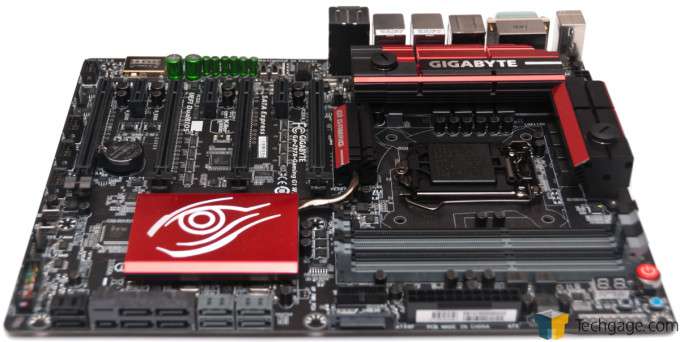 This is what I'd call a proper gaming motherboard: Lots of PCIe x16 slots, a multitude of SATA ports, an LED BIOS readout, onboard power / reset switches, and a dedicated audio card. For those who like to build a rig with a robust water cooling solution, you'll be happy to know that the MOSFET area of the board can be cooled using 1/4″ tubing.
Before diving more into the board's specs, let's talk a bit about the "BK" in this board's model name. It stands for "Black Edition", and is far more than just a simple name: It represents the fact that the board survived an intense 168-hour durability test conducted at GIGABYTE's Taiwan factory. This not only gives someone the peace of mind that their new board is built to last, it also results in GIGABYTE giving the board an incredible five-year warranty.
To learn more about how a Black Edition motherboard is built and tested, check out the below video:
For that extra bit of insurance that the board you receive did in fact undergo such testing, a certificate is included right in the box: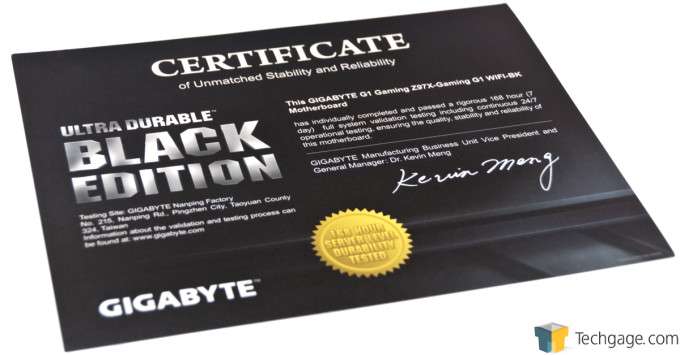 I might be an enthusiast, but if there's one thing I appreciate from a motherboard, it's stability first and foremost. As a consumer, then, I'd greatly appreciate knowing that the board I'm buying has passed such rigorous testing, and even if I build my PCs more frequently than once-per-five-years, that kind of warranty is outstanding. After all, I might end up using that board for a second build, or for a friend or family member's build.
So, let's see what else this board has to offer. I'll be covering its design and layout on the following page, but to help you gain an immediate understanding of what this board offers, you can refer to this table:
GIGABYTE Z97X-Gaming G1 WIFI-BK
Architecture
Intel Z97 (LGA1150)
Form-Factor
ATX (12″ x 9.6″)
Memory
Up to 4x8GB DDR3-3200
Multi-GPU
2/3/4-way AMD CrossFire
2/3/4-way NVIDIA SLI
Expansion
2x PCIe 3.0 x16
2x PCIe 3.0 x16 (Operates as x8)
3x PCIe 2.0 x1
Storage
1x SATA Express
6x SATA 6Gbps (Intel)
4x SATA 6Gbps (Marvell)
Network
1x Intel Gigabit
1x Killer Ethernet (E2201) Gigabit
Wireless
Wi-Fi 802.11 a/b/g/n/ac
Bluetooth 4.0
Audio
Creative Sound Core3D
TI Burr Brown Amplifier
S/PDIF Out
USB
Back-panel: 2x USB 3.0 (Intel), 4x USB 3.0 (Renesas)
2x USB 2.0 (Intel)
Internal: 2x USB 3.0 (Intel), 6x USB 2.0 (Intel)
Back I/O
2x 1Gbps LAN, 6x USB 3.0, 2x USB 2.0, 1x Optical S/PDIF, 5x Audio Jacks, HDMI, DisplayPort, DVI, Wi-Fi connector (when card is installed), PS/2
Features
@BIOS, Q-Flash, Smart Switch, Xpress Install, EasyTune, ON/OFF Charge, EZ Setup, Dual BIOS, Smart Recovery, Smart TimeLock, USB Blocker, Fast Boost, 7x 4-pin Fan Headers
The best question to start with is, "What is this board missing?" In terms of features that could be seen here, Thunderbolt is the only omission, and that's not going to affect too many people. As a high-end gaming board, it comes as little surprise that 4 GPUs are supported in either CrossFire or SLI, and yes, bridges are included for all of these configurations (this can be seen on the following page).
Because of its gaming focus, the Z97X-Gaming G1 WIFI-BK includes a robust audio and networking selection, with the former involving a Creative chip, and the latter, a Qualcomm Killer Ethernet one. As I mentioned in my look at MSI's Z97I Gaming AC a couple of weeks ago, I don't really care too much for Killer Ethernet, and it annoys me when a board includes only it as a wired option. That's not a problem here, though, as this board includes an Intel Gigabit NIC as well.
I'll tackle some of the board's more specific features later, but first, let's get into a look at the hardware itself.
A Hardware Tour of GIGABYTE Z97X-Gaming G1 WIFI-BK
As a motherboard that costs about $350, you can expect the Z97X-Gaming G1 WIFI-BK to generally offer everything you need, +1. Not many people are going to need ten SATA ports, for example, or all 16 USB ports that can be made available. Heck – even the cooling can be kicked up a notch, thanks to the ability to add the MOSFET area to your water cooling loop. Truly, this is one seriously packed motherboard.
Because motherboards that don't include many fan headers – or place them in odd locations – annoy me, one of the first things I do after hauling a board out of its box is scan it for those. I was pretty impressed to see that this board includes seven 4-pin fan headers, with two beside the CPU socket and another just above the top-most PCIe slot.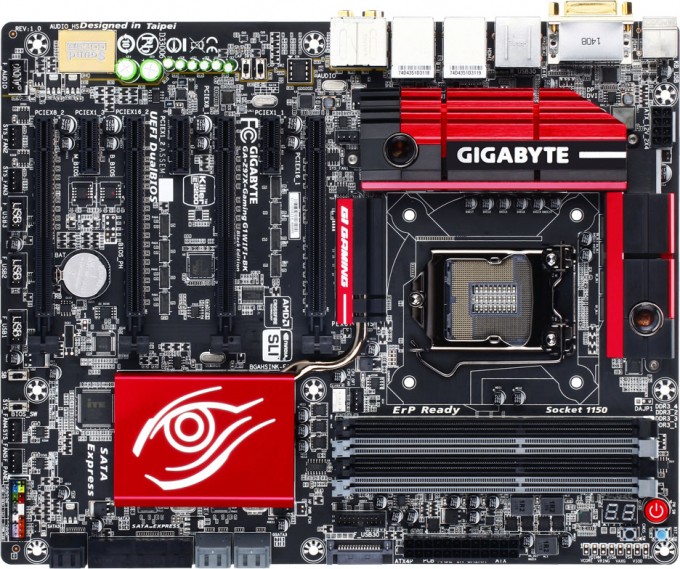 As seen in the stock image above, the other four headers are located at the bottom of the board, a decision that's hit-or-miss with me. On one hand, I appreciate the clean build that these locations would help with, but I generally appreciate having at least one or two headers near the top-right side of the board – or the top – so that fans mounted to the top can reach it easier. If you also have top-mounted fans, either affixed to the chassis itself or a radiator, you might have to get a little creative to get them plugged-in.
Nonetheless, it's hard to complain too much when the header locations are hardly poorly placed, especially given the fact that there's seven of them.
We can see two of these 4-pin fan headers at the bottom right-hand corner of the board, beside a couple of BIOS switches and the chassis connectors. After having dealt with MSI's truly bizarre chassis connector location with its Z97I Gaming AC, it was a huge relief to see it placed here on GIGABYTE's board. Also seen here is a SATA Express port along with 10x regular SATA 6Gbps ports.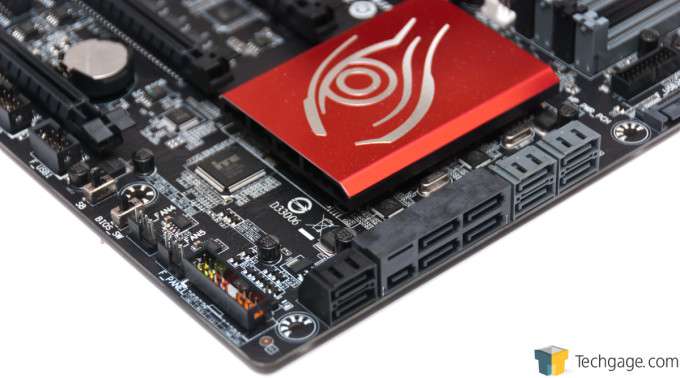 There's a lot going on at the top-right corner, with perhaps the most notable feature being the onboard power and reset switches. Also worth noting though are the voltage points right beside the corner screw hole, aiding overclockers who take things more seriously. And on the topic of "serious", GIGABYTE has included a SATA power connector beside the 24-pin one that it recommends anyone using two or more GPUs take advantage of, as it supplies additional power to the PCIe slots.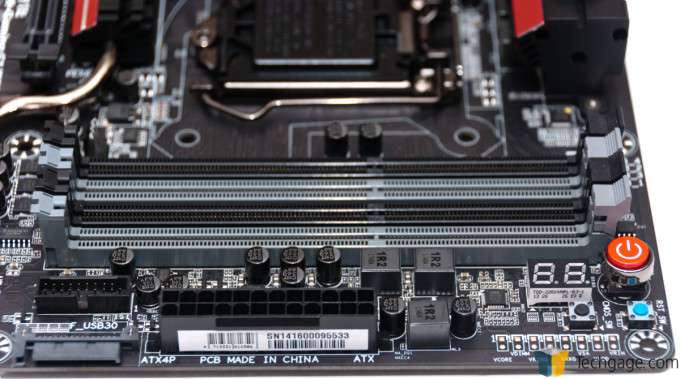 For being such a hardcore gamers' board, the CPU socket area sure does look pretty. Maybe that's just the hardware geek in me appreciating solid-looking designs. Likewise, the heatsink looks great, and even if you don't take advantage of the water cooling abilities of it, it should still be effective enough on its own.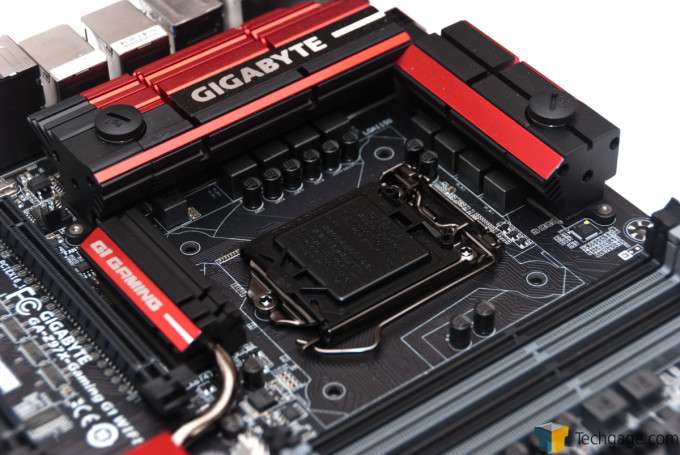 On the left-hand bottom corner is the dedicated Creative Sound Core3D audio card which is one of the true highlights of the board. First and foremost, high-quality audio capacitors are implemented here, and should you take things really seriously, you can even swap out the OPAMP. Further, while I'll never call it an important feature, the audio connectors on the I/O panel are gold-plated. Perhaps more important than that is the fact that the audio card on this board has been strategically-placed to deliver the cleanest audio possible to the I/O panel's connector.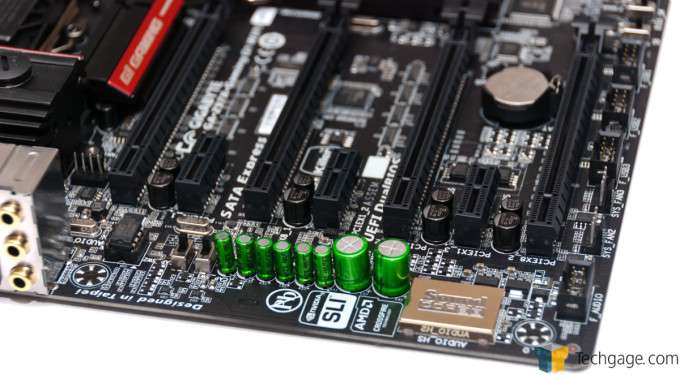 Notice those small toggles? Those are used to increase the gain in both the left and right channel from 2.5x to 6x, something that could be important for some headphones users.
The back I/O panel includes a total of 8 USB ports, 6 of which are 3.0. Also here are the dual LAN ports, the full complement of audio ports, HDMI, DVI, and DisplayPort video ports, and PS/2. The yellow USB ports at the top are 2.0, and are designed for use with USB-based audio, which GIGABYTE says "provides clean, noise-free power delivery to your Digital-to-Analog Converter". This might sound like just marketing, but often, your USB bus can become extremely busy and throttle performance; with audio plugged into these ports, your listening experience should never be interupted.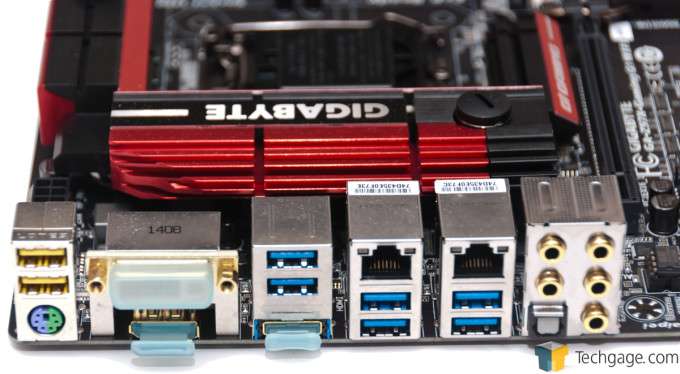 It seems like I've been talking about the Z97X-Gaming G1 WIFI-BK's hardware for a while, but I'm not quite done yet. Next up, the accessories. In this first shot, you can see the included Wi-Fi add-in card and its antenna, along with a front 3.5-inch bay that supplies 2x USB 3.0 ports, and also one of any multi-GPU bridge you'll need.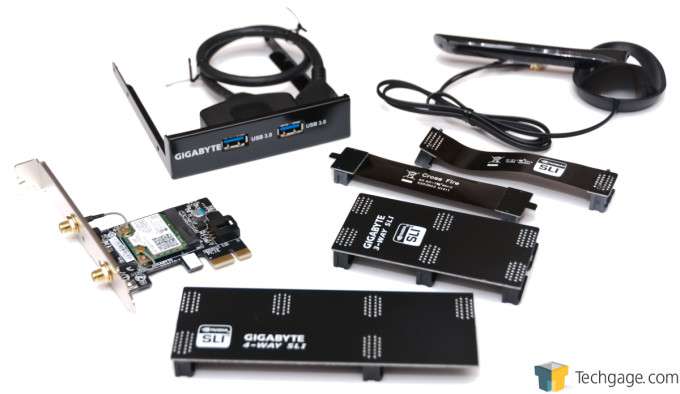 Along with the manual and driver DVDs, badges, the I/O panel protector and some front panel cable (I truly have no idea what it's for; it kind of looks like a floppy connector on one end, while the other is a USB 2.0 header) are also included.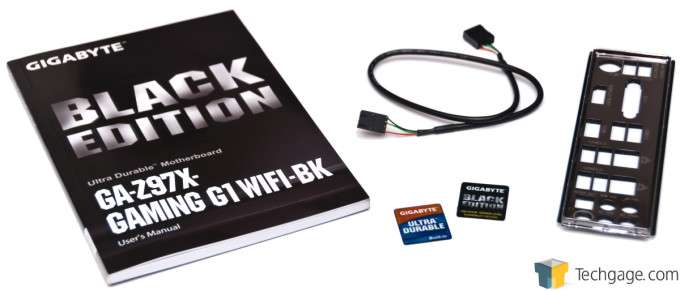 What really stood out to me with this package is that all six of the included SATA cables are sleeved. Is that important? Not at all. Is it nice nonetheless? Damn right it is.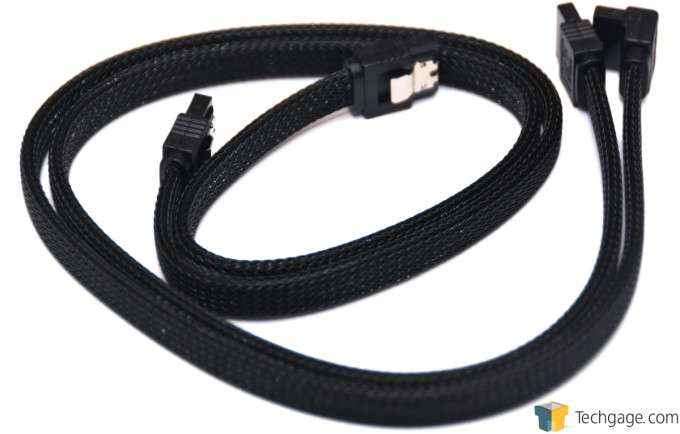 It goes without saying that this board is packed with features and accessories. So let's get this thing installed, and check out its EFI.
A Look at the EFI
An archive including all of these screenshots and more can be downloaded here (.ZIP, 8.3MB).
One of the things I look forward to most with each new chipset generation is seeing what motherboard vendors have done to their EFIs since the last generation. As we saw over the past month, ASUS and MSI had modest updates to their respective EFIs, and overall, their solutions are quite good. What about GIGABYTE? Admittedly, I'm not entirely impressed, and I'll go as far to say that I feel the EFI on this board is a step backwards.
Let's start with the very first thing you'll see after entering the EFI, a screen called "Startup Guide". The EFI on this board has three different EFI styles, with Startup Guide being the one targeting the layman. Here, you can adjust basic board options quickly, and as the shot below proves, I really do mean "basic".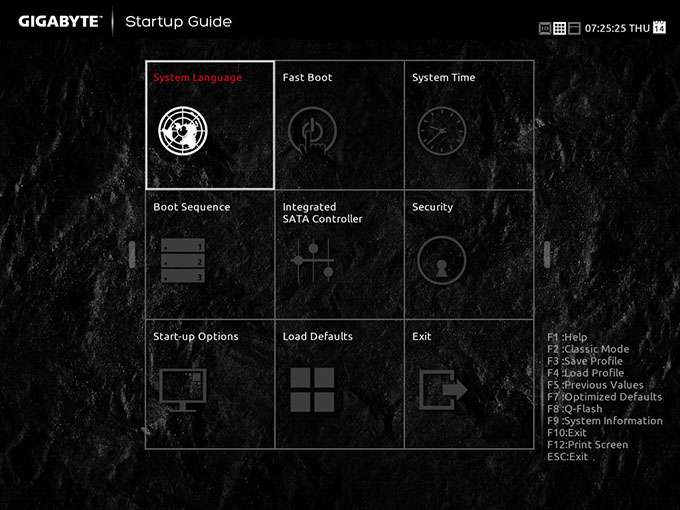 Here's the first problem with this design: The first thing I do after building a PC and booting up is entering the EFI to check up on temperatures – I want to know asap if the cooler install isn't perfect. Well, after entering this particular EFI, it took me about two minutes to find temperatures. Startup Guide simply doesn't include any temperature or voltage information; instead, you have to enter one of the other two modes to see that. That to me is really poor design – there's clearly lots of room on both sides of this grid for temperature information, but it's not there. It could even be integrated into one of these main options, because let's face it, while Startup Guide is meant for the novice, temperatures still apply to them.
Another problem is that up top, there are a couple of icons showing the different EFI styles. You'd imagine that clicking one of these would automatically bring you to the different style, but that's not the case. Why these icons are even there, then, is beyond me. In order to get to another style, you must click the subtle bars that are on either side of the grid; left takes you to one, and right takes you to the other. One of these styles is Classic Mode, while the other is more of a traditional graphic EFI.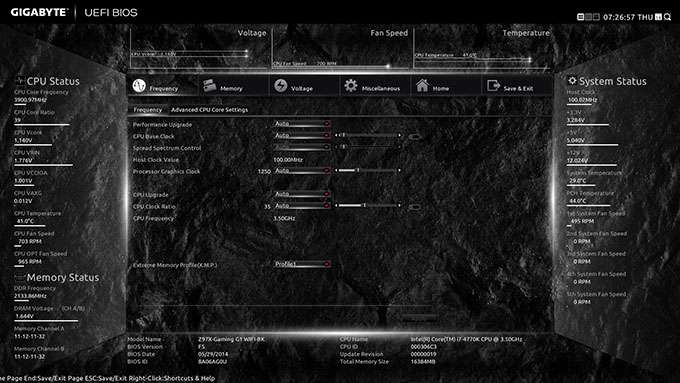 To me, this is the best style of the three, as it offers a lot of information to you at all times. On both sides of this GUI, you can see the CPU frequency, voltages, temperatures, and fan speeds. At the top, you'll be able to see how the voltages, fan speeds, and CPU temperature fared over the past couple of minutes. And in the main area, you'll have many different tweaking options to fiddle around with.
There are a couple of problems here as well, however. For starters, this EFI's featureset doesn't compare to the EFIs we saw on ASUS' and MSI's Z97 boards. I couldn't find fan control anywhere, and this is while those other vendors offer extremely robust fan tuning abilities. I couldn't even find basic SATA options to enable hotplugging (thankfully, it's on by default; I use it to secure-erase the SSDs before restoring the fresh OS).
In a way, it could be that GIGABYTE has left some of the most advanced functionality to the Windows software, and that's fair enough I guess – what is in the EFI is suitable for the vast majority of people.
The coolest feature I could find of the EFI is a menu editor that we've come to expect. Even here, I found myself dumbfounded as to how to properly use it, but the key thing to note is that you can create more than one "tab". Adding options to a tab is a chore with a keyboard, so expect to use a mouse here.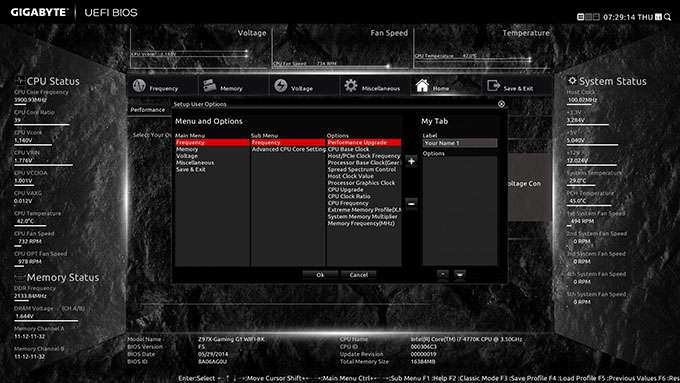 I hate to rant so much about an EFI, but after using ASUS' and MSI's solutions this past month, this EFI just strikes me as lackluster in comparison. Even the default theme made my eyes want to bleed – I really don't think a textured background is the best fit when there are like 50 UI elements overtop of it. Fortunately, GIGABYTE includes alternate themes – an ability that's quite easy to overlook. Personally, I enjoyed the dark orange one, seen below. You can check out the other two themes here and here.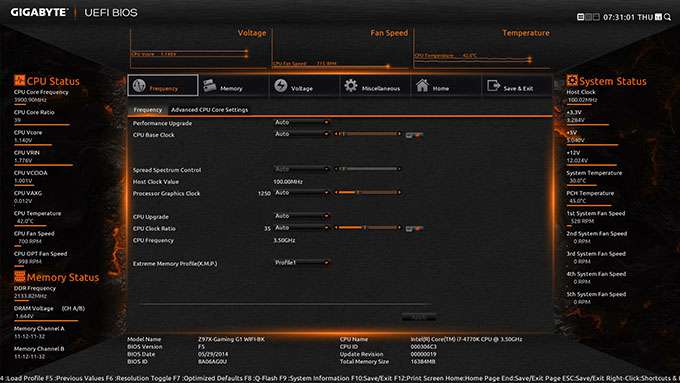 I haven't been the kindest to GIGABYTE's EFI on this page, but to be fair, most of the things I've complained about might not affect a lot of people. I don't think there's an excuse for not having temperature information in the Startup Guide, though, and it should be a lot more straight-forward to switch between the different EFI styles. In some ways, it feels like to me that GIGABYTE focused way too much of its efforts on prettying up its EFI than improving its functionality this generation.
A Look at the Software: GIGABYTE EasyTune & Cloud Station
It wasn't too long ago that the software that was shipped with our motherboards was, to be blunt, useless. A definite afterthought. That hasn't quite been the case these past few generations, though. It's as if every motherboard vendor all at once realized that people were not installing the software they were creating. It had to be better. No one wants to install a piece of software that handles some menial function, after all.
You know those awards teachers give out to the most-improved student of that year? I kind of felt like GIGABYTE deserved that with its Z87 generation, as the software included with its Z77 and earlier boards was truly boring, and not too useful. Z87 changed all that… what we were given was a vast improvement, and it was perhaps a little better than the competition in some ways.
Given that, it's no surprise to see that GIGABYTE has stuck with the same software solution as Z87 with this Z97 generation. There have been some tweaks made, but overall, it's the exact same software. In case I didn't make it obvious enough: That's a good thing.
As has been the case for a while, the main piece of software included is EasyTune, a one-stop shop for all things tweaking and overclocking. The software is quite simple to follow, and fairly robust in its featureset.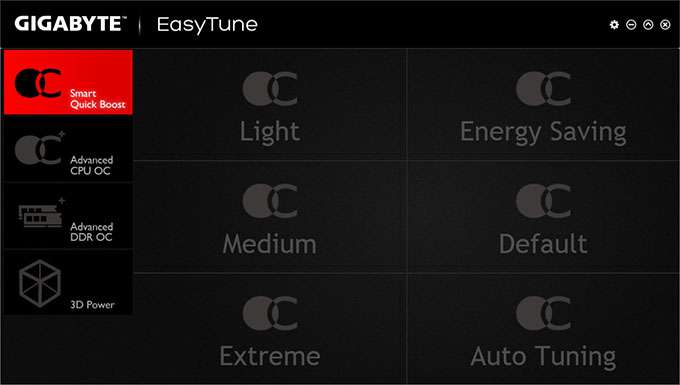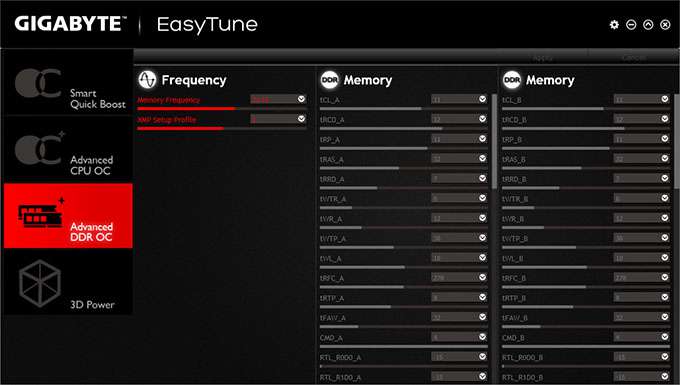 One solution I don't think I've talked about before is Cloud Station. This is meant to be used in conjunction with a mobile app (Android; iOS) to allow you to talk to your PC and change some settings. Not surprisingly, overclocking is a part of this. It also includes the ability to change power schemes, create a hotspot, and of course, allow you to access whichever files are in the share folder that the app monitors.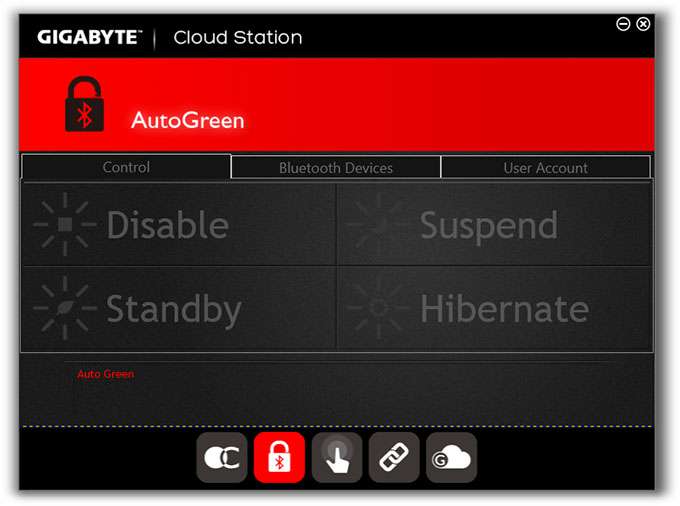 Not all of GIGABYTE's tools are found inside of EasyTune; others can be found in the "App Center", which is the very first app you should install. Likewise, the very first step you should take is running the live update, because chances are good that there will be much newer software than what's available on the included DVD. In fact, I'd recommend installing only the Live Update tool, since you'll probably be overwriting every single other tool that comes off of the DVD anyway.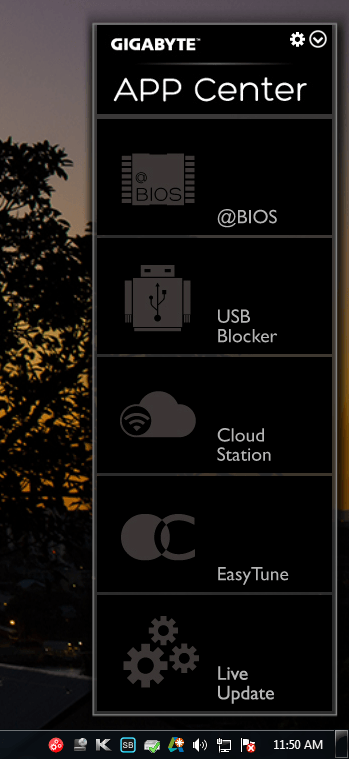 If you're a fan of adjusting audio-related settings, you'll be in absolute heaven with the included Creative Pro Studio app. Whatever you need, chances are it will be found here, and fortunately, you can create profiles in case you like the settings to be different based on what you're doing – a very nice touch.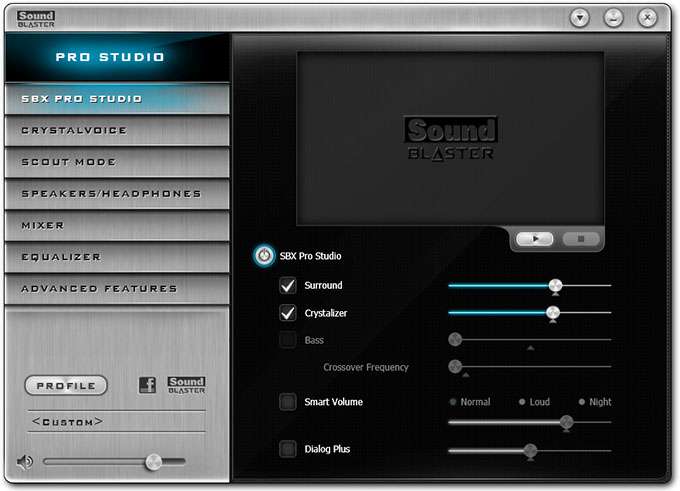 Overall, a solid software package from GIGABYTE. If there's one thing I hope for, it's that the company will eventually tie ALL of its individual tools into EasyTune. That way that app wouldn't just be the one-stop-shop for tweaking, it'd be the one-stop shop for everything. That to me is far more preferable than using the App Center. Nonetheless, a good showing once again.
Performance Testing
From a performance perspective, we feel that motherboard benchmarking is useless. It's the motherboard's job to allow all of the installed hardware to operate at its full potential, so in theory, a $100 option shouldn't be much (or any) slower than a $300 one. The differences in price instead comes down to the quality of the onboard components and other features.
So why do it at all? It's because it's important to make sure that the board we're dealing with doesn't lack in one particular area versus the rest. If board A performs 2% slower than board B in PCMark, for example, that's of no concern to us – random benchmark variance is a fact of life. However, if one board consistently performs weaker than the rest, that's worthy of note – it could suggest that weaker components have been used which do not allow the hardware to operate at its full potential.
Please bear this in mind when perusing our results. Just because a board under-performs in a single test, it doesn't mean anything in regards to its quality as a whole. Our ultimate goal here is to make sure that each board we test performs as we'd expect across the gamut of scenarios we pit them against.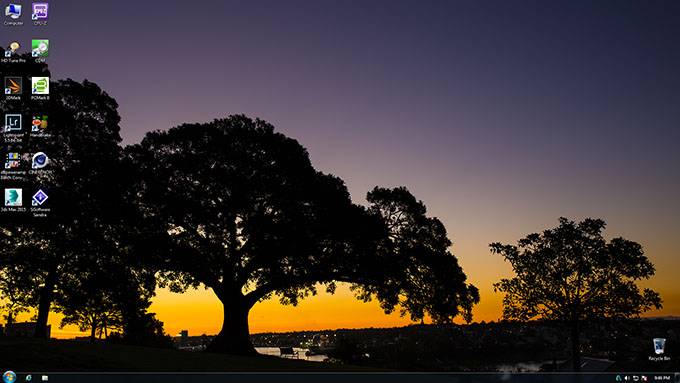 Our Intel Z97 Testing OS (Wallpaper Credit)
Note: ASUS' Z97I-PLUS was tested with its 'MultiCore Enhancement' option left enabled. This means that the CPU was clock-boosted, which will result in improved performance over MSI's Z97I Gaming AC and GIGABYTE's Z97X-Gaming G1, both of which ran at absolute stock, CPU-wise. Also, because the design of the MSI board prevented me from using the same tall memory sticks I had used for testing the the other boards with, the specs are dissimilar. The MSI board was tested with 8GB of memory spec'd at DDR3-1866 – a stark contrast to the 16GB of DDR3-2133 we normally use. A difference in hardware like this isn't ideal, but this particular motherboard forced my hand. None of our tests exhaust 8GB of memory, so the sole difference here will be via the frequency.
Intel LGA1150 Test System
Processor
Intel Core i7-4770K – Quad-Core, 3.50GHz
Motherboard
ASUS Z97I-PLUS (BIOS: '2103' 07/03/2014)
MSI Z97I Gaming AC (BIOS: '1.2' 06/30/2014)
GIGABYTE Z97X-Gaming G1 WIFI-BK (BIOS: 'F5' 05/30/2014)
Memory
Kingston HyperX Beast 2x8GB – DDR3-2133 11-12-11-31
Graphics
NVIDIA GeForce GTX 650 Ti (GeForce 334.98 Driver)
Audio
Onboard
Storage
Kingston HyperX 240GB SSD
Power Supply
Corsair HX850W
Chassis
Corsair Obsidian 700D Full-Tower
Cooling
Noctua NH-U14S Air Cooler
Et cetera
Windows 7 Professional 64-bit
Increasing the BCLK value is one way that vendors could sneak in some higher-than-stock performance numbers, so after letting the test bench sit idle for a couple of minutes, we look at the current BCLK value as according to CPU-Z.
| | |
| --- | --- |
| BCLK Values | Result |
| ASUS Z97I-PLUS | 99.8 MHz |
| GIGABYTE Z97X-Gaming G1 WIFI-BK | 100.0 MHz |
| MSI Z97I Gaming AC | 100.0 MHz |
General System Performance
To take a look at the "overall" performance of our PC configuration, we rely on dual Futuremark suites: PCMark 8 and 3DMark (2013).
PCMark 8 Suite Scores
Home
Work
Creative
ASUS Z97I-PLUS
4346
5255
3478
GIGABYTE Z97X-Gaming G1 WIFI-BK
4274
5126
3444
MSI Z97I Gaming AC
4214
5123
3343
3DMark (2013)
3DMark
Graphics
Physics
ASUS Z97I-PLUS
3286
3464
11116
GIGABYTE Z97X-Gaming G1 WIFI-BK
3261
3434
11165
MSI Z97I Gaming AC
3273
3458
10604
All boards perform well here, with ASUS getting the slight edge that we expected it would. Interestingly, though, while the GIGABYTE and MSI boards go head-to-head in Home and Work, the big G comes close to the ASUS in Creative.
I/O Performance
To properly give the internal SATA 6Gbps a good workout, we turn to HD Tune and CrystalDiskMark.
HD Tune Pro 5
Minimum
Average
Maximum
Latency
ASUS Z97I-PLUS
309.6
422.5
460.6
0.056ms
GIGABYTE Z97X-Gaming G1 WIFI-BK
313.3
418.9
452.8
0.055ms
MSI Z97I Gaming AC
305.3
418.6
455.2
0.055ms
CrystalDiskMark
Read Seq.
Read 4K
Write Seq.
Write 4K
ASUS Z97I-PLUS
523.1
41.87
317.8
161.1
GIGABYTE Z97X-Gaming G1 WIFI-BK
494.9
41.29
311.4
159.9
MSI Z97I Gaming AC
494.5
40.83
309.8
153.4
CrystalDiskMark USB 3.0
Read Seq.
Read 4K
Write Seq.
Write 4K
ASUS Z97I-PLUS
273.5
29.20
271.2
70.72
GIGABYTE Z97X-Gaming G1 WIFI-BK
270.7
28.88
263.5
68.92
MSI Z97I Gaming AC
270.6
28.65
262.9
67.45
ASUS takes the lead once again, but as usual, the performance is so close that it's negligable.
Rendering & Image Manipulation
Writing files to disk or reading a website doesn't do much to exercise our CPU, so for that, we turn to a few common scenarios – image editing, video rendering, music conversion, and 3D rendering.
Adobe Lightroom 5.5
Result
ASUS Z97I-PLUS
589 s
GIGABYTE Z97X-Gaming G1 WIFI-BK
594 s
MSI Z97I Gaming AC
636 s
Autodesk 3ds Max 2015
Result
ASUS Z97I-PLUS
895 s
GIGABYTE Z97X-Gaming G1 WIFI-BK
975 s
MSI Z97I Gaming AC
981 s
Cinebench R15
OpenGL
CPU
ASUS Z97I-PLUS
132.63
800
GIGABYTE Z97X-Gaming G1 WIFI-BK
123.43
799
MSI Z97I Gaming AC
119.54
759
dBpoweramp R15
FLAC to MP3
ASUS Z97I-PLUS
829 s
GIGABYTE Z97X-Gaming G1 WIFI-BK
884 s
MSI Z97I Gaming AC
874 s
HandBrake 0.99
Result
ASUS Z97I-PLUS
2187 s
GIGABYTE Z97X-Gaming G1 WIFI-BK
2207 s
MSI Z97I Gaming AC
2319 s
More of the same here.
Sub-system Performance
For memory and CPU testing, we utilize SiSoftware's Sandra 2013 (SP3a), and for Ethernet testing, we use iperf (or more appropriately, the Java-based jperf which utilizes it).
Sandra 2014 SP2 (Memory)
Integer
Float
ASUS Z97I-PLUS
27.472 GB/s
27.607 GB/s
GIGABYTE Z97X-Gaming G1 WIFI-BK
27.466 GB/s
27.458 GB/s
MSI Z97I Gaming AC
21.604 GB/s *
21.673 GB/s *
Sandra 2014 SP2 (Arithmetic)
Dhrystone
Whetstone
ASUS Z97I-PLUS
157.16 GIPS
86.22 GFLOPS
GIGABYTE Z97X-Gaming G1 WIFI-BK
156.90 GIPS
86.03 GFLOPS
MSI Z97I Gaming AC
148.79 GIPS
83.01 GFLOPS
Sandra 2014 SP2 (Multi-core)
Bandwidth
Latency
ASUS Z97I-PLUS
31.56 GB/s
36.5 ns
GIGABYTE Z97X-Gaming G1 WIFI-BK
31.86 GB/s
36.7 ns
MSI Z97I Gaming AC
28.34 GB/s
36.9 ns
It's interesting here that despite ASUS having a clock boost, it matched up well with GIGABYTE which didn't auto-OC itself. As for MSI, even though memory has no big say in the Arithmetic test, it fell behind the other two boards here.
In the end, there's usually a trade-off between boards somewhere in testing, and there's no exception here. Overall, they all perform well.
Other GIGABYTE Z97X-Gaming G1 WIFI-BK Features & Final Thoughts
If you've read this review from start to finish, I wouldn't blame you if you came to the conclusion that this wasn't an Editor's Choice-worthy board. After all, I did have quite a bit of issue with the board's EFI, and I think some small improvements to the company's software package could improve it a lot. But in the grand scheme, this board is fantastic, and does earn an EC in my eyes. Let's do a run-down of good and bad.
First off, this board is packed to the gills with features – and yes, its $350 pricetag certainly matches that. The board's design is good, and there's an ample number of fan headers (an understatement, really – we're talking seven). For those wanting to go the water cooling route, you can even add the MOSFET heatsink to the loop. There are many audio-related niceties to take advantage of as well, and I suppose I can give some credit to the Killer Ethernet NIC. This board was built for gamers, plain and simple.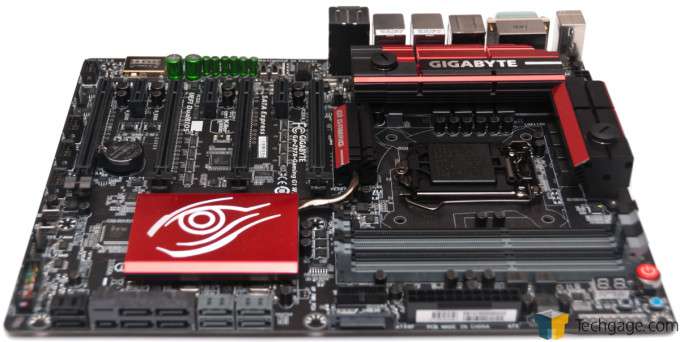 There are a couple of other nice touches as well, like the inclusion of a SATA power port on the board to help people supply additional power to their GPUs, and I'm always a big fan of onboard BIOS LED readouts. The same could be said for the onboard power switches. Further, the overall design is what I'd call "smart"; the 8-pin power connector up top is well-placed, as are all of the fan headers. If aesthetics are important to you, I think the board hits another home run here.
One aspect of this board that I thought was really nice was that GIGABYTE included a total of 6 sleeved SATA cables. That seems really simple, and it is, but it's something I've found is appreciated by everyone I've mentioned it to. If we're building a nice new rig, we of course want to keep it looking nice, and sleeved cables definitely help with that goal. Having one of each SLI bridge is yet another nice feature, as is the inclusion of a 2.5″ USB 3.0 bay, should your chassis even have a spot for one of those.
I don't think that this board has the best EFI, but aside from that, the rest of it offers close to exactly what I look for in a board. It's just a great overall package, with many minor things helping it to become a majorly nice offering.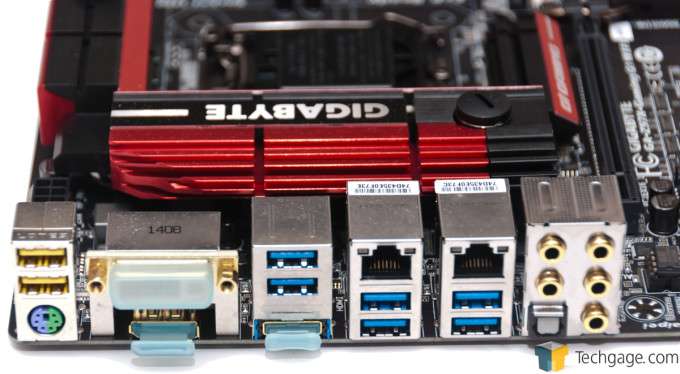 Of course, I can't simply conclude this review by patting it on the back and leaving it at that (let's face it, I'd probably prick my hands). I do think the software package could become "great" if GIGABYTE merged all of its individual tools into its overall EasyTune suite, and likewise, its EFI and software could use a few more features. I couldn't believe that fan control was seemingly absent in the EFI, which is a far cry from what we saw on the ASUS and MSI boards, what with their robust plot charts and automatic fan profiling (GIGABYTE has this in software).
I harped enough on the EFI on that respective page though, so there's no need to repeat myself. I do think that like the software, small changes would do wonders for GIGABYTE's EFI, so I look forward to seeing its next major iteration. Or, perhaps there's a chance that my complaints have already been tackled for the X99 generation? We'll soon see.
Despite the things I don't like about the Z97X-Gaming G1 WIFI-BK, none of them are major, and all of them are things that are not dealt with that often. Overall, the package here is good, and I'd be hard-pressed to not recommend anyone looking for a great gaming motherboard to toss this one onto their consideration list.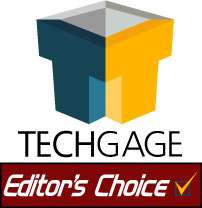 GIGABYTE Z97X-Gaming G1 WIFI-BK
Copyright © 2005-2019 Techgage Networks Inc. - All Rights Reserved.