Gigabyte Open Overclocking Championship 2009 Taipei Final

Date: June 3, 2009
Author(s): Rob Williams

For four months, GO OC 09 regional finals have been taking place all around the world, but today, the first and second place winners from each event are here in Taipei to compete for the grand prize. Of course, it's not the swag that matters, but the recognition! We'll be reporting from the event as it progresses. (Updated: The winners!)
---
Introduction
In late April, we reported from the North American regional final for Gigabyte's Open Overclocking Championship 2009, the second of its kind. At that event, which was held in the City of Industry, California, miahallen walked away the big winner, with sno.lcn following his lead. In addition those two, Fugger and Vapor (last year's winners) are also here, so the chances of North America remaining as champions are great.
I'll be working hard to get as many updates during the event up as possible, although I'm sure to lag behind due to meetings and sketchy Internet access. I'll also be unable to give an in-depth run-down of the events here, but I'll make up for any lack of information with pictures.
Like the North American regional final, Gigabyte's Colin Brix is back once again to host this one. To help kick things off, he introduced each sponsor vendor, one by one. These included Intel, Kingston, NVIDIA and also Enermax. Each were given the floor to introduce themselves and their product, and to also wish the overclockers good luck.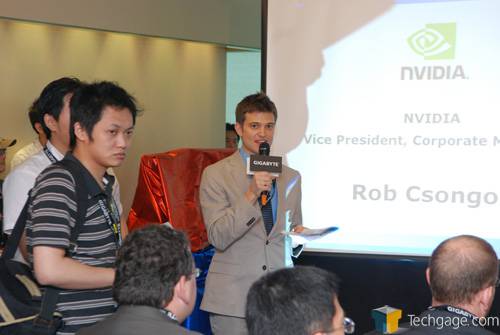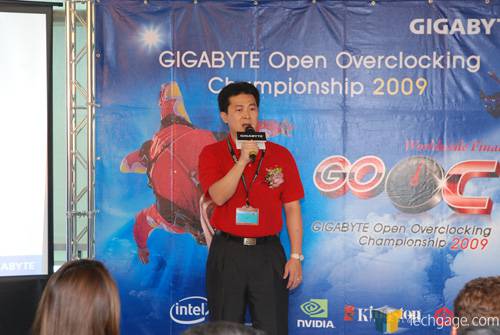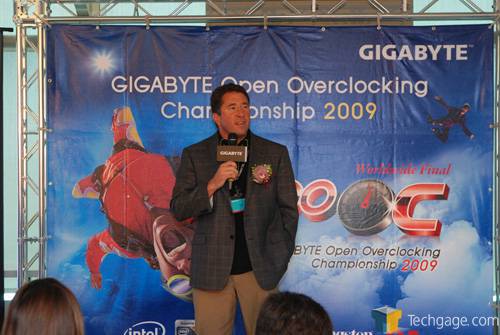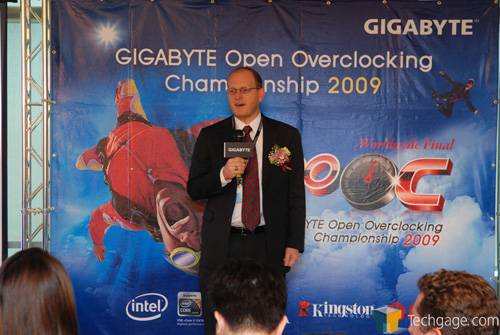 The contestants: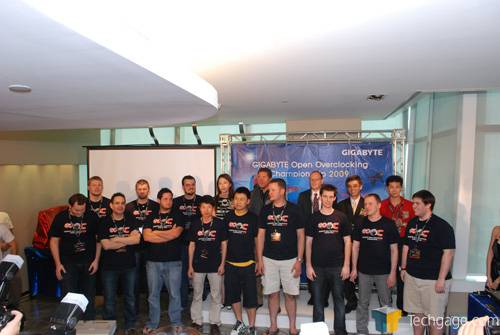 Considering this is the final, I'm surprised by the absolute lack of room for this competition. There's little room to move around the tables, and hard not to bump into people. This is a stark contrast to the regional final in late April, which offered quite a bit of room, much more than this.
Either way, the setup is good and there are free refreshments for everyone, and all the LN2 you can drink! Err… maybe I should just post some photos from around the floor: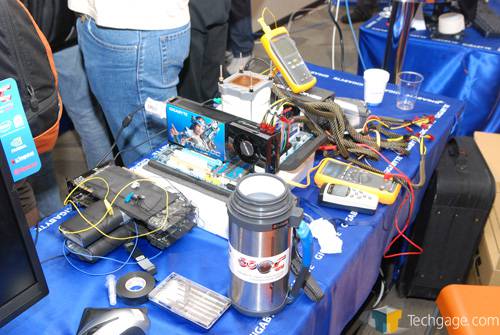 sno.lcn (left) and miahallen (right):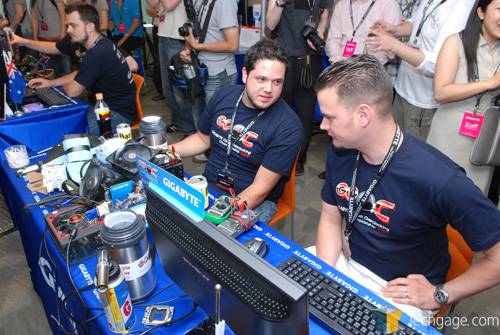 Fugger (left) and Vapor (right):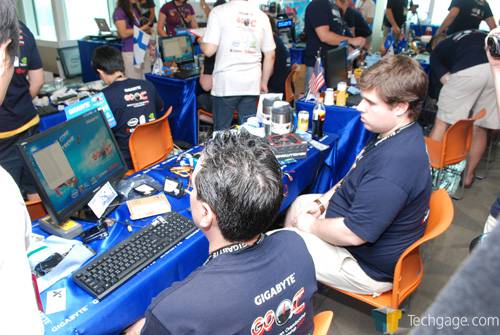 Here's to hoping that these tanks have enough liquid nitrogen to satisfy the insatiable appetites of the overclockers!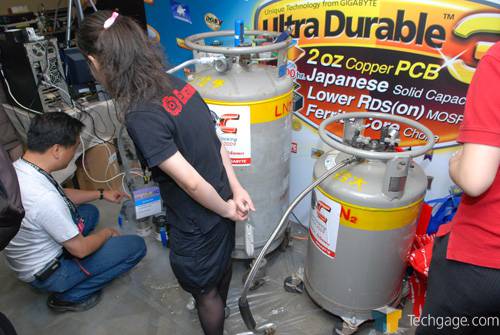 Techniques used by overclockers are incredibly interesting to those who don't know a thing about taking these to the extreme (namely, me). Given the ultra-low temperatures LN2 deliver, it's odd to see hair blow dryers and torches.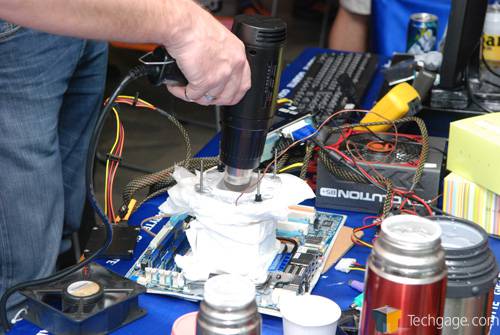 It's quite amazing that I can fit almost the entire room in one shot!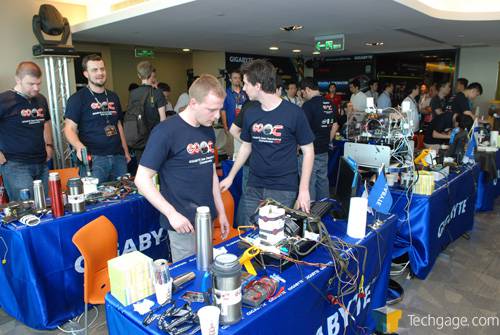 For such an event, only a live DJ could have been deemed appropriate. Given that most overclockers tend to prefer trance/dance while overclocking, that's the majority of what I've heard (and I haven't a single complaint!).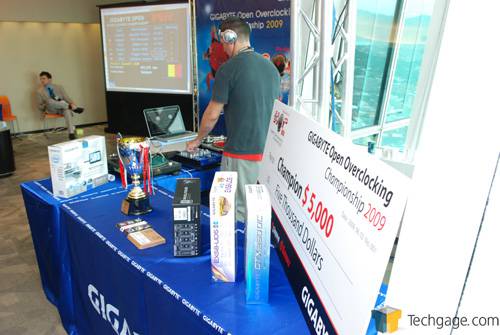 It might be difficult to tell by this photo, but the floor is absolutely covered with smoke from the LN2. Pretty appropriate effect given the music.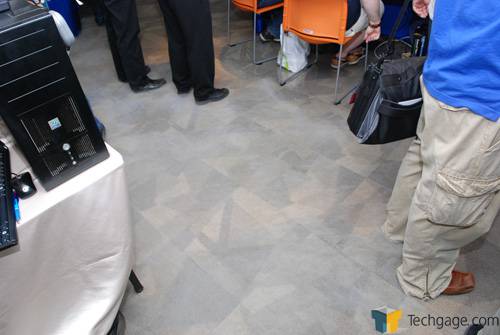 The event is taking place on the 36F of the Taipei 101, and here's a sample of what you see when you look out: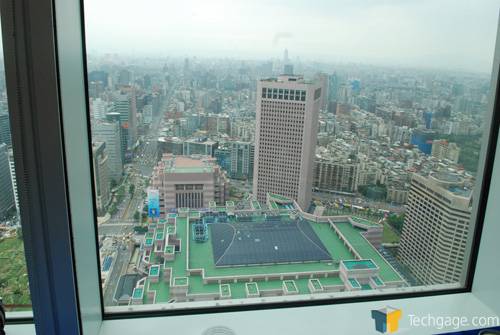 The Super Pi round is over, with Belgium (Pt1t/Massman) coming out on top with a score of 400.187s. USA 1 (Fugger/Vapor) hit 3rd place with 408.688s while USA 2 (miahallen/sno.lcn) hit 6th with 434.078s.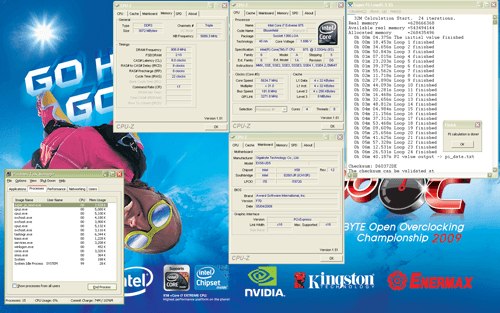 Thanks to various meetings followed by a media dinner, I'm a bit late on posting this, but at the end of the day, Fugger and Vapor took the crown, once again. Yes. Two years in a row. Amazing stuff. 2nd) China, 3rd) Sweden, 4th) Belgium, 5th) Australia and 6th) USA (second team).
Here's the trophy: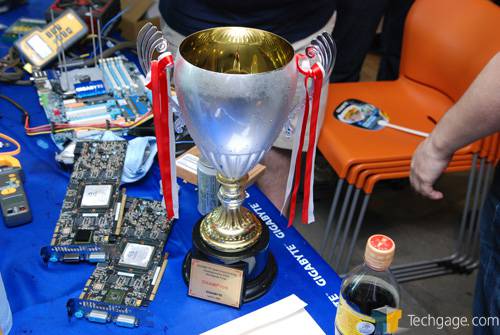 Congrats to all who competed… GO OC 09 turned out to be a great event!
Discuss this article in our forums!
Have a comment you wish to make on this article? Recommendations? Criticism? Feel free to head over to our related thread and put your words to our virtual paper! There is no requirement to register in order to respond to these threads, but it sure doesn't hurt!
Copyright © 2005-2021 Techgage Networks Inc. - All Rights Reserved.