GlideTV Internet TV Navigator Review

Date: April 11, 2011
Author(s): Greg King

When building an HTPC, there are multiple angles to tackle – components, power consumption, software, and so forth. But what about peripherals designed to complement the HTPC you're building? Quality options are not as common as we'd like, but the GlideTV Navigator looks to be an exception, and one that won't drain your wallet.
---
Introduction
The idea of a home theater PC is not new. For as long as video output has allowed, computers have been connected to the central television in the house, and with the advent of the Internet, this approach to home computing has seemed like a no-brainer. However, it has not been an easy sell for many. There are obstacles standing in the way of a truly enjoyable experience and for me, the number one issue is interaction.
The best way to interact with a computer in my honest opinion is with a keyboard and mouse. This method allows for text and pointer manipulation and has worked for decades. That being said, it's not very attractive to have a keyboard and mouse hanging around your living room. Not only do you realistically need to store it someplace convenient, you don't want to keep a keyboard on your lap while setting up whatever you want to watch or listen to.
The Logitech diNovo mini that we reviewed back in April of 2007 is still one of the best devices on the market for HTPC use. Small and somewhat stylish, it looks at home on the end table of anyone with an HTPC setup. I have worked with the mini and in the right environment, it's a great device. It's small enough to stay out of the way when not in use and the mouse pointer capabilities eliminate the need for an actual mouse. While a great device, it's not perfect. Taking those sentiments into account, there are companies out there that have decided to take a different approach. Today, we look at one.
Located in California, GlideTV set out to create a device with one goal in mind, to "…enhance the Internet video experience in the living room". Its first offering, the Navigator, looks to put all the controls of a standard remote quite literally in the palm of your hand. Having been out for over a year, we were excited to get one in for testing and having used the Navigator for a couple of months now, I'm ready to write about my experiences. Butfirst, let's take a look at the hardware.
The Hardware
The Navigator comes with everything you need to get up and running. This included the Navigator itself, its charging base, a USB power adapter, USB cable, documentation and driver discs and an RF USB dongle.
At the top of the Navigator we find the entire array of buttons. Situated between them all is the primary feature of the device. Taking up a majority of the face, the trackpad allows the Navigator to be used as a wireless mouse in the same way you interact with your notebook. Wherever you slide your finger, the pointer on your screen will move in relation to its original position. My initial impression of the trackpad was a good one. There were a few complaints but we will get more into them later.
The base of the Navigator shares almost identical dimensions with the device itself but has a concave top, allowing the Navigator to sit nicely on the two contacts. While looking good is nice, the base also acts as a charger, allowing you to keep the Navigator charged when not in use. With a USB mini connection on the back, the base can remain plugged in to either your HTPC or the wall using the included USB power adapter.
The bottom of the Navigator has 5 contacts that allow the device to charge on its base, regardless of its orientation. This was a nice thought by GlideTV's design team as with the device as it is, you can set it down on the base 1 of the 4 possible ways and your Navigator will still charge as there will always be a connection made.
Together, the Navigator and its base look nice and shouldn't distract at all when set down to charge.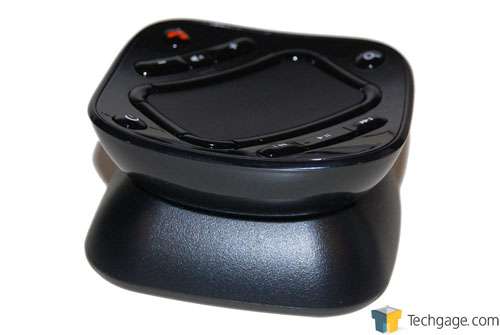 The included USB power adapter allows you to position the base away from your computer and set it anywhere you would like, as long as there is an available wall socket available. I found this to be ideal for me as I have an end table next to my couch and directly behind it is a power socket. Keeping the Navigator close to the couch and with the rest of my remotes lets me keep the clutter down and similar devices together.
Software can be downloaded directly from GlideTV's website and can also be found on the included DVD. Versions might be different so please keep this in mind when setting up your Navigator. With that in mind, let's get to the interface.
Software
Installation of the GlideTV software is a simple affair. Forgoing the included installer, I choose to download mine directly from the official server. The software is still in beta, with the exact version I installed being 1.23. For those of you using a Mac, there's a special version available for you as well. Weighing in at just under 30 MB, the installer took very little time to install.
Once installed, the first screen we come to is a home screen of sorts, allowing you to branch out in whatever direction you want to go. Allowing you to setup shortcuts, you can quickly get to where you want to go. From this screen you can also bring up the baked-in Internet browser, access and change settings and search for what you want to watch.
The browser is pretty straight-forward. You have a row of icons along the top of the screen, providing all of the core functionality of any full sized browsers available today. Among these functions are bookmarking, tabbed browsing, reload, back and forward. You can also pop out your browser history and save whatever site you are on to a core group of sites. Might I recommend Techgage?
Similar to Chrome and Firefox 4, you can group together sites into one page and then select from those saved pages. Providing a clean and reflective look, you can see that I have three sites saved and they are displayed out in a nicely ordered fashion. This brings an attractive look to your HTPC and allows you to reach out and browse while still in the GlideTV software.
Your settings involve the ability to set your homepage, opening behavior and allow you to setup the GlideTV browser as your default. While we will get more into the media options, staying in the GlideTV software to watch movies and browse the Internet has its advantages.
Under the content tab, you can set up how you would like the browser to behave. You can set your zoom level and have it remember it for future use.
I like that GlideTV has included privacy options in the software. You can choose to have the browser remember your passwords, remember your browsing history and allow your inputs to be saved. With using any software-based keyboards, it's nice to be able to save text fields rather than punching them in every time. In the case of passwords, you can choose to save them, too. I personally do not save my passwords and while I cannot in good faith recommend that you do it, I can see the benefits if you do. You can also clear your history, cache and browsing cookies with one simple push of a button.
The 'What's On' feature of the GlideTV software is a nice touch. It collects all available media sources and lets you choose what you want to watch. Once in a category (in this next picture we are in the TV Shows category), every show available is displayed with a small picture, making it easier for you to find your favorite show from across the room.
Once you find a show, you can drill down into its options by clicking on it. From there you are giving a brief overview of the episode, its title, running length and most importantly, media sources. For House, we see that it is available for free on Hulu and a purchase is available from Amazon and iTunes. When you select which source you want to watch it on (free Hulu, please) you are taken to that site's page. GlideTV is essentially an aggregate of shortcuts and the company has done a good job of making it look good.
Sometimes the only options you are given are to purchase the movie or show you are wanting to watch. For those of you iTunes junkies out there, this is a convenient way to browse and purchase your media. It's nice to see Amazon included as it is fairly new to the game (in relation to Apple) and as always, more options are always welcome.
Next, usage, and my final thoughts.
Usage; Final Thoughts
Using the Navigator was a pleasant experience. I wasn't sure how I would feel about it at first but after using it consistently for over a month, I have grown accustomed to its layout and can operate it almost by muscle memory alone.
The trackpad is very responsive – no different than your average notebook – and the buttons that line the edge of it are all easy to get to. I have slightly larger than normal hands so reaching the far buttons with my thumb wasn't much of a task. For those with smaller hands, two-handed operation will be required and for a few functions, I needed to stabilize the Navigator either with my other hand or with my leg. This wasn't a problem, but it should be noted that you might not be able to chill on your couch and use the device one handed.
Concerning the hardware that this was ran on, we used an AMD 5000+ AM2 CPU with 2 GB of RAM. Older hardware works well when repurposed for a media center, and with this build, I ran into no problems with the software.
Speaking of the software, there were areas of supreme polish and others that could use a little attention. The browser looked good but nothing that blew us away. It's function in the same sense that the baked-in browser on the PS3 is functional. It worked well and the larger icons were nice when viewing from across the room.
To bring up the PlayStation 3 again, you can use the Navigator with it as well. I tested this out with mine and used it to navigate around the XMB without issue. As mentioned before, one of the nicer areas of the browser was in the page displays. When you are presented with multiple pages to choose from, the look is nice but only until you click one of the choices. Then you are back to the browser.
Range of the Navigator was tested out to about 20 feet. When I reached this distance, I still was able to control the pointer without issue. My distance testing was halted not by the reach of the RF adapter but rather me running out of room.
The batteries lasted a considerable amount of time. Using the device for almost days on end without needing to charge it was nice. This might not be a major issue considering its well-designed charging base but it should be noted that the battery-life of the Navigator is solid.
The only complaint that I have is somewhat remedied with experience. It took quite some time to master clicking with the touchpad and often, I would find myself moving the cursor off of the link when trying to press down to select.
The software keyboard was a pain but once used to the Navigator, it wasn't any more difficult than other similar approaches. You are always going to have to sacrifice a physical keyboard when designing a small and compact device. While not my favorite, I don't mind using a soft keyboard. It's not ideal but it works well with the Navigator.
My time with the Navigator was good. I don't have any major complaints other than availability. You are unable to purchase the Navigator anywhere online, including the GlideTV website. By looking at its Facebook page, the folks there are promising to let everyone know when stock comes back into their warehouse, but as of the time of this review's posting, they are still out of stock.
When more units do come in, they are currently selling for $50. This is well below many competing products. While you do give up some functionality with the Navigator, you gain a small, well-designed piece of kit. The next time you are looking for a new way to interact with your HTPC, you are well advised to keep the GlideTV Navigator in mind – assuming the stock is replenished soon.
Discuss this article in our forums!
Have a comment you wish to make on this article? Recommendations? Criticism? Feel free to head over to our related thread and put your words to our virtual paper! There is no requirement to register in order to respond to these threads, but it sure doesn't hurt!
Copyright © 2005-2020 Techgage Networks Inc. - All Rights Reserved.