Kingston DT HyperX Predator 512GB Flash Drive Review

Date: February 13, 2013
Author(s): Rob Williams

For years, there's been a constant battle in the flash drive market where companies have tried to build the smallest drive possible but boast the most amount of space. In this regard, it has to be said that Kingston is the current winner. Its DT HyperX Predator isn't much larger than a regular performance thumb drive, but its storage starts out at 512GB.
---
Introduction
When we kicked-off our CES coverage last month, little did we realize that it was going to become our most successful to date. To help put things into perspective, to equal the amount of visitors seen as a direct result of our CES coverage last month, we'd have to combine the previous five year's worth together. What on earth caused such a surge of traffic to happen? Believe it or not, a flash drive. Kingston's DataTraveler HyperX Predator, to be exact.
It might seem a little bizarre that a simple flash drive could have garnered so much attention, but it had one little number working in its favor: 1TB. While Kingston's Predator isn't the "first" 1TB flash drive ever produced, it's going to be the first that people can actually buy. I say "going to be", because at the moment, only the 512GB model is available. The 1TB model will come sometime before the end of the first quarter.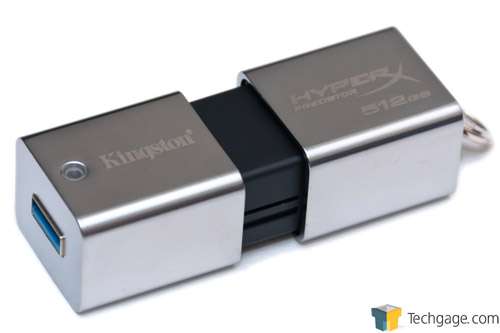 Unlike most flash drive series, it's not hard to tell what it is that sets Predator apart from the rest. It's designed to offer those who require lots of portable storage the option, and the fact that the baseline density is a whopping 512GB proves that. These drives are monsters, plain and simple.
That goes for both the performance and price-tag, too. Equipped with speedy NAND flash and a USB 3.0 controller, the drives are spec'd at 240MB/s read and 160MB/s write. If a fast 512GB flash drive such as this sounds right up your alley, get ready to write a check out for $800. Yup – this drive is not for the feint of heart.
The Predator isn't priced high on purpose, though, and I'm not even sure Kingston would consider it a "premium" product. Instead, high-density NAND flash as needed for a small drive like this simply doesn't come cheap, and when the end goal is to create a drive that fits into people's pockets, options are limited. So limited, in fact, that it simply wasn't possible to use a single PCB in order to deliver the full 512GB of storage. Instead, the Predator is comprised of three PCBs which connect to the mainboard via a couple of bridges: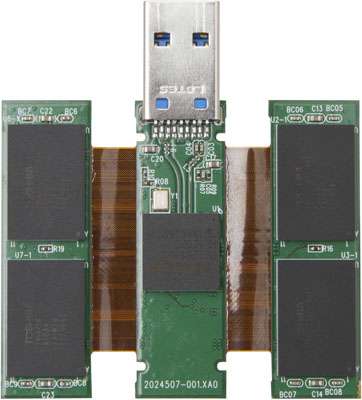 At the moment, the 512GB Predator uses Toshiba 19nm Toggle-based NAND, whereas the upcoming 1TB is likely to make the move to Micron. Both drives use a Phison USB 3.0 controller to deliver the performance people expect. We'll see in our performance results if the drive lives up to our expectations, but for now, let's take a tour of the hardware.
We don't often feel compelled to publish a picture of product packaging (say that five times fast), but this is one of those exceptions. Instead of shipping the Predator in clamshell plastic or even a box, it comes in an aluminum tin with foam insert to keep things safe and sound. On the front, we can see the product logo and also its size and rated speeds. Let's open it up.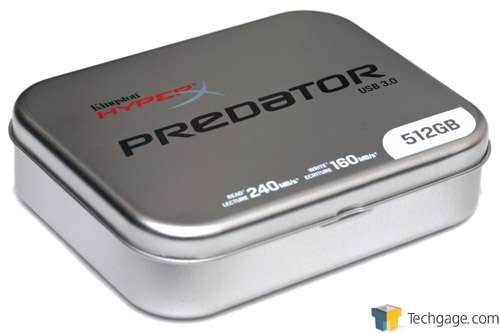 The black foam insert doesn't only look good, but it keeps both the drive and its couple of accessories as still as can be. If the package or internals get damaged during shipping, then it can be assumed that your courier went out of its way to make it happen.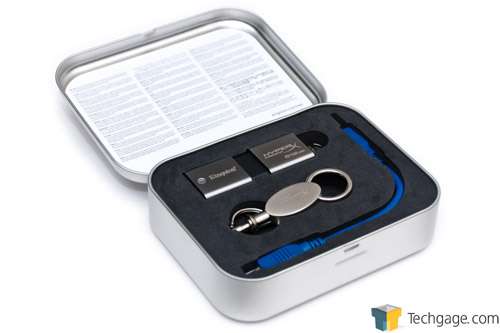 The drive construction itself has two major things going for it. For starters, there's no cap to lose. Instead, the drive can slide inward to expose the USB connector and then be slid back out to keep it safe. The other plus is that the entire body is very durable, as you'd want it to be on such an expensive model. The metal parts you see is thick aluminum, and while in some shots it's easy to see what sort of finger-print magnet it is, I'd say that's a fair trade-off for durability.
Here's a small collection of Kingston flash drives to show the size difference between them, and the Predator. Both the Ultimate G2 and HyperX drives are larger than most other thumb drives on the market, but they're still completely manageable. The Predator is obviously a bit larger than these, and foregoes the curvy edges to adopt a more boxier shape – a good thing for the sake of durability, and an important thing given the multi-tiered PCB design.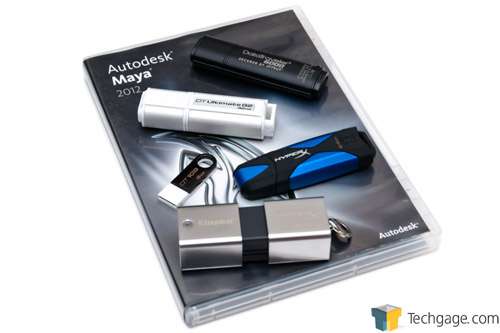 Because Kingston doesn't ship any software with the Predator, there really isn't too much else to say. It boasts a ton of storage, is built extremely well, and has a price-tag that makes it an option only for those who truly need so much space in this form-factor. Next up, we'll see if the drive's performance proves as big as its price-tag.
Test System & Methodology; Iometer, HD Tune Pro & PCMark Vantage
For most of our performance-type content, we hold nothing back when explaining our methodologies and beliefs. But as this is simply an external storage review, we don't feel there's quite as important a need to do that. If you've read our other performance content, you already know how seriously we take our testing practices, as it's obvious that coming up with an accurate end score for any benchmark is very important. In the case of flash drives, we repeat all tests at least twice to verify that our results are accurate.
 
Techgage Storage Test System
Processor
Intel Core i7-3960X Extreme Edition – Six-Core @ 4.20GHz – 1.375v
Motherboard
GIGABYTE G1. Assassin 2 – F4E BIOS (12/12/2011)
Memory
Corsair Dominator GT 16GB DDR3-2133 9-11-12-27, 1.60v
Graphics
GeForce GTX 680 2GB (Reference) – GeForce 301.42
Audio
Onboard Creative X-Fi
Storage
OS Drive:
Kingston HyperX 240GB SATA 6Gbit/s SSD
Tested Drives:
Kingston 32GB DataTraveler 101 G2 (USB 2)
Corsair 32GB Survivor GTR (USB 2)
Kingston 128GB HyperX Max 3.0 (USB 3)
Kingston 32GB DT Ultimate 3.0 G2 (USB 3)
Kingston 64GB DT HyperX 3.0 (USB 3)
Kingston DT HyperX Predator 512GB (USB 3)
OCZ Enyo 128GB (USB 3)
Seagate FreeAgent GoFlex 3TB (USB 3)
WD My Passport 2TB (USB 3)
Power Supply
Corsair AX1200 1200W
Cooling
Corsair H70 Self-Contained Liquid Cooler
Et cetera
Windows 7 Ultimate SP1 64-bit
For our real-world transfer tests, the source files are stored on our OS drive, which avails us a top-end read speed of 500MB/s+. Unless the USB device we're testing is able to write in excess of that, there should be no bottleneck.
Before We Begin
There are a couple of important notes we must mention before diving into the test results. For some reason, Kingston ships its Predator drive formatted as FAT32 and using 32KB clusters. This means that files larger than 4GB cannot be used on the drive until its reformatted. For a small drive, that's normally fine, as most people don't fill up half their drive with a single file. On a large drive like this, however, which is larger than most desktop SSDs, the choice is bizarre.
The choice to use 32KB clusters strikes me as odd as well. While typical for large storage drives, it basically assumes that most people will not be using the Predator for anything but large files.
In order to store files greater than 4GB in size on the Predator, it will need to be formatted as exFAT or NTFS. For those planning to store mostly large files, I'd recommend using a cluster size of 32KB or 64KB. If you'll be storing mostly smaller files like documents, photos and especially installed software, I'd recommend sticking to 4KB.
Because the drive ships using 32KB clusters, that's what I benchmarked with. However, the drive was formatted to NTFS in order to support our 16GB file transfer test. For our real-world tests, we also formatted the drive using 4KB cluster sizes to see what kind of performance differences we'd be dealing with.
With all that said, let's get to it.
Iometer 1.1.0rc1
To start things off, we're using Iometer, a popular storage benchmarking application that's as effective as it is customizable. It's for both of those reasons that we choose to use it, and also thanks to the fact that it's capable of outputting the results to both MB/s and IOPS (in/out operations per second). The latter is the value we focus on, as it's become a standard for measuring performance in enterprise/IT environments.
Admittedly, running this test on most USB flash drives, especially USB 2.0 models, is not entirely important given the typical manner in which they're used, but it's our goal to see where one excels over another when dealing with such an intensive test. IOPS performance would be very important if you were to install an OS on a flash drive, as long as the bandwidth throughput is also good.
As we've learned from our Kingston flash drive reviews in the past, it's become clear that the company doesn't put a huge emphasis on IOPS performance. For a lot of people, that'll be fine. What it does mean, though, is that the drive wouldn't be too suitable for running an operating system off of, or for copying a lot of small files to. Instead, the drive's focus is to be a fast performer where beefier files are concerned, which in the Predator's case should come as no surprise given its sheer size.
HD Tune Pro 5.0
One of the simplest methods for testing storage is with HD Tune, and as it's able to give reliable and repeatable results, we like using it in our testing. Although the program offers a good range of testing methods, we use the basic test that gives us read speeds and also access latencies.
While the Predator didn't fare too well in our Iometer test, it slots right in behind Kingston's own HyperX 3.0 in HD Tune, offering an average read speed of 216.9 MB/s. It's not quite the 240 MB/s we saw on the package, so we'll see if our other benchmarks can help us reach that.
PCMark Vantage
One of the more popular storage benchmarks currently is Futuremark's PCMark Vantage. Even though this is a suite designed to benchmark your entire machine, it's HDD suite test is quite robust and is good at delivering scores that scale well with the storage device you are benchmarking. Almost all of the storage companies we deal with regularly recommend using it, so we do.
Because of its lacking IOPS performance, the Predator drive wasn't able to defeat OCZ's Enyo (since discontinued) in PCMark like it did in HD Tune, but it did manage to out-perform the HyperX 3.0 drive overall.
CrystalDiskMark, ATTO, Real-World
Over the past few years, many storage companies have been jumping on the CrystalDiskMark bandwagon to help strut their product's performance, and it's easy to understand why. Compared to others, CrystalDiskMark delivers results that are much higher, and in some regards, they could be considered unrealistic given that real-world tests and even other synthetic benchmarks never seem to back up its claims. We include it for the sake of interest and because it is still a very thorough benchmark.
Performance in HD Tune for the read speed fell slightly behind expectations, but CDM gave us the opposite result by delivering higher on both fronts, with 250MB/s read and 175MB/s write. We'll soon see if that carries over into real-world performance.
ATTO
While CrystalDiskMark does well to show the absolute top-end value of a storage device, ATTO doesn't fall too far behind, if at all. Its test uses a wide-range of cluster sizes, for both read and write, but we only note 4KB, 64KB and 1024KB of the former. For those interested, we use a queue depth value of 10 for testing.
As far as ATTO is concerned, the Predator drive is one of the fastest we've ever taken a look at, especially where 4KB data transfers are concerned.
Real-World
For real-world testing, we use a set of files and folders for the sake of measuring transfer speeds, and also convert images and music on the storage device to see just how well it fares for large intensive operations. For the transfer speeds, we use both 4GB and 16GB files and folders, and for the former, we also perform copy tests, which refers to copying the file or folder on the storage device. We don't do this for our 16GB files and folders as some 32GB drives refuse it due to coming so close to the total density.
Note: We benchmarked the Predator drive using both 32KB (default) and 4KB cluster sizes for these tests; the former because it's default and the latter because it's the standard size we used on all of the other drives.
The first thing to note from these results is the difference in performance that moving from 32KB to 4KB sectors made – huge. We shaved a couple of seconds off of the file transfer and about 40% off the folder. That is, without question, significant. That comparison aside, the Predator performed great where solid file transfers were concerned, but fell a bit behind when thousands of files are transferred.
Final Thoughts
Kingston's Predator is an interesting flash drive for the simplest of reasons. It might not be feature-packed, and it might not be innovative, but what it is, is a well-built product that offers fast speeds and a ton of storage space. In the car world, Predator would be like a Porsche with the towing capacity of a full-sized truck.
Sure, the Predator is expensive, but that's a given. As mentioned earlier, NAND chips that offer this much storage don't come cheap, and in some ways, it's impressive at all that Kingston was able to pull this off with such a small drive and still be able to offer it at a price that scales reasonably well.
Take Kingston's own HyperX 64GB, for example, which retails for $90 at the moment. Multiplied 8x to match 512GB, it'd become a $720 drive. The Predator, by contrast, retails for $80 beyond that, but employs the sturdiest design both inside and out that we've ever seen. There's a premium, but it's justified.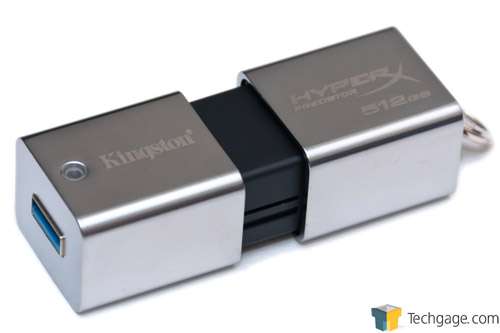 That being said, there are a couple of problems I do have with the drive. The first is the odd partitioning that the drive ships with. I can understand using FAT32 for the sake of compatibility, but let's be realistic – who is going to own this drive and not store 4GB+ files on it? Kingston should have instead formatted it using NTFS, a file system that rids that limitation and can be used cross-platform.
The second oddity has to do with the fact that Kingston partitioned the drive using 32KB clusters. Again, if all you're copying over are large files, this is normally fine, but that's not usually the case for a lot of people. Instead, we use these as backup drives, which means many smaller files will be copied on over in addition to larger ones. As we saw on the previous page, all of our real-world transfers – both solid file and folder – sped up tremendously when formatted to use 4KB clusters vs. the default 32KB. We're talking 22 seconds for a 4GB file vs. 28 seconds and 172 seconds for the 4GB folder vs. 238 seconds. By choosing 32KB clusters, Kingston in our minds actually slows down the drive for what we feel most people will use it for.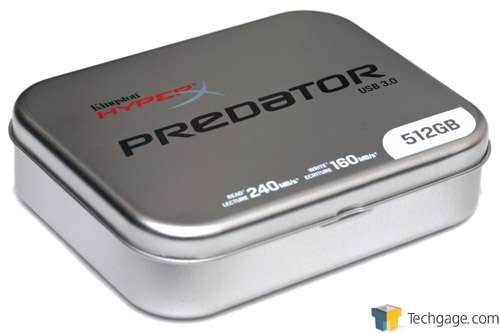 To be fair to Kingston, it could be assumed that if someone were to purchase an $800 flash drive, they'd understand partitions well enough to format it to their liking. But the truth is, a lot of people don't realize either the performance or space detriments that can be introduced when using certain cluster sizes.
For example, on a hard drive partitioned using 32KB clusters, each write of data to the disk is exactly 32KB. If a file is 1KB, it takes up 32KB on the disk. If a file is 50KB, it takes up 64KB. This means that if a big cluster size is used when mostly small files are being stored, a lot of space stands to be wasted. This can even be true on 4KB-formatted drives if hundreds of thousands of files are being stored, but the problem can of course be worse with far fewer files but larger clusters.
One area where Kingston's flash drives have left a bit to be desired in the past is in the IOPS department, and the Predator doesn't change things. IOPS stands for input/output-operations-per-second and describes the number of transfers that a storage device can handle at once. The higher the IOPS, the better.
I am not going to focus on this too much as for the most part, it's not that important – plus, I am not familiar with current competitor offerings. But in our real-world transfer tests, WD's My Passport 2TB 2.5-inch hard drive out-performed Kingston's Predator – something we wouldn't expect given the drive's design and specs. But the results were staggering – WD's mechanical drive was twice as fast. Things change when single, large files are concerned, but that's the point where IOPS don't matter; throughput does.
The take-away? The Predator is amazing for large files, but not so amazing for a ton of little files.
This does make me wonder if Kingston would be able to implement a small SSD-level NAND chip to act as cache in the drive, at about 4GB. We've seen this design implemented in hard drives in the past, and it does help.
So let's create a tl;dr for the past 700 words, shall we?
Kingston's DataTraveler HyperX Predator drive is expensive, but isn't priced outside the realm of reason given its performance and price-scaling. It offers superb solid-file performance but falls a bit flat when a lot of smaller files are concerned. It's the best-built thumb drive we've ever laid our hands on – and we mean that. If not for that fact that the drive costs $800, I would have been tempted to run it over with a truck.
The Predator isn't for everyone. It's targeted squarely at those who need mass storage in the smallest device possible. For the rest of us, the $150 WD My Passport 2TB 2.5-inch is going to be a far easier option to stomach.
Copyright © 2005-2020 Techgage Networks Inc. - All Rights Reserved.