Logisys Clear Acrylic Case

Date: April 26, 2006
Author(s): Ben Blumenthal

Are you sick of having a computer case that doesn't make much of a statement? Do you want your room to look like something straight out of a gamer's den? Logisys realizes that some of you do, so they make clear acrylic cases to fit your needs.
---
Introduction
This arrived at my school mailbox, in a rather large box. The walk out to my car was interesting! The packaging is really quite sturdy, with plenty of layers and padding, and even a full coat of peel off plastic to protect the case from scratches. It's good to know that Logysis cares about their product. Some of the plastic coating was pretty hard to get out of the cracks in the case, but not too bad.
And here are some pictures of the packaging and the case after unwrapping: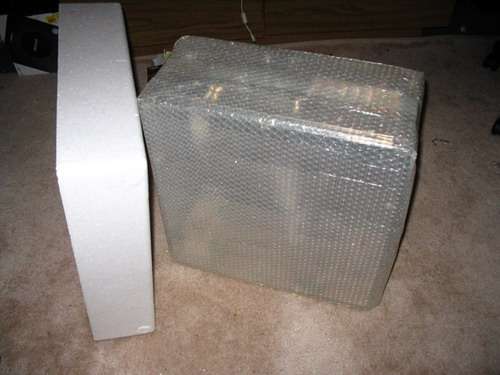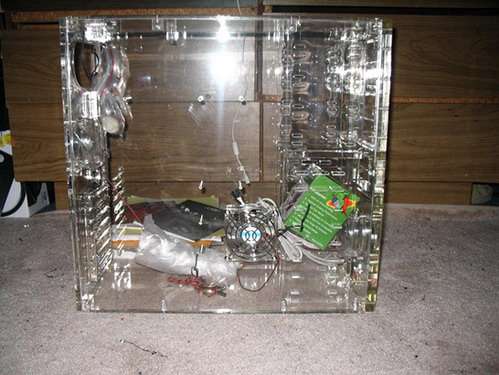 I thought it was going to be much gaudier than it really was. The overall design is pretty clean-looking, and much as I'm normally not a fan of fan grills, these aren't too bad. I would maybe prefer just some mesh instead, but that would be an easy fix.
Looking at the case, it's not going to be much fun to work on. Both side panels are held in by ten screws each, with no possible way for a quick release to get to your CMOS jumper, and installing new hard/optical drives will be quite a project for future upgrades as well, because the motherboard mounts directly onto the left side panel. Also, because of the way to mount the motherboard, the easy way of hiding your various cables behind the motherboard tray is automatically voided.
The case comes with three 80mm blue led fans already installed. One in the front for intake, one in the side panel for intake, and one in the rear for exhaust. The overall size of the case isn't small, but not overpowering like a full tower, either. Perfect size for the normal user. The actual dimensions of the case are: 7 5/8" x 17 3/8" x 18 5/8".
The components used in this install are as follows:
Testing System
Processor: AMD 2200+ Thoroughbred B
Motherboard: Abit AN7
Memory: 512MB PC3200
GPU: PNY Verto FX5900xt
Hard Drive: 40GB Seagate Barracuda 7200rpm
PSU: Aspire Concord 450w
Thoroughbred processors are pretty notorious for running hot, so I think that this will be a good test of the overall cooling capacity of the case, especially since the cpu heat sink/fan cooling combination isn't all that great. As I'm using a stock heat sink with an 80mm fan bolted onto it with Arctic Silver 5, probably the bare minimum I would trust with this cpu.
The power supply went in perfectly, which I was a little worried about. However, to contradict this the motherboard did not go in so smoothly. The brackets flat out didn't fit the mounting holes for the AN7. So, after trying for the better part of an hour, I just left the bottom right corner hole unmounted. I guess this isn't a huge deal, but it was rather disappointing that after all the work spent on protecting the case, the measurements were a bit off.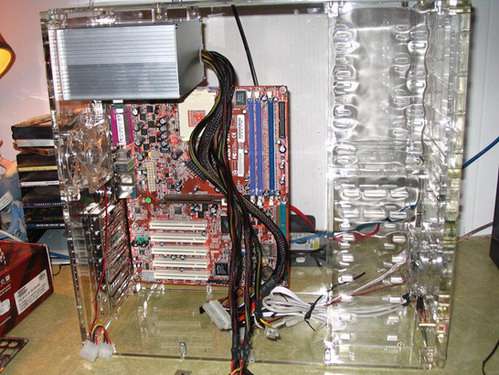 Everything else fit in pretty well, the only exception being the hard drive, which required a little bit of flexing to get all the screws in and the drive secured, but this did not take much time and being that it's acrylic, not bad for the case either.
Installation
I was very impressed with the fit and finish of the rear PCI slot covers. They did line up perfectly with my slots on the motherboard, and were also done in a chrome finish… a nice small touch.
Here's the finished product. (Yes, the side is on.)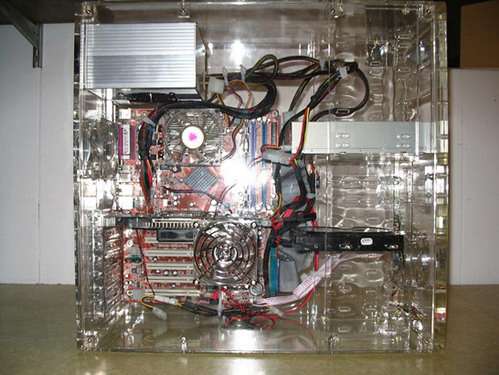 Cable management is a bit of an issue, for reasons stated earlier. I finally decided that no matter what I tried, it wasn't going to look great, so I just went for an approach that would create a minimum of air flow disturbance. Zip ties are an essential for any builder. I just tried to keep them all as close to the motherboard as possible, and out of the way of the front intake fan's airflow. Here is a closer look at why hiding extra cables behind the motherboard will not work: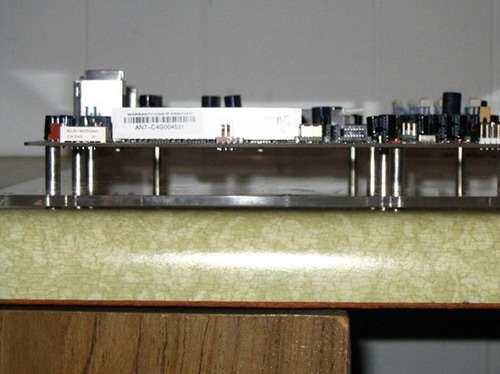 And some pictures of it in the dark, fully assembled.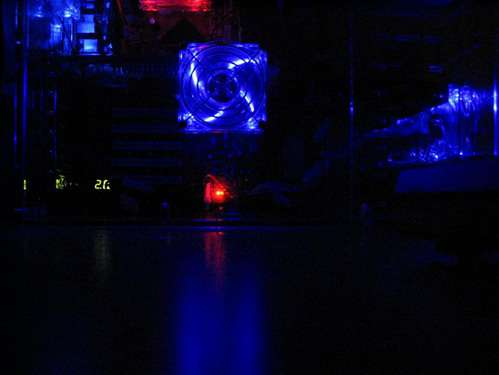 Not too bad, and not near as "ricey" as I was expecting. I will figure out how to use my camera more effectively in the future! It is actually brighter than this, but again, not overpowering. I do like the "ripple effect" that the front fan gives the hard drive cage, because of the thicker acrylic sections.
Testing and Conclusion
This is all and good for everyone who is only concerned with looks. I know that most of you gamers and overclockers are just itching to hear about the temperatures. Well, here's some good news. The setup is pretty efficient and the ambient temperature is within 2 degrees celcius of the room temperature with the cpu at idle..
.. and only rises another 4-5 celcius under load.

As you can see, the hard drive temperatures are very acceptable as well. On top of the decent temperatures, the provided fans are pretty quiet, and the only audible noise is the rush of air. There are no rattles, and no noisy bearings, either. This is a VERY welcomed improvement over the ThermalTake Volcano 9 that I use normally.
So, let's wrap this up. This case is certainly something different, with a flair all of its own.
Pros
The packaging was really impressive, which seems like a small thing, but it was a good start.
The overall effect is pretty neat looking, a good flashy case to show off to your friends, or to show off the high power hardware you may be running
The cooling qualities of the case are quite exceptional
Cons
The bad spacing of the motherboard mounts was a large letdown
No place to route cables out of view
Not an easy case to work on, or keep uncluttered.
If it weren't for the motherboard mounts, (I know, I'm harping on this) I would give it an 8, but otherwise I have to bump it down to a 7.
Discuss in our forums
If you would like to discuss this review in our forums, jump right over to the related thread. You do not have to register in order to post.

Copyright © 2005-2019 Techgage Networks Inc. - All Rights Reserved.