Logitech G602 Wireless Gaming Mouse Review

Date: October 28, 2013
Author(s): J.D. Kane

The terms "wireless" and "gaming mouse" are rarely juxtaposed, and for good reason: Gamers never want to be caught in a situation where their mice batteries die while in the heat of battle. In this regard, Logitech claims its newest wireless gaming mouse, the G602, is a game-changer. Fortunately, it sent us one to see if we agree.
---
Introduction
There's no doubt about it: It's embarrassing to be caught with your pants down. All the shocked looks, the awkward explanations… Not that I'm speaking from experience, but, well, you know…
Most gamers I know don't trust wireless gaming peripherals. Cable clutter is no problem; they'd rather have that kind of potential mess than suffer from the traditional problems that afflict wireless gear. Especially for competitive gamers, disconnections, input lag, and, worst, dead batteries are analogous to being caught with one's trousers bunched around one's ankles in socially-awkward contexts.
Well, when Logitech first announced the G602 wireless gaming mouse back in late August, it claimed that its newest wireless wonder could survive up to 250 hours on one pair of AA batteries in its hungry Performance Mode (and up to 1440 hours in Endurance Mode!). These claims certainly caught my attention, since they addressed my biggest misgiving regarding wireless gear. Even though I'm not a competitive gamer by any means, I can think of no worse scenario than for your mouse to just conk out on you in the middle of a heated battle. It'd be a lot like running out of ammo right in the middle of a firefight.
I was glad when Logitech offered Techgage a sample of its G602 since I want to see if a wireless gaming mouse could be a viable option for gamers. But before we put it through the proverbial wringer, let's have a good look at it.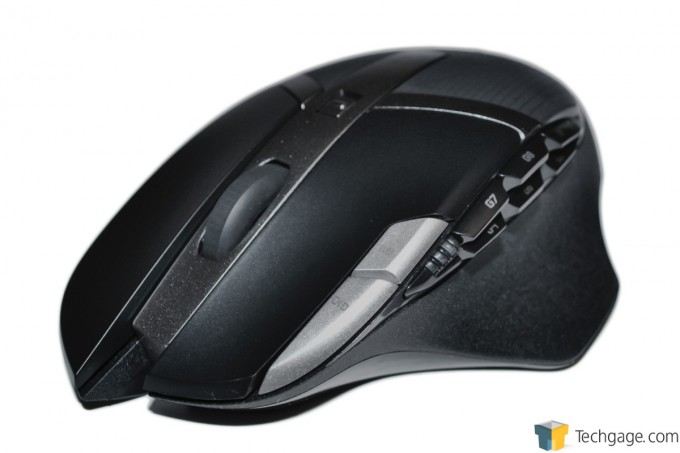 This is easily one of the most aggressive-looking mice I've ever seen. Its sculpted flanks, asymmetrical profile (this is strictly a right-handed mouse – sorry, lefties), and eleven programmable buttons to push all scream "gaming mouse." The black and grey metallic color scheme is austere, yet likewise reinforces that impression.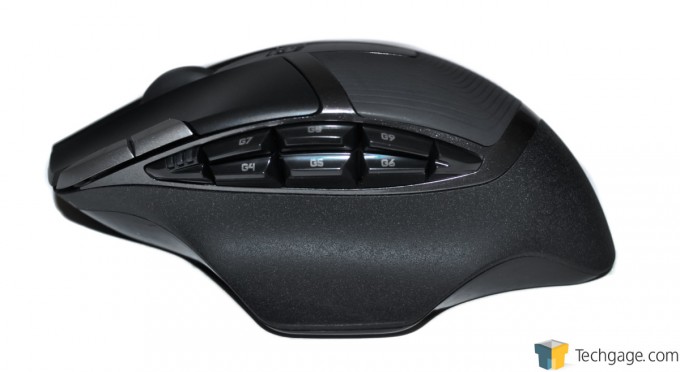 Here you can see eight of the G602's buttons. There are six buttons (labeled G4 through G9) in the thumb position, while two more (G10 and G11) are at the edge of the left click button.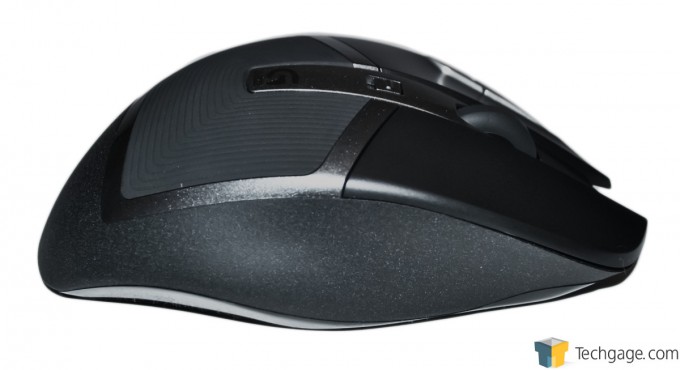 The right profile shot doesn't reveal much, although it does show off the G602's right-click button and the textured lower surface. The photo also gives an impression of how the mouse's dorsal surface falls away on its right side; this raises the inside of the user's right hand, angling it for optimum ergonomics and comfort.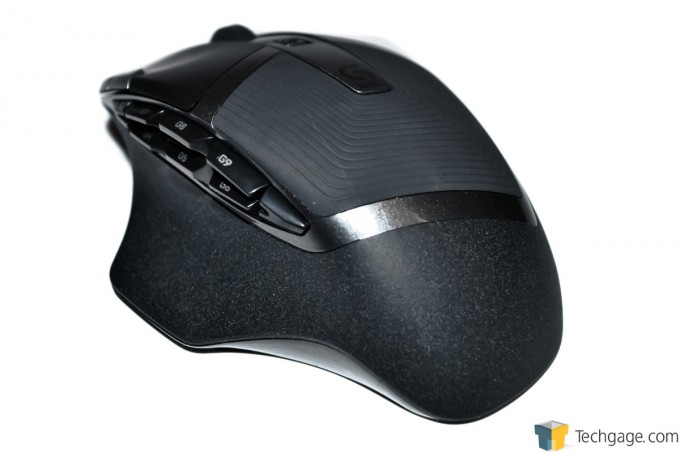 This shot shows the left flank and rear of the G602. The sculpted flank is a thumbrest, well-shaped and designed to help you grip the mouse. And speaking of grip, the lower sides and rear of the mouse are treated with the same rough surface as we saw on the G602's right profile in the previous photo. Most of the middle third of the mouse is treated with a less grippy dark grey plastic. While this doesn't enhance grip, it does provide some tactile variety.
This angle gives a better view of that less grippy midsection of the G602. You can also see the very discreet "G602" branding. More than anything, though, it shows off the variety of surface treatments on the mouse (signified by the variations of shades of grey/matte black).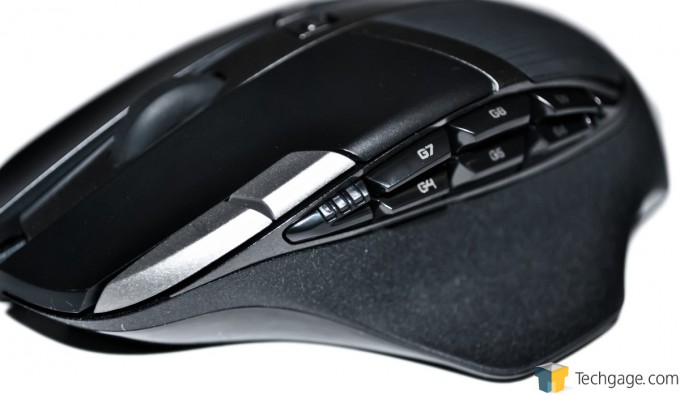 As previously mentioned, the G602 has eleven programmable buttons. You can clearly see the six thumb buttons clustered above the thumbrest area. The silver pair of buttons are G10 and G11, which adjust the DPI settings by default. With the left- and right-click buttons and clickable scroll wheel, you can see all eleven buttons in this photo. Also, a little out of focus is the sliding switch for Performance/Endurance modes. Performance mode is indicated by blue LEDs just aft of the scroll wheel, while Endurance mode is indicated by green LEDs.
And now, a look at the bottom of the G602. Just south of dead center is the Delta Zero sensor emitter; above it is the mouse's On/Off slider switch. Below the sensor emitter is the battery compartment. There are four good-sized foot pads on the G602.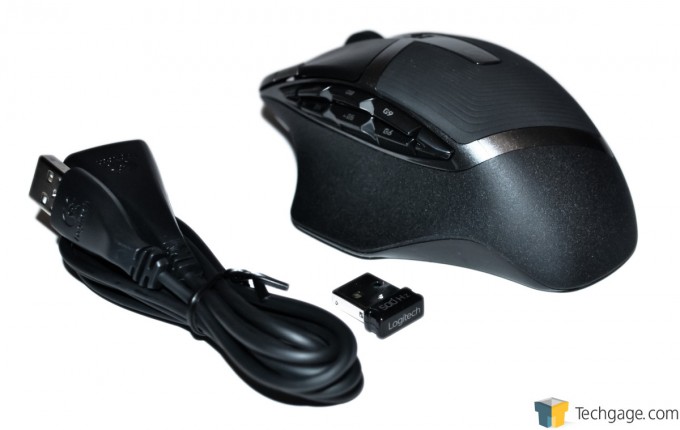 The G602 package is composed of the mouse itself, the wireless nano-receiver unit, and a USB extender cable which facilitates optimum placement of the nano-receiver for best performance. Two AA batteries are included and come pre-installed in the G602.
Now that we've had a good look at the mouse, let's proceed to the software component of the package.
Logitech Gaming Software
By now we should be fairly familiar with the Logitech Gaming Software (LGS). We've seen it before in our reviews of the G100s, G500s, and G430. Just the same, we'll have a quick run-through of the LGS as it's used with the G602.
Before we do, though, I discovered that older versions of the LGS don't detect the G602 at all. Installing the newest version available on Logitech's website got me off and running.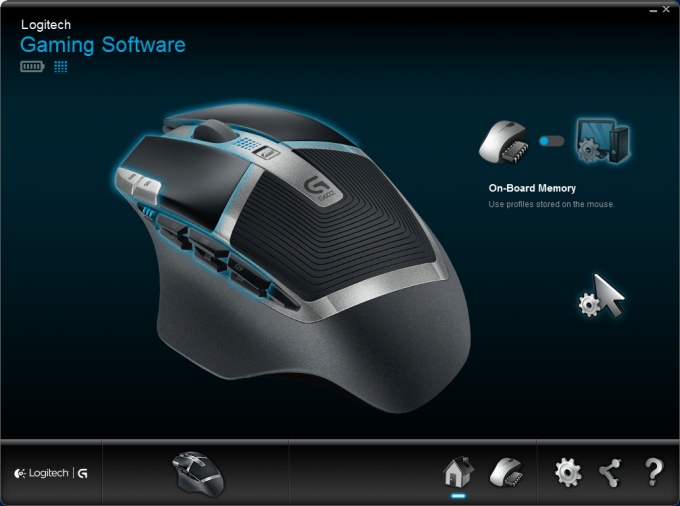 This is the LGS' main screen. From here you can toggle the mouse's onboard profile memory manager on and off (when off, profile settings data is stored on the host machine). Clicking on the GUI's representation of the G602's buttons allows you to customize their functionality.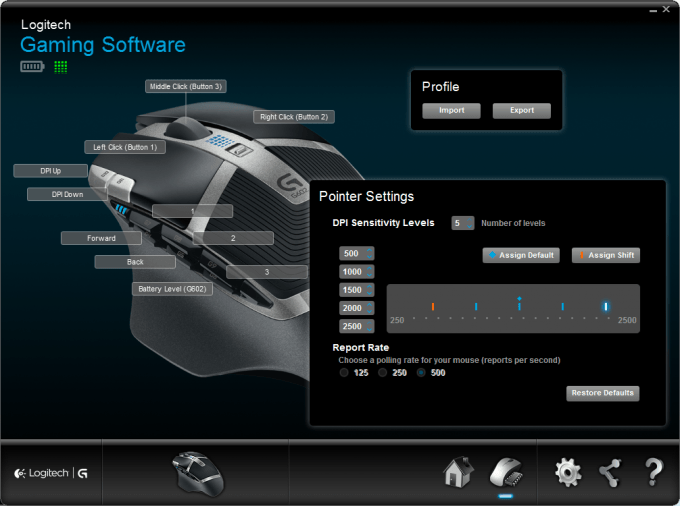 You can also access button customizations by clicking on the Gear+Arrow icon or the Mouse+Chip icon on the bottom of the GUI. In addition, you can customize functions such as the Number of DPI levels, DPI Sensitivity levels, and the G602's Polling Report Rate. Once you're done customizing your mouse, you can save your settings to an assigned profile (either on the mouse itself or on to the host machine).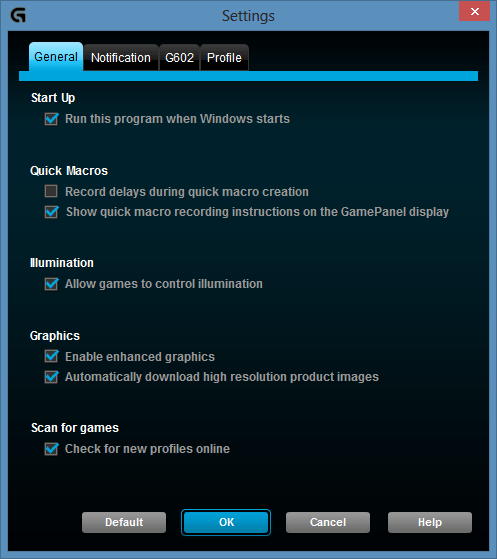 Clicking the gear icon accesses Settings. Under General you can toggle various general mouse behavior functions as shown in the photo. I left these at default.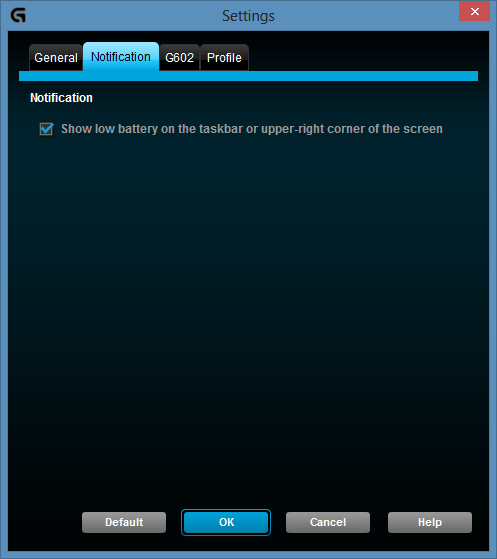 Notification is specifically for battery power level. If it gets too low, the LGS will flash a warning onscreen.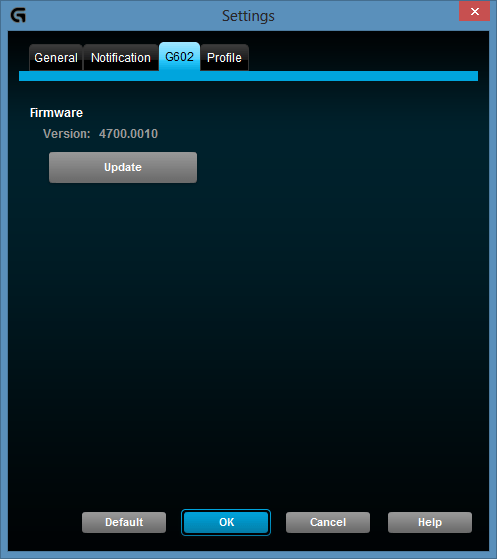 The G602 section displays the current firmware version installed on the mouse, as well as a button to update it as necessary.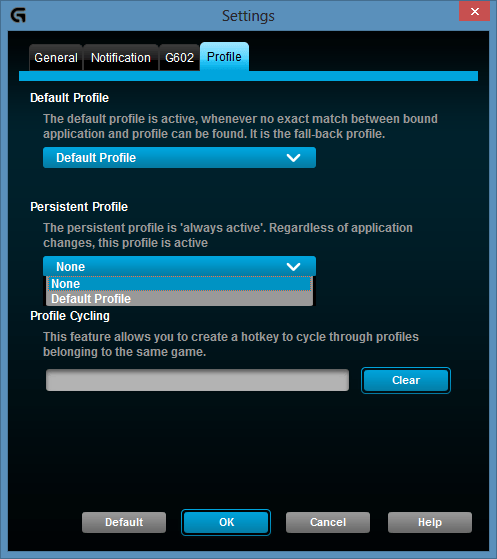 Profile controls which settings profile is active.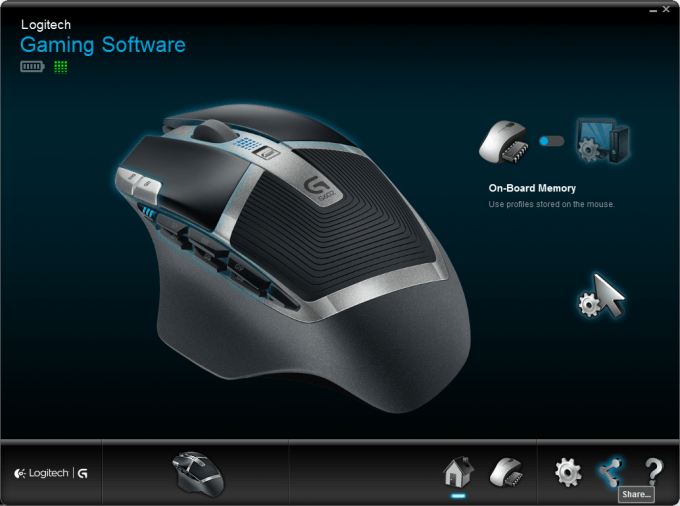 This version of the LGS has a Share button, facilitating the use of social media – Twitter and Facebook – so the user can share his/her experiences using G Series hardware.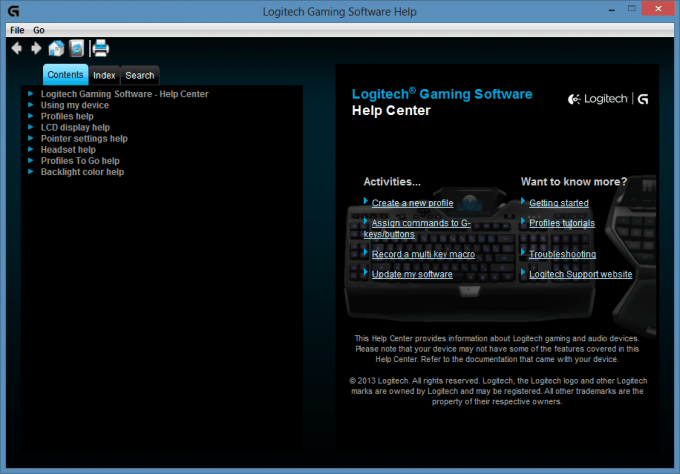 Hitting the ? accesses the LGS' Help Section. This is where you go if you need information regarding the LGS or your G602.
Of course, the G602 will still work even without installing the LGS. I actually used the mouse at work for a couple of days on my office PC. The office PC runs Windows XP Professional; I mention this because the LGS cannot be installed on XP. Vista is the oldest supported Windows OS. Consequently, I wasn't able to use the LGS to customize the G602's buttons or settings. However, it still worked fine on generic Windows USB drivers, albeit without the use of any of the thumb buttons. The upshot, then, is that you need to install the LGS to get the most out of your G602.
Let's move on to some concluding thoughts.
Testing and Final Thoughts
I tested Logitech's G602 under various conditions, using it in gaming and non-gaming roles. The primary focus of the performance review will be on its ergonomics and functionality as well as some comments on its perceived quality of construction. I will also comment on what is probably its biggest selling point: Just how long do its batteries last? Finally, I'll have some words about its aesthetics.
Ergonomically it's a very good mouse indeed. I find its shape to be optimal. Although I'm now very much used to an ambidextrous mouse (both my home mouse and the generic Logitech mouse I have at the office are ambidextrous), the G602's right-handed shape is just about perfect. The angle at which the mouse's dorsal surface drops down from the left side to the right feels natural.
Also, the grippy surface treatment of the mouse's flanks and back-end is effective. It's not a rubberized coating – it's just textured plastic from what I can gather – but it works well. You don't have to use a tight grip with your fingertips to keep this mouse under control.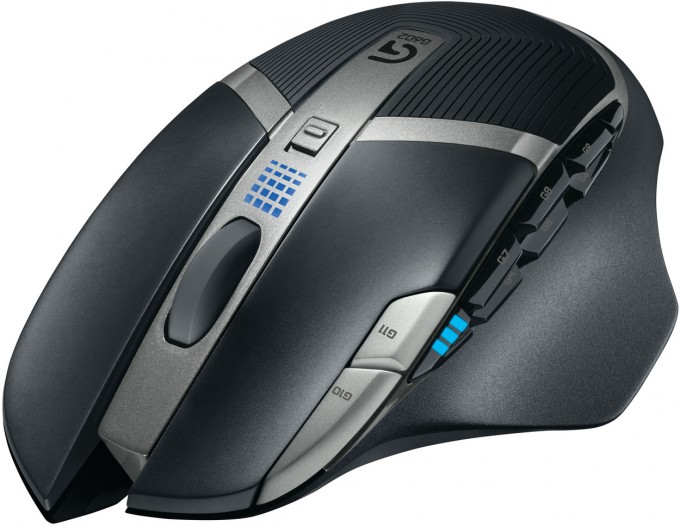 The G602's weight is reasonable as well, neither too light nor too heavy. This particular point is fairly impressive given it's got two AA batteries in it.
Finally, the placement of the buttons is also smart and well-executed. The DPI adjustment buttons require a a bit of a shift of one's grip on the mouse to reach them, but otherwise they are located well. The cluster of six thumb buttons may have presented a bit of a disaster – I don't like squeezing so many buttons in such a confined space because it's so easy to miss and hit the wrong button – but Logitech designed them to all feel distinct from each other. Even without looking, it's easy to tell all six buttons apart, thereby minimizing the chances of a missed or incorrect button press.
In terms of functionality, the LGS is a great match for the G602 and unlocks its full potential. The LGS always impresses me, and its implementation on the G602 just reinforces that feeling. The software is simple and intuitive. I love the granularity of adjustments available to the DPI settings; I've gotten used to switching between just two DPI settings (fast and slow, basically), and the LGS allows me to do just that.
Assigning functions to all of those buttons is also very easy. You just click on the button you want to customize on the LGS' GUI, edit the setting, and apply the change. And I like that you can really simplify the mouse by disabling buttons as well, if you wish. You don't have to use every single button if you don't want/need to.
I also like how the G602 is a dual-mode mouse, in that you can switch between Performance and Endurance modes very easily. As near as I can tell, the biggest performance impact of switching between the two modes is that in Endurance mode, the polling rate is locked to 125Hz, whereas in Performance mode you can select between 125Hz, 250Hz, and 500Hz. Now while some really hardcore users might decry the fact that the maximum polling rate is limited to just 500Hz, I honestly cannot tell the difference changing the polling rate makes. I'm not saying it's a placebo effect for others, only that I can't tell.

One thing I actually cannot attest to is whether or not the G602 can actually match (much less exceed) Logitech's battery life claims for this mouse. Despite having used this mouse as my primary mouse both at home and at the office for around two weeks now, the indicated battery charge remaining still says the pair of AAs are still at full charge. Of course, I've been switching between Performance and Endurance modes during this time, but the fact that there hasn't been any perceivable signs of weakening battery power all this time is hugely impressive. It's therefore easy to heap plaudits upon Logitech's design team for their superb work with the G602 vis-a-vis its power consumption.
Of course, the G602 is a gaming mouse; accordingly, I tested it in a variety of games. I dusted off Crysis 2, Crysis 3, Battlefield 3, and Battlefield: Bad Company 2 and used the G602 on these FPSes. It was nice to be able to map commands such as crouch and prone and weapon selection onto the thumb buttons. I did the same with Grand Theft Auto IV. All of the buttons felt good to use, with satisfying click action. The G602's shape and weight also lent themselves well to smooth, precise movements on the mousepad. I couldn't detect any input lag whatsoever as well. This mouse was definitely a pleasure to game with.
One nit to pick, though, is its scroll wheel's lack of side-scrolling capability. Most mice I've tested have this capability; it's curious why Logitech didn't include this with the G602's scroll wheel. On the other hand, I honestly don't use horizontal scrolling all that much, so I don't particularly miss it. But I'm sure there are users out there who would miss it.
In terms of build quality, well, it's typical Logitech. Very solid construction and good materials selection conspire to give the impression that this is a reliable, well-built and well-designed product. As mentioned earlier, all of the buttons respond with a satisfying click. I've owned a couple of Logitech mice previously, and they all still work perfectly to this day. Everything about the G602's build quality suggests that it is virtually indestructible as well unless you run over it with an SUV.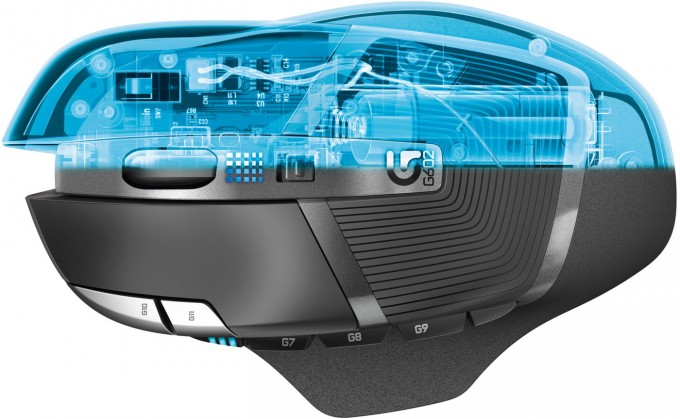 Aesthetically, I like the G602. To me, it's certainly the best looking mouse Logitech's ever made. I like the sensible dark gray and silver color scheme, and the shape, while being ergonomic first and foremost, is actually good-looking. It exudes a certain aggression, albeit without being over-the-top with its presentation. It's not pretty the way the Lamborghini Murciélago is; it's more like the Aventador.
Logitech's G602 is a bit of a game-changer, at least for me. Forever I've thought that the phrase "wireless gaming mouse" was a bit of a joke; the G602 now shows that doesn't necessarily need to be the case. While most of its features – the aggressive styling, the abundance of customizable buttons, a super-functional software suite – have all been part and parcel of other companies' gaming mouse offerings for a very long time, the fact that the G602 is wireless AND is apparently very economical in terms of its own power consumption seems to be a revolutionary step. While gamers have been pining for a wireless mouse forever, the biggest possible deterrent – that of the wireless mouse running out of juice at a most unpredictable and inopportune moment – has scared them away from the prospect of ever using one. As far as I can tell, though, the G602 just might represent the dawning of a new age. As hyperbolic as that might sound, it's how I see things.
You can get all this for an MSRP of $79.99. While that might seem like a steep price to some, I think that it's a fair price for everything you do get: A great mouse, wireless capability, excellent performance, superb battery life, and a problem-free software suite that is part of the overall package.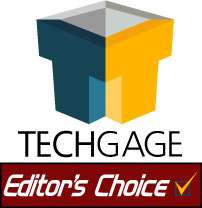 Logitech G602 Wireless Gaming Mouse
Copyright © 2005-2019 Techgage Networks Inc. - All Rights Reserved.