Logitech G27 Racing Wheel

Date: December 30, 2009
Author(s): William Kelley

Crave ultimate realism in your PC games? Setting yourself up with a real simulator is a tad expensive, but for racing fans, Logitech gives us the next best thing with its G27 racing wheel. Logitech has long been known as a quality producer of racing wheels, and with the G27, the best just got better. Vroom vroom!
---
Introduction
There can be no doubt in anyone's mind that Logitech is the unofficial king of the peripheral world when it comes to PC accessories. There is not enough room in this page to list them all one by one. Established in 1981 in Apples, Switzerland, no other company has given us such a wide range of highly successful products. From budget to high-end, there is no segment of the market left untouched.
While a great many gamers are strictly casual, there is a strong and growing segment that is just plain hardcore. This group demands every aspect of their genre of choice to be catered to by their games and also by their game controllers. Those of us (including me) that focus mainly on driving games, and more importantly driving simulations, have very high demands and expectations of our equipment. Most current racing simulations and games allow for a wide range of features that can be mapped to controllers offering us a very immersive experience.
With the advent of the G25 racing wheel, we were finally given a mass market setup equipped with not only a H-pattern shift but also a clutch pedal. Before this, the only other available similar configurations were not only expensive but also very hard to find. It was a treat for a great many of us to finally have the ultimate in control for our games without having to spend a small fortune in the process. Sure, there were a few quirks, but no one can deny the success of the G25 and what it has done for racing simulations.
Today we get our hands on the latest incarnation, the G27. Sporting a leather wrapped steering wheel, stainless steel shift paddles/foot pedals and the 6 speed shifter we are given the tools to take the common game to the next level. While it is not a major leap over the previous G25, there are some noteworthy improvements. The shifter has been refined and no longer suffers from the shortfalls of the original.
Also, the pedals are adjustable right to left to change the spacing for those with different sized feet. Gone is the option of the shifter to allow a sequential pattern which was somewhat redundant since there are paddles behind the wheel for this style shifting. Also refined are the motors for the wheel itself. They are nearly silent in regular use with gear whine being nearly completely eliminated. Let's get it out of the box and onto the test bed and see just how the G27 performs on the track.
Closer Look
Out of the well-packed box we get out first look at the G27. Your nose is treated to the smell of leather and you cannot help but focus on that gleaming stainless steel. Everything has a nice solid feel and there is no doubt that this is one quality setup. Fit and finish is excellent and there are no seams or gaps anywhere. Other than a few wrinkles in the leather, there is just nothing to question.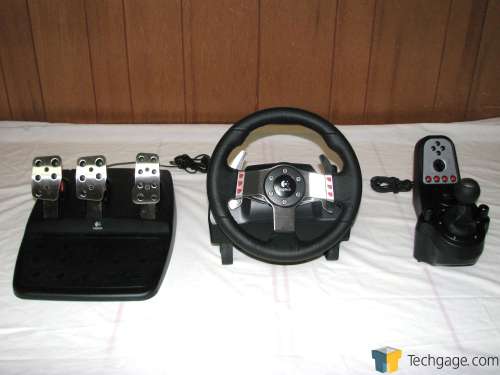 A closer look at the wheel itself gives a better look at the brushed aluminum spokes as well as the leather wrapping. I myself have owned more than a few cars over the years with a leather wrapped wheel and the look and feel here is nearly identical.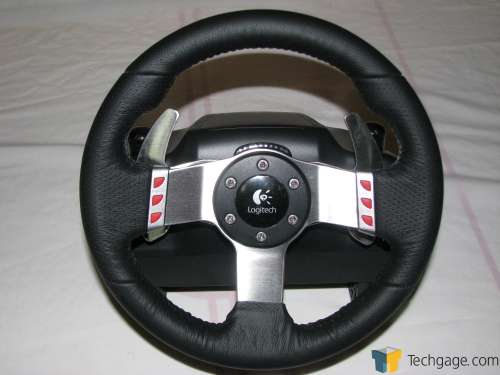 Up close and personal we are given six programmable buttons on the wheel itself. Right above the hub is a set of LEDs that will most likely be used as a shift light in future game releases. I am not aware of any current titles that support this. The all metal paddles are nestled behind the wheel.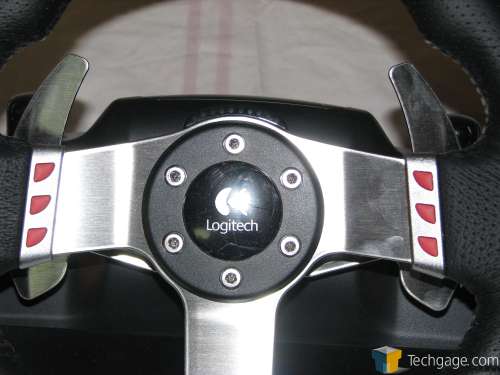 I wanted to highlight the paddle placement behind the wheel more closely. I have had my hands on a few other wheel combos and have never cared for where the paddles were situated. Logitech has put them exactly where I like them which is nice and tight. There is plenty of room for your hands yet you are not reaching to use them. This is critical when playing a rally sim, since one missed shift can be the end of your winning stage time.
Underneath the body of the wheel we see the dual clamp mounting system. With a deep body and the two strong screw down clamps, I had no problem getting it mounted and firmly anchored on my keyboard tray.
For those of you that want a mechanical mount, there are dual recessed threaded nuts that will accept a bolt and will more permanently mount your wheel. Also take note of the channels recessed into the plastic to route all wires tightly and safely through the bottom of the base when you have it mounted down.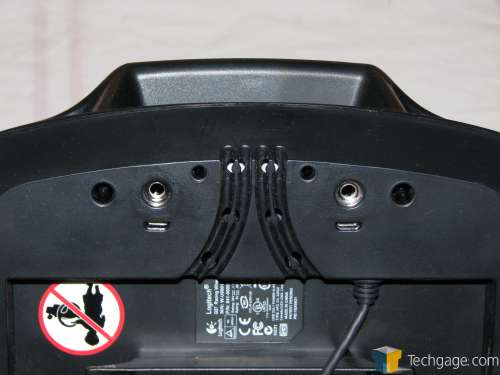 The six speed shifter is the next item up on our list. From the leather shifter boot to the simulated shape of an automotive console, we get a real car feel from the design and implementation. The shifter moves smoothly and solidly clicks into each gear. To access a reverse gear all you do is push down on the shifter itself and shift it into 6th gear. Again, this type of shifting is used on quite a few production automobiles so it is a natural motion as well.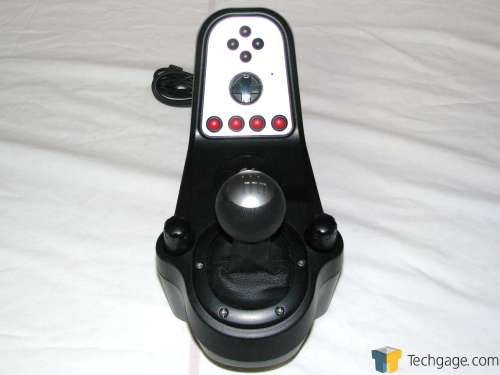 There are a wealth of programmable buttons as well as a directional gamepad style button on the shifter body. You can program them through the included Logitech Profiler software as well as in game in most current titles. I can say that with past experience with wheels with far fewer buttons are just not as flexible when you want the most control possible in-game.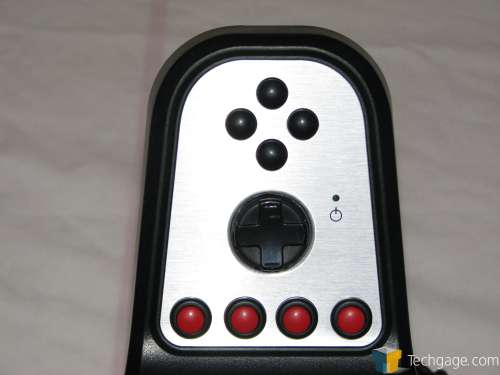 On the next page, we'll continue our tour around the G27, and also tackle testing.
Closer Look, Testing
The shifter body uses a triple clamping system to hold it secure. This may seem excessive, but I found myself retightening the shifter repeatedly until I took the time to really clamp it down good. Once secure, it was a joy to use. Again we see embedded nuts inside the body for physically bolting the unit down for a permanent mounting solution.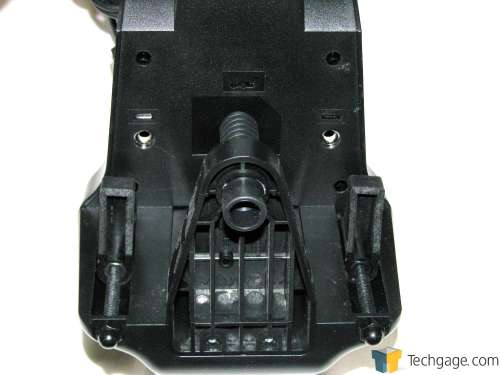 The foot pedal assembly is another piece of art in my eyes. While the idea of a functioning clutch pedal is certainly only going to appeal to a smaller audience, it is a real nice touch when playing any driving simulator. Add to that the resistance of the brake pedal and you get a very realistic feel from all the pedals. The accelerator is smooth and easy to press. The racing-inspired aluminum pedal pads are the final piece-de-resistance for that accurate real car feel.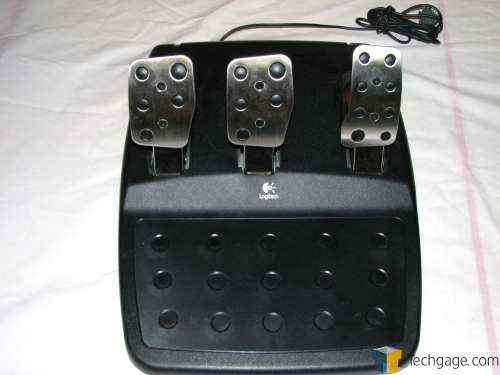 The bottom of the pedal body is really nothing special to look at. The reason I did post a shot here is to showcase yet another full set of recessed threaded nuts that allow a permanent mount if one so desires.
For those of us (including me) that will only temporarily mount the G27 to our desks, Logitech has a patented carpet grabbing device that is accessed by the flick of a switch. If your floor is smooth then the rubber pads will also hold the base reasonable well. The carpet grabbing device is awesome when you have even the shortest pile carpet like I do and the pedals hold firm no matter how hard they are pressed.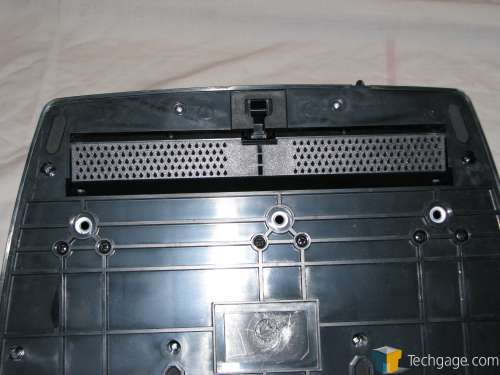 All three pedals are easily removable with a small Allen wrench (not included). I was surprised at the weight of the pedal itself when I had it off. This is not plated plastic, they use real steel in the assembly process.
The pedals can be adjusted to the left or right for the ultimate in feel for the pickiest consumer. Since there can be great differences in the size of people's feet this is a very nice feature that is certain to please many customers.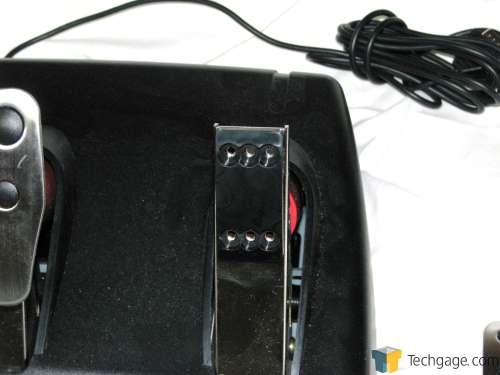 I run the test PC at completely stock speeds and settings so as to be able to accurately reproduce all in game performance throughout testing. Since system performance is not completely relative to actual enjoyment of the G27 I did not take any performance measurements. The only data gathered was the emotional response to each game, which can be personal, but should give you an idea of what to expect.
Logitech also packages a nice little utility called the "Logitech Profiler" that allows you to setup and maintain a list of presets for all games you play. You can easily change profiles and launch your games directly through this program if you like.
Live for Speed: This is an older but very popular racing simulation game that is quite popular online. This game strives for accurate physics and driving performance. All controls were easily adapted to the G27 and within minutes I was off to the races. This game was an absolute pleasure to play with this wheel. Control was outstanding and the force feedback was the best I have felt to date. This game is a great indication of what other racing simulation games will feel like and anyone who frequents this or any related title absolutely must get a combo like the G27 for the ultimate in game play.
DiRT 2: This newly released sequel was a great test for the force feedback mechanism and the shift paddles since 99% of anyone playing a rally simulation will not use the actual shifter. Again, setup was simple and within minutes I was flinging my rally car around corners at breakneck speeds. I found the clutch pedal somewhat awkward to use in this genre and opted to use the auto clutch with the aforementioned shift paddles. The force feedback was spot on and was able to enhance the feel tenfold.
Final Thoughts
Overall, I realize that while my testing is based mostly on personal opinion, I feel I should state my "credentials" when it comes to using a wheel on the PC. Racing and racing simulators have been my genre of choice for over 5 years. I started out with the most basic combo, and finally settled on the MOMO roughly 3 years ago. Sadly, I never got around to the G25 as I was unable to procure one when it was released.
I have played mostly rally style games between Richard Burns Rally and the entire Colin McRae series. As for road racing, I stuck mostly to simulation style games like Live For Speed and the GTR series. The TOCA Racedriver series (which spawned GRID) was also another favorite of mine. All in all I'd dare guess I have far too many miles logged racing a PC than I care to admit.
Anyone that enjoys PC racing will undoubtedly enjoy the G27. From the quality feel to the high level of control, you simply cannot get a better racing experience for less. Coming in at $299 US, you get what you pay for. From the real stainless steel wheel and pedals to the leather wrapping, there is a feel of quality that cannot be mistaken. The designers really did a top notch job when going after the effect of an actual automobile.
The force feedback mechanism is also a thing of beauty. Nearly silent in use, it seamlessly adds the effect of driving an actual car. The gear whine present in every other wheel I have ever used is just gone. All feedback is also nearly silent with only the biggest of bumps causing any gear noise. Each game I ran had no trouble simulating all types of road surfaces and the effects of hitting various obstacles.
Pedal feel has been duplicated about as well as I have had grace my feet when driving behind my desk. While it is almost impossible to fully simulate actual automotive style resistance, Logitech did do a very commendable job. This may seem like a small detail, but it makes a huge difference in not only your overall experience but also to the way you are able to control your car. Braking is now not just a slam it down and hope for the best affair since you now can modulate foot pressure with ease.
The only "downside" I can really find with the G27 is the price, and to be fully fair I personally do not see this as a downside. Sure, the $300 admission ticket will stop the casual racer from running out to get it, but the hardcore racers will not hesitate. Before the original G25 you could not even buy a combo like this for under $1K, and even now there is little competition in this price range. I give this product a very high rating and it is a must get for those who love the racing genre but are just not able to buy that high end pro setup. I guarantee you will not be disappointed.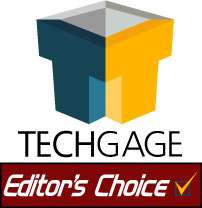 Logitech G27 Racing Wheel
Discuss this article in our forums!
Have a comment you wish to make on this article? Recommendations? Criticism? Feel free to head over to our related thread and put your words to our virtual paper! There is no requirement to register in order to respond to these threads, but it sure doesn't hurt!
Copyright © 2005-2019 Techgage Networks Inc. - All Rights Reserved.