Logitech Performance Mouse MX Review
Date: April 22, 2011
Author(s): Greg King

When Logitech released its Revolution MX nearly five years ago, it delivered a mouse that impressed – and for good reason. It featured a great design that was both comfortable and attractive, and had a very effective hyper scroll wheel. With the Performance MX, a natural progression has been made, and an impressive one at that.
---
Introduction
Growing up, my family had a then-new IBM 286 personal computer. My father was a high school math teacher and when asked, taught BASIC a period each day. In a spectacular deal between his school district and IBM, a stream of hundreds of computers flowed into the classrooms and fortunately for me, our home.
In your face, pretty much every single person I went to school with! Instantly, I was immersed in the then-awesome but now boring-as-hell world of MS-DOS. Working with my dad, I became fluent in the text-only interface and am comfortable from a command-line to this day. While true, my mind was truly blown when I got some screen time with Windows 3.0. Using a mouse just made sense and I was thrilled that it even existed.
The computing world has come a long way since those early days (early for me at least) and while the designs might look far more different, the basic mouse still endures. Threatened only by touch-capable devices, the mouse is still one of the two primary devices used to interact with the various programs on your machine. Many have come and gone, but only a few peripheral manufacturers have been around since the very early days. Today, we look at one of the latest offerings by one of those best-known few, Logitech, with its Performance MX mouse.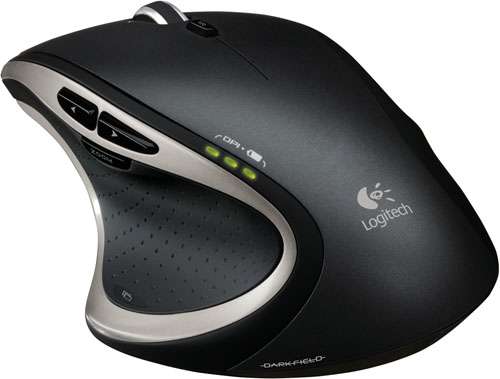 When Rob reviewed the fantastic Revolution MX back in August of 2006 (!), the Revolution was our first introduction to what I consider Logitech's move away from the kidney bean design it had become so well-known for. Speaking of – I still use my MX518 to this day, but Logitech's departure from that comfortable style was a hard pill for many in the community to swallow. Retiring the Revolution could not have been an easy choice. Its quick-scrolling wheel and overall amazing design did Logitech well for many years, but pulling the plug was the next logical step in its MX lineup of performance mice.
Carrying over many of the Revolution's best features, the Performance MX is built upon the success of its predecessor while ditching some of the lesser-used options. Featuring a similar right-handed design and carrying over Logitech's superb build quality, there are many comparisons to be made between the older and newer MX models, and in moving directly from the Revolution to the Performance MX in my everyday computing, I intend to do just that.
Starting with the look and feel of the Performance MX, the mouse has a distinctive Logitech look to it. Looking like a restructured Revolution, the Performance MX shares almost identical dimensions with its forerunner and packs in most all of the buttons with some notable exceptions. Gone is the thumb wheel used to Windows+Tab through open programs. Instead, Logitech has opted for a thumb button, built into the thumb rest area that allows the use of its own software to browse through open programs. There is also a zoom button placed below the forward and back buttons – more on that later.
The biggest development with the Performance MX is the inclusion of the Logitech-created "Darkfield Laser Tracking" technology. It's essentially a laser capable of tracking accurate movements on surfaces that other mice have historically been known to struggle on. Surfaces like glass and lacquered desks are no longer an issue for your mouse as Darkfield has been designed and tested to work on those exact tops.
The quick-scroll wheel makes its triumphant return in the Performance MX but the mechanics that drive it have changed dramatically. With the Revolution, the wheel was controlled by the speed that you rotated it or through the SetPoint software depending on which application you were using at that time. This was something that I came to love and using it became second nature to me.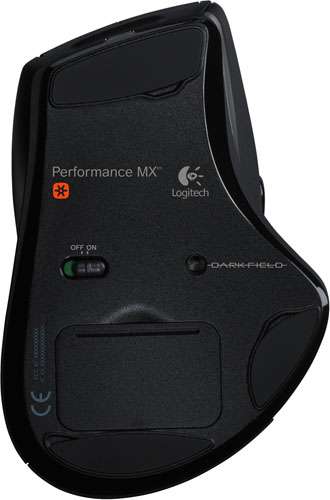 With the Performance MX, you control the way the scroll-wheel operates with a push of a button directly behind the wheel itself. If you want the free-spinning action you press the button in. If you would like the conventional method of scrolling (a mechanical feeling click as you roll the wheel with your finger), simply switch modes by pressing the button again. It should be noted that this is not a software-controlled switch, but rather a mechanical one that requires a little more force to depress than the other buttons on the mouse.
The scroll wheel also allows for side-scrolling. I haven't found many uses for this but there are times when I am working with a large spreadsheet that I used the side-scrolling features and unfortunately, there isn't a quick-scroll option for this and I'm unsure how that could even be implemented with anything other than a touchpad.
The biggest departure from the Revolution is the replaceable and rechargeable battery. Doing away with a separate dock that allows you to stylishly charge your mouse, Logitech has instead decided to use a micro-USB cable to do the charging. Including a wall wart, a cable, an extender and a convenient carrying bag, the Performance MX comes with everything that you need to keep your battery charged and ready to go.
Speaking of the battery, we averaged 10~13 days average use before needing to recharge. It should also be mentioned that this was when we first saw the warnings. I never took it down to where it was no longer functional. While charging, the Performance MX can continue to be used as its connection to the PC no longer goes through the wireless adapter that is provided with the mouse, but rather over the USB cable used to charge with.
The recently-mentioned USB wireless adapter is Logitech's semi-new "unifying" adapter. Allowing up to 6 devices total to be teamed with the adapter, the minuscule device can be left in your computer at all times. This is an ideal adapter for those using their laptops both at home and at work. You can team your mouse at home and at work, as well as your keyboards (providing they are supported) and use the same adapter for all of them.
The last notable feature on the Performance MX is the previously-mentioned zoom button. This is located directly underneath the forward and back buttons and with the placement of those two buttons, I personally had issues with hitting the zoom button by accident when feeling for the back button and as a result, quickly disabled it through the SetPoint software that drives the Logitech lineup of peripherals.
Testing; Final Thoughts
The SetPoint software has been covered ad nauseum over the course of our complete coverage of Logitech's lineup of mice throughout the years. For a brief refresher, please check out Jamie's great review of the Logitech M705 Marathon mouse. In there you will find everything that you need to know about the SetPoint software. Without wanting to be needlessly redundant, let's move onto our impressions of the Performance MX.
I have been testing the Performance MX for the past 4 months. When the Revolution I was using at work finally gave up the ghost, I ordered the Performance MX. While there was a slight learning curve, this is to be expected when switching from any device to another. In short time I was up and running with the mouse and thought little of the older, now dead Revolution. I did however still use a Revo at the house. Going from home and work and mentally switching between the old and new designs was rough. After some thought, I passed the Revolution to my girlfriend and ordered a second Performance MX for myself.
Over my time with the mouse, I haven't ran into any major show-stoppers. Like I mentioned earlier, there was a bit of a learning curve but once the buttons were programmed into muscle memory, there weren't any problems with the day to day usage of the mouse. I still don't care for the placement of the forward and back buttons but I have learned to accommodate for their placement by holding the mouse a little different than I would like. The back button is simple enough to get to but the forward button is where my issues lie. I have a larger-than-normal hands and this is an issue for me. I imagine I'm not the only one that doesn't care for this placement. It's certainly not a deal-breaker but something that others that use the mouse have commented on as well.
It should be noted that I use my mice like many gamers use theirs. I rest my wrist on the table and move it in all directions instead of moving my entire arm when using the mouse. Perhaps this is the reason I have an issue with the placement of the forward button. Regardless of what it is, I personally would like to have seen it about a quarter of an inch towards the rear. Given the length of the back button, I think this would have been possible without throwing off the placement of said button.

One thing I have noticed is that using the Performance MX and its RF adapter, I no longer have the stuttering that I had with the Revolution's Bluetooth receiver. In its defense, I had it close to my wireless router but when dealing with a distance of less than 2 feet, it was irritating more than once. By moving to an RF adapter, I haven't had a single issue with signal. In games and daily operations alike, my experience with the mouse has been exceptional and with a device that you use every day, it's a nice to use something without having your attention drawn to it.
My experience with the Performance MX was in most ways a positive one. I don't care for the placement of the forward button but in all reality, I rarely use it so it's not an issue that I dwell on too much. In every other aspect, the mouse is a winner through and through. I know that there are many out there that miss the dynamic scrolling capabilities of the older Revolution but after some use, I prefer the scrolling of the Performance. I have absolute control over when and where it switches to quick scrolling and when I don't need it, I simply switch it off.
Battery life of this mouse is incredible. Going almost 2 weeks on a daily use mouse is nothing short of extraordinary. I'm sure there are mice out there with better battery life but I know for a fact that there are far more with worse life than this one. The ability to use it while it charges is another positive in my book. With the Revolution you are forced to put the mouse in a docking station to charge. With the Performance MX, you simply plug in a micro-USB cable; the same kind used to charge MANY other types of devices.
I like the Performance MX. In fact, I am willing to state that it's the best mouse I have ever used. This wasn't simply a review; it was the story of the last 4 months of my computing life. Day in and day out I use the mouse and have yet to have an issue. From the battery life to the design, you cannot go wrong with the Logitech Performance MX. The mouse is simply made of win.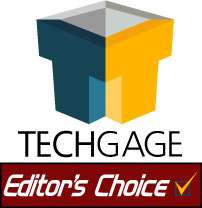 Logitech Performance Mouse MX
Discuss this article in our forums!
Have a comment you wish to make on this article? Recommendations? Criticism? Feel free to head over to our related thread and put your words to our virtual paper! There is no requirement to register in order to respond to these threads, but it sure doesn't hurt!
Copyright © 2005-2020 Techgage Networks Inc. - All Rights Reserved.