Maxtor Shared Storage II 1TB
Date: April 4, 2008
Author(s): Matt Serrano

We were so impressed with the Central Axis upgrade for the Shared Storage II at CES that we thought we'd check out the NAS itself prior to the official launch of that software. With 1TB of storage, will the SSII warrant a purchase, with it's higher price point?
---
Introduction
We first took at look at the Maxtor Shared Storage II back at CES, when they showed off their soon-to-be released firmware upgrade for customers.
The Central Axis software, which looked so promising it won one of our best of show awards, will make personal data stored on the NAS available over the Internet from a login on Maxtor's website, letting you access your data anywhere. Though the Shared Storage isn't a new product, we decided to write a review of it anyway, and do a follow-up article about our experiences with the firmware upgrade when it is released to the public.
NAS products have become a more realistic solution for data storage and backups in the recent years. Today, not only are they easy to set up and use, probably most important, they are more affordable then they have ever been.
There's no easy way to share all of your media in a central location, and with the advent of easier to use and more sophisticated backup software, making sure your data is safe is as simple as leaving your computer on. Physical media like discs and remote solutions have their purposes, but they're hardly the right candidate to trust huge amounts of data with, whether the limiting factor is cost, time, or both.
The market has been saturated with choice, yet even though older products can be phased out and replaced, the magic of software allows them to keep that cozy spot on your desk (or in the dark corner of your office space, considering some of these things can be pretty loud). While newer products may be faster or more attractive, there's little reason to retire your NAS if it simply works and has the features you need.
Here at Techgage, we've reviewed plenty of NAS enclosures, but fairly few read-to-go NAS devices with drives pre-installed. This previously non-existent market has flourished as prospects of high-capacity, flexible storage solutions that more and more users are beginning to understand and take advantage of. The chances are well that you're reading this review to get a footing of what types of products are available on the market.
The SSII is definitely an older generation product, as you can probably tell by taking one look at it. It's a dual-drive enclosure with two 500GB drives inside, combining the total storage capacity to 1TB. It lacks a lot of advanced features such as FTP or HTTP access, custom protocols (limited to Samba), and more exotic features like using it as a web server, but to be fair, those features are either rarely available in anything other than higher quality drive-less NAS bays in a roll-your-own kind of fashion.
Perhaps the most annoying limitation of this drive is the inability to make use of the RAID 1 option, that is, the case can not be opened without damaging the product. This simply perplexes me, and is the most dangerous thing about the product. Since you're options are combining or mirroring the drives, combining them will result in double the chance of failure, since all of the data is gone if one of the drives stop working. Even though data can be mirrored, since the case can't be opened, there's little use in trying to recover your data yourself.
We contacted Maxtor regarding this issue and were told that if a single hard drive did die, then a thumb drive could be connected to the unit in order to "back up" the data to it. However, this will not work if the failed hard drive affects the normal operation of the NAS itself. Also, if the NAS is sent in to Seagate to be repaired (if still under the 1yr warranty), there is no guarantee you will receive the exact same "good" drive back with the unit.
Their suggestion to prevent this is a little odd, which is to keep regular backups. Since most people use a NAS for that very purpose, backing up again seems a little redundant, no pun intended. However, it is wise to do, especially for important data. Maxtor went on to mention that small businesses, who the SSII are primarily designed for, would keep secondary backups always, so a unit gone bad would not be major issue.
The pricing seems to be in line with other comparable products out there (considering NAS prices generally fluctuate depending on what features they offer), but it wouldn't hurt to price it more aggressively. In a market that has so many different products, it's hard to grab attention when it blends in so easily. I don't think it's out of most people's budget, but if you're technologically inclined, there's little stopping you from either purchasing an empty bay and a few hard drives for the features, or a newer router with a USB port and support for storage if you want to save money.
Initial Thoughts
The Shared Storage II simply holds two 500GB hard drives in a plastic chassis. It may be bigger than a typical external hard drive or one-bay NAS, but it's not by any means huge. The blue and grey design is somewhat simple, in my opinion, if not attractive, but that's open to interpretation. As we mentioned earlier, since the drives inside the NAS are not user-accessible, there are no screws or latches anywhere on the device that can be seen simply by looking at it.
Three green LEDs occupy the front, the power and standby status, hard drive activity indicator, and network activity indicator. There are holes drilled into the front of the case that don't recede into the internals, which are only present for cosmetic purposes, and allow no air to be moved.
On the back, there is a power button, AC jack, two USB cables used to connect another storage device or printer to share on the network, an Ethernet jack, and a Kensington lock slot near the bottom. A small fan is located on the opposite side of the row of ports. It's audible as ambient noise, but hardly something to complain about when other components are typically louder.
The edges are raised to allow the box to rest primarily on its longer sides. The rubber shields with the Maxtor logo that cover the sides seem to hold no function other than complying with the rest of the design. Most of Shared Storage seems to be form over function, which I'm partially fine with, considering we're dealing with a consumer-oriented product, and no issues are brought with it.
Maxtor's product is very heavy and sturdy. It doesn't have a cheap feeling anywhere on the body even if the majority of it is composed of plastic, and it gives you a satisfaction that you purchased a quality product, instead of something poorly put together. As you can probably suspect, I don't have any ailments with the build, but it's strictly a "no-frills" device, so if you're purchasing it, you know what and what not to expect.
We would normally open and take apart the NAS to inspect the internals, but Maxtor has sealed it off. The situation is worth an immediate mention, because the concern is daunting. Even if the Shared Storage II is geared toward home use, I see no reason why Maxtor couldn't allow customers to have access to the drive at the cost of voiding their warranty, especially since it has the ability to use RAID 1.
The SSII also only holds a one year warranty (compared to most Seagate drives and recent Maxtor products which have a five year warranty). If a drive fails, even though data may be lost, customers are forced to go through a process of jumping through hoops with Maxtor (regardless of how easy or hard that may be) to get their data back.
Because of this, I'm reluctant to trust important data on the drive. It seems fine for backing up or using it as a way to extend data you already have stored locally across your network, but as what should always be the case, sensitive files should be kept in multiple, remote locations. The chore of having to backup your critical data far outweighs the frustration of leaving it inaccessible for the RMA period if the drive dies.
Maxtor does sell a single 500GB drive version of the drive, which may even be a better choice if you're only planning on using RAID 1 to mirror data. Compared to the 1TB version which can be had for around $380 online at the time of writing, the 500GB model is sold about $180 less. Combined with the smaller footprint, it may be a more sensible solution for some, but your personal needs would have to be evaluated.
The absence of certain features does bother me, and it's an issue that's hardly unique to the Shared Storage II. In my opinion, there should not be artificial limitations on products if they are capable of having a certain feature. While Maxtor has shown that they are willing to allow customers an upgrade path with their free Central Axis upgrade, assuming the upgrade only offers that one feature, there is still more that can be done.
As pointed out by other sources, the NAS apparently runs a version of Linux and Apache (using an ext3 filesystem). There's little reason, besides the initial cost of development, to resist adding features that will make your product more attractive to other potential users.
Features and Setup, Software
The Shared Storage II is relatively light on features, but it does offer the essentials. Unfortunately, Maxtor doesn't provide detailed specifications about their products. We know that it runs Linux and uses the ext3 filesystem, and has help from widely used components such as mt-daapd for iTunes UPnP support, although there is little information beyond that available. According to SmallNetBuilder, the NAS uses a Marvell processor in the Media Vault family.
Automated back up for photos, music, video and data on networked PCs and Macs to one location
Automatic mirroring in 1TB product
Add storage and share files, photos, and music
Access files from multiple PCs and Macs simultaneously
Easy installation with automatic network configuration
Set privacy levels for shared folders with easy browser interface
SimpleViewTM provides quick backup and storage status
Media streaming plays back digital photos, music and video to networked home
entertainment system
Exclusive Drag and Sort file organization
2 USB ports let you add shared printers or hard drives for additional storage
1000/100/10 Mbps Gigabit Ethernet connection
If you've taken a look at our other NAS storage and enclosure reviews, you will probably notice two differences. When compared to other products, Maxtor has a lot less to brag about with its feature list. Everything is worded in a language that allows the average consumer follow along and understand what's being talked about.
Now that we've mentioned its features, let's get it up and running. Setting up the Shared Storage II is a painless process of plugging the power adaptor and Ethernet cable in, and pressing the power button. A small thing to note is that it won't actually do anything if the power button isn't pressed, which isn't totally obvious if you've just plucked it out of the box and ignored the guides. When it has power, the appropriate LED will blink when there is network activity, but the NAS will remain idle. Only after the power button is pressed, will it go through its (lengthy) boot up process, and attach itself to the network.
Maxtor includes a piece of software in the package to manage the NAS, called EasyManage. After the software is installed, it will include an icon in the taskbar to get to the interface, and allow faster access to some commands. When loading it up for the first time, it will scan the network for any the option to mount the drive in explorer, or include it in the Finder if you're using a Mac.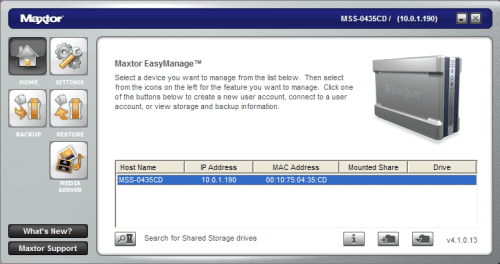 After the drive is found, the software walks you through the process of creating an account to access data. Accounts can be configured with specific permissions, such as letting an account have read or write access to a folder on the root of the drive, or making everything public to everyone. The "Home" and "Business" options listed determine what folders are created within the shared folders the account has access to. For instance, if you select home, folders like "My Documents" and "My Music" will show up, but if business is chosen, the folders will be replaced with "My Presentations" and "My Spreadsheets".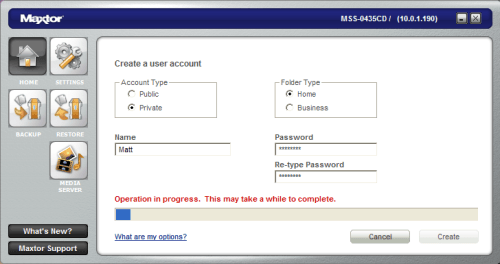 Once that process is completed, you're ready to start using the NAS. An icon will be put both on your desktop and in Windows Explorer under the "Network drives" section with the accounts you created.
One feature Maxtor takes pride in is what they call Drag and Sort, allowing the user to upload files of a specific type, and letting the NAS organize them. So if you uploaded music and videos in one group, the music would go in the "My Music" folder and video would be copied into the "My Videos" folder automatically. Unfortunately, this is limited by specific files and folders, and much control isn't granted.
Software
The bundled software isn't something I can say I'm very fond of. Essentially, it only serves at an alternate interface, and in some cases, links to the web interface to perform certain tasks, as is with the case with using the media server feature. If that weren't enough, it's also buggy.
Over the course of using it, it would constantly tell me it was running when I tried to access it because multiple instances were open, and crashed quite frequently. The only useful feature that is unique to the desktop client is the backup and restore feature. To use it, you click on the appropriate icon and choose which directories you want to transfer to or from the drive.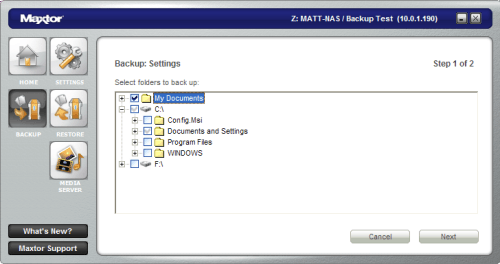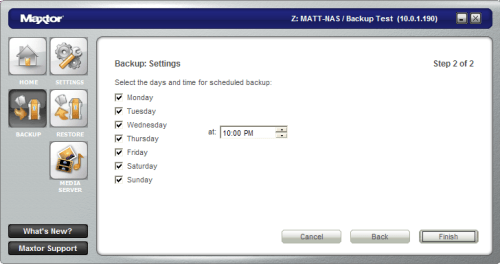 The web interface is a simple to use, but it's incredibly slow. Compared to every other NAS device we've reviewed, the Shared Storage II is probably the slowest one of the bunch. Thanks to the group navigation setup, it is somewhat intuitive. Operations are broken up into six groups, the setup wizard, account management, shared folders management, backup, advanced settings and system status. To cut down on the length of the review, only the most important screens are going to be shown.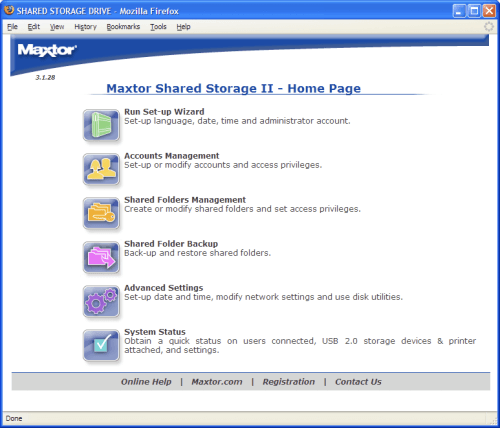 The wizard goes through the most obvious settings, such as the language, date and time. The Workgroup setting for Windows users and name of the NAS are set on the second page.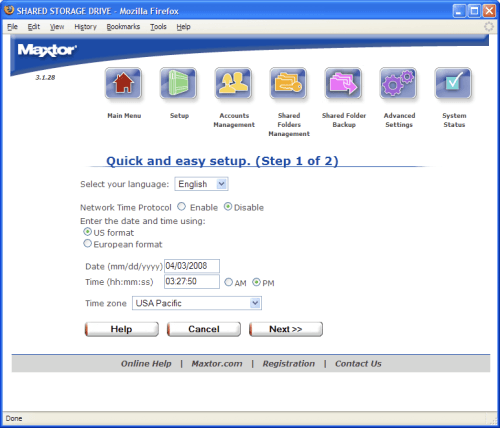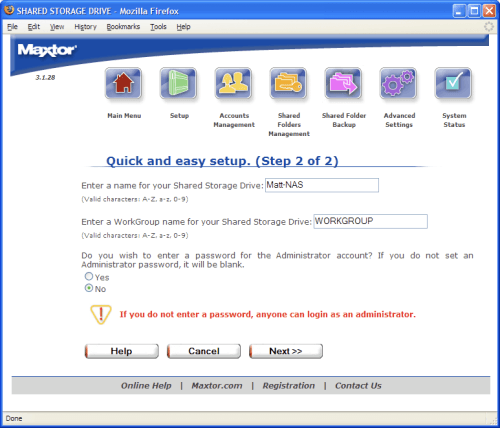 The account settings section offers more control than the desktop software with the ability to set specific privileges based on user preferences. Passwords can be changed, but the user names cannot.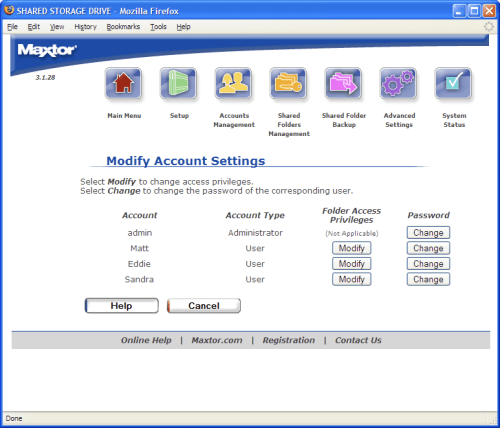 Finally, the advanced settings section offers features like configuring network settings (limited to the same settings in the setup wizard, the odd thing being no way to set a different static IP address), running a check on the hard drives, setting options for printer support and setting the drive to operate in a  RAID 0 or RAID 1 array.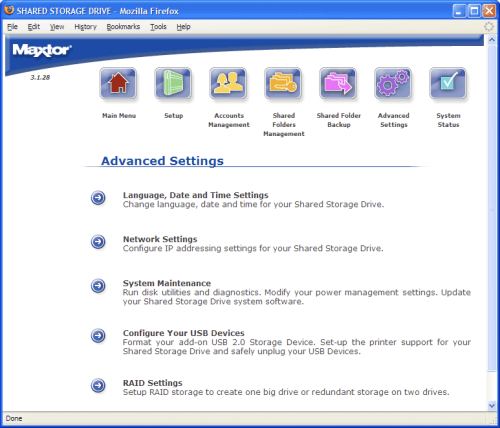 Next, we will put the SSII to the test and then wrap up with my final thoughts.
Testing, Final Thoughts
We are in the middle of reevaluating the way we test the performance of the hardware in our networking reviews. In this article, like in our past QNAP TS-109 review, we will use our true real world file transfer and transfer a folder of the same size. This will be used to compare how well the Shared Storage II handles large file transfers in real world situations.
For our synthetic testing, we stuck with the Sandra Network Bandwidth benchmark. Since this benchmark isn't a completely accurate evaluation of real-world speeds, it should be taken with a grain of salt. But it can serve as a way to compare this device with others with a similar basis of comparison.
The hardware used in these tests consists of:
Test System
Motherboard: ASUS P5N-E SLI
Processor: Intel E6300
Memory: Kingston HyperX 2GB PC2-8000
Storage: Seagate Barracuda 320GB 7200.10
Video Card: ASUS 8800 GT
Power Supply: Antec EarthWatts 500
Chassis: Sonata III
Router: Apple AirPort Extreme 802.11n Wireless Router
Maxtor Shared Storage II
| | |
| --- | --- |
| Data Transfer Rate | |
| Data Bandwidth | |
The motherboard's 100Mbps Ethernet connection uses NVIDIA's 600-series chipset to power itself, and every other network connection on the computer was disabled for testing. I should note, however, that the router I am using does not support a Gigabit connection, and under such a connection, the results would be a bit higher.
In our real world tests, we transferred the same 585MB ISO file of our Windows XP Service Pack 2 install CD that we've used in the past, as well as copy over a 218MB folder of 295 files to test how the NAS handled reading and writing with multiple files. As with all our reviews, we averaged out the test results. Every test was done with the Shared Storage in its default RAID 0 configuration, so there might be a speed increase over using it in RAID 1.
| | |
| --- | --- |
| Solid Read | |
| Solid Write | |
| Multiple Read | |
| Multiple Write | |
Both reading and writing turned out to be fairly close, but inline with our other results. What was surprising however, was how fast it performed compared to every other NAS device we've reviewed.
Final Thoughts
If you asked me how I felt about the NAS, I would have to say it's a bare bones product priced slightly higher than it should be. If you look at NewEgg's Network Attached Storage selection, you'll find a variety of products selling for a variety of price points, so you'll hardly fine a direct 1:1 comparison. The essentials are there, if you're looking for simple features like backing up to a USB device, or sharing a printer, or even sharing media on a UPnP compliant device or iTunes, but power users will come across disappointed.
I found myself uninstalling the software after a few days of trying to use it, which honestly isn't unsurprising. I doubt much effort will ever be put into this type of bundled software with smaller companies, but if anything, I thought a company like Maxtor could have done a better job. It's a shame that this isn't mentioned anywhere by Maxtor, but the software isn't required at all. As long as the drive is mountable (in Windows, go to Tools > Map Network Drive in Explorer, or look for the drive in the Finder in OS X 10.4 and above), it can be used. You lose the backup feature, but alternatively, you can roll your own solution and backup manually or on a schedule.
Only supporting Samba is something I loathe, not because Samba isn't good, but AFP or FTP support would have been nice. Most consumer-oriented drives only support the protocol, so you're not losing much, but it's unfortunate nonetheless.
I will express some concern about the NAS' reliability. The fact that the drives aren't user accessible was touched on in the article, but in retrospective, it's a major concern. The drive also gave me a "/share file system error" once, and was totally unresponsive. The only way to solve the problem was to unplug the drive. There were a few cases when the drive would disappear from my network, or it was not visible on my PC or Mac.
I wasn't able to get the media server streaming to work properly (and there is no indication whether or not it's on at all when it's supposed to be, for that matter), and I've recently discovered why. Amazingly, it only supports MP3 files and MPG-2 videos. Rob was able to get it working on a different system, but mentioned the drive took quite some time to refresh in iTunes, which might be a limitation of iTunes, we are unsure.
This will have no bearing on the score of the review, but because of Maxtor's apparent neglect in of solving issues related to the product, there is a bit of backlash coming from their users. Customer reviews around the Internet have not been so positive, and there have even been threads on Seagate's own forums citing its poor reliability (including a thread full of customers recommending avoiding it). We didn't experience problems of that magnitude, but there is no way to test the long-term dependability in the review. Naturally, you're going to have a vocal disgruntled minority, but we haven't exactly seen much praise about it either.
This all may change when their now long overdue firmware upgrade is released, but we are reviewing the product on how it stands in the market now, not based on its potential in the future. The problems we experienced were enough to make us doubt our faith in the product considering we've only had it for a short time. That's not to say you're going to absolutely risk your data if you want to use it, but its track record is far from perfect. There are other products out there, so it's always important to search for the product that will fit your needs the best.
For those interested, Rob tackles a few Linux-related features in our related forum thread.
Oct 15, 2008 Addendum: It appears more than just a few people have experienced issues with their own SSII, including Rob. The common issue is that the unit will suddenly not function for no reason, and would require to be powered down and back on. We briefly experienced this during the review of the unit as well, but chalked it up as being a network issue, but it's clearer now that the network probably wasn't the issue at all. You can read our related thread for more information on this issue.
Pros
Plenty of storage
Quiet when operating
Fastest NAS we've reviewed
Two USB ports for using printers and backing up
Cons
Not many features when compared to other products
Priced out of its league
Useless RAID 1 feature when drives aren't accessible
Issues with using the UPnP server
Bundled software was buggy
Discuss in our forums!
If you have a comment you wish to make on this review, feel free to head on into our forums! There is no need to register in order to reply to such threads.

Copyright © 2005-2020 Techgage Networks Inc. - All Rights Reserved.